Before I became a full-time blogger, I worked in the marketing department of a well-known specialist cruise travel agency for five years.
In that time, I sat at my desk and watched the price of cruises go up and down, and up again.
I've seen cruises priced at £13 per night and cruises that cost over £4,000 per night. I've spotted some incredible deals (and booked them) and I've also scratched my head at why some cruises are priced so much higher than others.
I like to cruise as often as I can, and to do that, I usually cruise as cheaply as possible.
Cruises aren't expensive if you know how to find the cheap deals.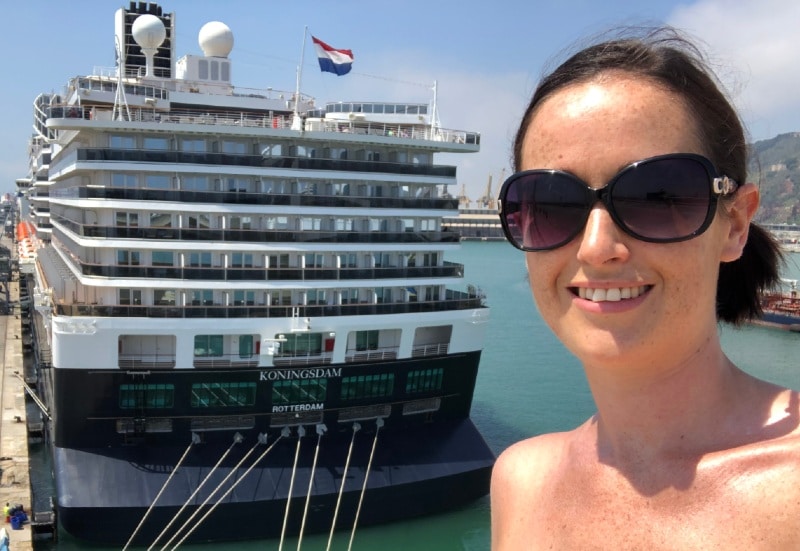 How do I afford to cruise so often?
I'll be honest with you. I don't spend a lot of money on cruises. In fact, the total I spend on multiple cruises for our family of four each year is less than most people spend on leasing a car.
You could also raise the money for up to five family cruises per year by quitting smoking, making a packed lunch each day for work or getting a better deal on your household bills. As long as you know how to find good value cruises, that is!
So, read on to find out how to go on a cruise for cheap…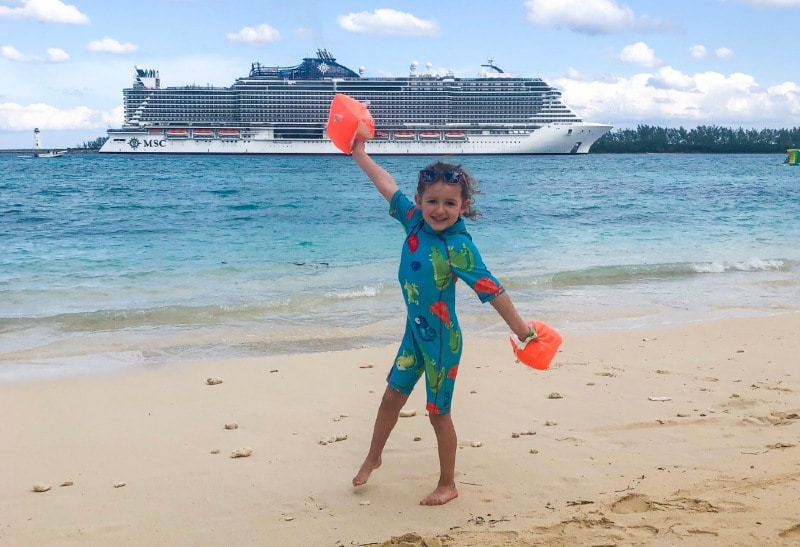 Is cruising good value?
Cruises offer the best value for money of all holidays. Why? Because so much is included! When booking any kind of holiday, it's important not to think about the ticket price, but to think about the total price, after you've paid for absolutely everything.
All cruises include:
Accommodation on the ship
Food in the main dining room, buffet and snack bars
Drinks – water, tea, coffee, milk, squash
Entertainment
Activities
Gym, pools and hot tubs
You usually have to pay extra for:
Drinks (drinks packages are available)
Dining in speciality restaurants
Spa services
Casino
Tips/gratuities (these are included by some cruise lines)
Of course, any extras are optional. I usually don't bother dining in speciality restaurants and I like to take my own drinks on board when I can.
Don't forget to factor in gratuities
Tips for cruise staff members (also known as gratuities) are an important cost that you'll need to factor in.
Gratuities are charged per person, per day and added on to your bill for you to pay at the end of your cruise. The fees vary depending on the cruise line but are often around $15 per person, per day. When you add those on, a seven-night cruise for a family of four can cost an extra $400, or more.
However, not all cruise lines charge extra for gratuities. Some include gratuities in the ticket price of your cruise.
Cruise lines which don't charge extra for gratuities (for UK guests) are:
Marella Cruises
MSC Cruises
P&O Cruises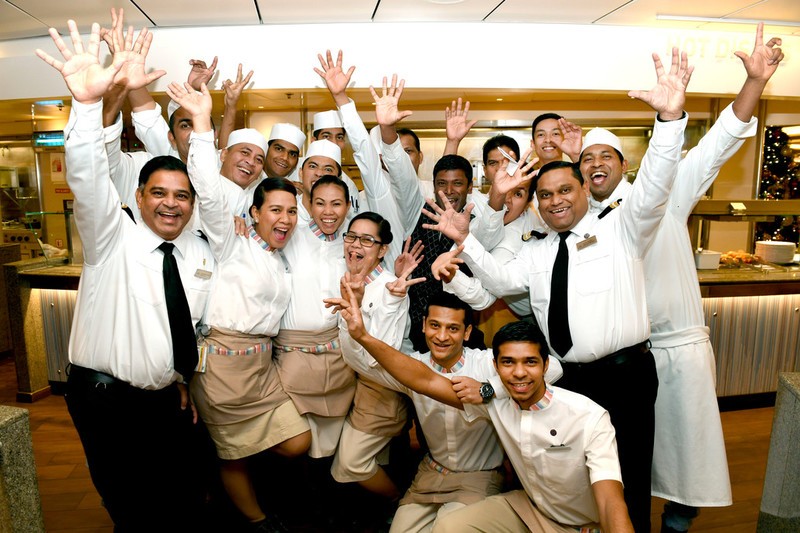 How To Find Cheap Cruises
The first step to finding a cheap cruise is to choose your cruise line wisely.
Some cruise lines offer much cheaper cruises than others. Whilst there may be some differences in the level of service on-board or the quality of the food and entertainment, there are no bad cruise ships in the way that there are bad hotels and resorts.
Whichever cruise ship you choose, it will be spotlessly clean, the staff will look after you and you'll have a great choice of quality food and entertainment.
NEW DEALS JUST RELEASED!
Don't miss these hot cruise offers…
The Best Cheap Cruise Lines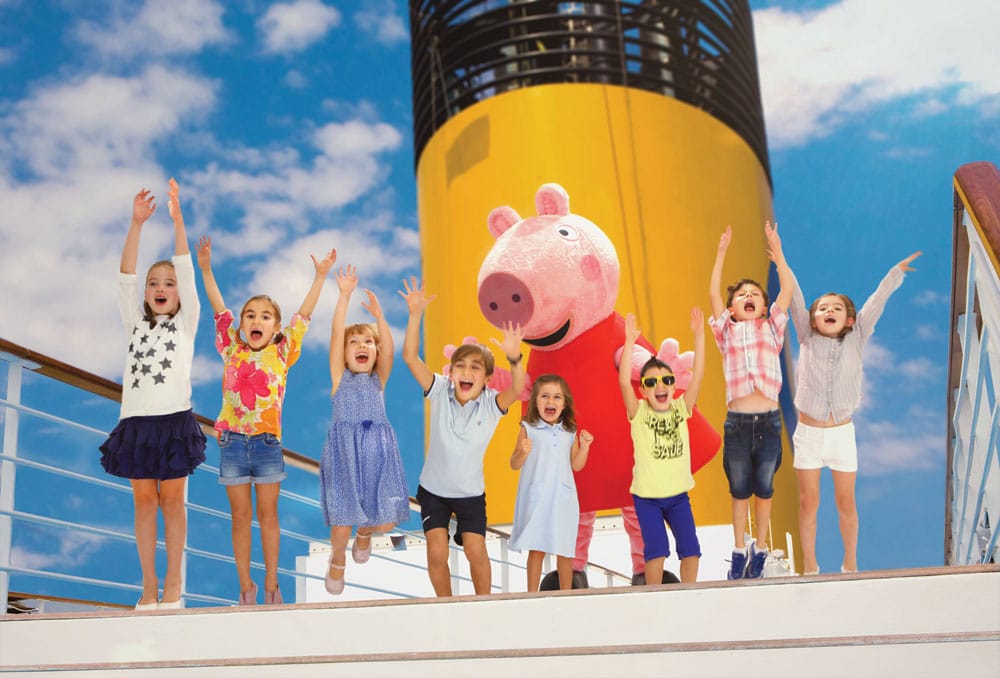 Here are the cheapest cruise lines in price order (low to high):
MSC Cruises
P&O Cruises
Royal Caribbean
Are you surprised by that list? Well, I did some very thorough analysis into the cheapest cruise lines and I was too!
However, it's important to note that this is based on the lead-in price. Once you add on taxes, fees and gratuities, the actual cost of your cruise will be twice as much with some cruise lines. So it's important to consider exactly what's included in your cruise.
Read more: The 7 Cheapest Cruise Lines (In Order)
The Best Cheap Cruise Ships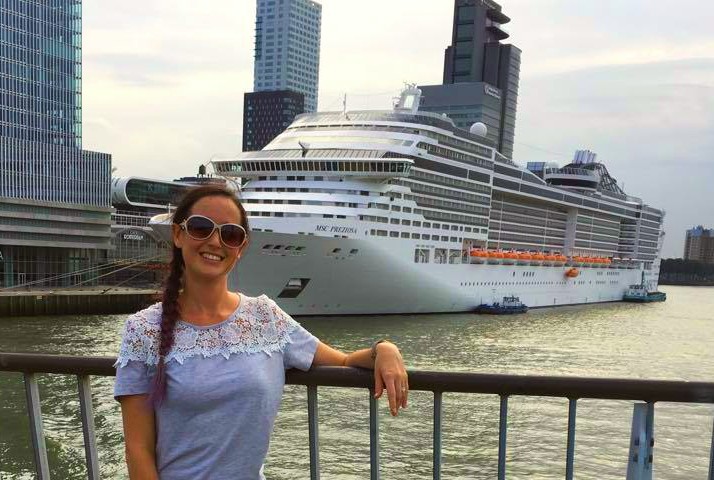 You'll find some large price differences between different ships in each fleet. Cruising on a newer cruise ship will cost more than a cruise on an older ship.
Why? Well, newer cruise ships are larger with more facilities on-board. People get excited about new ships and don't mind paying more, especially for the maiden voyages.
Are new cruise ships better? Not always. Cruise ships are thoroughly refurbished every three years, so even on the oldest ships you'll never find peeling paint or shabby furnishings.
Royal Caribbean charges around $1 more per drink on the newest ships, which doesn't sound a lot but it can add up. Royal Caribbean drinks packages cost more on the newer ships too.
Rather than looking for the biggest, newest ships, don't rule out some older ships which will be as good as new once you get on board.
The Best Cheap Cruise Cabins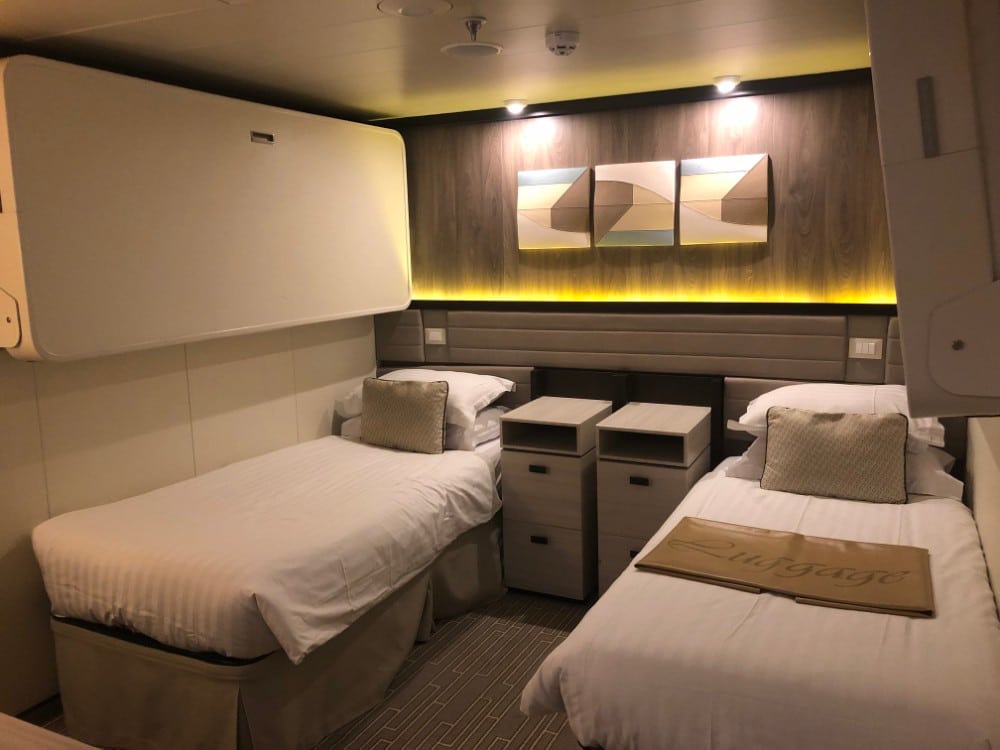 The cheapest cabins are inside cabins with no windows. I almost always choose an inside cabin when I cruise. The only reason I would choose a cabin with a balcony is if I were cruising to a scenic destination like the Norwegian Fjords or Alaska.
Or, if the balcony price wasn't too dissimilar to the price of the inside cabin.
Other reasons why people pay extra for a balcony include claustrophobia or having a baby who will only take naps in a bed.
Sometimes, you'll find cruise promotions offering free or cheap upgrades to balcony cabins. However, these are usually only on cold-weather cruises where you wouldn't want to spend a lot of time on your balcony anyway.
The cheapest inside cabins are called 'guarantee cabins'. This means that the cruise line chooses your stateroom number for you and you're guaranteed a cabin of that type, or better. If you want to, you can pay extra to choose your own cabin number but in my opinion, this is rarely worth it.
The Best Cheap Cruise Destinations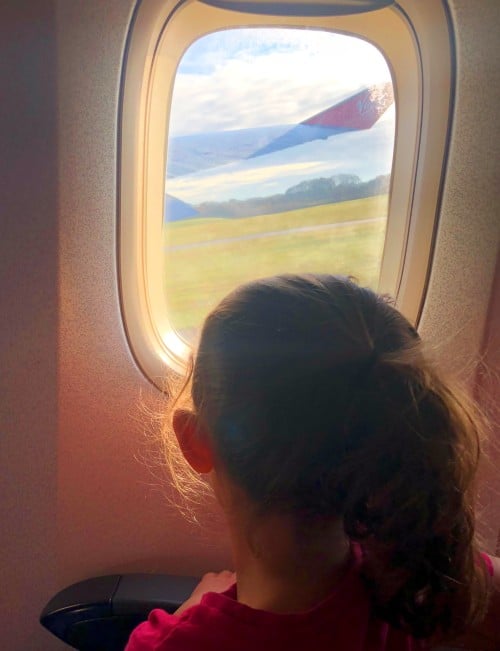 The cheapest cruise destination for you will usually be not too far from home. If you can drive to the cruise port rather than flying, you'll save hundreds straight away as you won't need to pay for a flight or pre-cruise hotel.
If you live in the UK, choose a cruise that departs from a UK port. Southampton is the most popular cruise port in the UK and it handles over 90% of UK departures.
If you live in the US, you'll find that most cruises depart from the various cruise ports in Florida, although you can also embark in Texas, New York, Louisiana, Alaska, Washington, California and Massachusetts, amongst others.
Be sure to look up your nearest port and see which ships sail from there to see if you can save on airfare.
The Cheapest Time Of Year To Cruise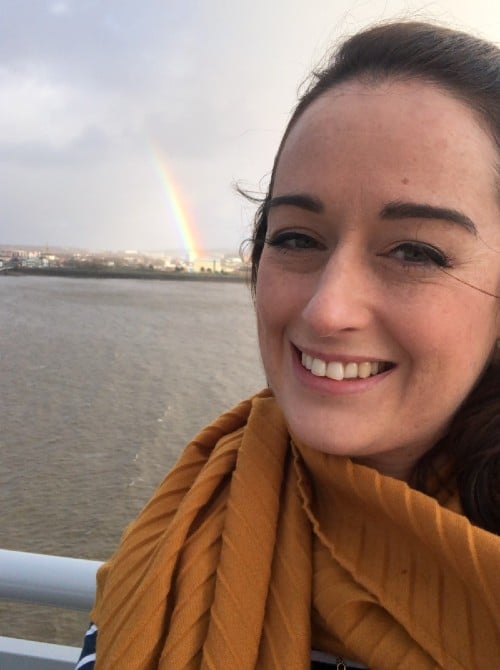 Certain months are much cheaper than others and this depends very much on the destination and the weather that you can expect at that time of year.
The cheapest time to cruise in Europe and the Mediterranean is December and January (but not Christmas and New Year). This is mainly because the weather is cold.
The cheapest time to cruise in the Caribbean is August, September and October. This is because of hurricane season and the risk that cruises may miss ports or be cancelled altogether due to bad weather.
If your cruise is cancelled due to a hurricane you'll get about two days' notice, so hopefully, you won't have taken your flight, but you'll probably have packed your bags!
The most expensive time to cruise is always Christmas and New Year when prices will skyrocket to double or triple the normal price. The UK school summer holidays can be pretty expensive too.
Read more: What Is The Cheapest Month To Go On A Cruise?
The Best Cheap Family Cruises
When you're cruising as a family, one of the most important things to pay attention to is the child prices.
Sometimes, kids cruise free and sometimes you'll be charged the full adult fare for each child. Choosing a cruise where kids go free for a family of four will save you up to 50% on your total cruise price straight away.
Here's how much each cruise line charges for kids:
Carnival – Full adult price
Celebrity Cruises – Full adult price
Costa Cruises – Children under 18 pay only port fees and service fees (approx £150 per week)
Cunard – Full adult price
Disney Cruise Line – Full adult price
MSC Cruises – Children under 18 cruise FREE when booking in the USA and from £119 when booking in the UK
Norwegian Cruise Line – Full adult price except when the Free At Sea promotion is on when kids cruise free
P&O Cruises – Full adult price in the school holidays and £99 per week in term-time
Princess Cruises – Full adult price
Royal Caribbean – Full adult price except when the Kids Sail Free promotion is on
Cruise prices for babies vary hugely, depending on the cruise line.
MSC Cruises and Cunard do not charge for children under two years of age. Costa Cruises, P&O Cruises and Disney Cruise Line charge a reduced fare for babies. Most other cruise lines charge the full adult price unless there's a special promotion on at the time of booking.
Suggested read: How to Find Bargain School Holidays Cruises with P&O Cruises
Where To Find Cheap Cruise Deals
Now you know which cruise lines offer the cheapest cruises (Costa, MSC, P&O) as well as which ships to choose (older ones), cabins (inside), destinations (no-fly) and the cheapest time of year to cruise (term-time when it's not sunny).
The next step is to know where to look for the cheapest deals. My one secret to finding cheap cruise deals is…
Don't go looking for deals, let the deals come to you!
Why? Well, let's imagine you own a cruise line for a moment… Most of the time you'll want to sell cruises with as much profit margin as possible, right?
Most of the time, you can rely on a steady income of high-profit sales. People search for your website, find what they want and book it.
However, that strategy doesn't work when:
a) It's getting closer to the sailing date but your ships are still half-empty
b) You've just released six months' worths of new itineraries so your ships are completely empty
In these cases, cruise lines will reduce prices and add on free extras to encourage people to BOOK NOW. When they do this, they're no longer going for a high-profit margin – they're going for volume of sales.
Now, imagine you work in the marketing department of the cruise line. The prices have dropped and it's your job to sell as many cruises are possible. How do you get the biggest volume of sales?
You could reach out to contact as many potential customers as possible and tell them about the great deals. Or, even better, you get travel agents to do it for you.
The cheapest ways for travel agents to get cruise deals in front of the biggest audiences possible are email marketing, SMS (text messages) and social media. And this is exactly where they head when they have cheap cruise deals to push.
How do customers find these cheapest cruise deals?
Follow cruise travel agents on Facebook and Twitter (and turn on notifications)
Sign up to receive email marketing from cruise travel agents (do this on their website)
Opt in to receive deals by text message
Every Thursday, I send an email with the best cruise deals I've found that week.
You can sign up here, and I'll send it to you too.
Then, you've got to be patient. You must accept that you might not book your cruise today, or next week. But, when that perfect cheap cruise deal comes up, you'll be ready to pounce.
And you do need to act fast! Wait longer than 24 hours and there's a good chance that the cheapest cabins will sell out and you'll be left paying an extra £300 for a cabin with a window (eye roll).
Are cruises cheaper through a travel agent?
Cruises should always be cheaper through a travel agent. If they're not, then you need to find yourself a new travel agent!
Most cruise travel agents make money in two ways:
They receive a % commission on every cruise they sell
If they reach monthly, quarterly or yearly sales targets, they get bonuses
The bonuses that travel agents receive for hitting their targets can be huge. So when a sales target deadline is coming up, travel agents may be willing to sell cruises at cost price or even at a loss to earn their big bonus payment.
What's more, some cruise travel agents use a specific business model whereby they buy up thousands of cabins in bulk for a cheap rate. Once the travel agent owns those cabins, they have to sell them. Even if they make a small loss on some of the cabins, it's better than the loss that would be made if the cabins remained unsold.
As well as getting the best price on your cruise, there are other advantages to booking your cruise with a travel agent rather than directly with the cruise line. If you're booking flights and hotels too, a travel agent can get you the best package price, sort everything out for you and take charge if anything goes wrong.
These are the travel agents I have used myself and recommend.
When To Book Your Cruise For The Best Price
The best time to book a cruise is either:
When the sailing is first available to book – 18 to 24 months before departure
Last minute – around 6 to 12 weeks before departure
These are the times when cruise lines will be aiming for a large volume of sales with a lower profit margin.
Do cruises get cheaper closer to the sailing date?
It's a myth that cruises get cheaper closer to the sailing date. In fact, cruise prices are cheapest when they first go on sale which is 18 to 24 months before the departure date.
Only if the cruise doesn't sell out will there be a price drop. This will happen 6 to 12 weeks before departure.
The following graph demonstrates what often happens to cruise prices over time. The red circles are the cheap prices that you want to book!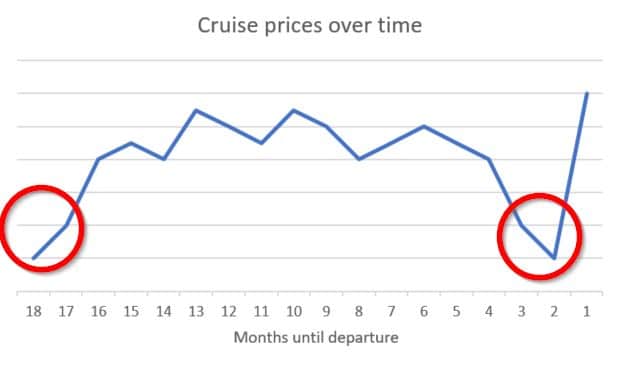 Should you hold out for a last-minute cruise deal?
If you want a cabin for two people and aren't fussy about where you go, when you go or on which ship, then you can definitely save money by booking your cruise 6 to 12 weeks before departure. Prices are likely to drop at this time because balance payments are due and some passengers drop out.
You can book right up until a few days before the departure date, but I wouldn't recommend waiting that long on purpose!
If you want a family cabin for three or four passengers, then the sad truth is that you are very unlikely to find a cheap last-minute deal.
Cabins with extra beds are always in short supply. I once went to book a cruise the day after it went on sale (almost two years before departure) and all the inside four-berth cabins were already gone!
Read more: 5 reasons families on a budget should book their cruise ASAP
Are cruises cheaper in 'wave season'?
In the cruise industry, the period from right after Christmas, through to February is known as 'wave season' because cruise lines see a big 'wave' of bookings around January.
The reason for this wave is that Christmas is out of the way and people start to think about what they want to do in the coming year. Thoughts naturally turn to travel and marketers cash in on this by offering incentives to get people to book cruises.
Is January a good time to book a cruise? Possibly. There are some good deals. But there are also some mediocre deals that are disguised as good deals. Just keep your wits about you and don't jump to book just because you saw a 'January Sale' banner.
How To Book A Cheap Cruise
If you've read this far, you should now know some of the tips about how to cruise for cheap. Let's have a quick recap…
Choose a cheap cruise line – the cheapest ones are Costa, MSC, P&O Cruises and Carnival
Choose a cheaper ship – an older, smaller one
Opt for a guaranteed inside cabin
Depart from your nearest port
Go in term-time or when the weather isn't perfect
Don't pay full price for kids – Choose Costa and MSC Cruises at any time or NCL, P&O and Royal Caribbean if there's a kids sail free offer on
Look out for emails and Facebook offers from cruise travel agents
Book early (or late for only two people if you're flexible)
Now, if you haven't already, make sure you get my weekly email where I send you the best cruise deals including those I'm booking myself!
Related posts: