Royal Caribbean drinks menus with prices (2020): Is the drinks package worth it?
This post may contain affiliate links.
When booking a Royal Caribbean cruise, one very important question to consider is "Should I get a drinks package or not?" To decide whether a Royal Caribean drinks package offers good value for money or not, you need to consider three key questions:
How much does a drink cost on Royal Caribbean?
How much is the Royal Caribbean drink package?
How many drinks will I drink each day?
Once you know the answers to these, you can do the maths and work out "Is the Royal Caribbean drinks package is worth it?" It may be cheaper to pay for drinks individually on your cruise.
In this article, you can see menus with drinks prices, find out what drinks packages are available and use the handy drinks package calculator to work out whether to buy the drinks package or not on your next cruise.
Royal Caribbean drink prices
The drinks on Royal Caribbean ships across the world are priced in US dollars and are in the mid to high range compared to other cruise lines. Unfortunately, if you're used to pub-priced drinks on P&O Cruises, you might be a little disappointed to find that some drinks cost a little more than you would pay in your local pub at home.
Prices vary depending on the ship as each ship has different bars and there may also be variations in the drinks menus.
Here are the average Royal Caribbean drinks prices:
| Drink | Price |
| --- | --- |
| Beer | $7 – $8 |
| Glass of wine | $9 – $20 |
| Cocktail | $8 – $13 |
| Soft drink | $3 |
| Speciality coffee | $4 |
| Bottle of water | $3 |
To see exactly how much specific drinks cost on Royal Caribbean cruises, take a look at the menu photos below.
Royal Caribbean drink menus 2020
I took these photos of drinks menus on-board Mariner of the Seas in December 2019. On the newest Royal Caribbean ships, drinks may cost around $1 more than these prices.
---
The main Royal Caribbean drinks menu
This is the menu which you'll find at many of the on-board bars such as the Pool Bar and the Viking Crown Lounge. The menu has a focus on cocktails, with a different page for each spirit – rum, vodka, gin, tequila and whiskey. This makes it a bit easier to narrow down your choice.
Despite the huge choice of cocktails, the bar staff on Mariner of the Seas always seemed keen to conjure up something new and often said: "What do you like? Tell me some flavours and I'll make up something."
---
Schooner Bar drinks menu
The Schooner Bar is a cosy nautical-themed bar with a piano at the centre. You'll find this bar on-board all Royal Caribbean ships. The Schooner Bar also offers a large choice of cocktails, as well as beers and lots of wines by the glass or bottle. Here is the Schooner Bar drinks menu…
---
The Bamboo Room menu
The Bamboo Room is a quirky Polynesian-themed cocktail bar which was added to Mariner of the Seas and Navigator of the Seas when they were renovated as part of the Royal Amplified program.
---
Royal Caribbean's English pub menu
Most Royal Caribbean ships have an English-style pub on the main promenade featuring expansive beer collections and live music. If you want a good draft beer, this is the place to go.
---
Cafe Promenade menu
Most Royal Caribbean ships have a Cafe Promenade which offers complimentary food as well as complimentary basic teas and coffees. Speciality teas, coffees and hot chocolates have an extra charge, as can be seen from the menu below.
---
Royal Caribbean Starbucks menu
Some Royal Caribbean cruise ships also have Starbucks cafes onboard. Coffees are priced between $4 and $6.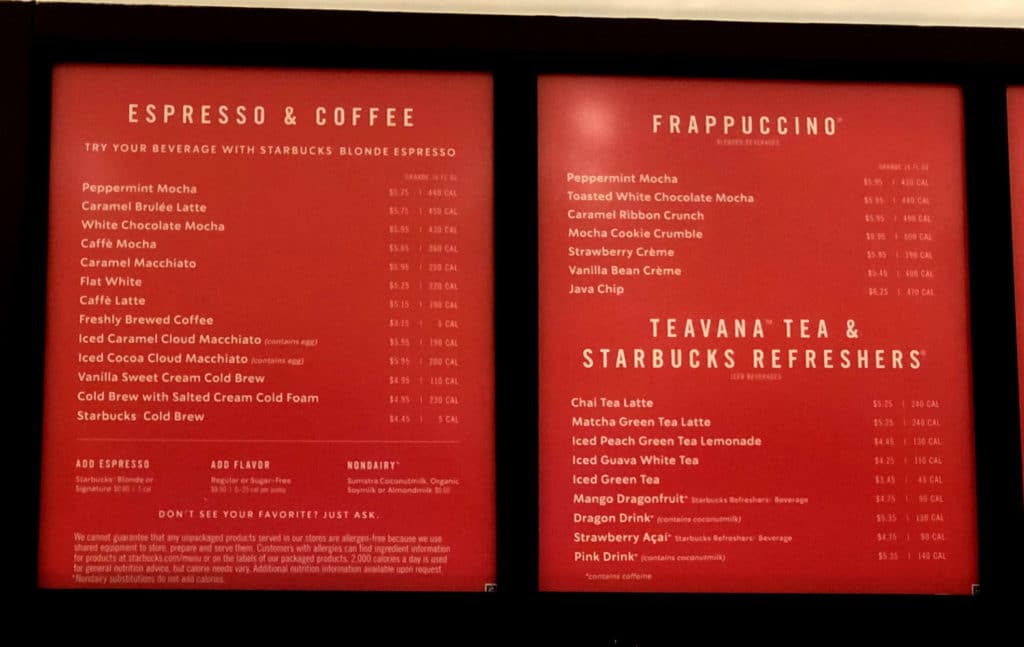 ---
Playmakers bar menu
Playmakers is a sports bar which can be found onboard Mariner of the Seas, Independence of the Seas and Symphony of the Seas.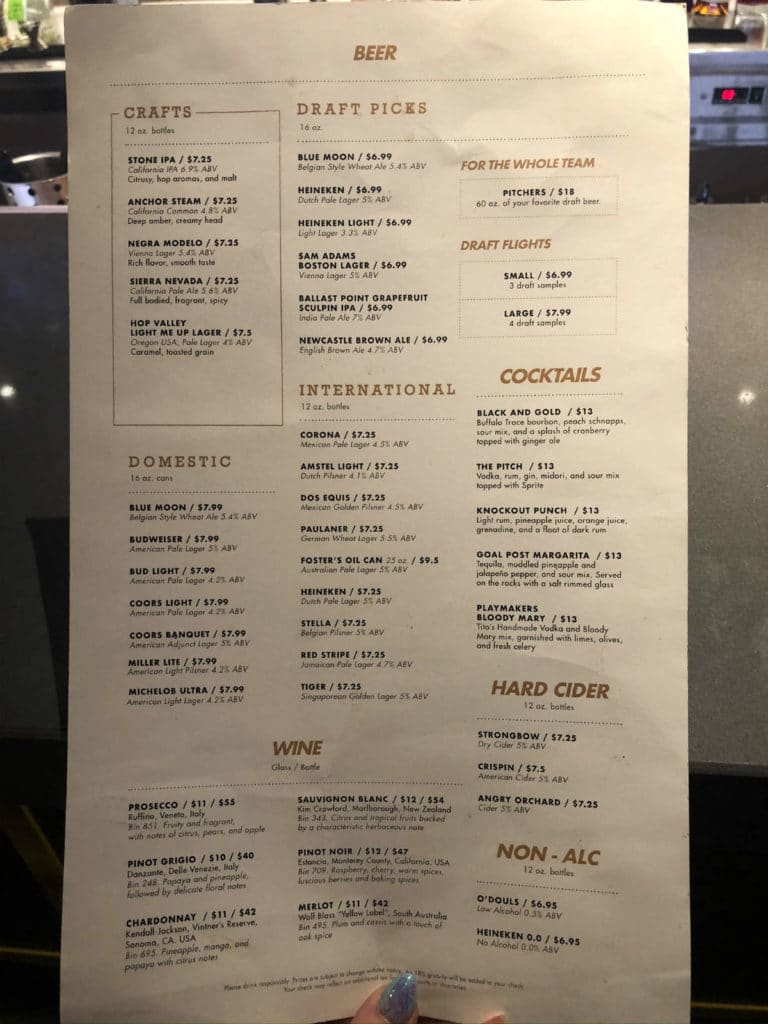 Each Royal Caribbean ship has different bars and lounges, and there are lots to choose from on each ship. Favourites include Boleros, R-Bar, Two70 and the Rising Tide Bar which moves between decks on Oasis Class ships. Many bars will have their own unique menu.
---
Royal Caribbean mini-bar menu
Royal Caribbean also has a mini-bar menu. Rather than arriving to a fully-stocked mini-bar, you'll find that your mini-bar is empty and you can request what you like in it via a menu that you tick off and hang on your door handle.
As someone who doesn't use the mini bar except to store my own drinks and children's milk, I love having an empty mini-bar.
---
What drinks are free on Royal Caribbean?
If you're wondering whether or not to buy a Royal Caribbean drinks package, you should think about what drinks are free on Royal Caribbean cruise ships. There's actually quite a lot of drinks included for free.
Free drinks on Royal Caribbean cruises include:
Tea and coffee
Iced tea
Hot chocolate
Lemonade
Flavoured water
Water
Milk
Fruit juices at breakfast
The flavoured waters are really good, more like cordial or squash than water. There's certainly enough choice to keep most kids happy with the free drinks without paying extra for fizzy drinks, freshly squeezed juices and mocktails.
Do Diamond members get free drinks on Royal Caribbean?
Royal Caribbean's Crown & Anchor Society awards loyalty points for every night that guests spend on-board Royal Caribbean ships. With the acquisition of 80 points (equivalent to 80 nights at sea), guests become Diamond members.
Crown & Anchor Diamond status entitles you to attend an Exclusive Nightly Diamond Event between 5 pm and 8 pm each evening where you can receive three free drinks from a list of beers, wines, spirits and sodas.
---
Can you bring drinks on a Royal Caribbean cruise?
Each stateroom may bring up to two 750 ml bottles of wine or champagne to drink in your stateroom. If you wish to drink your wine in one of the public areas, a corkage fee of $15 per bottle will be charged.
Guests may also bring non-alcoholic drinks on-board. The limit is 12 cans, bottles or cartons per stateroom. You may also bring milk and water for babies or medical use.
If you're doing a fly-cruise, it's probably not worth the hassle of bringing your own drinks on-board. But, when we cruise from the UK and don't have a drinks package, we'll definitely be bringing two bottles of wine and 12 cans of Pepsi Max to drink in our room to save a bit of money.
How to stop wine bottles from breaking in your luggage
If you plan to bring your own wine, it's definitely worth investing in an inflatable bottle protector to make sure that it arrives in one piece and doesn't smash in your suitcase. How awful would that be to open your suitcase to broken glass and wine everywhere!
---
Royal Caribbean drink package
Royal Caribbean offers one all-inclusive unlimited alcohol package – the Deluxe Beverage Package.
The Royal Caribbean drinks package costs between $63 and $89 per person, per day (depending on the sailing) and includes all drinks worth up to $12 or $13 each (depending on the ship).
Drinks cost around $1 more on Oasis Class and Quantum Class ships than they do on the rest of the fleet. On these ships, the drink package price limit is $13, rather than $12 to account for this.
Deluxe Beverage Package
Royal Caribbean's drinks package includes unlimited:
Beer
Wine by the glass
Cocktails and mocktails
Spirits and liquors
Premium teas and coffees
Soft drinks
Freshly-squeezed juices
Bottled water
There are also two drinks packages which don't include alcohol: the Refreshment Package and the Classic Soda Package.
Refreshment Package (non-alcoholic drinks)
Royal Caribbean's non-alcoholic drinks package includes:
Non-alcoholic cocktails (mocktails)
Premium teas and coffees
Soft drinks
Freshly-squeezed juices
Bottled water
Classic Soda Package
With the soda package, you get a souvenir cup which you can refill at self-service machines which are located throughout the ship. Drinks include:
Coca-Cola (including diet, zero, caffeine-free and many different flavours like strawberry, cherry and lime)
Fanta, Sprite and Dr Pepper (and zero versions)
Powerade (and zero version), Vitamin water and Hi C
Seagrams ginger ale (and diet version)
Barry's root beer and creme soda (and diet versions)
Minute Maid orange and lemonade (and light versions)
Dasani flavoured or sparkling waters
When you buy the Deluxe Beverage Package or the Refreshment Package, you also get the souvenir cup and so have all the benefits of the Classic Soda Package.
Whilst it was nice to be able to fill up my drink from the machine, I didn't like that I had to carry the cup everywhere with me. It was quite good to fill up and take off the ship with me. But, the cup doesn't seal so you have to keep it upright. And you also have to wash it yourself so be sure to bring dish soap and a sponge.
I did wonder whether you could keep the cup and use it on your next cruise. However, there's a chip inside it which means that it will only work with the machine for a certain period of time.
---
How much is the drink package on Royal Caribbean cruises in 2020?
Deluxe Beverage Package: $63 – $89
The cost of Royal Caribbean's Ultimate drinks package for 2020 and 2021 sailings is between $63 – $89 per person, per day.
The price of Royal Caribbean's Deluxe Beverage Package is not fixed. It varies depending on the sailing, and prices also go up and down as the sailing date nears.
Royal Caribbean drinks package promotion 2020
Royal Caribbean offers a discount when you pre-book your drinks package on the cruise planner before you sail. The discount is increased by up to 20% during promotional periods.
If you buy your drinks package in advance and then see that the price drops due to a promotion, you can cancel your drinks package, get a refund and then buy it again at the lower price. It's possible to make a saving by doing this if you have the time and energy to track the prices.
Refreshment Package: $29 – $38
The price of the non-alcoholic drinks package used to be fixed at $29 per person, per day. However, for 2020 and 2021 the price varies, so you may pay anywhere between $29 and $38 per day,
Classic Soda Package: $13 – $15
The price of the fizzy drinks package is also no longer fixed at $12.99 per person, per day. For 2020 it may cost up to $15 depending on your sailing.
---
Can you share a drinks package?
Whichever package you choose, you must buy it for every adult passenger for every day of your cruise. If two adults are sharing a stateroom then both people must have the same package.
If you're travelling with children, you can have a drinks package without getting one for the kids. You have to wait 15 minutes between each drink, so it is technically possible to get drinks for the kids then 15 minutes later, go and get drinks for yourselves. Just like sneaking your own alcohol on-board the ship, this isn't technically allowed, but people do it.
Can I buy a drinks package onboard Royal Caribbean ships?
Yes. You can buy your drinks package either before you sail via Royal Caribbean's Cruise Planner, or on-board the ship on the first day of your cruise.
It's usually cheaper to buy it before you board. On-board you may see offers such as 'Buy One Get One Half Price' on drinks packages, but the original price will be inflated so that you still end up paying more than you would have done if you bought it on the cruise planner before you set sail.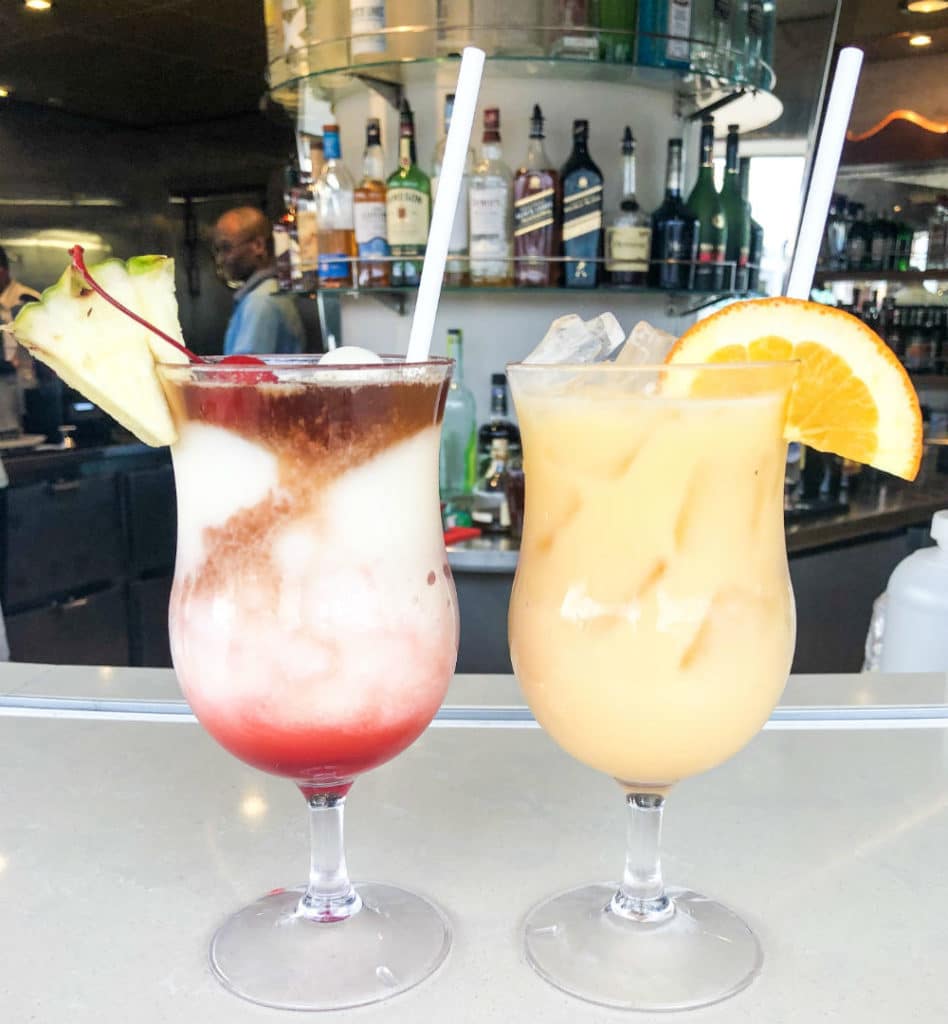 ---
Is the Royal Caribbean Deluxe Drink Package worth it?
To work out if a drinks package is worth it, you need to work out how many drinks you would need to drink each day to break even. Let's say the drinks package costs an average of $75 per day. The equates to:
6 cocktails OR
6 glasses of wine OR
9 pints of beer OR
21 soft drinks
Obviously, if you like to drink cocktails, it will be much easier to break even than if you drink beers and soft drinks.
Royal Caribbean drinks package calculator
You can use the drinks package calculator below to work out the estimated cost of your drinks if you didn't buy the package. You can compare this total with the exact price of the drinks package for your cruise (shown on your Royal Caribbean cruise planner). This will help you to work out whether the drinks package is worth it or not.
One of the benefits of a drinks package is that if you don't like a drink you don't have to drink it. If you paid $13 for a cocktail and didn't like it, you'd be pretty annoyed at yourself for choosing it. Yet with a drinks package, you're free to work your way down the menu, trying new things.
Sea days versus port days
You should think about how much time you plan to spend on the ship. Whilst you could easily drink five cocktails by the pool and then a couple of glasses of wine in the evening on a sea day, how much would you drink if you were off the ship from 9 am until 6 pm most days?
If you plan to be off the ship exploring ports most days, then not only will you not have as much time on-board to drink your drinks, but you're also less likely to want a hangover! For this reason, a drinks package may be better value on a cruise with lots of sea days, such as a transatlantic sailing.
Since 2019, Royal Caribbean has been cutting down on single-use plastics on-board its ships. They give out paper straws which are sadly not fit for purpose when it comes to frozen cocktails. They work for about half a drink before they collapse.
I would definitely recommend bringing your own metal straw, such as this collapsible straw with carry-case.
Does Royal Caribbean have free drink packages?
Royal Caribbean almost always has some kind of special offer to encourage people to book cruises. This may be the Royal Caribbean drink package promotion or something else such as kids sail for £99, free gratuities or buy one cruise fare get one half price. If you book your cruise during a "free drinks" offer, then you will get drinks included with your cruise.
In my job managing cruise websites for a travel agent, I see that cruise line campaigns change regularly and prices fluctuate almost daily. One thing which I have noticed is that the bigger the 'freebie', the higher the base price. A cruise which may cost £699 might go up to £999 with drinks included.
Note the wording used. Cruise lines rarely use the word 'free', instead they use 'included'. This is because the drinks packages are not actually free, it's just that the ticket price is adjusted to include drinks.
Do I buy a drinks package?
On my last Royal Caribbean cruise, I bought the drinks package and got my money's worth. We had a short four-night cruise to Royal Caribbean's private island, Perfect Day at CocoCay, in the Bahamas. The drinks package worked on the island as well as the ship and we spent a lot of time on-board drinking cocktails in the hot tub,
My next Royal Caribbean cruise is a seven-night cruise from Southampton to France and Spain and I won't get a drinks package. We'll be exploring ports almost every day. Plus, with sailing from the UK it will be easy to bring our own wine and cans of pop on-board so we won't need to buy many drinks on the ship.
Do you plan to buy a drinks package on your next cruise? Let me know in the comment below.
Related Posts: