When you search for cruise deals online and order the results by price from lowest to highest, MSC Cruises usually appear at the top of the list.
According to my research about how much cruises cost with each cruise line, MSC Cruises cost around 25% less than the average cruise.
But why are MSC Cruises so cheap? Are MSC Cruises bad? Or just great value for money?
In this article, I'll explain all the reasons why MSC Cruises are cheaper than most other cruise lines so that you can decide whether to go ahead and book one or not.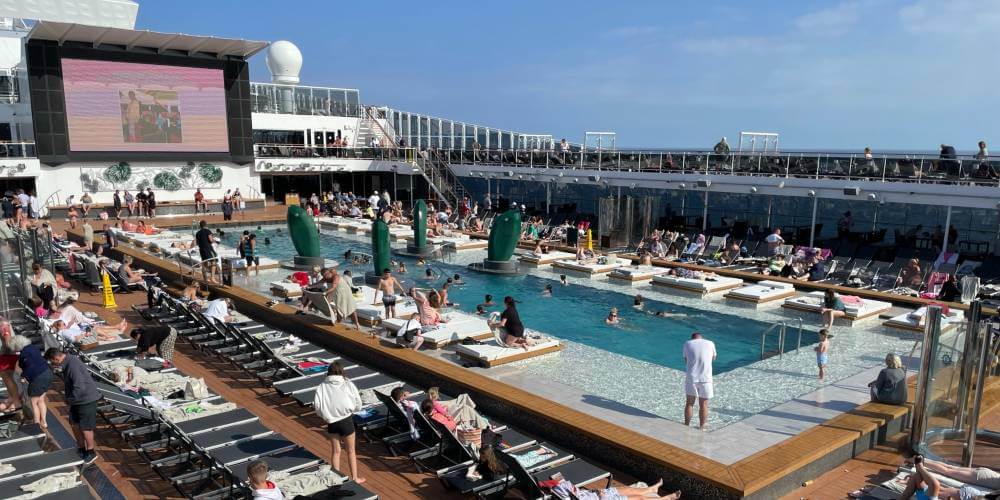 My experience
I've cruised with MSC Cruises three times. On our cheapest cruise with MSC back in 2018, we paid just £798 for two adults, a toddler and a baby for a week on MSC Preziosa.
That works out at just £28.50 (around $40) per person, per night. Unbelievable, right?
The cruise included all meals and entertainment. We also paid an extra £20 per adult per day for an all-inclusive drinks package. (The drink package prices have since increased, but you can see the latest MSC drink package prices here.)
As well as taking cruises with MSC, I've worked in the cruise industry since 2015. During this time, I've become very familiar with what MSC Cruises offers compared to other cruise lines, what people like about MSC Cruises, and what they often complain about.
So why are MSC Cruises so cheap? Let me explain…
How do MSC Cruises' ships compare to others?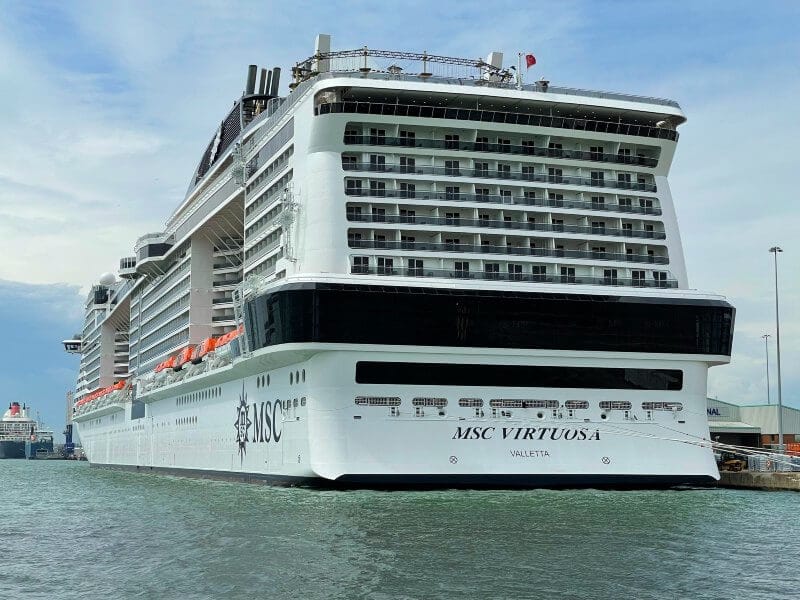 MSC Cruises are very glamorous with Swarovski crystal staircases, huge LED domed ceilings on the promenade of some ships and lots of fun facilities for the whole family to enjoy.
MSC Cruises have a low space-to-passenger ratio
One of the ways in which MSC Cruises can offer cheaper cruises is by packing more passengers into the available space on each ship.
The table below shows how many cubic feet of space each guest has on board some of the world's most popular cruise ships…
| Ship | Cubic feet per passenger |
| --- | --- |
| MSC Virtuosa | 29 |
| Carnival Mardi Gras | 29 |
| P&O Cruises Iona | 29 |
| Sky Princess | 32 |
| Norwegian Encore | 32 |
| Disney Magic | 34 |
| Cunard Queen Elizabeth | 36 |
| Marella Discovery | 36 |
| Symphony of the Seas | 36 |
| Celebrity Edge | 37 |
| Scarlet Lady | 39 |
| Azamara Quest | 39 |
Cubic feet per passenger is worked out by dividing the gross tonnage (internal volume) of a ship by the maximum number of guests. For example, MSC Virtuosa has a gross tonnage of 181,541GT and can accommodate up to 6,334 guests (181,541 / 6,334 = 28.7)
The cruise ships towards the bottom of this table are much more expensive than MSC Cruises.
You may wish to note that Virgin Voyages' Scarlet Lady and Azamara's Azamara Quest are adult-only ships, so there will naturally be more space per guest with a maximum of two people in each cabin, rather than families of four.
MSC Cruises offer cheap deals on older ships
MSC Cruises has 17 cruise ships in the fleet. The newest is the 6,000+ passenger MSC Virtuosa, while the oldest is the twenty-year-old MSC Armonia which accommodates 2500 guests.
As with any cruise line, cruises on the smaller, older ships are usually the cheapest. You'll often find that MSC's Lirica-class ships (MSC Armonia, MSC Sinfonia, MSC Lirica and MSC Opera) offer the cheapest deals.
The difference between the oldest and newest ships in any fleet can be quite stark. Not only are the newer ships bigger and more modern, they also have a lot of facilities like water slides, zip lines and robot bartenders.
The older MSC ships don't have much to do besides swimming, the casino and the gym. This makes them better suited to port-intensive itineraries where you'll be off the ship each day exploring new destinations.
Cruise ships are generally refurbished every two to three years, although that is sometimes stretched a little longer with MSC Cruises. MSC Armonia was last refurbished in 2014 and the other Lirica-class ships in 2015. [Source]
For more information about each of the MSC Cruises ships, take a look at my guide to MSC Cruise ships by size, age and class.
On the whole, the MSC Cruises ships are comparable to most other cruise lines in terms of the size of the ships and the facilities you can expect on board.
However, it's important to know that many things that are included in the cruise fare with other cruises have an extra fee on MSC Cruises. More on that further in this guide.
What are MSC Cruises' cabins like?
MSC Cruises offer a choice of budget and luxury accommodation with a choice of inside cabins, sea view cabins, balcony rooms and suites. Some ships even feature duplex suites with private whirlpool baths on the balcony.
On the newest MSC Cruises ships, the cabins are fresh, modern, and very spacious.
Our standard balcony cabin on MSC Virtuosa was the largest cruise cabin I've ever stayed in at 205 square feet. This is 20% larger than standard balcony cabins on P&O Cruises' Iona.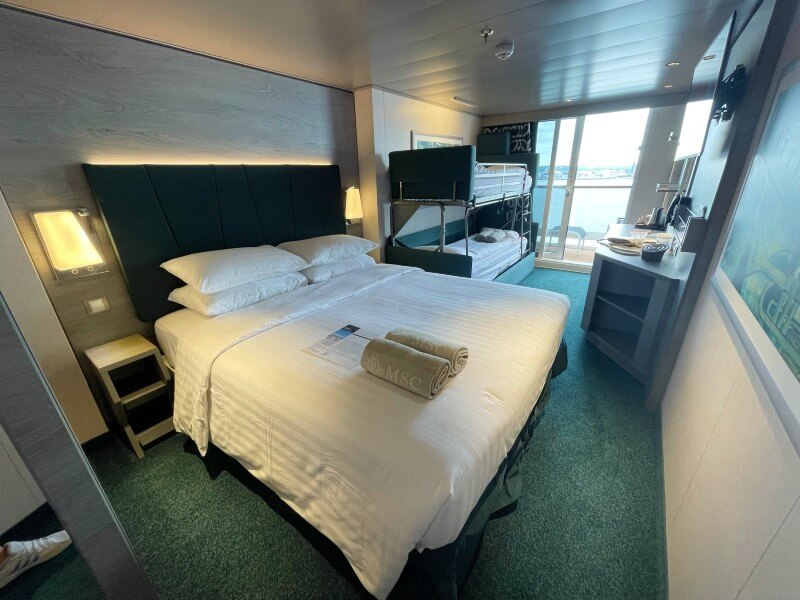 MSC Cruises cabin upgrades
On MSC Cruises, the cabins and suites are also grouped into something the cruise lines calls 'experiences'. These are Bella, Fantastica and Aurea.
The Bella experience is the standard cruise package. You can choose from inside, outside or balcony cabins, although these will be located in less-desirable areas of the ship, such as right at the front or above the nightclub. Bella balcony cabins may have obstructed views or be very windy.
If you choose to upgrade to the Fantastica package, you can choose from the more desirable cabin locations like midship. You'll also get a few extras the first choice of dinner sittings and a free photo. Of course, this comes with an extra cost.
The Aurea package comes with yet more perks, like priority boarding and access to exclusive areas of the ship so you'll be able to find an empty sun lounger more easily.
The price that you see listed for MSC Cruises is almost always based on a Bella Inside cabin. When you proceed to book, you'll see how much extra it costs to upgrade.
As most people upgrade to a different cabin type and/or a different experience, it's rare to pay the price that you actually see advertised. Although being a budget cruiser, I usually do!
To help you decide which MSC Cruises experience is the best for you, take a look at this guide to what's included with MSC Bella, Fantastica and Aurea.
NEW DEALS JUST RELEASED!
Don't miss the latest MSC Cruises offers…
Does MSC have good food?
MSC Cruises offers a variety of cuisine from Italy, the Mediterranean and around the world. You can dine in the main dining room or buffet for free, or pay extra to eat in a speciality restaurant.
A question that I get asked a lot is what is the food like on MSC Cruises. The food is often mentioned in negative reviews, but that doesn't mean that it's necessarily bad. It can be hit and miss though. It's really hard to please everyone when it comes to food.
I've enjoyed some delicious food on MSC Cruises and I've also had some food that I couldn't bring myself to eat.
In the main dining room, the portions of food are very small. I don't actually mind this as it means that less is wasted. Just be sure to order side dishes like vegetables, potatoes or fries because these don't come unless you ask for them.
If you have a large appetite, don't hesitate to order more than one dish for each course or to choose another main for your starter. The staff don't mind at all and, if anything, doubling up on your order is encouraged!
One great thing about the food on MSC Cruises is that it's tailored to the nationalities of the guests.
On my recent cruises on MSC Virtuosa, everyone on board was British. The buffet featured real English bacon and sausages, baked beans, roast beef and Yorkshire puddings. There was even a kettle in each room with Yorkshire Tea.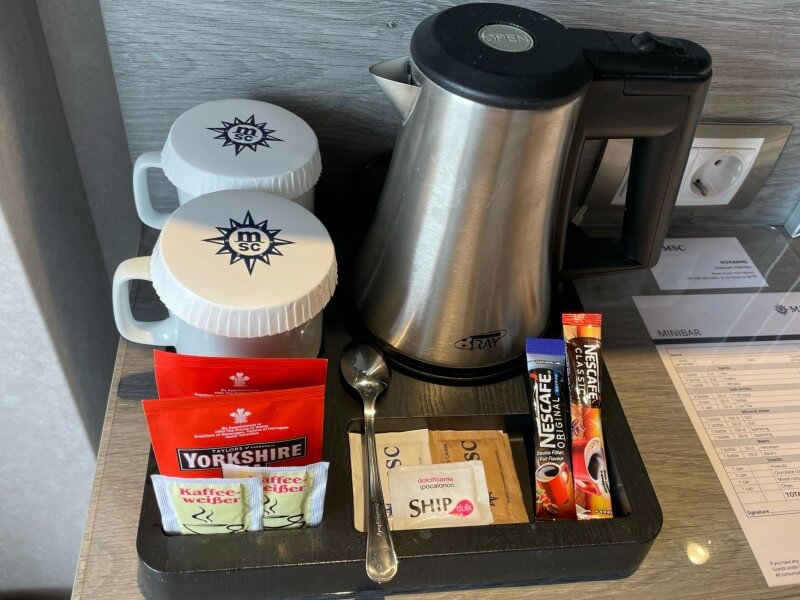 If you take a cruise where most of the other guests are European or American, you can expect cuisine that's more tailored to what they enjoy. So don't expect English bacon in the Caribbean!
I'm vegan and found that even though MSC Cruises don't offer vegan menus or label anything as vegan or dairy-free, there's always something for vegans to eat. You can read more about how to eat vegan on MSC Cruises here.
All the food on MSC Cruises ships is really fresh and the pizza, pasta and bread are made on board. On MSC Virtuosa you can even watch as the crew make their own Mozarella cheese!
Just like other cruise lines, MSC Cruises offers speciality dining restaurants for an extra charge. So if you want a special treat or get bored of the main dining room and the buffet, you have more options.
What drinks are included on MSC Cruises?
Most MSC Cruises do not include drinks, although you may sometimes get a drink package included as part of your cruise fare, depending on the deal that you booked.
Even if your cruise does not include drinks, you'll always be able to get free water, coffee, tea, iced tea, lemonade, milk and chocolate milk as well as fruit juice at breakfast time. These aren't available in the bars though, usually only in the main dining room or buffet at set times.
This is similar to the offering on most other cruise lines.
Just like other cruise lines, MSC Cruises offer a selection of drink packages that you can purchase to transform your cruise from full-board to all-inclusive. The prices vary depending on what drinks you'd like to be included and also where in the world your cruise takes place.
You'll find more info on MSC drinks packages here.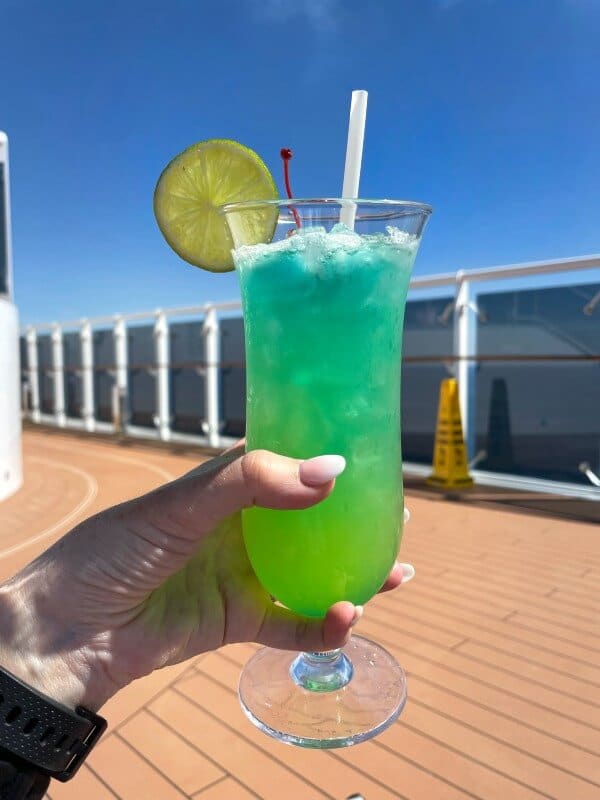 The drinks on MSC Cruises are priced similarly to other cruise lines – which means that they're a little more expensive than you may expect in bars and restaurants on land. Take a look at these MSC drinks menus with prices to get an idea of how much you might pay for drinks.
Is the MSC drink package worth it?
If you need help deciding whether a drink package is worth it for your cruise, feel free to use my drink package calculator which will work it out for you…
While some other cruise lines allow you to bring a certain amount of alcohol on board with you, MSC Cruises does not allow guests to bring any drinks at all. Bottled water is only allowed on board if you need it for medical reasons.
One thing to consider when buying a drink package is that you may get tired of lining up to order drinks, so this can limit how much you actually drink.
On my last cruise with MSC, waits of 30 minutes or more for a drink were common. By the time you have your drink, you'd basically have to rejoin the back of the queue at the bar for another. And that's not a fun way to spend your cruise! I didn't drink as much as I would if a waiter were to come around regularly offering drinks.
I can understand why MSC Cruises don't have many bar staff or waiters on cruises where everyone has a free drink package. The more staff they have, the more drinks they would make which would mean less revenue for them. But it's not the best experience for guests, in my opinion.
What entertainment is on MSC Cruises?
Each MSC Cruises ship has a theatre where you can enjoy shows on most evenings. You'll often find live music in other venues around the ship as well as trivia and quizzes.
I've found the entertainment on MSC Cruises to be pretty good. If you take a cruise in Europe, you'll probably find that the shows aren't in English – rather a mix of lots of different languages so that everyone can enjoy them.
MSC Cruises do charge extra for some of the shows. That's something that you'll rarely find on other cruises.
On our last cruise, the extra shows cost £15 each and included a free cocktail. This can be a good deal for some, as the cocktails cost around £10 anyway.
As we already had a drink package and the price was the same for kids and adults, we felt that £60 for a 30-minute show was over our budget. However, other cruisers reported that the paid shows were well worth the money.
If you want to see the shows, I recommend that you book them online before you go, as the prices will be cheaper.
What is there to do on MSC Cruises?
I've always found that the daytime entertainment to be lacking on MSC Cruises. With no free activities on offer, people are encouraged to visit the boutiques, casino and spa – all of which provide extra revenue to supplement the low fares.
At first glance, the daily planner looks like it has a lot of activities, but on closer inspection, many of these are things like 'David Beckham Sunglasses' (that's just shopping), 'The Modern Assessment of Health' (that's a sales pitch) or paid activities like yoga.
If you'd rather not spend more money on board, I recommend bringing a few card games on board. Our favourite is Monopoly Deal.
The newer MSC Cruises ships are packed with exciting activities that kids and adults will love. However, while similar activities are included in the cruise fare on other cruise lines like Royal Caribbean, MSC Cruises charge extra for these things.
Here's a rough guide to what you can expect to pay to use the facilities on MSC Cruises ships:
| Activity | Cost | Ships |
| --- | --- | --- |
| Zip Line | $10 | MSC Seaside, MSC Seaview |
| Bowling | $45 | MSC Grandiosa, MSC Bellissima, MSC Seaview, MSC Seaside, MSC Meraviglia, MSC Magnifica, MSC Divina, MSC Splendida, MSC Preziosa |
| Arcade | $3 | All ships |
| Formula Racer | $10 | MSC Grandiosa, MSC Bellissima, MSC Seaview, MSC Seaside, MSC Meraviglia, MSC Divina, MSC Splendida, MSC Fantasia, MSC Preziosa |
| 4D Cinema | $10 | MSC Seaview, MSC Seaside, MSC Meraviglia, MSC Preziosa, MSC Divina, MSC Splendida, MSC Fantasia, MSC Magnifica. |
| Billiards | $30 | MSC Seaview, MSC Seaside, MSC Magnifica. |
| Flight Simulator | $15 | MSC Meraviglia |
The cost may vary depending on the currency of the ship and the prices may vary slightly for kids or if two people do the activity at once.
To save money on these activities you can buy an MSC Fun Pass before your cruise. If you pay a certain amount for the pass, you get extra credit which you can use to pay for the activities. The pass can be used by everyone in your family.
You can also buy the Fun Pass on the ship, but you'll usually get a better deal by buying it in advance.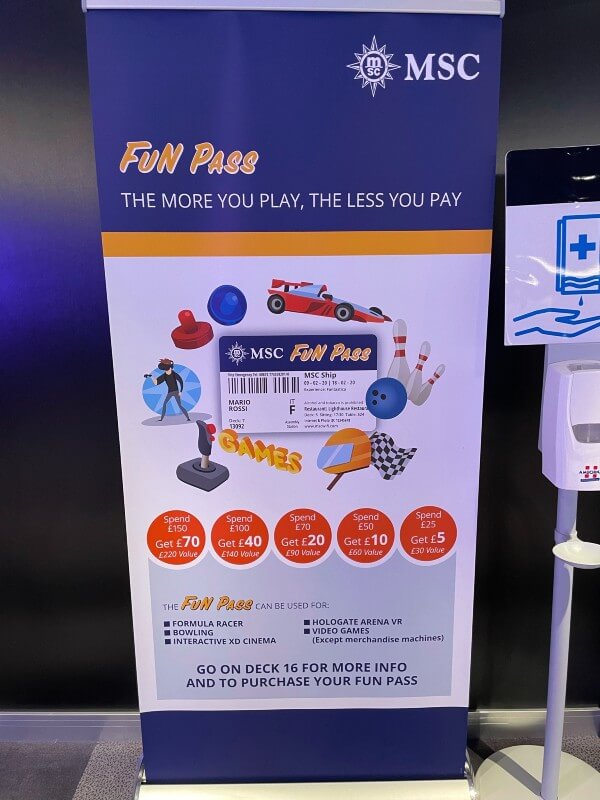 Things like swimming pools, waterslides and the high ropes course are free of charge. But as these are so popular it can be very tricky to get a place. Depending on your sailing, you may have to queue for a very long time to get a ticket.
My husband would have loved to try the high ropes course but as it was only open for a couple of hours each day, he just couldn't face the huge queues for a ticket.
What's the service like on MSC Cruises?
In my experience, one area where MSC Cruises falls a little short of other cruise lines is the service. It just doesn't have the wow factor that you may be used to if you're a regular cruiser with cruise lines such as Disney.
But remember, MSC Cruises are cheap and you get what you pay for. If the service were better, you would expect to pay more!
Suggested read: How much is a Disney cruise compared to other cruises?
The guest-to-crew ratio on MSC Cruises is pretty high, with an average of 3.4 guests for each crew member. The actual number varies depending on the ship and how full it is.
MSC Cruises' new ship, MSC World Europa accommodates up to 6,774 guests with a crew of 1,413, giving a ratio of 4.8 to 1. By contrast, some ultra-luxury cruise ships actually have more crew than guests, meaning that a higher level of service can be offered.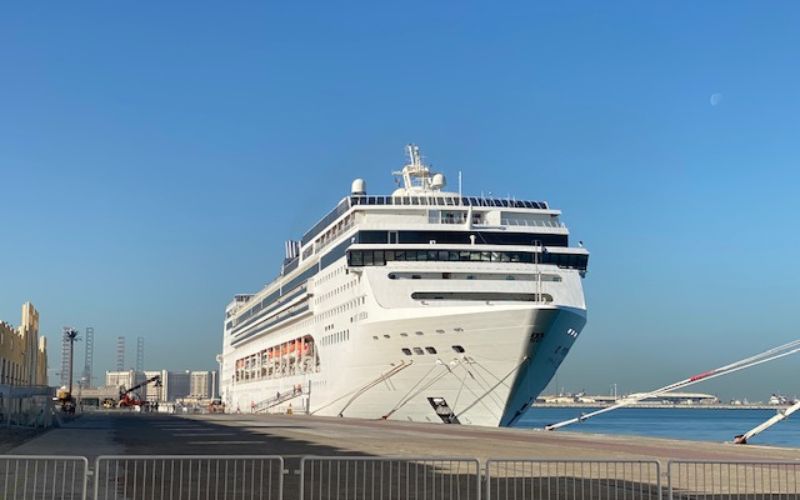 Suggested read: MSC World Europa Review
The following table shows the guest to crew ratio on some popular cruise ships:
| Ship | Guest-to-Crew Ratio |
| --- | --- |
| MSC Virtuosa | 3.70 |
| Carnival Mardi Gras | 3.63 |
| P&O Cruises Iona | 3.63 |
| Sky Princess | 3.26 |
| Norwegian Encore | 3.01 |
| Cunard Queen Elizabeth | 2.78 |
| Marella Discovery | 2.73 |
| Symphony of the Seas | 2.66 |
| Disney Magic | 2.59 |
| Celebrity Edge | 2.56 |
| Scarlet Lady | 2.47 |
| Azamara Quest | 1.91 |
Because there are fewer crew members in relation to the number of guests, the MSC Cruises crew really have to work their butts off. They do so with a smile, but they don't usually have time to chat as their next guest is waiting.
I noticed that one bartender was wearing a jacket on a very hot day when I went to the bar in just a bikini. "Aren't you hot?", I asked?
"Yes", he replied, "But I don't have time to remove my jacket."
because the crew are so busy, there's not always time for them to collect glasses, so you may see areas like this appear where guests dump their stuff and it's not moved straight away…
The lower number of crew members means that you may also have to wait a little longer for things than you might be used to. On our last cruise, we regularly waited more than 30 minutes for drinks. Lunch in the main restaurant could take up to two hours.
In my experience, MSC Cruises crew members rarely enforce the cruise line's rules. So you may see babies in nappies in the swimming pools, even though this isn't allowed for hygiene reasons.
The cruise line's rules state that sun loungers should not be reserved for more than 30 minutes when not in use. But, as the crew members never remove towels, this can create a chain reaction of no sun loungers being available, which in turn encourages people to get up before 7 am to lay down their towels the moment the loungers are laid out!
Do you have to pay gratuities on MSC Cruises?
MSC Cruises include gratuities for some people, but others will pay up to $14 per person, per day. Whether you have to pay gratuities on your cruise depends on where in the world you live.
As British people aren't generally used to paying tips, MSC Cruises include the gratuities in the cruise fare. This means that if you compare the price of an MSC cruise with an American cruise line that adds gratuities, the MSC cruise will come out even cheaper once you factor that in.
For more information on how much MSC gratuities cost in each country, check out this guide to MSC gratuities by Emma Cruises.
Of course, you're welcome to tip individual crew members for great service if you wish, but the cruise line doesn't do anything to encourage this.
Are MSC Cruises any good?
In my opinion, MSC Cruises offer good value. At the end of the day, you get what you pay for, so if you want the very best service, food and entertainment, you may wish to go for a slightly more expensive cruise with a cruise line such as Royal Caribbean or NCL.
Suggested read: What's included in a Royal Caribbean cruise?
If you're on a budget, MSC Cruises is a great option. Although a lot of the activities cost extra, they're all optional so you don't have to spend a penny more than the advertised price if you don't want to.
On our last cruise with MSC, we left with a zero balance at the end.
That said, I think that some people forget just how little they paid for their cruise when they write reviews online. And this has led to MSC Cruises being named among the worst cruise lines online.
Is MSC a luxury cruise line?
MSC Cruises is not a luxury cruise line, it is very much mainstream. However, the MSC Group does also have a new luxury brand called Explora Journeys. This luxury cruise line will set sail for the first time in 2023.
When it comes to cruising, it's important to consider the definition of luxury. Even budget cruise lines like MSC Cruises offer something akin to a luxury five-star hotel.
Across the cruise industry, standards are generally very high. Even on the cheapest cruises, you can expect everything to be perfectly clean, in good working order and the service to be very good. You shouldn't ever experience tired furnishings or outdated facilities as you may do in accommodation on land.
When it comes to cruising, the word luxury is usually reserved for ships offering a 'six-star' experience, with private butlers, free-flowing champagne, lobster dinners and caviar canapes.
If you like the sound of MSC Cruises want a more luxurious experience, then I recommend that you look into the MSC Yacht Club.
The MSC Yacht Club is like a ship within a ship. It offers exclusive areas where you can enjoy fine dining, panoramic views from the top of the ship, luxurious suites and dedicated concierge service.
Of course, the Yacht Club costs a lot more than your standard MSC cruise, but it's certainly an option to consider if you like the sound of MSC Cruises but want a more luxurious experience.
NEW DEALS JUST RELEASED!
Don't miss the latest MSC Cruises offers…
MSC Cruises FAQs
Here are the answers to some questions which are often asked about MSC Cruises. If you'd like to know anything else, please add your question to the comments below and I will answer it for you.
Do they speak English on MSC Cruises?
All staff speak English on MSC Cruises. Depending on where you embark, announcements may also be made in other languages including Italian, German, French, Spanish and Portuguese.

The order in which these languages appear is determined by the nationality of guests on each cruise.
Is room service free on MSC Cruises?
On MSC Cruises, room service has a charge per item for all guests except those in the Yacht Club. Guests with the Bella experience will also be charged a $3.50 delivery fee. MSC Cruises room service is free of charge at breakfast time for all guests except Bella guests.
Does MSC have self-service laundry?
MSC Cruises ships do not offer any self-service laundry facilities. Any items that you need to be washed or pressed can be sent to the laundry for a fee.
What is the nicest MSC ship?
The nicest MSC Cruises ships are the newest ones – MSC Virtuosa, MSC Grandiosa, MSC Bellissima and MSC Meraviglia. These ships are the most modern, with the best decor and facilities.
Can you opt out of gratuities on MSC?
Opting out of gratuities is not recommended as cruise ship crew rely on these to supplement their wages. But, if you're really unhappy with the service, you can speak to guest services on the ship at the end of your cruise and remove the gratuities.
To conclude
In my opinion, MSC Cruises offer good value cruise holidays for a relatively low price. Of course, there are things that could be done better, but fixing these issues would push up the price.
If don't have a lot of money to spend and are wondering if you should try MSC Cruises, I would say yes. However, if you can afford to spend a little more, you may find that you have a better experience by cruising with a slightly more expensive cruise line such as Royal Caribbean, Princess Cruises or Norwegian Cruise Line.
If you want to cruise as cheaply as possible, taking an MSC cruise in the off-season and choosing an inside cabin is the ultimate way to do it.
Related posts: