Hi, I'm Jenni Fielding.
My cruise blog helps over 500,000 people to plan their cruises each month.
My goal is to help as many people as possible to make the most of their cruises, whether that's finding the right ship, choosing the best cabin, deciding whether to buy a drink package or anything else.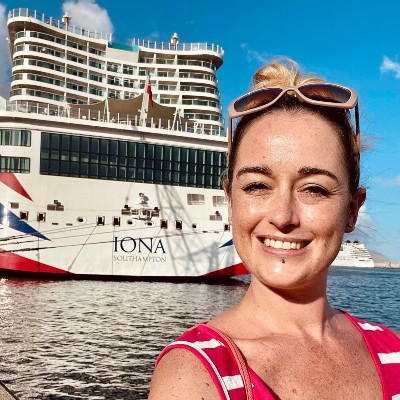 Media mentions:
Get in touch:
Email me: [email protected]
I send a weekly email to 20,000 subscribers:
I have 10,000 highly-engaged followers on Instagram:
My Latest Articles:
My story:
I'm a 37-year-old mum of two from Bolton, UK. I first developed my cruise addiction when we booked a honeymoon cruise in 2013. As soon as I stepped on-board Allure of the Seas I was hooked! So much so, that we took our second cruise just six months later.
Nowadays, cruising is a very different affair, since the arrival of our two children, Leonie, who's seven and Adam, who's five.
I spent five years working for a specialist cruise travel agency before becoming a full-time cruise blogger. That's where I learnt all the cruise tips, tricks and hacks that I share on my blog.
I understand that cruising as a family can require more than a little planning, particularly if you've never cruised before. I created this blog to help people to find the right information to make planning a cruise as easy as possible.
Although this started as a family cruise blog, many of the people that I help are actually couples or solo travellers.
So, whether you're wondering if a cruise with kids is a good idea, or trying to decide whether to splash out on a balcony cabin, I'm here to help.