Royal Caribbean drinks packages let you drink as much as you want – for a daily fee. Enjoying all-inclusive drinks on your cruise is fantastic – but it's not a good deal for everyone.
Royal Caribbean has five different drinks packages to choose from. And they're so confusing!
In an effort to decide whether to splash out hundreds of dollars on drinks or not, cruisers often turn to social media, where you'll find tens of Facebook groups dedicated to the topic. Some of these have over 50,000 people, asking questions daily!
The most common questions are about how much the Royal drink packages cost, how much drinks cost, and whether the package is worth it.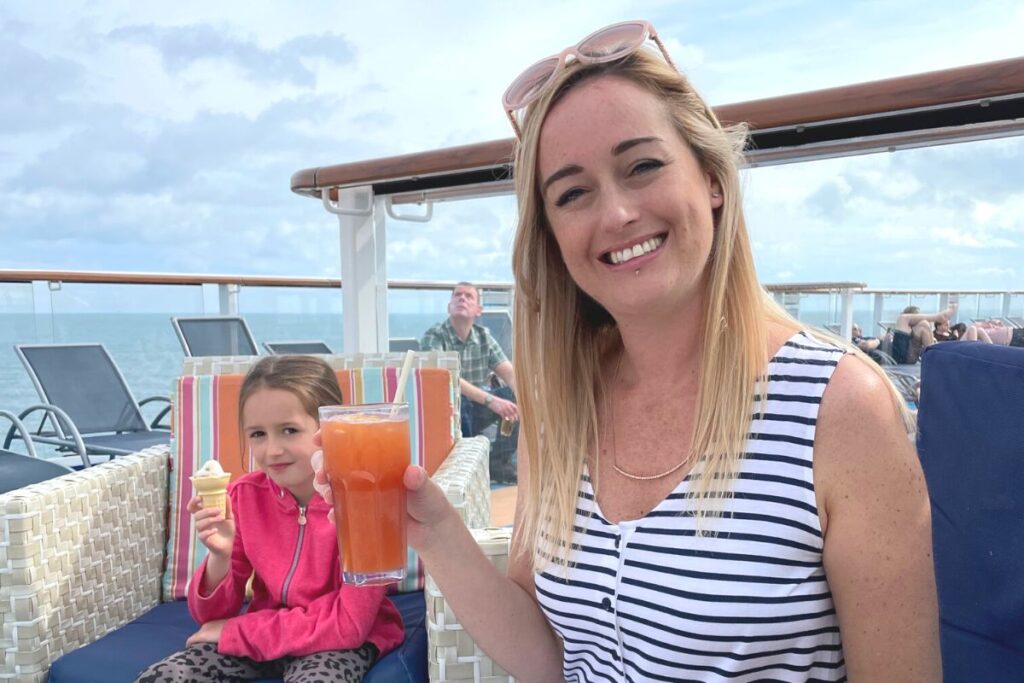 I've cruised with Royal Caribbean many times over the past ten years, and in this guide, I'll share all the details you need to know, so that you can enjoy your cruise without feeling ripped off.
Comparing Royal Caribbean's Drink Packages
| | Deluxe Beverage Package | Refreshment Package | Soda Package |
| --- | --- | --- | --- |
| Cost | $50 to $115 per person per day | $38 per person per day | $15 per person per day |
| Alcoholic drinks | ✔️ | ✖️ | ✖️ |
| Non-alcoholic cocktails | ✔️ | ✔️ | ✖️ |
| Freshly squeezed juices | ✔️ | ✔️ | ✖️ |
| Premium coffees & teas | ✔️ | ✔️ | ✖️ |
| Bottled water | ✔️ | ✔️ | ✖️ |
| Milkshakes | ✔️ | ✔️ | ✖️ |
| Sodas | ✔️ | ✔️ | ✔️ |

In addition to these packages, you also have the water bottle package, which gives you 12 bottles of Evian delivered to your stateroom for $39, and the coffee package, which gives you 15 speciality coffees for $31

Whether the drinks package is worth it depends on the price and how much you drink. If you just want to know what you have to drink to break even on the package, then you can use my drink package calculator which will work all that out really quickly.
Royal Caribbean Drink Package Cost
How much is the drink package on Royal Caribbean?
Royal Caribbean's Deluxe Beverage Package has dynamic pricing. The price changes daily depending on the ship, the destinations, the level of demand and current promotions. But it's usually between $50 and $115 per person, per day.
The Refreshment package is $38 per day and the Soda Package is $15 per day. However, there are often promos which make these cheaper.
Royal Caribbean keeps the price of its drink packages secret until after you have booked your cruise.
This is super annoying because you want to be able to budget for the whole cost of your cruise with drinks before you commit to booking, right? Oftentimes, people book a cruise and then be shocked and annoyed to see that the drink package is over $100 per day. Sometimes, the drink package costs more than the cruise itself!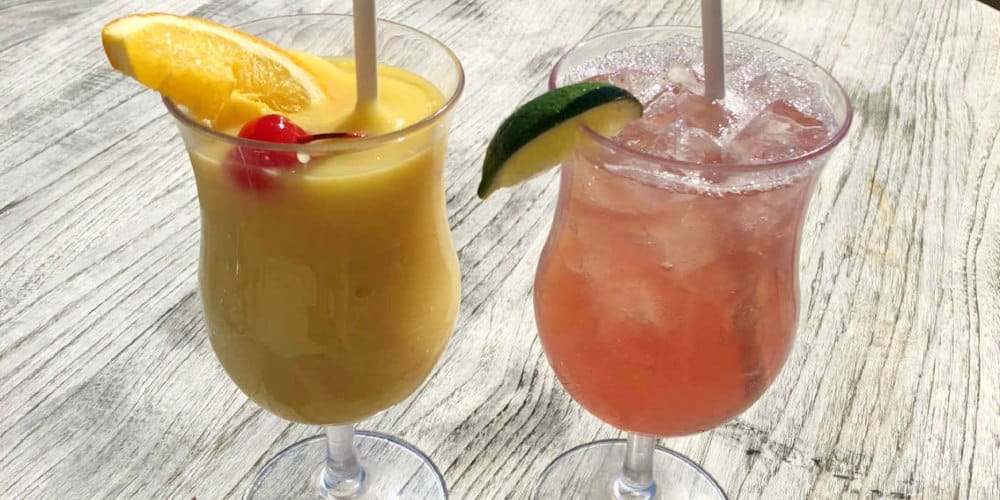 How to see the exact price of the drink package for your cruise
Knowing the price of the drink package today isn't that helpful, because it could go up or down tomorrow. But, if you're on the fence about booking, I can certainly see why you'd want to do this.
There are a few different methods you can use to check the price of the Deluxe Beverage Package without making a booking.
1. Start an online booking
I read this article on the Royal Caribbean blog that says that 'The Royal Caribbean website now has a Beverage Package step added to the checkout flow, where guests are given the choice to add them to their cart at the same time of booking the cruise.'
Supposedly, if you start an online booking, you'll see a screen with the current drink packages prices, like this…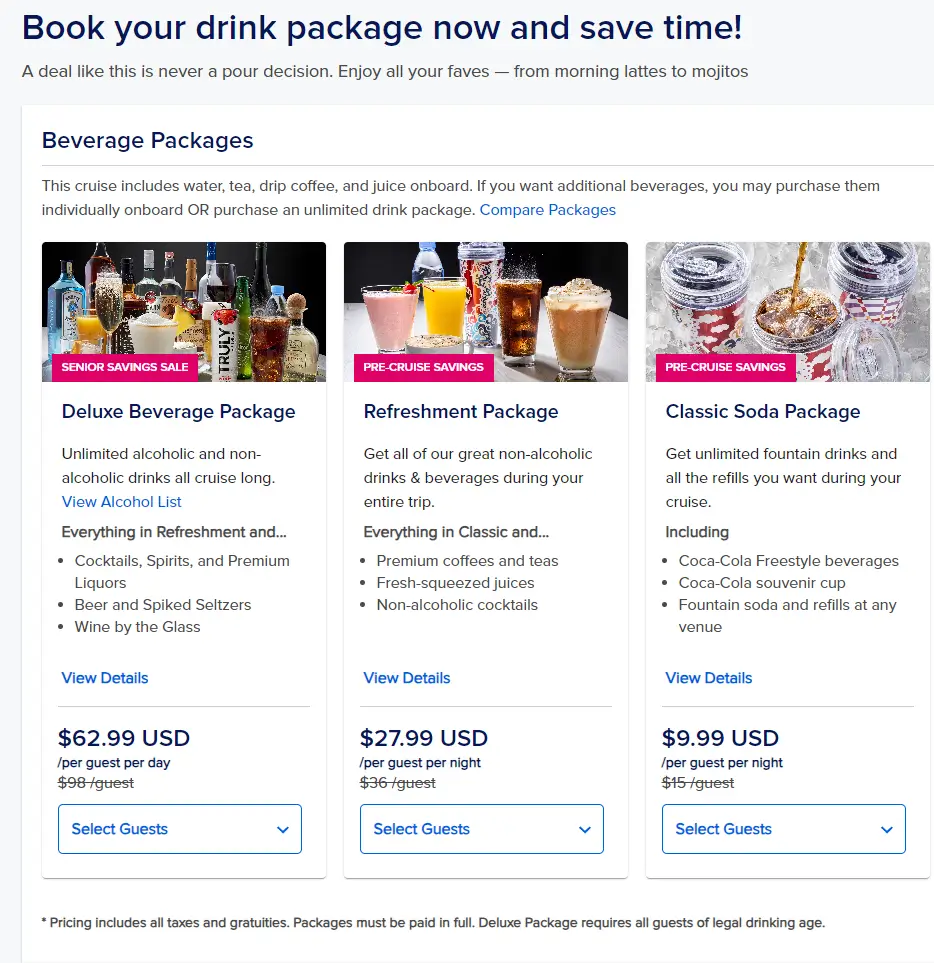 However, I tried this on both the UK and the US versions of the Royal Caribbean website and I was unable to see it. Have they stopped doing it? I'm not sure, but if it does work, it doesn't work for everyone.
2. Sneak into Royal Caribbean's cruise planner
The Royal Caribbean cruise planner is where you can see all the extras that you can add on after booking – such as drink packages. I found this forum post that explains how you can get into the planner without a booking, and see the price of the drink package for the cruise you're interested in.
You just need to make sure that you're not logged into the planner (use Incognito mode) and then adjust the URL to match your chosen ship and sail date.
I tried it using this url: https://www.royalcaribbean.com/account/cruise-planner?bookingId=&shipCode=IC&sailDate=20240127 which showed me the drink package price for the maiden voyage of Icon of the Seas.
3. Ask your travel agent
Travel agents have access to far more info than we do, including the current drink package prices. A good travel agent will be able to log into their system and find the price for you.
4. Join the Facebook group for the cruise
Most cruises have Facebook groups for the sailing. If you join the group, you can ask in there what other people paid for their drinks packages. This will give you a good idea of not just what the price is today, but what it has been previously.
What's Included in Royal Caribbean's Drink Packages
Before we dive into what's included in each package, it's helpful to note that none of Royal Caribbean's drink packages include mini bar items, bottles of wine, canned sodas, bottled juices, souvenir glasses or super premium drinks. But here's what they do include…
Deluxe Beverage Package
Royal Caribbean's alcohol drinks package includes:
Beer
Wine by the glass
Cocktails and mocktails
Spirits and liquors
Premium teas and coffees
Sodas and soft drinks
Freshly-squeezed juices
Bottled water
Refreshment Package
Royal Caribbean's non-alcoholic drinks package includes:
Non-alcoholic cocktails (mocktails)
Premium teas and coffees
Sodas and soft drinks
Freshly-squeezed juices
Bottled water
Classic Soda Package
Royal Caribbean's soda package includes:
Coca-Cola (including diet, zero, caffeine-free and many different flavours of colas like strawberry, cherry and lime)
Fanta, Sprite and Dr Pepper (and zero versions)
Powerade (and zero version), Vitamin water and Hi C
Seagrams ginger ale (and diet version)
Barry's root beer and creme soda (and diet versions)
Minute Maid orange and lemonade (and light versions)
Dasani flavoured or sparkling waters
All of these packages come with a refillable souvenir cup which you can use at self-service machines across the ship and help yourself to unlimited refills. You don't have to use it though, you can just order fountain sodas from bars and restaurants if you prefer.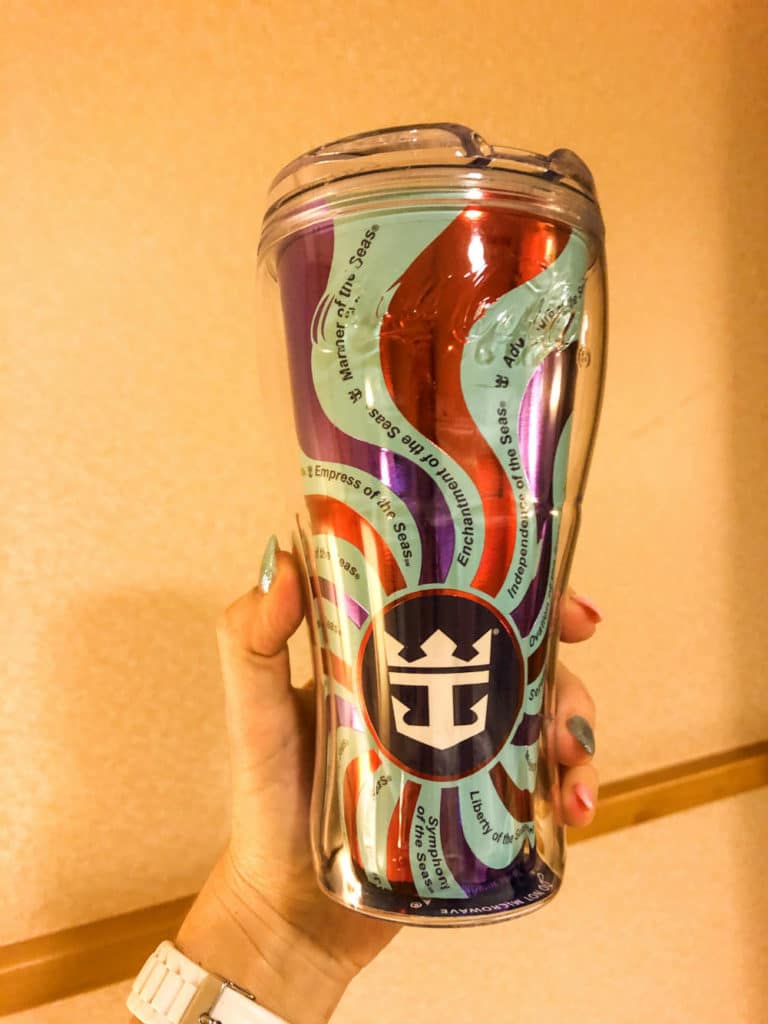 Royal Caribbean Coffee Package
For those who drink mostly coffee, Royal Caribbean offers a Cafe Select Coffee Card. This costs $31 and gives you 15 speciality coffees throughout your cruise. This reduces the price of each coffee from around $4 to around $2.
Before you go ahead and buy the Coffee Card, here are some things you'll want to consider:
You cannot use a Coffee Card in Royal Caribbean's Starbucks cafes
Grande and Venti size drinks will count as two drinks
You can share the card and purchase multiple drinks at the same time
Brewed coffee is always free from the Windjammer buffet
Specialty coffee is already included in both the Deluxe and Refreshment drink packages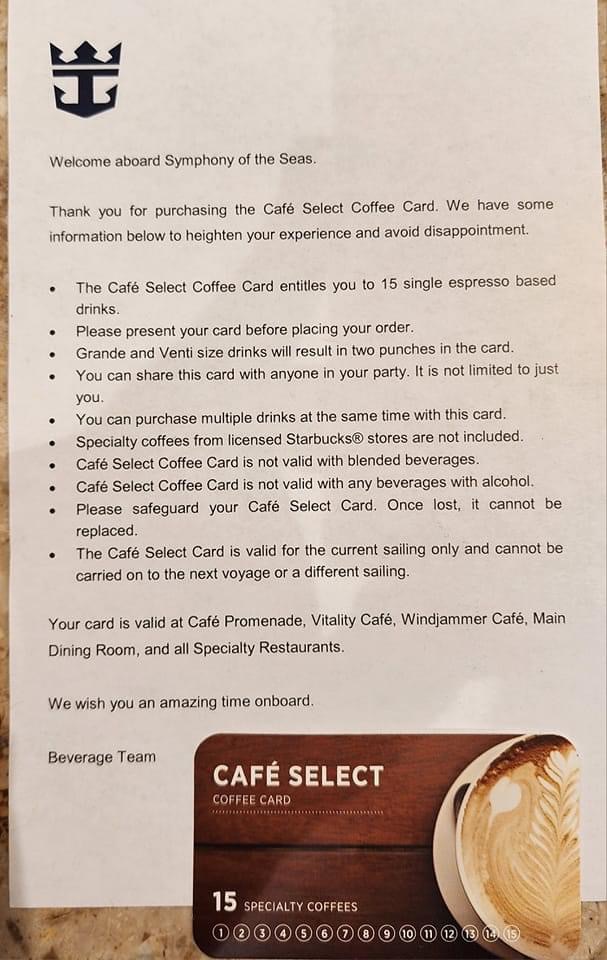 Royal Caribbean Water Package
The tap water on Royal Caribbean cruise ships is perfectly safe to drink and tastes okay, although it may not always be very cold, depending on the weather. If you prefer to keep some bottled water in the fridge in your room, you can order 12 or 24 bottles of water to be delivered to your stateroom.
On Royal Caribbean cruises it costs $39 for 12 one-litre bottles of water to be delivered to your stateroom.
Once you have an idea of the package price, the next thing you'll want to learn is how much the drinks cost. Then you can work out how many drinks you'll need to have before you break even on what you spent and start to get your money's worth!
Royal Caribbean Drink Prices
Royal Caribbean drinks prices are on the high end when compared to other cruise lines. You can see a price comparison of drinks across all cruise lines here.
Here are the average Royal Caribbean drinks prices:
| Drink | Price |
| --- | --- |
| Beer | $7 – $8 |
| Glass of wine | $9 – $20 |
| Cocktail | $8 – $13 |
| Soft drink | $3 |
| Specialty tea or coffee | $4 |
| Bottle of water | $3 |
| Tea, coffee and hot chocolate | FREE |
| Flavoured water | FREE |
| Lemonade | FREE |
| Milk | FREE |
| Fruit juice | FREE with breakfast |
You should note that these prices are before an 18% gratuity is automatically added – I'll explain more about that later.
If you'd like to know exactly which drinks are available on Royal Caribbean cruise ships and how much they cost, you can see photos of Royal Caribbean's drink menus here.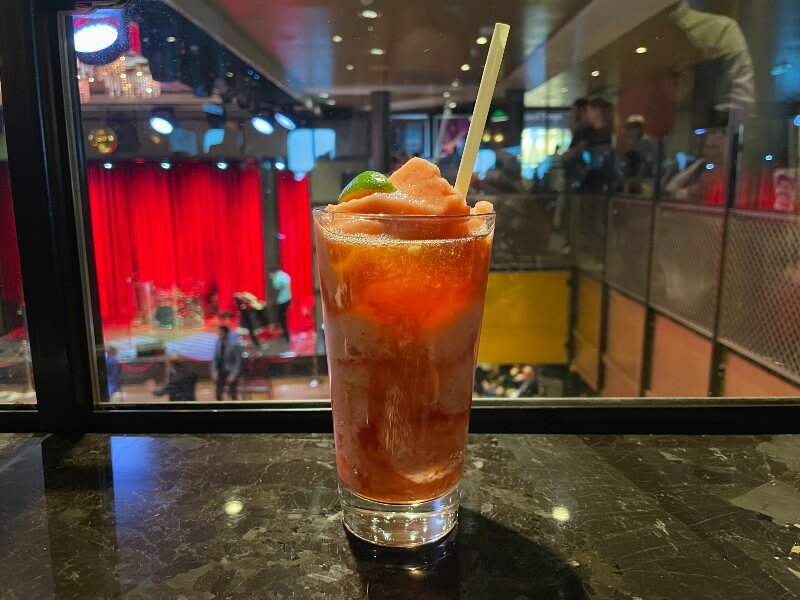 Before you start doing the maths to work out how many of each drink you have to drink to get your money's worth from a package, just wait.
I have a free tool that will work that out for you. Just pop your email below and it will be in your inbox faster than you can say pina colada.
When To Buy The Drink Package For The Best Price
As the drink package price fluctuates so much, you can save quite a lot of money by timing your purchase right.
For the best price, you should always book your drinks package in advance before your cruise and not wait until you get on board the ship.
When you log into Royal Caribbean's cruise planner, look out for special offers like this…

Note that if you live in the UK, you'll see your drink package prices in £GBP on the Cruise Planner. I've just used $USD in this guide to keep things consistent for most readers.
On the first day of your cruise, you may see signs offering Buy One Get One Free deals on drinks packages. You should know that the onboard prices are inflated, and it's still always cheaper to buy your package before your cruise.
Royal Caribbean Drink Package Promotion 2023
Royal Caribbean offers a discount when you pre-book your drinks package on the cruise planner before you sail. The discount is up to 30% during promotional periods such as Black Friday.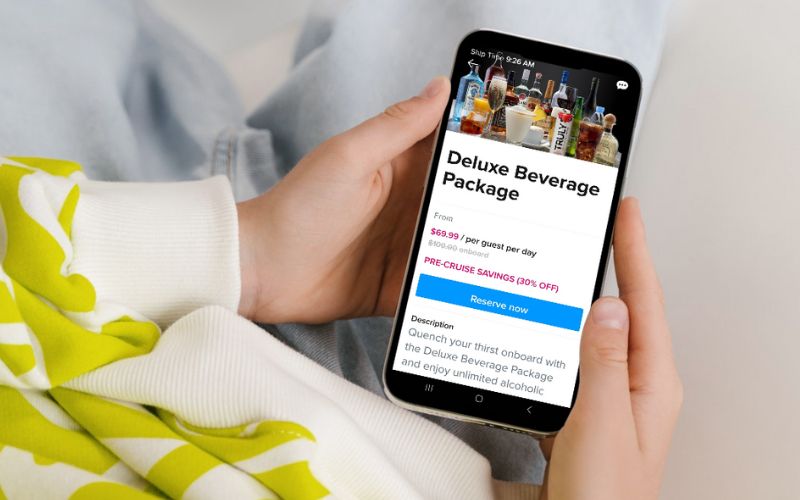 If you buy your drinks package in advance and then see that the price drops due to a promotion, you can cancel your drinks package, get a refund and then buy it again at the lower price. It's possible to make a saving by doing this if you have the time and energy to track the prices.
You can read more about this here: The Best Time to Buy A Royal Caribbean Drink Package.
NEW DEALS JUST RELEASED!
Don't miss the latest Royal Caribbean offers…
Things To Know About Royal Caribbean Drink Packages
If you do decide to buy a drink package for your cruise, then there are some important things that you must know, so as not to get caught out with an unexpected extra charge.
1. You can't share a drink package
On Royal Caribbean cruises, sharing a drink package is not allowed. If you're caught sharing your drinks with someone who doesn't have a package, or cheating the package in any other way, you risk having your drink package cancelled without a refund.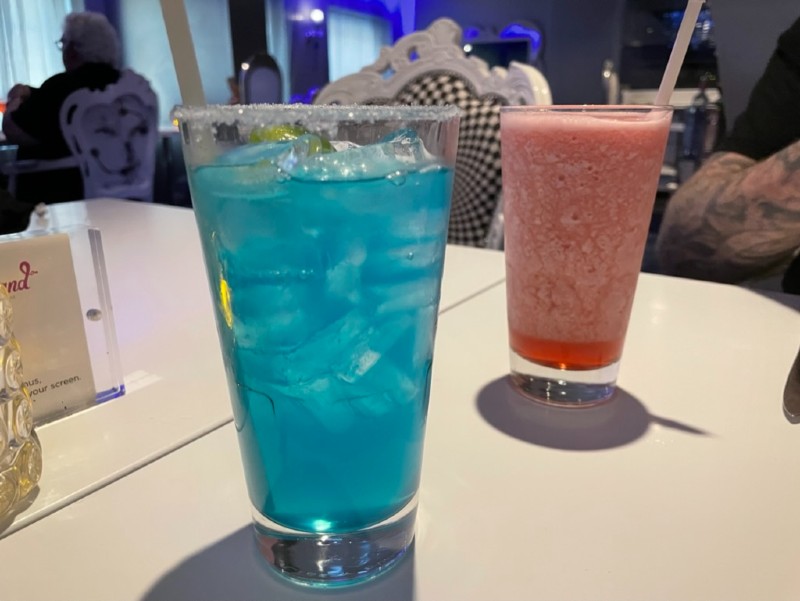 2. Every adult in your cabin must have the same package
Whichever package you choose, you must buy it for every adult passenger for every day of your cruise. If two adults are sharing a stateroom then both people must have the same package. So you can't get the Royal Cribbean alcohol package for one person and the soft drink package for another.
This is to prevent people from using their package to get drinks for other who don't have the package.
There are some exceptions to this rule, though. Under certain circumstances, you may be able to buy the Deluxe Beverage Package for one guest and the Refreshment Package for another guest.
These exceptions include:
Medical conditions
Pregnancy
Alcohol addiction
Religion
If any of these apply, then contact your travel agent or Royal Caribbean and explain your circumstances. You may be required to show proof.
3. You don't need to buy a drinks package for children
Unlike some other cruise lines, such as MSC Cruises, Royal Caribbean does not require guests under the legal drinking age to buy any kind of drinks package. So, you can get an alcohol or soft drink package for the adults without being required to buy any kind of package for your children.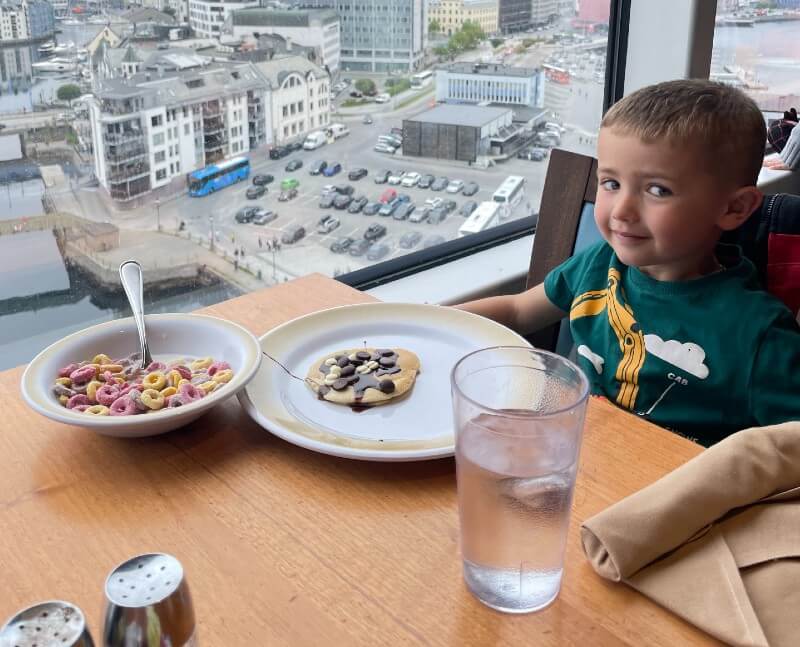 You have to wait 15 minutes between each drink, so it is technically possible to get drinks for the kids then 15 minutes later, go and get drinks for yourselves. Just like sneaking your own alcohol on board the ship, this isn't technically allowed, but people do it.
4. There's no limit to how many drinks you can have
Whilst many other cruise lines limit the number of drinks you can order to 15 in any 24-hour period, Royal Caribbean has no daily limit. However, if you appear to be too intoxicated, the staff won't serve you any more drinks.
5. Not all drinks are included
The Deluxe Beverage Package includes drinks up to $14 in value. That's pretty much everything, aside from some premium wines and spirits.
Howerever, it doesn't include anything from Starbucks, your mini bar, some speciality beers that are shown on the menu, or anything in a souvenir glass.
The deluxe package also doesn't include wine by the bottle, so be sure to always order it by the glass. It does give you 40% off any wine up to $100 and 20% off any wine over $100 though, if you want to treat yourself to a bottle of something special.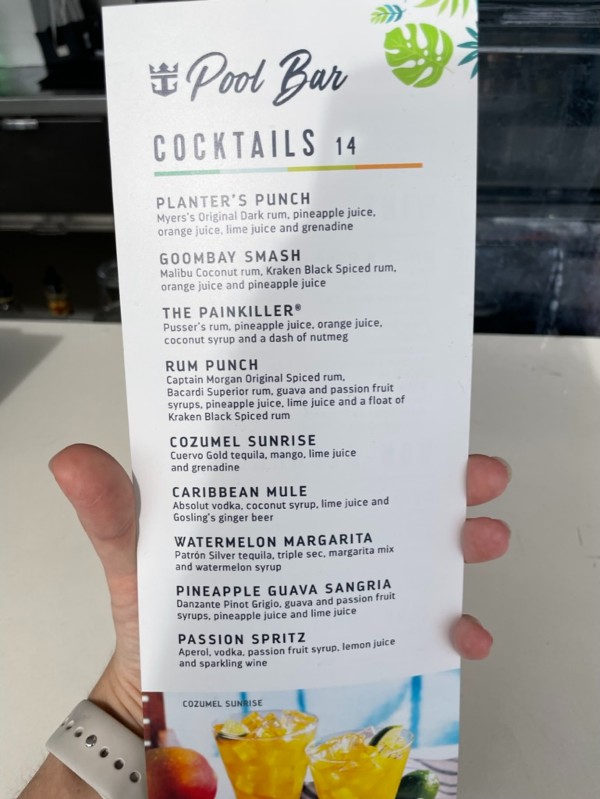 6. Drinks from Robot Bartenders are included
On Anthem of the Seas and other Quantum-class ships you can order drinks from the robotic bartender. These drinks are included in your drink package, which is great, as on MSC Cruises' ships, drinks made by the MSC robotic bartender are not.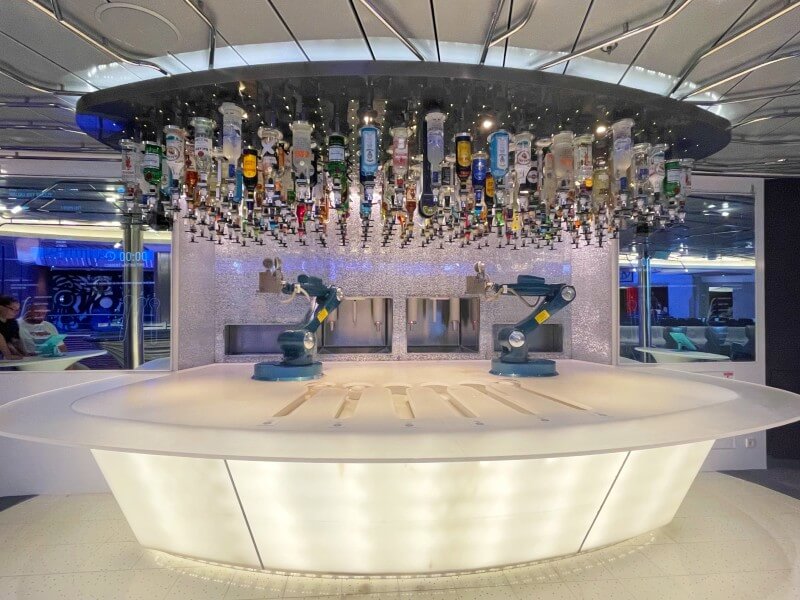 7. Royal Caribbean drinks packages work on private islands too
If you cruise to either of Royal Caribbean's private islands – CocoCay in the Bahamas or Labadee in Haiti – then you'll be pleased to know that your drink package works on the island!
There are some really great bars and I highly recommend the frozen cocktails. I got mine in a souvenir cup and only paid for the cup, not the drink.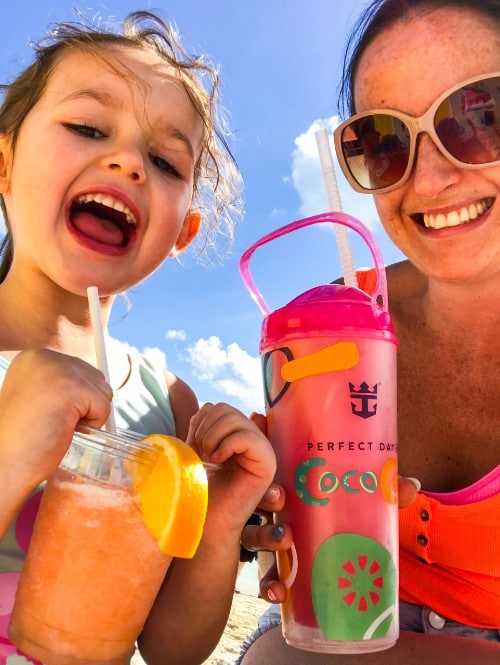 8. Drinks package prices include tips
Royal Caribbean drinks packages include all tips (also known as gratuities). For most sailings, when you buy a drinks package online, an 18% gratuity charge is added at the checkout.
If you wish to recognise outstanding service by adding extra gratuities onboard the ship, you are welcome to do so.
9. The value often comes from relaxation
One of the main benefits of a drinks package is that if you don't like a drink you don't have to drink it. If you paid $14 for a cocktail and didn't like it, you'd be pretty annoyed at yourself for choosing it. Yet with a drinks package, you're free to work your way down the menu, trying new things.
You don't need to worry about how much you're spending, and that's a much more relaxing way to cruise.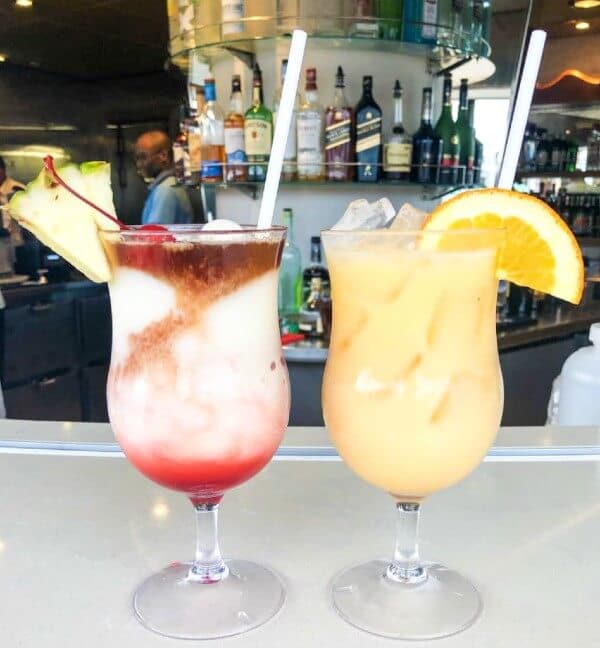 10. Royal Caribbean doesn't offer free drinks packages.
While Royal Caribbean doesn't offer free drinks packages, you can get all-inclusive cruise package deals that have drinks included.
In fact, Royal Caribbean almost always has some kind of special offer to encourage people to book cruises. This may be a 'Kids Sail Free' offer, free gratuities or buy one cruise fare get one half price.
If you book your cruise during a "free drinks" offer, then you will get drinks included with your cruise.
In my former job managing cruise websites for a travel agent, I saw cruise line campaigns change regularly and prices fluctuate almost daily. One thing which I noticed is that the bigger the 'freebie', the higher the base price. A cruise which ordinarily costs £699 might go up to £999 with drinks included.
Note the wording used. Cruise lines rarely use the word 'free', instead they use 'included'. This is because the drinks packages are not actually free, it's just that the ticket price is adjusted to include drinks.
11. Many drinks are free without a package
There are several places where you'll find free drinks during your Royal Caribbean cruise. These are:
On the first formal night of the cruise, attend the Captain's Toast and get a free glass of Champagne
Go to an art auction where free Champagne will be flowing
Attend a liquor tasting in the duty-free shop and get a free shot
Guests who have spent more than 30 nights at sea with Royal Caribbean (Platinum members and above) can attend a Crown & Anchor Welcome Back Party and get free Champagne or rum punch
Guests who have spent more than 80 nights at sea with Royal Caribbean (Diamond members and above) get free drinks between 5 pm and 8.30 pm for Happy Hour
Guests staying in a Grand Suite or higher can enjoy free drinks for a few hours each evening in the Concierge Lounge
Use a coupon – Buy One Get One Free deals may be pre-loaded on to your Seapass account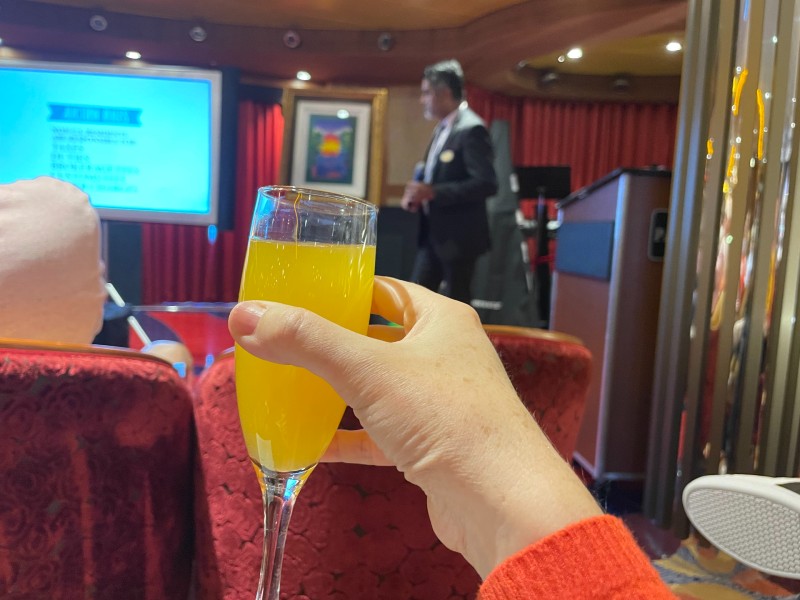 You can see a full list of the free drinks here: List of Free Drinks on Royal Caribbean Cruises.
12. Diamond members get free drinks
Royal Caribbean's Crown & Anchor Society awards loyalty points for every night that guests spend on-board Royal Caribbean ships. With the acquisition of 80 points (equivalent to 80 nights at sea), guests become Diamond members.
Crown & Anchor Diamond status entitles you four free drinks per person per day, meaning that you probably don't need a drink package.
Read more about Royal Caribbean Diamond Benefits.
12. The drinking age varies by country
For cruises that start in North America, the minimum drinking age is 21. For cruises that start elsewhere, it's 18. If you celebrate a milestone birthday mid-way through the cruise, you should ask the Guest Services Manager to modify your record to allow you to drink alcohol after your birthday.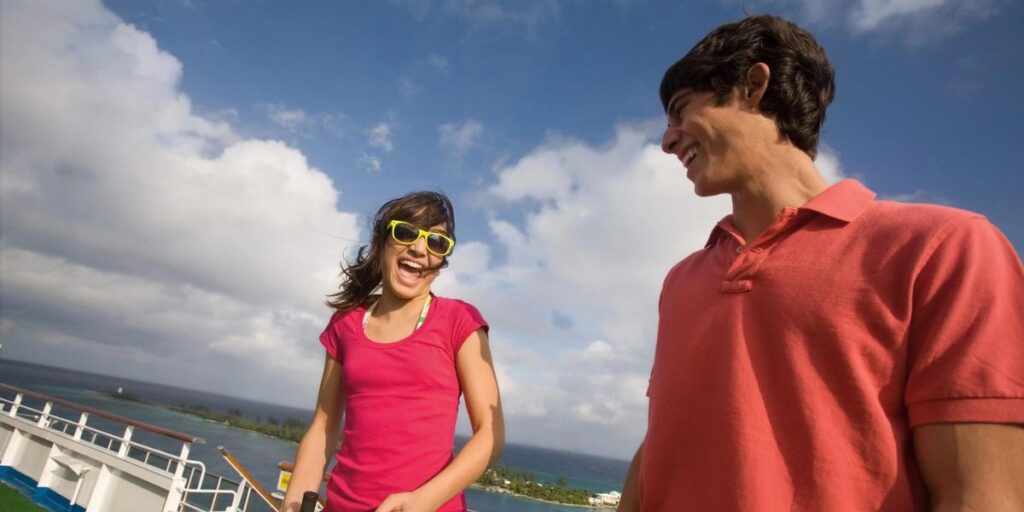 Is the Royal Caribbean drink package worth it?
When I cruise with Royal Caribbean, I sometimes get a drink package, but sometimes I don't. To help you decide, here are some of the things that I weigh up when making my decision…
Drinking on sea days versus port days
You should think about how much time you plan to spend on the ship. Whilst you could easily drink five cocktails by the pool and then a couple of glasses of wine in the evening on a sea day, how much would you drink if you were off the ship from 9 am until 6 pm most days?
If you plan to be off the ship exploring ports most days, then not only will you not have as much time on board to drink your drinks, but you're also less likely to want a hangover! For this reason, a drinks package may be better value on a cruise with lots of sea days, such as a transatlantic sailing.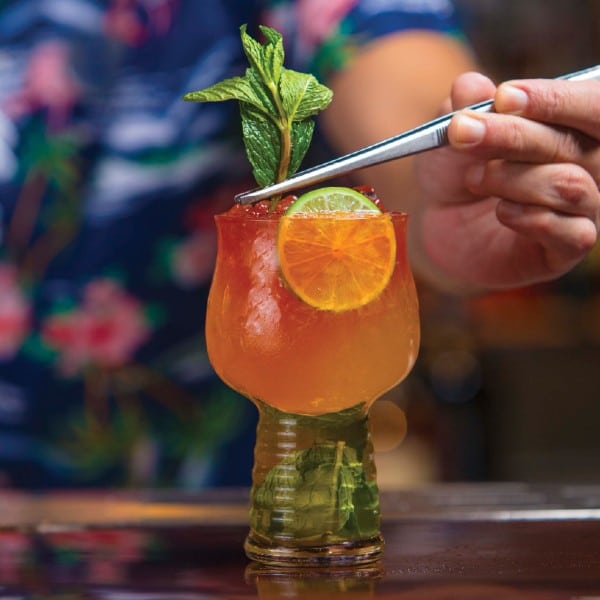 Who are you cruising with?
My husband chooses not to drink alcohol, so when I cruise with him I never get a drink package. It's virtually impossible to break even on the Deluxe Beverage Package if you don't drink alcohol.
But when I cruise with a group of friends it's more of a party atmosphere, so I would definitely buy the package and try out all of the cocktails!
How To Order A Royal Caribbean Drink Package?
There are two ways to buy a Royal Caribbean drink package:
Online – At least 72 hours before your cruise using Royal Caribbean's Cruise Planner
Onboard – Ask at any bar on the ship and the staff will help you buy it
The best way to save money on your Royal Caribbean drink package is to buy it a few days after booking your cruise. Then, log into the Cruise Planner regularly to watch the price. If it drops, cancel the package and re-buy it at the lower price.
How to cancel a Royal Caribbean drink package
You can use the Royal Caribbean Cruise Planner to cancel your drink package online up to two days before your cruise and receive a full refund. After that, you can cancel it when you first embark on the ship, but no later.
Does Royal Caribbean have a wine package?
Royal Caribbean no longer offers a wine package. Years ago, you could buy five bottles of wine for $165, 7 bottles for $220 and 10 bottles for $300. However, the cruise line no longer offers these discounts.
Do you plan to buy a drinks package on your next cruise? Let me know in the comments below.
NEW DEALS JUST RELEASED!
Don't miss the latest Royal Caribbean offers…
Related Posts: