Many of the top cruise lines offer prepaid drinks packages to let you enjoy your cruise without counting your drinks.
The idea is that you can relax, since your drinks are paid for in advance, and have as many as you like (within reason) because you don't need to think about how much you're spending each day.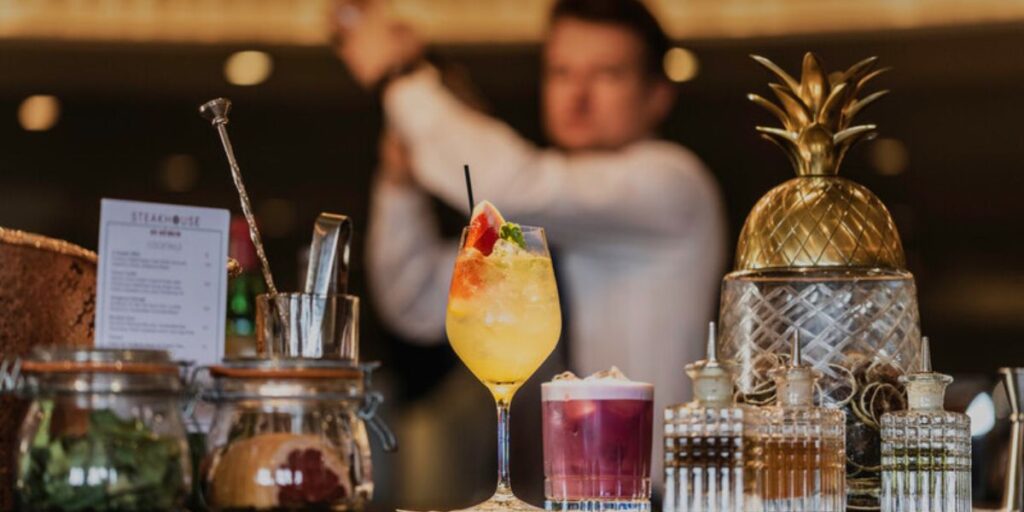 But drinks packages aren't always worth it, especially if you don't drink a lot. So how do Cunard's drinks packages shape up? Are they good value, or should they be avoided?
Is the drinks package on Cunard worth it?
Whether a Cunard drinks package is worth it or not depends on how much you drink – typically if you have around 7-8 alcoholic drinks per day then you will likely find that the drinks package is good value, although some drinks are cheaper than others.
Everyone is different – with different tastes, preferences and in terms of how much they drink each day too. Some people drink a lot on every day of their cruise, others might have a couple of days where they take it easy.
I can help though – my drinks package calculator will help you work out whether a Cunard drinks package is worth it. All you need to do is fill in how many drinks you'll likely have each day, and this will tell you whether you should get the package or just buy your drinks separately.
How much is Cunard's drink package?
There are four main drinks packages available with Cunard. The drinks package with alcohol costs $70 per person, per day if bought before you sail. Non-alcoholic packages range from $10 to $30 per person, per day.
Here's a look at each of the main packages, along with some wine packages you can buy.
1. Soft Drinks Option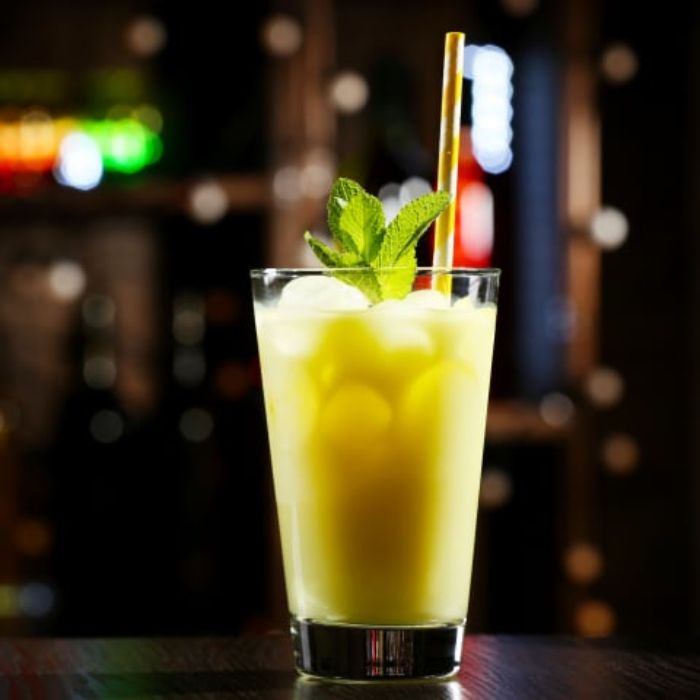 Cost in advance: $10 per person, per day
Cost when bought on the ship: $12 per person, per day
This is the most basic drinks package you can buy, purely for soft drinks. It includes:
All draught soft drinks
Selected fruit juices
Squash and cordial
It's a good option if you're travelling with kids, or if you're not an alcohol drinker and you're not too fussed about hot drinks. You'll be able to get as many drinks as you want from that short list throughout the cruise, at any of the bars or restaurants.
2. Speciality Hot Drinks Option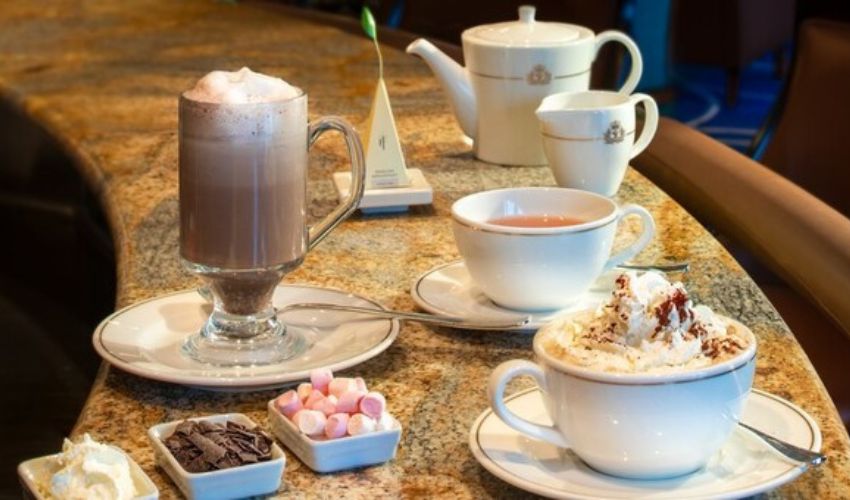 Cost in advance: $12.50 per person, per day
Cost when bought on the ship: $15 per person, per day
This drinks package is exclusively for hot drinks, and it includes:
All illy speciality coffees
Tea Forte infusions
Hot chocolates
Again these are available at any bar or restaurant where they are served, and there's no limit on how many you can have.
3. Premium Soft Drinks Option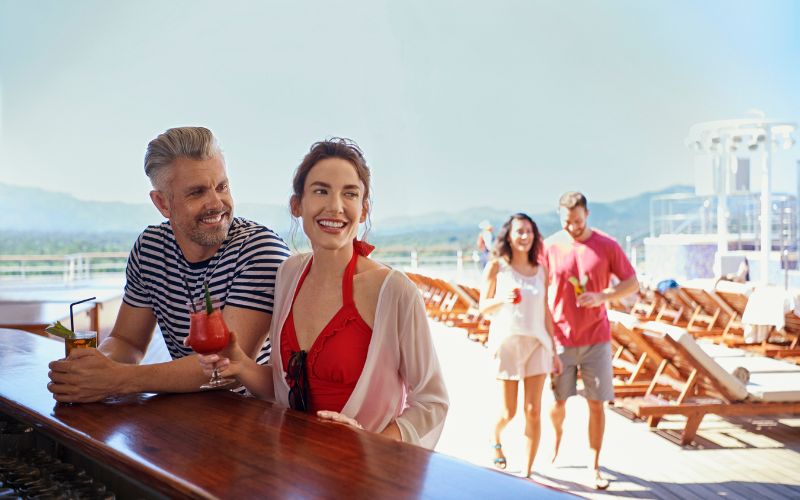 Cost in advance: $30 per person, per day
Cost when bought on the ship: $35 per person, per day
This package is for those who don't want to drink alcohol (or who prefer to pay for their alcoholic drinks separately), but want as many other drinks options included in their package as possible. You get:
All draught soft drinks
A selection of bottled soft drinks
Small bottled waters (330ml and 500ml)
Fresh juices
Speciality hot drinks
Non-alcoholic cocktails
20% discount on any non-alcoholic drinks not included in the package.
Here's what that 20% discount actually applies to:
Large bottles of water (750ml, 1 litre, 1.5 litre)
Freshly squeezed deluxe juices
Smoothies
Hot and cold Godiva chocolate drinks
4. Beer, Wines and Spirits Option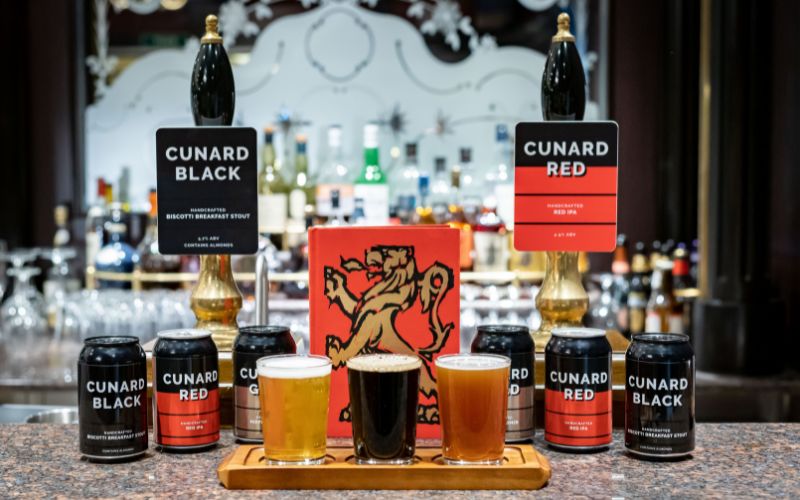 Cost in advance: $70 per person, per day
Cost when bought on the ship: $75 per person, per day
The Beers, Wines and Spirits Option doesn't have a set list of drinks that it includes. Instead, you get all the benefits of the Premium Soft Drinks Option, as well as all alcoholic drinks up to the value of $13.
This includes:
All beers and ciders
All gins, tequilas, vodkas and liqueurs
Many of the whiskys, rums and cognacs
All small glasses of wine
Selected Champagne and prosecco glasses
Most cocktails
As well as those drinks being completely included, you also get:
20% off most alcoholic drinks not included in the package
20% off some bottles of wine
20% off Cunard Wine Academy
20% off Cocktail Master Class
5. Wine Collections
There are a few options available for wine packages on a Cunard cruise. These let you buy bottles of wine in advance, to be used during the cruise.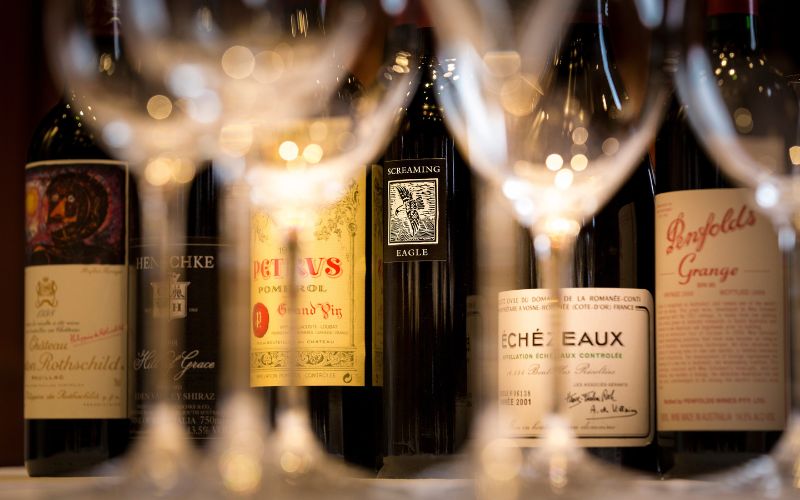 Captain's Collection
The Captain's Collection is made up of a selection of white and red wines that are some of the most popular on the ship. There will also be a sweet wine option and a bottle of Prosecco available. You can choose any 6 or 12 from the list.
6 bottles – $310
12 bottles – $590
Commodore's Collection
The Commodore's Collection works in the same way as the Captain's Collection, but it includes finer wines. Again there will be a mix of white and red wines, along with a couple of sparkling wine options and a rose.
6 bottles – $395
12 bottles – $725
Create your own Collection
Another option is to curate your own wine list from across both the Captain's Collection and Commodore's Collection, mixing your list between them. You'll then be given a price for your custom list, which will be up to 20% cheaper than if you bought the wines separately.
If you like the idea of the collections, but can't decide between them, then creating your own is the way to go.
How much are drinks on Cunard ships?
Drink prices on Cunard ships are similar to many American-style cruise ships, so they're quite expensive compared to on land, but not by a huge margin. Beers cost around $6, glasses of wine cost between $8 and $14, and cocktails range from around $10 to $13.
However – that's before the 15% gratuity is added on. Every time you buy a drink on a Cunard ship, you're charged a 15% service charge on top of the drink order. So really, a beer doesn't cost $6 – it's closer to $7.
Read more: Everything you need to know about Cunard's gratuities
When you buy a drinks package, the service charge is included, so that does help to make it a lot better value for money – you're not paying 15% again every time you have a drink.
Cunard Drinks Price List 2023
Here's how much drinks cost on a Cunard cruise.
Bottled beers – $5.90 to $6.60
Draught beer – $6.10 to $6.80
Bottled cider – $5.90 to $6.60
Alcohol-free beer – $5.90 to $6.40
Gin – $6.30 to $7.80 per measure
Tequila – $6 to $8 per measure
Rum – $6.30 to $14 per measure
Vodka – $5 to $7.90 per measure
Whisky – $5.90 to $12 per measure
Brandy & Cognac – $6.90 to $70 per measure
Liqueurs – $5.90 to $6.60 per measure
White wine glass (150ml) – $6.80 to $11.70
Rose wine glass (150ml) – $7.50 to $13.20
Red wine glass (150ml) – $6.80 to $10.70
Prosecco – $9 per glass
Champagne glass – $12.30 to $21
Cocktails – $9.50 to $13.60
Mocktails – $5.50 to $6.50
Fountain sodas – $2.80 (small) $3.80 (large)
Bottled soft drinks – $3.90
Red Bull – $4.90
Fountain mixers – $1.80
San Pellegrino – $3.50
Depending on your view, these might seem quite expensive, or quite reasonable. They're not really much more expensive than many other cruise lines, although that 15% service charge does bump the prices up somewhat.
They're certainly not cheap – there are many cruise lines that are a lot cheaper than these prices, though they're not quite the same standard of premium cruising as Cunard offers.
You can also view some of the drinks menus for the ship here. Note that these don't include prices, but you can at least see what is available in different venues across the fleet.
What drinks are free on Cunard?
During breakfast, guests can enjoy a selection of fruit juices along with water, tea and coffee. Water during meals is always free, and guests can enjoy a cup of coffee after their meal has ended. Tea and coffee-making facilities are provided in all staterooms on the ship.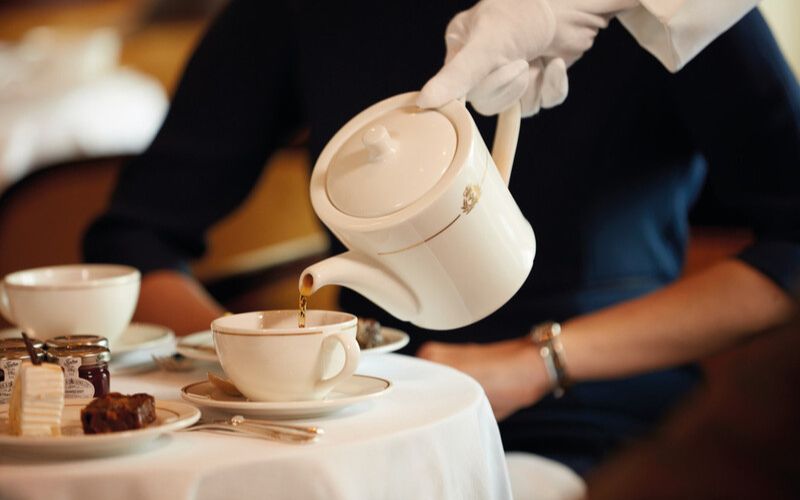 You can get water throughout the day as well from the fountains on the ship and the tap water is safe to drink, but otherwise, if you want any other drinks then you'll need to get a drinks package, or head back to your room to make a tea or coffee.
Can you take your own alcohol on Cunard?
Guests are allowed to take one bottle of wine or Champagne onto their cruise with them, no larger than 750ml. It can be consumed for free in the cabin, but if guests want to drink it anywhere else on the ship they have to pay a $25 corkage fee.
Read the Cunard alcohol policy.
10 Things You Must Know About the Cunard Drink Package
Here are 10 things from the Cunard terms and conditions that you need to know if you plan on buying a drinks package.
1. You can't share
You're not allowed to share a drinks package with anyone – any drinks you order when you have a drinks package have to be consumed by you. If you're found to be sharing then you may have your drinks package taken from you without a refund.
It's unlikely that you're going to be seriously punished if you let a child have a sip of a soft drink you've ordered, but if wait staff notice it then they might keep an eye on you, and if it keeps happening then they'll take action. The point of a drinks package is that you each pay for your own drinks – it's cheating the system if only one person pays.
And as a result…
2. All adults in your cabin must have the same package
To help prevent drinks from being shared, all adults (anyone aged 18 or over) sharing a cabin must have the same drinks package. It's not possible for only one adult to buy a drinks package, or for one to buy a Beers, Wines and Spirits package while the other chooses a Soft Drinks package.
So if you're travelling with your partner, you need to factor in that you're paying for both of you – for the alcoholic package that's now $140 per day for your cruise. If you're sailing with a small group of friends or with adult children, the costs do add up. But again, it's the only way of keeping it fair.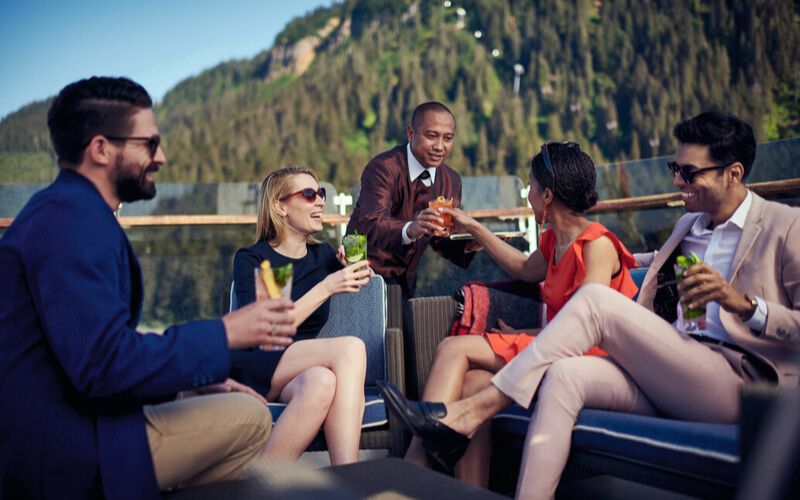 Children in your cabin don't need to have a drinks package, but you will still get in trouble if you keep sharing your non-alcoholic drinks with them. You can buy them a different package though, so you can have the Beers, Wines and Spirits Option for you and the Soft Drinks Option for them.
3. Drinks packages are only available for cruises of 5 nights or more
A simple rule – you can only book a drinks package if you're cruising for 5 nights or more. If you're not sailing for that length of time, then you won't be able to, and you'll just need to buy your drinks separately.
With any drinks package, the cruise line is asking you to commit to a set daily figure because they know you're unlikely to drink a lot every single day of your cruise. But on a shorter cruise, you may well do so – so it's not as cost-effective for the cruise line to let you buy a package.
4. There's a 15-drink limit per day (for alcoholic drinks)
When you choose the Beers, Wines and Spirits package, it's not completely unlimited. You're allowed 15 drinks per day, with a day measured as being 6 am through to 6 am the next day.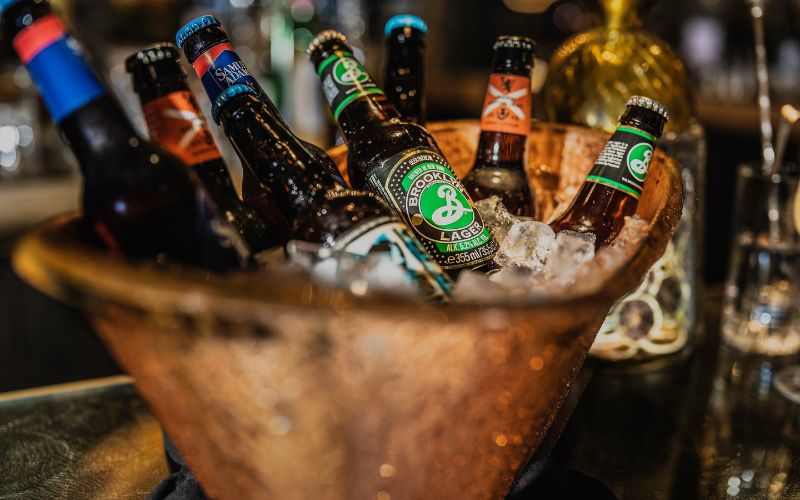 Officially, the terms and conditions state that any drinks above the 15-drink limit are at the discretion of the crew. If you've paced yourself with your 15 drinks and you are not too drunk, and not causing a nuisance, then the crew might let you have another. But they may still refuse you. If they do, accept the decision and wait until the next day.
5. The pre-cruise price is available up to 4 days before you cruise
All of the drinks packages cost less when you buy them in advance – between $2 and $5 per day lower. You can book your drinks package at this lower price any time from the moment you've booked your sailing, right up until 4 days before you're about to cruise.
If you decide last-minute in the couple of days before you cruise that you want a drinks package, you'll be paying full price.
6. You can pay on-board but no later than the second day
If you board your Cunard ship and then decide that you do want a drinks package, you are able to add it onto your account. You just need to visit the Guest Services desk and request it, or visit any bar or lounge, and you'll then have the package value added to your cruise account.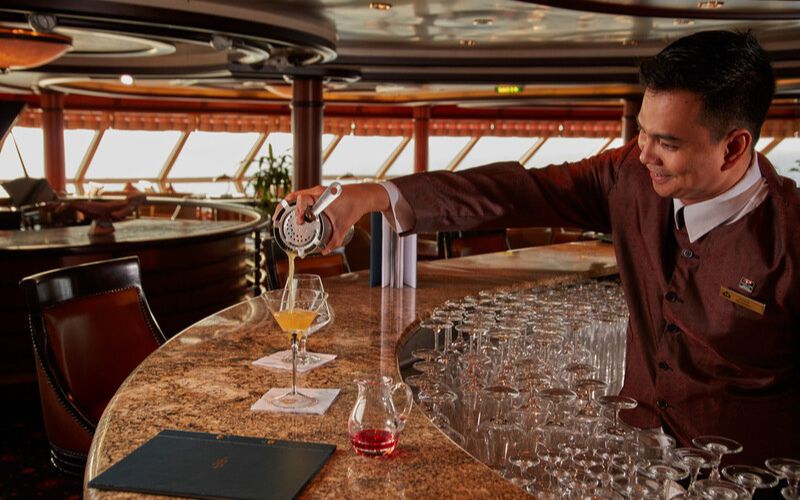 The latest you can do this is on your second day of your cruise. Any later and you'll be refused, and you'll just have to pay for your drinks individually. This again is to make sure the cruise line gets good value from the deal – rather than letting you book a package for the last two days of your cruise when you've planned a blowout.
7. You must get the package for your entire cruise
When you book a drinks package, you can't order it for only part of your cruise. You have to pay for it for the duration of your cruise. To be clear, you'll be charged for the same number of days as nights you are sailing – so if your cruise is 7 nights, you'll be charged for 7 days, even though you're on the ship for an eighth day.
The only exception to this rule is when you order your drinks package onboard the ship on the second day of your cruise. When that happens, you won't be asked to pay for the day you've already missed – instead, you'll just pay for the remainder of your cruise.
8. You have to pay full price (minus the discount) for drinks not included
The Beers, Wines and Spirits Option drinks package includes all alcoholic drinks up to a value of $13. With some cruise lines that use similar rules, if you choose a drink outside that price bracket, you only pay the difference – so if you ordered a $15 drink, you'd only pay the $2 difference.
That is not the case with Cunard. Any drinks that you choose to order that are outside of the drink price limit must be paid for at full price, minus the 20% discount you get for having the package. So try to stick to drinks under that $13 limit to make sure you're getting good value.
9. You can only order one drink at a time, with a 10-minute wait in between
To help make sure that guests don't go crazy with their drinking, and also to prevent drink sharing, you're only allowed to order one drink at a time when you have the drinks package. And then there is a 10-minute wait before you are allowed to order again.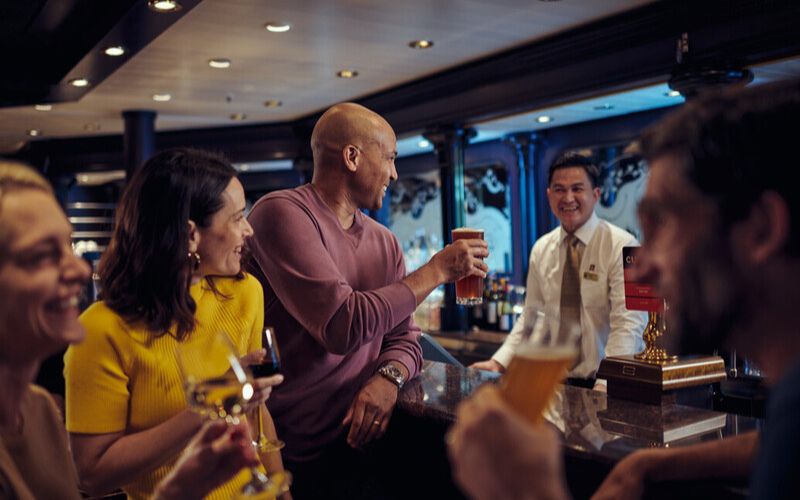 Don't think that you can get away with it by finding a different crew member. When your sail card is scanned for the drinks, it'll flag that you've just ordered a drink elsewhere, and the crew member will refuse to serve you until the 10-minute limit is up.
10. Not all drinks are included
There are some exceptions to the main rules when it comes to what drinks are included. Specifically, the drinks packages cover the bars and restaurants on the ship only – but nowhere else.
So you can't use a drinks package to order from the room service menu – those drinks still have an extra charge to pay.
And the same applies to any drinks sold in the onboard shops – they are not covered by the drinks package and you need to buy them separately.
Read the full terms of the Cunard drinks package here.
How To Book A Cunard Drink Package
There are two ways that you can book a Cunard drinks package.
If you're booking in advance, it's really easy. Once you've made your cruise booking, log onto the Cunard website and log into My Cunard, the online account for your cruise. In here you'll be able to choose a drinks package to add to your account, though remember you'll have to add the same package for all adults in your cabin.
The second way to buy a drinks package on a Cunard cruise is in person on the ship – either at a bar or lounge, or at the Guest Services desk. Remember that if you choose this option, you'll be paying a higher price.
Final word
So, there you have it – everything you need to know about the Cunard drinks package options.
Should you buy one though?
It really depends. The Cunard drinks – when you factor in the service charge – certainly aren't the cheapest. I think the Soft Drinks Option is definitely good value, but for the other three it depends on how often you'll be drinking the beverages that are included.
Use my drinks package calculator to work out how much a drinks package will likely save you, and then you can make your own personal decision based on that.
Related Posts: