When you book a cruise, there's a lot that's included with a standard fare but most of the time you need to pay for your drinks separately.
Which makes sense, since everyone is different. Charging everyone the same rate when someone might only drink a couple of coffees a day, while someone else enjoys a couple of bottles of wine, would either be costly for the cruise line or unfair to passengers paying for other people's drinks.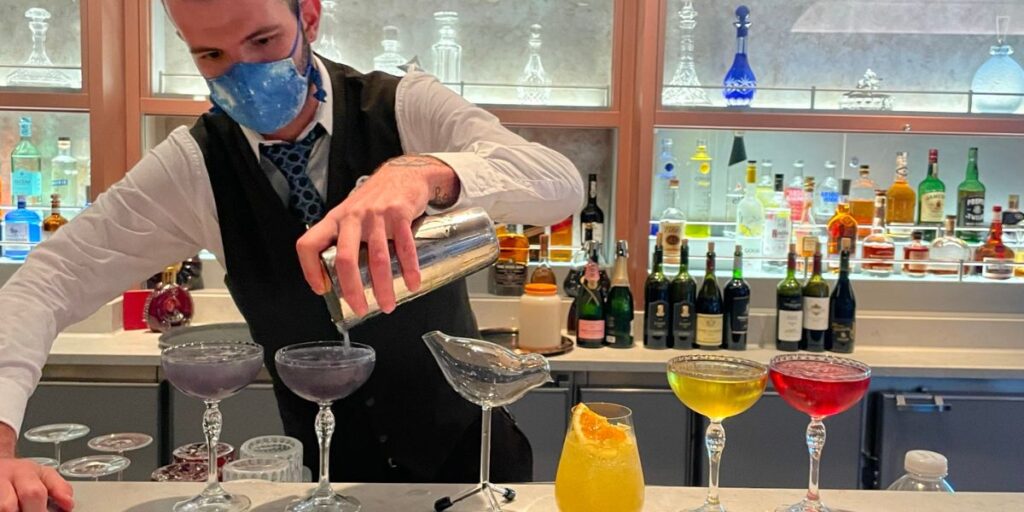 So instead, most cruise lines offer a drinks package – where you can choose to pay a set fee and then enjoy unlimited drinks, within reason. But Disney Cruise Line is a little different…
Let's take a look at Disney Cruise Line's stance on drinks packages…
Does Disney Cruise Lines Have a Drink Package?
Disney Cruise Line is one of the few cruise lines to not offer an unlimited drinks package. Instead, you can pay for a drinks package that includes a set number of drinks. You'll enjoy a small discount compared to paying for each drink separately.
Disney Cruise Line is very much family-centric, and so it likely doesn't want to offer guests the chance to drink as many alcoholic beverages as they want. The house (or ship) of mouse is not a place for people to be getting as drunk as they want – that could spoil the Disney magic.
Not that it's impossible to get drunk on a Disney cruise – just that they would rather not give you completely unlimited access.
So instead, your options are to either pay for drinks individually, or buy one of the Disney cruise alcohol package options that gives you a set number of drinks. There are a lot of these available, so it's worth checking them out.
DCL Wine Packages
There are two wine packages available on a Disney cruise, with each offering a different number of bottles as well, so there are plenty of options to suit.
The Classic Wine Package includes the following wines:
Santa Margherita Rose Trentino, Italy
Santa Elvira Prosecco Veneto, Italy
The Federalist Chardonnay California, USA
Pinot Grigio Zonin Veneto, Italy
Castello del Poggio Moscato Lombardy, Italy
Beringer White Zinfandel California, USA
Kendall Jackson Chardonnay Vintner's Reserve California, USA
Honig Sauvignon Blanc Napa Valley, USA
Zolo Torrontes Mendoza, Argentina
Murphy-Goode Sauvignon Blanc Sonoma County, USA
Selbach Riesling Kabinett Mosel, Germany
Hess Chardonnay Monterey California, USA
The Crusher Pinot Noir California, USA
Centine Rosso Di Toscana Banfi, Italy
Zolo Malbec Mendoza, Argentina
Robert Mondavi Merlot Coastal California, USA
Castle Rock Cabernet Sauvignon Paso Robles California, USA
Wolf Blass Cabernet Sauvignon South Australia, Australia
Cune Crianza Rioja, Spain
Layer Cake Shiraz South Australia, Australia
The Premium Wine Package includes all of the above, and the following premium wines:
Kim Crawford Sauvignon Blanc Marlborough, New Zealand
Domaine Chandon California, USA
Pinot Grigio Santa Margherita Trentino-Aldige, Italy
Brachetto d'Acqui Banfi Rosa Regale Piedmont, Italy
Selbach-Oster Riesling Spätlese, Germany
Sofia Rose Sonoma, USA
La Crema Chardonnay Sonoma Coast California, USA
Pouilly-Fuissé Louis Jadot, France
Craggy Range Te Muna Road Vineyard Martinborough, New Zealand
Conundrum California, USA
La Crema Pinot Noir Sonoma Coast California, USA
Château Bardoulet Saint-Emilion Grand Cru Bordeaux, France
Marques de Casa Concha Cabernet Sauvignon, Chile
Kendall Jackson Vintner's Reserve Merlot California, USA
Terrazas de los Andes Malbec Mendocino, Argentina
Chianti Classico Riserva Banfi Tuscany, Italy
Simi Landslide Cabernet Sauvignon California, USA
Here's the cost of the packages:
| Number of bottles | Classic Wine Package | Premium Wine Package |
| --- | --- | --- |
| 3 | $100 | $150 |
| 4 | $130 | $199 |
| 5 | $156 | $244 |
| 7 | $210 | $320 |
The bottles of wine can be redeemed in the restaurant at dinner. You aren't limited to one bottle of wine per night, so don't worry if you want to split a couple of bottles. You're also allowed to take any unfinished wine back to your stateroom with you.
Disney Cruise Line has rotational dining, which means that you dine in a different themed restaurant each night, in a set order. Your waiters will move restaurants with you, and so will your wine! So if you leave any in the bottle, it will be there in the next restaurant for you the following evening!
If you don't manage to complete your Disney cruise wine package by the end of the cruise, don't worry. You can take up to two bottles with you when you disembark the ship. So if you're on a 5-night cruise, you could buy a 7-bottle package, have a bottle every evening and then take two with you at the end of your cruise to drown your sorrows about your cruise being over.
DCL Beer Packages
The Disney cruise beer package options are a little more straightforward – the flat price is $30 for 6, which is essentially 6 beers for the price of 5.
The beers included are:
Pub ale
Corona
Heineken
Guinness
Miller Light
Michelob Ultra
Bud Light
Bud Light Lime
Budweiser
Coors Light
How Much Are Drinks on a Disney Cruise?
Despite Disney's reputation for being expensive on land, drinks aren't too expensive on a Disney cruise. Glasses of wine range from around $8 to $17, while beers generally cost between $6.50 and $9. Soft drinks are free in restaurants or at select beverage stations.
Disney also offers a drink of the day, which changes every day during your sailing. These are discounted drinks, with both an alcoholic and non-alcoholic option each day.
If you want to save money then trying the drink of the day is a good start. Generally, they cost around $6.25 for the alcoholic cocktail of the day or $5.50 for the non-alcoholic drink. These prices include gratuity.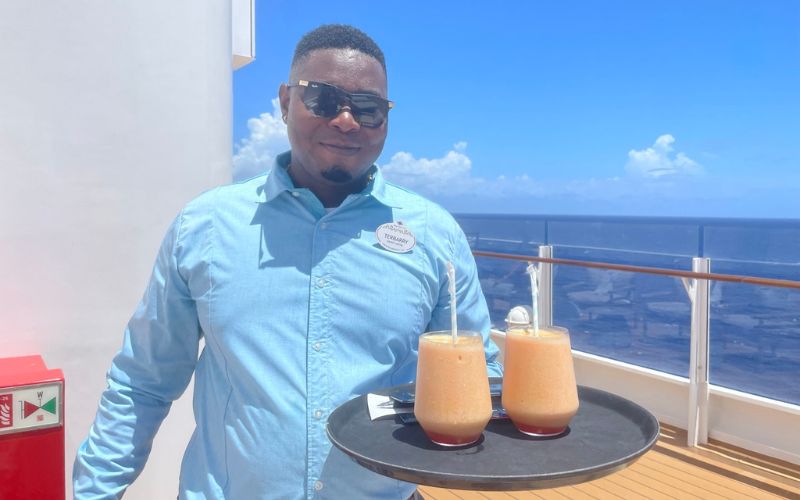 Disney Cruise Line Drinks Prices
Here are some example prices of drinks onboard a Disney cruise. Bear in mind there are many more drinks options available, but these give you a guide on what sort of prices to expect.
Disney Cruise beer prices:
Bud Light – $6.50
Sam Adams – $6.50
Kentucky Bourbon Ale – $9
Guinness – $9
Angry Orchard Cider – $7.50
Disney Cruise wine prices (by the glass):
Castello del Poggio (white) – $8.25
Selbach Riesling Kabinett Mosel (white) – $8.25
Ferrari-Carano Fume Blanc (white) – $11
Cloudy Bay Sauvignon Blanc (white) – $13.50
ZD Chardonnay (white) – $14.5
Pouilly Fume Baron de L'Loire Valley (white) – $37
Robert Mondavi Merlot Private Selection (red) – $8.75
Kendall Jackson Cabernet Sauvignon (red) – $9.50
Craggy Range Te Kahu Hawkes Bay (red) – $13.75
Gevrey-Chambertin Louis Jadot (red) – $17.75
Chateau Rauzan-Segla (red) – $42
Domaine Chandon (sparkling) – $9.75
Moet & Chandon Ice (sparkling) – $15.25
Veuve Clicquot Yellow Label (sparkling) – $26
Dom Perignon (sparkling) – $52
There are also bottles of Champagne you can order, the most expensive on-board being the Armand de Brignac Gold for $520 per bottle.
Disney Cruise cocktail prices:
Mai-Tai – $10
Blue Hawaiian – $10
Smoky Melon – $12
Berry Mojito – $15
Many of the cocktails offered on-board a Disney cruise are themed to the venue, so listing some of the less well-known options may not help. But generally, you can expect to pay around $10 to $16 for a cocktail in most venues.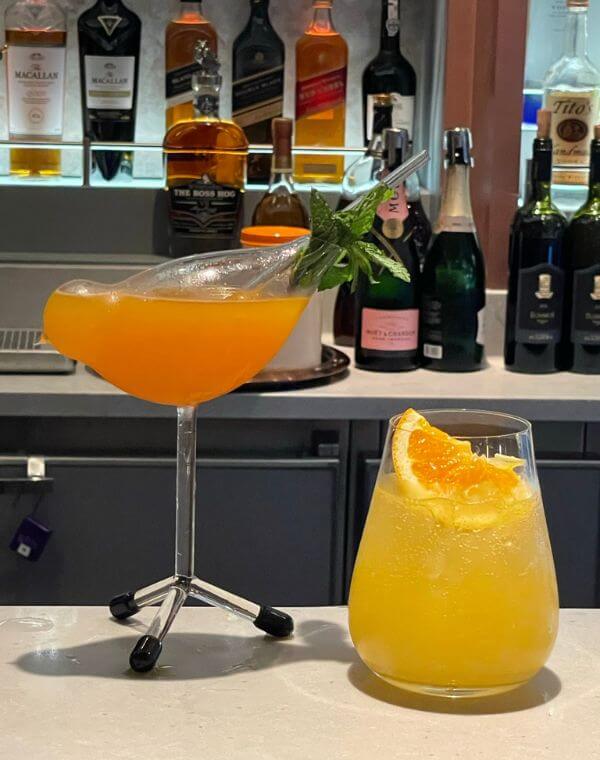 What Drinks Are Included on a Disney Cruise?
Soft drinks, including water and select hot drinks, are included in your cruise fare with Disney provided you order them with your meal or use one of the designated beverage stations. If you order soft drinks from the bar then there will be a charge.
There's a free soft drinks station on every ship in the Disney fleet. Head to the pool area and you'll find lots of soft drinks that you can help yourself to for free. There's another one in the buffet too.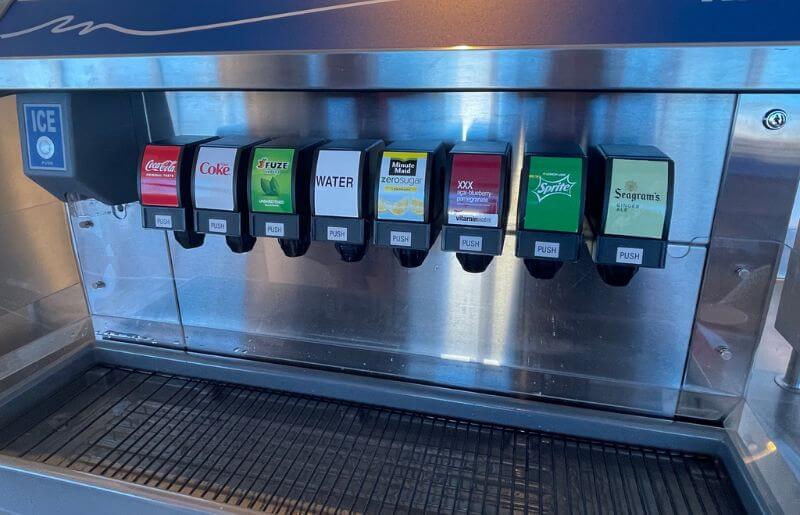 Most pool bars will also have a self-service ice water dispenser…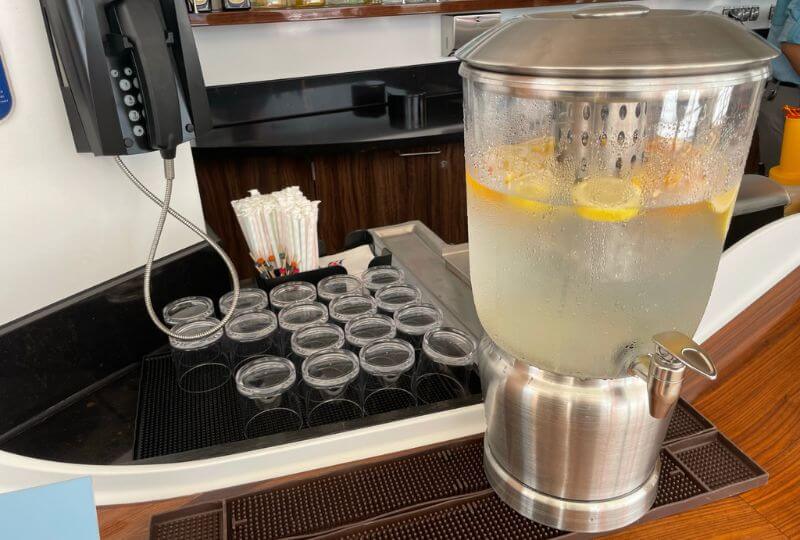 The teens-only club Vibe also has a selection of complimentary soft drinks and a fancy coffee machine for teens only.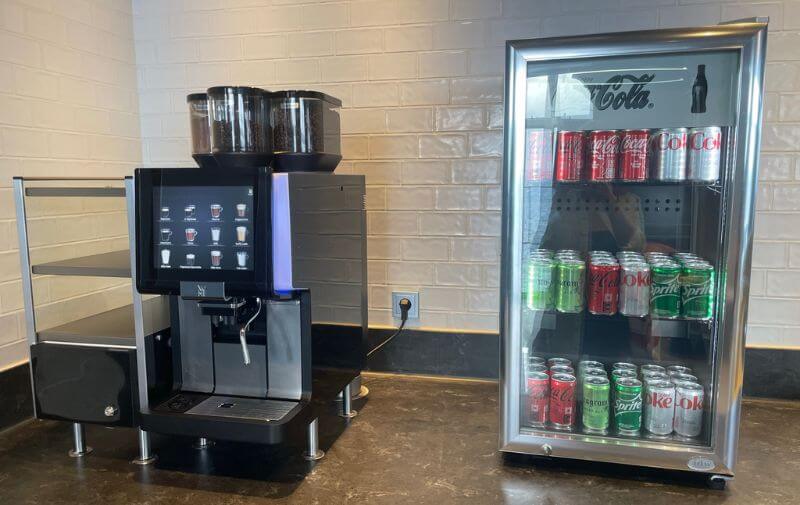 The full list of drinks you can enjoy for free in the restaurants or at the beverage stations includes:
Coca-Cola
Diet Coke
Coke Zero
Water
HiC Fruit Punch
HiC Pink Lemonade
Fuse Ice Tea
Sprite
Sprite Zero
Coffee*
Hot Chocolate
Assorted Teas
*Regular coffee is included. Speciality coffees will incur a charge.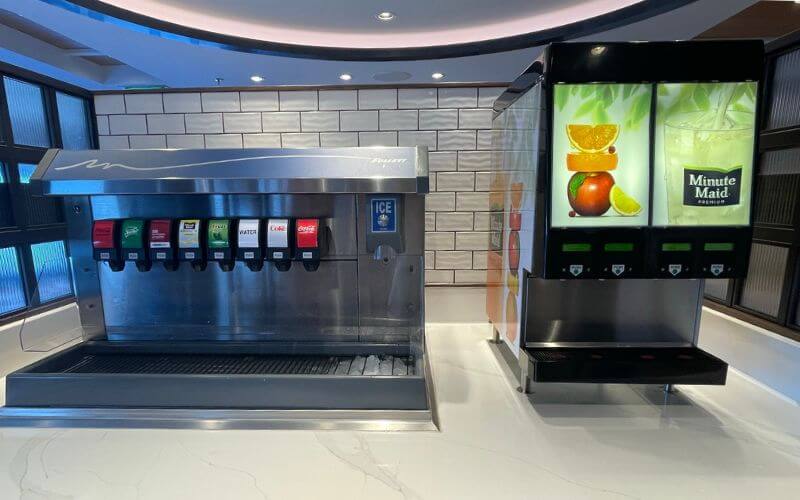 Can You Bring Drinks on a Disney Cruise?
All guests aged 21 or older are allowed to bring either two bottles of wine or Champagne on-board (maximum size of 750ml each), or 6 beers (no bigger than 12 ounces). They must be packed in carry-on luggage, not stored in checked bags.
You can enjoy these drinks in your stateroom, but if you want to drink your own wine in the restaurants, you'll be charged a corkage fee of $26 per bottle.
These rules only apply at embarkation, and if you try to bring drinks on-board with you when you're in port, you'll have them taken from you and stored until the end of your cruise. If you forget to collect it, it'll just be discarded, and you won't be able to claim compensation.
You're welcome to bring any soft drinks on board that you would like to, but again they must be in your carry-on luggage.
NEW DEALS JUST RELEASED!
Don't miss the latest Disney Cruise Line offers…
My Recommendation
While there may not be an unlimited drinks package available, the drinks packages Disney does offer are pretty good value, and worth looking into if you do plan on enjoying a few wines or beers on your cruise.
If you do enjoy wine, make sure you take two bottles onto the ship with you, since it will be cheaper to buy them before you set sail. But my main recommendation is to take advantage of the free drinks where you can and to sample the drink of the day if you're looking for a cheap alcoholic drink to try.
Related Posts: