It's a question which is asked a lot – are inside or outside cruise cabins best? Once you've chosen your cruise ship, destination and dates, one important question you'll be faced with is which cabin type to choose.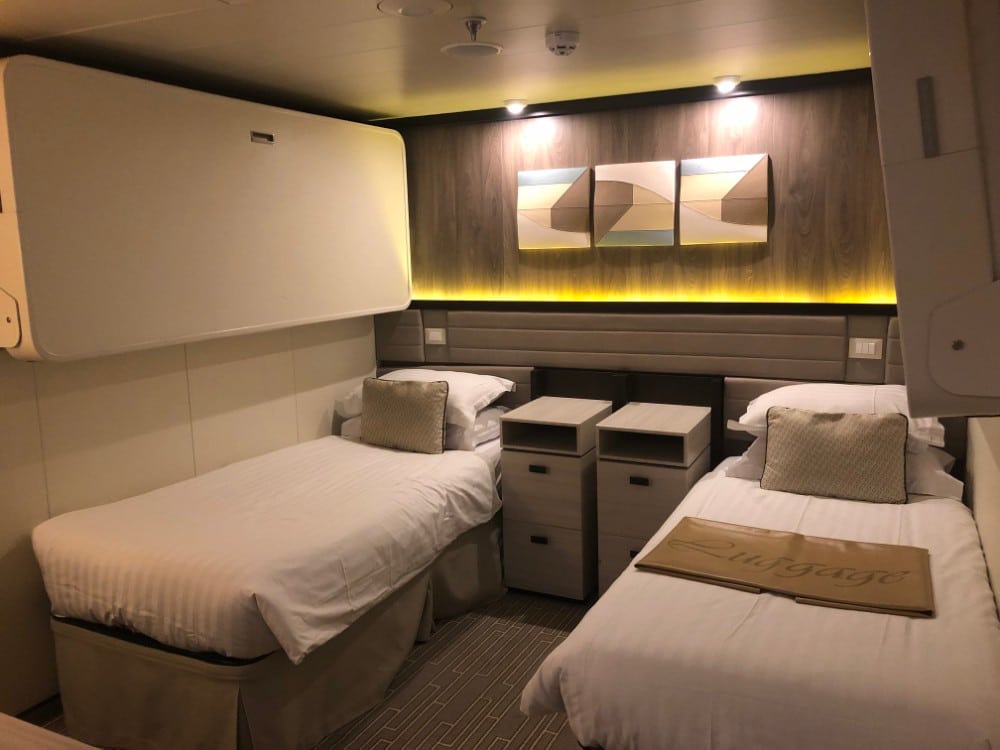 I've booked a lot of cruises with my children and almost always booked an inside room. However, on one particular cruise, I would happily pay double for a balcony.
Read on to find out why I believe that an interior cruise room is one of the best cruise ship cabin types for families. And under which circumstances they might not be.
What is an Inside Cabin on a Cruise?
An inside cabin is a stateroom located in the centre of the ship, with no windows or balcony to the outside. Inside cabins offer no natural light and for that reason, they are cheaper than any other type of cruise cabin.
There are four main cruise ship cabin types to choose from:
Inside Cabin – no windows or balcony
Outside Cabin – has a window
Balcony Cabin – has a balcony
Suite – a larger cabin with separate living and sleeping areas
Technically, outside cabins, balcony cabins and suites are all classed as outside cabins, as they are located on the outside of the ship (usually). An inside cabin is on the inside of the ship.
Depending on the width of the ship, there will be two rows of outside cabins on each deck, with up to five inside cabins across the middle.
The larger the ship, the more inside cabins there will be. Small, luxury ships sometimes have no inside cabins. There are also no inside cabins on river cruise ships as they are not wide enough to accommodate them.
Are There Family Rooms on Cruise Ships?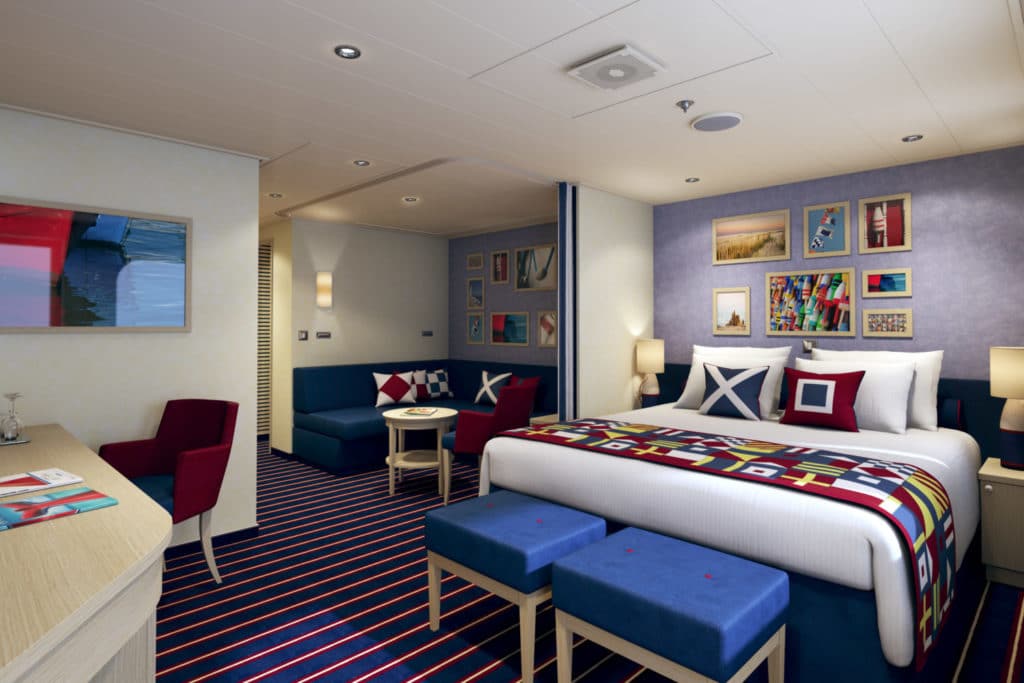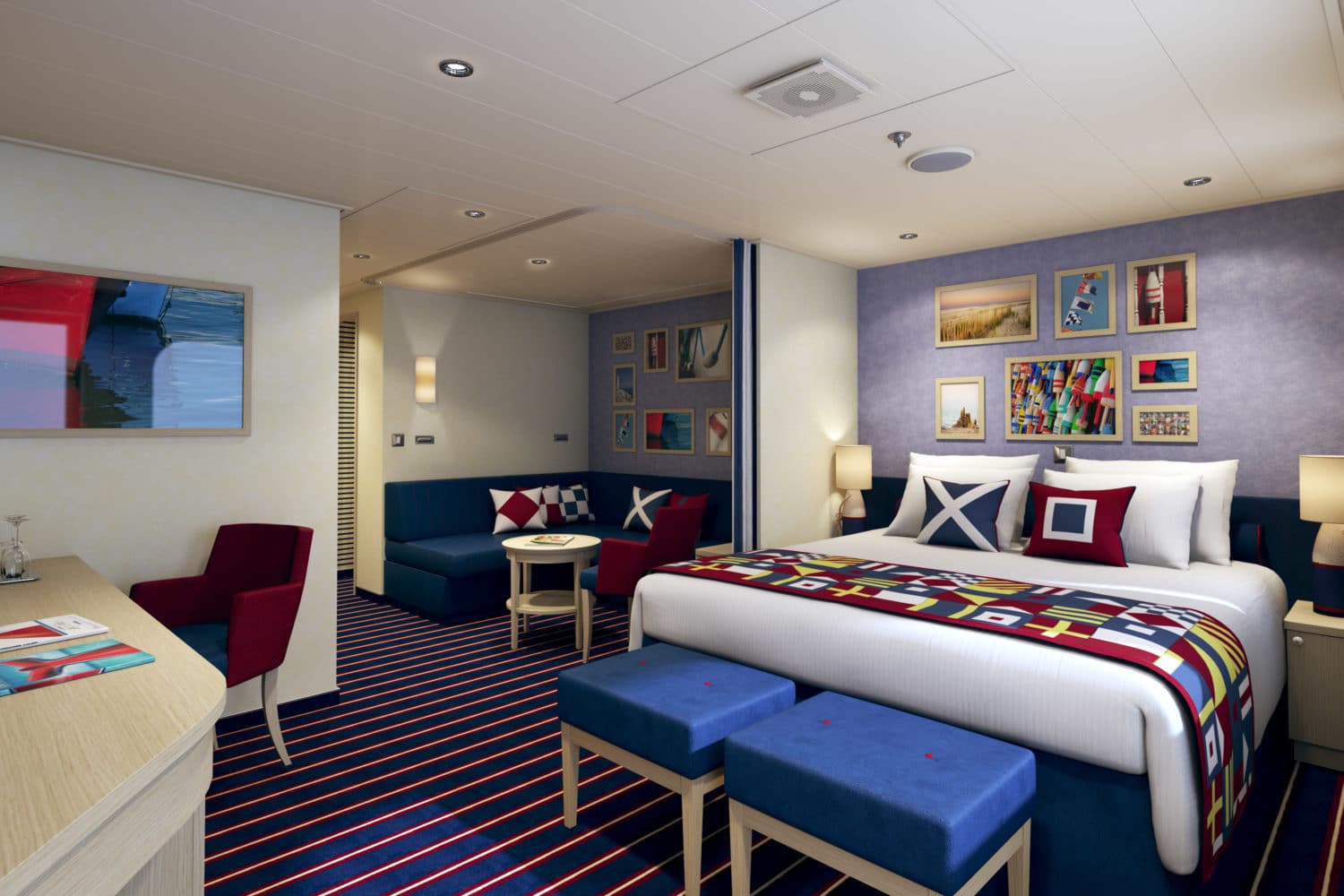 Most cruise ship cabins sleep up to four people. You'll usually have either double or twin single beds and then extra beds which are either sofa beds or top bunk beds which pull down from the ceiling. These are also known as Pullman beds, after the inventor, George Pullman.
Suggested read: The Best Cruise Cabins for a Family of 5
If you want a 'family' cabin in terms of separate bedrooms for the kids and adults, your options will be either:
Interconnecting cabins – two cabins with a door in between them
A family suite – large accommodation with a bedroom for the adults and either a second bedroom or sofa bed in the living area for the kids
A curtain – some standard cabins have a curtain to divide it for a bit of privacy
The Best Type of Cruise Cabin for Families
This is, of course, a matter of personal preference, but I would almost always choose an inside cabin. However, I do know people who wouldn't cruise if they couldn't have a balcony.
There are some cruises where I would only cruise with a balcony, but for the majority of sailings, I believe that an inside cabin is best, especially when travelling with children.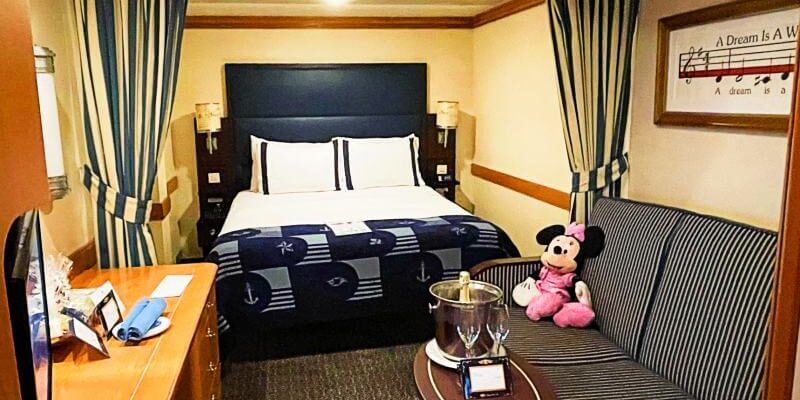 6 Reasons to Choose an Inside Cabin for a Family Cruise
1. Inside Cabins are Cheaper
The price difference between inside cabins and balcony cabins varies from a couple of hundred pounds, up to around double the lead-in price.
Think about how you could spend the money you save by booking an inside cabin – it could buy your drinks, your excursions, or even another cruise! If I had the choice between a 7-night cruise with a balcony or a 14-night cruise in an inside cabin it would be a no-brainer!
You should think about how much time you plan to spend sitting on your balcony during a cruise that will be packed full of exciting things to do.
For example, If you pay an extra £300 per person for a balcony on a seven-night cruise, and spend an hour per day sitting on it, that costs you £42 per person, per hour. If you had to insert £84 in cash to open the balcony doors every day, you probably wouldn't do it, would you?
NEW DEALS JUST RELEASED!
Don't miss these hot cruise offers…
Suggested read: How to get cheap cruises
2. Inside Cabins are Often the Same Size as Outside Cabins
Aside from the extra space on the balcony, which usually just about fits two chairs, you don't often get much extra space inside your room by booking a balcony cabin. Whilst you may get a few extra square feet, often the cabins are very similar in size.
If you're keen to have more space, you should consider a 'larger inside' cabin, which will have more space than a balcony cabin, as well as being cheaper.
3. Inside Cabins are Safer
People going overboard on cruise ships is very rare, but it has happened. Balconies can be dangerous places for children of all ages, whether it's a curious toddler climbing up on a chair close to the railing, or a reckless teen attempting to climb over to the balcony next door.
Suggested read: What Happens If You Jump Off A Cruise Ship?
Children should never, ever, be left unattended on a balcony of any sort, whether that be at home, in a hotel room or on a cruise ship.
The doors to balconies are usually heavy with high-up locks to prevent young children from going out on the balcony whilst the adults are asleep or in the bathroom. However, that's not always the case, as this photo of my then-six-year-old opening the top lock demonstrates!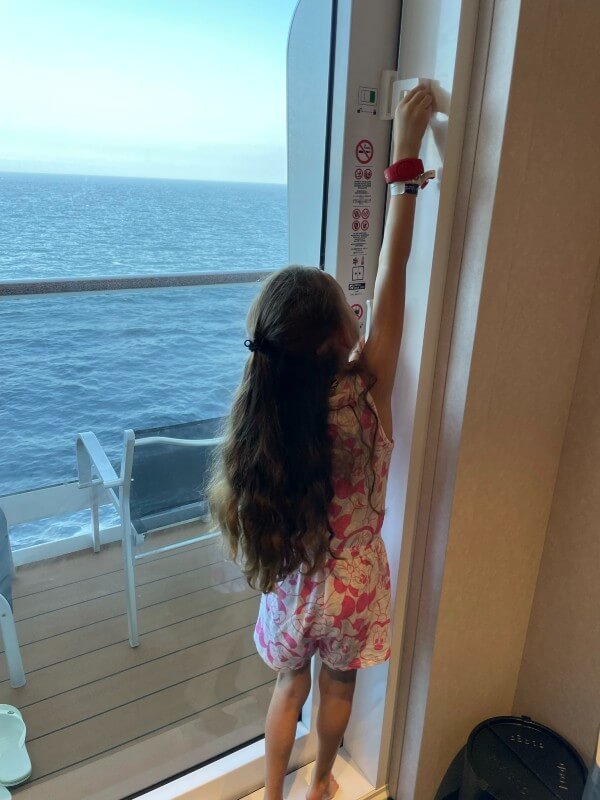 On some ships, you can also request balcony nets which make it difficult (but not impossible) for children to attempt to climb the railings. However, the only 100% safe way to avoid accidents on balconies, is not to have one.
4. Inside Cabins Can Be Completely Dark
As an inside cabin has no windows, when you turn off the lights it is completely black. I love sleeping in total darkness and I wish I could achieve this at home. (If you know of any blackout curtains which do this, please let me know!)
As we all know, most young children are early risers, waking up with the sun, even if that is at 5 am. However, on holiday, many of us let our children stay up much later than they would at home.
Sleeping in a completely dark room is an ideal way to ensure that the whole family gets enough sleep and wakes up fresh the next day. If your family all go to bed at 11 pm, the total darkness means that you can easily sleep in until 9 am and the children will be none the wiser.
If you need a bit of light for bathroom trips or to help with any fears, I recommend taking a small plug-in night light. Either that or leave the bathroom light on with the door slightly ajar.
5. Inside Cabins are More Private
Balcony cabins are rarely private. You can often see the people on the next balcony a little bit, and, particularly if you choose an aft balcony, people may be able to look down on to you.
When you're in port, the balcony certainly isn't private, so you'll want to make sure you're clothed before opening that door in the morning!
Inside cabins, on the other hand, offer total privacy. If you want to wander around starkers, that's entirely up to you.
6. Inside Cabins Make You Experience More
I find that an inside cabin gives you a little push to get out of your cabin and up on the deck.
On the deck, you'll enjoy better views, and find more comfortable loungers and armchairs than the ones on your balcony. As your ship leaves each port, there are often sail-away parties, with a fantastic atmosphere that you'll miss out on if you stay on your own balcony.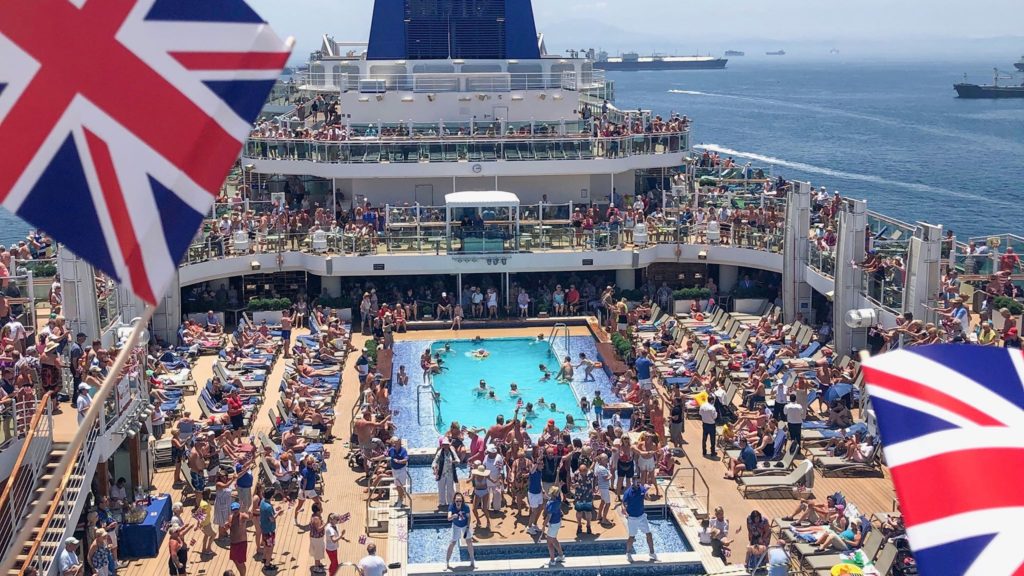 Most cruise ship balconies are only big enough for two chairs, meaning that not everyone in the family can enjoy it at the same time. Do you want your kids to be sitting inside the stateroom watching TV while you're on the balcony, or would you rather be up on deck enjoying the scenery together?
4 Times You Should Definitely Choose a Balcony Cabin
Whilst I strongly believe that inside cabins are the best for families, there are times when the advantages of a balcony cabin make it the best option for a family cruise. These are as follows.
1. You're Cruising to a Scenic Destination
Confession time… I have booked a balcony cabin for a cruise. I broke my own golden rule – 'always book an inside cabin'. Let me tell you why…
The cruise which we booked was to the Norwegian Fjords. I had never been to Norway before, but I knew the scenery is absolutely beautiful and I didn't want to miss any of it.
The decision was justified too!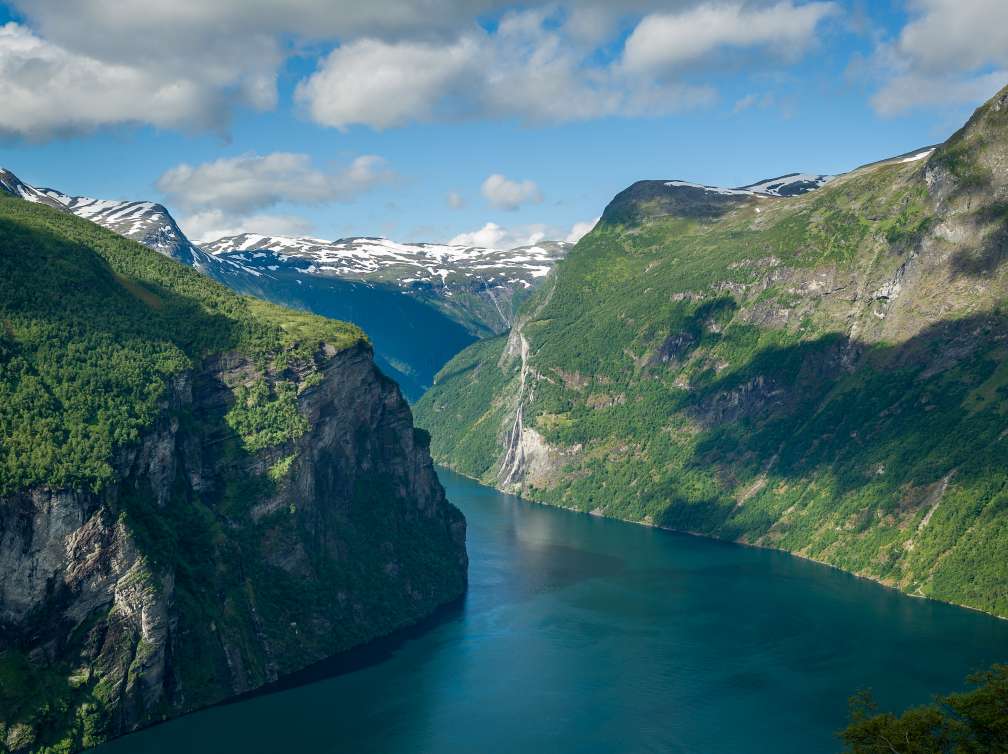 On a Mediterranean cruise, you might call at a new port every other day, with the ship arriving in port in the early hours of the morning. However, in Norway, your ship could call at multiple ports in one day.
There are also cruise-bys where the ship sails past the scenery but you don't get off. A balcony means that we maximised our time spent doing the one thing we're heading to Norway for – witnessing the stunning scenery.
In summer in Norway, it doesn't get dark until very late in the evening. If you cross the Arctic Circle, the sun never dips below the horizon all night – a phenomenon known as the 'Midnight Sun'. A balcony allowed us to put the children in bed and then sit out with a glass of wine as we watched the beautiful sunsets.
2. You Suffer From Claustrophobia
If you don't like to feel enclosed and go out of your way to avoid places like lifts, caves and crowds, then it would be wise to opt for a balcony cabin, or at the very least, one with a window.
Many people say that it's 'balcony or bust' when it comes to cruising and claustrophobia is one excellent reason why you might be of that opinion.
Personally, I like the cosiness of an inside cabin. Growing up, I once had a bedroom that wasn't quite big enough for a single bed (I had a miniature bed) and I liked my cosy little cave. But that's just me! If you prefer a light and airy atmosphere, definitely consider a balcony.
3. Your Baby Will Only Nap in Bed
When he was a toddler, my son would only nap in the car or a pram. It was a bit of a pain at home that we had to leave the house every day so he could sleep. However, it was a dream on holiday – two laps of the walking track in a pushchair and he was fast asleep.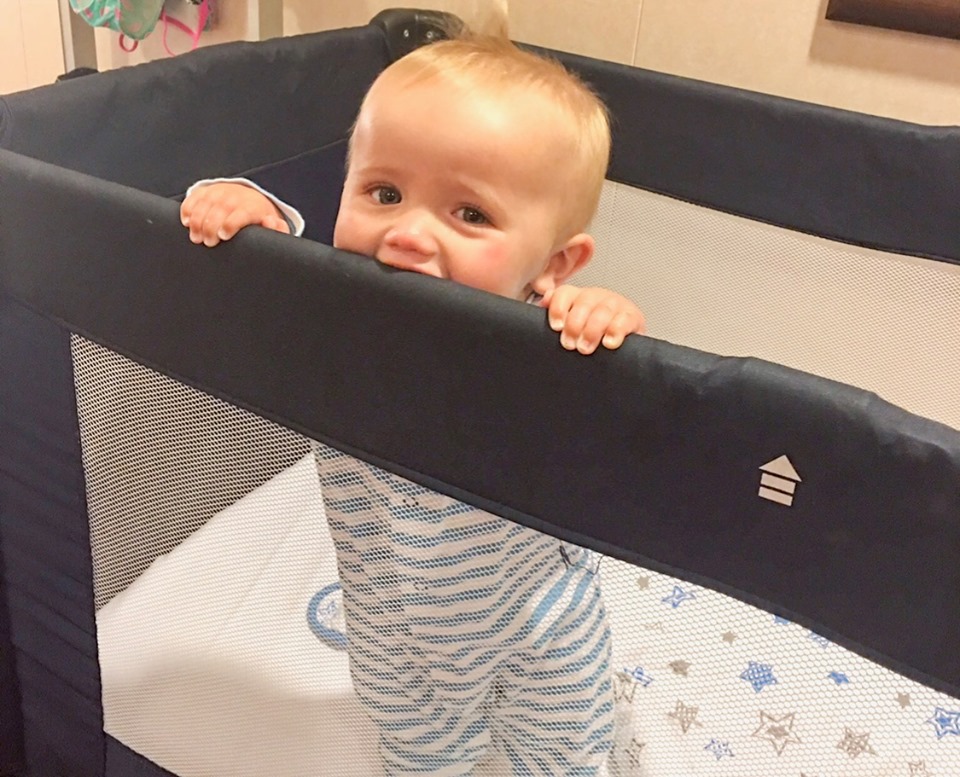 However, I know that many babies and toddlers are the opposite, and will in fact only take a nap in a cot in a darkened room. If this sounds familiar, then a balcony will be incredibly valuable. If you're going to be confined to your cabin for one to two hours each afternoon, having a balcony where you can sunbathe with a book while your child sleeps will make a huge difference to how much you enjoy this time.
Read more: Taking a baby on a cruise ship
4. A Promotion Makes It Worthwhile
Cruise lines often have promotions to encourage people to book balcony cabins. Most ships have way more balcony cabins than they do inside cabins, and inside cabins are a lot cheaper, which can mean that they sell out first.
When this happens, the cruise line has two options:
Get current passengers to upgrade (either for free or for a reduced rate)
Offer an incentive to get future bookers to choose a balcony
In the first scenario, some cruise lines surprise passengers with free-of-charge upgrades to free-up the cheaper cabins for new bookers. Others, such as Royal Caribbean, offer a system where passengers are invited to 'bid' for an upgrade. The more the passenger bids, the more likely they are to secure the upgrade.
On a Royal Caribbean cruise, I was offered the chance to bid on a balcony cabin, with the starting bid set at £20 per person, per night. Not for me, thanks! But if you get the bidding email and it sounds good value, then go for it!
In the second scenario, marketing promotions are created, with offers such as 'free drinks on balcony staterooms and above'.
If you're intending to purchase a drinks package anyway, this can be a good deal, as it can mean that the balcony cabin can work out to be a similar price to an inside cabin. However, look at the prices carefully to make sure this is good value.
Unfortunately, these promotions are much more common on cold-weather cruises, where people tend to be less bothered about paying extra for a balcony.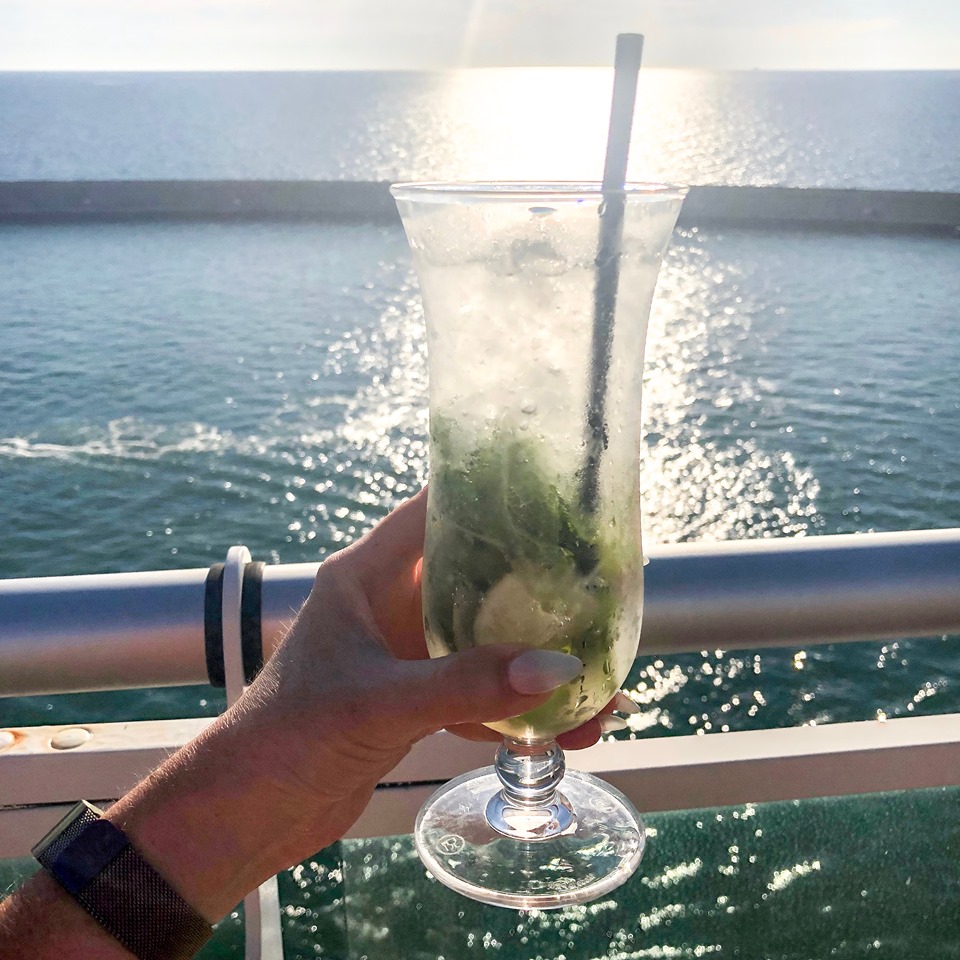 Alternative Stateroom Types to Consider
Aside from the four main cabin types of inside, outside, balcony and suite, there are a few rarer cabin types that you shouldn't overlook if you spot that they are available. These are all priced in between an inside and a balcony and might offer the perfect cabin for you.
Interior Balcony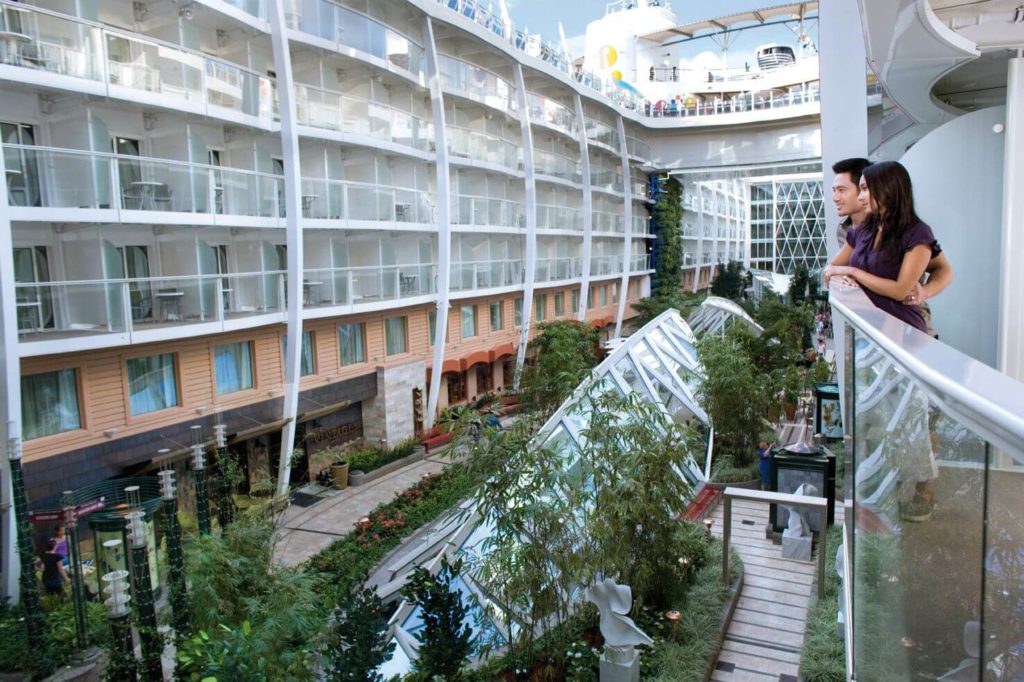 Not all balconies overlook the ocean. Some of Royal Caribbean's mega-ships have a big space in the middle where you'll find a promenade and park.
We once stayed in an interior balcony stateroom when we sailed on Allure of the Seas. To be honest, for us, it was a complete waste of money – we barely ever went on it! Sure, it's great if you like to people-watch, but I find that there's much more fun to be had up on deck. Plus, these balconies have zero privacy – so people may well be watching you as much as you're watching them.
Virtual Balcony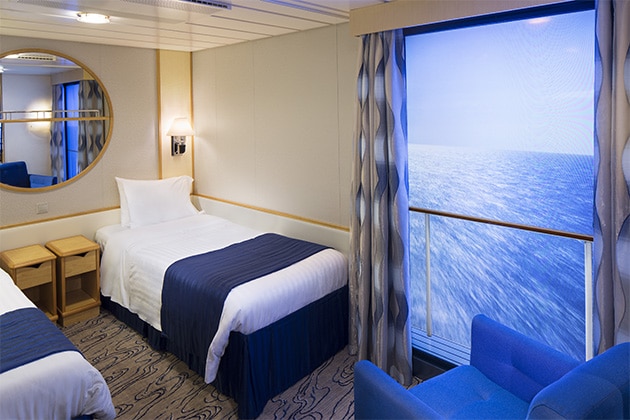 Also available on certain Royal Caribbean ships, virtual balcony staterooms are inside staterooms with an 80-inch HD screen that shows a real-time view of the ocean outside. There's a curtain to conceal the screen and you can listen to the sounds of the ocean should you wish. These cabins only sleep two people, so are not ideal for families.
My tip is to switch the TV in your inside stateroom to the ship's webcam channel and create your own virtual window, for free.
Panoramic Ocean View

Some cruise ship cabins and suites have panoramic ocean views. This means that there is a huge wall of glass along one side of the room. I like this idea, as they're safe for children, yet you can still enjoy a great view of the ocean. Plus, if you like to watch the waves from the comfort of your bed, the view will be undoubtedly better than from the bed of a balcony stateroom.
Which Cabin Type Will You Choose for Your Next Cruise?
So you've heard my view on the topic of which cabin type is best. But what do you think? Are you tempted by an interior cabin cruise? Let me know which cruise ship rooms you prefer and why in the comments below.
Once you've chosen a cabin type, you'll want to make sure that you pick the best cabin number and avoid any locations that might be noisy or have other problems. If you've already booked but want to upgrade, here's how.
You can use my free cabin checklist to help you find the best cabins. Just enter your email address and you'll receive it straight to your inbox.
Related Posts: