When booking a cruise, most of us have to consider the budget at some point. It's rare to be able to book any cruise you want without having to check what's a reasonable amount to spend.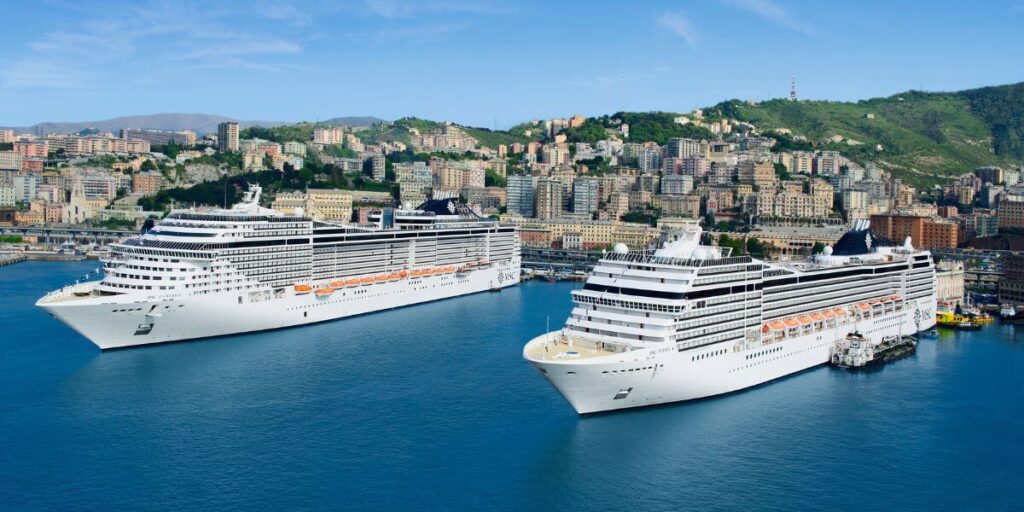 And sometimes, you may just be looking for the cheapest option – the cruise line that offers the lowest prices. Maybe things are a little stretched, or you'd rather take two cruises at a lower price than one at a higher price.
I regularly take cruises that cost around $50 or £40 per night, and I love nothing more than to find cheap deals and share them with the people on my email list.
I've looked at some of the cheapest cruise lines in the world, checked their cheapest cruises, and worked out which is the lowest-priced – and some other interesting stats too.
Which cruise line is cheapest?
The cheapest cruise line is MSC Cruises. On average, their cheapest cruises can be as much as 30% less than other similar cruise lines. Generally, the cruises are not as well-reviewed as those from other cruise lines, but most people still have a very enjoyable experience.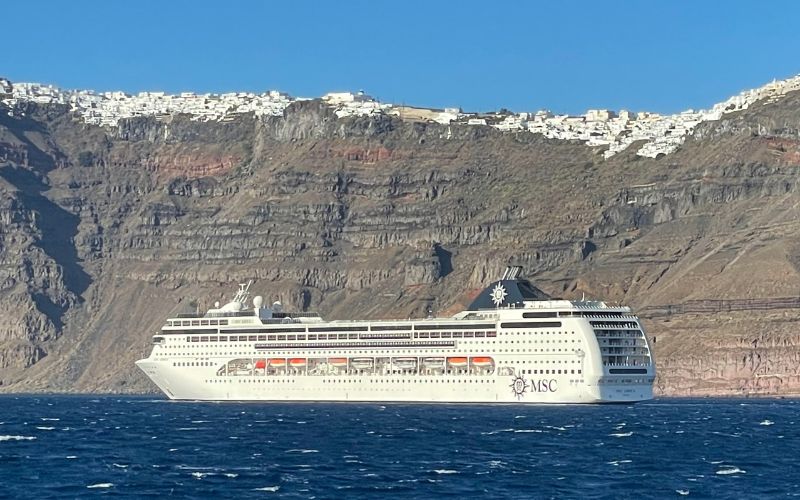 Of course, that doesn't mean that every MSC cruise is going to be cheaper than cruises from other cruise lines. There are a huge host of factors that go into deciding the price of a cruise, including the month that you cruise, the duration, location and more.
But on average, MSC cruises tend to be a lower price than other, similar cruises from competitor cruise lines.
Other low-cost cruise lines, provided you book at the right time of the year and for the right duration, include P&O Cruises, Costa Cruises, Carnival Cruise Line and Royal Caribbean.
Read more: Why Are MSC Cruises So Cheap?
What is the cheapest cruise ship to go on?
There is no single answer for the cheapest cruise ship in the world, but look for older cruise ships sailing for the cheaper cruise lines. MSC Orchestra and MSC Opera are two of the cheapest cruise ships sailing in the world.
The ship does play a part in the cost of your cruise. Older ships tend to – but only tend to – cost less to cruise on than newer ships.
And the reason for that is down to the quality of the ship. The newest ships are nicer, they're better maintained, and because they are often bigger, they have more exciting things to see and do onboard.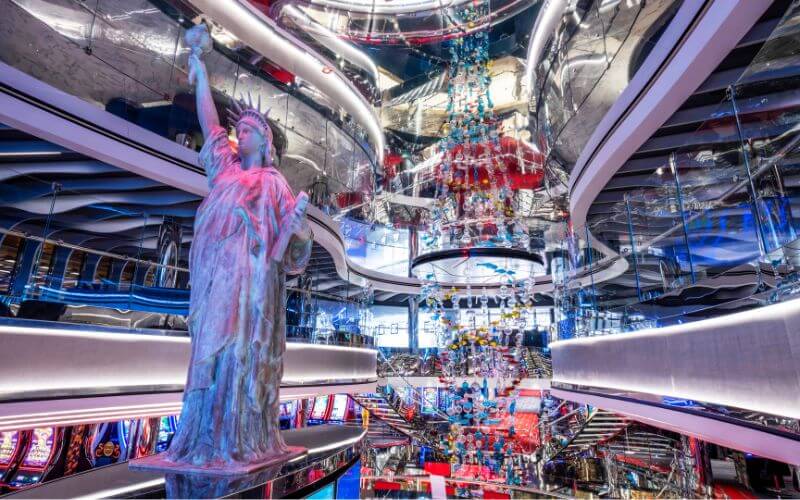 Whereas older ships, even if they've been renovated, can sometimes feel a little tired. They might not have the fancy go-kart tracks or virtual reality or robotic bartenders. And so cruise lines charge less because the experience isn't worth the same.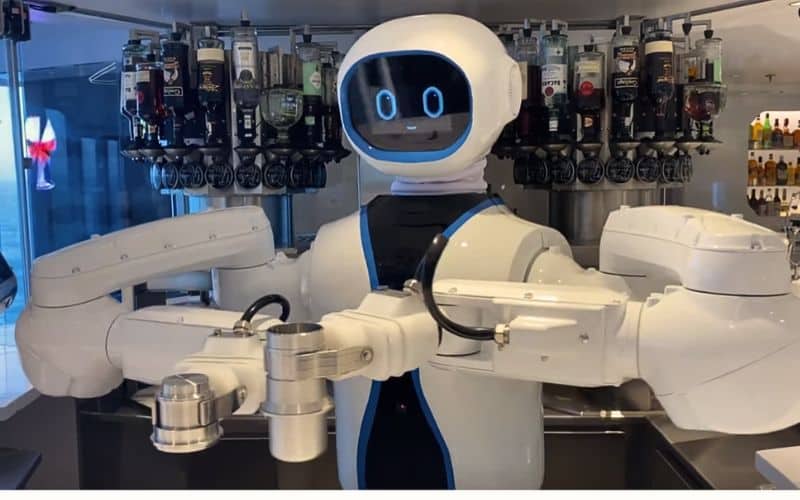 But again, the ship is just one factor when it comes to pricing a cruise. An inside cabin on a brand-new megaship will likely be cheaper than a suite on an older, smaller ship for example.
What is the cheapest cruise you can take?
The cheapest cruise you can book is a 3-night MSC cruise in the Mediterranean in September, which can cost as low as $80 per person, although there are other fees to pay including tips ($14.50 per night) and taxes ($75). So the total cost is closer to $198.50 per person for three nights.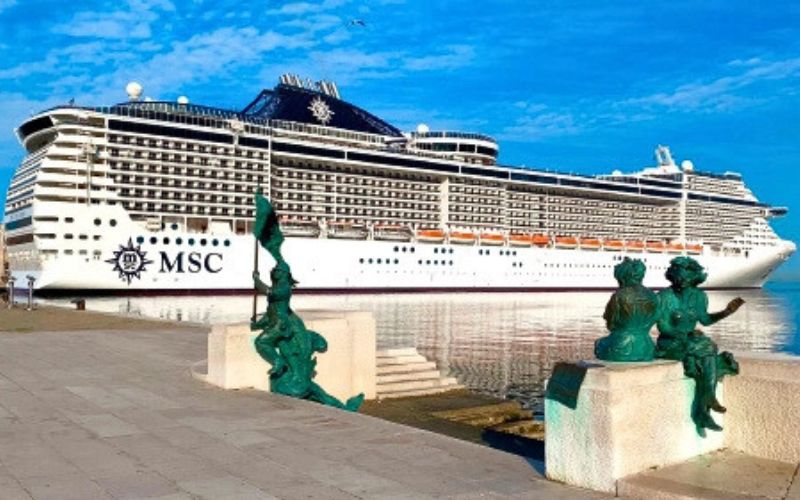 Obviously, the cheapest cruise available to book at any one time will constantly change. Prices aren't static, new itineraries and dates are released on a regular basis, and sometimes the cheapest cruises sell out, leaving another cruise to become the cheapest one available.
There are some cruises that are shorter than 3 nights but they are rarely any cheaper than around $80 total, so getting a 3-night cruise for around that price (with taxes and tips on top) should be seen as excellent value.
The 7 Cheapest Cruise Lines
Deciding the cheapest cruise line isn't an easy task, because there's so much you need to consider.
It's not just about the advertised price, but also any other fees you have to pay – port taxes, gratuities, and so on.
Plus, different cruise lines offer different cruise lengths. Some cruise lines may offer cheap 7-night cruises but they'll never beat the price of a 2-night cruise with another, 'more expensive' cruise line.
So to work it out, I've taken a look at the cheapest cruise option for several of the biggest cruise lines in the world, but not just their single cheapest cruise – I've looked at their cheapest 2-, 3-, 4-, 5-, 6- and 7-night cruises and then taken an average of their cost per day to cruise.
These prices include all port fees and taxes, and the gratuities that you'd be expected to pay.
But what's really important to remember is that this is just the cost of the cruise. And so it doesn't mean this is the average price you would pay when you booked, because it depends on the location.
If you live in the UK, you're hardly going to get a cheap deal booking a 4-night cruise to the Caribbean from Florida! And if you're in the US, you can't really take advantage of the lower port fees for cruises from Australia, without paying a huge amount on flights.
So this is a representation – but it is not necessarily the average price you would pay when booking your cruise. That will depend entirely on when you're booking.
| Cruise Line | Cheapest 2-night cruise | Cheapest 3-night cruise | Cheapest 4-night cruise | Cheapest 5-night cruise | Cheapest 6-night cruise | Cheapest 7-night cruise | Average cost per person, per night |
| --- | --- | --- | --- | --- | --- | --- | --- |
| Carnival | $340pp | $288pp | $347pp | $449pp | $595pp | $596pp | $105 |
| Costa Cruises | $330pp | $352pp | $455pp | $553pp | $592pp | $549pp | $114 |
| MSC Cruises | N/A | $199pp | $307pp | $357pp | $456pp | $441pp | $71 |
| NCL | N/A | $413pp | $700pp | $508pp | N/A | $543pp | $123 |
| Princess Cruises | $371pp | $563pp | $730pp | $740pp | $914pp | $835pp | $163 |
| P&O Cruises | N/A | $314pp | $251pp | $503pp | N/A | $540pp | $86 |
| Royal Caribbean | $276pp | $325pp | $366pp | $534pp | $517pp | $643pp | $104 |
You can see from this that MSC's cruises average at the cheapest rate, around $71 per person, per night for their cheapest cruises.
Meanwhile, Princess is over double that – $163 per person, per night for their cheapest cruises.
1. MSC Cruises
MSC Cruises are often some of the cheapest you can book. They're a fun, family-friendly line that primarily sails around the Mediterranean, although they do have sailings in the Caribbean, Middle East and other destinations.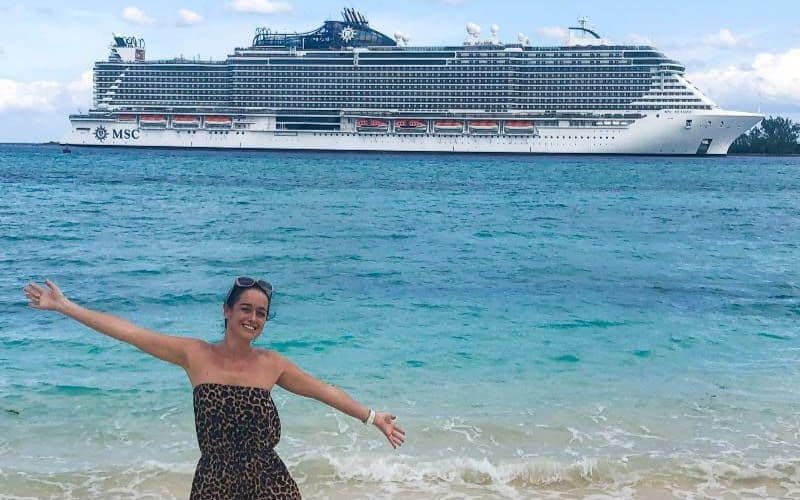 The cheapest cruises will be on older ships in the fleet, rather than the epic World Europa or upcoming World America. And they usually won't be round-trip sailings either, so you'll always need to arrange flights. Depending on where you're based, that can push the prices up.
2. P&O Cruises
P&O Cruises is a popular choice for British travellers. While the cheapest prices are unlikely to be found on the newest ships in the fleet like Arvia and Iona, the older ships are still well-maintained and offer a great experience.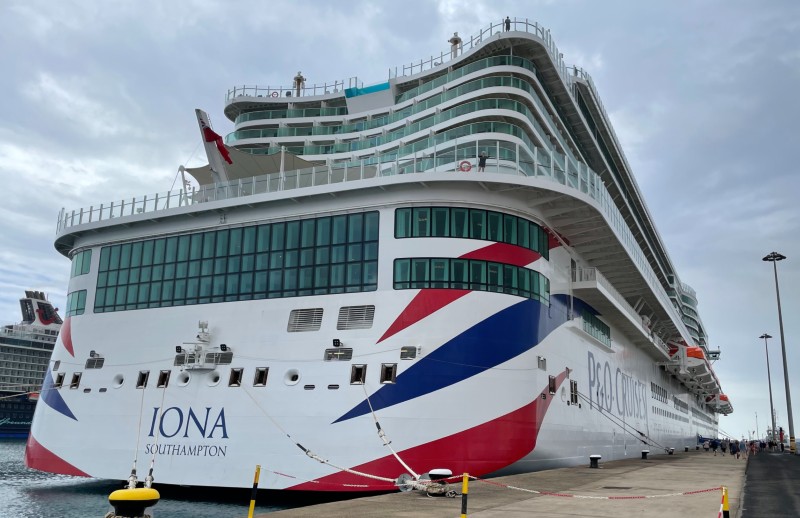 Prices vary a lot with P&O, so depending on the destination and the month, fares can be a lot higher. But there are some excellent deals to be had if you're more flexible.
If you're a family or are cruising with friends and don't mind having more than two to a cabin, look out for special offers where the third and fourth guest sail for free. This can half the price of your cruise.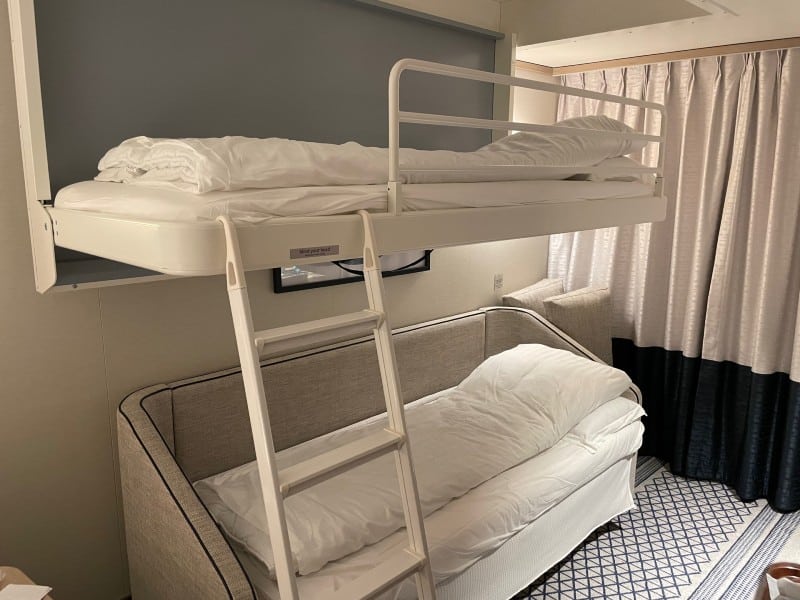 3. Royal Caribbean
You might be surprised to see Royal Caribbean this high on the list, but remember this is based on the cheapest available cruises.
Royal Caribbean has a lot of older and smaller ships in the fleet like Vision of the Seas and Rhapsody of the Seas. You won't get the same low prices on the Oasis-class ships, that's for sure!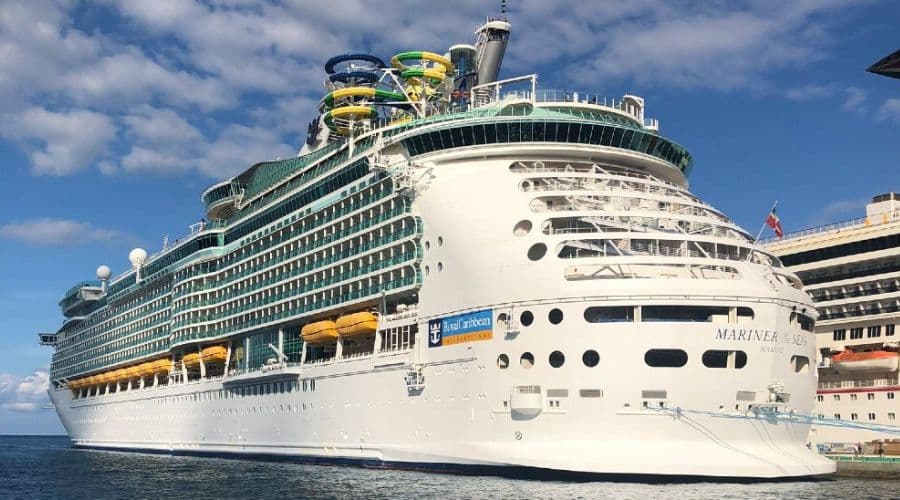 But if you want a fun-packed cruise then it's worth checking the cheapest Royal Caribbean prices as you will often find some fantastic fares, though again your flights can push the price up a lot.
4. Carnival
Carnival has a reputation as one of the cheapest cruise lines, but when you factor in the costs of port fees and taxes, it's not quite as low-priced as the line's website makes out at first glance. But the older and smaller ships in the fleet do still have some excellent prices available.
The only problem is that most of them are from US ports, so if you don't live within easy reach of Florida or Texas, you might not be able to enjoy the best fares that this cruise line has to offer.
5. Costa Cruises
Costa is an Italian cruise line that offers most of its cruises around Europe. Fares are typically low and there's not much variation between the cheapest itineraries and those in peak seasons, so even during the most popular months, you'll get a good price.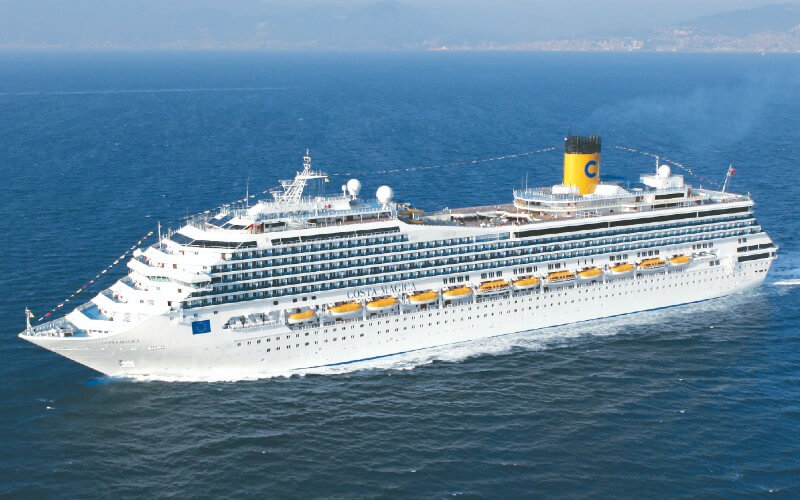 The quality of a Costa cruise depends on your tastes and what you want from your cruise but reviews are typically good, even if there's not as much to enjoy onboard as on say a Carnival or Royal Caribbean ship.
6. Norwegian Cruise Line
NCL cruises aren't the cheapest, but they're far from the most expensive. It's the short breaks that tend to drive the average prices up, although once you look beyond the cheapest fares you'll see that the newest ships are also a bit more costly.
However, an important caveat is that NCL will almost always have an offer where your fare includes something extra – maybe free drinks, free WiFi or some free excursions. This is also important to bear in mind when comparing prices.
7. Princess Cruises
Princess Cruises is considered a slightly more premium cruise line by some, so it's not a huge surprise to see it bottom of this list – though it is still cheaper than many other cruise lines targeted at a mainstream audience.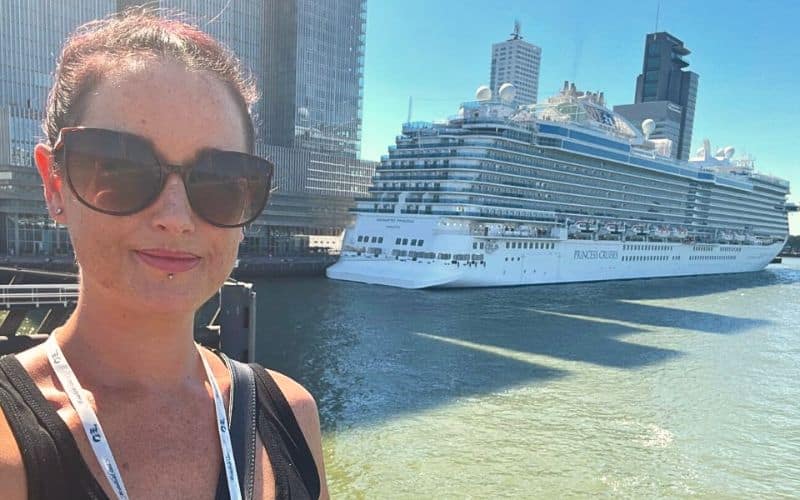 With Princess, the lowest prices are split between cruises all around the world so no matter where you live, you may not get a price as cheap as another cruise line but you won't be paying huge sums more than the typical best Princess fares.
Advertised Prices vs The Price You Pay
When you're booking a cruise, you should always check what's included and what other fees you might still need to pay.
I've already mentioned these briefly, but the two most common additions are for port fees and taxes, and for gratuities.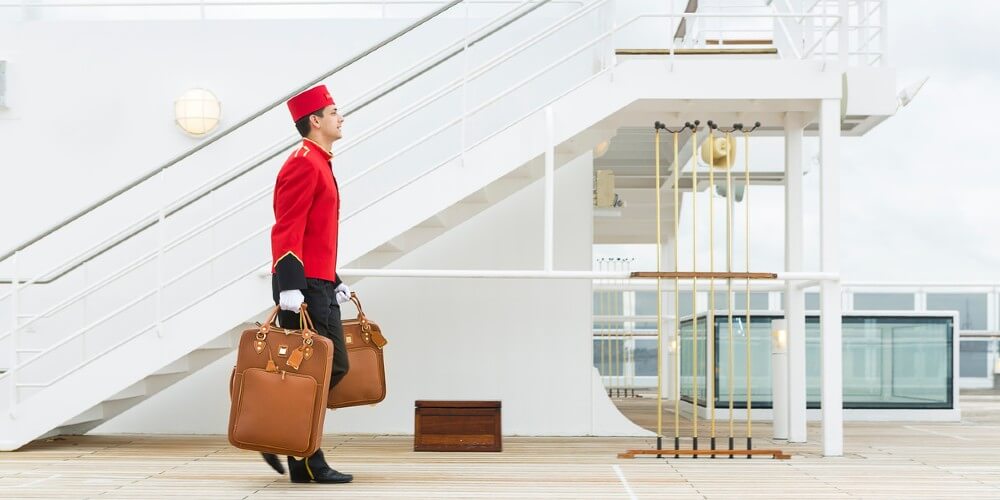 Port fees and taxes are completely mandatory. Some cruise lines will include them in the advertised price, while others will mention them underneath the price, often in small print, so you may only see them when you get to the final booking stage.
Read more: What Are Port Fees And How Much Are They?
Tips aren't completely mandatory but you really should pay them. Cruise lines will add them to your account automatically, and if you don't want to pay them then you need to speak to Guest Services to have them removed. They make up a large part of the crew's salary though, so removing them has a significant impact.
Read more: Can You Refuse To Pay Gratuities On A Cruise?
While researching the cheapest cruise line, I thought it was interesting to compare the advertised price – the one you see in big, bold numbers when you search on a cruise line's website – and the actual price you pay with fees and gratuities included.
Because I've included fees and taxes in my stats above, this doesn't impact which cruise line is cheapest, but it's good to know so that you're always careful when booking your own cruise, and you aren't duped by a false low price.
| Cruise line | Cheapest 7-nt cruise (advertised price) | What's included? | Actual cost of cheapest 7-nt cruise | Price difference | % extra |
| --- | --- | --- | --- | --- | --- |
| Carnival | $360pp | Fare only | $596pp | $236 | 66% |
| Costa Cruises | $399pp | Fare only | $549pp | $150 | 38% |
| MSC Cruises | $199pp | Fare only | $441pp | $242 | 122% |
| NCL | $403pp | Fare & taxes | $543pp | $140 | 35% |
| Princess Cruises | $723pp | Fare & taxes | $835pp | $112 | 15% |
| P&O Cruises | $540pp | Fare, taxes & tips | $540pp | $0 | 0% |
| Royal Caribbean | $299pp | Fare only | $643pp | $344 | 115% |
The difference is often huge – indeed with MSC and Royal Caribbean, you'll pay more than double the price that they advertise as being the cost of the cruise!
The Bottom Line
If you want a cheap cruise, you're best checking the cruise lines like MSC and P&O Cruises if they sail near you, to see what their best prices are. Carnival, Royal Caribbean and Costa also have some lower-priced sailings too, if you're happy on older ships.
But if you want the best experience, then a newer ship, or a better cabin category, might be preferable. Don't skimp too much – you still want to enjoy your cruise.
And there are always ways you can get a good price, even on 'more expensive' cruise sailings.
Read more: How to Get Cheap Cruises: An Insider Guide
Related Posts: