Since November 2020, all of Celebrity Cruises fares have included three things – a Classic Drinks Package, wifi and tips. This new all-inclusive fare is known as 'Always Included'.
Guests booking a cruise with Celebrity Cruises have the option to upgrade their drinks from the Classic Drinks Package to the Premium Drinks Package, which offers a wider selection of drinks including things like large martinis and Champagne.
But is the upgrade to the Premium Drinks Package worth it? Or should you stick with the Classic Drinks Package that comes with your cruise? I've studies the prices and worked it all out for you.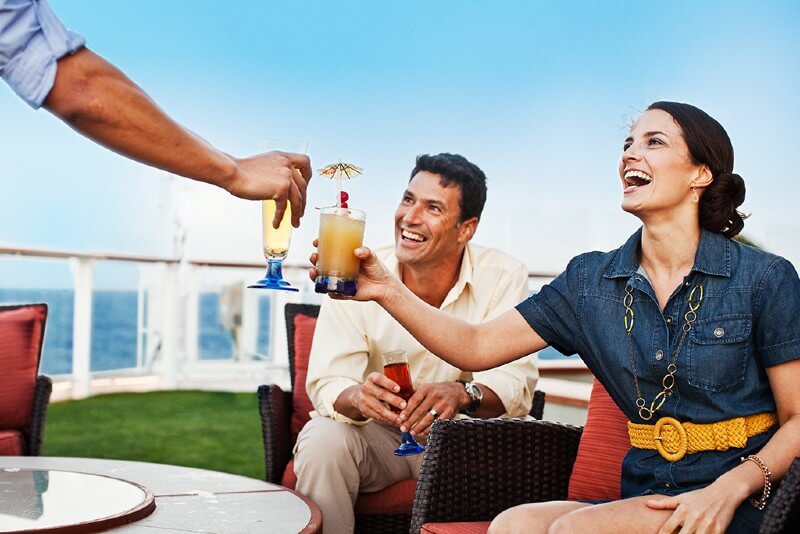 What drinks are free on Celebrity Cruises?
For new bookings, each guest on Celebrity Cruises will receive a Classic Drinks Package included in their cruise fare. The free drinks with this package include a selection of beers, wines, spirits, cocktails, soda, juices, bottled water and premium teas and coffees.
What's included in the Classic Drinks Package?
The Celebrity Cruises Classic Drinks Package includes all drinks valued at up to $9 each. If you order a drink that costs more than that, you'll pay the difference in price. The Classic Drinks Package also entitles guests to a 15% discount on all wines by the bottle.
What's included in the Premium Drinks Package?
If you upgrade to Celebrity Cruises' Premium Drinks Package, you'll be able to enjoy all drinks up to the value of $15 each. You'll also get a 20% discount on bottles of wine.
Unless you're something of a wine connoisseur, the wine discount is neither here nor there as you should be ordering wines by the glass rather than the bottle so that you won't have to pay anything at all.
Examples of what's included in each package
The Classic Drinks Package includes all kinds of branded drinks, but the choice of brands is smaller than with the Premium package.
For example, if you like gin, the Classic package gives you the option of Beefeater, Gordon's and Bombay Dry. However, the Premium package includes seven more gin brands, such as Hendrick's and Tanqueray.
With most Premium drinks, there's a Classic package equivalent. So if you usually order a Peroni, you could save money by switching to Moretti on the Classic package. However, there are some unique drinks like Guinness which are only available on the Premium Package.
Full list of what's included in each package
If you like to enjoy a particular drink most days, then take a look at this full list to find out which package you need…
Beer
Classic Package: Alaska brewing beers (on Alaskan sailings), Amstel Light, Boddington's, Coors Light, Corona, Corona Light, Franziskaner, Kirin, Kirin Light, Miller Lite, Moretti, Newcastle Brown Ale, Pabst Blue Ribbon, Red Stripe, Sam Adams, Strongbow Cider.
Premium Package: Everything from Classic, plus – Anchor Steam • Blue Moon, Brooklyn Brown Ale, Dogfish Head 90, Minute, Estrella Damm gluten-free, Fuller's London Pride, Grolsch beers, Guinness, Highland Stout, Kingfisher Lager, Kronenbourg 1664, La Fin du Monde, Lagunitas Little, Sumpin' , Lagunitas Pils, Leffe Blond, Magners Cider, O'Hara's Irish Red, Ommegang Abbey Ale, Orion Lager, Paulaner Salvator, Double Bock, Peroni, Rogue Dead Guy Ale, Sapporo, Sierra Nevada, Stella Artois, Stone IPA, Woodchuck Granny Smith Cider, Woodchuck Pear Cider.
Wine
Classic Package: A large selection of wines from around the world, such as chardonnays, merlots, malbecs and riojas.
Premium Package: Champagnes and favourite wines such as Cherry Tart Pinot Noir, Conundrums, Decoy Cabernet Sauvignon, Ferrari-Carano Fumé Blanc, J&H Selbach Riesling Kabinett, Mer Soleil Chardonnay, Michael David Petite Petit red and Villa Maria Sauvignon Blanc.
Gin
Classic Package: Beefeater, Gordon's and Bombay Dry.
Premium Package: Everything from Classic, plus – Bombay Sapphire, Bombay Sapphire East, Hendrick's, Plymouth, Star of Bombay, Tanqueray, Tanqueray No. Ten.
Rum
Classic Package: Bacardi, Bacardi Flavours, Bacardi Oakheart, Captain Morgan's, Kraken Black Special, Malibu, Myer's, Wray & Nephew.
Premium Package: Everything from Classic, plus – Bacardi 8 Años, Brugal, Flor de Caña, Mount Gay, Pyrat XO, Zacapa 23.
Vodka
Classic Package: Absolut, Absolut Flavours, New Amsterdam, Smirnoff, Tito's.
Premium Package: Everything from Classic, plus – Absolut Elyx, Belvedere, Belvedere Intense, Chopin, Christiania, Cîroc and flavors, Grey Goose, Hangar 1, Ketel One, Pearl, Rain, Reyka, Russian Standard.
Tequila
Classic Package: Cazadores Blanco, Herradura Blanco, Don Julio Blanco.
Premium Package: Everything from Classic, plus – Cazadores Reposado, Don Julio Reposado, Herradura Reposado, Patrón Citrónge, Patrón Reposado, Patrón Silver, Patrón XO Café.
Whisky & Bourbon
Classic Package: Canadian Club, Famous Grouse, Monkey Shoulder, Jameson, Jim Beam, Johnny Walker Red, Dewar's White Label, Seagrams 7 & Vo.
Premium Package: Everything from Classic, plus – Aberfeldy 12, Bulleit Rye, Chivas Regal 12, Crown Royal, Dewar's 12, Gentleman Jack, Glen Scotia Single Malt, Glenfiddich Reserve Cask, Glenfiddich Select, The Glenlivet, Haig Scotch, Highland Park scotches, Highland Park Einar, Jack Daniel's Black, Jack Daniel's Honey, Jack Daniel's Rye, Jack Daniel's Single Barrel, Johnnie Walker Black, The Macallan, The Macallan Lumina, The Macallan Quest, Maker's Mark, Rittenhouse Rye, Wild Turkey, Woodford, Double Oaked Woodford Reserve, Woodford Rye.
Cocktails
Classic Package: A large selection of classic cocktails made with Classic Drinks Package spirits
Premium Package: A large selection of cocktails made with Premium Drinks Package spirits including craft cocktails, large martinis, and long drinks.
Soft drinks
Classic Package: Fountain soft drinks, soda in cans, juices (apple, cranberry, orange, lemon, grapefruit), bottled water, premium coffees & teas.
Premium Package: Everything from Classic, plus – premium bottled water Acqua Panna, Evian water, San Pellegrino, fresh juices, bottled juices, Red Bull, sodas, Honest iced teas, Matcha tea, Vitaminwater
How much does it cost to upgrade to the Premium Drinks Package?
If you've decided that you'd be happier with the Premium Drinks Package, you'll want to know how much it costs to upgrade.
Celebrity Cruises offers two ways to upgrade your drinks package…
1. Upgrade your cruise from 'Always Included' to 'Elevate'.
This gets you the Premium Drinks Package and also a credit of between $100 and £200 which you can spend on a shore excursion of your choice.
The cost is $30 per person, per day
The following table shows how much the drinks upgrade actually costs after you've deducted the value of the shore excursion…
| Cruise Length | Cost to Upgrade to Elevate | Shore Excursion Credit Value | Cost of Drinks Upgrade (per day) |
| --- | --- | --- | --- |
| 3 nights | $90 | $100 | free |
| 4 nights | £120 | $100 | $5 |
| 5 nights | $150 | $100 | $10 |
| 6 nights | $180 | $150 | $5 |
| 7 nights | $210 | $150 | $10 |
| 8 nights | $240 | $150 | $11.25 |
| 9 nights | $270 | $150 | $13.33 |
| 10 nights | $300 | $200 | $10 |
| 11 nights | $330 | $200 | $11.81 |
| 12 nights | $360 | $200 | $13.33 |
| 13 nights | $390 | $200 | $14.62 |
| 14 nights | $420 | $200 | $15.71 |
According to this data, the upgrade to the Elevate Package is generally better value for shorter cruises.
It's important to note that Celebrity Cruises shore excursion prices vary from at $69 to $572 per person. The credit can only be used for one excursion, so you might want to pick one that's close to the value of your credit.
2. Upgrade your drinks package from 'Classic' to 'Premium'.
The second way to upgrade, is to upgrade only your drinks package, not your cruise. This gets you the Premium Drinks Package only, with no shore excursion voucher.
The cost is $12 per person, per day
If you want the Premium Drinks Package, in most cases, it's best to upgrade your cruise to the Elevate Package and also get the shore excursion credit.
However, on 9-night cruises or cruises that are 12 nights or longer, you would be better off financially to just upgrade the drinks package from Classic to Premium, and not upgrade your cruise from Always Included to Elevate.
You'll see in the table above, that for these durations, the daily cost of the drinks upgrade is more than $12, even after you've taken off the value of the shore excursion voucher.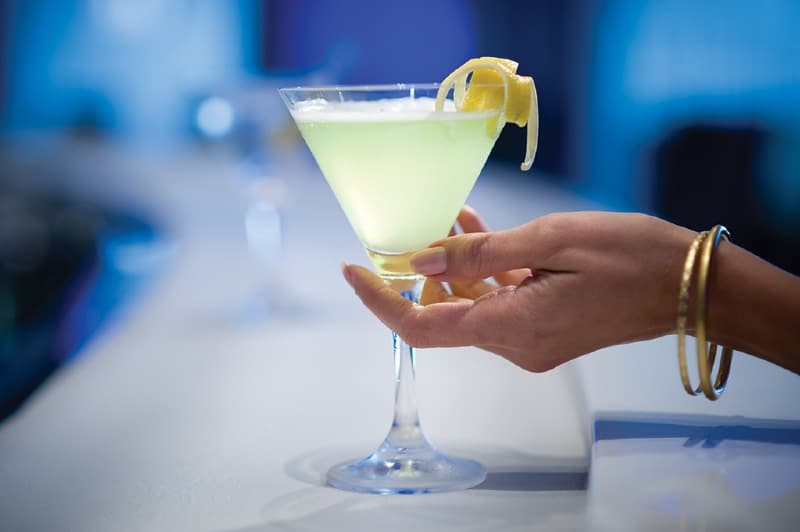 Is the upgrade from Classic to Premium worth it?
Remember, if you have a Classic Package, you can still order Premium drinks, you'll just have to pay the difference in cost.
The Classic Package includes drinks worth up to $9
The Premium Package includes drinks worth up to $15
So, if you order a Peroni that costs $10, the first $9 will be included, and you will only be charged $1.
The most you could pay for a Premium drink if you have the Classic Package is $6.
For the majority of people, an upgrade from Celebrity Cruises' Classic Package to the Premium Package isn't worth it because there are so many drinks included in the Classic Package. I would suggest only upgrading the Premium Package if you are very particular about which brands of drinks you will have, or if you need something special like gluten-free beer.
To conclude
The Classic Drinks package is now included as standard with all new Celebrity Cruises bookings. It includes many different drinks, worth up to $9 each.
You can upgrade your drinks to a Premium Drinks Package for a cost of $12 per day, or $30 per day with a free shore excursion. Which option is best depends on the length of your cruise.
For most people, the Classic Drinks Package is sufficient, but if you like particular drinks, then the upgrade may be worth it.
Get the best price when you book your Celebrity cruise
The price you pay for your cruise will be different depending on who you book it with, even though what you get will be exactly the same.
It's generally always cheaper to use a specialist cruise travel agent that can access discounted rates.
Click here to see who's offering discounted rates on Celebrity Cruises.
Of course, not all travel agents are equal in terms of the service that they provide. If you'd like to get a quote from a trusted travel agent that I've used to book multiple cruises myself, click here to get a quote.
Related posts: