The Caribbean is one of the world's most popular cruise destinations. Unfortunately, it's also where many of the world's hurricanes happen.
So what happens if your cruise is due to sail the same path as a hurricane? Can cruise ships handle hurricanes? And what happens if your cruise is cancelled?
I was recently due to sail on Royal Caribbean's cruise ship Navigator of the Seas, but was forced to cancel my cruise due to Hurricane Dorian.
I have closely followed the advice given by cruise lines, government bodies and weather centres and have written this guide to cruising during a hurricane to help anyone who might find themselves in a similar situation, finding their cruise affected by a hurricane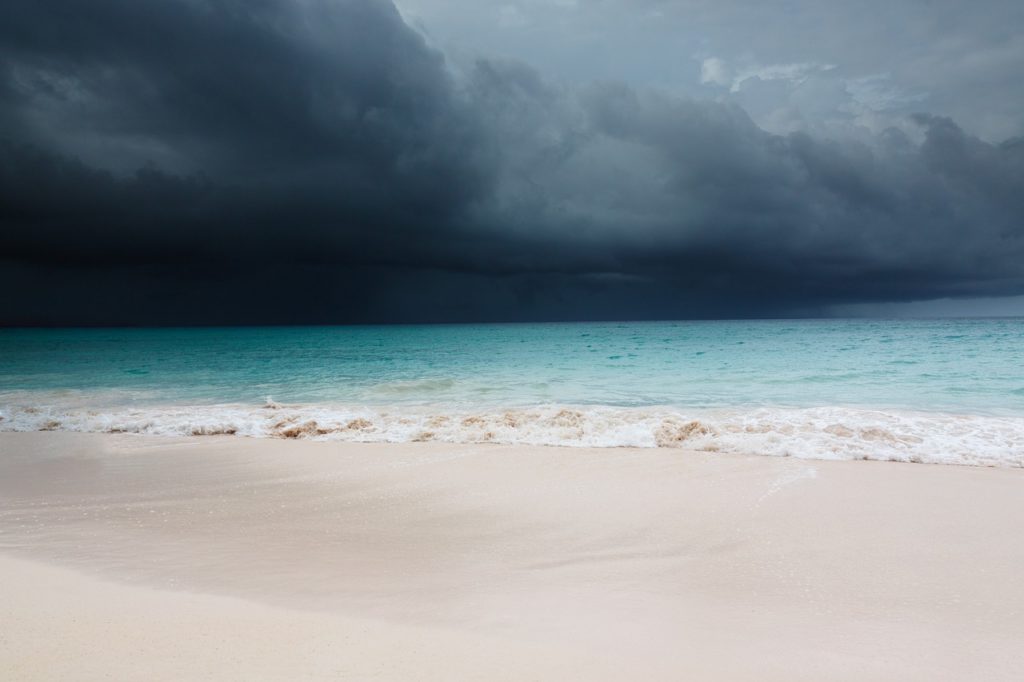 Are cruise ships safe in a hurricane?
The most important thing for anyone to consider during a hurricane is, undoubtedly, safety. Many people wonder if a cruise ship can withstand being hit by a hurricane. But honestly, it is extremely unlikely that that would ever happen. The tactic taken by cruise ships during a hurricane is to avoid the hurricane by sailing out of its path.
In fact, a cruise ship is one of the safest places to be during a hurricane, as they can easily sail into safety. According to Unidata, the average forward speed of a hurricane is 15-20mph. The average speed of a cruise ship is 23 mph, with maximum speeds reaching 34 mph. Weather forecasters have knowledge of where a hurricane is heading up to a week before it gets there. This gives cruise ships ample time to move out of the path and into calmer waters.
Where to find the latest updates on how cruises are affected by hurricanes
If your cruise holiday is affected by a hurricane, your cruise line will give you information about what to do. If you're already on board when the news comes in of a hurricane, the captain will advise passengers over the public address system, via written correspondence in your stateroom and via your stateroom television. If you have any questions, you should head to the guest services desk and ask.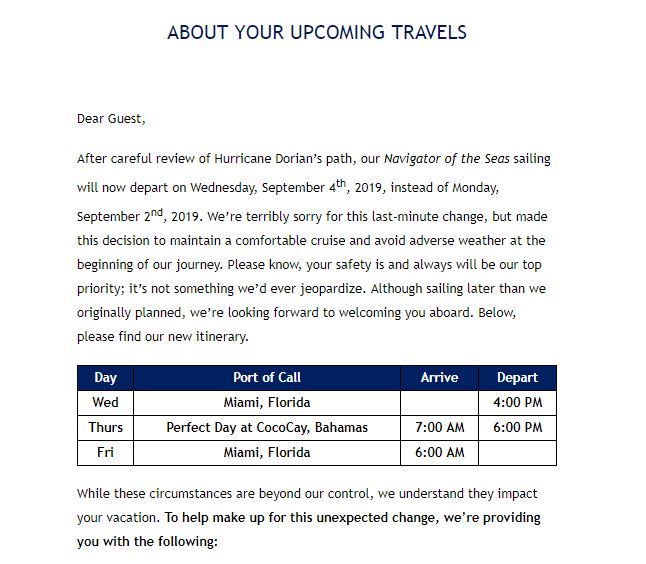 If you haven't yet sailed when a hurricane is announced, you will be advised by email if your cruise is affected, although you may also be able to gather information from other sources to help you with your planning.
Twitter is an excellent resource for getting the latest information about hurricanes from trusted sources. As well as following what your cruise line is advising, you can also follow meteorologists, such as James Van Fleet who is the chief meteorologist for Royal Caribbean, as well as accounts such as the National Hurricane Center.
Flights and other modes of transport are also affected by hurricanes. However, where a cruise itinerary may be rescheduled days in advance, the time frame for cancelling flights is often much shorter. Hurricanes can be unpredictable, and flights may show as scheduled until it is absolutely certain that they need to be cancelled.
How are cruise itineraries usually affected by hurricanes?
Cruises are very rarely cancelled due to hurricanes, but they can have itinerary changes and could be made shorter, or longer in duration.
In most cases, if a cruise is set to sail near a hurricane, it will simply be diverted to visit different ports of call, or you may skip a port altogether and have an extra sea day.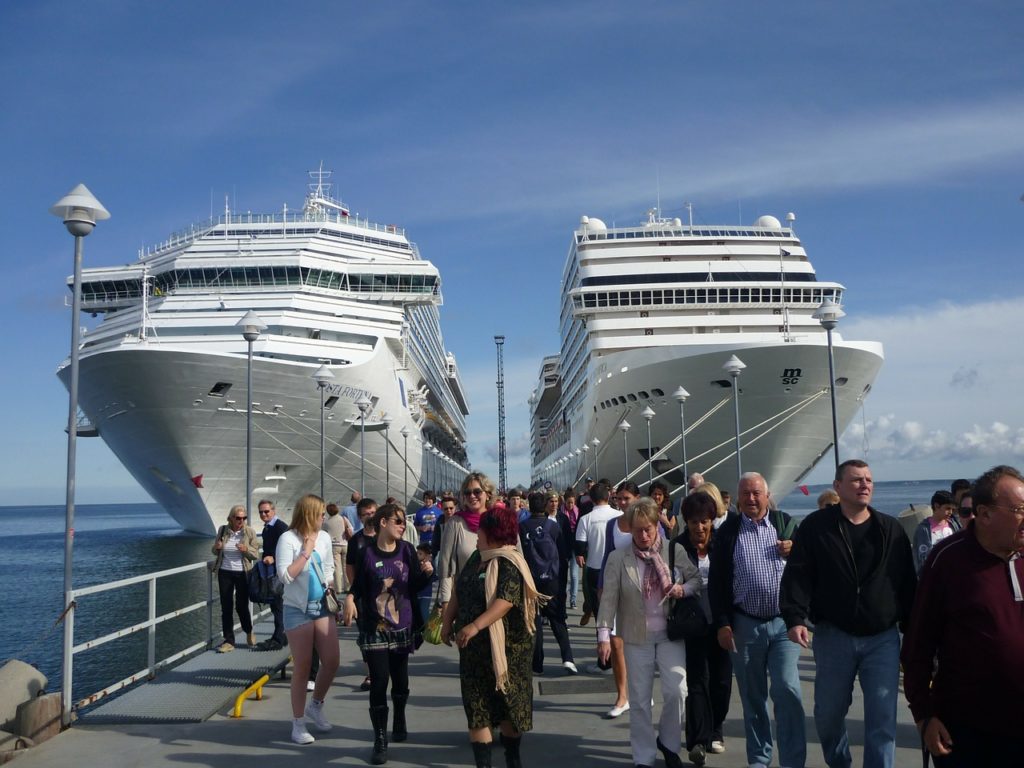 If the hurricane is due to hit a departure port, the port will close and cruise ships will stay away from the port until it is safe to dock. This means that passengers on the ship will stay on board for longer, usually having an extra one, two or three nights on board. However, this means that the cruise is then delayed for the next passengers, meaning that their cruise will be shortened by the same length of time.
If cruises are delayed or extended before departure, passengers should be given the option to cancel their cruise.
What to do if your cruise is affected by a hurricane
Before doing anything, you should wait for an email from your cruise line advising you of how your cruise is affected, what they are offering and what they recommend you to do.
I was advised that my cruise on Navigator of the Seas would be delayed and shortened from a four-night sailing to a two-night sailing. I was given the option of continuing with the cruise or cancelling.
If you have booked your cruise directly with the cruise line, you should contact them to let them know how you wish to proceed. You don't need to rush to do this. If you don't respond and don't arrive at the port, you will likely be marked as a no-show and treated the same as a cancellation.
If you have booked your cruise with a travel agent, call them and they will sort everything out for you.
I'm really glad that I booked my cruise with a travel agent. The travel agent cancelled my cruise, my flights and my hotel booking on my behalf. Because I booked it as a package holiday, the ATOL scheme in the UK meant that I would not lose any money on the flights or hotel that I had booked
If you book your cruise, flights and hotel independently yourself, you would not necessarily be entitled to a refund on all three elements and would have to call each company yourself.
How are passengers compensated for cruise changes due to a hurricane?
Each cruise line has a hurricane policy and they will advise passengers about any compensation due.
In my case, the cancellation of my cruise meant that Royal Caribbean gave me a credit to use towards a future cruise in the next 12 months. They also refunded my drinks package, wifi and shore excursions.
For cruises that are shortened, passengers are refunded pro-rata for the days which they miss. They may also be given future cruise credit as a gesture of goodwill.
For Royal Caribbean cruises which are extended, no charge is made, and extras such as drinks packages, dining packages or WiFi packages will also be extended free of charge. This policy may vary by the cruise line.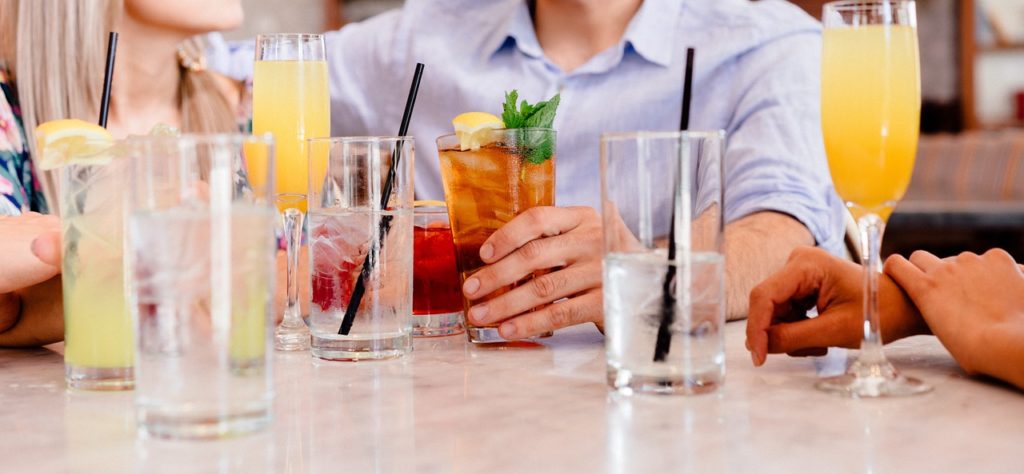 For itinerary changes such as alternative ports or missed ports, no compensation is normally offered, as the cruise line reserves the right to change itineraries as needed.
Do cruise lines offer refunds for hurricanes?
The refund policy is down to each cruise line. Presently, Royal Caribbean is offering refunds in the form of future cruise credit only. This takes around three weeks to be processed, but it is valid for up to a year after the issue.
Advice for cruising in hurricane season
Hurricane season in the Caribbean officially runs from 1st June to 30th November, with the most hurricanes happening in August and September. Even though I had to cancel my cruise due to Hurricane Dorian, it would not put me off choosing to cruise in hurricane season again.
There are some great deals to be had on cruises at this time of year, and, as it coincides with school summer holidays in the UK, it is generally a convenient time for families to cruise in the Caribbean.
Although there is certainly the possibility for disruption, the vast majority of cruises during hurricane season won't be affected by any more than a few short showers.
Be flexible
If you're considering cruising in hurricane season, it's important to be flexible. If you're planning a cruise for a special occasion such as a wedding, honeymoon, anniversary or you have your heart set on visiting a certain port, then you should probably consider sailing at a different time of year. However, if you're happy to accept itinerary changes, and want great value for money, then a cruise in hurricane season is certainly worth considering.
Get good travel insurance
It's always advisable to take out travel insurance for any cruise, but, if you plan to cruise during hurricane season, it's very important that you check your policy carefully.
Some travel insurance doesn't cover cruises at all, so the first thing to check is that your policy includes 'cruise cover'. Then you'll want to check that hurricanes and other natural disasters are not excluded.
Next, take a look at how much you're covered for and what the excess is. Cruises can be expensive and some cheaper travel insurance policies have a relatively low limit on how much will be covered.
Some travel insurance policies offer cover for missed ports but check this carefully. If you're only offered £25 per missed port, but your excess is £100, then this isn't actually worth anything.
Finally, you must get your travel insurance as soon as you book your cruise (or a year before you sail, whichever is sooner). If you wait until the last minute to buy your insurance and a hurricane is named before you buy it, you won't be covered.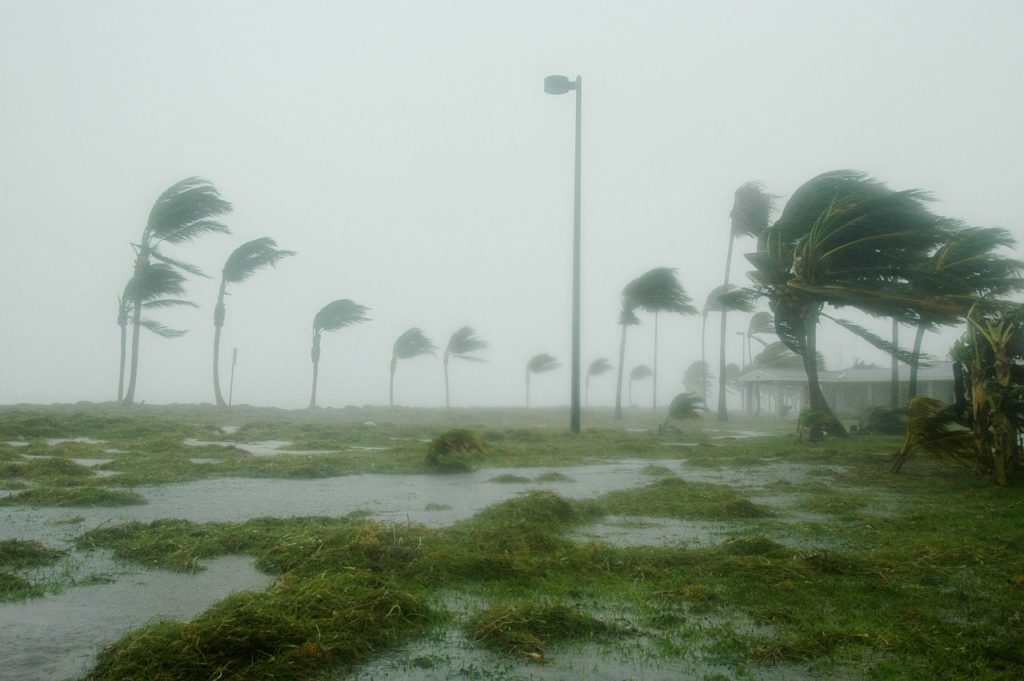 Book with a travel agent
I am so glad that I booked my cruise with a good travel agent. They sorted everything out for me and gave me a full refund on my hotel and flights as well as my cruise. If I had booked everything myself and my cruise was cancelled but flights weren't, I would have had to pay for the flights or try to claim on travel insurance
Summary
I hope this article has helped anyone whose cruise has been affected by a hurricane or who is concerned about cruising in hurricane season. This is just my experience of having a cruise booked with Royal Caribbean during Hurricane Dorian. Other cruise lines and other hurricanes may be slightly different.
Have you ever taken a cruise that was affected by a hurricane? Let me know, in the comments below, what your experiences were. And if you have any questions, please ask and if I don't know I'll do my best to find the answers.
Related Posts: