This is a guest post by Kate Holroyd.
One of the most frequently asked questions when booking a Riviera River Cruise is about the drinks package.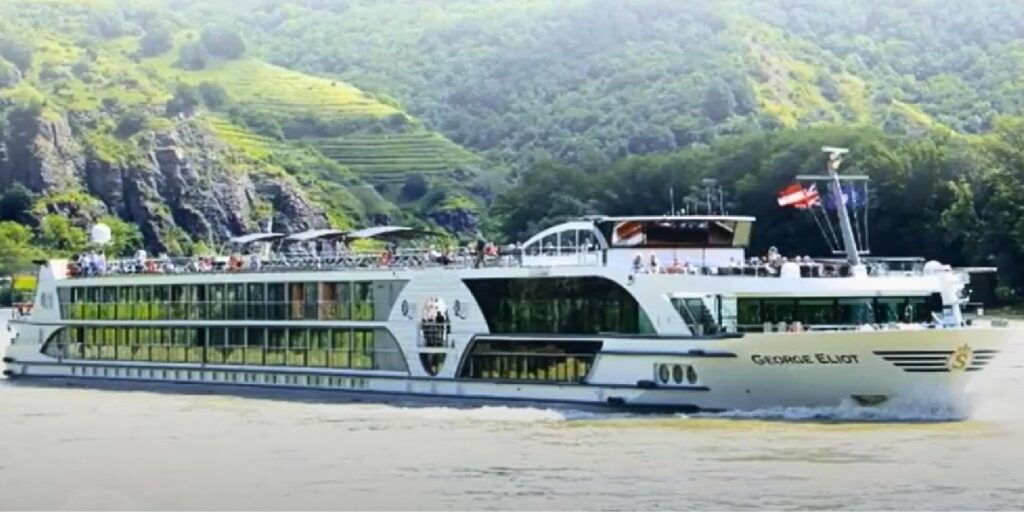 As a more budget-friendly river cruise line, Riviera Travel has slightly different inclusions to the all-inclusive ultra-luxury lines. The drinks package details aren't straightforward which can make guests feel unsure, but this guide can help!
I've been working with Riviera Cruises for over a decade and have sailed with them twice in the last 12 months. Read on to find out what you can expect on board with a Riviera River Cruises drinks package.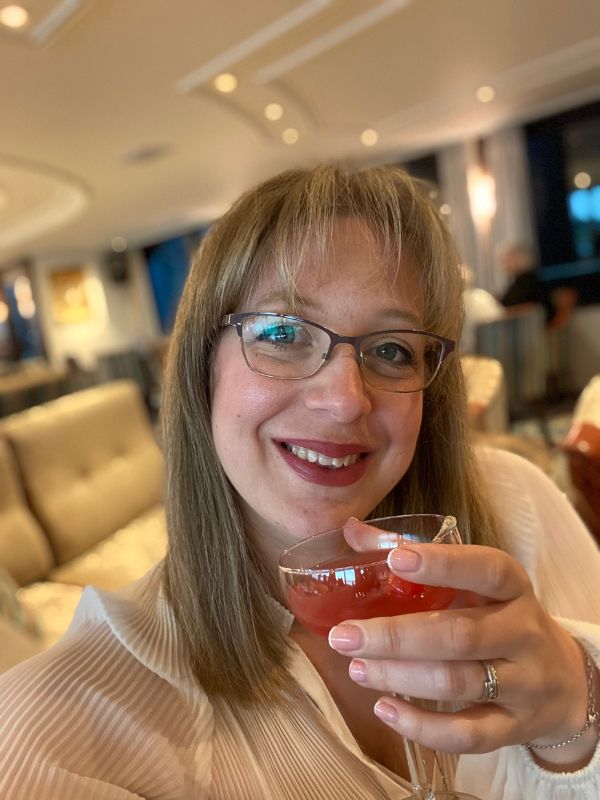 Are drinks included on Riviera River Cruises?
Riviera Travel doesn't include many drinks in its standard cruise fare. Just tea, coffee and filtered water are available. The drinks package includes wine, beer and soft drinks served with lunch and dinner.
The actual drinks that are included depend on the fare that you choose, as well as the itinerary.

Some river cruises include wine, beer, and soft drinks with lunch and dinner, while some just have coffee, tea, and water throughout the day. Some cruise itineraries may also include additional drinks such as cocktails or local spirits as part of onboard entertainment or shore excursions.
Drinks included with every Riviera Travel River Cruise are:
Still or sparkling water (available from a machine in the lobby, complimentary re-usable drinks bottles are provided)
Selection of hot drinks, tea, coffee, hot chocolate (available from a machine in the lobby)
Farewell drinks at the Captain's dinner
Riviera Plus guests (when you stay in an upper deck cabin or suite) also receive a complimentary bottle of Prosecco on arrival, as well as daily aperitif drinks vouchers.
How much are drinks on Riviera River Cruises?

Drinks onboard Riviera river cruises are really great value. You can enjoy a glass of wine from €3.75, cocktails are €9, a pint of beer from €5.50 and a gin and tonic from €7.00 .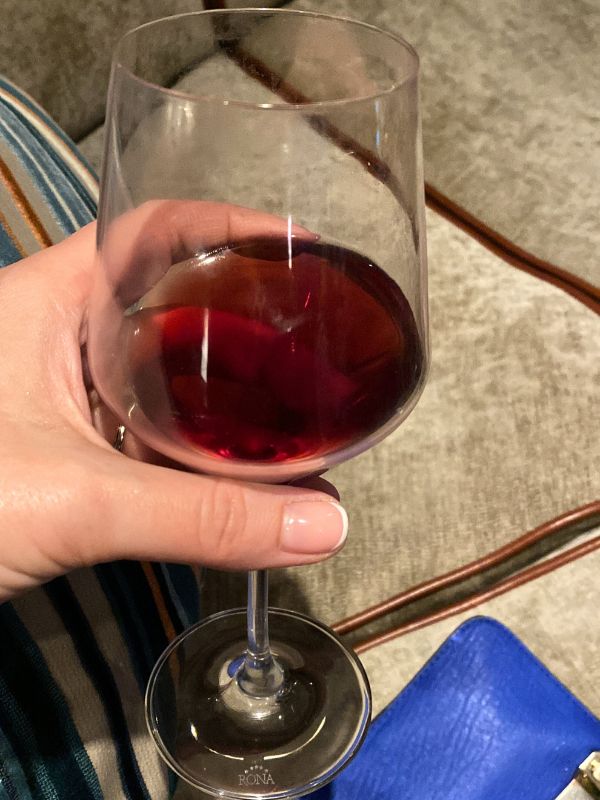 Riviera river cruise drinks prices may vary depending on the specific itinerary and fare type you choose.
If you pay as you go on your cruise you can expect to pay the following for Riviera river cruise drinks prices:
Glass of wine between €3.75 and €5.75
Cocktail of the Day €7.50
Cocktails from the menu €9.00
Vodka between €5.50 and €6.50
Gin between €5.50 and €8.50
Pint of beer from €5.50
Soft drinks from €2.50
The Riviera Travel Drinks Package
While their standard fare covers hot drinks and filtered water, Riviera Travel also offers a drinks package that includes unlimited wine, beer, and soft drinks with lunch and dinner. Sip on your favourite beverages as you soak in the stunning views along the river.
Just remember to pre-book the package and sit back and relax, knowing that you won't have to worry about paying for each drink. This package can be a perfect for those who want to enjoy unlimited drinks during their meals. 
The drinks package doesn't have a daily cost like other cruise lines. They have a flat price based on the duration. 4 nights from £79 per person and 7-night drinks package available from £129 per person.
The cost of the package varies based on the length of the cruise and may not be worth it for everyone, as it may not be necessary for those who do not drink much or who prefer to pay for their drinks individually.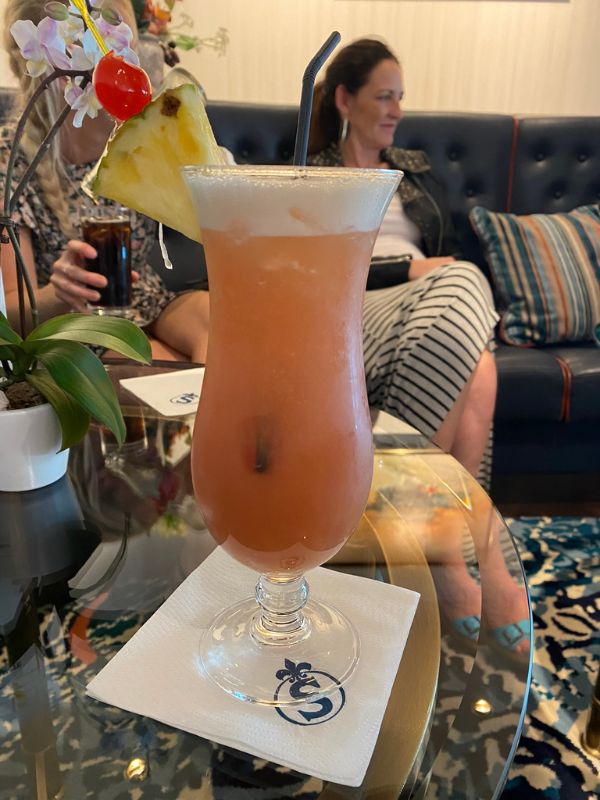 So, it's worth carefully considering your drinking habits and budget before deciding whether the Riviera Travel drinks package is right for you.
What's included the Riviera Travel drinks package
The Riviera cruises drinks package includes all wine, beer, and soft drinks served with lunch and dinner in the restaurants. There is a fantastic selection of wines, including sparking, red, white and rose. They tend to be locally sourced too which is a fabulous way to get a taste of the destination.
With beer, you can have it on draught or in bottles and soft drinks are both fountain and bottled too. If you like your wine topped up with a little lemonade, you have that covered too!

Don't be afraid to get your glass topped up before you leave at the end of the meal too, it's allowed and encouraged. Just make sure to get your order in before the end of the meal's official dining times.
Drinks from the bar are not included, also spirits and cocktails are added to your bill as well.
How it works
Onboard my Riviera Travel river cruises this year I really enjoyed the drinks packages, I simply let the crew and servers know that I was on the package and from there it was just easy.
No ordering (my wine glass was topped up periodically throughout the meal), no signing receipts during the meal. Just great service as the crew topped up our glasses throughout.
If I was looking for an alternative to the wine, ordering soft drinks and beer was easy too. I really enjoy wine at mealtimes and to me, it improved the dining experience without worrying about the bar bill!
How much it costs
The Riviera Travel drinks package is a 'per cruise' price and the cost of the package varies based on the length of the cruise. Packages start at £79 per person for a 5-day cruise.
The drinks package can be purchased in advance or on board. Sometimes they're included in the cruise fare as a special offer.
| Duration of Cruise | Total Cost | Cost per Day |
| --- | --- | --- |
| 5 days | £79 per person | £15.80 |
| 6 days | £99 per person | £16.50 |
| 8 days | £129 per person | £16.13 |
| 15 days | £259 per person | £17.27 |
It's interesting to me that shorter cruises have a cheaper cost per day, especially as on a longer cruise you may pace yourself a little more!
Is the drinks package on Riviera cruises worth it?

Whether the Riviera Travel drinks package is worth it will depend on an individual's drinking habits and budget. Drinks from the bar and spirits are not included in the package. The package can be a great option for those who enjoy drinking during meals and want to budget accordingly.
The drinks package on Riviera cruises can be a good value for those who plan on drinking a lot during their trip. While that sounds great, it's important to consider that the drinks at the bar on Riviera Travel cruises are cheap, with a small 150ml glass of white wine starting at only €3.75. A quick calculation shows that you'd have to drink five glasses of wine per day before your drinks package pays for itself.
Pros
Some of the pros include being able to enjoy unlimited wine and beer throughout meals without worrying about the cost, as well as access to a range of soft drinks.
The package is inexpensive, and is definitely worth it for those who like to drink at mealtimes. The crew constantly top up your glass, with no need to re-order, which makes for a really nice service and atmosphere.
A Riviera Travel drinks package allows you to experience an all-inclusive cruise, similar to those offered by other companies such as Viking, Emerald Waterways, Ama Waterways, Amadeus, Avalon Waterways, and APT Touring.
Cons
Cons include that the package does not include speciality drinks or those purchased in the bar – you're restricted to the restaurants.
Drinks at the bar on Riviera Travel cruises are already reasonably priced, with a glass of white wine costing only €3.75. To break even on the cost of the package, you would need to consume approximately five glasses of wine per day.
How to book the Riviera Travel Drinks package
You can book the Riviera Travel River Cruise drinks package at the time of booking and sometimes they have offers where drinks are included. These are usually for a limited time only and are used as an incentive for you to book at certain times of the year. If you're already booked you can add the package on by speaking to your booking agent.

To enjoy the best value for money, I recommend you book the package before you go. As the package is a total price and not by day like on ocean cruises.
What guests say about the Riviera Travel River Cruises drinks package
It's always good to get a riviera travel drinks package review, here's what some guests had to say when we sailed together:
"It's nice to have the wine flowing without signing for drinks interrupting your meal"

Bruce R
"I like to know what I'm paying before I get onboard, it helps me budget accordingly"

Kate H
On my Riviera Cruises this year the majority of guests had opted for the drinks package and were glad they did, as they felt they could relax more, and budget ahead of their trip.
The Bottom Line
The Rivera Travel drinks package is perfect for guests that enjoy a lot of wine, beer and soft drinks while enjoying meals on board. If you have specific likes and dislikes the package may not be for you. If you are a light drinker, the package isn't worth it for you, especially on the longer durations as the bar prices for individual drinks are such great value.
If you're a wine drinker your break-even point per day on a 5-day cruise is five 150ml glasses of wine, for beer drinkers it's more like 3 pints per day and if you're all about the cocktails and G&T's the package is definitely one to avoid.
The package can provide a more relaxed atmosphere and top-notch service, with the crew topping up your glass throughout your meals. And you can be safe in the knowledge your bar bill isn't going to be a monster at the end of your cruise. If you're planning a river cruise with Riviera Travel, the drinks package is definitely worth considering.
NEW DEALS JUST RELEASED!
Don't miss the latest river cruise offers…

Related Posts: