As a budget cruiser with a growing family, I've learned that compromise is vital to be able to afford to cruise. Whilst I'd love to spend two weeks in August sailing on a brand new cruise ship in a balcony cabin with a drinks package, I don't have a spare £15,000 to spend on a cruise. In fact, we actually look to spend around 10% of that on each cruise. Because ten good cruises are better than one great one. Would you agree?
Cruising out of season
One the main ways to save money on a cruise is to book out of season. A popular and cheap cruise destination for UK cruisers is Europe. However, if you travel in the spring, autumn or winter, and particularly if you sail from Southampton, the weather is probably going to be a bit, well, cold.
You're also going to spend some days at sea. Which kind of rules out sunbathing and some other activities like swimming in the outdoor pool. So what is there to do on cold weather or rainy sea day? Well, as it happens, there's quite a lot!
Things to do on a sea day when it's cold outside…
Eat alll the food – The average cruiser puts on half a stone per week on a cruise. Which requires eating an extra 3,500 calories per day on top of what you'd usually eat. Sounds a lot? Well, it's easily done with endless snack options like pizza slices, chips and ice cream as well as endless buffets and three-course meals every night.
Spa day – Have a massage, float in the pool, nap on a heated water bed. You could even get your teeth whitened on board.
Indoor swimming pool – Choosing a cruise ship with an indoor pool is a good idea for anyone with kids. It's great to be able to take them swimming even when it's cold outside. Even better, head to the adults-only solarium while they're in the kids' club for a much more relaxing time.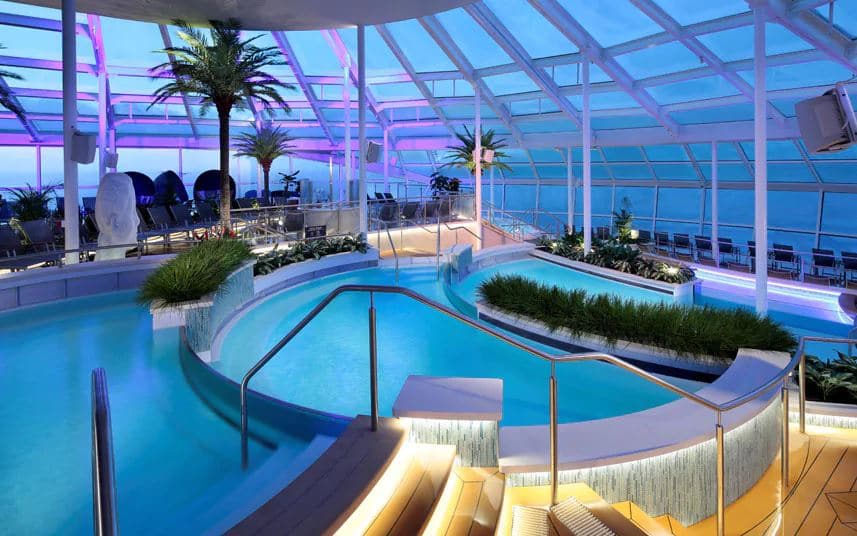 Watch a movie – New cruise ship Iona will have four cinema screens on board, so there'll always be something good to watch.
Bingo – Eyes down! Cruise ship bingo can be adults only with big money at stake, or there may also be family versions where kids can join in to win sweets and toys.
Casino – There's loads of fun to be had in the casino, whether at the tables or machines, it's easy to forget what time it is.
Gym – I always tell myself I'm going to go to the gym on a cruise but I've still never done it. I'm sure it would make me feel less guilty about all the desserts if I could manage it!
Fitness classes – Zumba, pilates, HIIT, there's something for everyone, just check your daily planner for the times
Get drunk – A rainy day is a great excuse to work your way down the cocktail menu. Particularly if you have a drinks package
Hot tub – Here's one outdoor activity that can be enjoyed whatever the weather. Just make sure you have a towel nearby for when it's time to get out!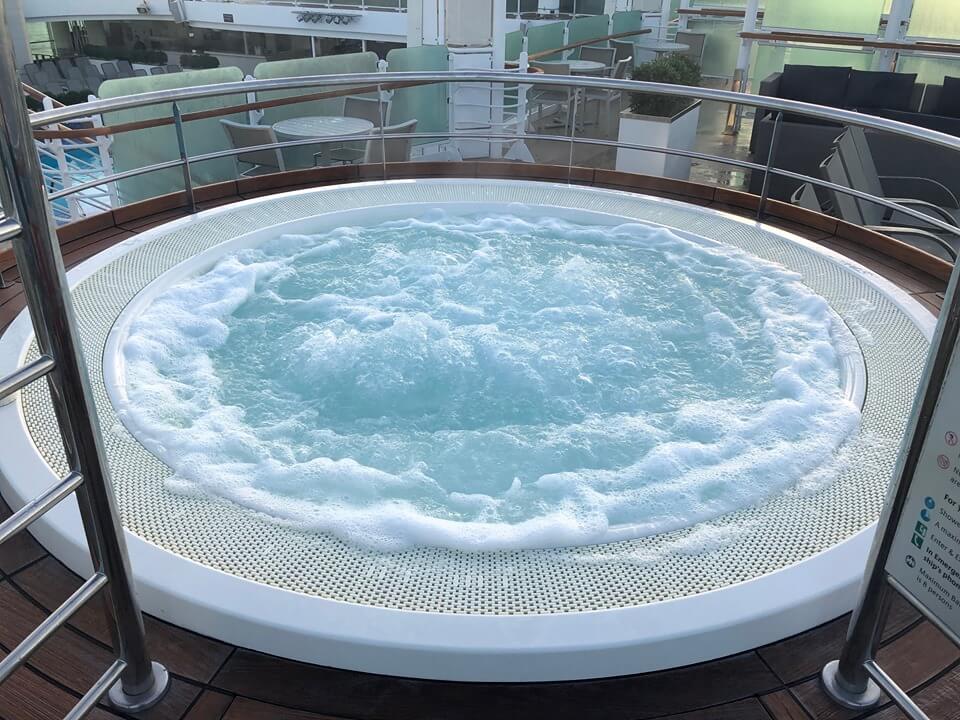 Play cards – Most ships have card rooms where you can find others to play games like bridge or whist with.
Admire the views – Head up to the top deck, look out the window or, if you're on a Royal Caribbean Quantum Class ship, take a ride in the North Star observation pod which rises 300 feet above the sea.
Ice skating – Get your skates on and fall over in style. Then watch the professional ice show and wow at how easy they make it look.
Bumper cars – Another feature on Quantum Class ships is bumper cars, also known as dodgems.
Social media – Make the most of your WiFi package by making your friends jealous with photos of your food.
Go to the hairdresser – Relax with a new style, colour, or a fancy updo ready for formal night.
Watch a show – Singers, comedians, dancers, musicals, even synchronised swimming, you'll find all kinds of entertainment shows on board.
Learn floristry – Did you know that cruise ships have florists on board? Learn how to arrange flowers or make your own corsage to wear in the evening.
Ice bar – Norwegian Breakaway, Getaway and Epic each have an ice bar where you can don a winter coat and enjoy ice cold vodka cocktails whilst sitting on furniture made of ice.
Stay in bed – Order room service, watch movies in bed and take naps. Sounds like heaven to me!
Escape room – Norwegian Cruise Line, Royal Caribbean and Princess Cruises each have escape room games where you have to piece together clues to make your way out of a room before the time is up.
Virtual reality bungee trampolines – Don your VR goggles and choose from different virtual reality experiences. Or skip the goggles and just bounce. The choice is yours.
Galley tour – Ever wondered how cruise ship kitchens can serve up enough food to feed thousands of people at the same time? Find out with a tour of the ship's kitchen, also known as the galley.
Rock climbing – Heading up the rock climbing wall is a sure-fire way to warm up in cooler weather. The small kids make it look so easy. It's not!
Arcade – From retro games to air hockey and dance games, there's lots of fun to be had in the arcades.
Board games – We love to hunt out board games to borrow. Even if we're not playing them, young kids they like to make up their own games with the pieces.
Mini golf – Crazy golf is fun for all the family. Just don't hit it into the sea! Fore!
Archery – A great way for families to spend time together, you can enjoy an expert-led archery class on your cruise.
Fencing – Where else but posh cruise line Cunard would offer fencing as an activity? I'd love to give it a go. On guard!
See behind the scenes – Ever fancied a look in the engine room? Book a behind-the-scenes tour and see all that and more.
Trapeze school – After you've watched the circus show, on Anthem of the Seas you can actually have a go yourself with a lesson in trapeze artistry.
Laser tag – Once an 80s craze, laser tag is back and better than ever on selected Royal Caribbean and Norwegian Cruise Line ships.
Sports – Basketball, tennis, volleyball, football… there's no end of sports to enjoy.
Watch a game show – I really like cruise ship gameshows. It's great fun cheering on your fellow cruisers as they try to win prizes. The Mr and Mrs type ones are my favourites – so funny!
Table tennis – A great way to spend an hour, table tennis, or as the Americans call it ping-pong is a fun game for two or four people to enjoy together.
Ride a carousel – Hop aboard a horsey (or zebra) and ride the carousel in the Boardwalk of selected Royal Caribbean ships.
Hall of mirrors – Watch out for the funny mirrors by the carousel, especially the one that shows what you'll look like if you spend too long in the buffet.
Go karting – Yes, that's right, new Norwegian Cruise Line ships even have go kart tracks on board! Unbelievable!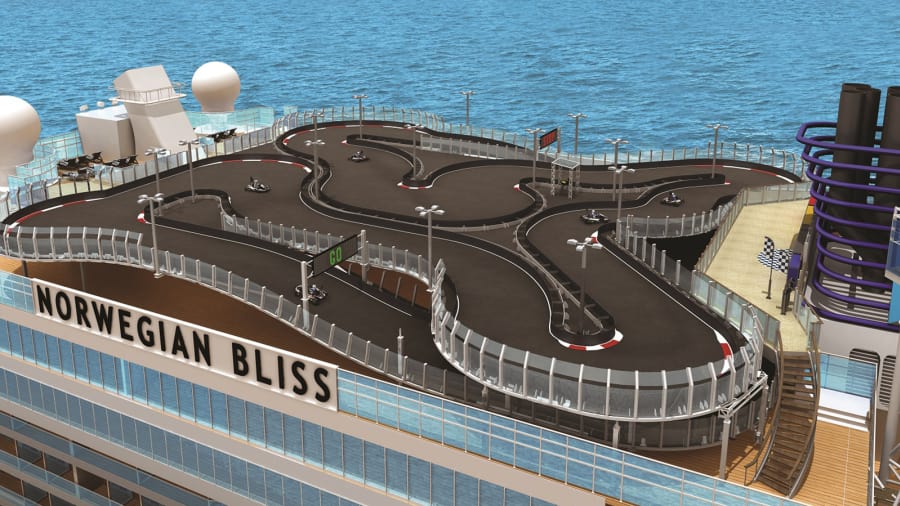 Art classes – Learn to draw or paint in a class led by an expert artist.
Silent disco – On Celebrity Cruises, you can set your headphones to your favourite channel and dance like nobody's watching.
Ride a roller coaster – The world's first roller coaster at sea can be found on Carnival Cruise Line's new ship Mardi Gras.
Bowling – Knock down the pins and try for a strike in the bowling alley
Planetarium – Cunard's Queen Mary 2 has a full-size planetarium where you can learn about everything in the night sky for a fun and educational experience.
Cookery classes – Learn to make sushi, cupcakes, pizzas or almost anything else at an expert-led class
Art gallery – Admire the pieces in the onboard art gallery. You could even attend an art auction and bid on a piece to take home with you.
Order a drink from a robot – Royal Caribbean's bionic bartender will mix your cocktails while you look on in awe. So clever!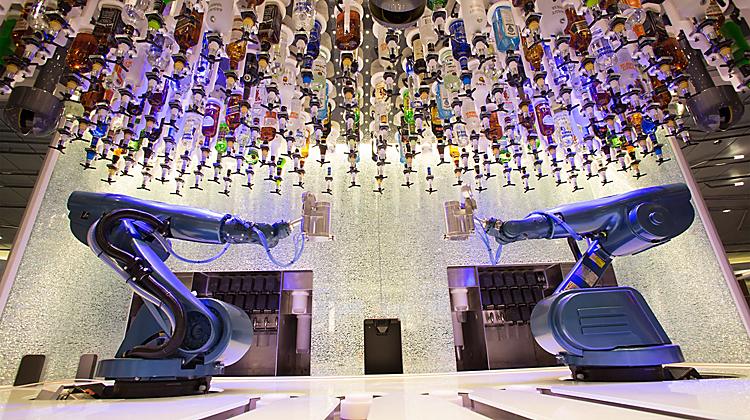 Dance classes – Led by expert dancers, a sea day is the perfect opportunity to spend an hour learning to tango, waltz or samba.
Sky bike – Carnival Vista and Carnival Horizon have pedal-powered bikes on a track 150 feet above the sea.
Learn a language – Brush up on your skills or learn something entirely new with a language class.
Sky diving – Royal Caribbean's RipCord by iFLY attraction is a skydiving simulator which can be found on Quantum Class ships such as Anthem of the Seas.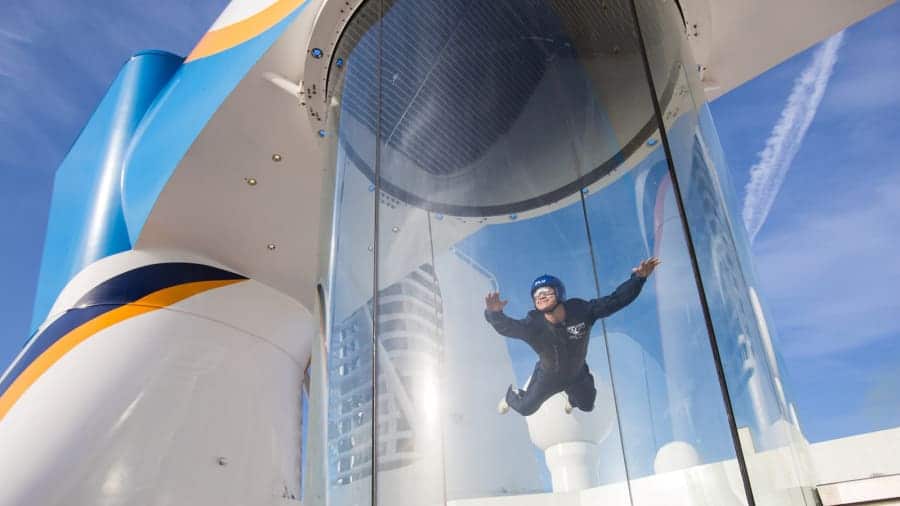 Karaoke – Cruise ship karaoke is great. But does anyone else prefer the bad singers to the good ones?
Seawalk – Walk along a glass pathway 128 feet above the sea on Princess Cruises' ships Royal Princess, Regal Princess and Majestic Princess.
4D movies – More than just a 3D movie, with a 4D experience your chair moves, you're squirted with water and there might even be pumped-in smells to add to the sensory experience of watching a film. 4D cinemas can be found on selected MSC Cruises, Costa Cruises and Carnival Cruise Line ships.
Formula One simulator – Get behind the wheel of a Formula One car replica and go for a spin on the virtual reality track.
Roller skating – You'll be reminded of your childhood as you whizz round on skates, trying not to take anyone out as you go.
Slides – Whilst you might not want to brave a water slide in the cold weather, selected Royal Caribbean ships feature the Ultimate Abyss – a dry slide which starts at deck 16 and ends at deck 6.
Quizzes – Who doesn't love a good pub quiz? I'm terrible at them but it's still good fun.
High ropes course – Norwegian Breakaway and Norwegian Escape have ropes courses with 99 elements, including a plank which extends eight feet over the edge of the ship. You have to stretch to ring the bell. Not much scares me but I found this terrifying!
Guest lectures – Lectures can be about anything from health and fitness to the history of the ports you'll visit. Take a look at the daily planner to see which ones look interesting.
Computer games tournaments – Teenagers can challenge their new friends to a whole host of games on the Xbox, Wii or Playstation.
Towel art – Want to know how the housekeepers manage to make your towel look like a swan? Learn the tricks at a towel art class so you can make your own towel animals at home.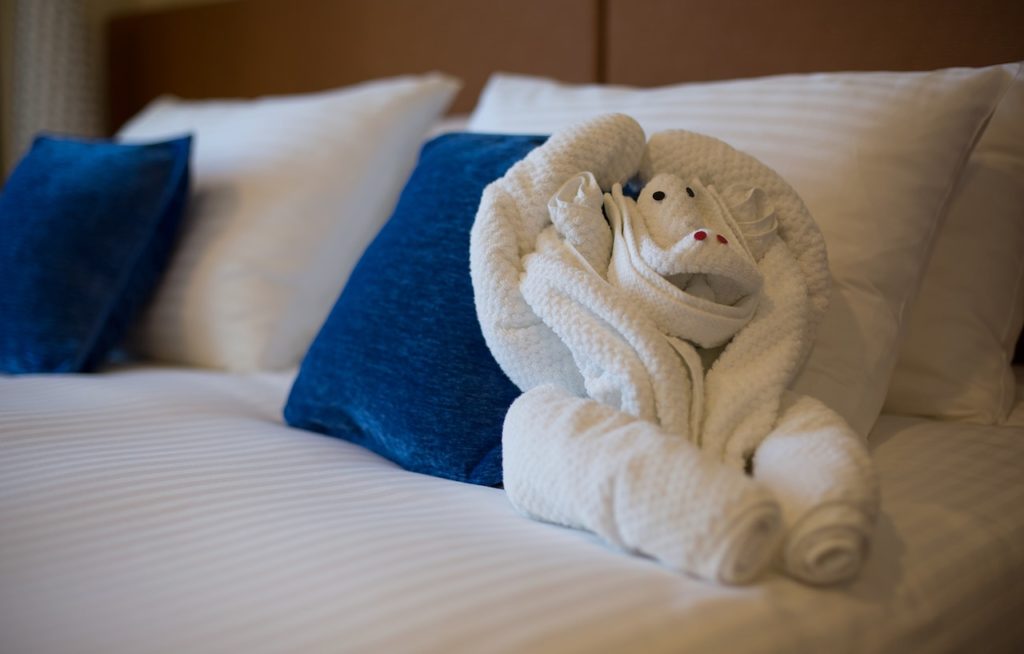 Build a model cruise ship – Team up with fellow cruisers and staff to see who can build the best model cruise ship on P&O Cruises holidays. You'll even get to float them in the pool and see how they fare against stormy seas.
Ziplining – Nine decks high and 82 feet across, Royal Caribbean's ziplines zoom above Central Park in the hollow centre of the ship.
Play pool – You may not be up for swimming in the cold, so why not try a different kind of pool and have a game on a pool table? This popular pub game is best accompanied with a pint of beer.
Surf lessons – Ever wanted to learn how to surf? Enjoy a private lesson on Royal Caribbean's FlowRider surf simulator.
Watch an outdoor movie – Snuggle up under blankets, grab some popcorn and relax and watch a film on the big screen by the pool.
Croquet – Selected Celebrity Cruises ships have real grass on the top deck which is ideal for enjoying a quiet game of croquet. Possibly followed by Pimms and cucumber sandwiches, I'd imagine.
Read a book – I only ever read books on holiday. I just don't get time at home. So when I'm away I love to curl up in a cosy spot and get stuck in to a good book.
Deck games – Old fashioned games like quoits and shuffleboard have been popular since the olden days and still provide a good hour of fun, once you understand the rules.
What do you like to do on a sea day?
What's your favourite activity that you've enjoyed on a sea day? Let me know in the comments below. With so much to enjoy on today's exciting modern cruise ships, I'd be happy if every day was a sea day. A transatlantic crossing is definitely on my bucket list.
Related Posts: