When you book your Holland America Line cruise, you'll have a decision to make on whether you pay for all of your drinks individually, or if you buy a drinks package.
There are four different drinks packages to choose from, as well as a fifth option which is even more inclusive and doesn't just cover drinks.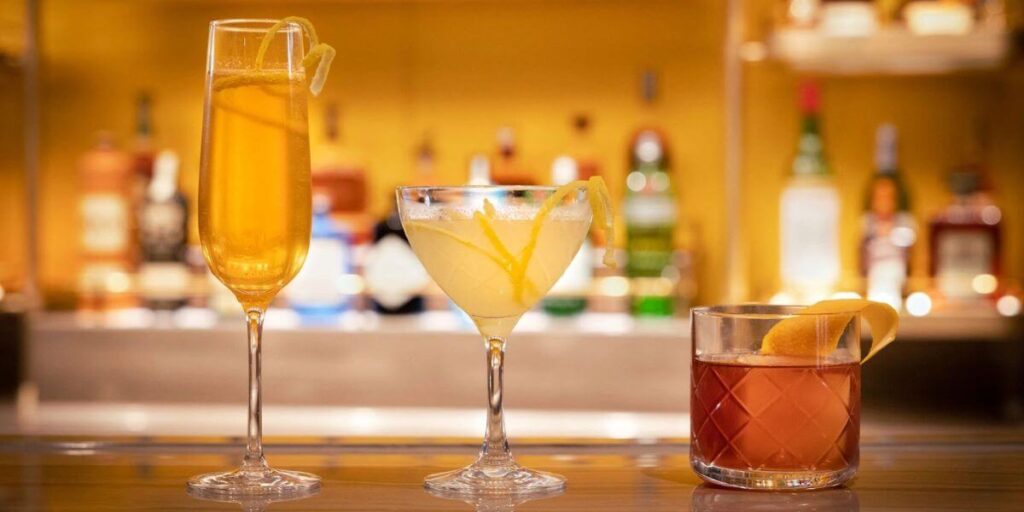 Choosing the right drinks package for you means you can save a lot of money, and it stops you from worrying about your budget during your cruise.
So, let's take a look at the different options available with a Holland America Line cruise, any limitations you need to know about, and whether they're worth it or not.
What drinks are free on Holland America?
There is a limited selection of free drinks you can enjoy on a Holland America cruise, including tap water, standard brewed coffee and tea, iced tea, lemonade, hot chocolate, and juices at breakfast.
Suggested read: Which Tap Water Can You Drink On A Cruise Ship?
Most of the free drinks are available in the Main Dining Room and in the buffet restaurant, although you can get juices delivered to your room at no charge in the morning.
Some ships also serve a free fruit punch in the buffet restaurant at select times, though this can vary. It'll be a non-alcoholic punch too, to be clear.
If you want any sodas, speciality teas or coffees, or anything alcoholic then you're going to need to pay for them, either individually or by purchasing a drinks package.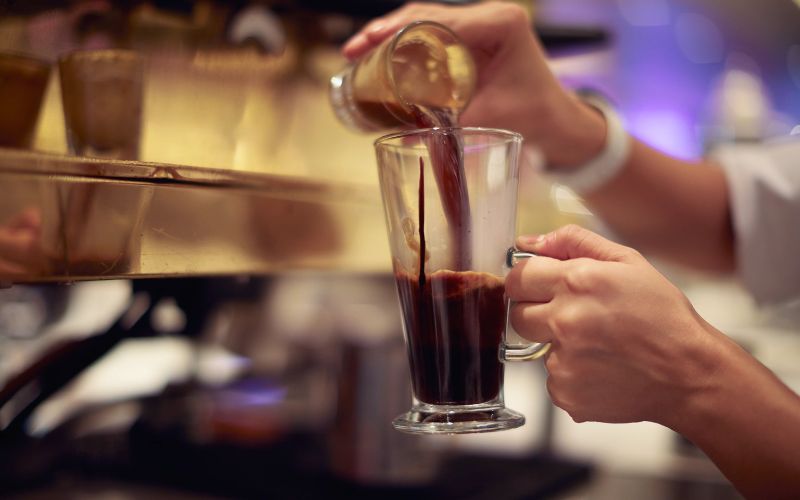 Holland America Drinks Packages
Holland America offers a selection of drinks packages, so there's no one-size-fits-all option. You can choose the one that best fits your needs – if you plan on mainly drinking sodas but having the occasional cocktail, you might want to get a soda-only package and pay for cocktails separately.
There are also some wine bundles that you can buy – I'll cover those a little later in the guide.
Let's take a look at what's included in all of the beverage packages available with Holland America.
The Coca-Cola Beverage Package
Price – $8 per person, per day + 18% gratuity = $9.44
Really simply, the Coca-Cola package allows you to enjoy unlimited fountain sodas for the duration of your cruise, so you'll get as many Cokes, Diet Cokes and Sprites as you want. This only applies to fountain sodas though – cans and bottles are not included in this package.
If you're sailing on a Pinnacle Class ship, which includes MS Koningsdam, MS Rotterdam and MS Nieuw Statendam, you'll have unlimited access to the Coca-Cola Freestyle machines. These are enhanced fountain sodas with many more options included, as well as the option to add flavours to existing drinks.
The Quench Beverage Package
Price – $17.95 per person, per day + 18% gratuity = $21.18
The Quench beverage package is the more premium option for non-alcoholic drinks.
It includes all of the fountain sodas, the same as the Coca-Cola package (including the Freestyle machines on Pinnacle Class ships), as well as also letting you enjoy:
Premium coffees, including espresso and cappuccino
Fresh fruit juices and smoothies
Non-alcoholic cocktails
Bottled and canned sodas
Energy drinks
Bottled water (still and sparkling)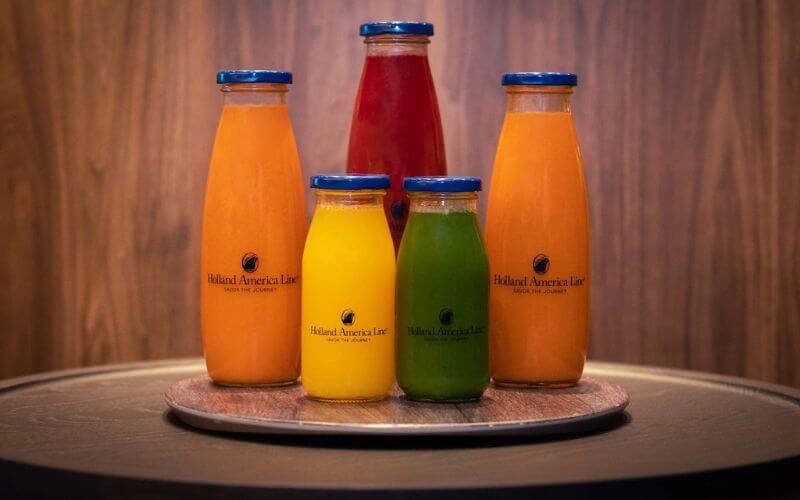 There's a 15-drink limit per day on the Quench package. That won't apply to fountain sodas, but it will apply to everything else. If you want more drinks after your 15th, you'll need to pay for them.
Suggested read: How To Stay Sober on a Cruise
The Signature Beverage Package
Price – $54.95 per person, per day + 18% gratuity = $64.84
The Signature Beverage Package is Holland America's alcoholic drinks package. It offers you everything included in the Quench package, but it also includes alcoholic drinks by the glass up to the value of $11 each.
This drink package includes:
Beers and premium beers
Selected spirits
Selected cocktails
Selected glasses of wine
Update for June 2023 – This one's interesting. Most cruise lines that have a drinks package with a price limit – like the $11 limit on the Signature package – will only charge you for the difference if you buy a more expensive drink.
So if you had the package, and wanted a drink costing $14, you'd pay $3.
Holland America used to be different though and would instead charge you the full price for the drink that wasn't included. But that's now changed.
As of June 2023, Holland America have moved in line with other cruise lines – so if you want a drink that isn't included in your limit on your package, you'll only pay the difference.
This is good news!
Also, the 15-drink daily limit applies and includes all alcoholic drinks and non-alcoholic drinks, except for the fountain sodas.
The Elite Beverage Package
Price – $59.99 per person, per day + 18% gratuity = $70.79
The Elite Beverage Package is the top-tier drinks package on a Holland America cruise. It includes all of the drinks that you'd get on the lower tiers, as well as drinks up to the value of $15.
This drink package includes:
All beers
Premium spirits
Premium cocktails
Premium wines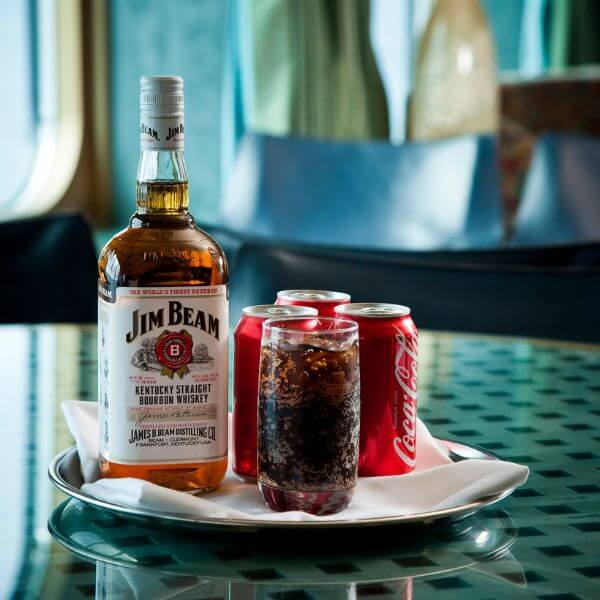 The key difference with the Elite package is that your non-alcoholic drinks are not counted towards your 15-drink-per-day limit – they are truly unlimited. It's only alcoholic drinks which are counted in your daily limit.
If you think that you might enjoy premium drinks up to the value of $15, then it's absolutely worth upgrading to the Elite package – even with the gratuity added it's only around $6 more per day, so within two $15 drinks you've more than justified the difference in price over the $11 per day options.
The Have It All Package
Price – $50 per person, per day + 18% gratuity = $59
The Have It All package is not a drinks package exactly, but it's worth mentioning alongside them.
This is a version of the Signature drinks package, but you also get other extras included, such as a selection of shore excursions, speciality dining, and your WiFi internet access.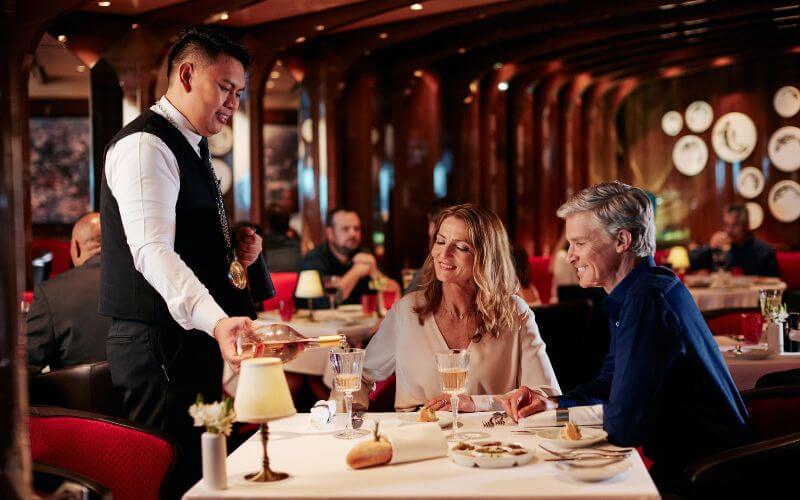 It costs $50 per person, per day plus an 18% gratuity, so $59 per day.
Now, you might be wondering – how does that work? Since it's actually cheaper to get the Have It All package, than it is to just get the Signature Beverage Package separately.
And you'd be right to question it because it makes no sense. If your cruise has the Have It All fare on offer, you'd be wasting money if you bought the Signature Beverage Package instead.
However, it's really important to note that the Have It All package is not available on all Holland America cruise itineraries. You can only book it on around half of the cruises that are offered.
So if you're on a cruise where Have It All is not available, the Signature Beverage Package does still make sense.
Also, it's a little strange that it's called "Have It All" but it doesn't include the top-tier drinks package, but you will still enjoy most drinks with the Signature option.
Exactly what you get depends on the length of your cruise, although the Signature Beverage Package and the WiFi Surf Package are always included. You then get:
1 shore excursion and 1 speciality dining restaurant visit for cruises 6-9 days
2 shore excursions and 2 speciality dining restaurant visits for cruises 10-20 days
3 shore excursions and 3 speciality dining restaurant visits for cruises 21+ days
How much is the drink package on Holland America?
Drink packages on Holland America vary – they start from just $8 per person per day for a Coca-Cola package for fountain sodas only, and go up to almost $60 per person, per day for the Elite package, which includes drinks up to the value of $15.
Obviously, you don't have to just stick to the drinks in your chosen package – you're able to buy a package and then pay separately for extra drinks above and beyond that. That's why it's important to plan ahead.
If you think you'll mainly drink fountain sodas, but you might want a cocktail a day, you're more likely going to find that it's cheaper to stick to the Coca-Cola package for $8, and then pay for your cocktail, instead of paying for the $55 or $60 packages which include cocktails.
But also remember that you have to pay for any drinks not included in your package in their entirety – you don't get a discount because you have a drinks package on a lower tier. So a $14 drink will cost you nothing if you're on the Elite package, but it'll cost you $14 even if you're on the Signature package.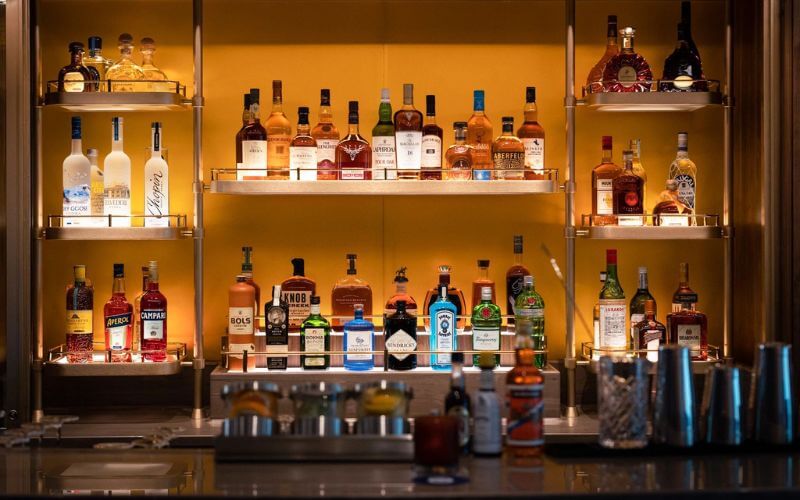 Does the Holland America drink package include gratuity?
The Holland America drinks packages have an 18% service charge automatically applied to them, taking the actual costs up slightly. Including gratuity, the Coca-Cola package costs $9.44 per day, the Quench costs $21.18 per day, the Signature costs $64.84 per day and the Elite costs $70.79 per day.
This is the same automatic gratuity that's added to any drinks purchase you make, as well as any speciality dining reservations or any retail items you buy at the bar as well.
It's worth pointing out that you have to buy a drinks package for the duration of your cruise – either before you sail, or on embarkation day. You can't buy one just for part of your cruise, or for select days.
They're also non-transferable, and you can't share them. This means that all adults sharing a stateroom have to have the same drinks package – you can't only buy one for one of you, because then sharing couldn't be monitored. So realistically, for a couple, you'll be paying $140 per day if you want the Elite package.
Note that while the terms and conditions don't state that children must have a drinks package as well, that doesn't mean you can buy a non-alcoholic package just for the adults and share it with the kids – you'll still be expected to pay for their drinks, or buy them a package too.
How much are drinks on Holland America cruises?
Drinks on Holland America Line ships are similarly priced to many major cruise lines. Expect to pay around $7 for a beer, between $9 and $14 for a glass of white or red wine, between $7.50 and $14 for spirits, and between $9 and $18 for most cocktails.
Here's an example of a drinks menu that I saw onboard Holland America's Rotterdam cruise ship…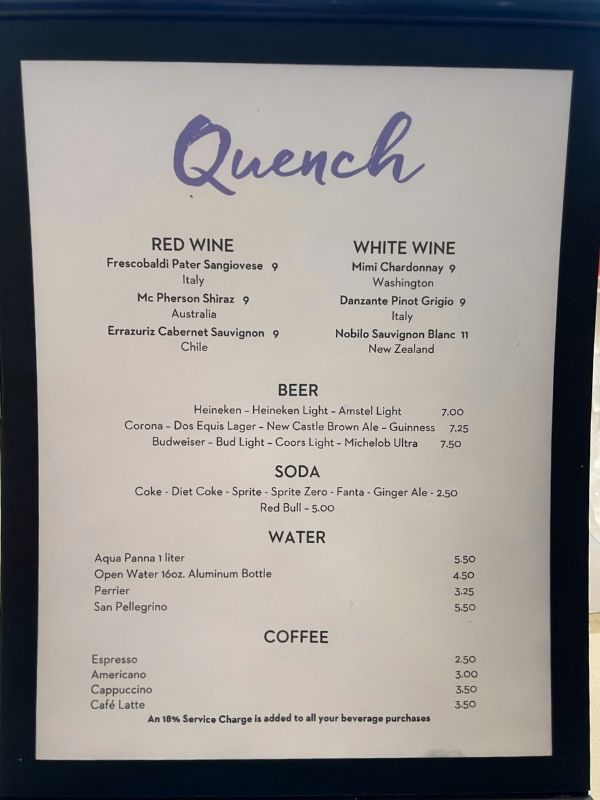 There's a lot of variety in the drinks prices depending on where you're drinking and whether you want a premium option or a standard one. There are a lot of classic cocktails that you can get for less than $11, but some contain more premium spirits and can push past the $15 limit for the Elite package.
White and red wine by the glass will always be included in an Elite package, with most wines available in the Signature package too. Sparkling wines do vary, with Veuve Clicquot being outside the Elite limit at $18.
Here's the first page of the wine menu on Rotterdam. Of course, there are some more expensive wines too on the following pages.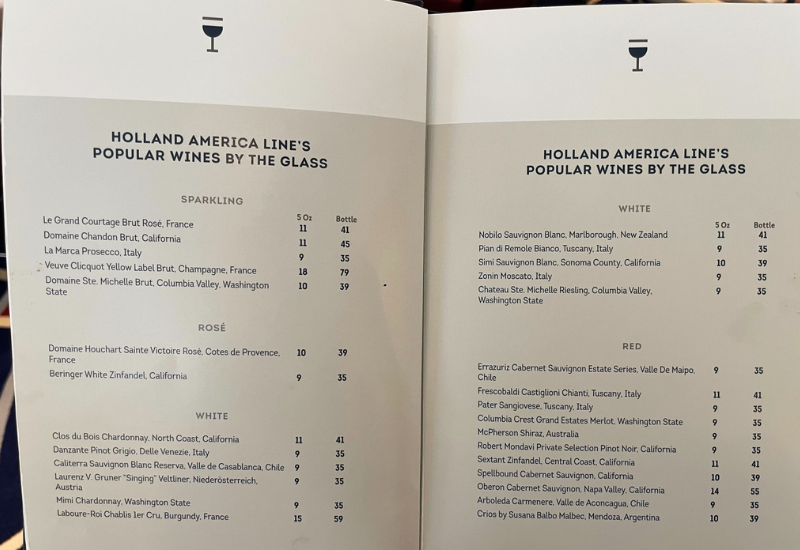 Soft drinks are quite cheap – you can get fountain sodas for $2.50. Meanwhile, non-alcoholic cocktails start as low as $4, and speciality teas and coffees are available from just $3.00.
Here's a coffee menu…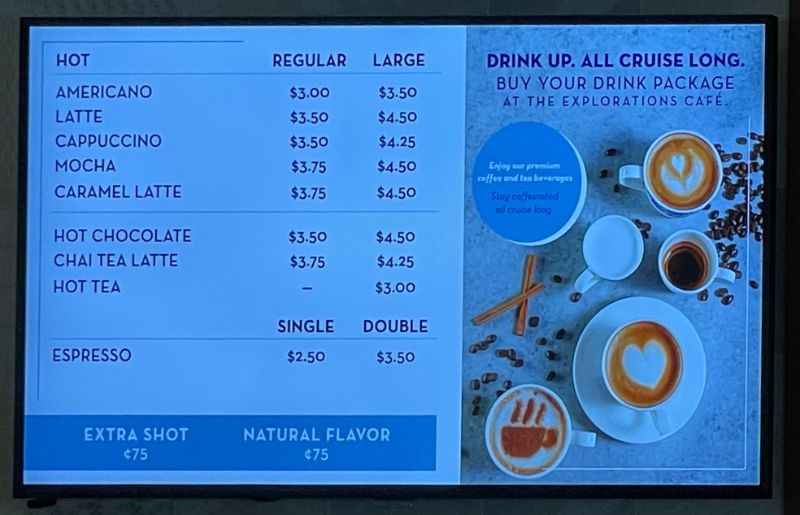 Are Holland America Line drinks packages worth it?
Whether a Holland America beverage package is worth it depends on how much you think you will drink onboard. The cost of individual drinks is not too prohibitive, but you can quite easily work out whether you'll save money with a drinks package or not.
For example, a fountain soda costs you $2.50 before the gratuity is added on, while the Coca-Cola beverage package is $8 per day before the gratuity.
Are you someone who would stop at three fountain sodas per day, or are you likely going to want more?
Consider your budget, and then buy the drinks package that best fits you if you're someone who likes a lot of drinks – either alcoholic or non-alcoholic – during your cruise. If you're going to spend most of your cruise on excursions, you might decide to only pay for the drinks you have on the ship individually.
My drinks package calculator can help – just pop your details in below I'll send it to you instantly.
Holland America Wine Packages
As well as the beverage packages, Holland America also offers a Sommelier Program. This is where you can buy wine by the bottle at a discounted rate for your cruise – saving up to 25% on the cost of buying the wine bottles individually.
There are three different levels available:
Cellar No.1
Cellar No.1 is the base level package – these are wines that are popular and are priced as such. There are 7 white wines and 7 red wines available for you to choose from, and you can either buy 4 bottles for $119, 6 bottles for $169, or 8 bottles for $219.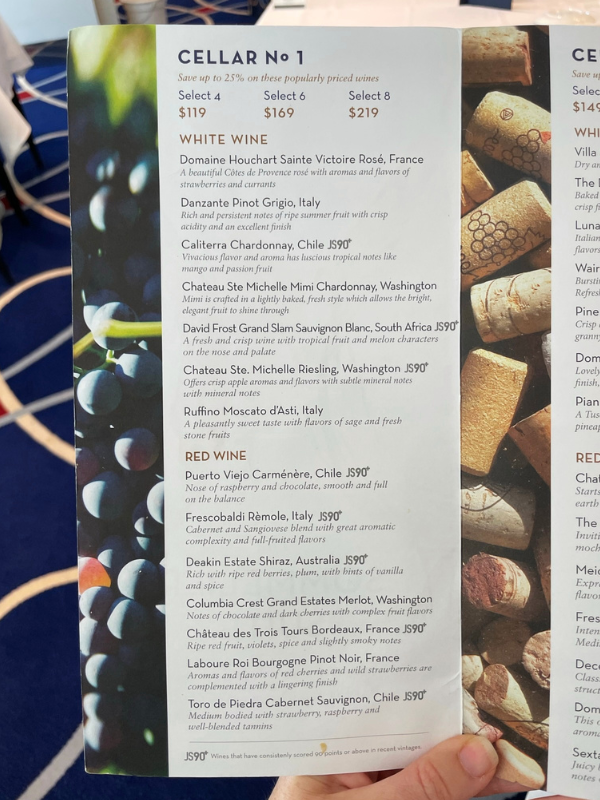 Cellar No. 2
Cellar No. 2 is the mid-tier package and includes some more premium wine selections. There are again 7 whites and 7 reds that you can pick from, and you can either choose 4 bottles for $149, 6 bottles for $229 or 8 bottles for $289.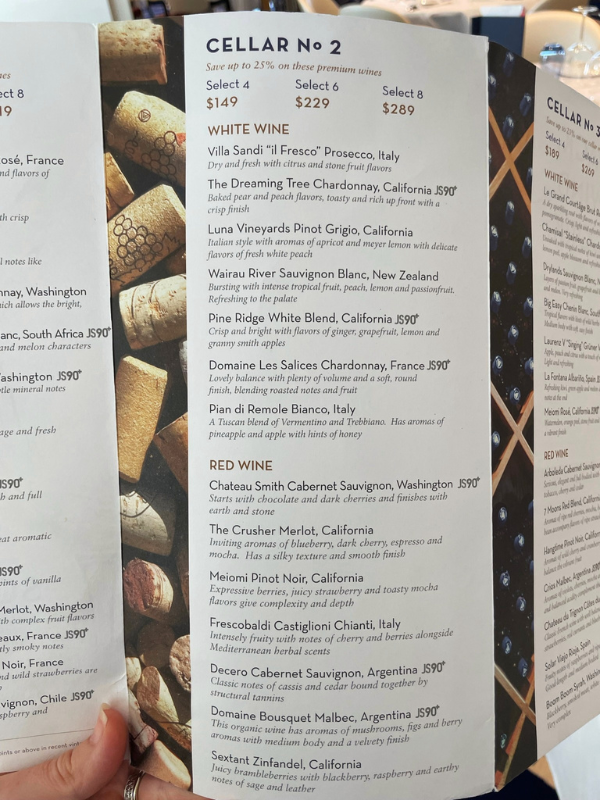 Cellar No. 3
Cellar No. 3 is the top-level package and includes the favourite wines of the Cellar Master onboard. Once again there are 14 wines you can choose from, 7 of each type, and for 4 bottles you'll pay $189. 6 bottles will cost you $269, and 8 bottles is $329.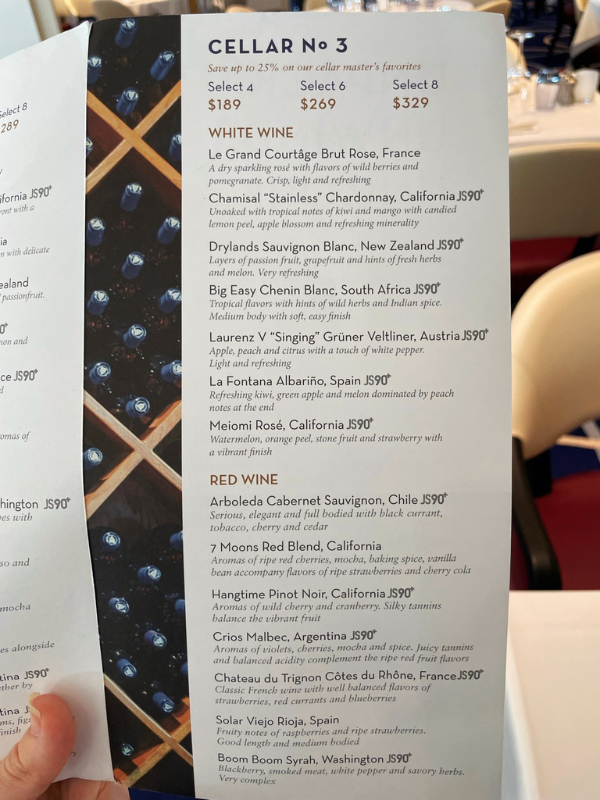 With these packages, your wine can either be delivered directly to your stateroom, or you can enjoy it in the restaurants on the ship. You're also welcome to take any unopened bottles home with you at the end of your cruise, so you don't have to feel pressured to drink them all during the sailing.
These wine packages are also a good backup if you decided not to buy a beverage package for your cruise, and then you get onboard and regret your decision.
Unlike a beverage package, these can be ordered at any time on your cruise, so if you're on day 3 and wish you could let loose with the wine, you could at least save some money with one of these bundle deals.
Does Holland America offer free drinks packages?
There are no free drinks packages available with Holland America by default, but it's worth checking throughout the year – especially in January – as there may be special offers where a drinks package is included as part of your fare.
There's no guarantee, because cruise lines change their marketing strategies each year. Sometimes it may be an included drinks package, or it might just be lower fares.
If you are quite open about when you want to book, you could let your travel agent know that a free drinks package is important to you, and they can get in touch if such an offer becomes available.
But try to be open-minded. There might be other offers which make your overall cruise cheaper, helping you to justify the cost of paying for a beverage package yourself.
And you don't need a drinks package if you don't think you'll be drinking much – you can stick to the free drinks offered, and pay for the occasional extra drinks you'll enjoy on top of those.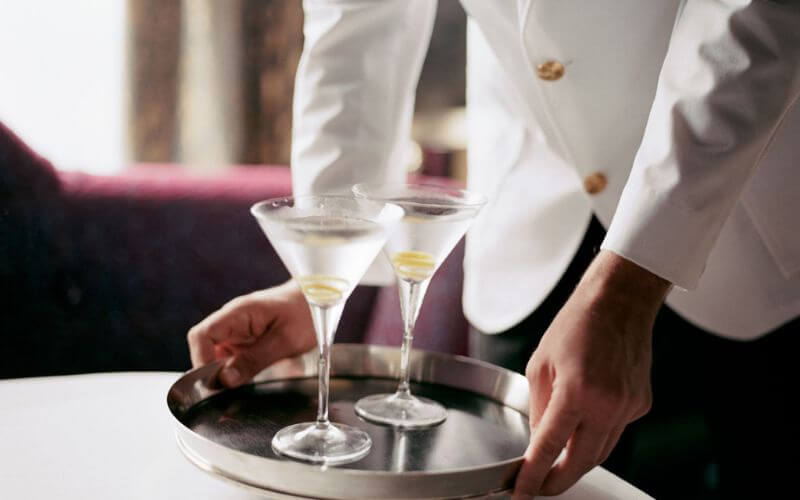 Is there a limit to how many drinks you can have with your Holland America drinks package?
The Quench, Signature and Elite beverage packages all have a daily limit of 15 drinks, although fountain sodas are unlimited for all packages. The daily limit is slightly different for each package depending on what is included with each.
In the Quench package, the limit applies to all non-alcoholic drinks except for those fountain sodas.
For the Signature package, the limit applies to all alcoholic and non-alcoholic drinks, barring the fountain sodas again.
For the Elite package, the limit only applies to your alcoholic drinks. You can enjoy unlimited non-alcoholic drinks including speciality coffees, bottled water, juices and more.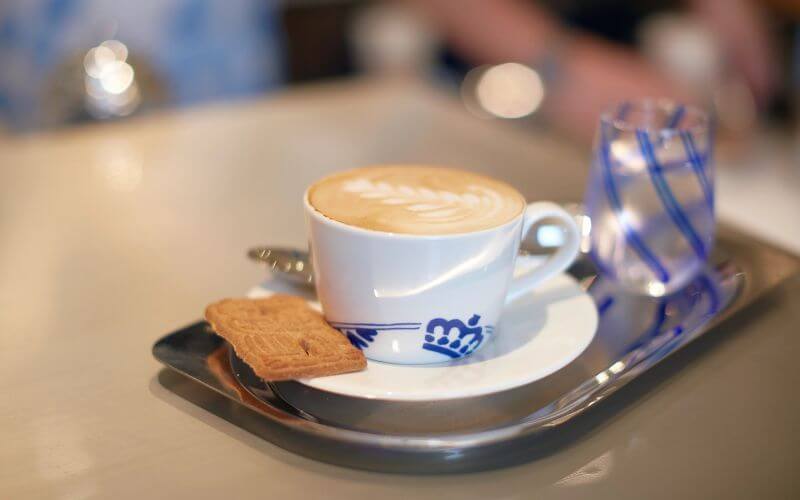 There are some other exclusions worth mentioning too.
Your drinks package does not cover:
Drinks from the mini bar in your stateroom
Drinks at the Honor Bar, or at Chocolate Seduction
Any drinks ordered as part of Room Service Dining
Self-service draft beer on the ship
Any drinks bought at Half Moon Cay, the private island owned by the cruise line
Does Holland America still have Happy Hour?
Holland America Line does still offer special Happy Hour discounts, but the times, locations and specific offers can vary. You'll be notified on your ship of when Happy Hour is operating, and what the special offer is.
The special offer used to be buy-one-get-one-free but now tends to either be 50% off drinks (so essentially the same offer), or buy one drink at full price and get a second at 50% off.
There are sometimes two Happy Hour times during the day on a cruise – one in the afternoon and one in the evening, so make sure you check to see where and when you can enjoy discounted drinks on your cruise. It won't be in every bar, only selected venues.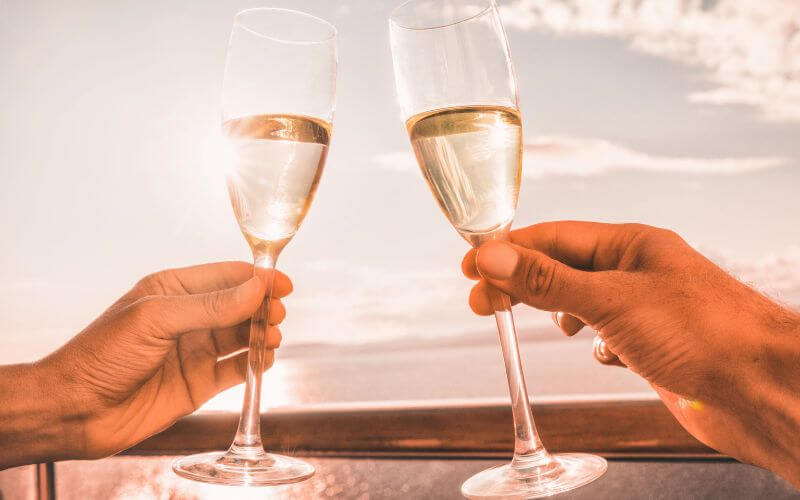 What drinks can you bring onboard a Holland America cruise?
Holland America allows guests to bring 750ml bottles of wine or Champagne onto their cruise with them. You are not permitted to bring any other alcoholic drinks onto your cruise, and the only non-alcoholic drinks you can bring onto the ship are water cans or cartons.
That's right – plastic water bottles are banned by the cruise line. You have a limit of 6 litres (around 200 fl oz for Americans), either in 12 cans or cartons of 500ml, or 6 litre cans or cartons.
As for the wine and Champagne, there is a corkage charge for bringing bottles on-board – it's not free. You'll need to pay $20 per bottle. The policy doesn't actually specify a set limit on how many bottles you can bring with you, although it does say that "quantities deemed to be excessive" will be refused.
So maybe don't fill an entire suitcase with your own personal wine bar. It's not likely that you'll be allowed to take it on board.
The Bottom Line
Whether or not you should buy a beverage package is very much down to your personal tastes and how much you think you will drink during your voyage.
If you aren't a big drinker, but you want the occasional alcoholic beverage, it's worth considering one of the non-alcoholic packages for your other drinks during the day. Or if you're sailing with kids, a Coca-Cola package might save you money if they're thirsty a lot. Plus if you're on a Pinnacle Class ship then they will love the Freestyle machine.
Take the time to think about what's right for you before you sail. You don't have to buy a package when you first book your cruise, but you will need to arrange it no later than embarkation day.
And if you're thinking about getting the Signature Beverage Package, then definitely check whether the Have It All package is available instead – you'll get more, for less.
Related Posts: