When you book a cruise, you'll usually make a decision about whether to buy an all-inclusive drinks package or pay for your drinks individually.
But how does this work on Virgin Voyages? I was lucky enough to be one of the first people aboard Scarlet Lady, so in this guide, I'll explain everything you need to know about drinking on a Virgin Voyages cruise.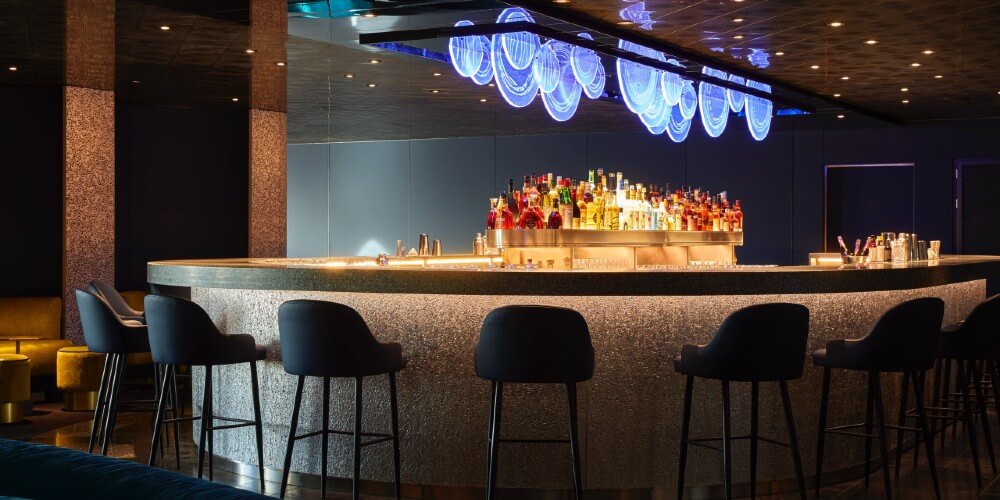 Does Virgin Voyages offer drink packages?
Unlike most other cruise lines, Virgin Voyages does not offer a drinks package. You will not find any type of all-inclusive drinks deals on a Virgin Voyages cruise. Instead, you can purchase a 'Bar Tab' to cover the cost of drinks.
How does Virgin Voyages Bar Tab work?
With the Virgin Voyages Bar Tab, you select how much money you want to add to it. You can then use this to pay for drinks during your cruise. Currently, for every $300 that you add before you depart, Virgin Voyages will top it up with an extra $50.
You can use your Bar Tab at every bar and restaurant on Scarlet Lady, Valiant Lady, Resilient Lady or Brilliant Lady, as well as on Virgin Voyages' private resort, Bimini beach club.
While cruise lines generally don't let people share drinks packages, you can share a Virgin Voyages Bar Tab. You can just buy one for your cabin and use it to buy drinks for whoever you like.
To start your bar tab, just log in to the Virgin Voyages website and head to the My Account section.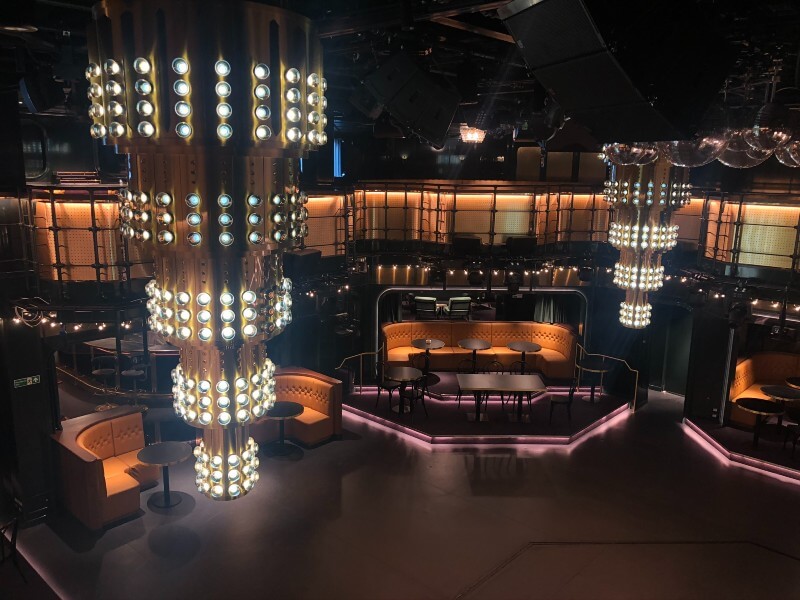 Virgin Voyages Drink Prices
Since there's no unlimited drinks package on offer, your next question will probably be: 'How are drinks on Virgin Voyages?'
Well, the good news is that drinks prices are actually pretty reasonable. There's also a good selection of soft drinks that are free of charge.
Beers such as Heinken, Amstel Light, Narragansett and Kalik are all about $5-$6. Basic gin, rum and whisky cocktails are about $9. Wine prices vary of course, but there's a good selection available for under $10.
This luxury cruise line's signature drink is Champagne, which is available for just $9 a glass. If you're feeling fancy, vintage Champagne can cost anywhere up to $1,000 a bottle.
Tips are included in all drinks prices on Virgin Voyages so the price you see on the menu is the price you pay.
NEW DEALS JUST RELEASED!
Don't miss the latest Virgin Voyages offers…
What drinks are included on Virgin Voyages?
Virgin Voyages offer 'basic bevvies' for free. The included drinks are:
Filtered still and sparkling water
Fruit juices (not pressed)
Fizzy drinks and sodas
Teas and drip coffees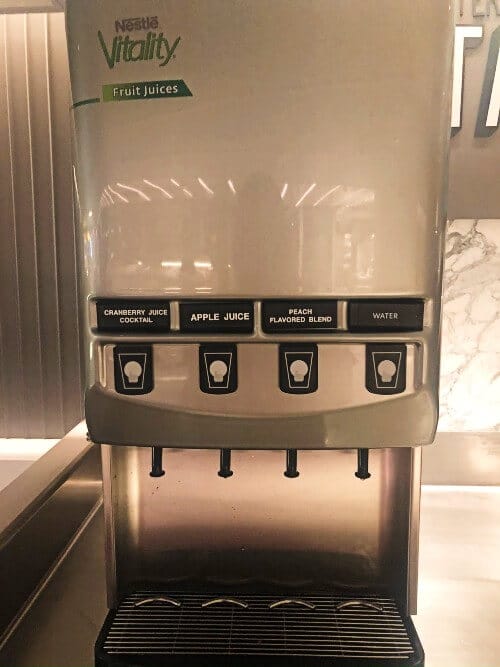 Virgin Voyages Drink Menus
Here's what you can expect to see on the drinks menus on Virgin Voyages ships…
Draught Beer (12oz) – $5 to $8
Draught Beer (54oz) – $19 to $29
Can of Beer – $5 to $11
Spirit (single) – $5 to $25
Spirit (half bottle) – $45 to $55
Cocktails – $12 to $17
Bottle of Beer – $5 to $15
Glass of Wine – $7 to $22
Bottle of Wine – $28 to $1445
Glass of Champage – $11 to $65
Bottle of Champagne – $48 to $445
Shots – $7 to $15
Red Bull – $5
Specialty Coffee – $3 to $5
Specialty Tea – $5
Hot Chocolate – $4
Virgin Voyages Mini Bar Menu
The Virgin Voyages mini-bar menu includes not only beers, wines and cocktails, but also a sleep kit and an intimacy kit for when things get steamy!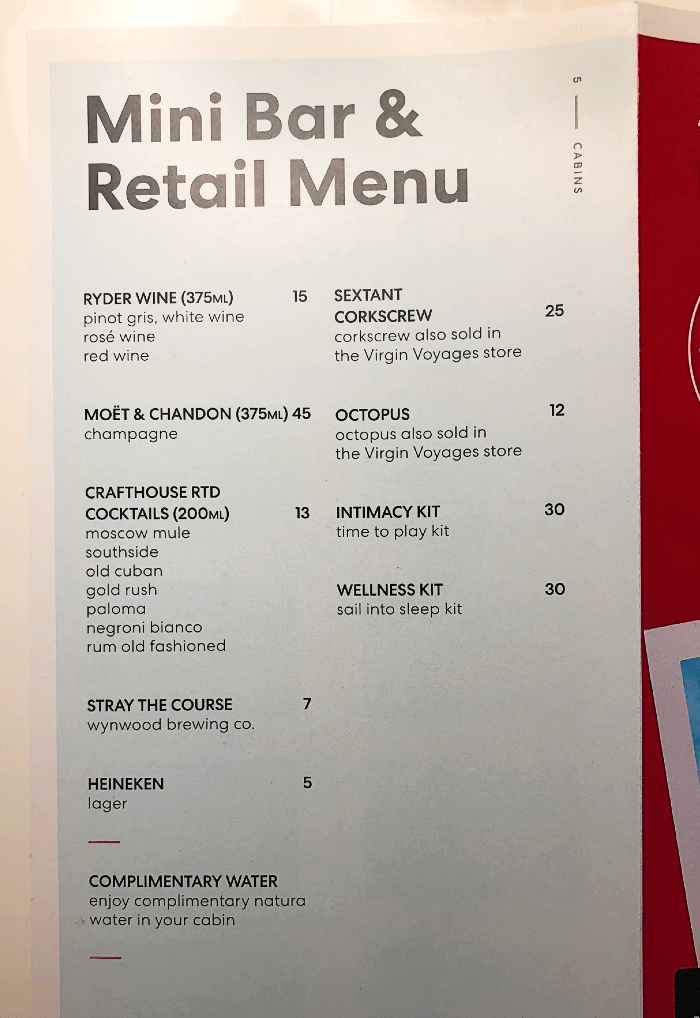 Shake for Champagne
Champagne drinking is positively encouraged on-board Virgin Voyages' glamorous ships. So much so, that the Virgin Voyages 'Sailor app' includes a 'Shake for Champagne' feature.
All you need to do is shake your phone to reveal the secret Champagne delivery button and a bottle of Möet will be delivered to your location anywhere on the ship.
It's never too early for champagne and there's always something to toast to while aboard Scarlet Lady. We want our Sailors to enjoy a glamorous holiday and what better way to feel like a RockStar than a sip of bubbly whenever and wherever you want it.

Tom Mcalpin, CEO of Virgin Voyages
Can you bring your own drinks on Virgin Voyages?
Guests ages 21 or over on Virgin Voyages cruises are allowed to bring two 750ml bottles of wine per cabin. You can't bring any other alcohol such as beer or spirits, and the wine must be in your carry-on bag, not in your checked luggage.
You can also bring water or soft drinks on board if you wish, however, you really don't need to as these are included in your cruise fare.
Virgin Voyages has banned single-use plastics from its ships. So, if you must bring your own water or soft drinks, steer clear of plastic bottles and opt for cans or cartons.
Virgin Voyages Drinking Age
Virgin Voyages is one of the few cruise lines with US departures that allows guests aged 18 or over to drink alcohol at sea. As soon as the ship is 12 nautical miles off the coast of the US and in international waters, the bar will be open for those aged 18, 19 and 20 in addition to the adults who are 21 or over.
It used to be the case that guest only allowed 18- to 20-year-olds too cruise on itineraries in Europe, if they were married to another guest, an active member of the military or were sharing a cabin with someone aged over 21.
However, they have since relaxed the rules so under 21s can now cruise by themselves or as a group on all sailings.
NEW DEALS JUST RELEASED!
Don't miss the latest Virgin Voyages offers…
Scarlet Lady review
I was lucky enough to enjoy an overnight stay on Scarlet Lady. Click here to read my honest review of the ship.
Related Posts: