This is a sponsored post by Marella Cruises.
One of the best things about Marella Cruises is the way they keep things simple – cruise fares aren't a complicated web of add-ons or extra fees.
As standard, their cruises are 'All Inclusive', but you might be wondering how inclusive they really are, especially when it comes to drinks.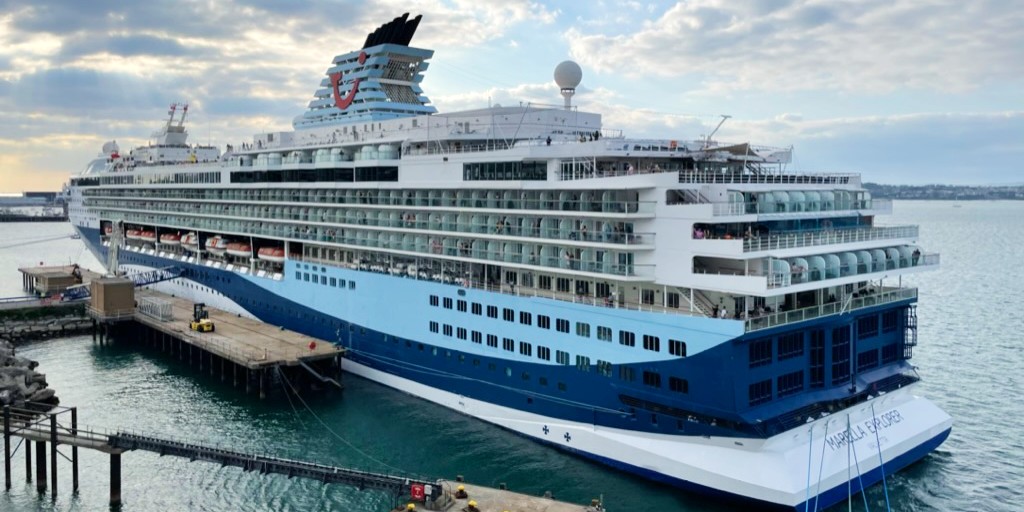 Can you really drink as much as you want on a Marella Cruise without paying extra?
In this guide, I'll take you through the Marella Cruises all-Inclusive cruise fare, and explain what's different with the Premium All-Inclusive package.
Are drinks included on Marella Cruises?
Marella Cruises are 'All Inclusive' as standard but this doesn't include all drinks. It does include a decent range of hot drinks, soft drinks, beers, wines, cocktails and mocktails in the standard fare, but some premium options are charged as extra.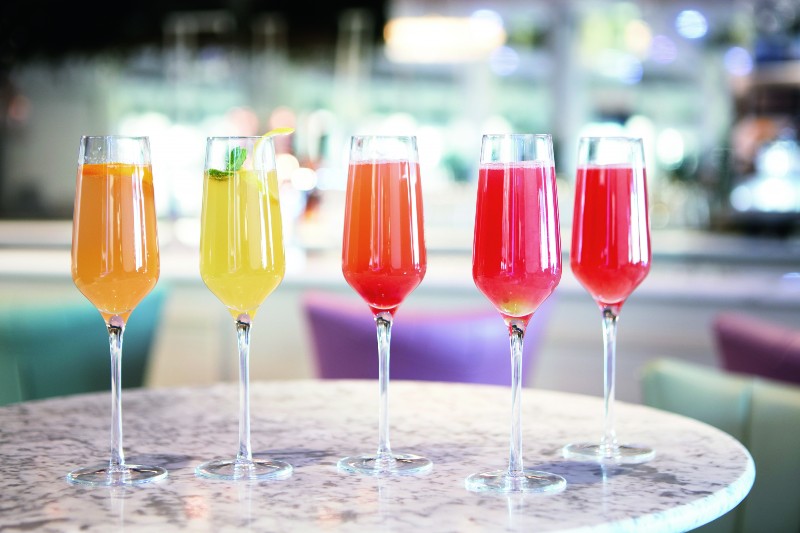 Cruise lines will always have some level of free drink on their cruise but it's often limited to a very small selection – free fountain water, juices and basic tea and coffee served at breakfast – that sort of thing.
Marella Cruises offers so much more. Your standard cruise fare includes a wide range of alcoholic and non-alcoholic drinks and you don't need to pay any extra – if you stick to those drinks.
But it's important to point out – the 'All Inclusive' fare isn't really "all" inclusive because there are some drinks that aren't included. Of course, otherwise, we could all be drinking Champagne all day long!
For some premium drinks, you'll either need to pay for them individually or pay for the Premium All-Inclusive drinks package. This is truly all-inclusive when it comes to drinks – with the exception of wines by the bottle. You can have any wine you want by the glass, though.
It's also worth noting that the standard All Inclusive fare only applies between the hours of 10 am and 2 am. You'll be able to get tea and coffee at breakfast, or water from the fountains, but for the full range of drinks, you'll need to wait until 10 am.
What drinks are included on Marella Cruises?
The drinks included on the standard All Inclusive fare with Marella Cruises include selected draught and bottle beers and ciders, selected sparkling, white, red and rose wines, selected cocktails and spirits, and fountain sodas.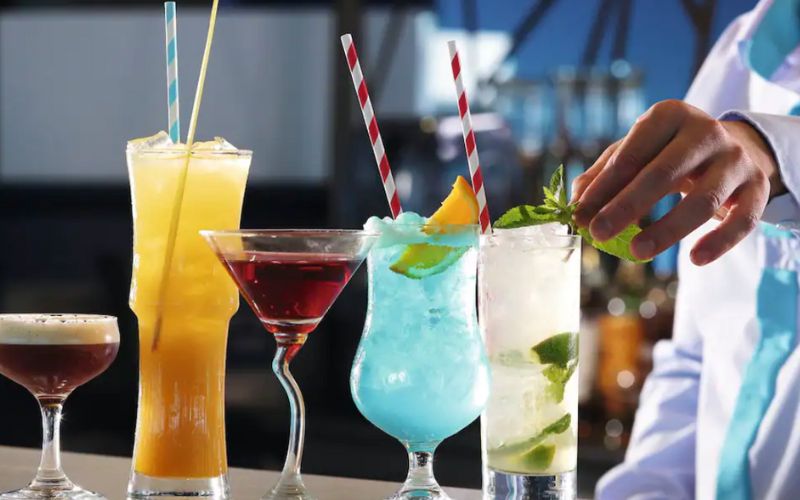 Here's a full breakdown of what's included for free with your Marella Cruises drinks package:
Beers and ciders
Fosters (draught)
John Smiths (draught)
Strongbow (draught)
Birra Moretti (bottle)
San Miguel Fresca (bottle)
Red Stripe (can)
Guinness (can)
Heineken Zero (bottle)
Peroni (bottle)
Corona (bottle)
Peroni Red Label (bottle)
Wines by the glass
Brut (sparkling)
Prosecco (sparkling)
Cava (sparkling)
House Choice Arada (rose)
House Choice Sauvignon Blanc (white)
House Choice Pinot Grigio (white)
House Choice Merlot (red)
House Choice Cabernet Sauvignon (red)
After-dinner drinks
Fundador (brandy)
Metaxa 5 stars (brandy)
Sandeman Ruby (port)
Cockburns Special Reserve (port)
Cocktails
Berry Fizz
Electric Lemonade
Frose
Hawaiian Tropics
Illusion
Long Island Iced Tea
Mai Tai
Melon Ball
Pina Colada
Raspberry Collins
Rocking Rita
Infused Spirits
Cucumber and Lime Vodka
Lemon Peel and Thyme Vodka
Strawberry and Black Pepper Vodka
Lemongrass and Ginger Rum
Earl Grey Gin
Rosemary and Citrus Gin
Apple and Cinnamon Bourbon
Soft drinks and hot drinks
All fountain soft drinks, non-alcoholic mocktails and basic teas and coffees are included.
How much is the Marella Premium Drinks Package?
Upgrading to Marella's Premium All-Inclusive cruise fare costs £10 per person, per day. Everyone in the cabin needs to upgrade, and so for a typical couple cruising the total cost is £140 per cabin for a 7-night cruise.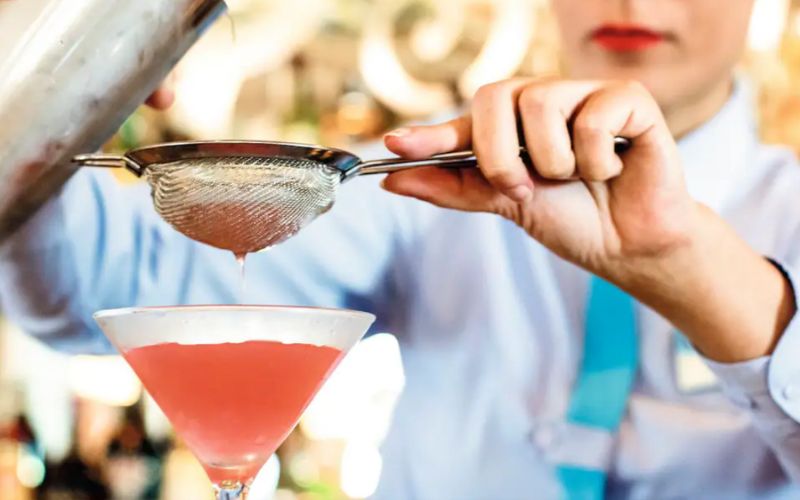 That's a lot cheaper than many other cruise lines' drinks packages, which can start from around £10 per person, per day just for fountain sodas. It's not uncommon to find cruise drinks packages that cost around £50 – 70 per person, per day.
And circling back around to the point that Marella Cruises aren't really "all" inclusive since you need to pay extra for the drinks package, bear in mind how low that cost is. Cruise lines which are really "all" inclusive with their drinks tend to cost a significant amount more than a Marella fare!
What's included on the Marella Cruises Premium Drinks Package?
The Marella Premium All-Inclusive package includes almost all drinks on the ship. The only exclusion is wine by the bottle, but you can order all of the wines by the glass without having to pay.
You also get given a free 1.5 litre bottle of water in your cabin every day if you choose the Premium All Inclusive package.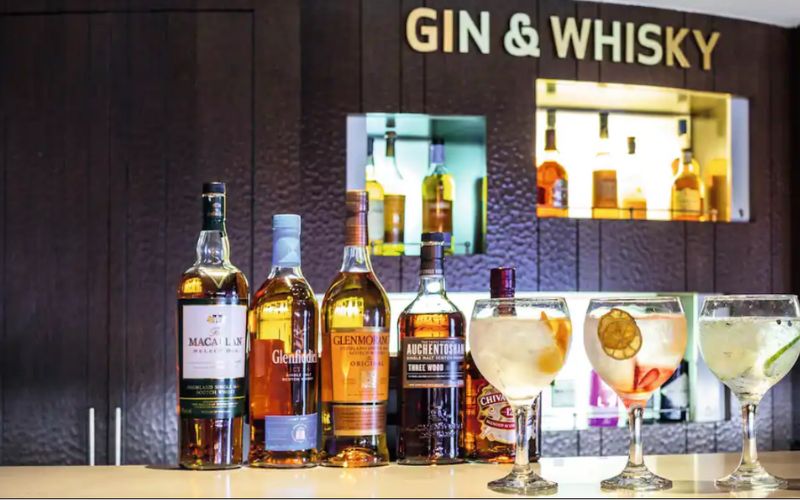 The full list of premium drinks is below:
Beers and ciders
Heineken (draught and bottle)
Kronenbourg 1664 (draught)
Lagunitas IPA (draught)
Alhambra (bottle)
Strongbow Dark Fruit (can)
Bulmers (bottle)
Magners (bottle)
Tiger (bottle)
Old Speckled Hen (bottle)
Meantime IPA (bottle)
Pilsner Urquell (bottle)
Duval (bottle)
Chimay (bottle)
Carlsberg (bottle)
Singha (bottle)
Grolsch (bottle)
Wines by the glass
Millesimato Prosecco DOC Bottega (sparkling)
Poeti Prosecco DOC Bottega (sparkling)
Pink Pinot Nero Spumante DOC Bottega (sparkling)
All Bellinis
After-dinner drinks
Martell VS (cognac)
Martell VSOP (cognac)
Cardenal Mendoza (brandy)
Calvados (brandy)
Grappa
Cocktails
Aperol Spritz
Blueberry Mojito
Cadillac Margarita
Chocolate Espresso Martini
Cucumber Caipiroska
Cucumber Collins
Ginger and Pear Cosmo
Kiwi Caipirinha
Mojito
Pineapple and Chilli Martini
Porn Star Martini
Purple Rain
Rum Runner
Sea Breeze
Sex on the Beach
Southern Punch
Strawberry and Pear Margarita
The Count's Negroni
Tropical Iced Tea
Blue Peter (Signature Mason Jar)
Cherry Rum Fizz (Signature Mason Jar)
Hail Mary (Signature Mason Jar)
Mums St Clements (Signature Mason Jar)
Pineapple Plantation (Signature Mason Jar)
Pink Lemonade (Signature Mason Jar)
Tropical Blend (Signature Mason Jar)
Cocktails in Bar Eleven
Blueberry & Grape Press (Infusion)
Five O'clock Tea (Infusion)
Lemon Drizzle (Infusion)
Lemon & Thyme Collins (Infusion)
Red Speckled Mule (Infusion)
Rosemary's Gimlet (Infusion)
Thai Mojito (Infusion)
Chocolate Ember (smokey)
Jonnie's Rusty Nail (smokey)
Smokey Old Fashioned (smokey)
Sweet and Smokey Margarita (smokey)
Spirits
Gins – Gordon's, New Amsterdam, Tanqueray, Bombay Sapphire, Hendrick's
Whiskies – Johnnie Walker Red, Johnnie Walker Black, Jack Daniel's, Bells, Famous Grouse, Jameson, Jim Beam, Teacher's, Canadian Club
Vodka – Smirnoff, Stoli, New Amsterdam, Absolut, Absolut Citron, Grey Goose, Ketel One
Rum – Bacardi, Malibu, Captain Morgan, Rumhaven Coconut, Myer's, Clarkes Old Grog, Clarkes Special Dark
Tequila – Jose Cuervo Silver, Jose Cuervo Gold, 1800 Resposada
Spirits in Squid and Anchor Bar
Gin – Poetic License Northern Dry, Masons, Whitley Neill Rhubarb and Ginger, Opihr Oriental Spiced, Sipsmith London Dry
Whiskies – Macallan Select Oak, Glenfiddich, Glenmorangie, Oban, Auchentoshan Three Wood
Soft drinks and hot drinks
All fountain, canned and bottled soft drinks
Fresh juices
Lavazza coffees
Red Bull cans
Fever Tree premium tonics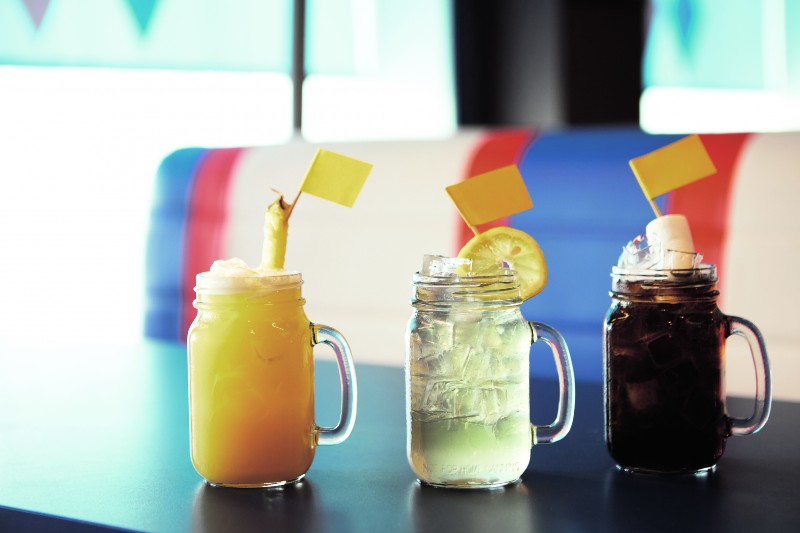 How much are the premium drinks on Marella Cruises?
The premium drinks on Marella are actually very reasonably priced – they're very similar to what you'd pay at a bar or pub in the UK. In fact, a lot of the prices are cheaper than what you'd pay at some pubs these days!
Here are the prices for the premium drinks:
Draught Heineken – £3 pint, £2 half
Bottled beers and ciders – all £3.30
Sparkling wine by the glass – £5 to £6.50
Red/white/rose wine by the glass – all included in the standard fare
Sparkling wines by the bottle – £17 to £43
Rose wine by the bottle – £17 to £19.50
White wine by the bottle – £17 to £43
Red wine by the bottle – £16 to £21
Brandies and cognacs – £2.50 to £3.50
Premium cocktails – £2.50
Signature cocktails – £2.50
Gin – £2.50 (Hendrick's £3)
Whisky – £2.50 to £2.90
Rum – £2.50 to £2.90
Tequila – £2.90
Squid and Anchor Gins – £3
Squid and Anchor Whiskies – £2.90 to £3
Bottled Coca Cola products – £1
San Pellegrino – £1.50
J2O – £2
Red Bull – £2.95
Fever Tree Premium Tonics – £2.50
Lavazza Coffees – £2.50
Can you take your own drinks on a Marella cruise?
It used to be that you could take your own alcohol onto your Marella cruise, but that's no longer the case. Now, you may only drink alcohol served to you by the crew – but this does include your outgoing flight as well.
This means that if you buy any drinks on your flight to your cruise, you can bring those onboard. However, expect to be asked for proof of purchase, to show that you did buy it on the flight.
If you don't produce proof of purchase, the alcohol will be confiscated and returned to you when you disembark. That's the same with any alcohol you buy during any port visits too. You get to keep it – it isn't permanently confiscated – but you'll only get it back at the end of your cruise, ready to take home.
Is the Marella Premium Drinks Package worth it?
With some cruise lines, it can be difficult to work out whether the drinks package is worth it. The costs are so high, and the drinks prices are high too, so doing the maths before you sail can be tricky – but worth doing!
I think that Marella's drinks pricing and package prices are the simplest of any cruise line, and so it should be really easy to work out whether or not you want to pay for the Premium All-Inclusive package.
If you're happy drinking the drinks that are included with the standard All Inclusive fare, there's no need to pay for the upgrade.
Most drinks cost between £2.50 and £3, so if you would only have at most three of those per day, then don't pay for the upgrade – buy the drinks separately.
But if you think you would prefer to drink from the Premium list of drinks, and you know you'll have four or more every day, or most days, then it's worth paying the upgrade price.
There are a lot of drinks already available on the All Inclusive fare, but I can see why some people would prefer to pay for the Premium one too.
The choices of beer and especially cider are definitely a higher quality on the Premium tier, and you get a lot more choice with spirits too. There are some great cocktails at that level, or you might just be someone who likes premium coffees.
You don't have to drink alcohol to get your money's worth from the Premium tier, especially if you're a fan of bottled water, J2Os or you just prefer bottled and canned sodas to drinking them from a fountain machine.
Is it worth it for everyone? No – it very much depends on your individual preferences and tastes. But it will be worth it for some people.
Final word
I honestly love the drinks prices and packages on Marella ships – it's so much easier to understand than when you're dealing with drinks that cost £8 to 10, or packages that cost as much for one day as Marella's Premium package costs for a whole week.
It also makes it really simple to work out whether or not the upgrade is right for you, and that's largely because the drinks all cost a similar amount. By pricing them in that range, you can quickly work out whether you'll average fewer than four drinks a day from the premium tier or not, and if you'll have more than that, the upgrade is the way to go.
With Marella expanding its fleet, creating new dining options and this excellent drinks pricing, it's definitely a cruise line worth considering for your next holiday.
For more information or to book, visit the Marella Cruises website.
NEW DEALS JUST RELEASED!
Don't miss the latest Marella Cruises offers…
Related Posts: