Planning a family cruise can be tough, and one of the main problems that families face is being overwhelmed by all the options. There are so many cruise lines for families to choose from, each with its own unique offerings.
Some cruise ships which are fantastic for teenagers would be a nightmare for parents of toddlers. Some family cruise lines have lots of activities for parents and kids to do together, where others have fantastic kids' clubs that your children won't want to leave.
When considering the best cruise lines for families, you should look at all the options and decide which aligns best with what you and your kids will enjoy.
The 7 Best Cruise Lines for Kids
To help you in your decision, here's the most useful information about each of the top family cruise lines.
1. Royal Caribbean
Best for: Active families with older kids
What are the ships like?
Royal Caribbean International has over 25 ships with more being built all the time. The newest ships are the biggest in the world, accommodating as many as 6,600 passengers and 2,200 crew members.
On-board you'll find the most exciting features at sea, outstanding food and a fun atmosphere.
Activities on-board
These vary by ship, but may include things like rock climbing, mini golf, surfing machines, sports courts, water slides, zip line, ice skating, skydiving simulator, parades, escape room game, trampolines, trapeze school and laser tag.
Read more: The best Royal Caribbean ships for kids
Age group most suited to
Many of Royal Caribbean's on-board activities have age and height restrictions which you can see here.
This means that if your children are younger than eight, they may be disappointed that they're not allowed to take part in everything. Plus, you'll essentially be paying for things you don't use.
For younger children, consider sailing on one of the older Royal Caribbean ships, which offer fewer facilities, but are also much cheaper.
Can you sail from the UK?
Yes. Between May and October, you can sail from Southampton, but the choice of ships is very limited.
Passengers
You'll find a mix of couples and families of all ages. On sailings from the UK you can expect a lot of British travellers, whereas, on Caribbean sailings, the passengers will be mostly American.
Price
Royal Caribbean cruises are mid-range in terms of price. You can add on a drinks package to make your cruise all inclusive, but these can be pricy. Look out for special offers where you might get drinks included in your cruise fare.
Read more about Royal Caribbean
2. P&O Cruises
Best for: British families with younger kids
What are the ships like?
P&O Cruises offer both family and adults-only ships. They vary in size from medium to large and offer a modern, friendly, British atmosphere.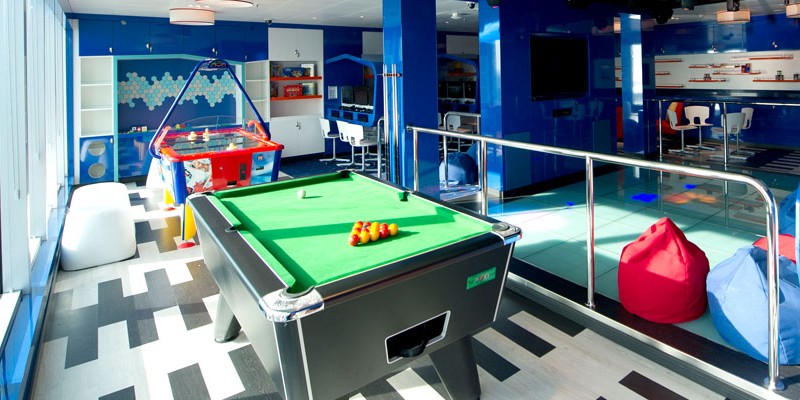 Activities on-board
You won't find loads of activities on-board P&O Cruises ships, but there will be several swimming pools and Jacuzzis and some ships have a splash area for the little ones. Most kids' activities will take place in the kids' club.
Age group most suited to
P&O Cruises accept two-year-old children in the kids' club, whereas on most other cruise lines the minimum age is three. This is one great reason for anyone cruising with a two-year-old to choose P&O Cruises.
Under-fives can be dropped off at the night nursery where they'll be cared for, free of charge, between 6 pm and 2 am.
Whilst this cruise line is good for children of any age, those older than seven or eight may have more fun on a ship with more facilities.
Read more: 10 essential tips for cruising with a baby or toddler on P&O Cruises
Can you sail from the UK?
Yes! P&O Cruises offers a wide choice of cruises sailing from Southampton all year round. From two-night taster cruises to 14-night sailings around the Mediterranean, there's something for everyone.
Passengers
Being a British cruise line, you'll find that the vast majority of passengers on-board are British. The type of passengers on board will be different, with shorter cruises attracting a younger crowd than longer voyages.
Price
P&O Cruises is one of the cheapest family-friendly cruise lines. From time to time they offer reduced kids' prices, with children able to sail from as little as £1, which makes for fantastic value for money.
The drinks on-board are cheaper than many other cruise lines, being similar to local pub prices. And, importantly, you don't have to pay any gratuities (tips) as you do on most other cruise lines, which saves you around £10 per person, per day.
3. MSC Cruises
Best for: Babies
What are the ships like?
MSC Cruises ships are very glitzy and glamorous, with Swarovski crystal staircases and lots of marble. The newer ships have water slides and splash areas. Partnerships with LEGO and Chicco ensure that children have lots of fun on board.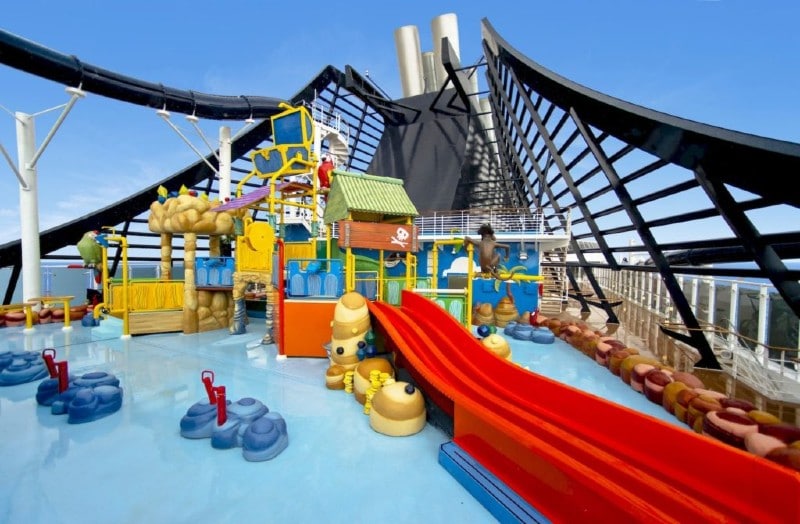 Activities on-board
Some of the facilities such as the 4D cinema, bowling, racing car simulator and the arcade are chargeable, so you'll need to budget for that if your children will want to do these things. There's lots of fun to be had in the kids' club such as whole days devoted to LEGO building.
Age group most suited to
MSC Cruises is great for babies. On many ships, you'll find a dedicated baby area where parents can bring their babies at certain times.
The dining room offers a special baby menu for children aged 6-12 months and pushchairs are available to hire free of charge. All other age groups will have a great time too, although it's worth noting that their friends in the kids' club will probably speak a variety of languages.
Can you sail from the UK?
Yes, but only on board MSC Preziosa. MSC Cruises is unusual in that passengers embark and disembark at various points during the cruise, rather than all starting their cruise at the same port. This means that the choice of itineraries from the UK is somewhat limited.
Passengers
MSC Cruises is an Italian cruise line and is popular with passengers from all over Europe. Because of this, all the announcements and signage are in six different languages and the entertainment often doesn't include much speaking – think acrobats rather than comedians.
You won't find many Brits on board, but when you do, you'll probably remember them and say hello when you bump into them again.
Price
MSC Cruises can be really cheap. We paid £399pp for a 7-night cruise and the children were almost free as they were very young. The MSC drinks packages are also the most reasonable that you'll find at sea.
4. Disney Cruise Line
Best for: A really special experience
What are the ships like?
The four Disney ships are luxurious and fun. On-board you'll find excellent entertainment packed with Disney magic and bump into characters such as Donald Duck as they stroll the decks.
Activities on-board
Disney cruises have a great focus on entertainment. You'll enjoy themed deck parties, character meet and greets, award-winning live shows and 3D Disney movies.
The swimming pools on Disney ships are really fun, including some shaped like Mickey Mouse's head and older kids will love the water slides.
Age group most suited to
Disney Cruises offer a magical experience for kids of any age. Under threes can be cared for in the nursery, but this is quite expensive.
The free-of-charge kids' clubs for three to 12-year-olds are out of this world. You'll struggle to prise your kids away. Tweens and teens also have their own fun hangouts.
Can you sail from the UK?
Yes. Disney Magic has a good choice of itineraries sailing from Dover.
Passengers
Disney Cruises are pretty much exclusively for families and are popular with children of all ages, but there are plenty of adult-only areas too.
Price
Disney is one of the more expensive cruise lines with few reductions for children.
Suggested read: How Much is a Disney Cruise Compared to Other Cruises?
5. Carnival Cruise Line
Best for: US families looking for fun
What are the ships like?
With Carnival Cruises, the emphasis is on fun. The ships are brightly coloured with a real American feel.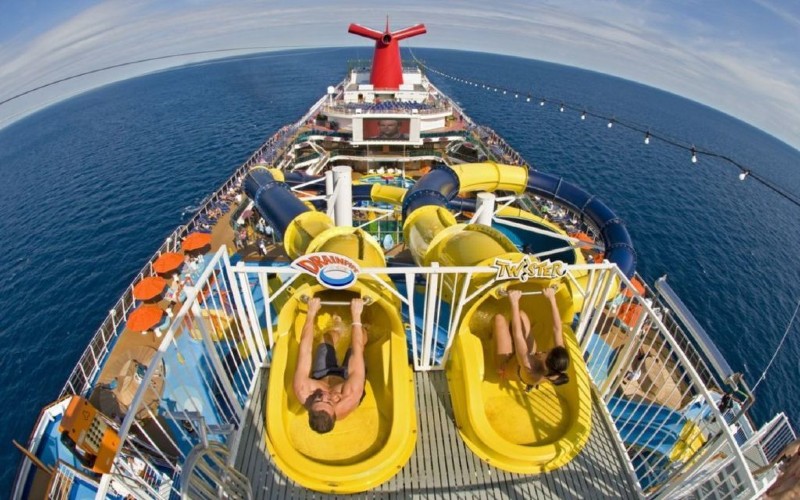 Activities on-board
Carnival's newest ships have amazing facilities such as the SkyRide (which is a bit like riding a bike around a track in the sky).
Eagerly-awaited new ship Carnival Mardi Gras, which launches in 2021, will feature the first-ever rollercoaster at sea. There are waterslides aplenty and you'll also find Dr Seuss characters on-board.
Age group most suited to
Carnival cruise ships are best suited for children aged eight and over.
The waterslides and activities have height restrictions of between 42 and 48 inches. Unlike other cruise lines, Carnival Cruise Line bans children in swimming nappies from the spray parks as well as the pools, so these ships aren't great for toddlers.
Can you sail from the UK?
Only occasionally do Carnival ships sail from the UK. Their ships are predominantly based in the Caribbean, although you can sail from European ports too.
Passengers
Carnival ships are very popular with American families. On short cruises, you may find a lot of groups, particularly during college spring break, which you should avoid as it would be like taking your children on an 18-30 holiday!
Price
Carnival cruises are fairly cheap, although this could be outweighed by the fact that you have to pay for flights in most cases.
Suggested read: Carnival cruise ships by size
6. Princess Cruises
Best for: Bringing the grandparents
What are the ships like?
Princess Cruises ships are medium to large in size and offer understated luxury with excellent food and service. Princess Cruises are very popular with multi-generational families who want to cruise with kids, parents and grandparents all together.
Activities on-board
Aside from the usual swimming pools and hot tubs, you won't find many family activities outside of the kids' clubs. However, the offering here is very good for those aged three to 17 and has a particular focus on education, thanks to partnerships with Animal Planet and the Discovery Channel.
Age group most suited to
Princess Cruises is a good cruise line for children of all ages. Under-threes are allowed in the kids' club when accompanied by an adult and free baby food is available (either in a jar or pureed fresh).
Older children may have more fun on a cruise line with more for them to do on-board.
Can you sail from the UK?
Princess Cruises from Southampton and Dover are available on a choice of several ships with various itineraries available.
Passengers
The nationality of passengers varies depending on the itinerary, with lots of Brits sailing from Southampton and lots of Americans sailing from other ports, including European ports. The passengers can be slightly older than some of the other family-friendly cruise lines.
Price
Princess Cruises are around mid-range in terms of price. Cruises under seven nights are rare, so you won't find many cheap taster cruises.
You can read more about Princess Cruises over on CruiseLifestyle.co.uk
7. Celebrity Cruises
Best for: Chilled-out teens
What are the ships like?
Celebrity cruises offer a 5-star cruising experience on board modern and luxurious ships. The newest ships Celebrity ships have some uber-cool features such as real grass lawns, a 'flying carpet' that moves up and down the side of the ship and a silent disco.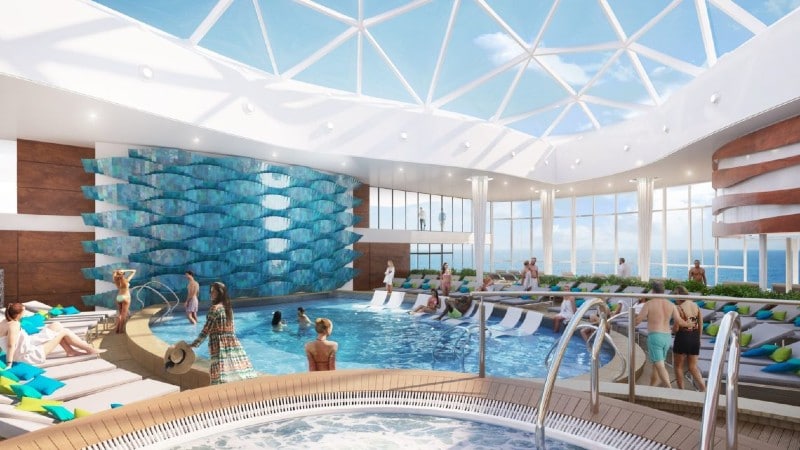 Activities on-board
You won't find masses of kids' facilities on-board Celebrity Cruises ships. However, there are Xbox stations where children can play solo or take part in tournaments.
Kids can also take part in iTake, a programme that involves storyboarding a movie, heading out to capture the shots on a GoPro camera and editing them in the iLounge.
Age group most suited to
Celebrity Cruises are most suited to children aged 12 and over. The teen hangout is really cool and the glamorous onboard atmosphere is better suited to teenagers than children.
Can you sail from the UK?
Yes, but only on-board Celebrity Silhouette and only between April and October.
Passengers
Similar to Princess cruises, the type of passengers you'll find on Celebrity Cruises varies depending on the itinerary. This cruise line is popular with affluent couples.
Price
Being a 5-star cruise line, the price of a Celebrity Cruise is usually towards the higher end of the scale, although great deals can often be spotted.
The Best Cruise Lines for Families
Do a couple of cruise lines from this list take your fancy in particular? You'll find that the ships that each cruise line owns can be quite different, so be sure to take a look at this post next: The best cruise ships for kids
Take a look at my guide: How to choose a cruise in 7 easy steps to make planning your cruise holiday as easy as possible.
Related posts: