If you've ever been abroad with a toddler, you'll know that holidays with small children are NOTHING like holidays used to be in your pre-parenthood days.
But, in case you didn't know, there IS an ideal way that you can enjoy the freedom and relaxation that you used to love on holiday, whilst your children have a great time too. You can sunbathe, you can read a whole book, you can enjoy a romantic meal for two, you can go to the casino, and more…
With a cruise holiday, you can enjoy a holiday that's not just great for your kids, it's great for the adults too.
Don't wait to enjoy a cruise
A cruise holiday is the best holiday that parents of two-year-olds can take. Here are a few reasons why:
Free childcare in the world's best kids' clubs
A huge range of food included
Swimming pools, splash areas and water slides
Never cruise before and wondering if a cruise is right for you? Or are you a cruise regular who wants to know which is the best cruise line for a two-year-old? I've cruised with two-year-olds on different cruise lines and I'm here to share my top five tips for cruising with a two-year-old.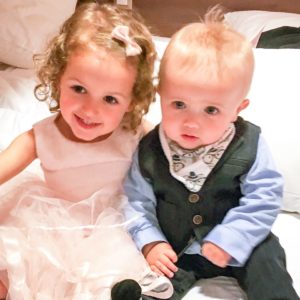 1. Take advantage of free childcare
This has got to be my number one reason why cruising is great for parents.
"Two things I love the most:

1. Being with my kids.

2. Not being with my kids"
On our recent cruise with P&O Cruises, our son, Adam, loved spending time in the kids' club. It was open from 10am-12pm, 2pm-5pm and 6pm-10pm, and we were free to drop him off at any point during those hours. Adam loved spending time playing with his new friends in the soft play area, doing arts and crafts, and falling asleep to a film after tea.
P&O Cruises' family-friendly ships also have a night nursery which was open from 6 pm until 2 am. When he fell asleep in the kids' club, we'd gently move him to a cot in the quiet, dark nursery, where he'd sleep for a few more hours while we enjoyed our evening.
Can two-year-olds attend the kids' clubs?
On most cruises, children must be aged three or older to attend the kids' club. So, if you're planning a cruise with a two-year-old, I'd highly recommend choosing one of the cruise lines which allows two-year-olds in the kids' club.
When our daughter, Leonie, was two, we sailed with MSC Cruises where children have to be three to attend the main sessions at the kids' club. Two-year-olds were only allowed to be left for one hour around midday and one hour in the early evening. And wow, did we relish those hours! Even the opportunity to have a shower and get ready for our evening in peace was so relaxing!
The cruise lines which allow two-year-olds in the kids' club
The cruise lines to consider if you'd like a little time to yourselves are:
P&O Cruises
Carnival Cruise Line
Cunard
Many other cruise lines have activities where two-year-olds can attend with their parents. On Disney cruises, there are even special toddler events. You can read more about what it's like to take a Disney cruise with a two-year-old here.
Do cruise ships have evening babysitting?
On P&O Cruises' family-friendly ships, The Reef kids' closes at 10 pm, but the Night Nursery is open until 2 am for under-fives to sleep under the watch of qualified babysitters.
The Night Nursery is free of charge and places are allocated on a first-come, first-served basis. We never had a problem getting a space there. In the school holidays, it might be busier, so if you're travelling then you should bear that in mind.
On Cunard cruises, the Play Zone is open until 11 pm. There is also a complimentary Night Nursery, but this is only available for children under two years old.
Carnival's Camp Ocean kids' club is open until 10 pm. After that, babysitting is available in the kids' club until 1 am at a cost of $6.75 per hour.
2. Make the most of the dining options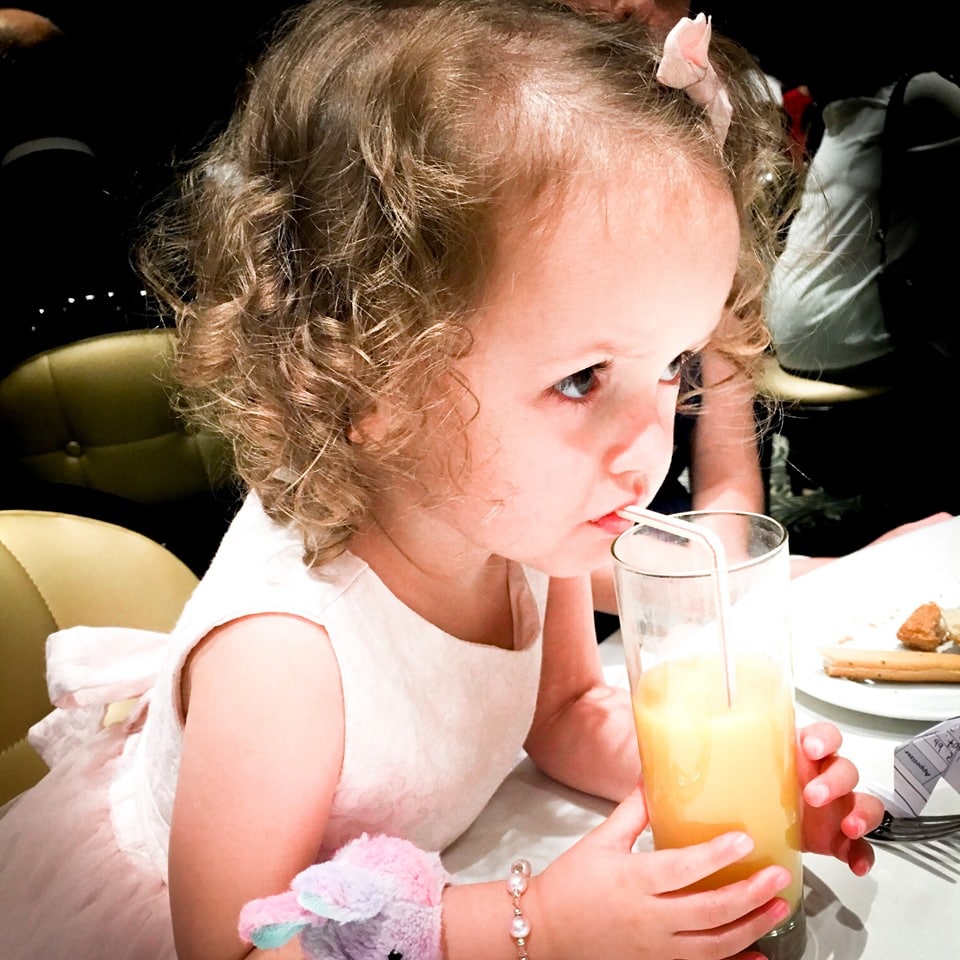 The second reason why cruises are perfect for two-year-olds (and everyone else in the family) is the food. If you have a two-year-old, you'll no doubt be familiar with the phrase "Me no like it".
This is often used in response to food which they have asked specifically for, food they liked yesterday, or even food that they have already eaten half of!
I don't know if it's just my children, but I find that fussy eaters get SUPER fussy on holiday. My daughter once ate only grapes for three days. I had to Google how long a child can survive on just grapes as it was a week-long holiday.
The beauty of cruise-ship dining is that no matter whether you choose to dine in the buffet, in the main dining room or in a speciality restaurant, there will be lots of food for children to enjoy.
On our last cruise, two-year-old Adam ate only Weetabix for breakfast and chips for lunch and dinner. Now that makes me sound like a terrible parent, I know.
But, also on his plate were a variety of fruits, vegetables and other healthy things which he would normally eat. Due to holiday super-fussiness, he didn't eat any of it, but at least I didn't have to pay for it all!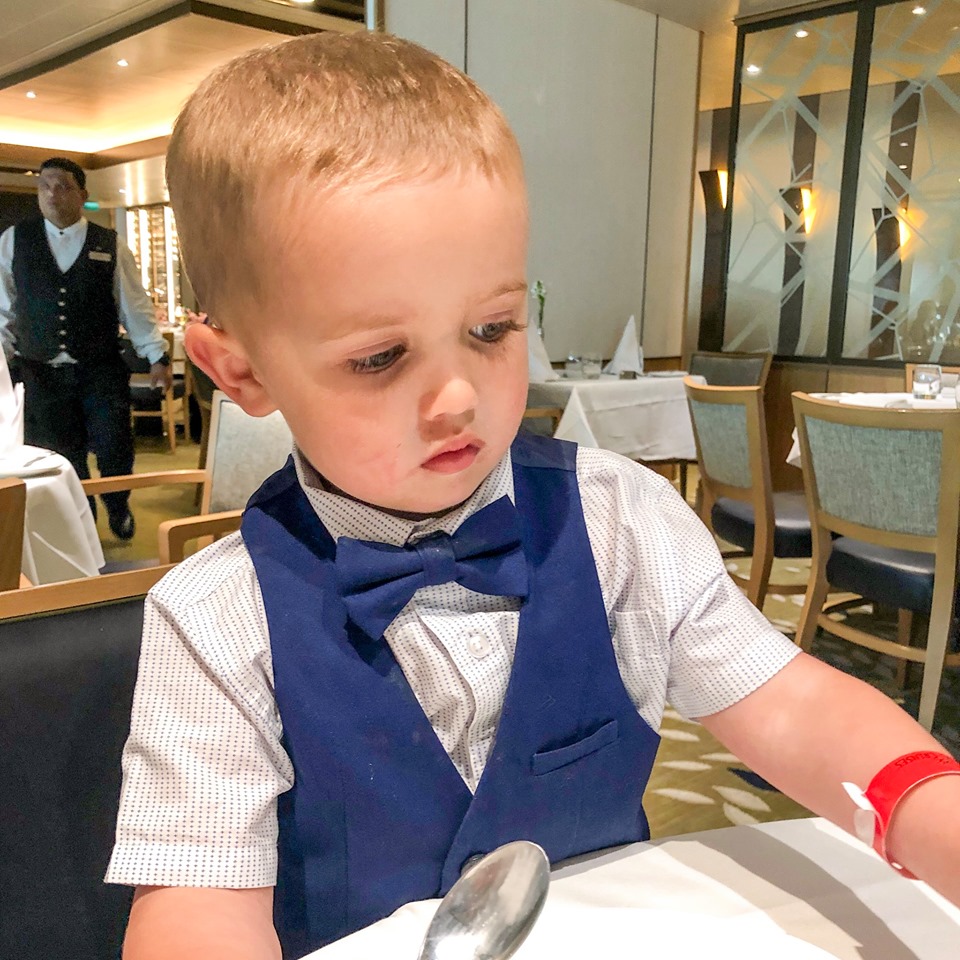 Don't feel like you have to restrict yourselves to the buffet if you're dining with children. On a cruise ship, even in the most formal of restaurants, nobody cares if your kids make a mess.
You can all be dressed up in ball gowns and dinner suits, and if your toddler throws rice on the floor or smears ice-cream on the tablecloth, I promise that nobody will care. Children are made to feel so welcome on board.
Suggested read: How to feed a baby on a cruise
3. Choose a ship where your child can enjoy swimming pools or splash areas
Splashing around in the water is one of my kids' favourite things to do on holiday. And cruise ships have some amazing swimming pools, splash areas and water slides.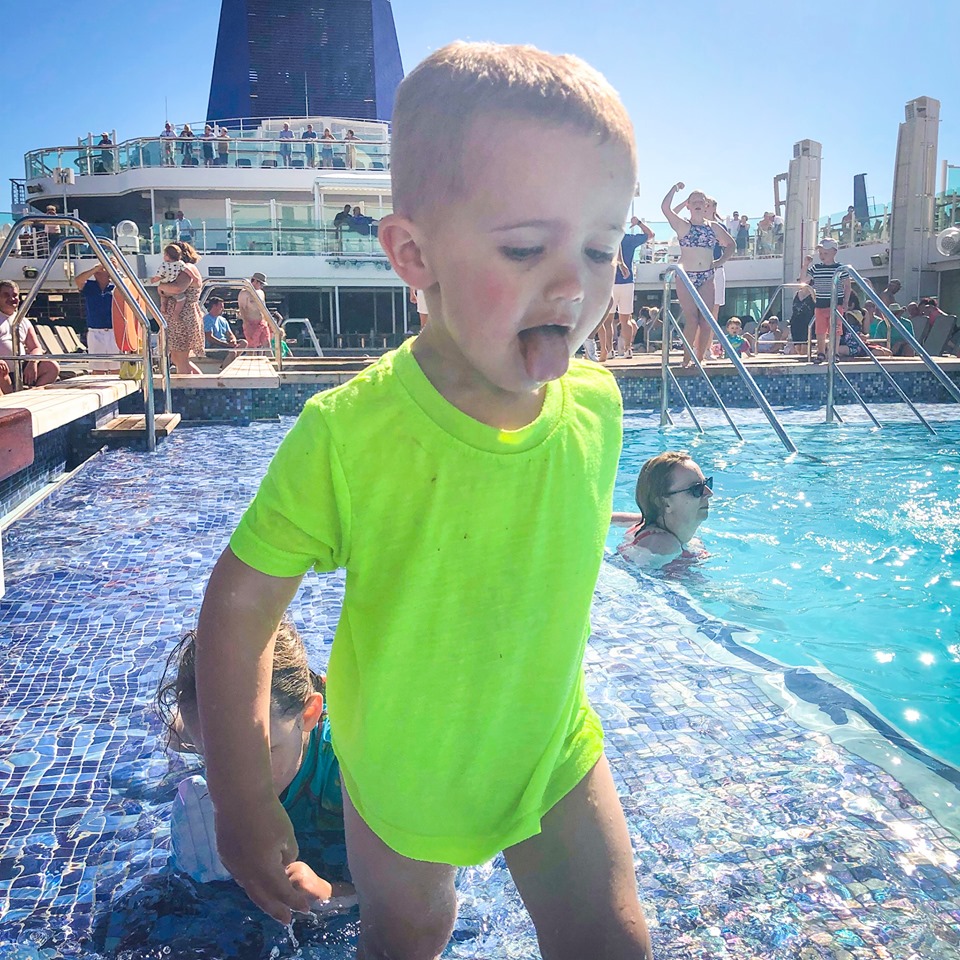 It's important to note, that children who are not yet toilet trained are not allowed in the swimming pools on most cruise ships. The only cruise line, as far as I know, which allows children in swimming nappies in designated pools is P&O Cruises.
However, many cruise ships will have splash areas which have just a few inches of water where swimming nappies or swim diapers are permitted. Here you might find spray jets, tipping buckets, water guns and small slides.
It's definitely worth doing your research about where your child will be allowed to swim or splash before you book if your child is still in nappies. I have heard of people who had no idea about this rule and have booked a cruise, only to find that there is nowhere for their toddler to cool down on a hot day.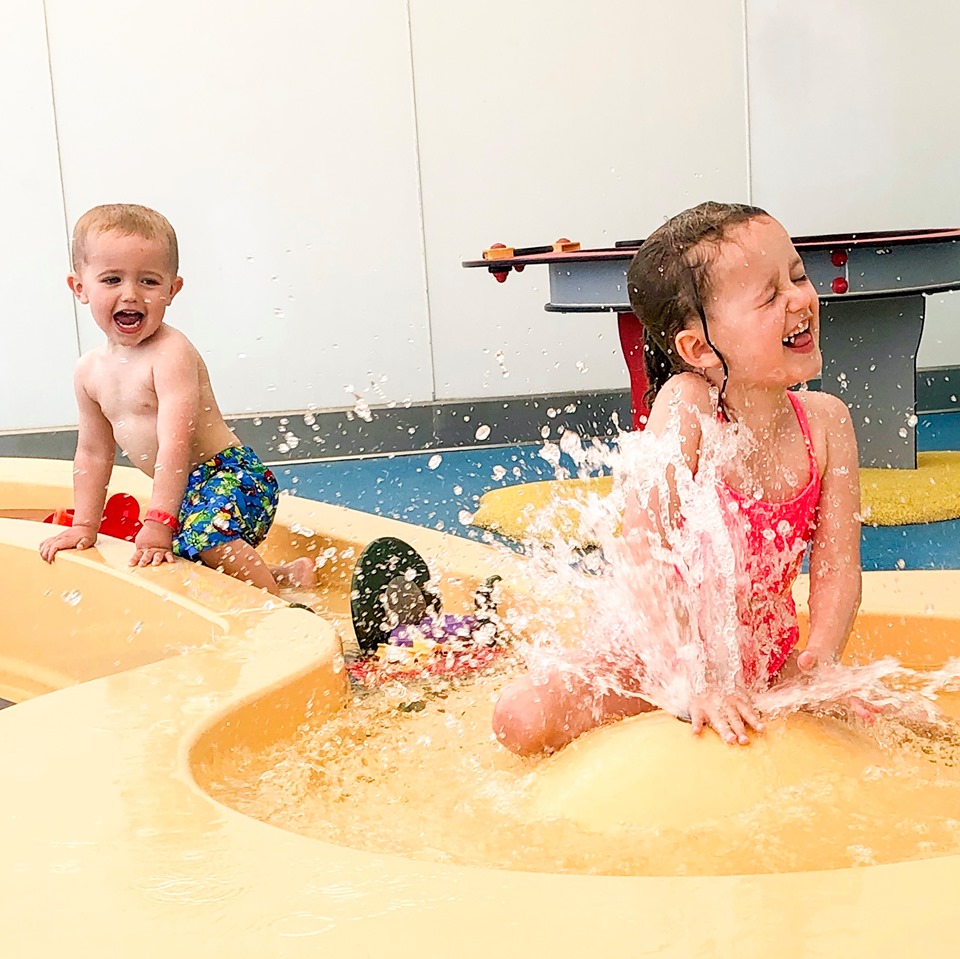 4. Choose your accommodation carefully
Cruise ships have many different types of cabins – inside cabins, outside cabins, balcony cabins and suites. There's something for every family.
Within those cabins, there are different bed configurations, with beds for children usually taking the form of sofa beds or bunk beds which come down from the ceiling (also known as Pullmans). You can also request a travel cot.
Which type of bed is best for your child depends entirely on them. Our two-year-old, Adam, still sleeps in a cot at home. He's never attempted to climb out and he's happy there.
So, on our recent cruise, he stayed in a travel cot provided by the cruise line in our cabin. On the other hand, our daughter stayed in the top bunk above our bed when she was two and was quite happy up there.
Some cruise lines don't permit children under a certain age to sleep in the top bunk, whilst some are happy for two-year-olds to sleep up there, so be sure to check this when you book.
A sofa bed is generally a good option for most two-year-olds. Whatever type of bed you choose, you can request a bed guard to ensure that nobody can fall out in the night.
Another option which I have heard that some parents choose is to pack an inflatable 'ready bed' for your child. This doesn't take up much space and you may feel that it's the safest place for your child to sleep at floor level. If you choose this option, you'll still need to book a cabin with enough beds for your family in addition to the blow-up bed.
Watch the video: Tour of an inside cabin with bunk bed and cot
5. Don't forget these essentials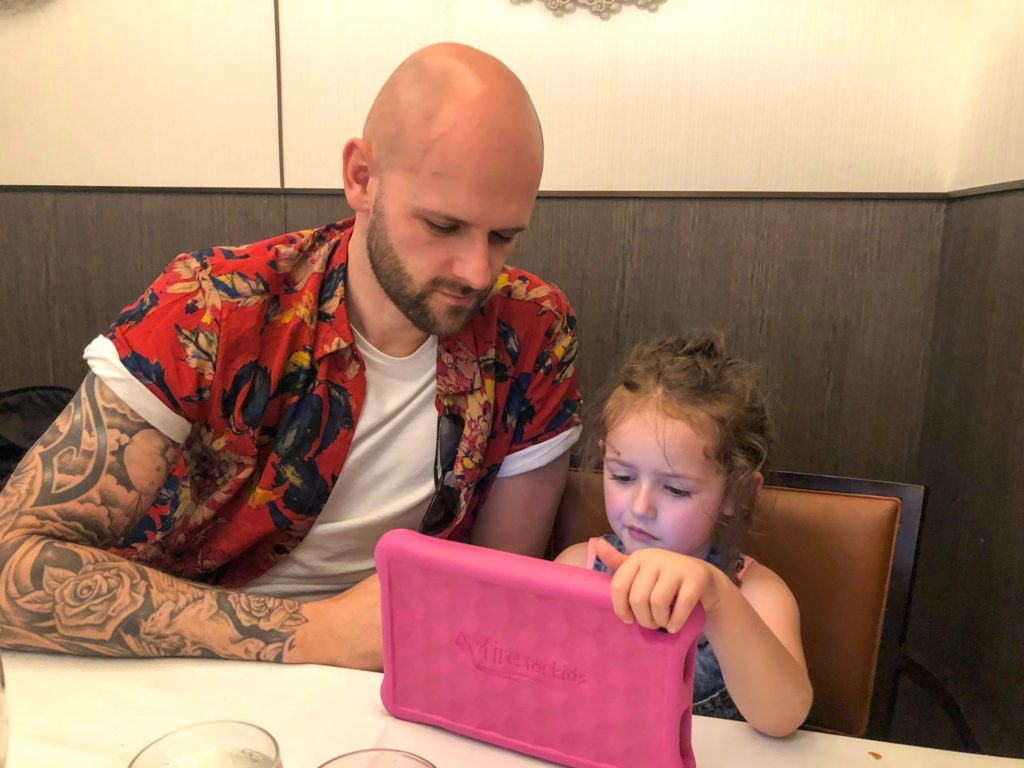 There are a few items which I would definitely recommend when travelling with a two-year-old. Here are some of the essentials that I packed:
Pushchair – an umbrella-style folding one is best so that it can be stored under the bed
Tablet computer – not everyone's cup of tea, but personally, I really value a few minutes' peace to have a shower
Toys – you won't need many, but a few toy cars or dolls are ideal
Magnets – most cruise ship cabins have metal walls and these can keep kids entertained for ages
Water shoes – cruise ship decks can get hot in the sun, so waterproof sandals are ideal for going in and out of the water
Medicines – pack Calpol, Sudocrem, plasters and anything you generally use at home. You can get it on-board but it will be expensive
Concentrated cordial – those tiny bottles are great to add a small squirt into water to keep your kids hydrated in the sun
Non-spill cups – take your own cups or sports bottles for drinks either at the table or on the go
Washing up liquid and sponge – this isn't provided but if you're bringing your own cups you'll need it
My free printable packing list for cruising with a baby also has lots of ideas for things that you should bring on your cruise with a two-year-old.
To fly or not to fly?
It probably goes without saying that flying with a young child can be a nightmare. Once children reach two years old they get their own seat on the plane (yay!) However, the downside to this is that you have to pay full adult price for them.
I took lots of flights with my kids when they were babies and toddlers just to save on airfare! We took lots of toys and snacks on the plane and never flew for more than four hours which was fine. Now that they're two and over, we like to cruise from the UK.
If you're lucky enough to live within a few hours' drive of a major cruise port, then cruising from there should definitely be something you consider. It's going to work out cheaper than paying for your two-year-old to fly and you also won't have to worry about any luggage restrictions.
Safety
Finally, a word about safety. On the whole, cruise ships are very safe places, but sadly, accidents do and have happened. It's vital that parents supervise their children at all times, except when they are in the care of youth team staff.
Balconies
Barriers on the deck of cruise ships are generally very high, made of glass, and/or have a double handrail, so they would be difficult to climb, but not always impossible. If you have a balcony cabin, keep furniture away from the rail and never leave a child unattended. The locks on balcony doors are usually high up to make it very difficult for children to open, so keep the balcony door locked when you're not sitting on it.
Water
Swimming pools are another potential hazard. On our cruise, Adam was walking along the edge of the pool when he fell in, without wearing armbands. Luckily, I was standing right next to him and I quickly scooped him out. Until that moment, I had no idea how fast children sink. He was in the water for no more than a second or two but was already upside-down under the water. We were lucky, Adam didn't even cry at his ordeal. But the experience really brought home how important it is to keep a very close eye on children when they're anywhere near water.
Hygiene
Personal hygiene is also something to take great care of on a cruise. Toddlers are at greater risk of gastrointestinal disease than adults as they can tend to put their hands in their mouths. Infections like norovirus can be avoided by regular hand-washing.
Read more: How to avoid norovirus on a cruise
I hope that you've found this guide to cruising with two-year-olds helpful. If you have any questions, please don't hesitate to ask in the comments. Do you have any more tips? You can add them below, too.
Related Posts: