Anthem of the Seas is a Quantum Class ship that was built by Royal Caribbean in 2015. She is the only Royal Caribbean ship scheduled to depart from the UK, making her a very popular choice with UK cruisers during the summer cruise season.
Anthem of the Seas is a great choice for families, and I believe she is the best Royal Caribbean cruise ship for babies, toddlers and under-fives.
Read more: The best Royal Caribbean ships for kids of all ages
In this article, I'll aim to answer all the FAQs about Anthem of the Seas, so that you have all the information you need about this ship before you set sail.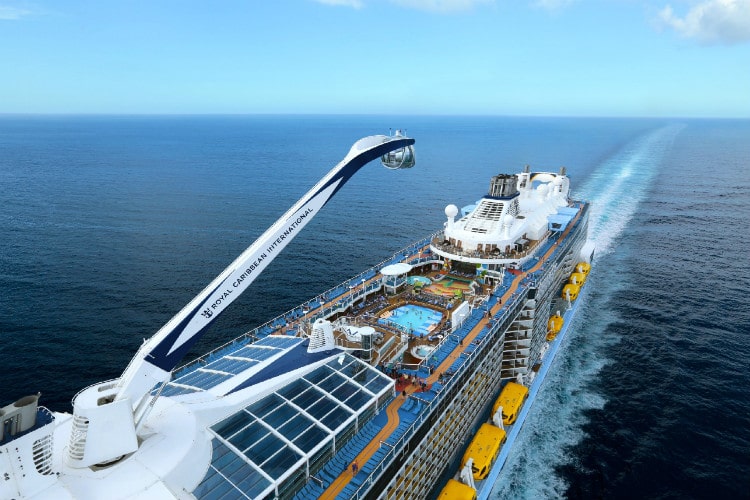 Ship stats
Who owns Anthem of the Seas?
Anthem of the Seas is owned by Royal Caribbean International.
How old in Anthem of the Seas?
Anthem of the Seas was built in 2015.
When was Anthem of the Seas refurbished?
Anthem of the Seas was due to undergo her first dry dock refurbishment from 24th April to 15th May 2020. However, this was delayed due to the pandemic.
What class of ship is Anthem of the Seas?
Anthem of the Seas is a Quantum Class ship. Her sister ships are Quantum of the Seas, Ovation of the Seas and Spectrum of the Seas.
How big is Anthem of the Seas?
Anthem of the Seas is a large cruise ship with a length of 1,141 feet and an internal volume of 168,666 gross tonnes. The ship has 16 passenger decks and can accommodate 4,905 guests and 1500 crew.
You can see how Anthem compares to other Royal Caribbean ships here: Royal Caribbean Ships by Size.
How long is Anthem of the Seas?
Anthem of the Seas is 1,141 feet long. This is equivalent to 348 metres. It takes five to ten minutes to walk from one end of the ship to the other, depending on how fast you walk. It would probably take my kids about an hour, but they'd definitely get distracted a lot on the way!
How many decks on Anthem of the Seas?
Anthem of the Seas has 16 decks. This is quite a lot. However, on my recent cruise on Norwegian Encore, I was stunned to discover that this ship has 20 decks! So Anthem has a lot of decks, but not the most of all ships.
How many passengers on Anthem of the Seas?
Anthem of the Seas a passenger capacity of 4,180 based on double occupancy and a maximum passenger capacity of 4,905. The maximum occupancy is how many passengers the ship could hold if every extra bed in every cabin was in use. In reality, the number of passengers on board will be somewhere between 4,180 and 4,905 depending on how many children are on-board.
Is Anthem of the Seas the largest cruise ship?
No. The largest cruise ship in the word is Symphony of the Seas. You can see how this ship compares to Anthem of the Seas here: Royal Caribbean Ships by Size.
Who is the captain of Anthem of the Seas?
The current captain of Anthem of the Seas is either Captain Henrik Loft Sorensen or Captain Felix Srecko Ban. They work on rotation.
Facilities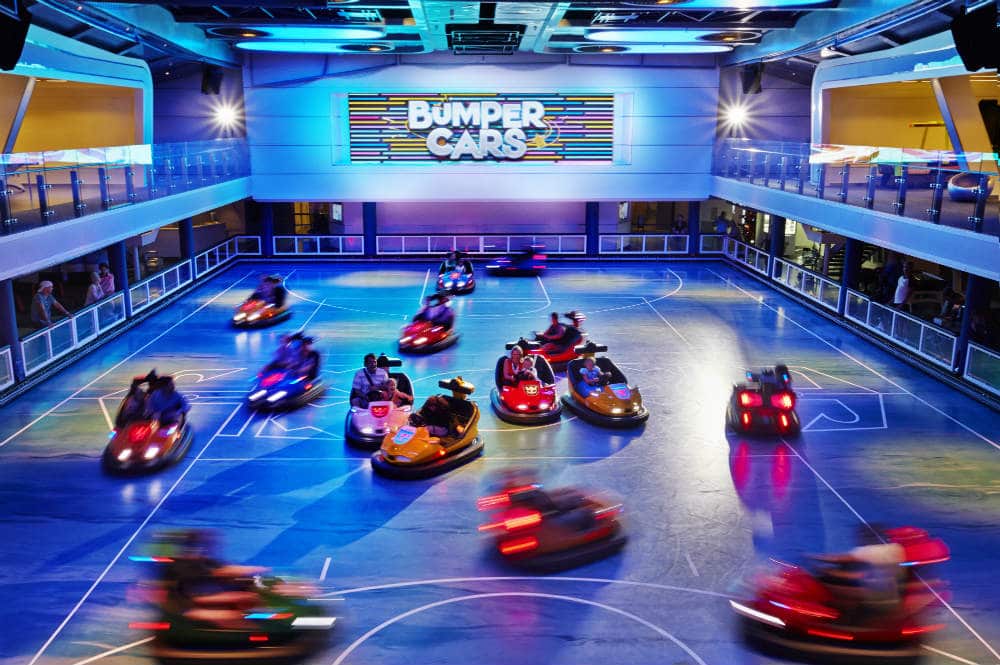 What is there to do on Anthem of the Seas?
There's so much to do on Anthem of the Seas. I promise it's impossible to be bored. Some activities include:
Skydive in the 'Ripcord by iFly' skydiving simulator
Ride the bumper cars
Challenge yourself in the escape room
Admire the views from 300 feet up in the North Star observation pod
See 'We Will Rock You' in the theatre
Get a drink from the robot bartender
Dance the night away in Club two70
Try surfing or body boarding on the FlowRider
Learn circus skills at the trapeze school
Climb the rock climbing wall
Enter an archery tournament
Take a dip in one of the four swimming pools or ten jacuzzis
Relax in the adults-only solarium
Are all the activities on-board Anthem of the Seas free?
Most of the activities on Anthem of the Seas are included in your cruise fare. The bionic bar is free if you have a drinks package, otherwise, you'll be charged for the drink.
The skydiving simulator and the observation pod are free on some cruises but chargeable on others. Currently, fees apply on selected cruises departing from the UK, China, Singapore, Caribbean and Alaska.
Suggested read: What's included in a Royal Caribbean cruise? (And how much is everything else?)
What is included on Anthem of the Seas?
A cruise on Anthem of the Seas includes your accommodation, meals in selected dining venues including the buffet and main dining room, selected soft drinks (click here to see which ones) and all activities and entertainment.
Available for an extra charge are dining in speciality restaurants, drinks, spa services, gambling in the casino and purchases in the on-board shops.
Does Anthem of the Seas have a water slide?
No, unlike some other Royal Caribbean ships, Anthem of the Seas doesn't have any water slides.
How many pools are there on Anthem of the Seas?
Anthem of the Seas has four swimming pools including one indoor pool with a retractable roof so that you can swim in all weathers. There are also ten hot tubs, a splash area with ankle-deep water where swimming nappies are permitted and a small lazy river.
Does Anthem of the Seas have mini golf?
No, unlike some other Royal Caribbean ships, Anthem of the Seas doesn't have mini golf.
Does Anthem of the Seas have Central Park?
Anthem of the Seas does not have Central Park on-board. Central Park is an on-board neighbourhood with walkways which wind through over 10,000 live plants. It's just like a real park with benches, sculptures, cafes, bars and even the sound of birds and frogs croaking via speakers hidden in the plants. Central Park is only found on-board Royal Caribbean's Oasis Class ships. These are Oasis of the Seas, Allure of the Seas, Harmony of the Seas, Symphony of the Seas and new ship Wonder of the Seas, which is planned for 2021.
Does Anthem of the Seas have a casino?
Yes, like all Royal Caribbean ships, Anthem of the Seas has a casino on board. Here you'll find lots of games like roulette, blackjack, three-card poker and slot machines.
Does Anthem of the Seas have WiFi?
Yes, all Royal Caribbean ships have WiFi which is available all over the ship. The internet service called VOOM and it's the fastest at sea. Connecting to Royal Caribbean's Wi-Fi is easy:
Use your device to log on to the to the network "royal-wifi".
Open a web browser and go to any website.
The Royal Caribbean WiFi login page will appear, with options to buy an internet package. If you already have a WiFi package, you can enter your log in details.
How much is WiFi on Anthem of the Seas?
Royal Caribbean offer several WiFi packages. The cost varies depending on the number of devices and whether you want to surf the internet or also stream video and music. The cost may also go up and down depending on the current dollar to pound exchange rate. To give you a rough idea of cost, for my next cruise on Anthem of the Seas, the WiFi package is currently available to purchase for £8.88 per day.
It's always cheaper to buy a WiFi package before you cruise than once on the ship. You can see the prices of the WiFi packages available for your cruise by logging into Royal Caribbean's Cruise Planner.
Suggested read: 3 ways to get free wifi on your Royal Caribbean cruise
Is there a Starbucks on Anthem of the Seas?
Anthem of the Seas doesn't have a Starbucks on-board. However, the ship has a cafe called La Patisserie which serves espresso-based speciality coffees made with Starbucks beans.
What is Adventure Ocean on Anthem of the Seas?
Adventure Ocean is Royal Caribbean's award-winning youth programme which includes complimentary kids' clubs for children aged three to eleven. It is typically open from 9 am until 12 pm, 2 pm until 5 pm and 7 pm until 10 pm on sea days. On port days, it doesn't close when the ship is in port.
What shows are on Anthem of the Seas?
The headliner show on Anthem of the Seas is We Will Rock You. This West End hit was written by Ben Elton and features 24 songs from the rock band Queen. There's also a show called The Gift which promises a mystical journey of fantasy and illusion using high-tech special effects and props as well as several original productions which you can only find on-board.
What time are the shows on Anthem of the Seas?
The shows are usually on twice each evening at around 7 pm and around 9 pm. This is to allow early diners to eat before a show and late diners to eat after a show.
What is a virtual balcony on Anthem of the Seas?
Anthem of the Seas has a special category of inside staterooms called 'virtual balcony staterooms'. These cabins have an 80-inch floor-to-ceiling high-definition screen which offers real-time views of the outside. A camera outside the ship is linked to the screen to display the view and there are options to turn sound effects on and off or to close a curtain across it.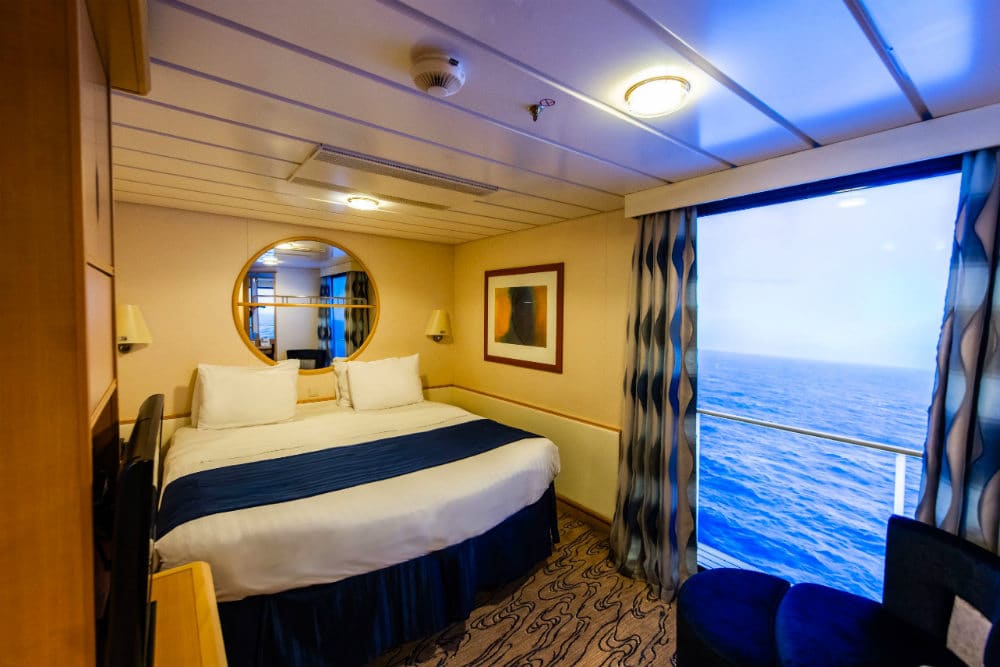 Dining
What is My Time Dining on Anthem of the Seas?
My Time Dining offers guests the choice to eat in the Main Dining Room at whatever time they like in the evening, rather than being assigned a set dining time as with traditional dining. You can make a reservation for a time of your choosing, or just turn up when you're ready to eat.
What restaurants are free on Anthem of the Seas?
Anthem of the Seas offers several complimentary dining options. These are:
The Main Dining Room – Serving multi-course menus for breakfast, lunch and dinner across four venues – Silk, Chic, Grande and American Icon Grill
Windjammer Café – Royal Caribbean's buffet restaurant is open around the clock
Solarium Bistro – Serving hearty but healthy options for breakfast and lunch
Two70 Café – Here you can enjoy toasted sandwiches, soups and salads
Café Promenade – Open 24 hours a day serving snacks, pastries, sandwiches and coffee
Sorrento's – Grab a slice from the authentic New York-style pizzeria
Dog House – Choose from a selection of poolside hot dogs with toppings
Room service – Complimentary room service is available, you just pay the delivery fee and gratuity
Coastal Kitchen – A fusion restaurant reserved exclusively for suite guests and Pinnacle members
In addition to the complimentary dining options above, Anthem of the Seas also features the following speciality restaurants which are available for a supplement:
Chef's Table – Enjoy a five-course wine pairing dinner at a 14-seat table hosted by an Executive Chef and Sommelier
Wonderland – This fantasy Alice in Wonderland-themed gourmet restaurant offers surprising dishes you've never seen before
Jamie's Italian – Enjoy a menu of rustic Italian favourites designed by celebrity chef Jamie Oliver
Chops Grille – Royal Caribbean's signature steakhouse offers steaks, seafood and sumptuous desserts
Solarium Bistro – Visit in the evening and enjoy spa-style cuisine with panoramic views of the Solarium pools and ocean sky
Izumi – Enjoy traditional Asian cuisine including sushi, sashimi and ishi-yaki
Vintages Wine Bar – Relax with a glass of wine paired with a satisfying yet light snack
Johnny Rockets – This 1950s-themed diner offers all-American favourites like burgers, fries and shakes
La Patisserie – A café-style eatery offering pastries and speciality coffees
Is there a formal night on Anthem of the Seas?
Yes. The number of formal nights varies depending on the length of the cruise:
Five nights and under – One formal night
Six to ten nights – Two formal nights
Eleven to fourteen nights – three formal nights
15+ nights – Three or four formal nights
This video explains what to wear on formal nights and in the different dining venues on-board
Itineraries
Where does Anthem of the Seas sail?
In the summer Anthem of the Seas sails out of Southampton on cruises to France, Spain, Portugal, the Canary Islands, Italy, Germany, Belgium, Holland, Norway and Denmark.
Between November and April, Anthem of the Seas sails out of Cape Liberty, New Jersey on cruises to the Bahamas and Caribbean.
What port does Anthem of the Seas sail from?
Anthem of the Seas sails from Southampton UK in the summer and Cape Liberty, New Jersey, USA in the winter.
Get the best price on your Anthem of the Seas cruise
The price you pay for your cruise will be different depending on who you book it with, even though what you get will be exactly the same.
It's generally always cheaper to use a specialist cruise travel agent that can access discounted rates.
Click here to see who's offering discounted rates on Anthem of the Seas cruises.
Of course, not all travel agents are equal in terms of the service that they provide. If you'd like to get a quote from a trusted travel agent that I've used to book multiple cruises myself, click here to get a quote.
See what we get up to on Anthem of the Seas
If you've booked a cruise on Anthem of the Seas, let me know in the comments below. You never know, I might see you on-board! You can follow my cruise adventures when I sail on Anthem over on Instagram here.
Related Posts: