A few short decades ago, cruises were very much seen as being an adults-only holiday. But now, there are plenty of family ships offering services for younger guests too. But what about the youngest guests – can babies go on cruises, or is that still a step too far?
Taking a baby on a cruise is a great idea, as long as you do your research before you travel. To save you trawling the internet looking for answers, I've collated all the most important tips and information about cruising with a baby.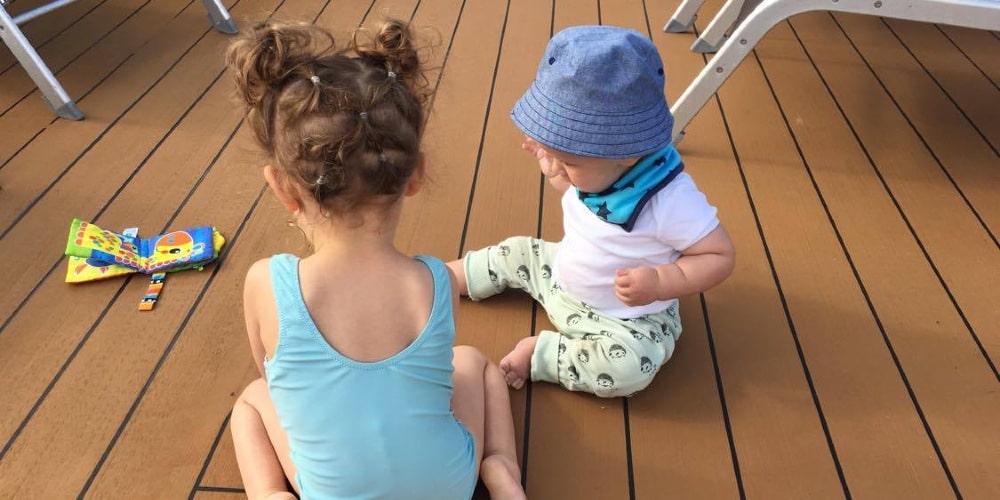 This article will help you to:
Choose the best cruise ship for your baby or toddler
Take your baby on a cruise for free
Know what baby gear to pack and what to leave at home
Make the most of your family cruise
Can You Take a Baby On a Cruise?
You can take your baby on a cruise. Most family cruise ships welcome babies from six months old. The exception to this rule is MSC Cruises, which has no minimum age for babies to sail. On certain itineraries that have a lot of consecutive days at sea, babies must be at least 12 months old to cruise.
Suggested read: How Old Do You Have to Be to Go on a Cruise?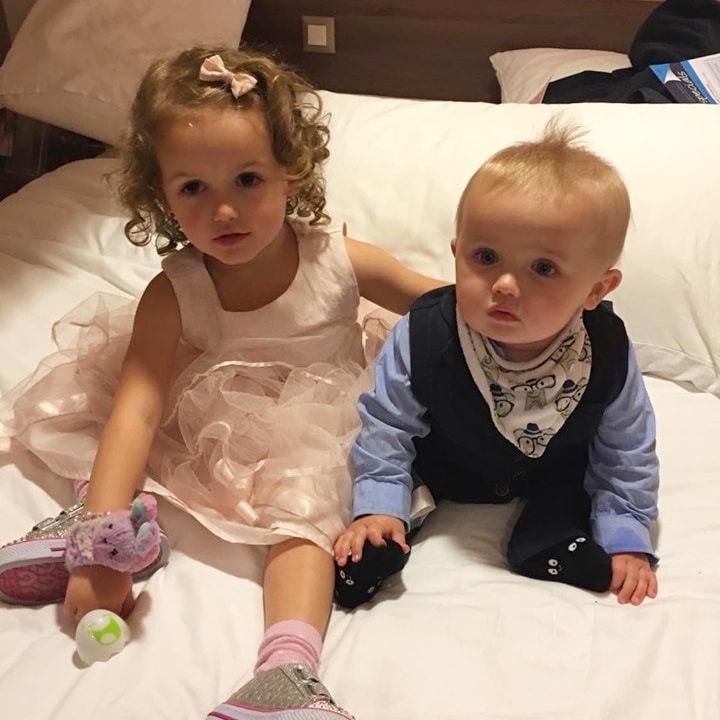 Are Cruises Baby-Friendly?
Every cruise ship is different and some are much more baby-friendly than others. You'll want to look for ships with baby-friendly facilities like travel cots, high chairs and splash areas.
A cruise is often a good option for families with babies because embarkation is easy and there are no luggage limits. However, if you have to fly to the port to join your ship, this won't apply.
I'd recommend cruising from your local port if possible. If you have to fly, take a look at these tips for flying with a baby.
The Best Cruises for Babies
The good news is that there are lots of baby-friendly cruises to choose from!
I particularly love MSC Cruises because not only do they let babies cruise for free, but they also provide baby play areas with activities, free one-hour babysitting slots for those aged 12 months and up and fantastic baby food menus.
I also love P&O Cruises because they are the only cruise line to allow babies in the swimming pools and free babysitting is available from 6 pm until 2 am.
The best cruise lines for babies are:
MSC Cruises
P&O Cruises
Royal Caribbean
Disney Cruise Line
Princess Cruises
Norwegian Cruise Line
Carnival
Cunard
Costa Cruises
Celebrity Cruises
This list is in approximate order from most to least baby-friendly out of all the cruise lines that allow children to cruise.
Cruises to Avoid with a Baby
Adult-only ships – Some cruise lines and ship are for adults only, so you can rule those out straight away
Luxury cruises – You won't find many families on the ultra-luxury cruise ships, more retired couples who may not relish the company of a baby on-board
Party cruises – There are also some sailing such as 'festivals at sea' and college spring break cruises in the US that wouldn't be a great place to take a baby
How Old Does a Baby Have to Be to Go On a Cruise?
Most cruise lines require that babies must be at least 6 months old on the first day of the cruise. For selected itineraries that visit exotic destinations or have several consecutive days at sea, babies must be 12 months or older to sail.
Can Babies Under 6 Months Go On a Cruise?
Yes! MSC Cruises has no minimum age for babies to sail and on Celestyal Cruises, the minimum age is three months. If you want to take a cruise with a baby under six months then these are the two cruise lines to consider.
Suggested read: 15 things to love about Celestyal Cruises
We cruised on MSC Preziosa when our son was six months old. We saw several babies who were much younger than him, including a teeny-tiny set of twins.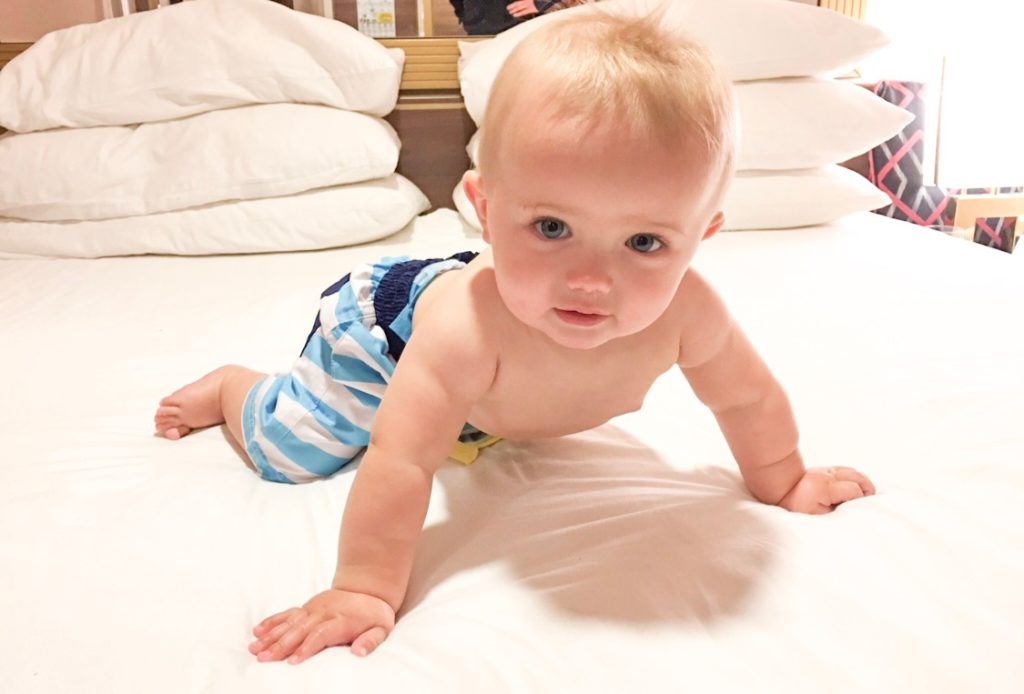 It's perfectly possible to cruise with a newborn baby. If you're planning a cruise with your first baby, you may wish to wait until your baby is born before you book anything. Your baby could have health issues, or you may take a while to recover from the birth yourself, which might mean that you need to wait a little bit longer before taking your first family cruise.
Are Babies Free On Cruises?
On most cruises, babies are not free but they do sometimes cruise at a reduced rate. Taking a baby on a cruise can cost anywhere between $50 and the full adult cruise fare.
How much you pay to bring your baby along can make a huge difference to the overall cost of your cruise.
NEW DEALS JUST RELEASED!
Don't miss these hot cruise offers…
Cruise lines where babies are free – MSC Cruises & Cunard
If you want your baby to cruise for free, choose a cruise with MSC Cruises or Cunard. These are the only two cruise lines that offer baby friendly cruises and never charge for children under two years of age, although on Cunard you will still have to pay the daily gratuities.
If you book a fly-cruise, you may be charged a small fee for a baby to sit on your lap on the plane, depending on the airline.
Cruise lines where babies aren't free…
All other cruise lines charge for babies. The exact price for babies on cruises ranges from a few dollars to the full adult fare.
P&O Cruises, Costa Cruises and Disney Cruise Line: Charge a reduced fare for babies
Royal Caribbean and Norwegian Cruise Line: Sometimes have 'Kids Sail Free' promotions, where you can bring your baby along for free. (If you book your cruise when this promotion is not on, you'll be charged the full adult fare for your baby)
Carnival, Princess Cruises and Celebrity Cruises: Always charge the full adult fare for babies
Read more: Do you have to pay for babies on cruises?
Can Babies Swim in Cruise Ship Pools?
Most cruise ships do not allow babies or toddlers who are not toilet trained to use the swimming pools or Jacuzzis on-board. However, P&O Cruises family-friendly ships do allow kids in swimming nappies to swim in designated pools. Also, some other cruise ships have splash parks where swimming nappies/diapers are permitted.
Here is a list of cruise ships that allow babies and toddlers in swimming nappies:
1. P&O Cruises
P&O Cruises allows children in swimming nappies to use the following swimming pools:
Azura – Children's pools (Aft) and the Coral Pool
Britannia – The Reef Adventure Zone and the Lido Pool
Iona & Arvia – Baby pool in the Splash Zone
Ventura – Children's pool (Aft) and the Beachcomber Pool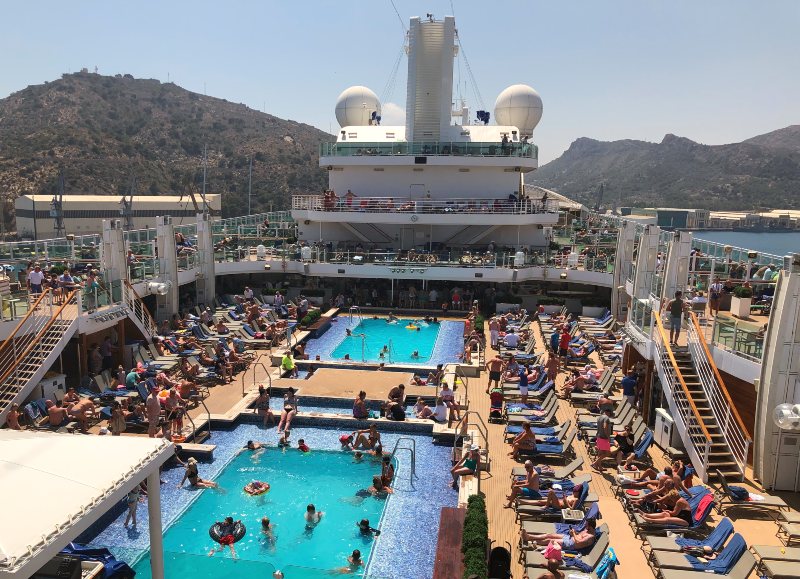 2. Royal Caribbean:
Royal Caribbean does not allow swim diapers in any of the onboard swimming pools, whirlpools or H2O Zones. However, swim diapers and nappies are allowed in Baby Splash areas which are available on the following ships:
Allure of the Seas
Anthem of the Seas
Freedom of the Seas
Harmony of the Seas
Independence of the Seas
Liberty of the Seas
Oasis of the Seas
Symphony of the Seas
Wonder of the Seas
Icon of the Seas
3. Disney Cruise Line:
Disney Cruise Line does not allow swim diapers in any of its swimming pools or spas. However, kids in swim diapers are allowed in the water play areas on each ship:
Disney Dream – Nemo's Reef
Disney Fantasy – Nemo's Reef
Disney Magic – Nephew's Splash Zone
Disney Wish – Toy Story Splash Zone
Disney Wonder – Dory's Reef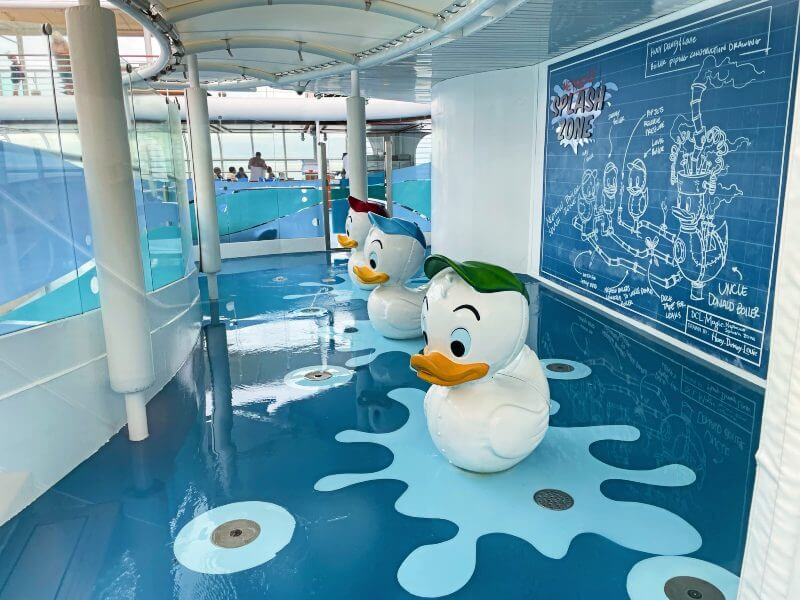 All other cruise lines including Carnival, Celebrity Cruises, Costa Cruises, Cunard, Marella and MSC Cruises, Norwegian Cruise Line and Princess Cruises do not allow babies in the water with swimming nappies.
There may be water areas, such as the water play areas on-board MSC Virtuosa or Caribbean Princess, where this rule is not policed. You may see very young children playing in the water on your cruise. However, the official line is that swimming nappies are not permitted by these cruise lines.
Which Cabin Type is Best For a Family?
Personally, I almost always choose an inside cabin when we cruise as a family. We've cruised with a baby in a toddler in an inside cabin and it was just fine.
The main reason to choose an inside cabin is cost, but they also have advantages in that they are lovely and dark at night, more private and it can be safer not to have a balcony if you're scared that your toddler might attempt to climb it.
However, there are several reasons why you might choose to upgrade to a larger cabin, a balcony stateroom or a suite when cruising with a baby…
Inside space – Your baby will sleep in a travel cot in your cabin, which will take up valuable floor space and you might not be able to open drawers or the fridge
Outside space – If you plan to spend time in your cabin while your baby is asleep then a balcony will be incredibly valuable
A bathtub – Suites often come with bathtubs as well as a shower, which can be handy
My kids loved to sleep in pushchairs so when naptime or bedtime came around we'd do a few laps of the deck and then park the pram in a shady spot. However, I recognise that not all children are the same! Some babies will only sleep in a bed. If you can relate to this then a balcony would certainly be a great investment so that you can spend naptime sitting in the sunshine rather than whispering in the dark.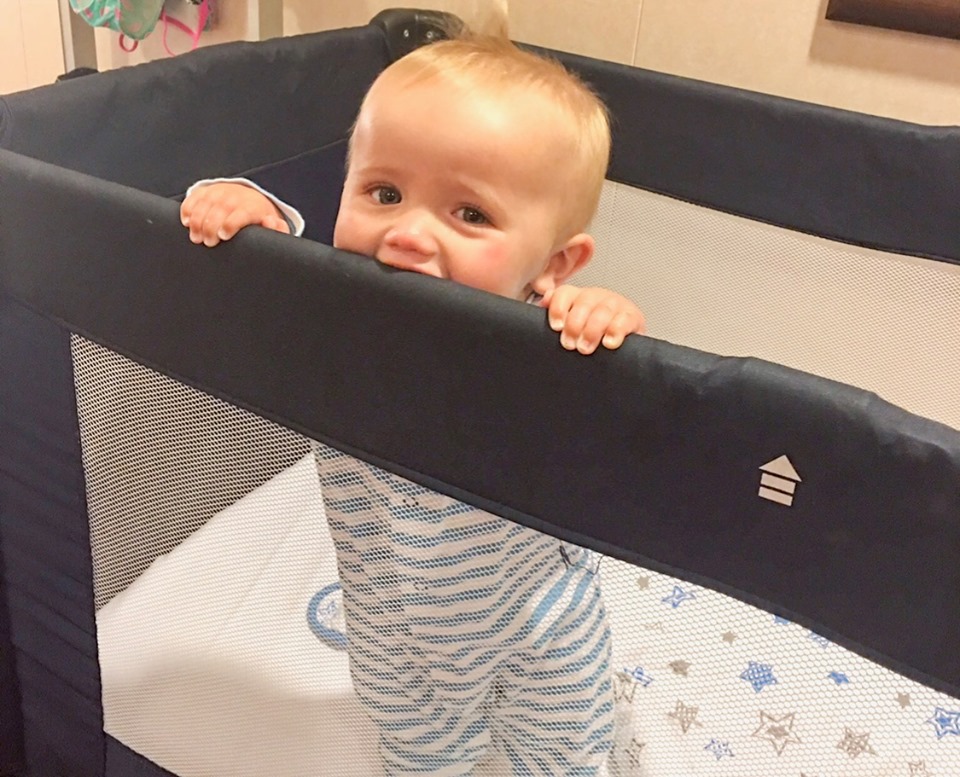 What to Pack For a Baby On a Cruise
Babies come with so much stuff, don't they? A cruise with baby luggage could easily get out of hand… Luckily, if you're able to join your cruise ship without flying, then there'll be no limits on how much you can bring.
However, just because you can bring all the baby equipment and paraphernalia you own, doesn't mean that you should. Cruise ship cabins are generally on the small side. And they'll feel even bigger if you bring too much stuff, so try to stick to the essentials.
To make it easier to know what you need to bring, what you can get on board your ship and what you can do without altogether, I've created a free printable baby cruise packing list.
Just enter your email and it will be sent straight to your inbox.
FAQs About Cruising With Babies
Here are some other questions which people often ask when planning a cruise with a baby…
Does a baby need a passport for a cruise?
Babies are treated exactly the same as adults when it comes to passport requirements. It's recommended that everyone taking a cruise has a passport. Passports are always needed for a cruise, with the exception of US citizens when taking certain cruises that begin and end at the same US port.
Do baby monitors work on cruise ships?
Baby monitors don't work very well on cruise ships because almost all of the walls on a ship are made of metal which stops the signal from passing through.

It's unlikely that you'll actually need a baby monitor on a cruise ship anyway. Chances are, you'll all be sleeping in one cabin. If you have two cabins with an adjoining door or a mini suite, you can just leave the door open, or at least ajar, and you'll be able to hear your baby should they wake up.
Can I take baby food on a cruise?
You are allowed to bring any pre-packaged food that you wish on to your cruise. However, fresh food like fruit, vegetables and homemade baby food may be confiscated.

Baby food is often provided on cruise ships. If you wish to also bring your own, you should stick to ready-made jars and pouches.

Suggested read: How to feed your baby on a cruise
Do babies get seasick on cruises?
According to a medical study on motion sickness susceptibility, it is uncommon for children under two years old to suffer from seasickness.

If your child does suffer from seasickness, remedies include acupressure bands which you can get on Amazon and eating green apples. Children's seasickness medication is usually only suitable for those ages two and over.
Related posts: