On our recent cruise on-board Royal Caribbean's Mariner of the Seas, one of the activities on-board was laser tag. My five-year-old daughter, Leonie, had never played laser tag before and was eager to try it, so we did. Read on to find out what we both thought of it…
What's Royal Caribbean laser tag like?
The laser tag arena on Mariner of the Seas is located in Studio B, which also hosts ice skating, the ice show, game shows and cooking demonstrations. Because of all the activities on at Studio B, laser tag is only available at certain times during each cruise.
The laser tag arena is an inflatable maze which sits on top of a platform in the centre of the arena, on the covered ice rink. Players are divided into two teams, robots and aliens and given a gun and a vest. Teams are allocated at random, so there's a good chance you'll be split up from your friends or family. That's fine though, even at five years old, Leonie was able to move around the maze on her own, shooting people. Staff members are on hand if anyone looks like they need help.
Laser tag video
While we played laser tag, I wore a head camera so you can see what the whole experience is like. Take a look…
Laser tag FAQs
I've answered some of the commonly asked questions about Royal Caribbean's laser tag below. If there's anything else you wish to know, please ask in the comments and I'll let you know.
Which Royal Caribbean ships have laser tag?
The Royal Caribbean ships which have laser tag are:
Mariner of the Seas
Navigator of the Seas
Independence of the Seas
Symphony of the Seas
How do you book laser tag on Royal Caribbean ships?
On our cruise, you couldn't pre-book laser tag, you just had to turn up and join the queue. We waited for about 30 minutes. The queue was through the art gallery part of the ship so we could admire the paintings whilst we waited. I'd recommend taking a drink to enjoy while you wait.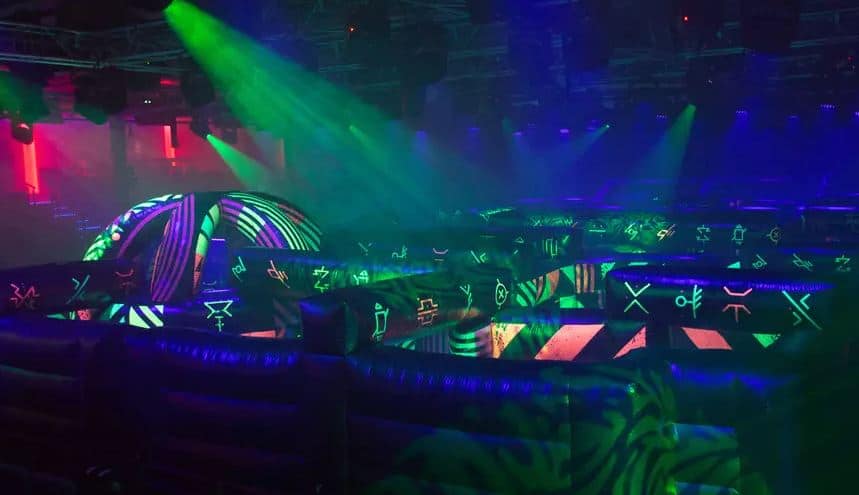 Is laser tag free on Royal Caribbean?
Yes! Laser tag is free on all Royal Caribbean ships that have it. There is no cost for this activity.
Do you need sneakers/trainers for Royal Caribbean laser tag?
The rule regarding footwear for later tag is that you must wear closed-toed shoes. If you join the queue with sandals, you'll be told about this rule so that you can change your footwear and rejoin the queue.
Is there an age limit for laser tag on Royal Caribbean cruises?
Children must be five years old or older to play laser tag There is also a height requirement of 40 inches. Young children will be asked their name, which is checked against a printed list of children's ages. There is also a measuring stick at the entrance.
How does Royal Caribbean laser tag compare to Norwegian Cruise Line laser tag?
There are a few differences between the laser tag game on Norwegian Bliss, Joy and Encore compared to Royal Caribbean laser tag.
Firstly, on NCL cruise ships, the laser tag course is a permanent outdoor feature. This means that the opening hours are much longer and you can do this activity every day, whereas on Royal Caribbean you can only do laser tag at set times when the inflatable arena is set up. As Norwegian Cruise Line's laser tag course is outdoors, you can visit in the daytime or in the dark for two different experiences. The outdoor setting does mean that it's weather dependent and the course will be closed in heavy rain or wind.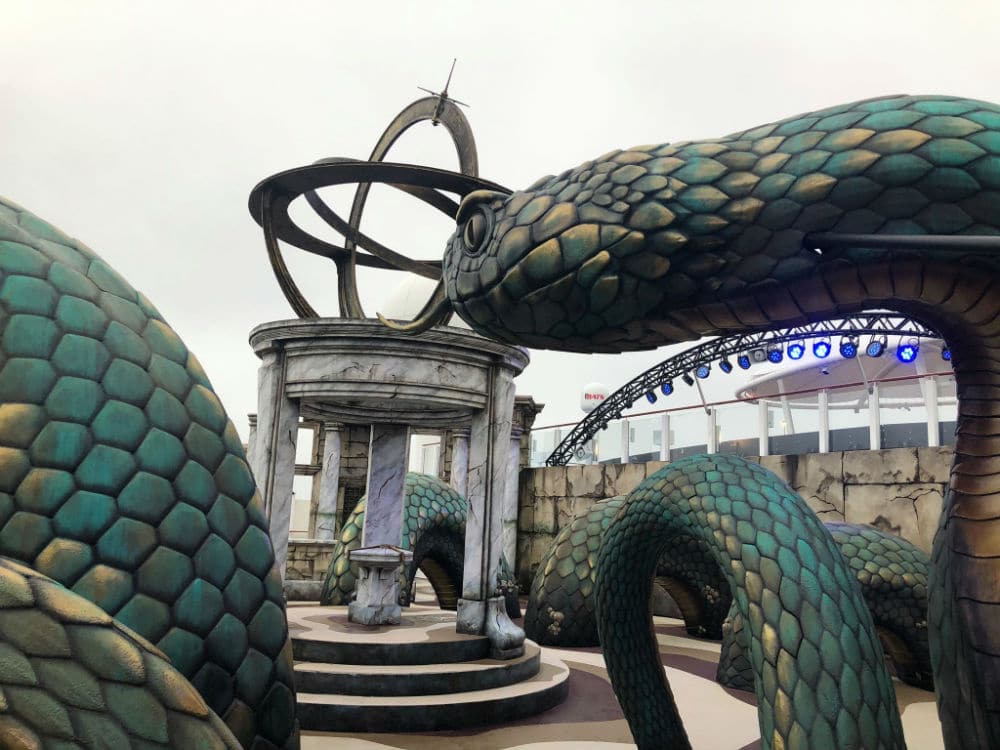 Norwegian Cruise Line doesn't have any age or height requirements. If you're strong enough to hold the gun and confident enough to play, then you can join in. On Royal Caribbean ships you must be five or over to play laser tag.
Players on NCL's laser tag course don't wear vests. Instead, you aim at the opponents gun when firing. The look and feel of the course is very different too. Royal Caribbean's laser tag is futuristic and neon, whereas NCL's laser tag is set in an ancient-style setting made of stone.
The most important difference between the two is that Royal Caribbean's laser tag is free, whereas Norwegian Cruise Line charge $9.95 for a 10-minute session. You can also buy an unlimited laser tag pass for a week for $199. This seems pretty steep, and I don't think I'd enjoy the game as much knowing that it was costing us $40 for a family of four for ten minutes.
The verdict
We loved the laser tag on Mariner of the Seas. I think it's just as exciting for adults as it is for kids and it's one of those times where you absolutely forget that you're on a ship in the middle of the ocean! If we sailed on another Royal Caribbean ship with laser tag, we would definitely do it again. A big thumbs up from us!
Related Posts: