Princess Cruises from Southampton are an incredibly popular choice for the couples and families who are booking cruises for 2021 or 2022.
Whether you've got some Princess Cruises Future Cruise Credit to spend, or are wanting to try a cruise for the first time, if you live in the UK, there's never been a better time to cruise from Southampton.
Princess Cruises certainly have one of the best offerings when it comes to cruising from the UK, but it's still important to make sure you know what to expect to make sure that this cruise line is right for you.
Read on for everything you need to know if you're thinking of booking a cruise from the UK with Princess Cruises.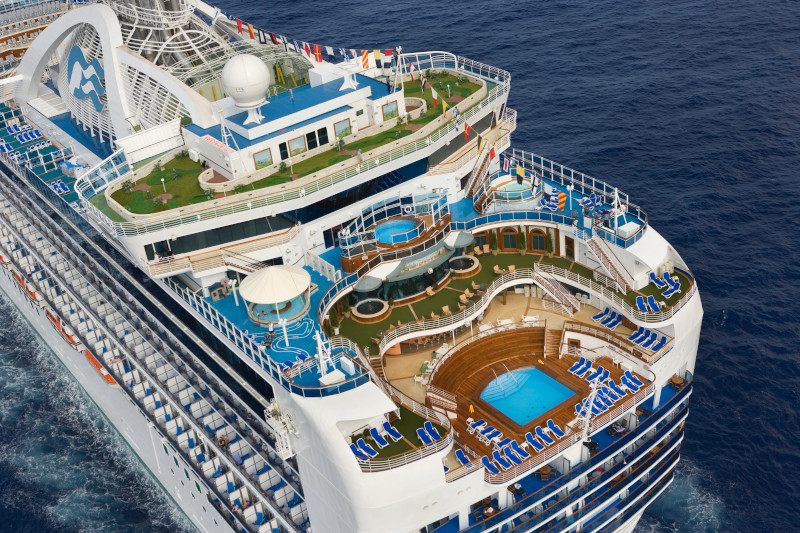 When can you cruise from Southampton with Princess Cruises?
Princess Cruises from Southampton are available for departures between March and November. The summer is generally the best time of year to cruise from the UK as the weather isn't too cold and, if you're lucky, you'll also see some sunshine.
For those cruising with kids, family cabins on school holiday cruises often fill up quickly, so you're going to want to book those in advance to avoid missing out.
Princess Cruises destinations from Southampton
The most popular cruise destinations from Southampton with Princess Cruises are:
British Isles Cruises – See the best bits of England, Scotland, Ireland and Northern Ireland on an eight- to twelve-night cruise around the UK
Norway Cruises – Sail to Alta, at the top of Norway, where you'll enjoy an overnight stay for the best chance of seeing the incredible Northern Lights
Mediterranean Cruises – Take a 14-night cruise from Southampton to Florence, Pisa, Rome, Seville and Sardinia
Baltic Cruises – Enjoy an overnight stay in St Petersburg and see iconic sights such as the Peter and Paul Fortress, Yusupov Palace and The Hermitage Museum
Canada and New England Cruises – Set sail on a 24-night roundtrip cruise from Southampton and enjoy an overnight stay in New York where you'll cruise past the Statue of Liberty
Which Princess Cruises ships go from Southampton?
There are three Princess Cruises' ships which will be cruising from Southampton in 2021. They are:
Island Princess – Cruising to various Scandinavian ports
Regal Princess – Cruising to destinations all over Europe
Sky Princess – Cruising around the British Isles and to Scandinavia
There are three Princess Cruises' ships which will be cruising from Southampton in 2021. They are:
Crown Princess – Cruising around the UK and Europe
Island Princess – Cruising to various Scandinavian ports
Sky Princess – Cruising around the Mediterranean and Scandinavia
Sky Princess is the newest and largest ship in the Princess Cruises fleet, with accommodation for 3,660 guests.
Regal Princess is another large ship, with accommodation for up to 3,560 guests. Then, there's Crown Princess which accommodates up to 3,080 guests. Island Princess is one of the smallest ships in the fleet with just 2,200 passengers, which means that this ship can access some ports that larger ships can't reach.
Why choose Princess cruises?
There are several cruise lines offering cruises from the UK, but Princess Cruises is one of the best, with wonderfully luxurious cruise experiences at reasonable prices.
Here's what you can expect on a cruise with Princess Cruises…
Entertainment
On a cruise from the UK, most passengers will be British. Despite being an American-owned cruise line, Princess Cruises do a great job of tailoring the on-board experience to make us Brits feel at home!
Princess ships feature special guest entertainers and guest speakers as part of Princess Cruises' Discovery at SEA program. Past guests have included Harry Redknapp, Eddie 'The Eagle' Edwards, John Virgo and Gareth Gates.
Outdoors, you'll be able to snuggle under a blanket and watch movies under the stars. This poolside big screen also shows premiership football, Wimbledon, international rugby and other sporting events.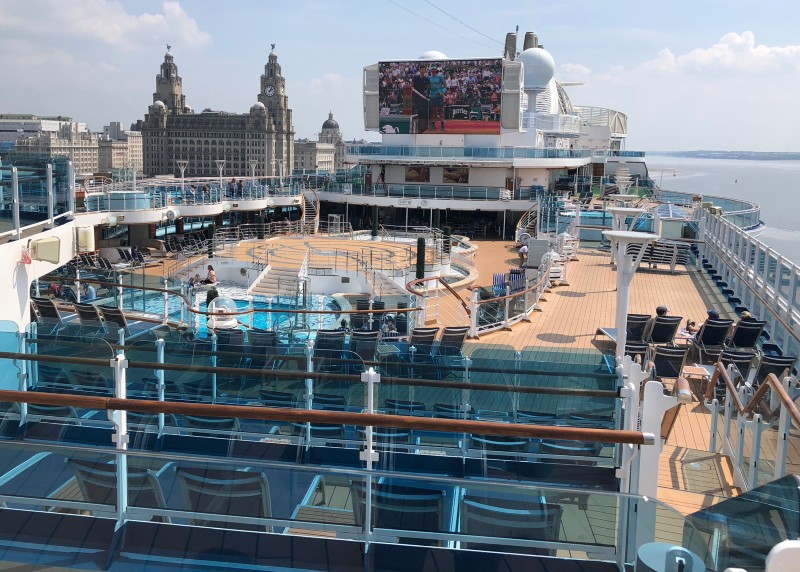 Dining
On a cruise with Princess, you can discover the unique flavours of each of the places you visit as well as enjoying some traditional home comforts.
You'll find pub lunches on sea days, classic whiskeys from Scotland and Ireland in the bars and a daily afternoon tea.
Sapphire Princess has tea and coffee making facilities in all staterooms. On other ships, you can get it free of charge via room service.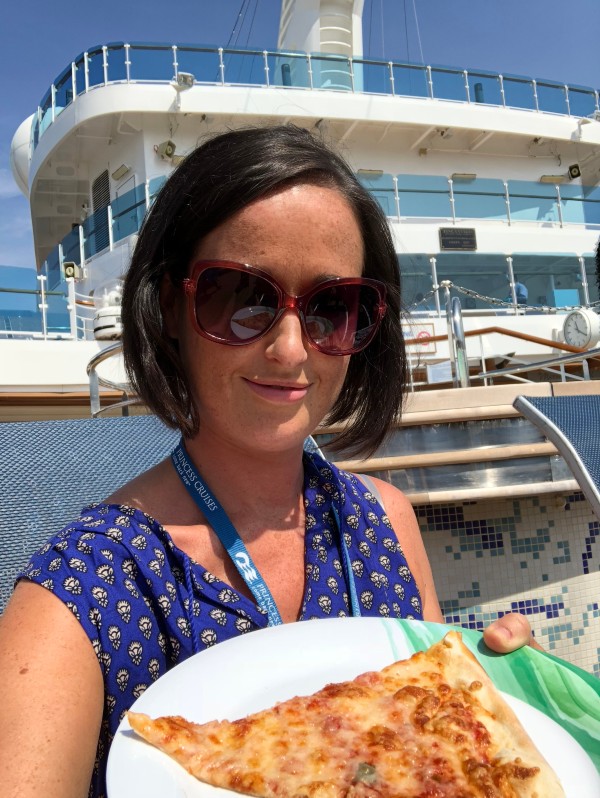 How are Princess Cruises keeping guests safe?
Princess Cruises has made many changes since 2020, developing enhanced health and safety protocols. You can expect:
Mandatory health screenings with temperature checks and questionnaires
Enhanced sanitation in embarkation terminals
Frequent cleaning of staterooms and public areas
Encouraging guests to sanitise their hands regularly
Upgraded ventilation systems and air-conditioning filters
Managing the flow of guests to enable physical distancing
A highly-trained medical team on-board
On-board rapid-response testing when necessary
Contact tracing when necessary
You can find more information on the Princess Cruises website.
Why cruise from the UK in 2021?
For Brits, cruising from the UK has always been the most convenient way to travel. However, in 2021 there are more reasons than ever to avoid flying and cruise from your home port.
Here are four reasons why a cruise from the UK is better than a fly-cruise for 2021.
1. Rearranging travel is easier
Travel plans for 2021 onwards have an increased risk of cancellation. If your cruise holiday does end up being cancelled at the last minute because of travel restrictions or ill health, then it's much easier to rearrange a cruise than to rearrange a cruise, flights, transfers and a hotel!
Princess Cruises have a 'Cruise with Confidence' policy which means that you can delay the final payment on your cruise or cancel and receive a Future Cruise Credit. You'll find more info about this on the Princess Cruises website.
2. Your holiday begins the moment you step on-board
Avoid all the hassle of airports, cramped flights and transfers to the port. As soon as you step on the ship, your holiday begins.
Checking in at a cruise port is so much quicker and easier than navigating an airport. Your luggage will be taken from you at your car and you won't see it again until you reach your cabin.
As those with young children, will testify, being able to walk from your car, straight on to the ship with no hold-ups is incredibly valuable.
3. No luggage restrictions
Princess Cruises have no luggage limits so you're free to bring as much as you like, making packing for the family so much easier.
If you're cruising with a baby, you'll be free to bring lots of things that you wouldn't be able to if you had to take a flight. Take a look at this printable baby cruise packing list to know what to bring and what you can get on the ship.
4. Enjoy a pre-cruise stay
Southampton is a fantastic place to stay for a day or two before or after your cruise. Make the most of your time with a trip to Paulton's Park (the home of Peppa Pig World), historic Stonehenge or the beautiful New Forest.
Pre-cruise stays aren't just for exotic places, you'll find lots to see and do in Southampton, Portsmouth and other nearby cities.
To conclude
British families planning a cruise for 2021 or 2022 should certainly consider Princess Cruises from Southampton. With a choice of three ships, destinations across Europe and the Mediterranean and durations from short breaks to several weeks, there's something for everyone.
I've booked my cruise for Sky Princess and I'm so excited! Email me at [email protected] or DM me on Instagram if you'd like any help with planning yours or a recommendation for a trusted travel agent.
Related posts: