This is a sponsored post by Princess Cruises.
If you're looking for a family cruise, you've probably come across Princess Cruises and may well want to know "Are Princess Cruises good for families?"
The answer is a resounding yes! My kids absolutely loved their time onboard Sky Princess, and in this guide, I'll show you exactly what you can expect if you take your children on a Princess cruise…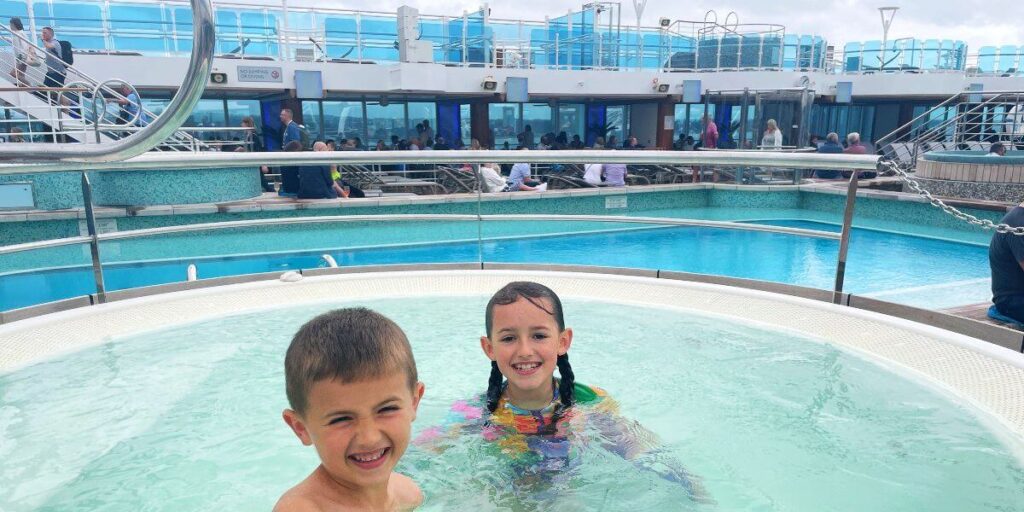 1. Fun Kids' Clubs
If you ask my kids what the best part of a cruise is, they'll say 'the kids' clubs'. And Princess Cruises has some of the best kids' clubs in the world. These are split into three distinct age groups, each focusing on the fun activities that kids and teenagers love the most.
On sea days, the kids club is open from 9 am until 10 pm with a break at lunchtime and dinner time. You don't need to book in advance, so you can just turn up whenever you want to and there's no charge.
The Treehouse for Ages 3 to 7
With its Forest theme, the Tree House is a bright and airy space where younger children can enjoy hands-on activities and free play time in the fun soft play area.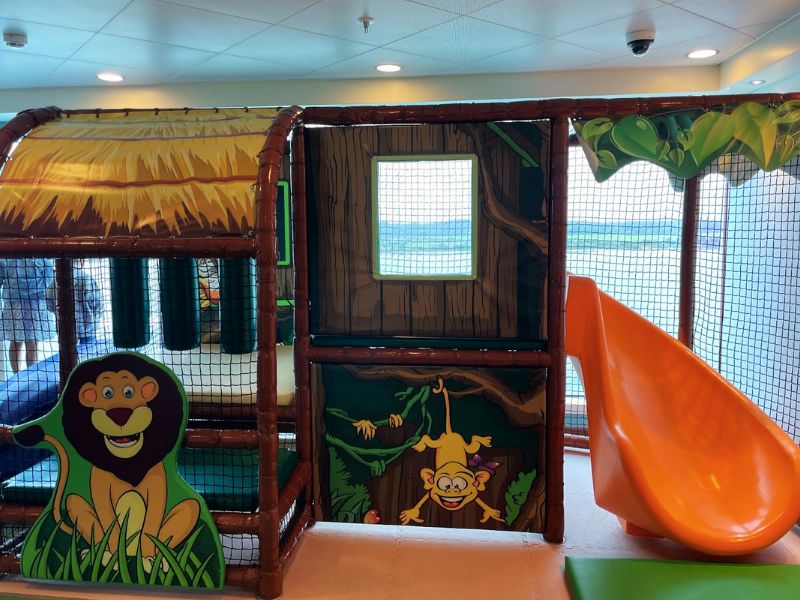 With a mix of structured activities to help kids make friends and free time to play on the games consoles, draw pictures or read books, younger kids like my six-year-old, Adam, will love this place.
The Lodge for Ages 8 to 12
Drawing inspiration from the beauty of nature, this inviting hub engages children through activities like games, dancing, and sports.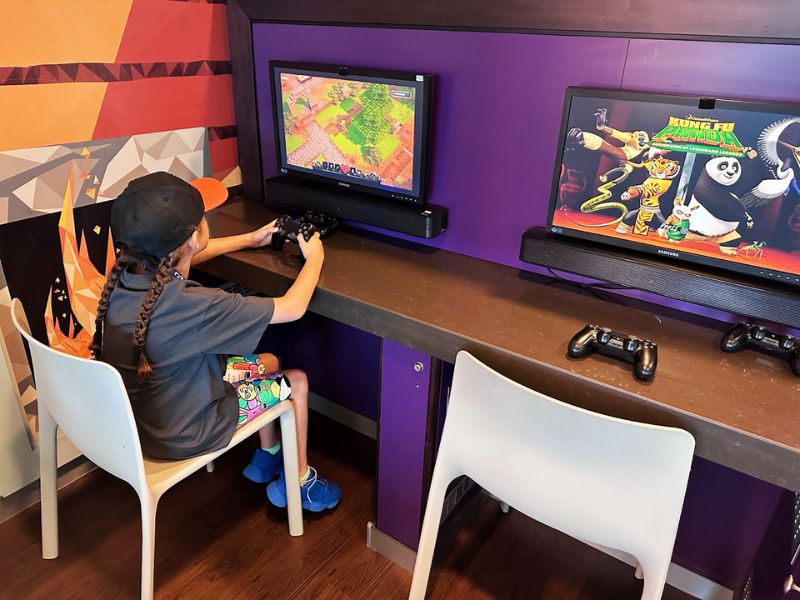 There are educational offerings from the California Science Center, such as rocket construction, star gazing and roller coaster model-making to stimulate young minds. Events like talent showcases, themed evenings, and treasure-seeking adventures foster both new friendships and family bonding. My eight-year-old Leonie loved her time at The Lodge on Sky Princess and didn't want to leave.
The Beach House for Ages 13 to 17
Princess Cruises ships have a teen lounge where teenagers can take part in organised fun or just hang out with their new friends.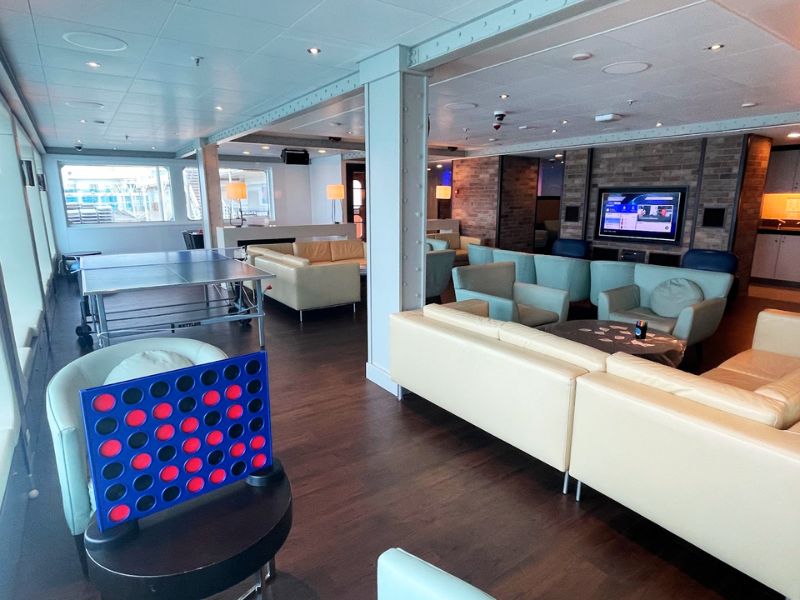 They can enjoy late-night movies, hip-hop dance classes, video game tournaments, sports competitions and so much more! There are also teen-only parties with plenty of mocktails.
There's also a babysitting service!
Princess Cruises offers group babysitting in Camp Discovery for children aged 3 to 11. So if you want to enjoy a romantic evening on the ship, see a late show or hit the casino, you can leave your children from 10 pm until 1 am. The cost is $5 per child per hour.
2. Kid-Friendly Dining
If your kids are absolute fusspots when it comes to food (like mine are), then you can rest assured that Princess Cruises has plenty of both beige and healthy options to keep them satisfied.
The World Fresh Marketplace has a kids-only section where you'll find all their favourites like chicken nuggets, sausages, chips and baked beans.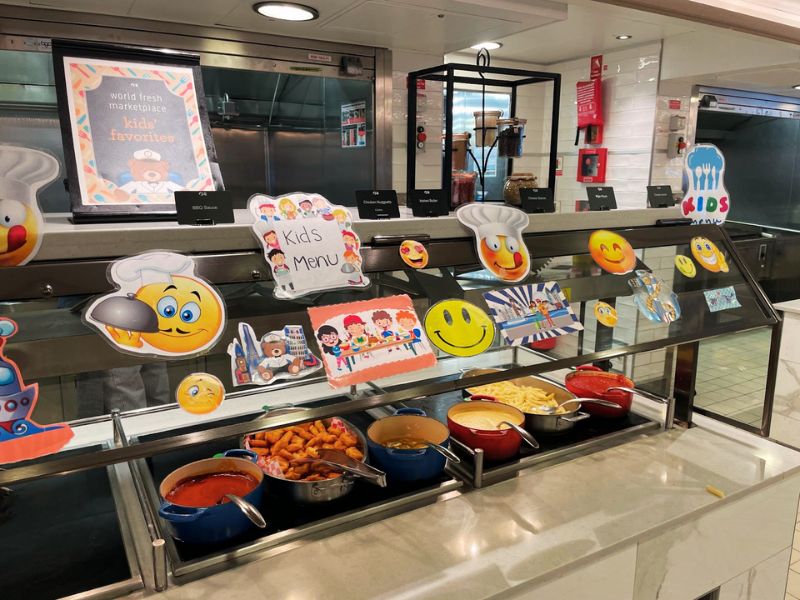 The main dining rooms have excellent children's menus, or they can, of course, eat from the adults' menu if they prefer.
If you're worried that your children won't want to sit through a lengthy three-course meal in the main dining room, you can just let your waiter know and they will accommodate your 'quick service' request. There are also plenty of high chairs and booster seats.
Another good option would be to take them to the buffet for dinner early, then drop them at the kids club while you enjoy a civilised adults-only meal in the main dining room or one of the speciality restaurants.
By the pool, you can grab pizza slices, burgers, hot dogs and fries at any time. Princess Cruises' pizza is amazing, probably the best at sea.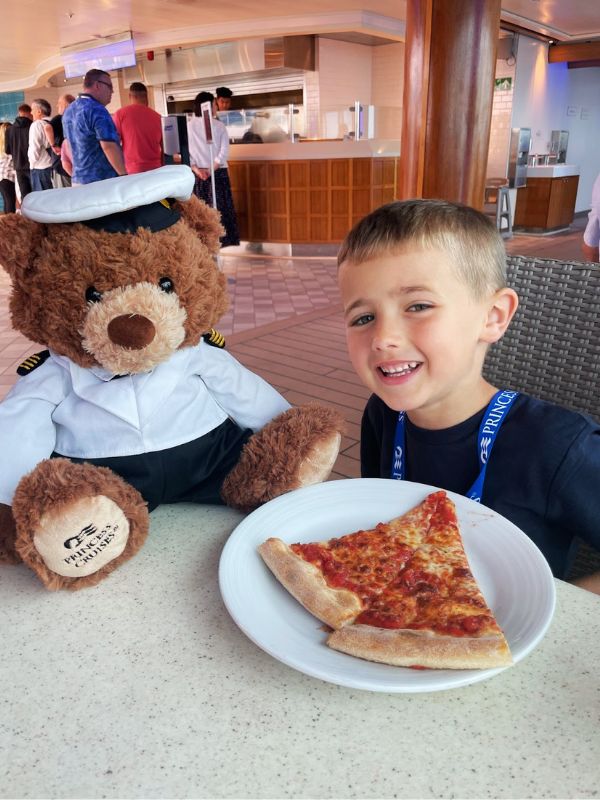 Unlike many other cruise lines, Princess Cruises offers free ice cream all day long, as well as free lemonade and chocolate milk whenever you fancy it. If you're cruising to Alaska you can also get free hot chocolates!
On selected days, your children will have the option to eat together with their friends from the kids club if they wish.
3. Exciting Entertainment
Princess Cruises offers a huge variety of entertainment throughout the day and evening.
In the daytime, there are games by the pool, street entertainers, food and cocktail demonstrations, sports tournaments like basketball and table tennis and live gameshows like Deal or No Deal.
And then in the evening, you can enjoy fantastic live music, magicians, comedians, acrobatic performances and West End-style shows in the theatre.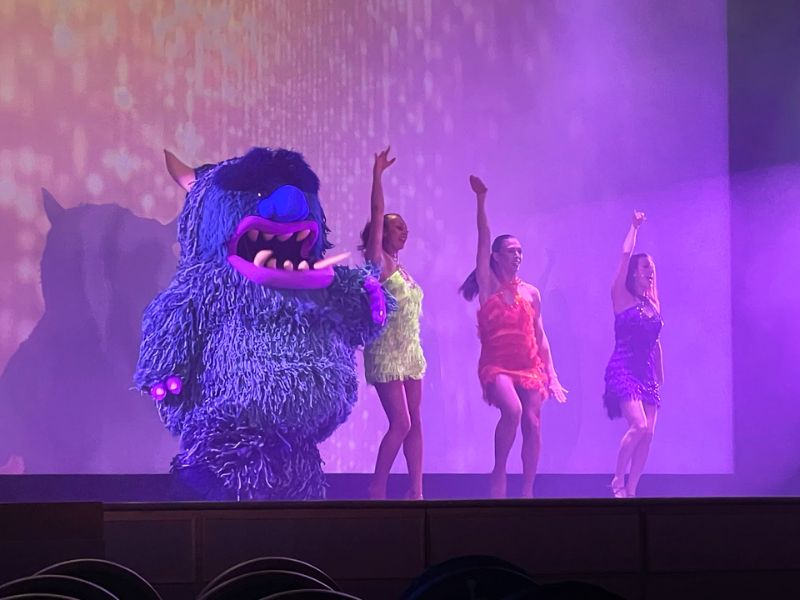 Most of the entertainment is family-friendly, and there are some in particular that kids will love. There are large movie screens by the pool and at night you can cuddle under a blanket with popcorn and watch movies under the stars.
Meet Stanley the Bear
Princess Cruises' mascot is Stanley the Bear. You'll see him regularly around the ship and Stanley bears are also available to buy in the onboard shop.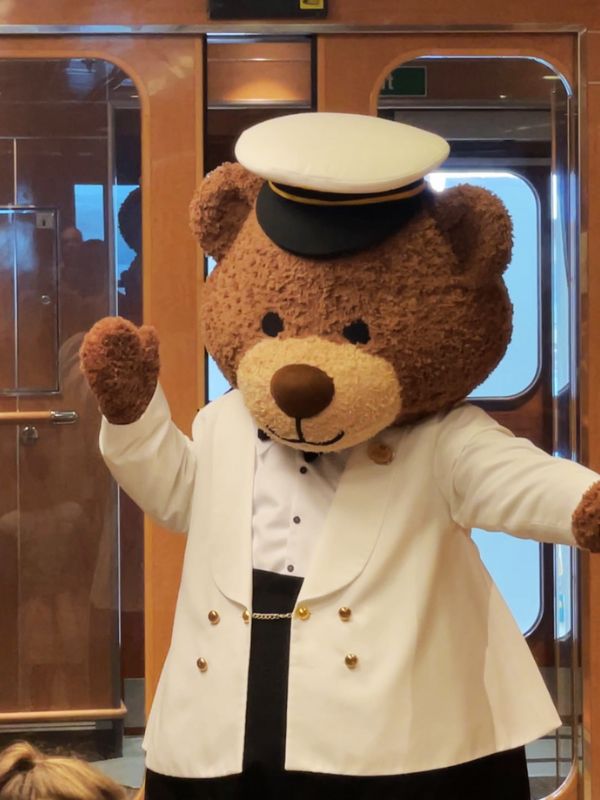 4. Sports Courts
If your kids or teens just want to play football or shoot hoops all day long, then they'll be excited to learn that most Princess Cruises ships have large sports courts. These are set up for basketball, volleyball, tennis, badminton and football.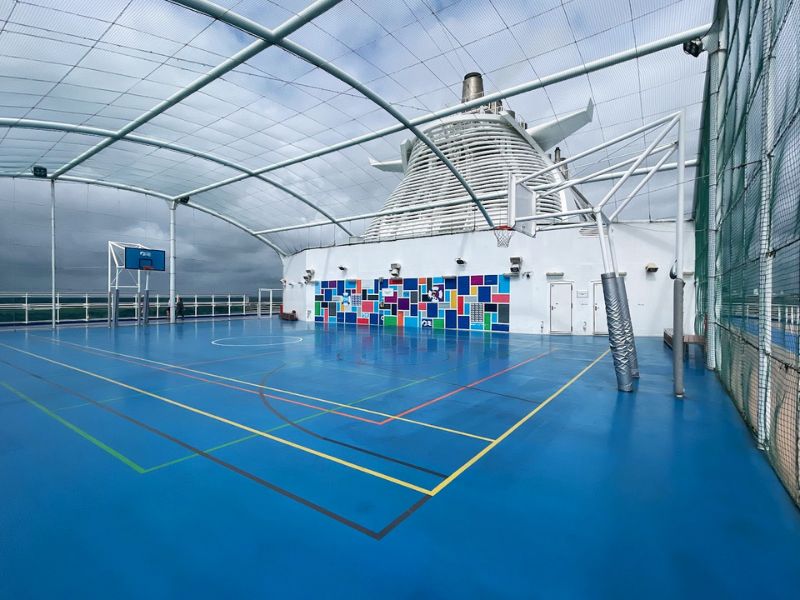 Golf enthusiasts will also enjoy the putting green and driving cages up on the top deck.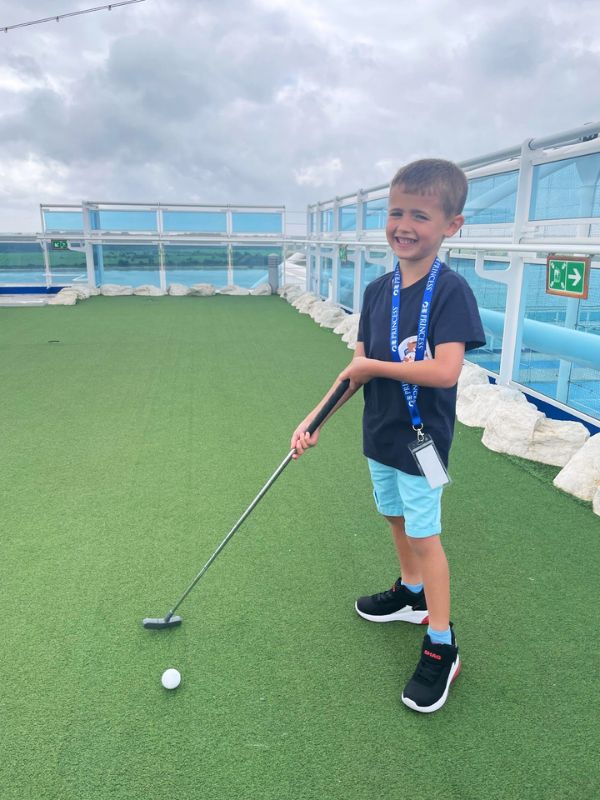 There are also games like ping pong, bean bag toss, giant foosball, quoits and shuffleboard that families can all enjoy together.
5. Medallion Technology
When you embark on a Princess Cruise, you'll receive a Medallion. This wearable device is about the size of a £2 coin and can do everything that a cruise card usually would – like open your stateroom door, charge purchases to your onboard account and scan yourself on and off the ship.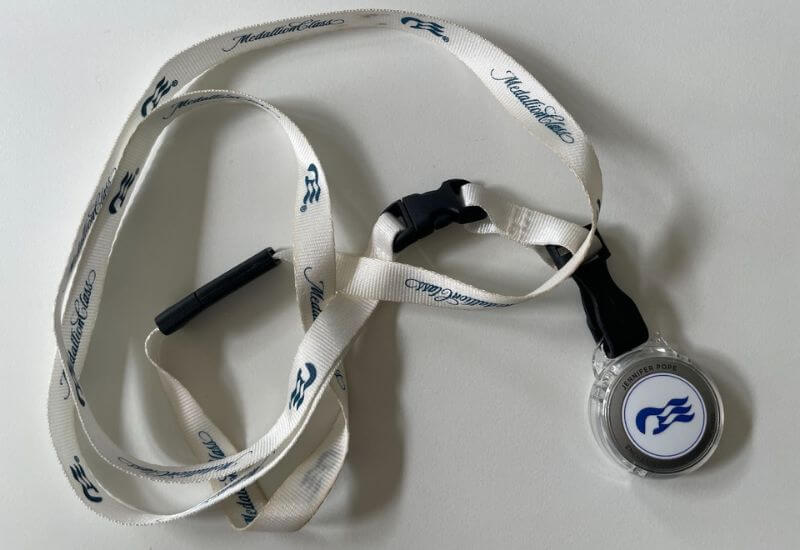 However, what's different about the Medallion is that it also has location-tracking technology. This means that parents can use the Princess Cruises app to see exactly where their kids are on the ship.
You no longer need to worry about letting your older kids roam the ship and not being able to find them, as you can easily see where they are to go and meet them.
The Medallion comes with a lanyard, but if you're worried that your kids won't want to wear it or will lose it then a clever solution is to buy one of these Medallion holder wristbands. They're technically Apple Airtag holders, but they fit the Medallion perfectly.
You can see more ways to wear your Medallion here.
6. Multiple Pools and Hot Tubs
Princess Cruises ships always have plenty of swimming pools and hot tubs providing places to cool off on a hot day or even enjoy an evening swim.
Most ships have dedicated adult pools too, so you don't need to worry about your kids splashing too much in the main pools, as adults who want to swim lengths in peace have somewhere to do that.
Splash Zones
Caribbean Princess also features the Reef Family Splash Zone, an interactive water playground with a giant shale that sprays water and lots of spray jets.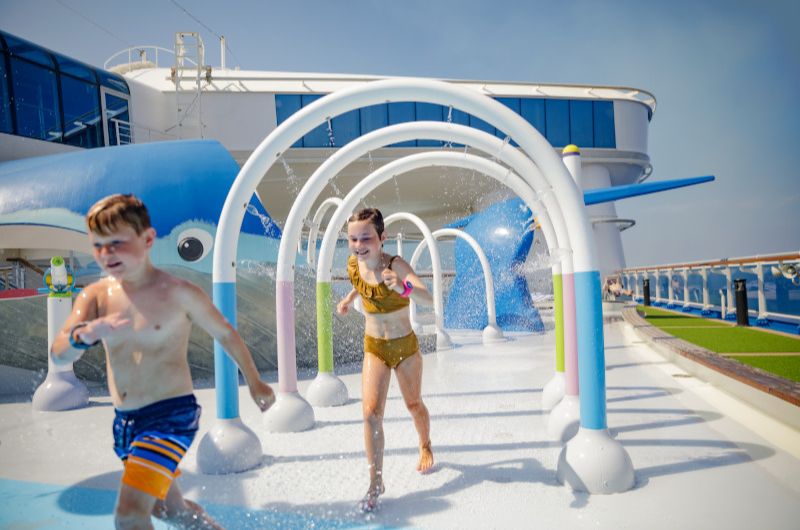 The new ship Sun Princess will also feature a splash pad with a water sculpture and spray jets at the back of the ship.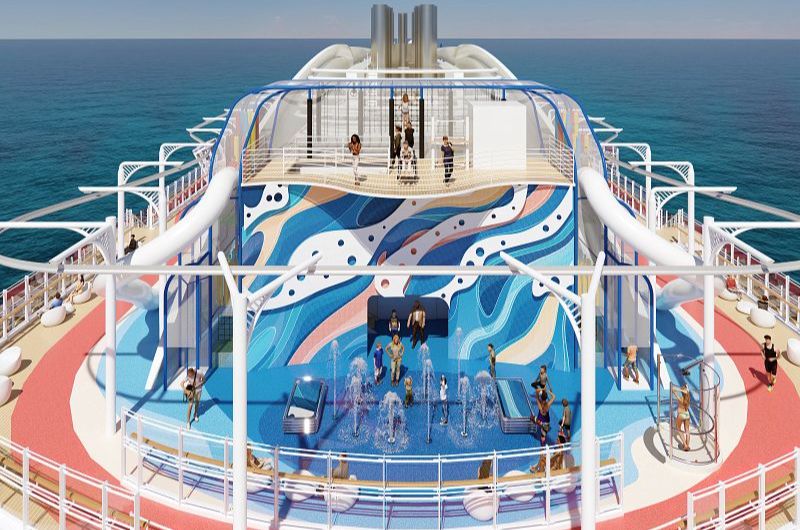 Suggested read: Princess Cruises Ships by Age – Newest to Oldest
7. Family Accommodation
Princess Cruises ships have a whole host of stateroom options to suit families of up to eight people. There are lots of staterooms that accommodate four guests, from budget-friendly inside cabins, to cabins with windows and balconies.
If you need a little more space, you can opt for one of the more spacious suites. The Family Suite comes with two bedrooms, a living area, a balcony and two bathrooms with a full bathtub.
Many cabins also have interconnecting doors, so you can book two cabins and easily go between them. This is a good option as you'll have two bathrooms and you can close the door for more privacy.
Whichever you choose, you'll enjoy comfortable beds, a spacious wardrobe, a flat-screen TV, fridge, desk with chair, safe, hairdryer and bathroom amenities.
Which Princess ships are most kid-friendly?
All Princess Cruises ships are child-friendly, but the best is set to be the new ship Sun Princess which launches in February 2024. If you can't wait until then, I'd recommend choosing one of the newer, larger ships such as Enchanted, Sky, Discovery, Majestic, Regal or Royal Princess.
Caribbean Princess is also a great option for young kids as they'll love the splash area.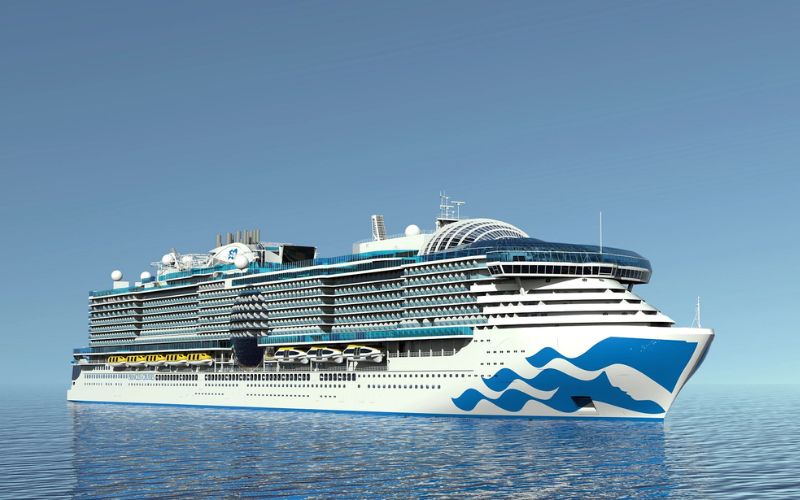 The Bottom Line
Princess Cruises offers a fantastic experience for families looking to explore the world together and create lasting memories at sea. From their diverse range of kid-friendly activities and amenities to the excellent dining options that cater to even the pickiest of eaters, there's something for everyone in the family.
The ships are designed with family comfort in mind, featuring spacious cabins and public areas where families can gather and relax. With destinations that span the globe, families have the opportunity to explore new cultures together while enjoying the conveniences and luxuries that Princess Cruises provide.
So when it comes to planning your next family holiday, don't overlook the unique and fun experiences that await you aboard a Princess cruise.
For more info, click here to visit the Princess Cruises website.
NEW DEALS JUST RELEASED!
See the latest Princess Cruises offers…
Related Posts: