I cruised on MSC Virtuosa on 24th May 2021. The cruise was the second of MSC Virtuosa's four maiden voyages, and the second cruise to depart from the UK in 14 months since the global pause.
This was such an unusual cruise as there were barely any guests on board and a lot of new requirements were in place.
In this review of MSC Virtuosa, I'll show you our cabin, the food, drinks, entertainment and onboard activities.
Whether you're hoping to cruise with MSC Cruises in the future, or are interested to see what cruising is like since the restart, I hope that you'll find this review to be informative.
Embarkation
MSC Virtuosa is one of the biggest cruise ships in the world, with a guest capacity of 6,300 passengers. However, the UK government had advised that for the first month or so, cruise ships would be allowed a maximum of 1,000 guests on board.
Cruising on a ship at less than 20% capacity was such a special experience and one that I will never forget!
Arrival time
Each guest was given an embarkation time between 11 and 4 pm and advised not to arrive at the port any earlier than your time slot. Our time was 3 pm.
As we were flying into Southampton, we landed at 12.30 pm and decided to head straight to the port to see if we could board any earlier. I expected that we'd have to wait outside, but when we arrived at 1 pm we were ushered straight inside the terminal to check-in as there were no queues.
Embarkation checks
The port staff were very thorough, checking that everybody had the correct travel insurance (which must cover both cruising and COVID-19), proof of a recent coronavirus test (or proof of vaccination) and a British passport.
Next, we had another coronavirus test which was quick and easy. The lady handed me the swab and watched as I swirled it around a single nostril.
We sat and waited for around 30 minutes for the results, then we were allowed to board. While we were waiting, we were each given a maiden voyage pin, which was a lovely touch.
As there were so few people boarding, check-in was much faster than normal, even with the extra checks.
Accommodation
We booked the cheapest cabin on MSC Virtuosa, which was a twin inside Bella cabin towards the front of Deck 12.
Suggested read: MSC Bella Vs Fantastica Vs Aurea: Which to choose?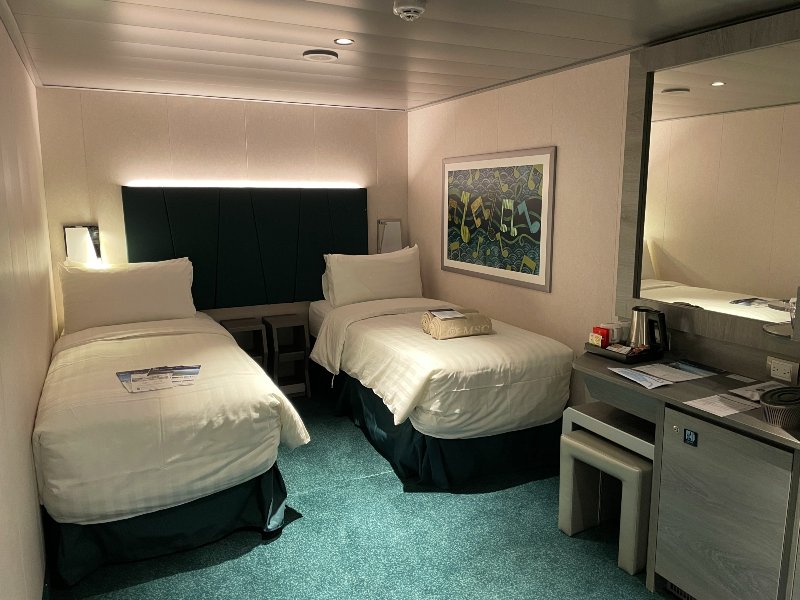 I took this cruise with my mum, but I have another booked on the same ship for August 2021, when I'll be bringing my husband and kids in a four-berth Fantastica balcony cabin.
I was excited to see that the room was the largest inside stateroom I'd ever seen! At 175 square feet, it was 20% bigger than the four-berth inside cabin we'd stayed in on MSC Preziosa previously.
Suggested read: MSC Virtuosa Inside Cabin Review
Cabins on MSC Virtuosa include the following amenities:
Huge LCD TV
Telephone
Electronic safe
Mini-bar
Hairdryer
ZOE virtual assistant
Shampoo, shower gel and hand soap
Bath towels and pool towels
Bathroom with shower
Wardrobe
Desk with chair
Four mirrors – Over the desk, full length, bathroom and magnifying
Minibar
On MSC Cruises, the minibar isn't included in the standard drinks package, although you do get it for free if you upgrade to the Premium Plus package or stay in a Yacht Club stateroom. You can ask your stateroom attendant to empty the minibar if you wish.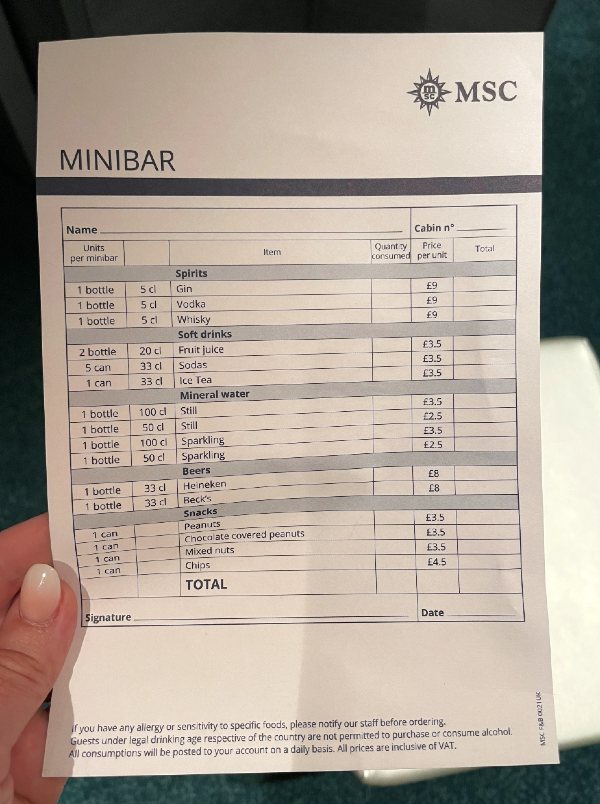 Sockets
Cabins on MSC Virtuosa have two European sockets, two US sockets and four USB sockets.
If your gadgets have UK plugs you'll need to bring adaptors. If you forget, you can borrow some from guest services for a refundable £30 deposit.
Storage
There was plenty of storage for two people for a cruise of up to a week with a double wardrobe, two drawers, a desk drawer and small bedside tables.
For longer cruises or if you are cruising as a family, you may require a little more storage so it would be wise to bring an over door organiser. You can buy these on Amazon.
Food
MSC Cruises doesn't necessarily have the best reputation for food, but I found the food on MSC Virtuosa to be fantastic, both in the Main Dining Room and in the Marketplace Buffet.
The ship also has five speciality restaurants which are available for an extra fee. We didn't try those as we were more than happy with the included dining options.
MSC Virtuosa restaurants:
Main Dining Rooms (included)
Marketplace Buffet (included)
Indochine Restaurant – French-Vietnamese
Hola! – Latin American and Mexican
Kaito Teppanyaki – Asian show cooking
Kaito Sushi – Japanese
Butcher's Cut – American steakhouse
The photo below shows the cost of the speciality dining packages. However, you could just choose one restaurant if that's all you want, and some of them also had a la carte pricing.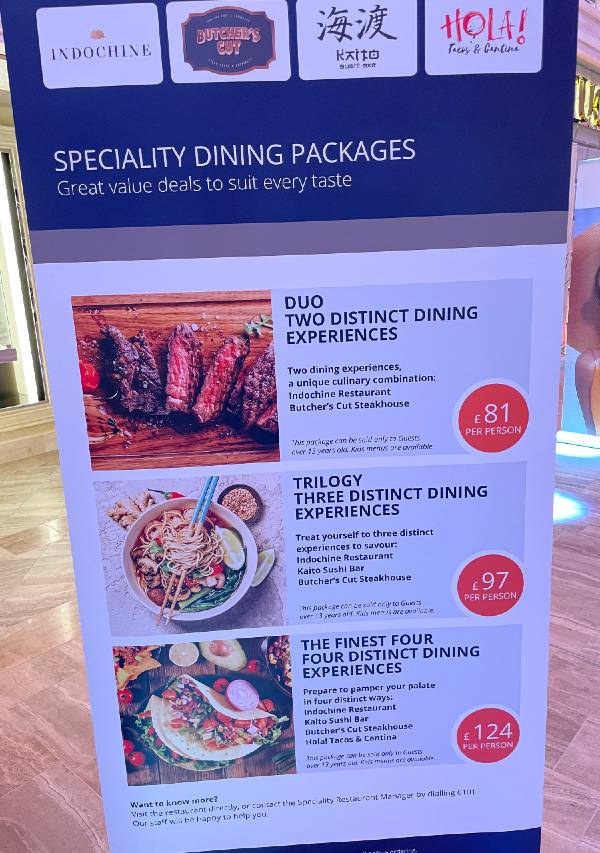 Being vegan, I only tried the vegan food. However, my mum tried many of the meat, fish and vegetarian options and was pleased with all of them.
Suggested read: Eating vegan on MSC Cruises
Menus
The main dining room menus and buffet menus change every day. There's also a kids' menu which is the same throughout the cruise and includes a section for baby food.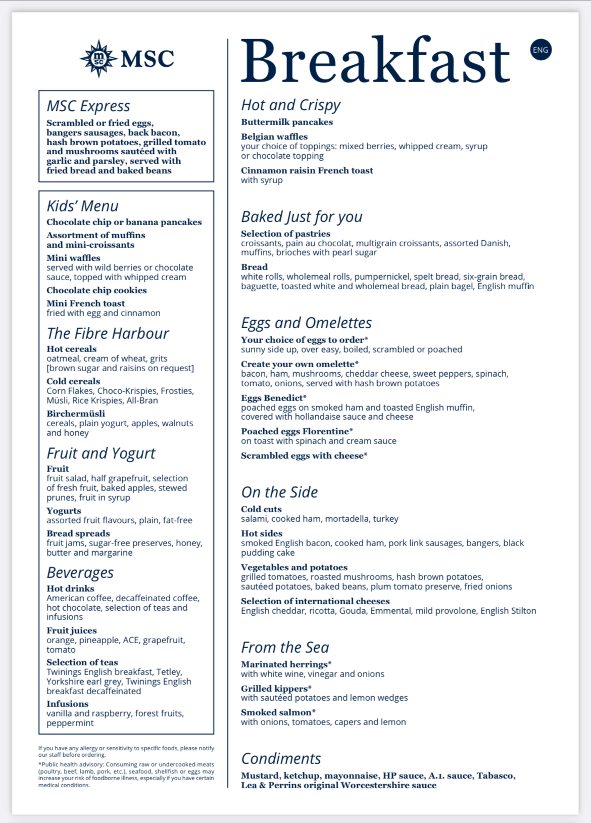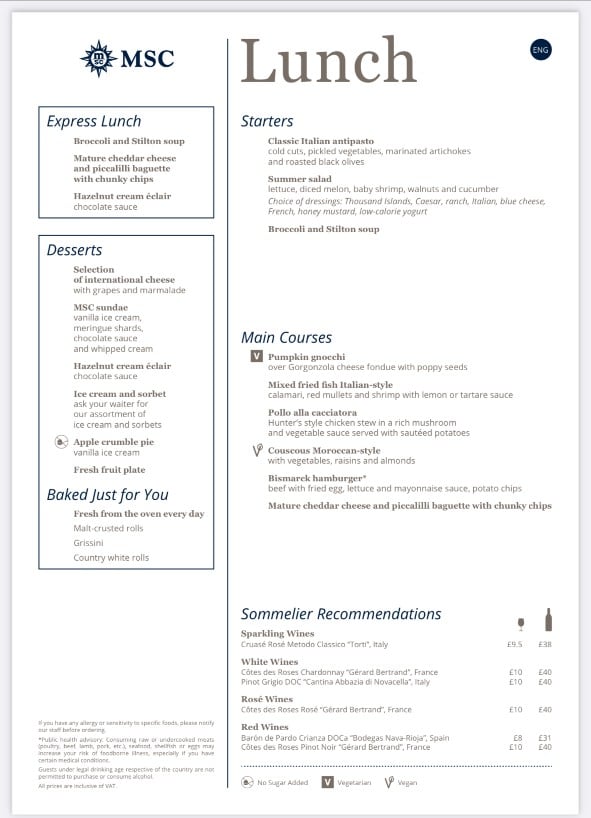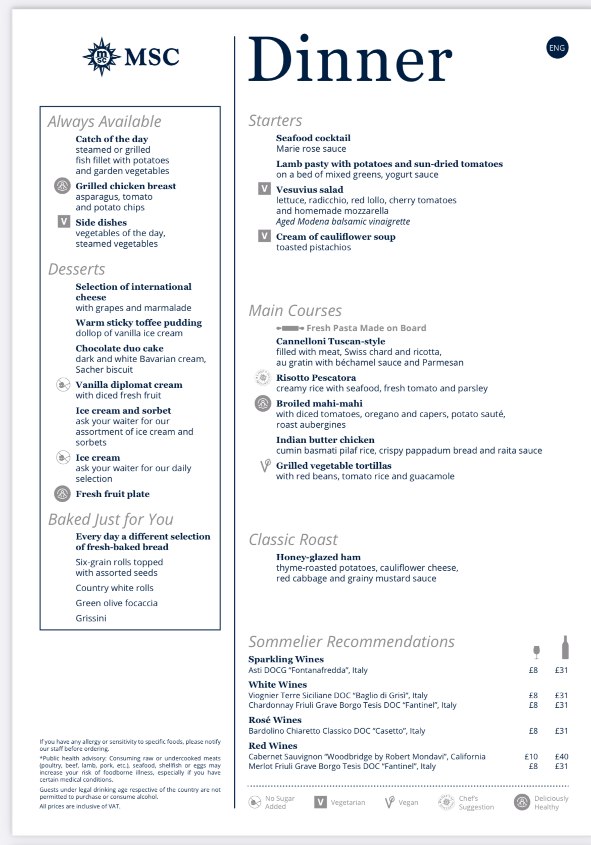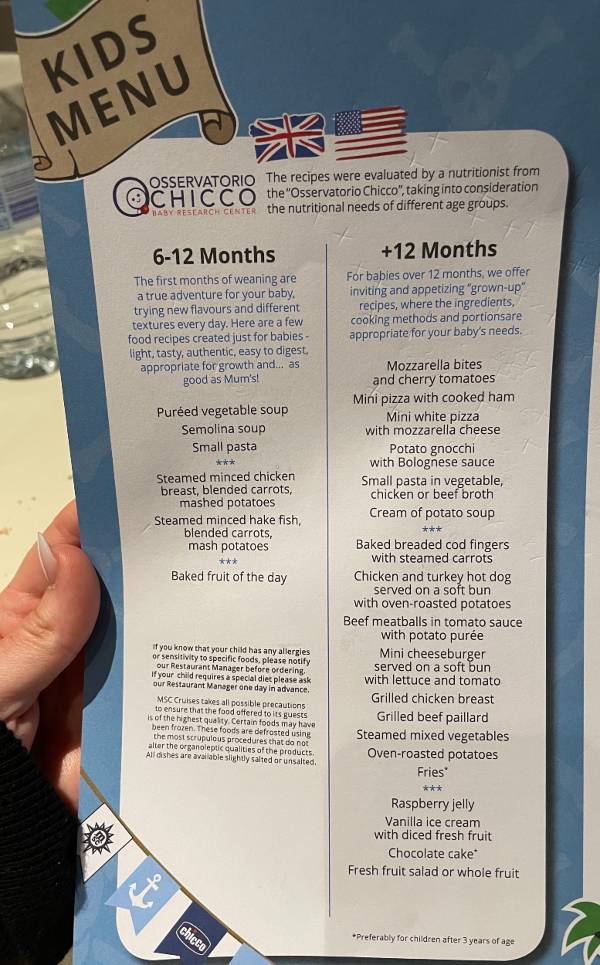 In the Marketplace buffet, there was a fantastic selection of dishes from around the world. Breakfast was the same every day, but it was always different at lunch and dinner.
The buffet is open for 20 hours each day. Between meals, there are snacks available and you can almost always get freshly-baked pizza.
Health precautions in the restaurants
Before entering any restaurant, we had our temperature checked with a forehead thermometer. This was very quick and easy.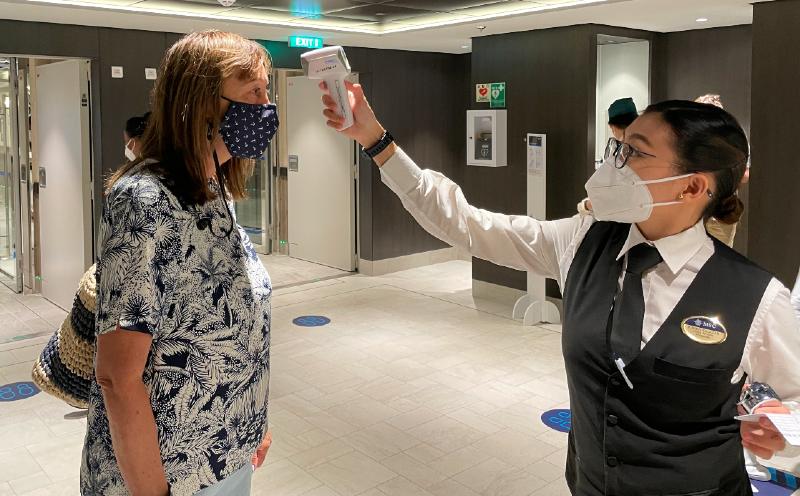 To prevent any transmission of viruses in the buffet restaurant, all of the food was behind perspex screens. You simply ask the server for what you would like and they hand it to you on a small plate.
This does mean that you end up with several small plates on your tray, but you can easily transfer the food to one plate when you sit down, or treat it like tapas if you prefer!
Some tables are to be kept empty for social distancing and these are labelled so you know where you can and can't sit.
While MSC Cruises usually offers set dining times with an early and late sitting, on this cruise we could arrive at the restaurant at any time, which was great!
Instead of menus, you can use your phone to scan a QR code and read the menu online. If you're not tech-savvy, don't worry – you can request a disposable paper menu instead.
Drinks
Every passenger on our cruise received an all-inclusive drinks package which entitles you to unlimited drinks up to £10 each in value.
If you like certain drinks that aren't included in the package such as Champagne or cocktails that cost more than £10, you can upgrade your drinks package.
Suggested read: MSC Drink Packages (2021 onwards)
Having a drinks package on your cruise is a great way to relax. Whenever I have one I like to try drinks that I would never usually order to see if I like them.
If you're unsure as to whether the MSC drinks package is worth it, you can use my free calculator tool to work it out. You just enter how many drinks you would have on an average day and it will calculate your bar bill with and without the package.
The glasses of wine were very small at around 125ml. If I have paid £9 for that I would be very disappointed, but with the package, it didn't matter as I could just order another.
Top tip: If you have a drinks package, as for freshly-squeezed orange juice and fancy coffees – they're included and so much nicer than the standard ones.
For more information about drinks on MSC Cruises, take a look at my MSC drinks package guide and my photos of MSC drink menus from MSC Virtuosa.
MSC Cruises has a robot bartender called Rob who serves drinks in the Starship Club. These weren't included in the drinks package and cost £18 each for alcoholic cocktails or £10 for non-alcoholic.
I thought was rather steep so I didn't order one and I never saw anyone else order one either.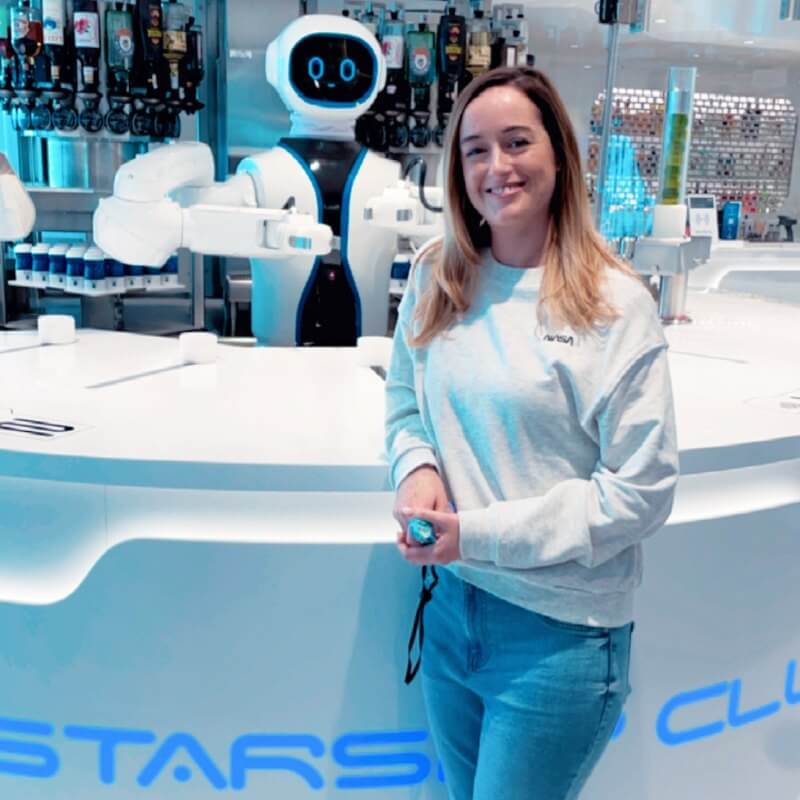 Activities
MSC Virtuosa has so many activities for families to enjoy. Some of these are included in your cruise fare and some cost extra.
NEW DEALS JUST RELEASED!
Don't miss the latest MSC Cruises offers…
While some people may not like the extra charges, I'm in favour of them. It makes the cruise cheaper for those who don't wish to take part, and makes any queues smaller for those who do!
Free activities on MSC Virtuosa
Swimming pools (2 outdoors and 1 indoors)
Hot tubs (4 outdoors and 4 indoors)
Waterpark with slides
High ropes course
Kids' clubs
Theatre shows
Sports courts
Paid activities on MSC Virtuosa
F1 simulators (£12)
Bowling (£25 for 30 mins or £35 for 60 mins +£2 for shoes)
Arcade games (£2)
Virtual reality games (£12 for 5 mins)
Interactive cinema (£10 adults, £8 kids)
Spa
Casino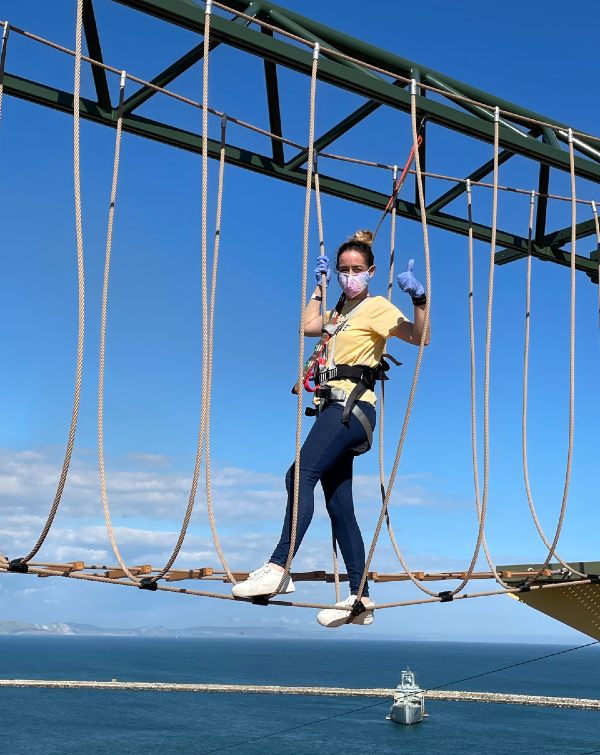 If you want to try a few of the paid activities you can buy a Fun Pass which makes things a little cheaper. This can also be a good way to limit the amount that your teenage kids might spend in the arcades when you're not looking.
MSC Cruises Fun Pass prices:
Spend £25 – Get £5 free (£30 value)
Spend £50 – Get £10 free (£60 value)
Spend £70 – Get £20 free (£90 value)
Spend £100 – Get £40 free (£140 value)
Spend £150 – Get £70 free (£220 value)
I didn't get a Fun Pass, but Sanna from VeganCruiser.co.uk has advised me that if you book it in advance you get better value. If you pay £72 to buy a Fun Pass on the MSC Cruises Planner before your cruise you'll get £140 to spend.
Some of the activities on MSC Virtuosa have height and age restrictions (see table below).
Children who are not toilet trained or are wearing nappies are not permitted to use any of the pools or hot tubs on MSC cruise ships. This includes entrance to the waterpark so they cannot cool off under the water sprays.
This is certainly something that parents of babies and toddlers need to be aware of on warm-weather cruises. If I were cruising with a toddler in the summer I'd probably prefer a ship like P&O Britannia or one of the Royal Caribbean ships where little ones can cool off in a splash area while wearing a swimming nappy.
Suggested read: Taking a baby on a cruise ship? Read this first!
| Activity | Minimum Height |
| --- | --- |
| VR Arena | 90 cm |
| Aqua Tube & Constrictor Slides | 107 cm (7 years+) |
| Cinema | 110 cm |
| Space Bowl Slide | 122 cm (7 years+) |
| Himalayan Bridge Ropes Course | 122 cm |
| Formula Racer | 140 cm |
My favourite thing to do was to swim in the pools and sit in the hot tubs. They were all lovely and warm and even on a cool day it was possible to swim outside as the water was heated to 28°C (82°F).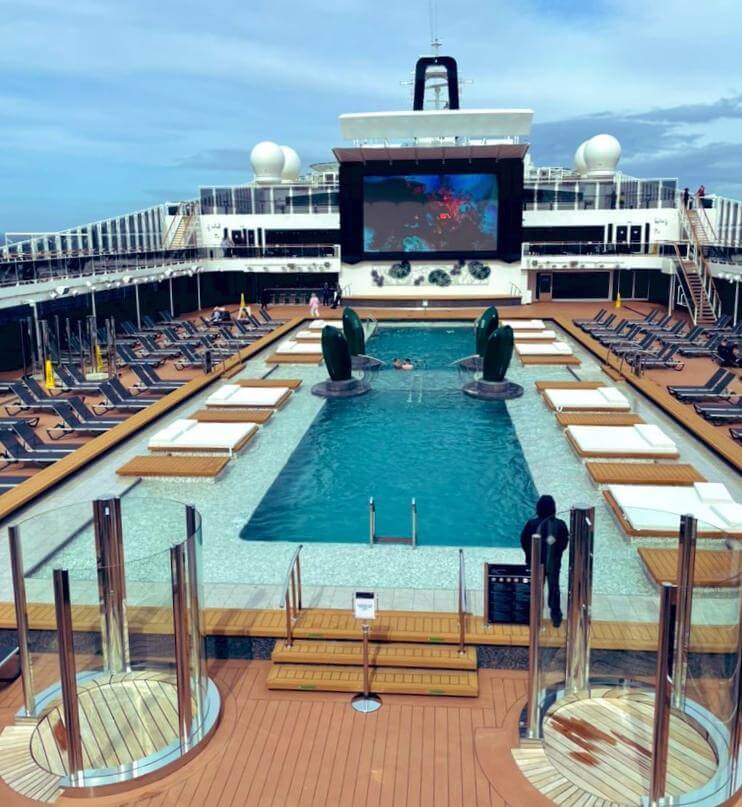 Entertainment
There are two main entertainment venues on MSC Virtuosa – The Broadway Theatre and The Carousel Lounge.
In the theatre, there was a different musical show every night and they were all fantastic! Seats were left free for distancing and we didn't have to wear masks when sitting down, although many people opted to keep them on.
In the Carousel Lounge, we saw a comedian called Rikki Jay and a trio called the Soul Sisters. They each had multiple shows throughout the cruise but we didn't feel the need to return more than once!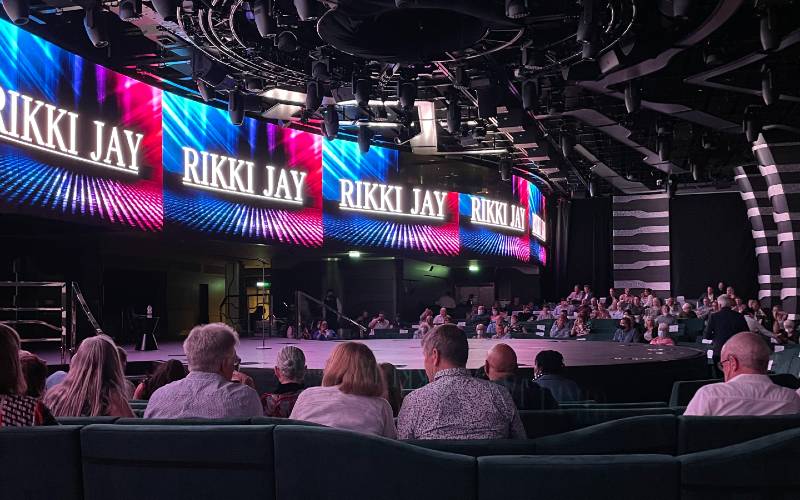 As well as these venues, there was live music on in lots of different places around the ship.
On Deck 6 and 7 is the Galleria Virtuosa promenade with its 96-metre LED ceiling. The ceiling was different every time we visited and was truly a work of art. All along the promenade were shops, speciality restaurants and bars.
Itinerary
This cruise departed from Southampton and cruised around the English Channel for four nights. There was a stop at Portland in Dorset on day three.
As per government requirements, passengers were only allowed off the ship in Portland if they were booked onto an official cruise line excursion. I thought that these excursions were pretty expensive at around £50 per person for a coach trip, so we stayed on the ship, as did most people.
Our next MSC Virtuosa cruise departs from Liverpool in August and calls at Greenock, Belfast, Southampton and Portland. I'm hoping that by then, excursions won't be required or may be cheaper.
If they're not, we'll gladly stay on the ship as there's so much to enjoy on board.
Would I recommend MSC Cruises?
I would recommend MSC Cruises to anyone – families, groups of friends, couples and solo travellers.
MSC Cruises is currently the only major cruise line not to require adults to be fully vaccinated to be allowed to cruise. It's also one of the cheapest options, especially when you consider that drinks and tips are included, where they may not be on other cruise ships.
Suggested read: How much does a cruise cost?
Our cruise cost less than £100 per person, per night and honestly, we could have spent more than that on just the drinks if we would have had to pay for them!
Suggested read: Why Are MSC Cruises So Cheap?
While I like to cruise as cheaply as possible (so that I can cruise more often), I recognise that many people have the budget to enjoy a luxury experience.
MSC Cruises is perfect for this too, as you can book a suite in the Yacht Club and enjoy perks such as butler service, access to the Top Sail Lounge, the exclusive One Pool Deck and dining in a dedicated restaurant.
NEW DEALS JUST RELEASED!
Don't miss the latest MSC Cruises offers…
Related posts: