As a vegan, I've found that cruises are the best holidays because you can be sure that there will be lots of delicious vegan food to enjoy on the ship.
However, while many cruise lines have dedicated vegan menus in the main dining rooms and vegan food labelling in the buffet, this isn't the case with MSC Cruises.
So, can you eat vegan on MSC Cruises? I've cruised on MSC Virtuosa before. Read on to find out what I thought of the vegan options, as well as some tips to make cruelty-free cruising a little easier…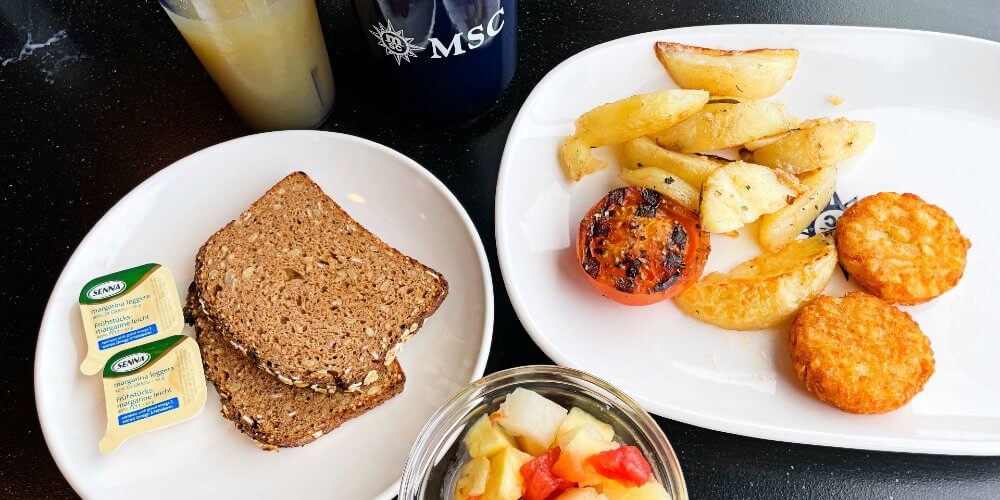 Can You Eat Vegan on MSC Cruises?
Despite the lack of a vegan menu, you can eat vegan on MSC Cruises. There are always vegan options available, you'll just need to do a little extra planning to make sure that you're catered for.
Dining Options on MSC Cruises
Like most cruise ships, MSC Cruises' ships have three dining options:
Main Dining Rooms – Open for breakfast, lunch and dinner, here you can enjoy three-course sit down meals in elegant surroundings.
Buffet – A casual self-service restaurant that's open around the clock for meals and snacks
Speciality Restaurants – For an extra charge, you may opt to dine in a special restaurant such as Japanese or Mexican
Booking an MSC Cruise as a Vegan
When I booked my cruise, I advised my travel agent that I was vegan and he added a note to the booking. This is always a good thing to do with any dietary requirements or other special requests.
NEW DEALS JUST RELEASED!
Don't miss the latest MSC Cruises offers…
After booking, I called MSC customer services to ask about vegan dining on board and see if there was anything that I needed to know. The lady that I spoke to was very polite but advised me that vegan isn't one of the special diets that MSC Cruises caters for.
True enough, on the special diets page of the MSC website, it mentions vegetarian, kosher, halal and gluten-free, but not vegan.
The representative from MSC said that she was vegan herself, and had cruised with MSC, but that vegans were not well-catered for. This set alarm bells ringing a little. But, I know of other vegans such as Sanna from VeganCruiser.co.uk who have cruised with MSC and had a great time, so I wasn't too worried. That had to feed me, right?
I boarded the ship, keen to see if the food would be as amazing as I hoped, or if I would have to survive on bread rolls and salad for four days.
As it turns out, the food was very good. But I did get some advice from a waiter on the last night that I wish I'd have known from day one! (More on that later in this post)
Meeting With a Chef?
When I've cruised with other cruise lines such as P&O Cruises, even as a vegetarian, I've been invited to meet with a chef on the first day of the cruise to discuss my dietary requirements and make sure that I was well catered for.
MSC Cruises didn't offer any such option, so I was left to my own devices to discover how the vegan dining worked on the ship.
Vegan Options in the Main Dining Rooms
The main dining rooms on MSC Cruises are open for breakfast, lunch and dinner. However, many people (myself included) like to head to the buffet for breakfast and lunch, eating in the somewhat formal setting of the main dining room (MDR) only for dinner.
Breakfast Menu
In the main dining room, you'll find the same breakfast menu every day. Nothing is labelled as vegan, but you can query anything with your waiter to be sure.
Here's an example MSC breakfast menu: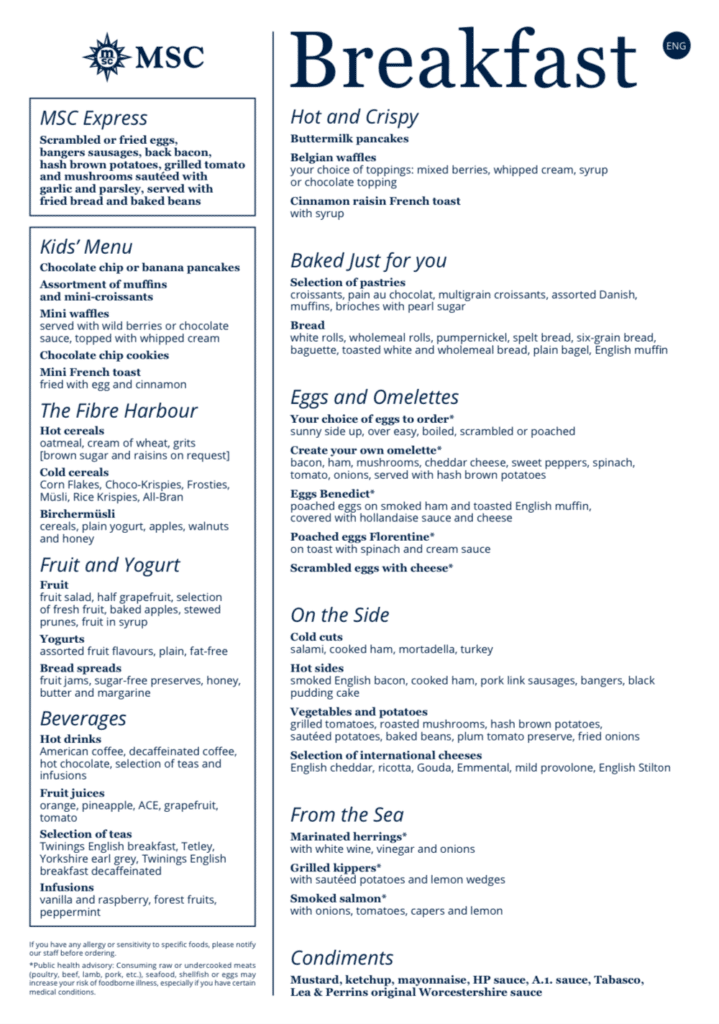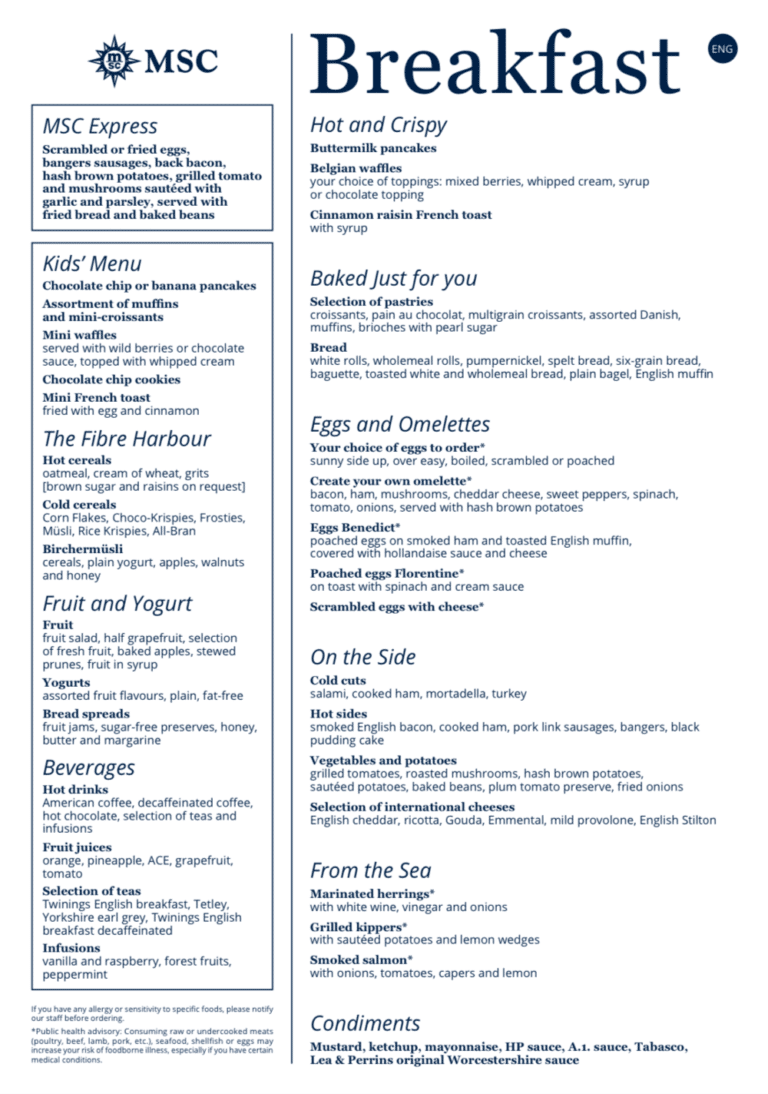 Possible vegan breakfast options in the main dining room:
Bread or toast with margarine or jam
Cereal with soya milk
Vegetables and potatoes
Fruit
Lunch Menu
The three-course lunch menu in the main dining room changed every day. There was always one main course that was labelled as vegan, but I had to ask the waiter about starters and mains.
Usually, a starter could be adapted to be vegan. This usually meant a salad without any meat, cheese, and substituting the dressing for olive oil and balsamic vinegar. Sometimes, the soup was accidentally vegan, but not labelled as such.
For dessert, fresh fruit or sorbet were always advised. Here's an example MSC menu for lunch: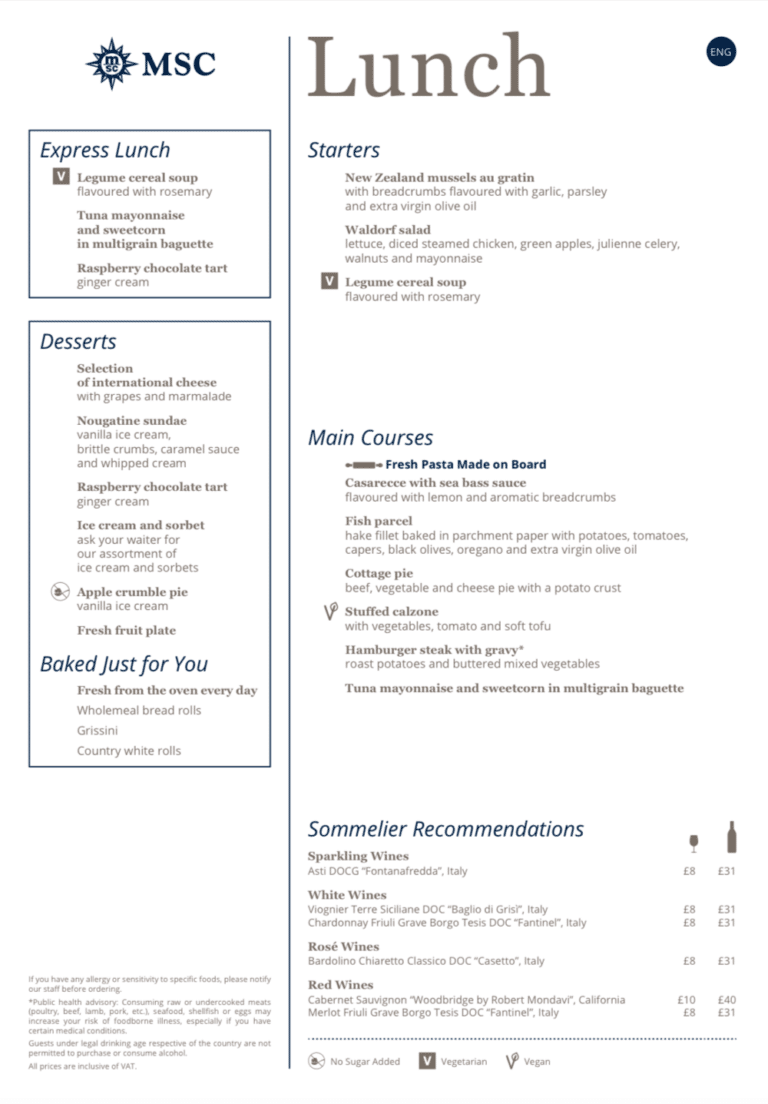 Example vegan mains at lunch
Stuffed calzone with vegetables, tomato and soft tofu
Steamed jasmine rice with red beans, crispy tortillas and sweet potato puree
Couscous Moroccan-style with vegetables, raisins and almonds
I only ate in the main dining room once at lunch, but the vegan calzone I had was lovely. It was more like a pasty than a pizza, but I really enjoyed it.
Dinner Menu
The three-course dinner menu in the main dining room was different each evening. Just like the lunch menu, there was always a vegan option for the main course, but nothing labelled for starter or dessert.
Each night, I would ask my waiter what he could make for a starter and he would go to his supervisor to ask. Sometimes, the soup could be made vegan, other times I had to settle for a plain salad with oil and balsamic vinegar.
On the last night of the cruise, my waiter advised that I should have been pre-ordering my food for the following evening! While I wish that they had told me this on the first night of the cruise rather than the last, I at least knew this for my following cruise with MSC later that year.
Tip: Ask your waiter if you can pre-order a vegan starter and dessert for the following evening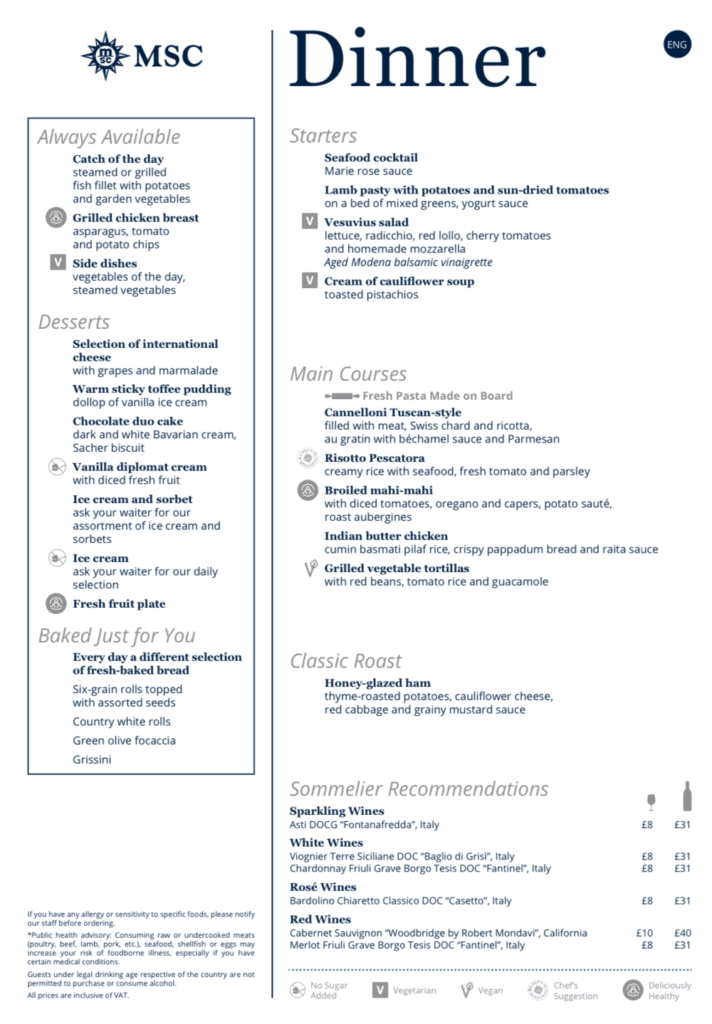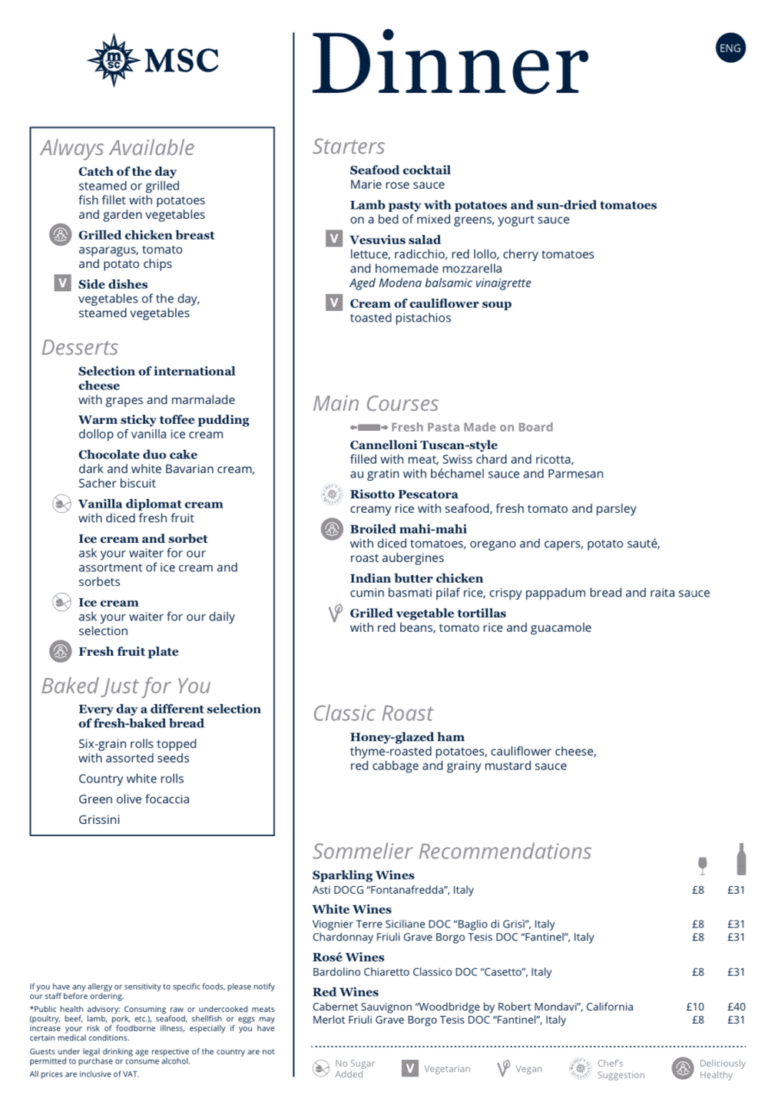 The Bread Basket
At the start of your meal, a basket of bread rolls will be offered. The bread is so delicious that I sometimes opted for two or three pieces of bread instead of a starter.
Butter is given by default, but you may instead request vegan margarine or olive oil and balsamic vinegar. The oil and vinegar are delicious with the freshly-baked bread.
TIP: Ask for oil and balsamic vinegar with your bread
Dinner Photos
I ate in the main dining room at dinner every night. The food was always delicious.
I found that servings can be a little on the small side, so if you have a large appetite you may wish to ask for a side serving of vegetables or chips. The chips are really good!
Here are the vegan dinners I enjoyed in the main dining room during my cruise MSC Virtuosa…
Day One:
Day Two: Elegant Night
Day Three: Mediterranean Night
Day Four:
Kids Menu
There weren't a whole lot of vegan-friendly options on the kids' menu, which is the same every day. If you have vegan kids you'll want to speak to the main dining room staff to make sure that they can make something for your children for the following day.
Aside from the vegetable soup, mixed vegetables, roast potatoes, chips and fruit, you could always request something from the adults' menu if you wish.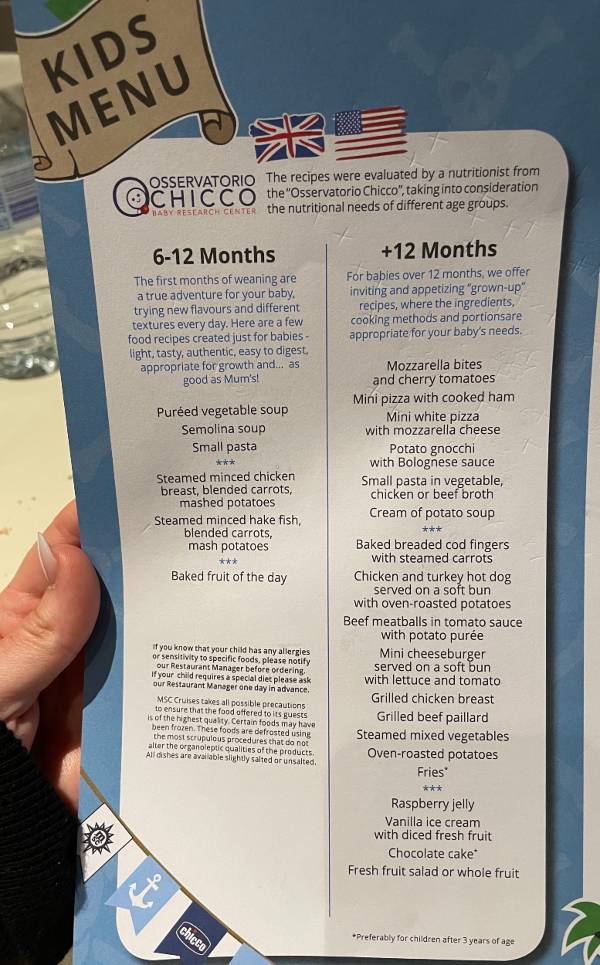 My kids are vegetarians and very fussy eaters. So while I didn't take them on this first cruise, I did make sure on my following MSC cruises to take the kids to the buffet early in the evening, and then drop them off in the kids' club while we headed to the main dining room for late dining without them.
Review of MSC Cruises Vegan Options in the Main Dining Room
All of the food that I ate in the main dining room was delicious. Everything was very fresh and healthy.
A few times I did get non-vegan food placed down in front of me by mistake, so I would advise anyone to always check before tucking in if you're unsure of anything.
The first time you visit the main dining room, be sure to ask your waiter if you can plan your meals for the next day to make sure that a starter and main can be adapted for you, particularly if you're not keen on salads and sorbets.
Vegan Options in the Buffet
As there were fewer than 1,000 passengers on our cruise (the usual capacity is over 6,000), there was a smaller buffet selection than usual. That said, I always managed to find plenty of vegan-friendly options.
Nothing is labelled with any dietary information in the Marketplace Buffet. Therefore it's important to ask before you request anything.
Having the crew members ready and waiting to serve you each dish made this really easy. They mostly understood what vegan meant, although sometimes I had to explain that I couldn't eat meat, fish, milk or eggs.
Tip: Some things that look almost certain to be vegan-friendly aren't, so always ask about every dish
Buffet Breakfast
The breakfast buffet was the same every day, so this did get a little boring by the end of the cruise. That said, I do like a vegan full English so I could have explored more of the cereal and pastry options.
On MSC Cruises you can get soya milk for your coffee or cereal but there were no other kinds of plant milk like oat milk or almond milk, which would have been nice.
The free coffee in the buffet isn't great, so if you have a drinks package I would request that you order an Americano coffee with soya milk and they will make you one which tastes much better!
There are lots of different kinds of bread which can be toasted for you. If you ask you can also get vegan margarine instead of butter.
Buffet Lunch
The lunch options in the Marketplace Buffet change every day and on our cruise there were always lots of different vegan things to choose from.
Again, nothing is labelled, so you should always ask. I always like to look along the whole buffet to decide what I want before I start adding things to my tray to avoid ending up with a random selection that doesn't go together.
Here are photos of the vegan lunches that I ate in the buffet on MSC Virtuosa…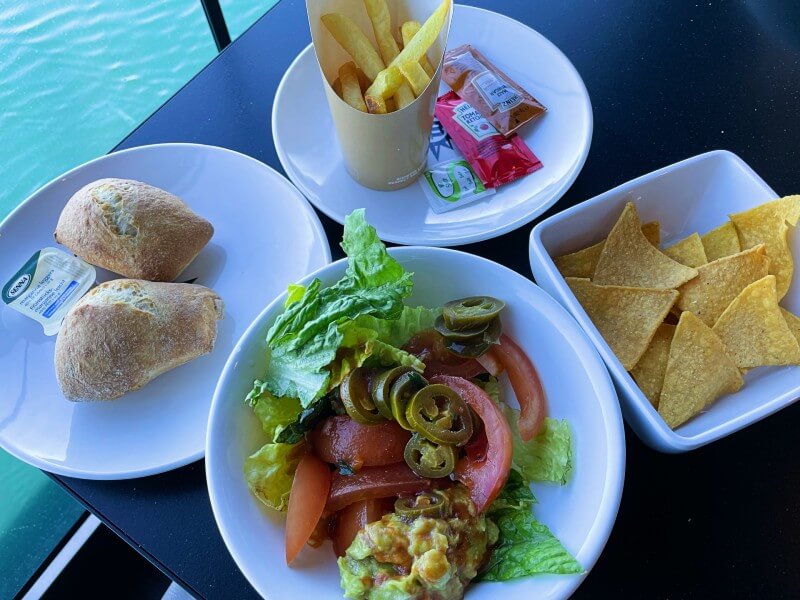 I didn't eat dinner in the buffet, but I expect it would be similar to lunch.
Buffet snacks
On MSC Cruises, the Marketplace Buffet is open for around 20 hours per day. Between meals, you can get snacks and freshly-baked pizza slices.
Aside from fruit, I didn't really see any vegan-friendly snacks like cakes or cookies.
I asked the pizza chefs if they could make a pizza without cheese for me and they were happy to oblige. They even asked what toppings I would like.
The pizza was delicious. I'd go as far as to say that it was the best cheese-free pizza I've ever tasted.
The only downside was that they brought me the whole pizza that would have fed at least four people and wouldn't take no for answer when I tried to explain that I only wanted a couple of slices! So sadly, a lot of it was wasted.
Vegan Options in the Speciality Restaurants
Each MSC Cruises ship has a number of different speciality restaurants in which you can dine for an additional charge. The exact restaurants vary depending on the ship, but on MSC Virtuosa there were four.
Speciality restaurants on MSC Virtuosa:
Indochine – French-Vietnamese
Hola! – Latin American and Mexican
Kaito – Japanese Teppanyaki and Sushi
Butcher's Cut – American steakhouse
I didn't eat in any of these restaurants. As I like to cruise on a budget, I thought that £50+ per head for a meal was very expensive when there is plenty of food that I could enjoy for free.
The MSC speciality restaurant menus didn't have any vegan options. However, if you speak to the restaurant manager on board, they will be able to advise whether any of the dishes can be adapted to suit your plant-based diet.
Vegan Drinks
As our cruise ship departed from the UK, we had a kettle in our cabin to make tea and coffee. You won't find this on every ship, but MSC Cruises recognises how much Brits enjoy a cup of tea!
If you'd like soya milk, you can request it from room service and they will give you some to keep in your fridge.
None of the drinks menus had vegan labelling and the staff were (understandably) not trained in which drinks were suitable for vegans.
Suggested read: MSC Cruises Drinks Menus with Prices
I would advise checking which beers are vegan before you go, so that you know what to order.
With wines, it's much more tricky. If you have wifi, you can use a website such as Barnivore.com to look up wines on the wine list. Otherwise, you may wish to steer clear of wine during your cruise.
While some cruise lines allow you to bring your own wine on board, MSC Cruises does not.
My personal choice (no judgement, please) was to drink the wine regardless, knowing that I try my best most of the time and I'd rather have wine than no wine on a cruise.
Similarly, with fruit juice, there's no way to know if the fruit was waxed with beeswax before being juiced. My choice was to drink it anyway rather than worry about the orange juice in my cocktails.
As nobody can be 100% vegan, I believe that all we can do is make our own decisions about what is acceptable to us as individuals given our circumstances. On the whole, I felt that MSC Cruises made it easy enough for me to make those decisions.
The Verdict
To conclude, I was very happy with the vegan options on my MSC cruise and thoroughly enjoyed the food.
I think that the communication between the cruise line and their vegan guests could be a little better, but the quality of food on offer was very good.
If you're open to trying new things and like to eat a lot of vegetables, I'm sure you'll love MSC Cruises. If, however, you like to eat a lot of fake meat, vegan cheese and processed foods, you won't find any of that on your cruise, so you may struggle.
If you're a vegan who has cruised with MSC, I'd love to hear about your experience or any tips in the comments below…
NEW DEALS JUST RELEASED!
Don't miss the latest MSC Cruises offers…
Related posts: