Taking a look at the MSC drinks menus before your cruise can be a good way to know what drinks are available on board, how much the drinks cost, and whether to buy a drink package or not.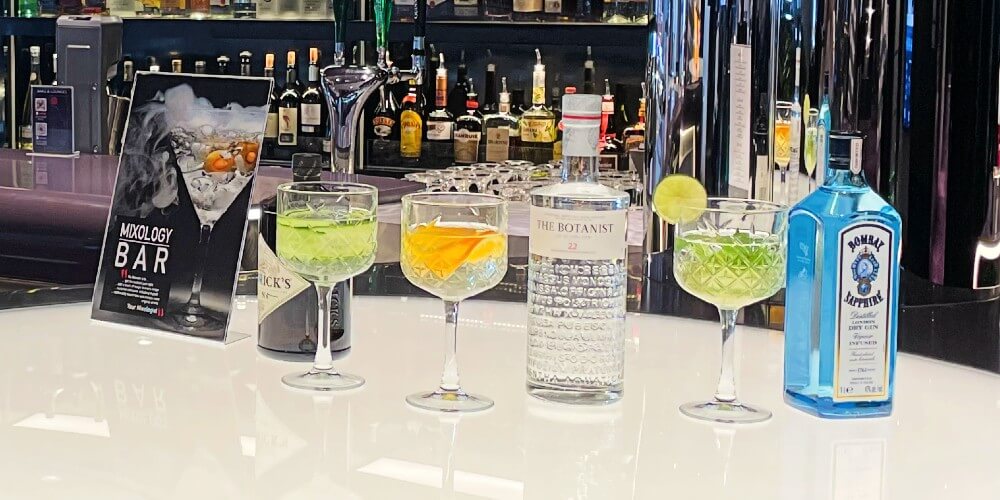 If you've not yet decided whether to get a drinks package or which one to get out of the five different packages that MSC Cruises offer, then be sure to take a look at my MSC Cruises Drink Package Guide.
That will give you all the info you need to easily work out whether the drinks package is worth it or not.
In this guide to the drinks menus on MSC Cruises ships, you'll be able to see photos of the drinks menus from each of the bars, lounges and restaurants on MSC Virtuosa.
I cruised on MSC Virtuosa from the UK in May 2021. On this cruise, every guest was given a Premium Drink Package. This entitled us to unlimited drinks priced at £10 or less each.
As the cruise was only for UK residents, all of the onboard pricing was in pounds (£). On other cruises, the drinks are priced in Euros (€) or US Dollars ($), depending on where in the world the ship is sailing.
(At the time of writing, £10 is equivalent to around €11.50 or $14.)
The different MSC Cruises drink menus
MSC Cruises ships each have a variety of indoor and outdoor bars, lounges and restaurants. Oftentimes, you'll see that the same menu is used in more than one venue.
For example, the Pool Bar Menu will be found in all of the outdoor bars as well as the Tropical Bar which is by the indoor pool. Most of the cocktail bars will have the same Cocktail Bar Menu.
There are, however, some drink lists which you can only get in one venue – such as the British Pub or the Starship Club.
Online and paper menus
Since cruising has resumed, MSC Cruises now use online menus wherever possible. This is great for hygiene as you don't need to touch a menu that's been touched by somebody else.
On each table, there's a sign with a QR code which you can scan with your mobile phone and it will take you to the menu.
You'll need to be connected to the ship's wifi to see the menus. You don't need a wifi package to do this, so it won't cost you anything. A wifi package enables you to see the rest of the internet or to send messages and make calls on Whatsapp etc.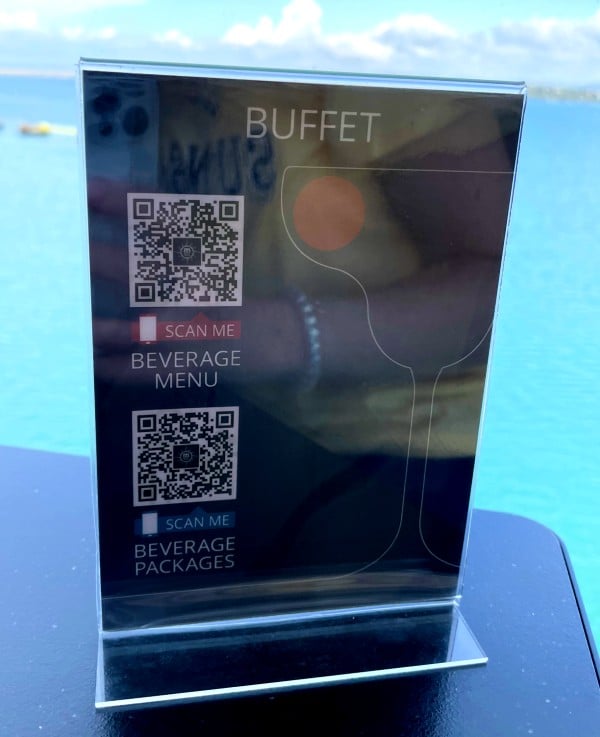 If you don't have a mobile device or don't feel comfortable reading menus on one, disposable paper menus are always available. Just ask one of the waiters for one and they won't mind at all.
How to order drinks
Although the menus are online, you cannot order drinks online on MSC Cruises ships. Instead, you just tell a waiter what you would like.
Wherever you're sitting, even if it's on a sunlounger, the servers will come over regularly to ask if you would like a drink.
On our cruise, you could go to the bar to order drinks, but the person to take your order would be a server with a portable computer, not the person behind the bar. The bartenders were only making drinks and the servers would hand them out.
How much do drinks cost on MSC Cruises?
The drinks on MSC Cruises ships are similarly priced to other cruise lines. You'll pay around £8 for a beer, £9 for a glass of wine, £10 for a cocktail and £3 for a soft drink.
Read on to see photos of all of the MSC Cruises driinks menus with the latest pricing in pounds sterling…
Pool Bar Menu
On MSC cruises, cocktails are always a popular choice, especially when sitting by one of the swimming pools.
All drinks served outside or by the pool are served in plastic glasses. They are nice plastic glasses, however, particularly the tall cocktail glasses. All of the drinking straws on MSC Cruises are biodegradable.
On MSC Cruises ships you cannot take your drinks into the pools or hot tubs as you can with other cruise lines such as Royal Caribbean.
On the pool bar menu, every drink is £10 or less, so you can order whatever you want without worrying about it not being included in the drinks package.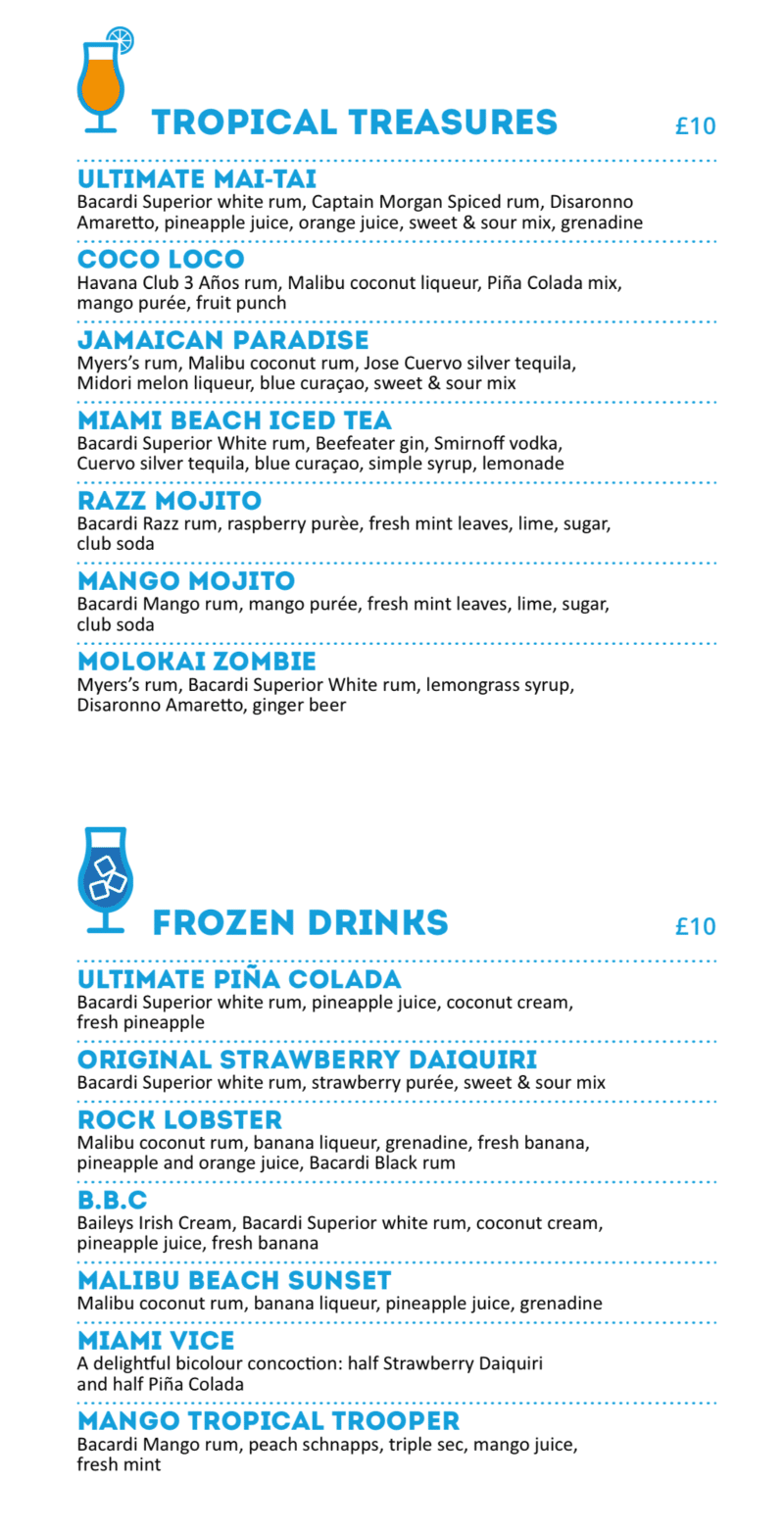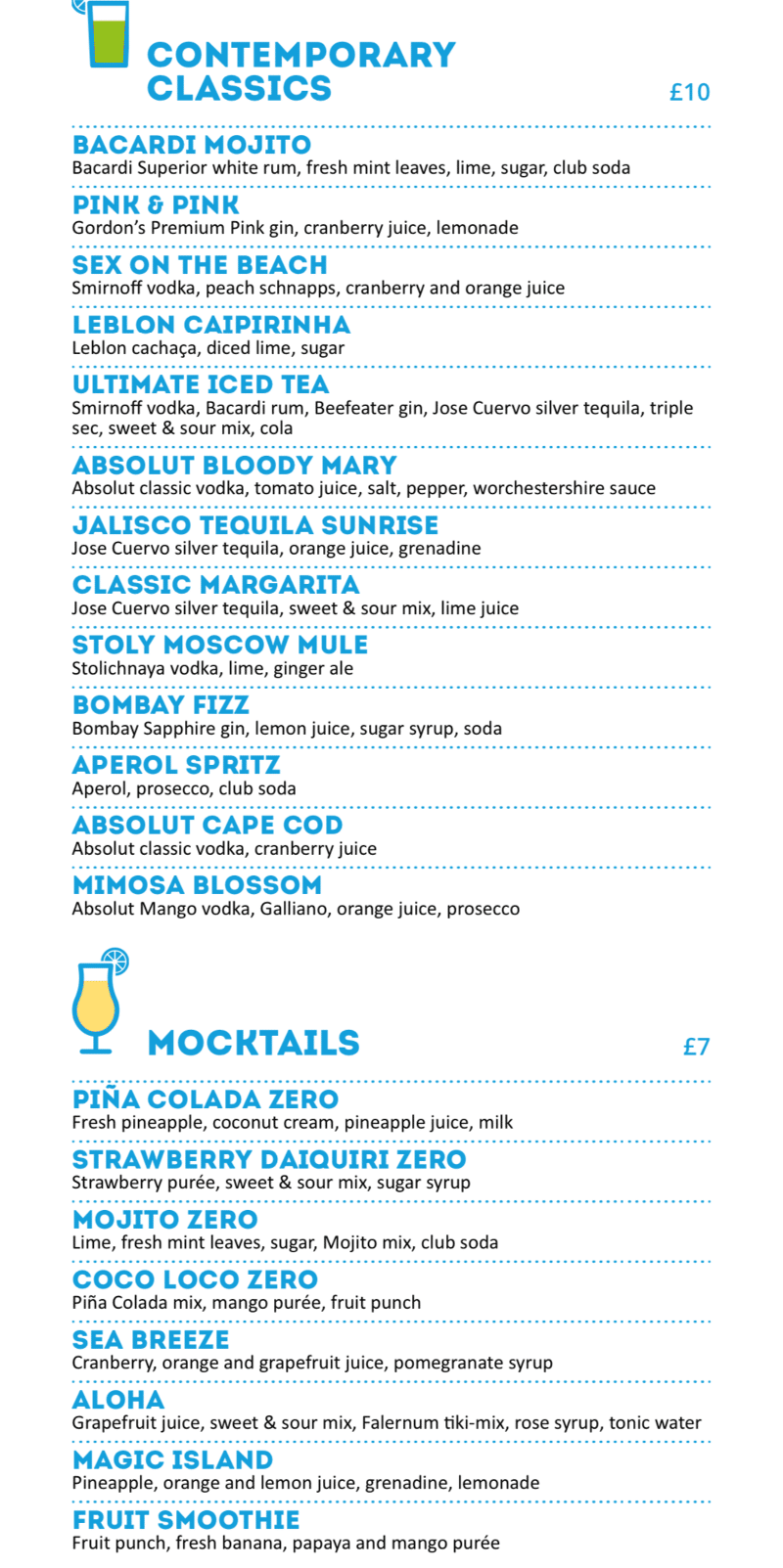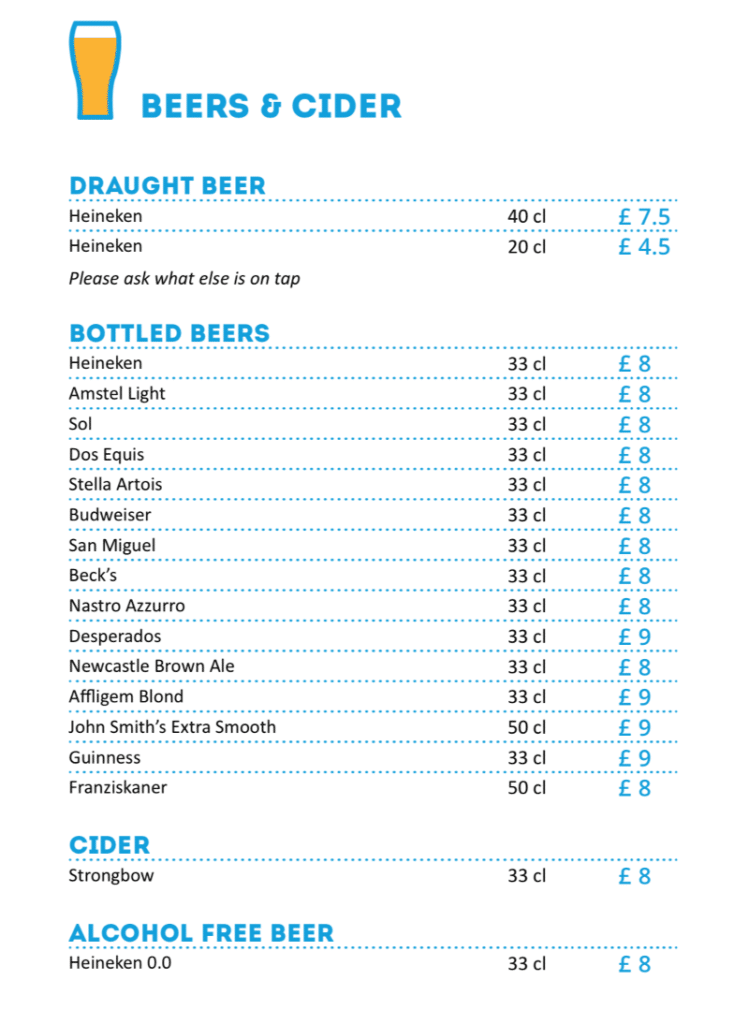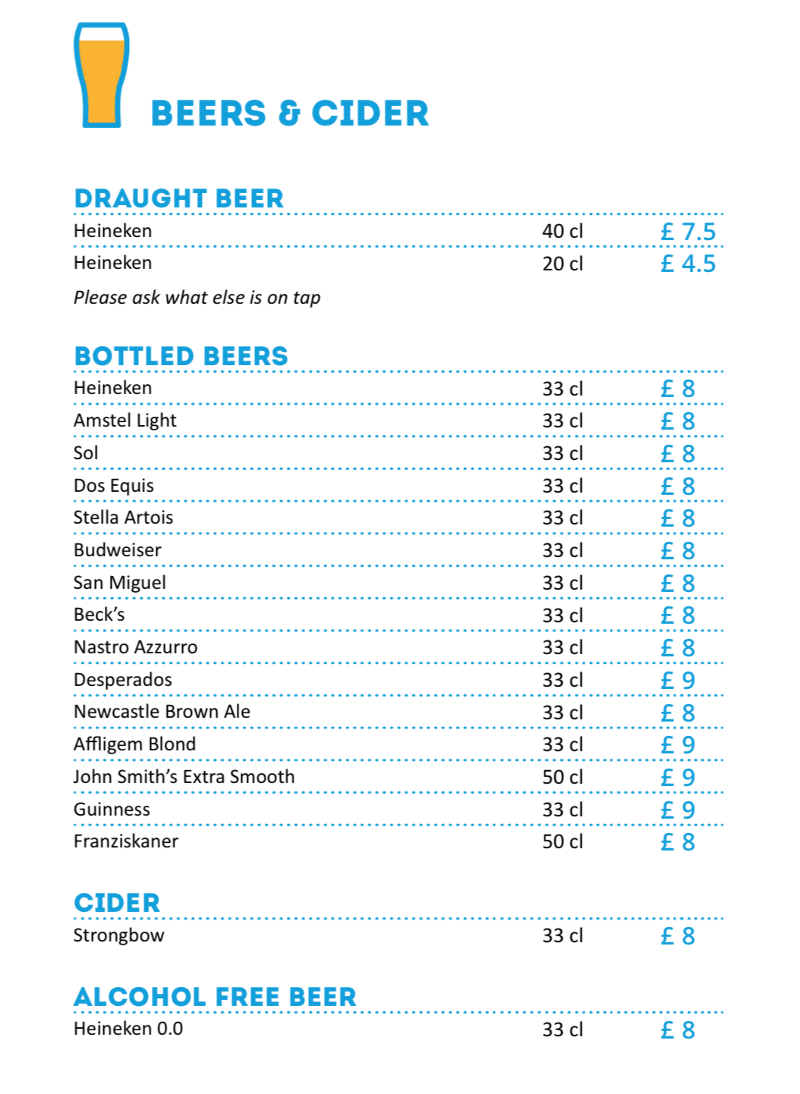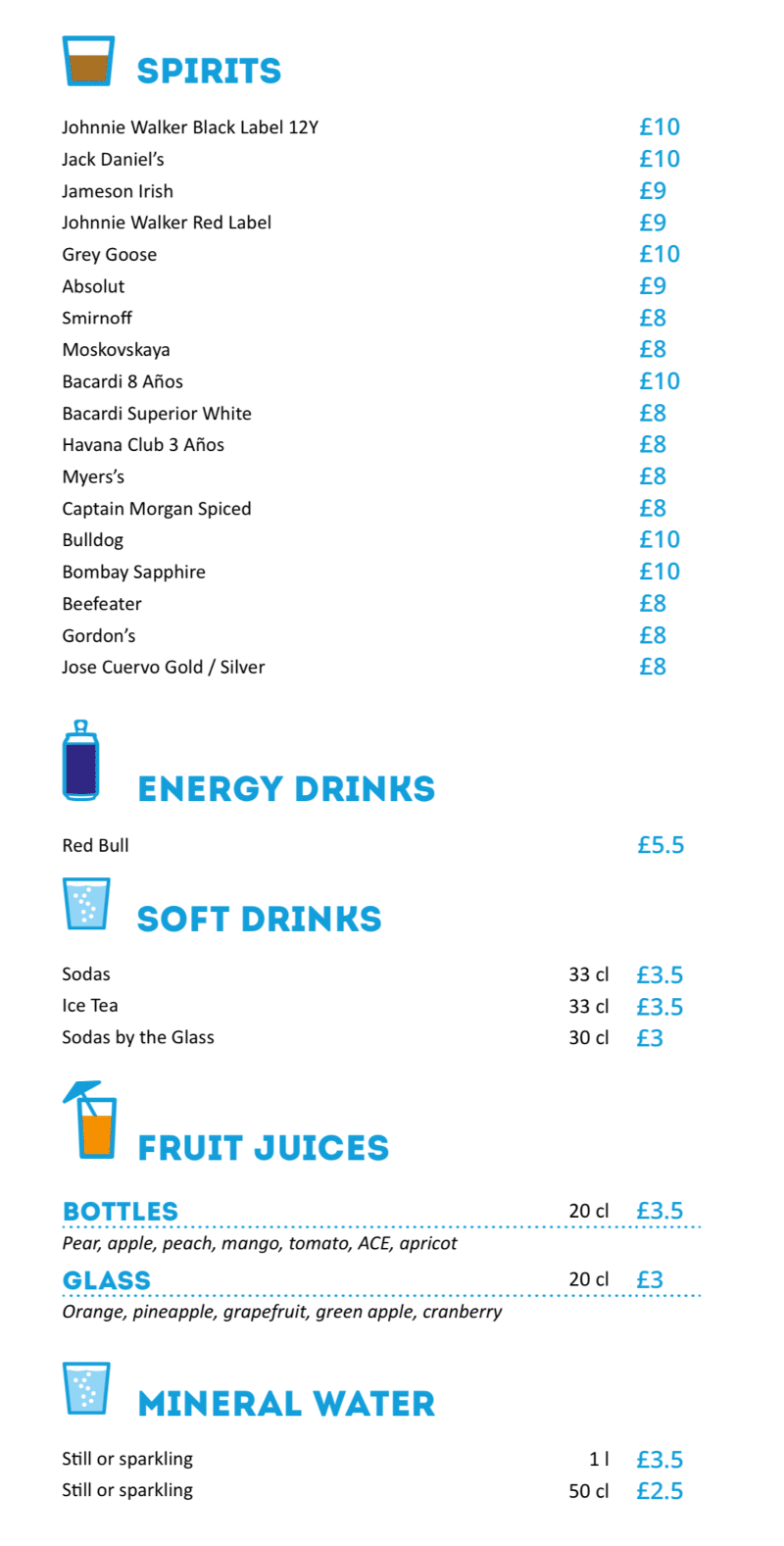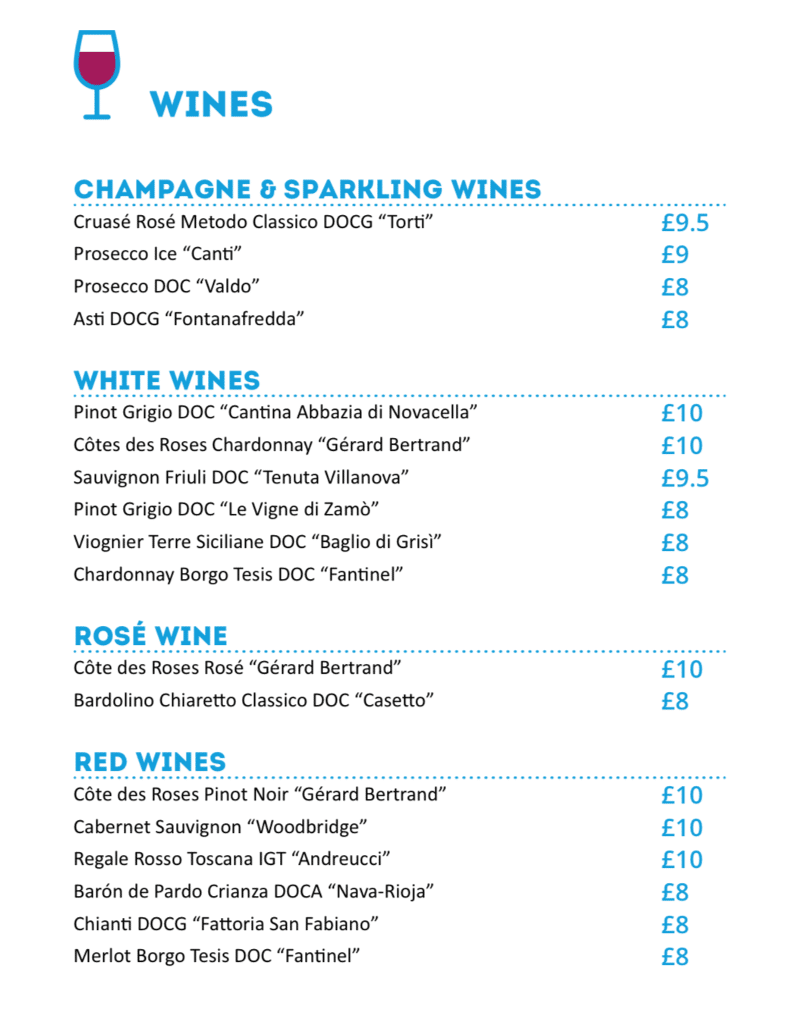 Cocktail Bar Menu
MSC Cruises' cocktail bar menu is the one that you'll find in most of the indoor bars and lounges such as the Sky Lounge.
At the start of this menu there are a few pages of premium cocktails that aren't included in the standard drink package.
Once you get past this, there are lots of cocktails priced at £10 or less as well as a large selection of beers, wines, spirits, and hot drinks.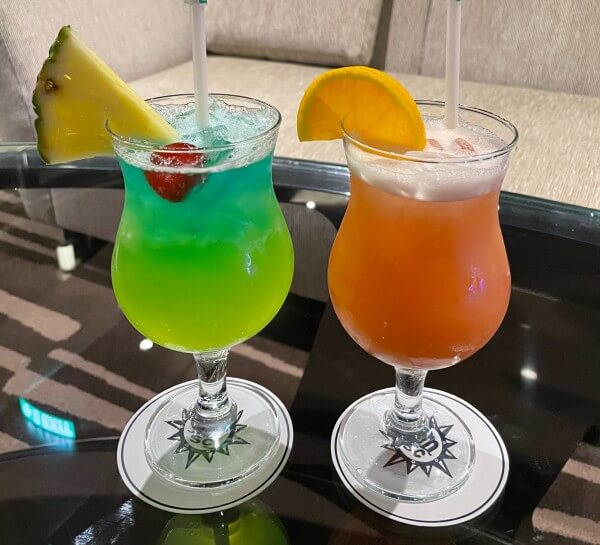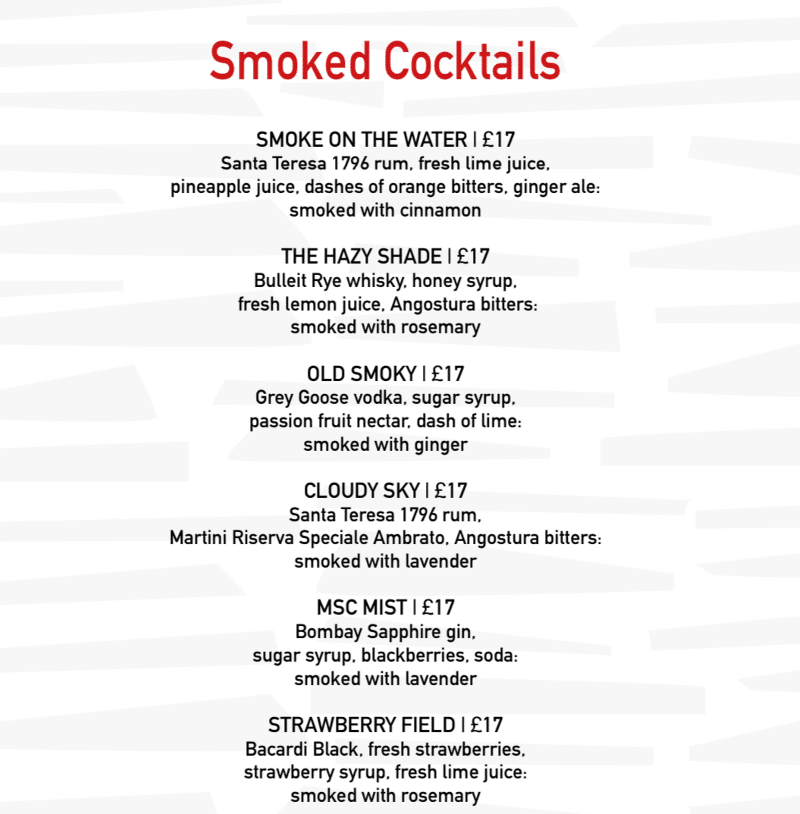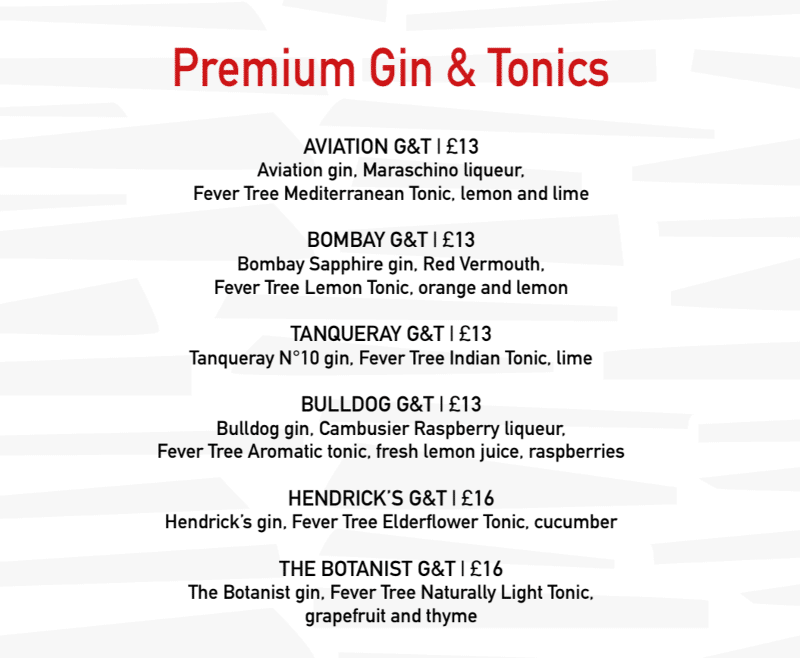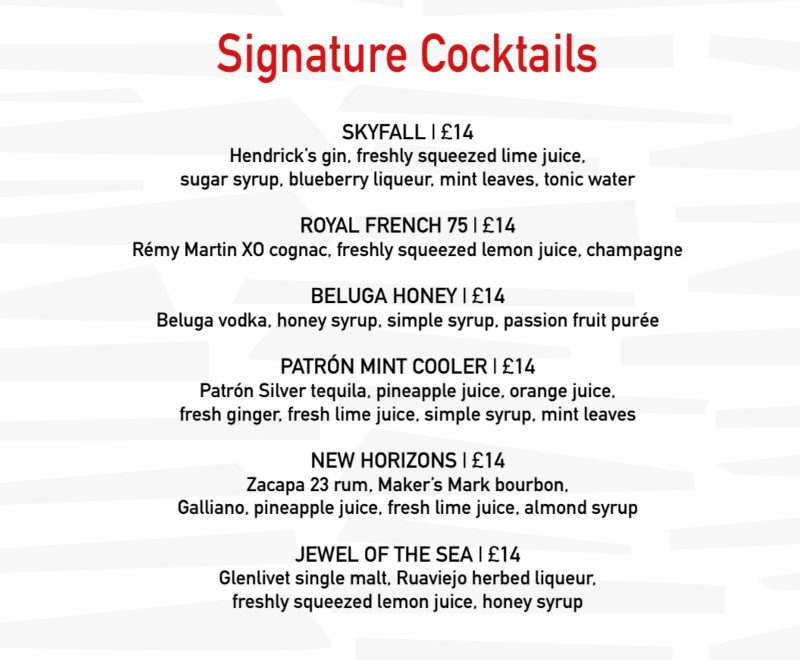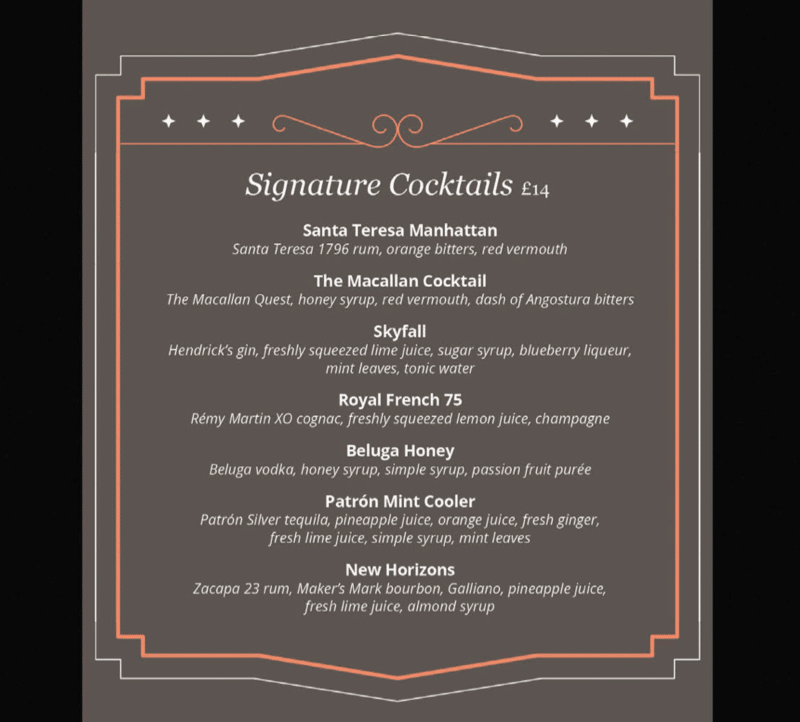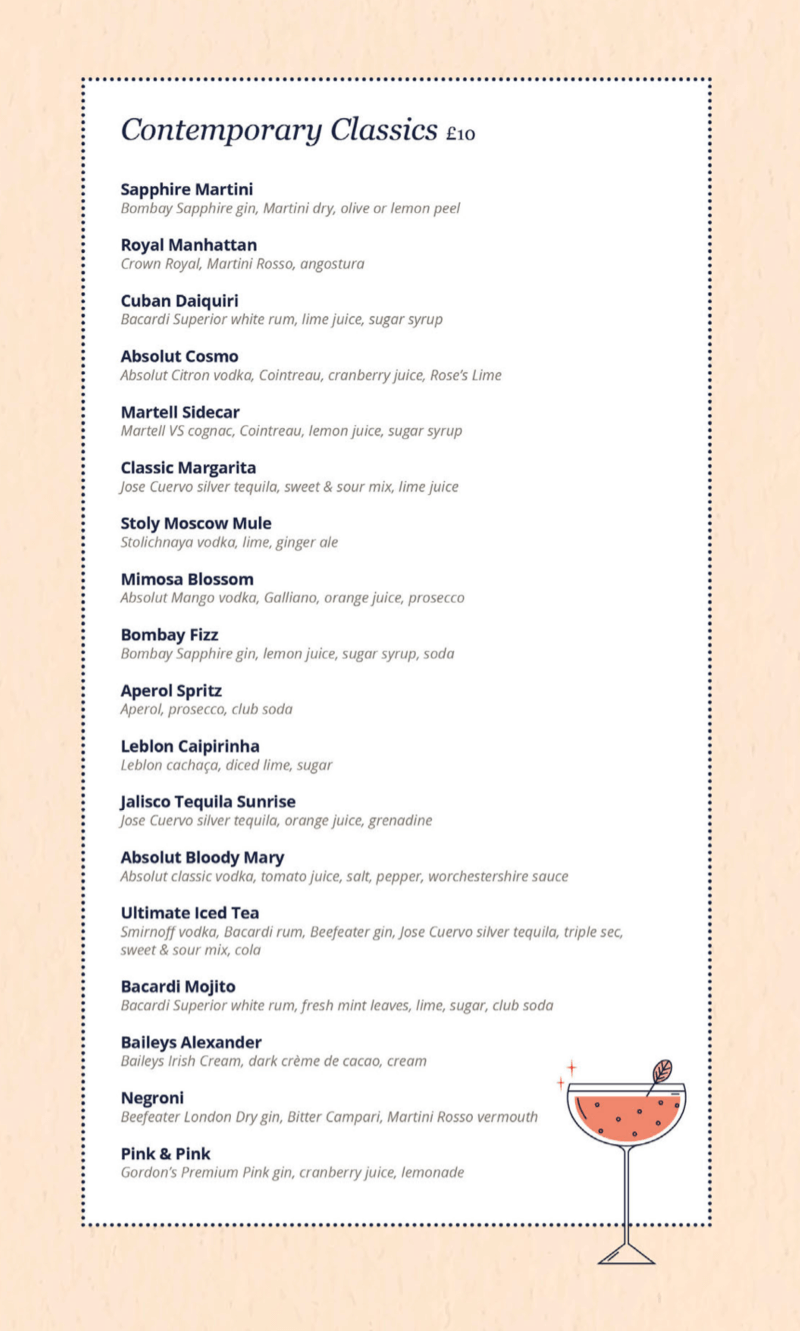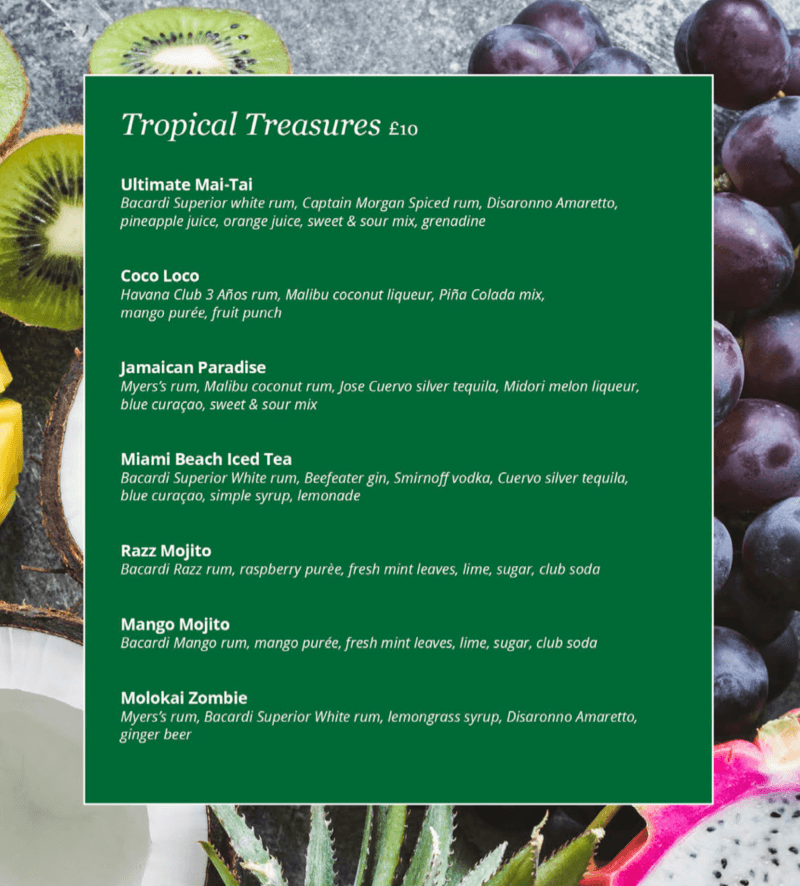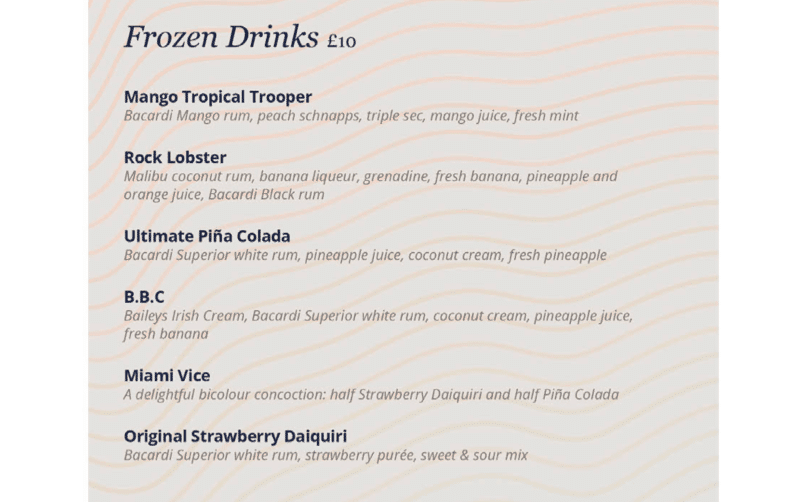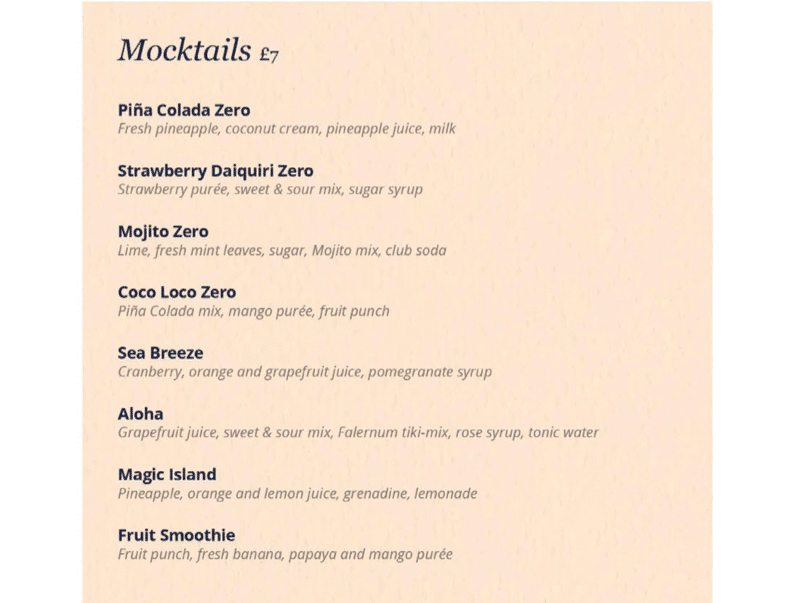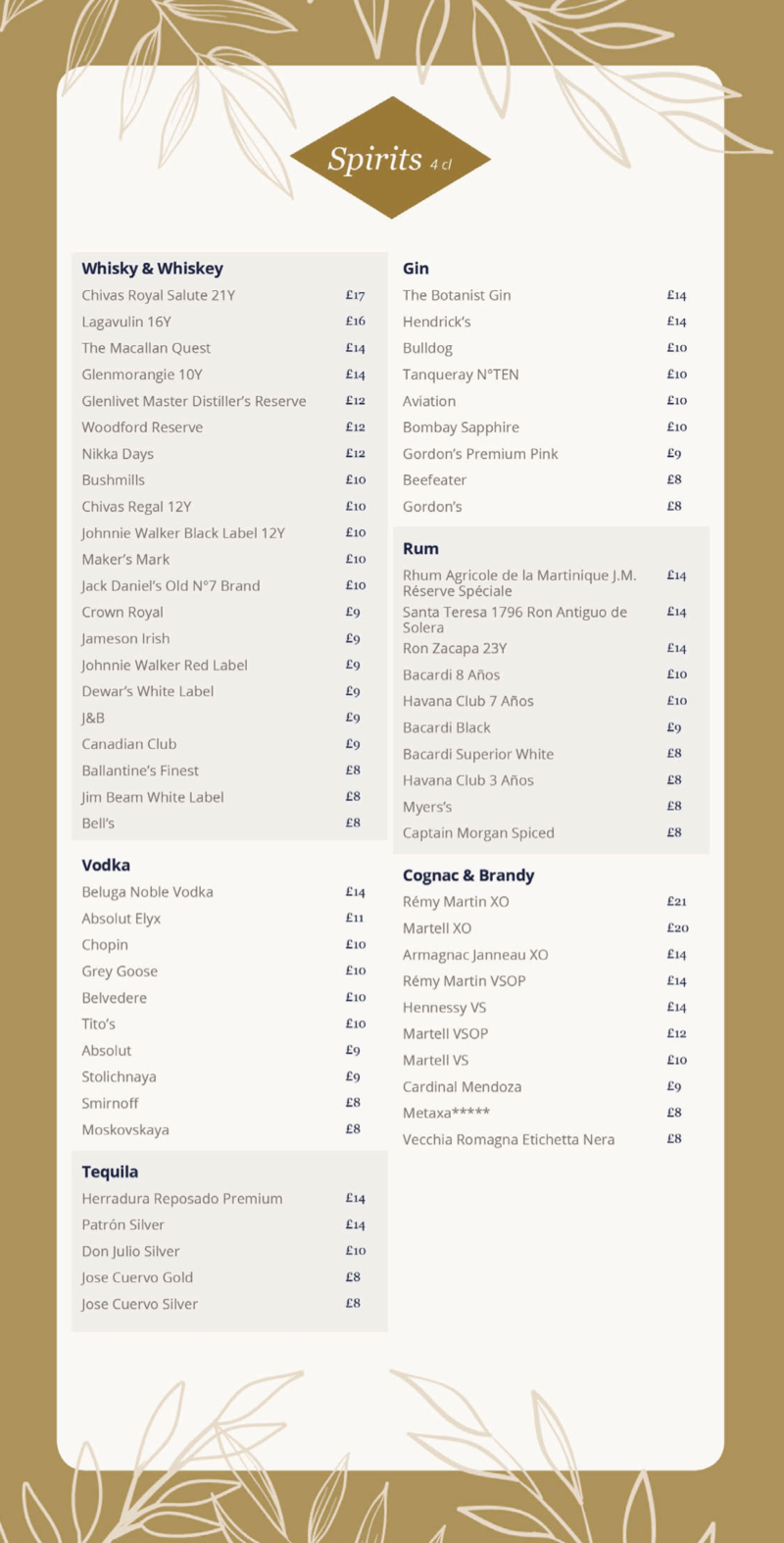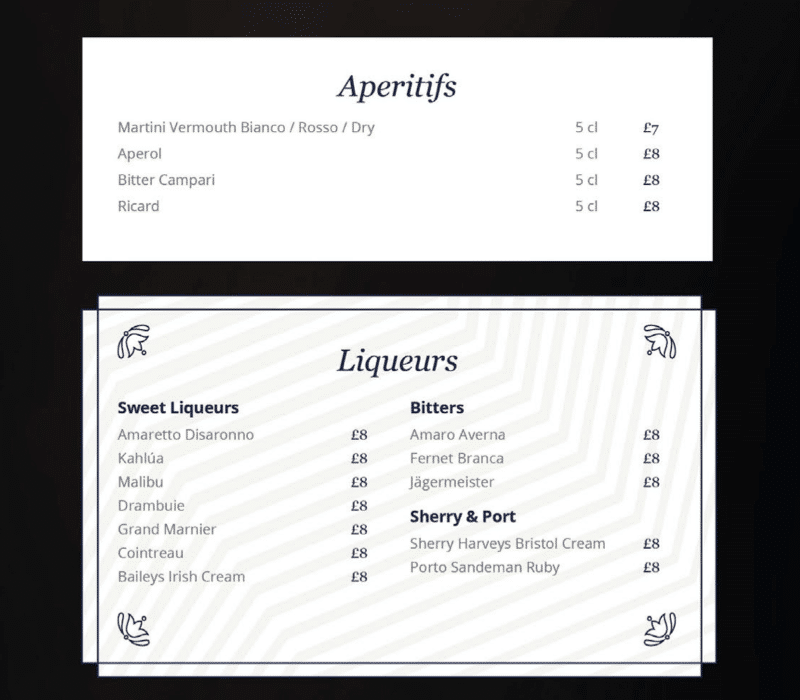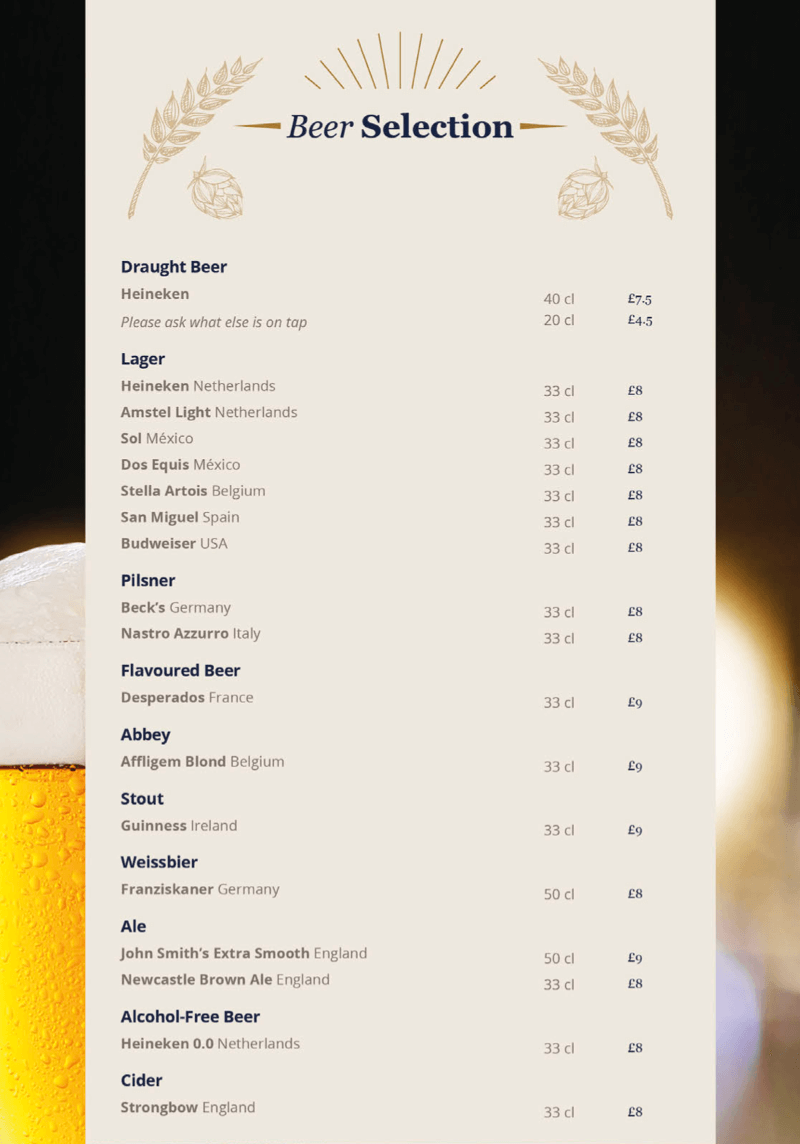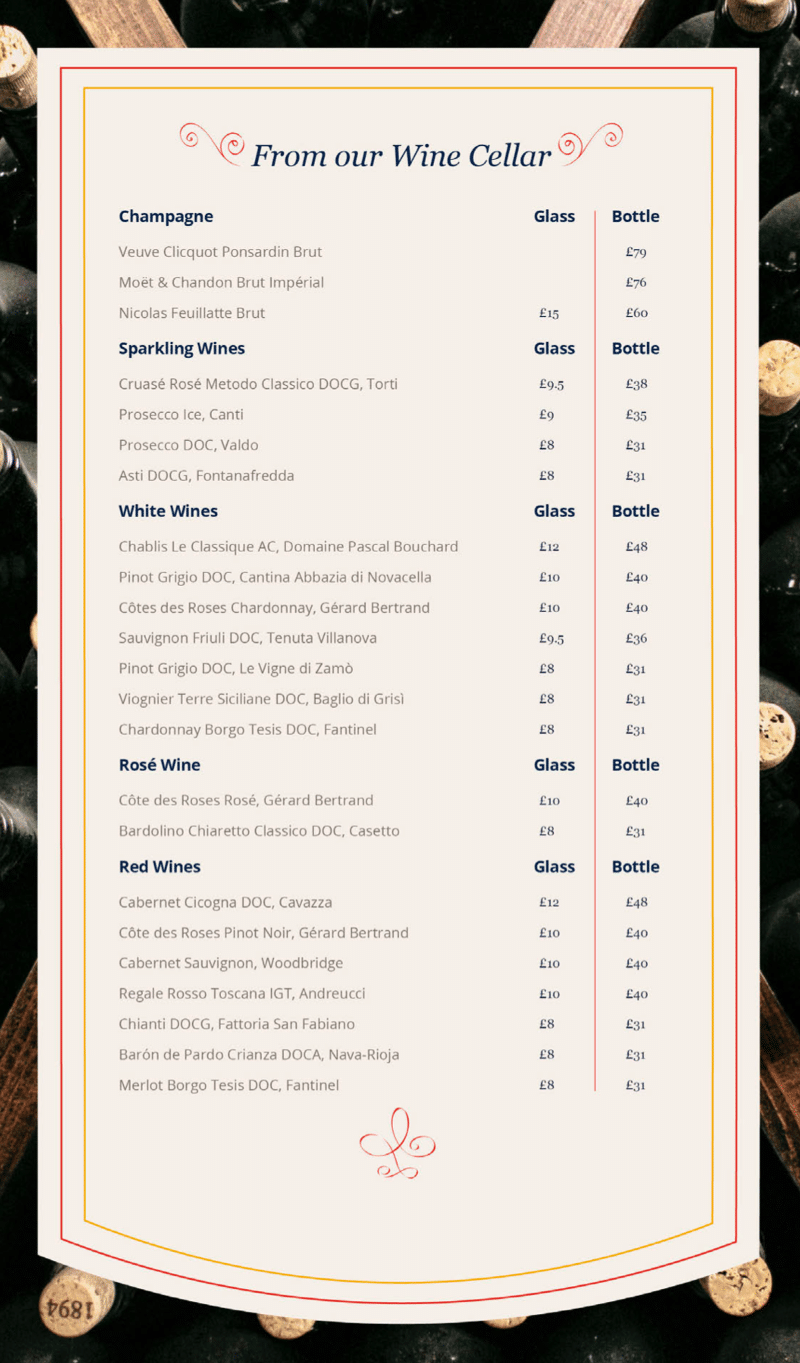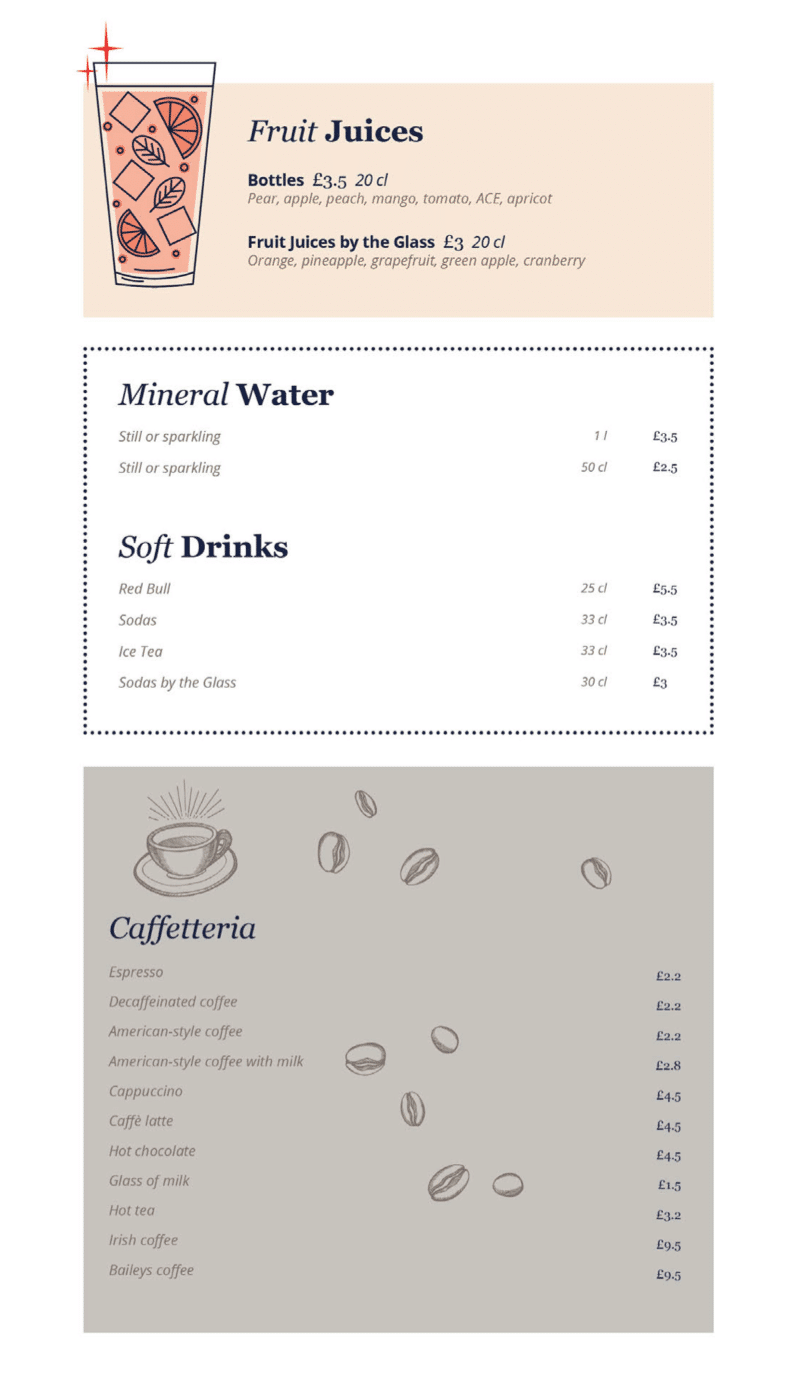 British Pub Drinks Menu
The British Pub on MSC Virtuosa is called Masters of the Seas. On other ships it has a different name such as The Brass Anchor on MSC Meraviglia.
If you love beer, this is the place to be as you'll find 12 different beers on draft as well as a huge selection of bottled beers and beer-based cocktails.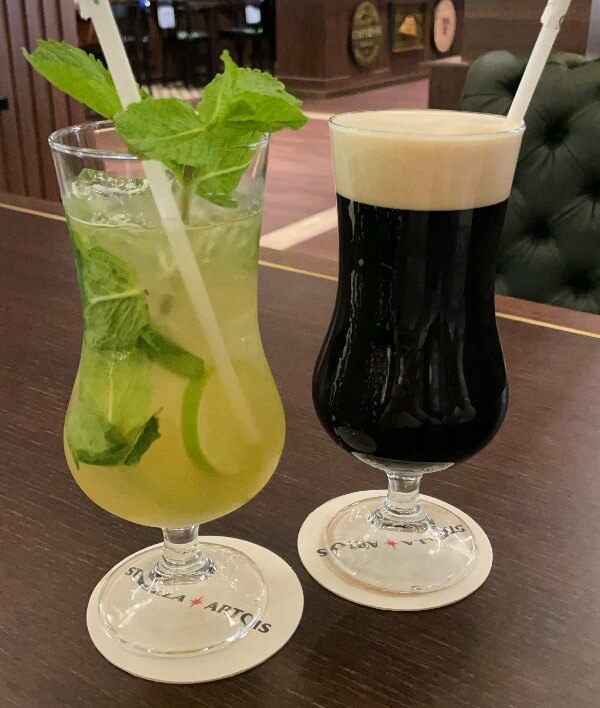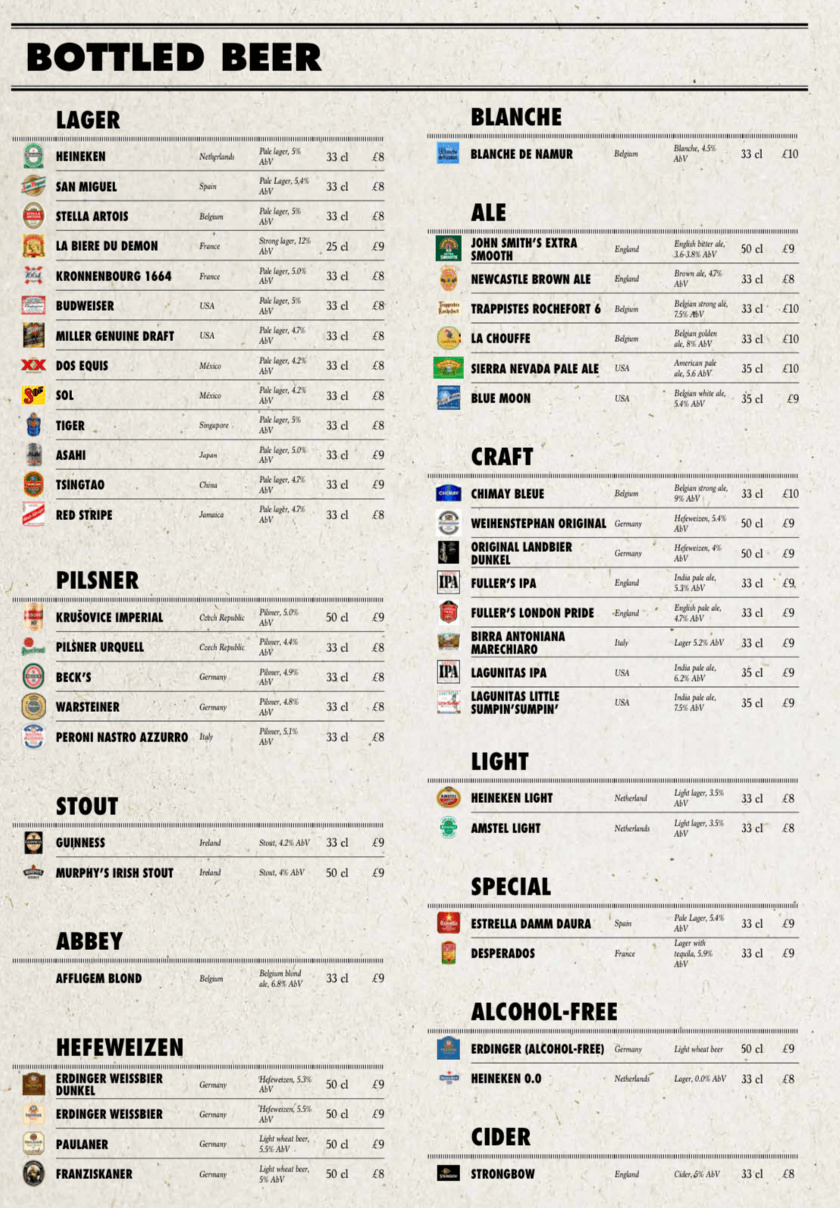 Wine List & Restaurant Drinks Menu
In the Main Dining Rooms, each of the lunch and dinner menus has a section headed 'Sommelier Recommends' where you can choose from a selection of wines of the day.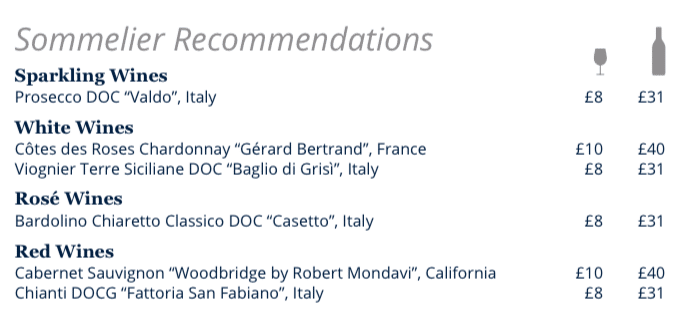 However, you can also order anything from the full wine list. If you have a drink package, it makes sense to order by the glass as wines by the bottle are not included in any package.
When you order by the glass, some of the serving sizes are quite small. This is a photo of a glass of rose wine that in ordered in the Main Dining Room. (No, I hadn't drank any before I took the photo!)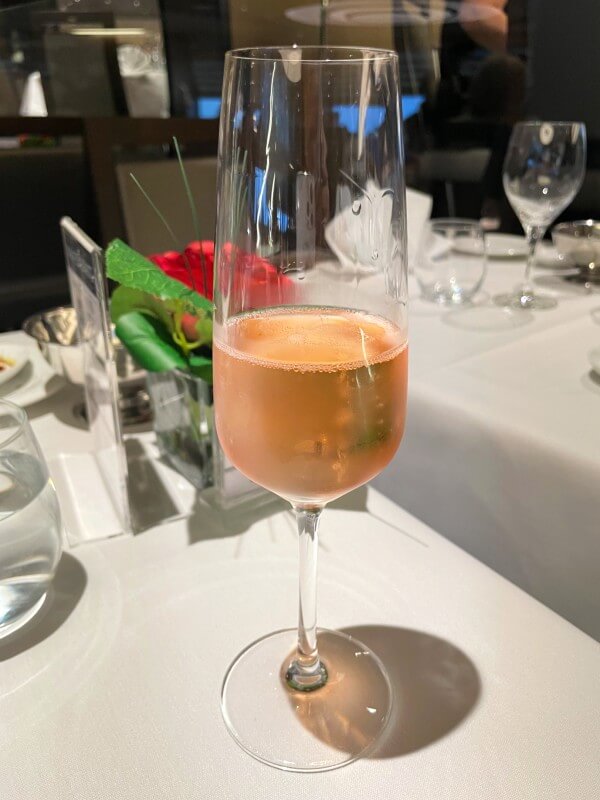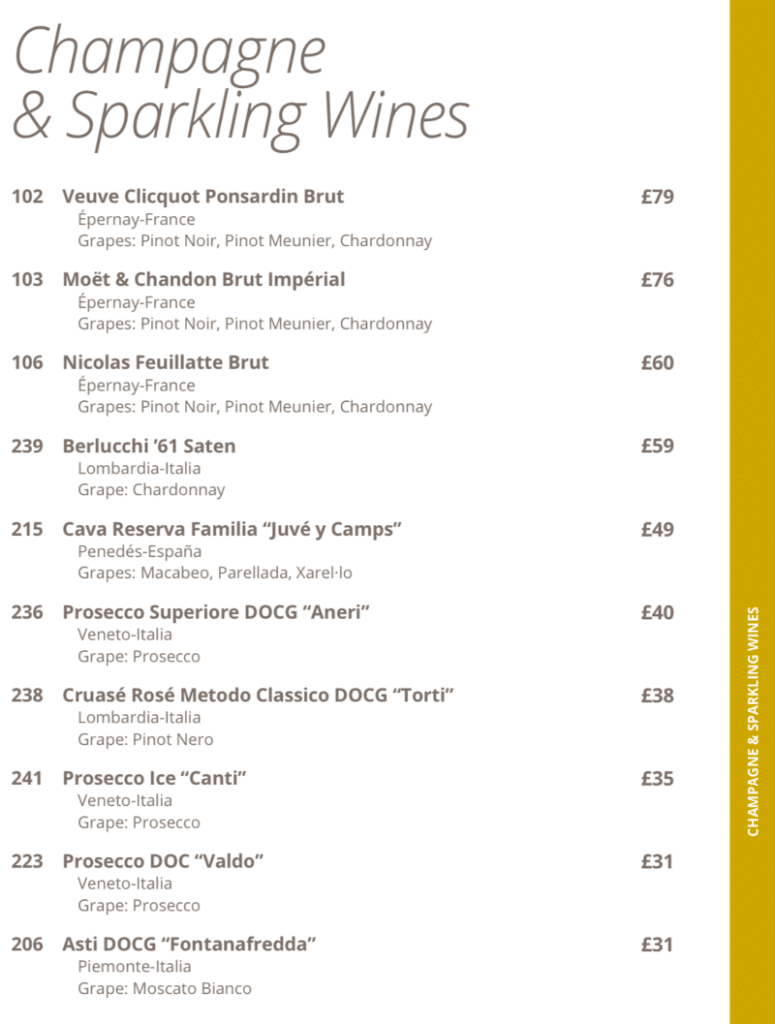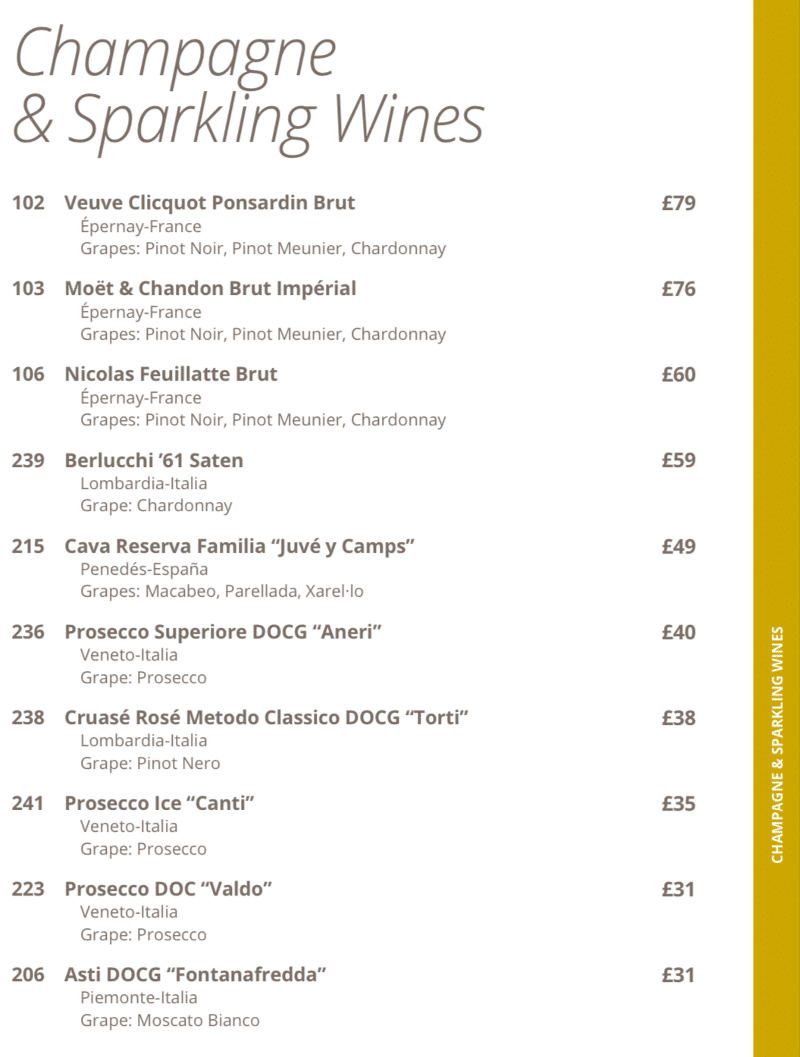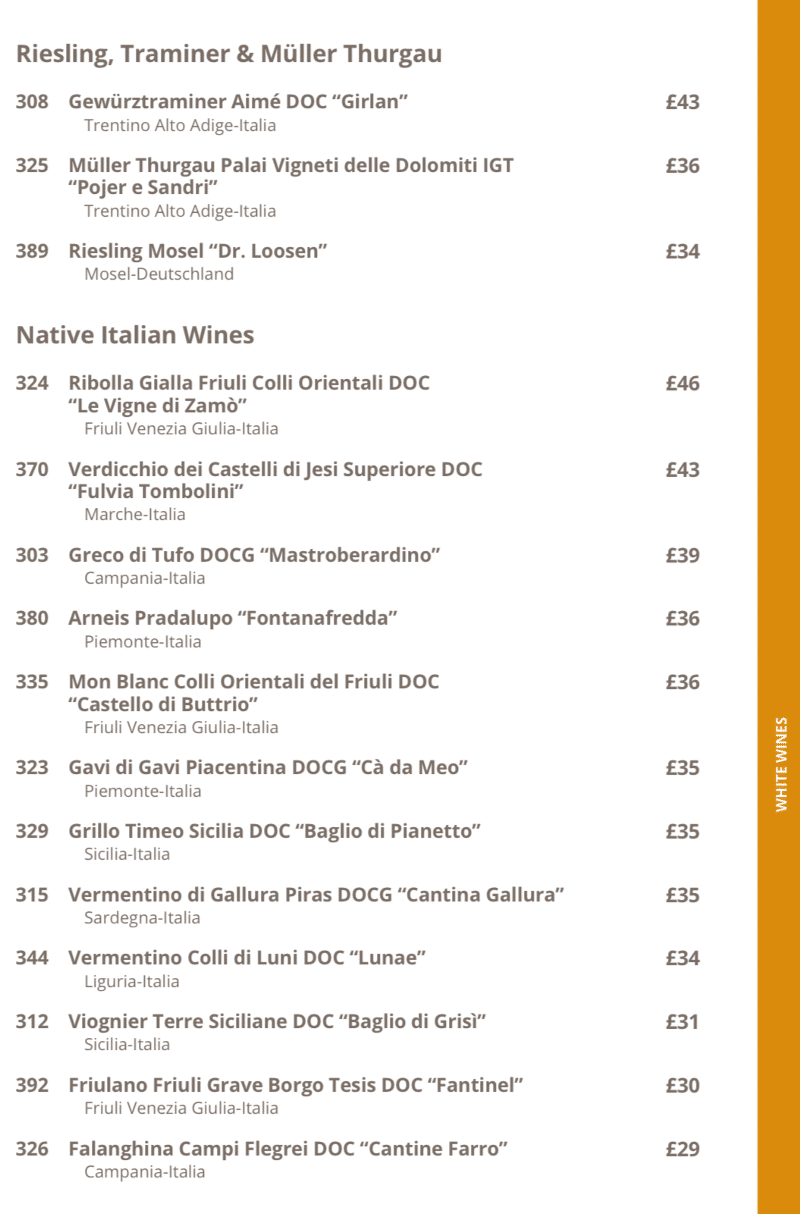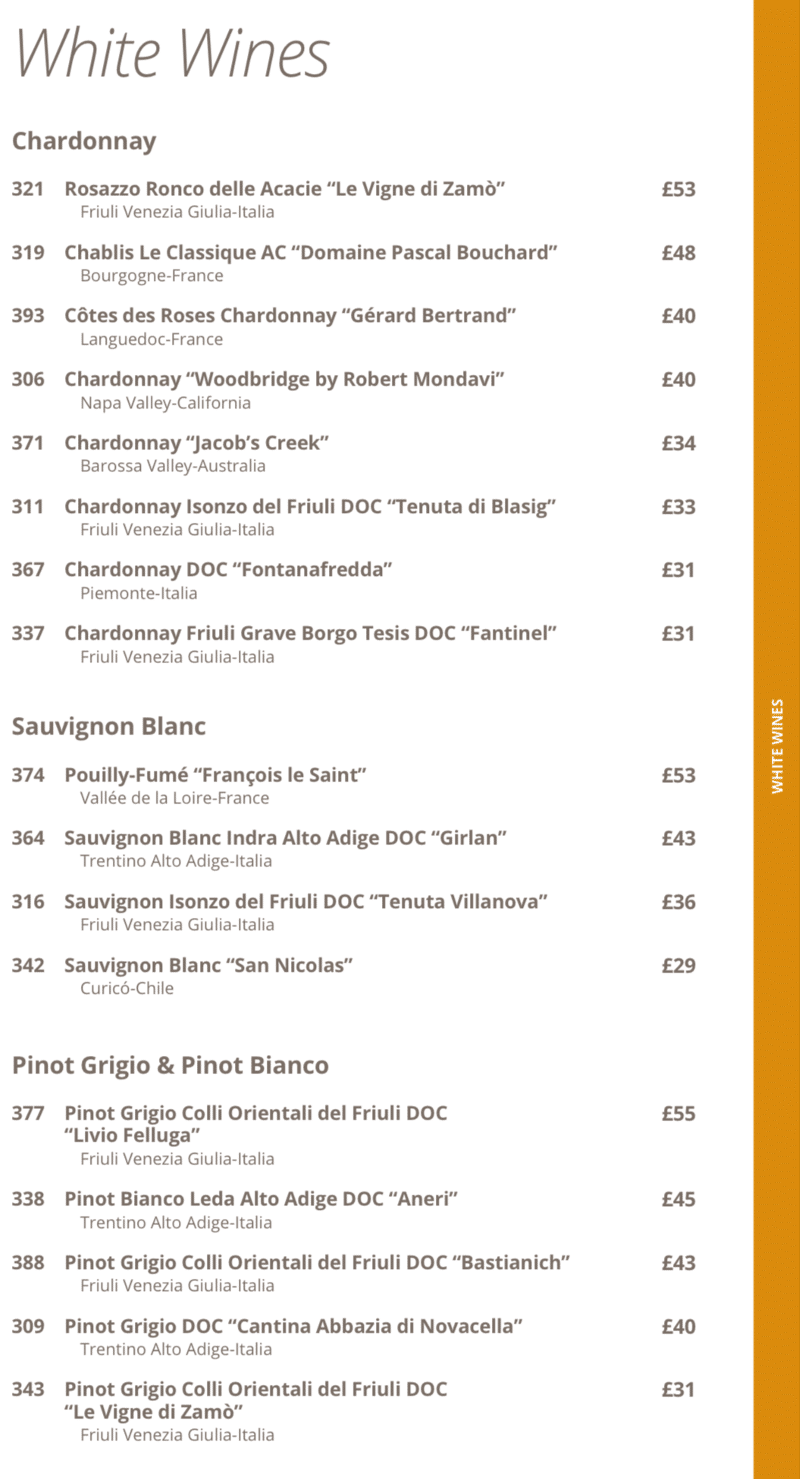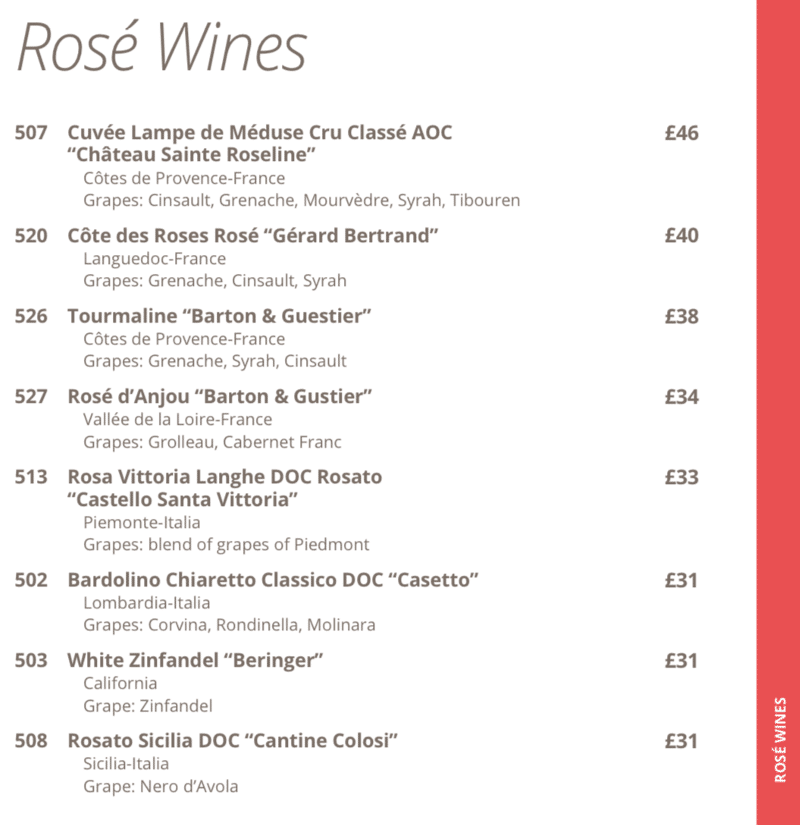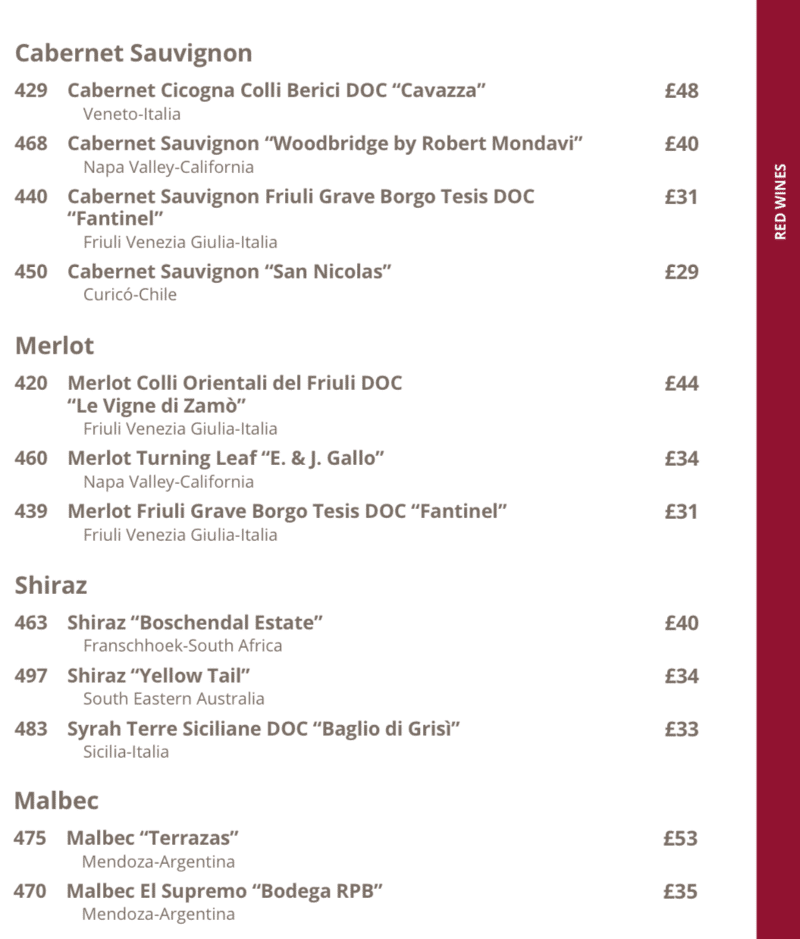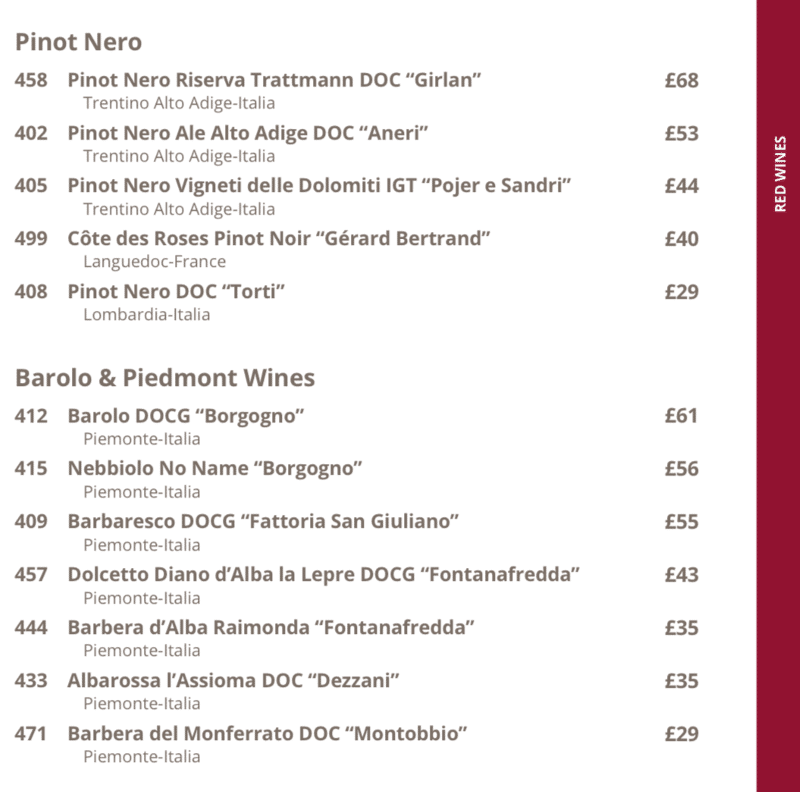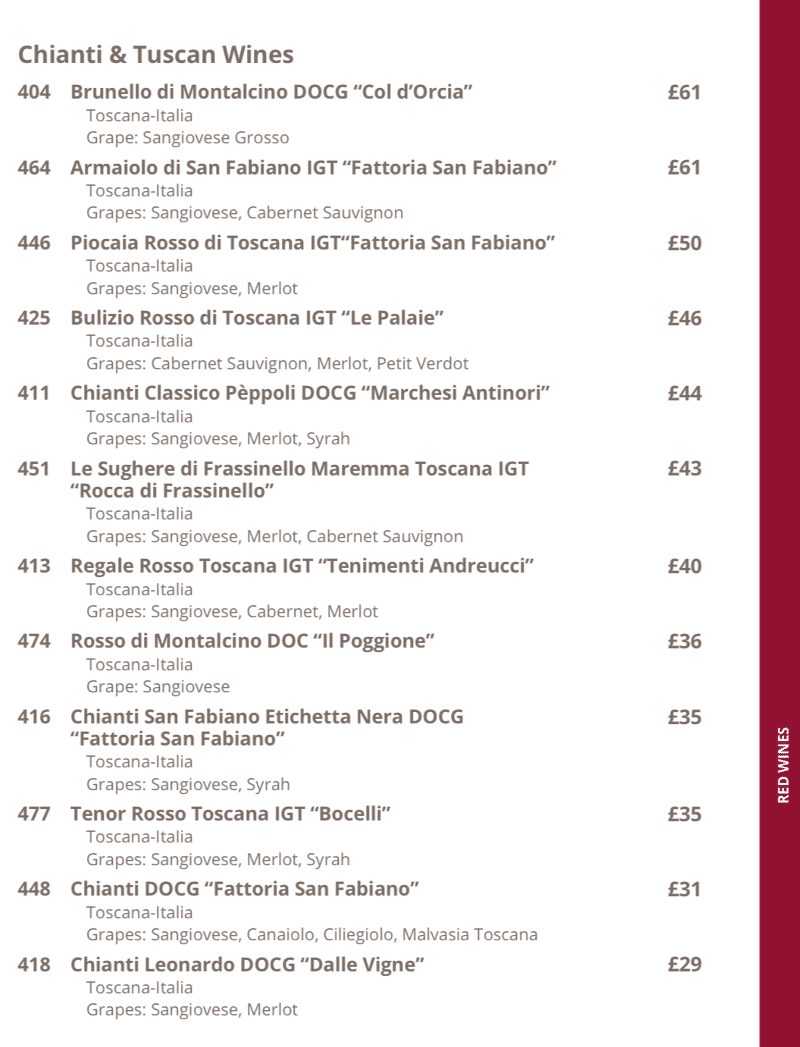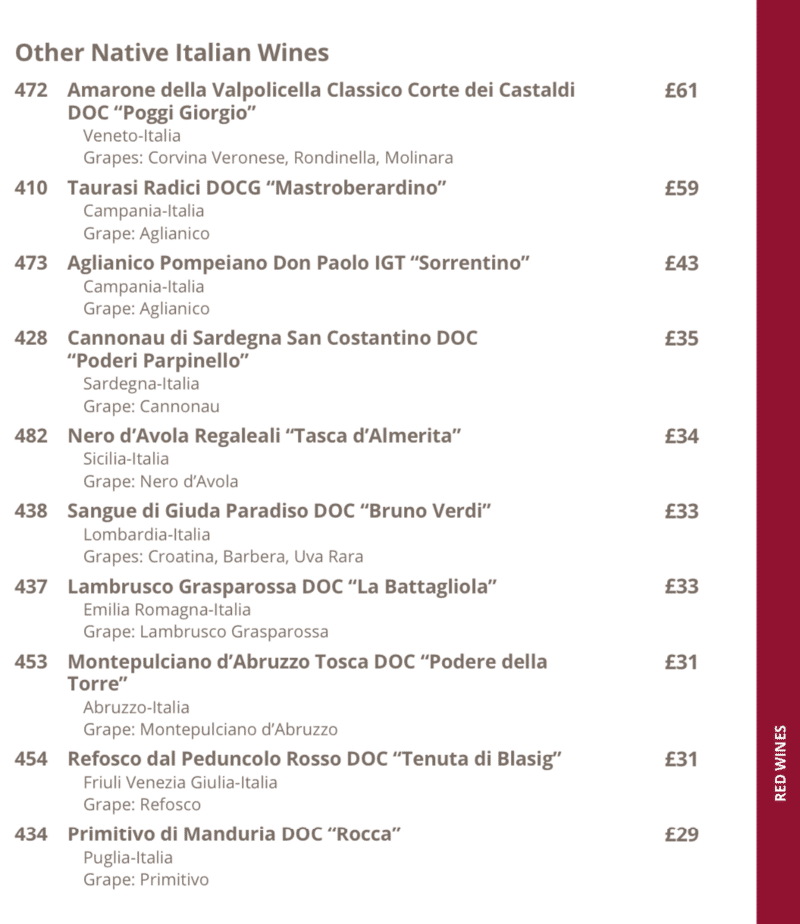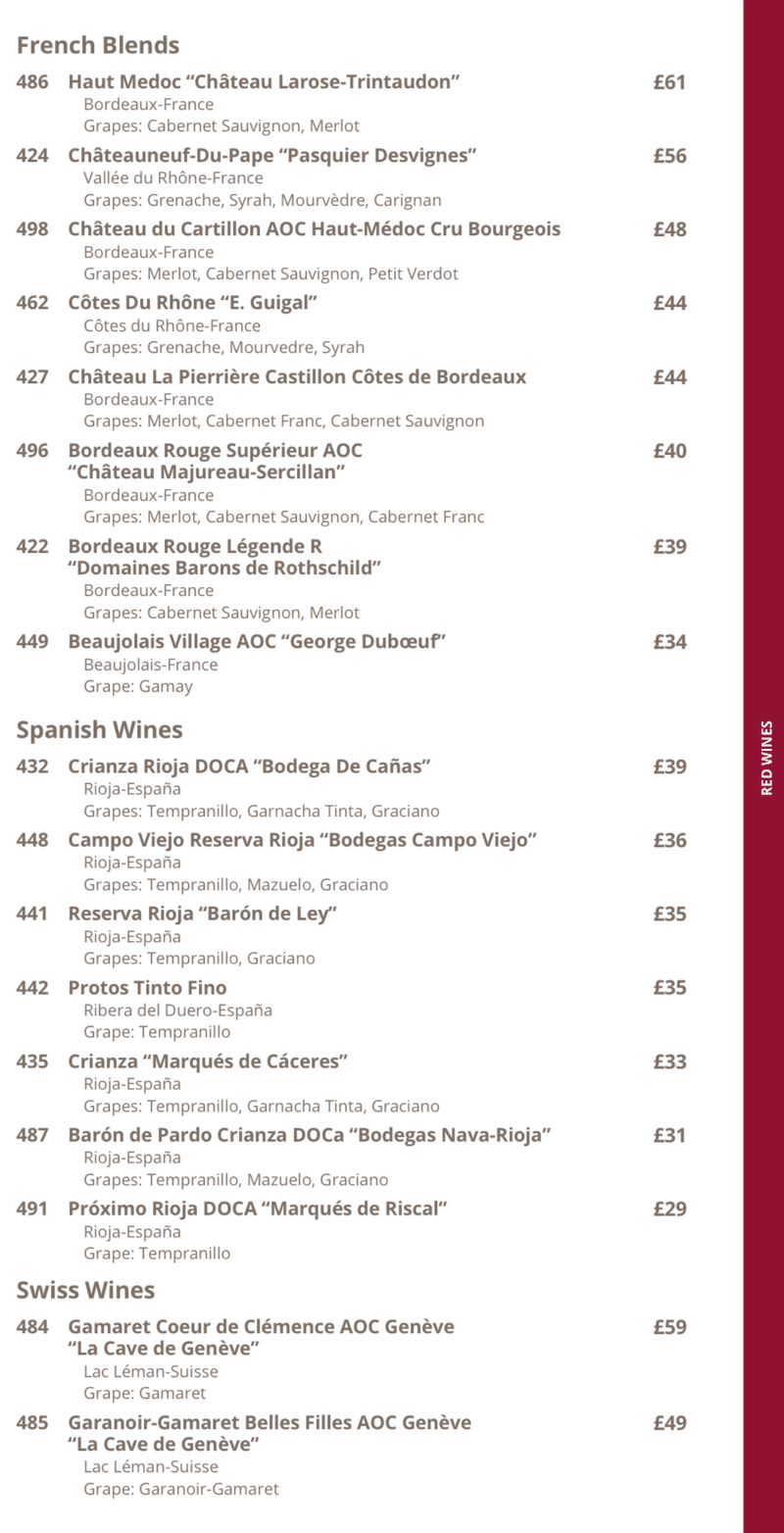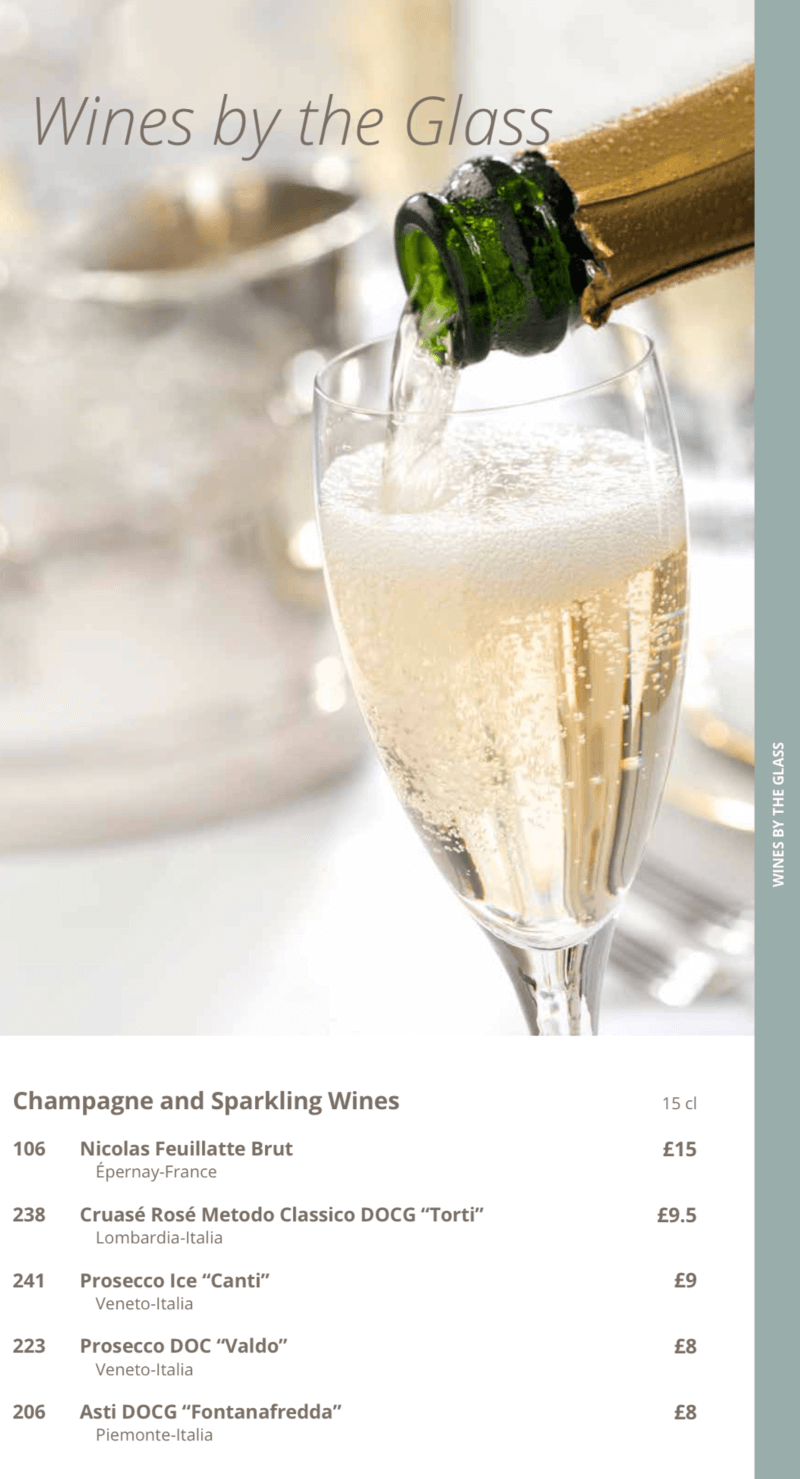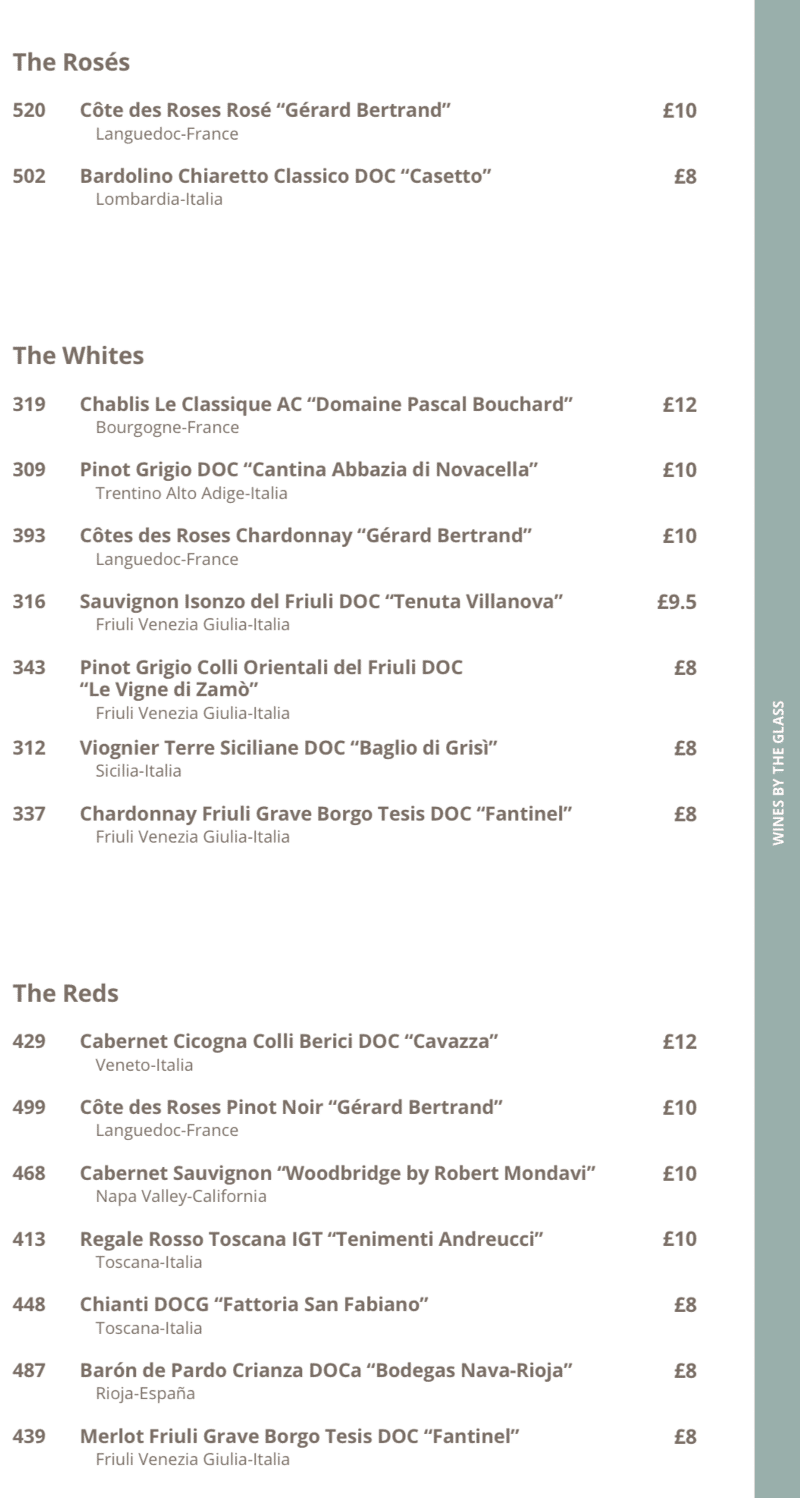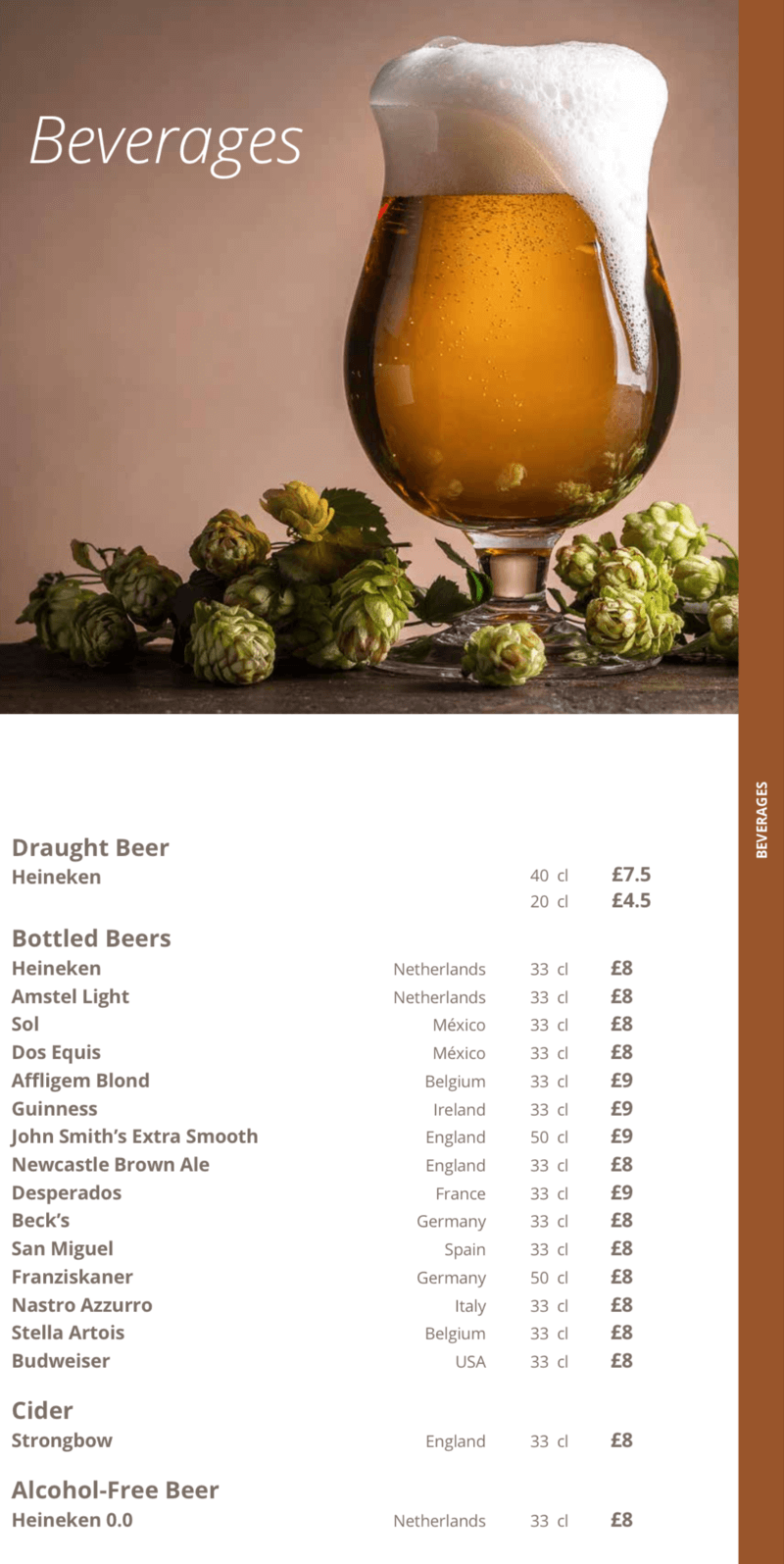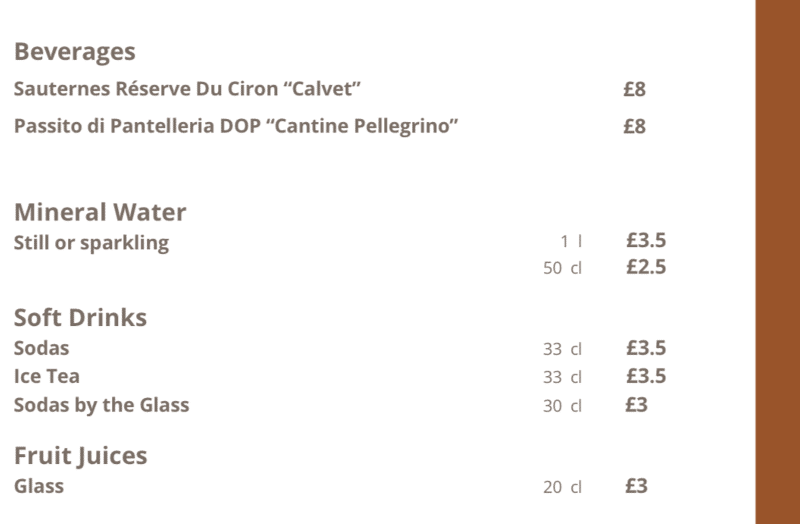 Buffet Drinks Menu
In the Marketplace Buffet restaurant on MSC Cruises, there is a simple drinks menu with beers, wines, soft drinks and coffees.
At breakfast, if you ask for coffee or fruit juice in the buffet, it will be given to you from the machines. These drinks are free for everyone, with or without a drinks package, and they're not the best.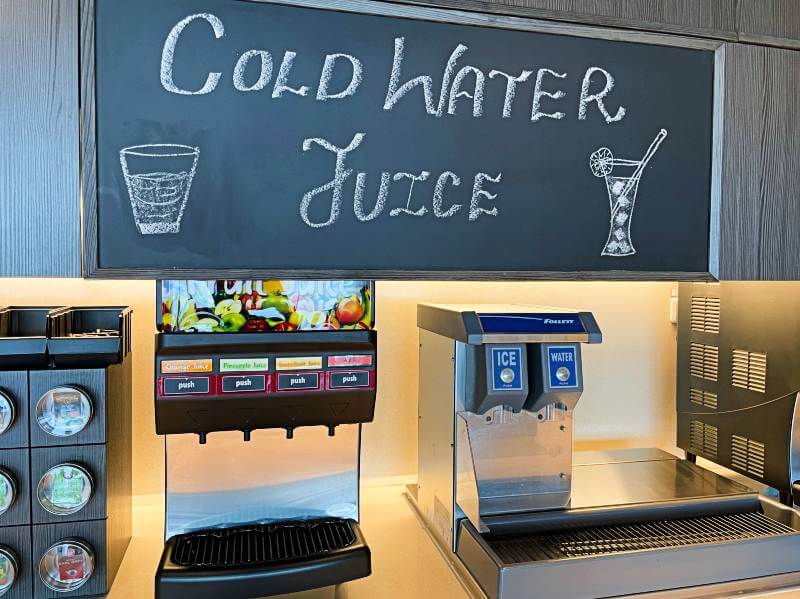 However, if you do have a drink package then you should ask for freshly squeezed juices and a latte or cappuccino. These are included in the package but you won't get them unless you ask specifically.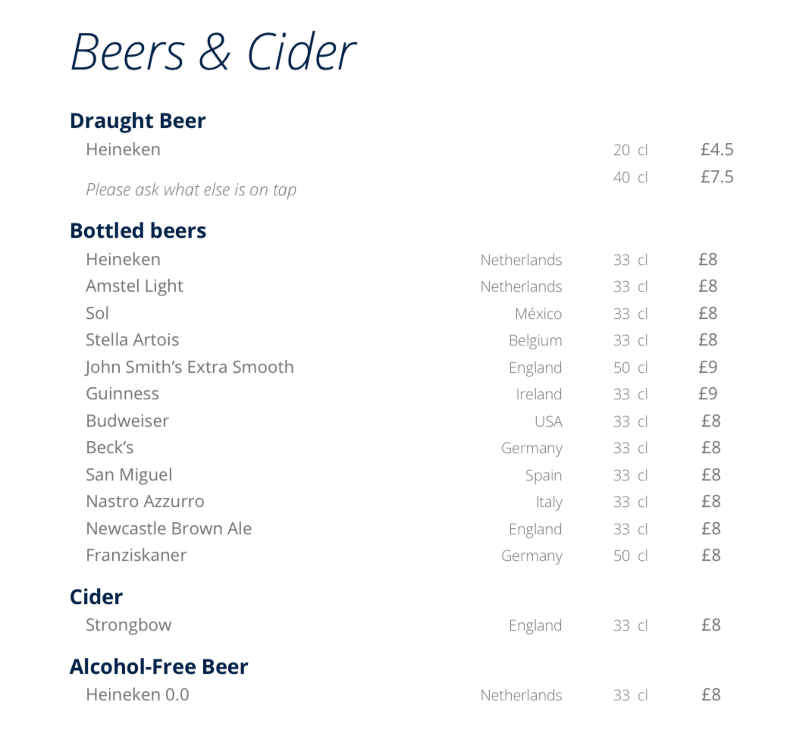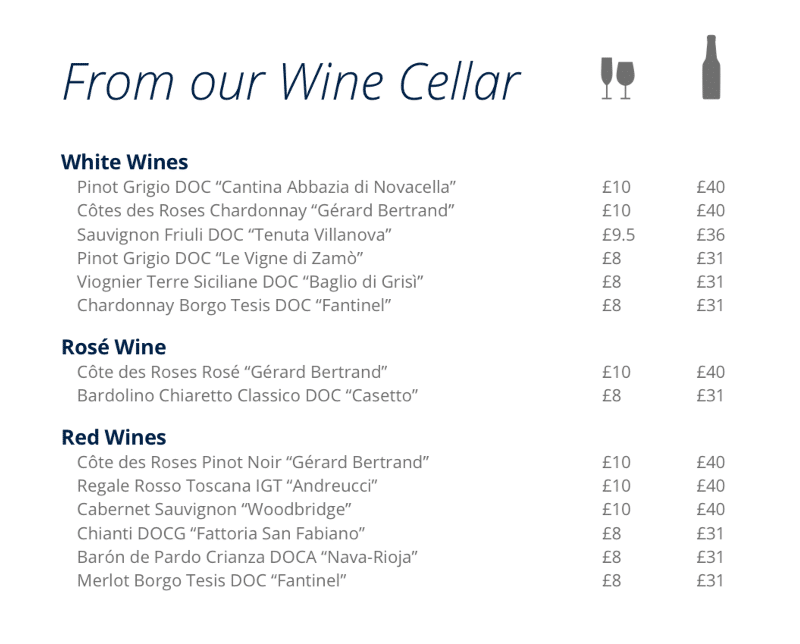 MSC Starship Club Drinks Menu
On MSC Virtuosa, there's a robot bartender called Rob who makes drinks for you in the Starship Club.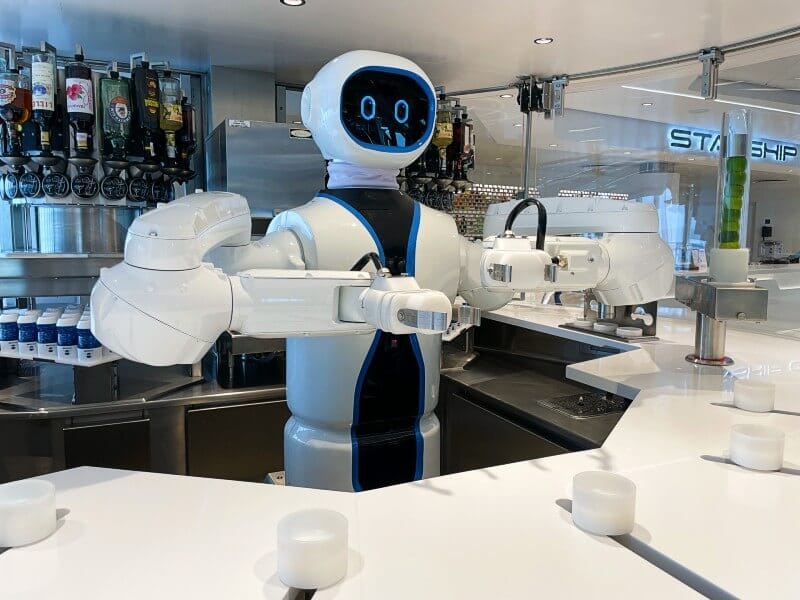 You can order a drink from Rob using the touchscreens that are located in the bar. There's a selection of alcoholic and non-alcoholic drinks to choose from, or you can create your own.
Drinks made by Rob the robot cost £18 for alcoholic drinks and £10 for non-alcoholic drinks. They come in a souvenir cup which you get to take home in a box.
Drinks made by the robot aren't included in the MSC drinks packages, but you can order from a human server instead if you want the free drinks.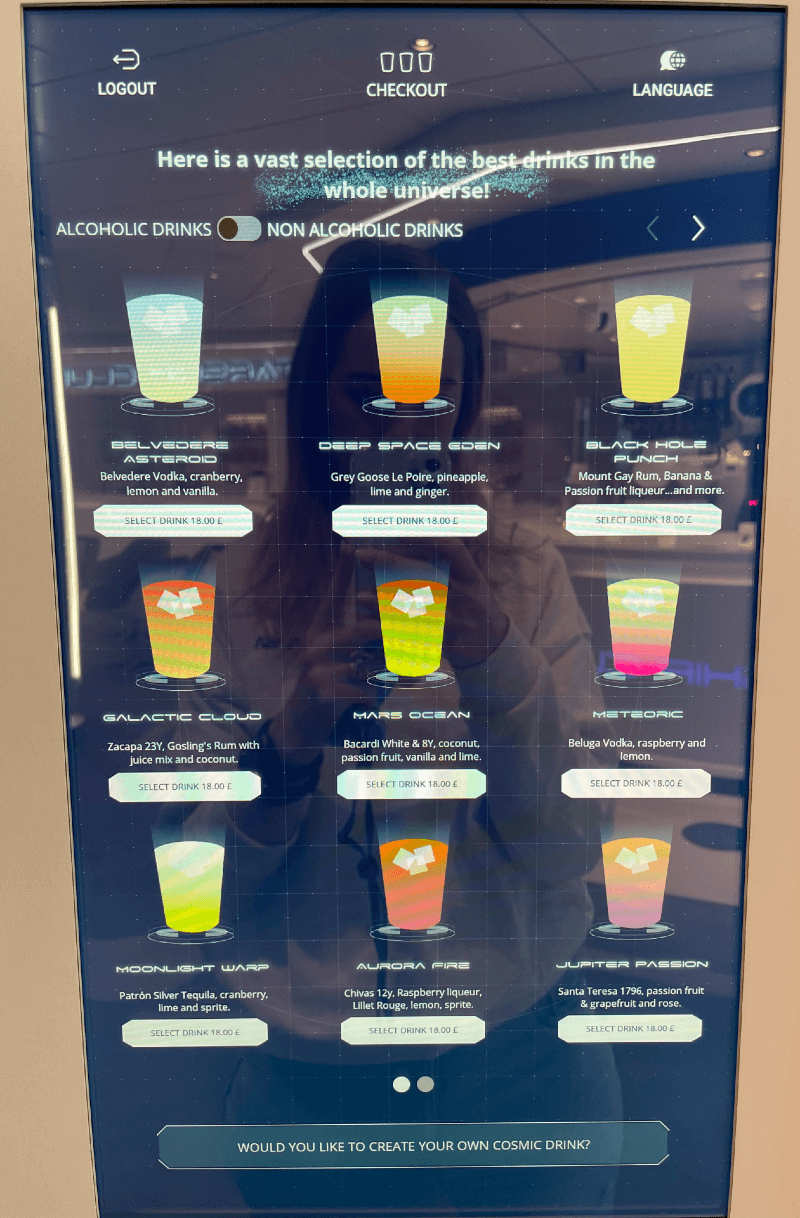 Minibar Price List
Each cabin on MSC Cruises ships has a refrigerated minibar that is refilled daily.
Drinks from the minibar are not included in the standard drink package are may be included in some upgrade drinks packages or in Yacht Club Suites.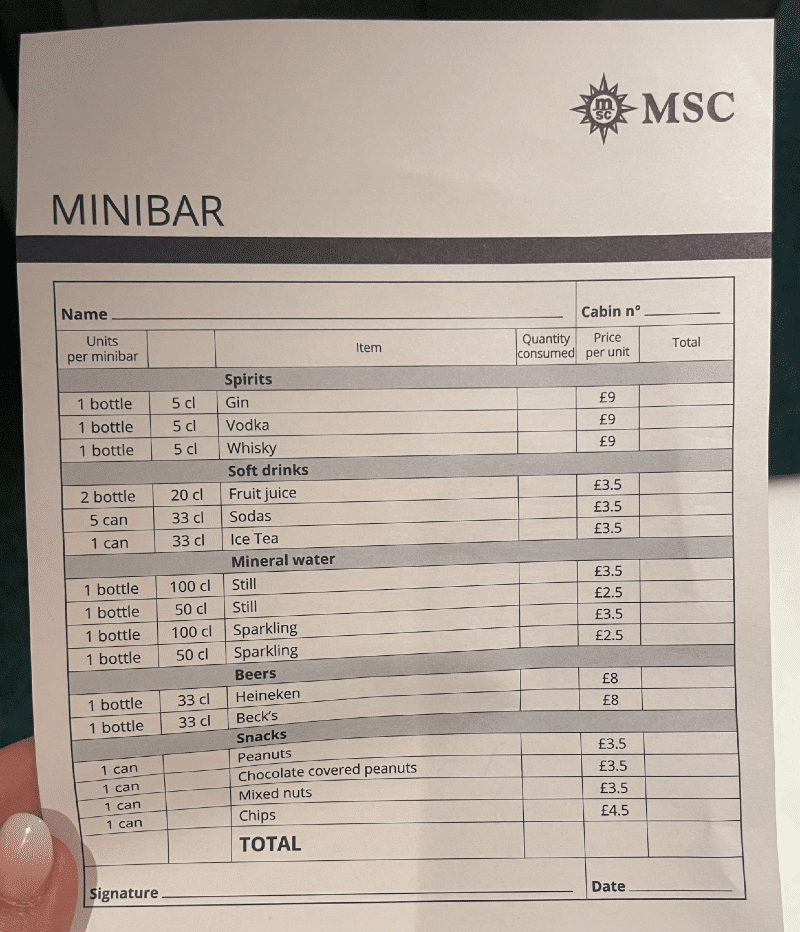 To conclude
MSC Cruises drinks prices are broadly similar to other cruise lines. The cocktails aren't particularly strong and the glasses of wine can be fairly small, so you may drink more than you expect to.
If you're wondering whether to buy a package or not, be sure to take a look at my MSC drink package guide which has information about the various packages and also lists the drinks that are always free or charge with or without a drink package.
I've also created a drink package calculator tool that will help you to work out how much you would spend on drinks during your cruise if you didn't have a package.
If this sounds useful, just leave your email below and it will be sent straight to your inbox…
NEW DEALS JUST RELEASED!
Don't miss the latest MSC Cruises offers…
Related posts: