The MSC Starship Club is a space-age bar that debuted on MSC Cruises' ship, MSC Virtuosa, and later came to sister ship MSC Euribia. This futuristic bar and entertainment experience features a humanoid robot bartender by the name of Rob.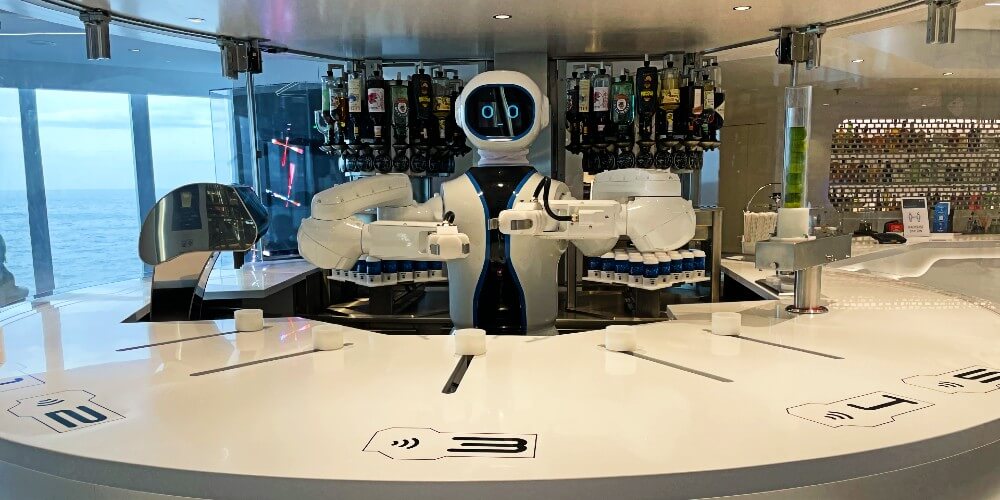 I cruised on the maiden voyage of MSC Virtuosa and am excited to show more about Rob the robot and the MSC Starship Club…
The World's First Humanoid Robotic Bartender at Sea
A robot bartender? Hasn't Royal Caribbean had those for years, you might ask…
Well, yes. Royal Caribbean's Quantum Class ships like Anthem of the Seas do feature robot bartenders. But the MSC Starship club knocks Royal Caribbean's Bionic Bar clean out of the water. Here's why…
For starters, MSC's robot bartender, Rob, is a humanoid. Much more than just a mechanical arm, he has a face with human-like expressions and a voice. Rob speaks eight languages and has a clear personality that adjusts to match the atmosphere of the room!
Cool features of MSC Cruises humanoid bartender:
Interactive – Robot bartender Rob Loves to tell people jokes, riddles and space trivia
Multilingual – He speaks English, Italian, Spanish, French, German, Brazilian Portuguese, Chinese and Japanese
Emotions – Rob has an LED face with human-like expressions to convey emotions
Personality – His personality adjusts to match his surroundings
Entertaining – If he's in the mood, Rob will show off his dance moves
Flexible – Rob moves his arms, body and head just like a real person
Attentive – He can scan the room to recognise and greet guests walking by
Unlimited – Rob can make an infinite number of unique, personalised drinks
So while Royal Caribbean's Bionic Bar, which has been around since 2014, is undoubtedly very cool, the technology behind MSC Cruises humanoid bartender Rob is lightyears ahead.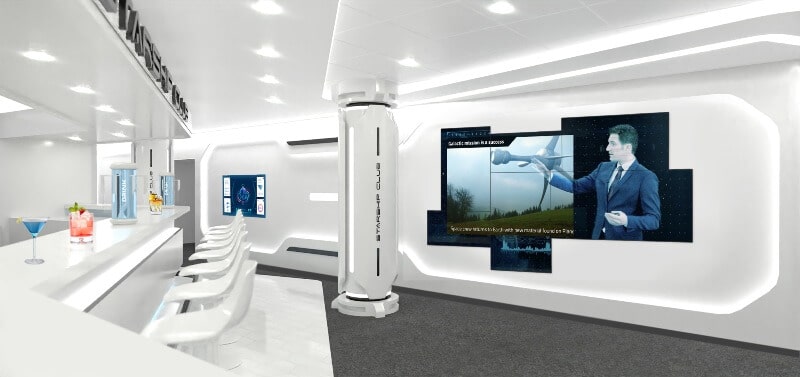 What to Expect Inside the Starship Club
Robotic bartender Rob is the star of the show inside the MSC Starship Club. But this integrated bar and entertainment experience offers more than just fancy cocktails.
The Starship Club is inspired by MSC Cruises' vision of the spaceship of the future – the MSC Starliner One. It features some incredibly innovative technology that makes this fun venue a must-visit attraction for adults and kids of all ages.
NEW DEALS JUST RELEASED!
Don't miss the latest MSC Cruises offers…
Inside the MSC Starship Club you will find:
3D holograms
Immersive digital art wall
12-seater infinity digital interactive table
Human bartenders in sci-fi costume
Here's a poster for the Starship Club…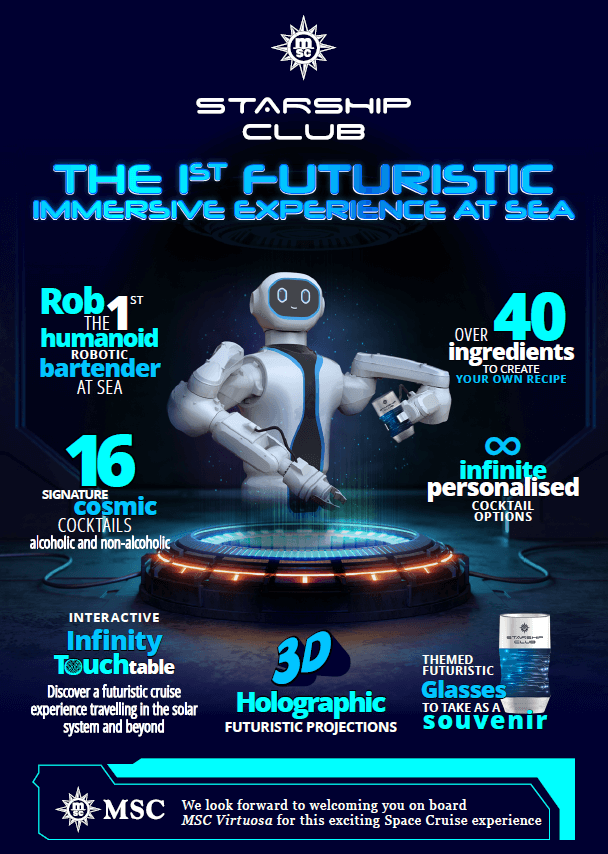 How the MSC Starship Club Works
Use one of the 'vertical digital cockpits' to order drinks
Choose your preferred language from a choice of eight
Pick from 16 signature cocktails or create your own unique recipe from over 40 ingredients
Check on the status of your order with a ticker-tape-style LED strip above the robotic island
Watch humanoid bartender, Rob, as he shakes, pours, stirs and garnishes your cocktail
Keep you futuristic glass as a souvenir
Come back as often as you like during your cruise
What Drinks Can You Get in MSC Starship Club?
In the MSC Starship Club, you can order an infinite variety of cocktails from the humanoid robot bartender.
You can create your own alcoholic or non-alcoholic drink from a choice of over 40 ingredients. If you're not sure what to have, there's a menu of 16 signature cocktails to choose from.
There will also be real human bar staff on hand to help and take additional drinks orders if needed.
How Much are Drinks in the Starship Club?
Drinks ordered from Rob the Robot in the Starship Club cost £18 for alcoholic drinks and £10 for non-alcoholic drinks.
You can also order drinks from regular bartenders and waiters if you prefer.
Can I Keep the Cup?
Drinks made by Rob the Robot in the Starship Club are served in souvenir glasses which you can take home with you. You even get a little box to put it in.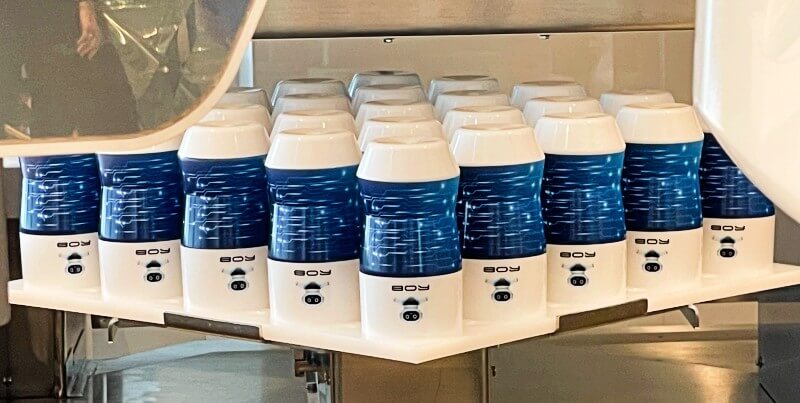 Can You Use Your Drinks Package in the MSC Starship Club?
MSC drinks packages do not include drinks prepared by the robot bartender in the MSC Starship Club. If you want to use your drink package in the Starship Club, you must order from a human.
Suggested read: MSC Drink Packages (2021 onwards)
Which Ships Have the MSC Starship Club?
The MSC Starship Club debuted as the MSC Virtuosa robot bar, and later came to sister ship MSC Euribia. Despite the popularity of the bar, it hasn't been included on the new Seaside EVO-class ships, or the World-class ship MSC World Europa.
NEW DEALS JUST RELEASED!
Don't miss the latest MSC Cruises offers…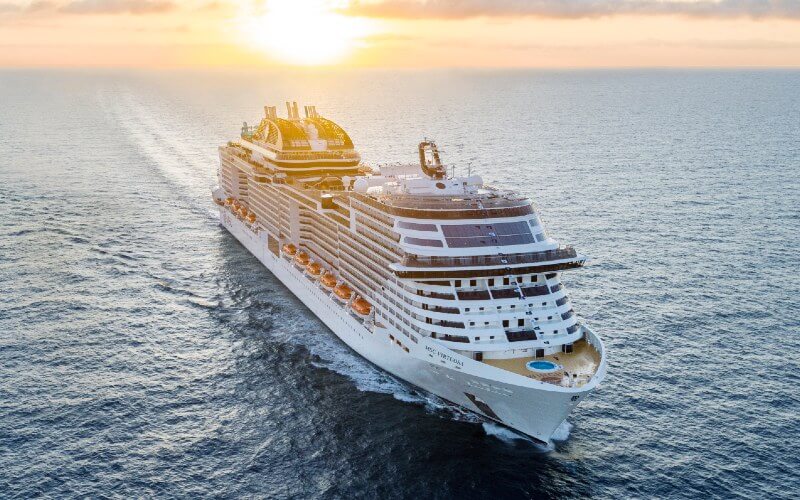 To Conclude
This bar and entertainment venue with its humanoid bartender is an incredibly exciting and futuristic venue for MSC Cruises and one that guests love. Make sure you check it out next time you're cruising on MSC Virtuosa or MSC Euribia.
Related posts: