Choosing the right cabin for your cruise is always an important decision. If you're booking a cruise on P&O Cruises' new ship, read on for all the information you need to choose the best cabins on Iona.
There are some cabins on Iona that you will almost certainly want to avoid. I'll admit that I was shocked when I saw these cabins. I can't quite believe they were designed that way. Read on for all the info…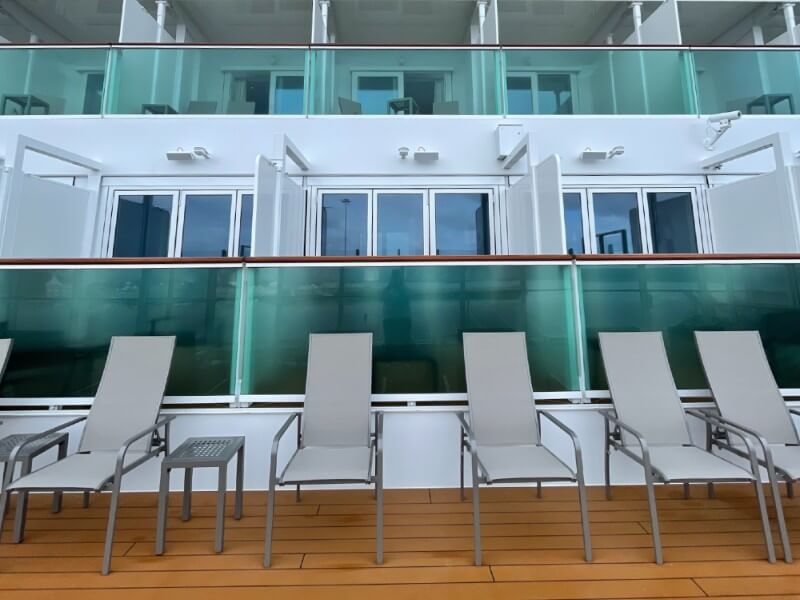 Iona Cabin types
There are four main cabin types to choose from on Iona:
Inside cabins – Single, standard or larger
Outside cabins – Standard
Balcony cabins – Single, smaller, standard or deluxe
Suites – Conservatory mini-suite, family sea view suite or suite
Read on for more info about each of these cabins types. This should help you to decide which is the best for you…
Inside cabins on Iona
Iona has three types of inside cabin:
Single inside – 101 sq. ft. (1 person)
Standard inside – 135 sq. ft. (2 to 4 people)
Larger inside – 190 sq. ft. (2 to 4 people)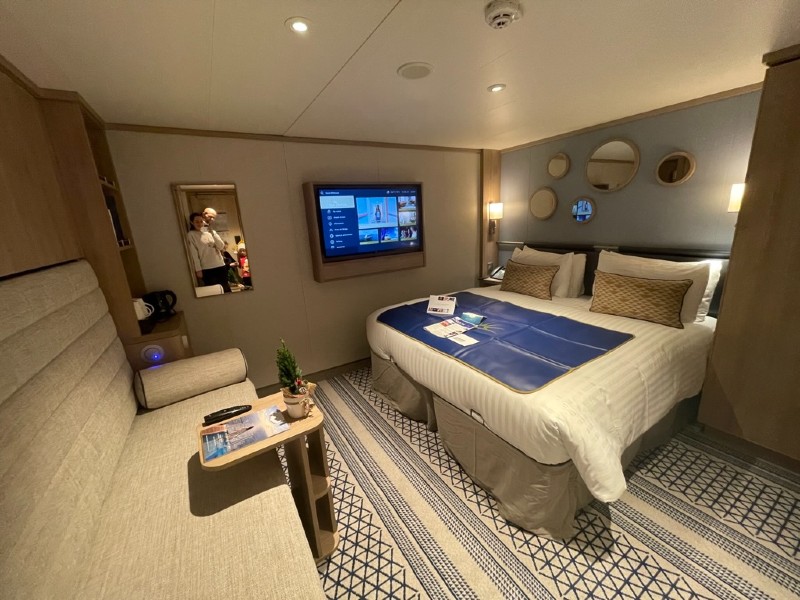 Inside cabins are the cheapest cabins and are perfect for those on a budget or who prefer to spend their time experiencing the ship rather than being in their cabin.
Iona's inside cabins are between 101 and 190 square feet in size, with accessible inside cabins being 213 square feet in size.
Single inside cabins sleep only one passenger. The standard and larger inside cabins each sleep up to four passengers, with the third passenger on a single sofa bed and the fourth passenger in a Pullman bed.
Sugested read: What is a Pullman bed on a cruise ship?
Sea view cabins on Iona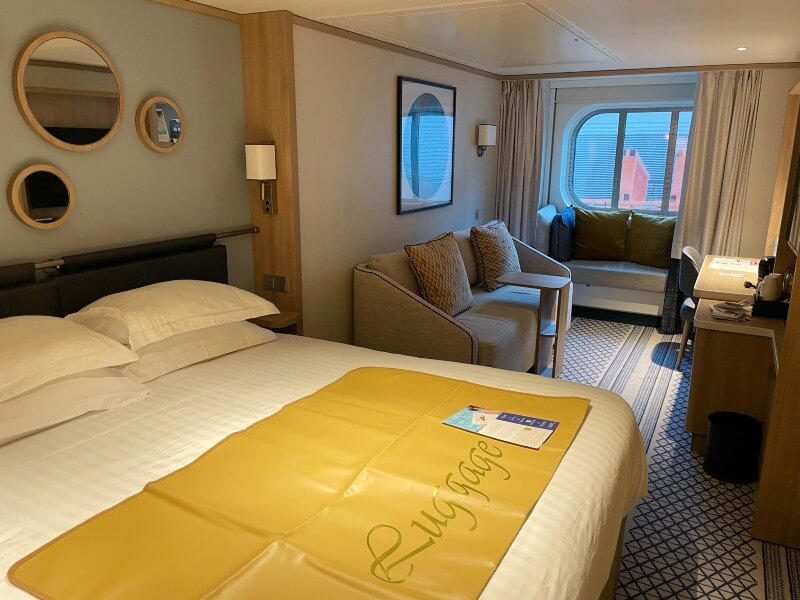 If you're on a budget but are worried about feeling claustrophobic, a sea view cabin is a good compromise between a cheap inside cabin and a pricier balcony room.
Also known as outside cabins, the sea view cabins on Iona are a great choice because, at 210 square feet, they are larger than both the standard inside and standard balcony cabins. The accessible sea view cabins on Iona are 307 square feet, providing ample space for a wheelchair.
Sea view cabins have a window that's handy to check the weather before getting dressed in the morning. It's also a lovely place to sit and watch the ocean. I loved staying in this cabin and plan to change all of my future Inside cabin bookings on Iona and Arvia to Sea Views.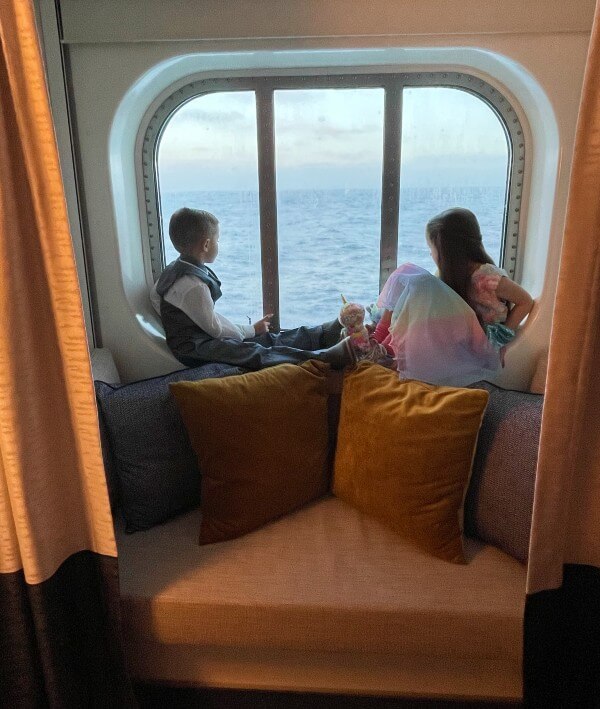 Not every sea view cabin on Iona has a window seat, some just have the window. Currently, there's no way to know which ones have seats and which just have the window.
However, I do know that our cabin, 4248, did have a window seat and cabin 4461 also has a window seat. So if you want to guarantee a window seat, you could choose one of those numbers.
Balcony cabins on Iona
Iona has four sizes of balcony cabins:
Single balcony – 107 sq. ft. (1 person)
Smaller balcony – 150 sq. ft. (1 or 2 people)
Standard balcony – 170 sq. ft. (2 to 4 people)
Deluxe balcony – 226 sq. ft. (2 to 4 people)
Please note that these are approximate sizes. If you book an accessible cabin, it will be larger and there will be enough space to accommodate a wheelchair.
Iona's balcony cabins all have patio-style doors leading on to a private (or not so private – more on that later) balcony where you can watch the world go by.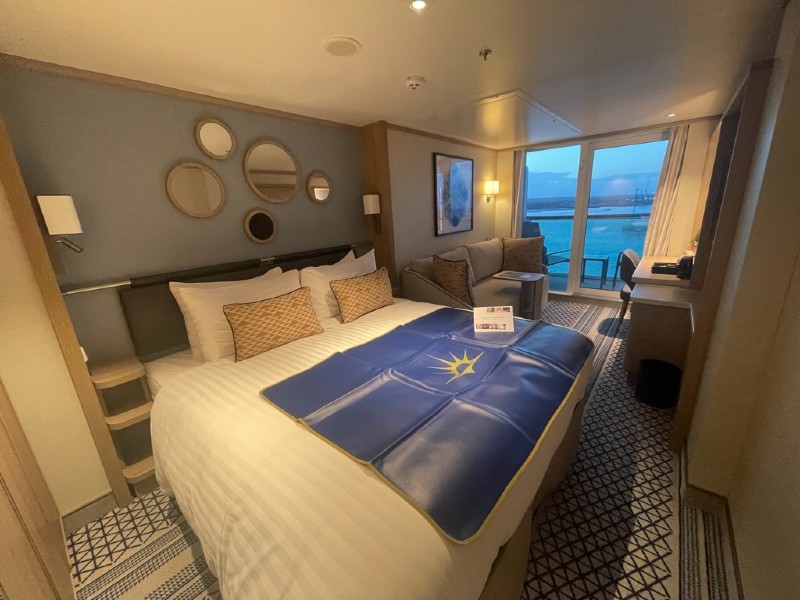 Iona balcony cabins range in size from 107 square feet for single balcony cabins up to 226 square feet for deluxe balcony cabins and 362 square feet for accessible cabins.
Single balcony cabins accommodate one passenger, smaller balcony cabins accommodate two passengers, whilst standard and deluxe balcony cabins sleep two to four passengers.
If you'd like to see videos of balcony cabins on Iona, there are lots available on YouTube. I recommend that you watch this one by Paul & Carole Love to Travel and this one by Cruises for Families.
Conservatory mini-suites on Iona
Conservatory mini-suites are only available on Iona and sister-ship Arvia. This exciting new cabin option includes a conservatory area with an L-shaped sofa in between the bedroom and the balcony.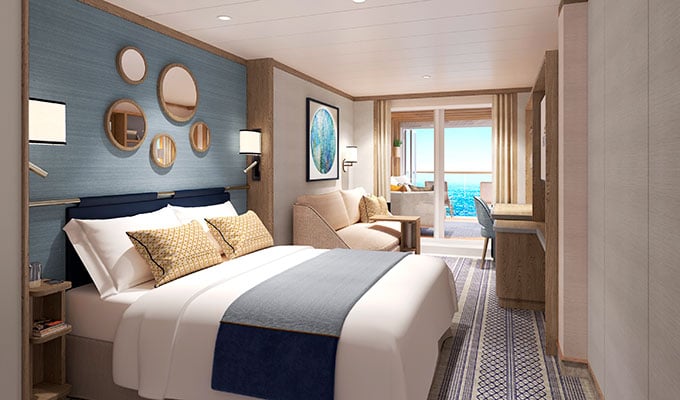 Iona has 95 of these conservatory cabins which are approximately 274 square feet in size and sleep up to four passengers.
Steph from Cruise With Amber has made a fantastic video tour of a conservatory mini suite on Iona. Watch that below and be sure to subscribe to her channel for more videos like this one.
If you need help in choosing the best conservatory mini suite on Iona, I also recommend that you check out Steph's guide to Iona's conservatory mini suites.
What's included in a mini-suite?
The conservatory mini-suites on Iona do not come with any of the benefits or perks that you get with a P&O Cruises suite, so in this sense, they are more like larger balcony cabins rather than suites. If you want to be treated like a VIP, you should go for a suite rather than a conservatory mini-suite.
Suites on Iona
Suites on Iona are located on the corner of decks 9 to 15, offering large wraparound balconies with views from the front or rear of the ship.
Iona has two Family Sea View Suites which are on the Promenade Deck. These are a little smaller than the other forward suites and they do not have balconies.
Each of Iona's suites is between 434 and 530 square feet in size and sleeps two to four people with a separate living area.
As well as the larger size, booking a suite comes with a whole host of perks including priority boarding, butler service and lots of fresh fruit, chocolates and canapes.
You can read more about Iona's suites in this article from CruisewithAmber.co.uk
Special Cabin Types on Iona
Family cabins on Iona
Each cabin on Iona sleeps between one and four people. Three berth cabins have a single sofa bed. Four berth cabins have a single sofa bed and a Pullman bed that comes down from the ceiling.
If you have a sofa bed then your cabin steward will make it up each evening while you have dinner and put the bed away each morning while you have breakfast.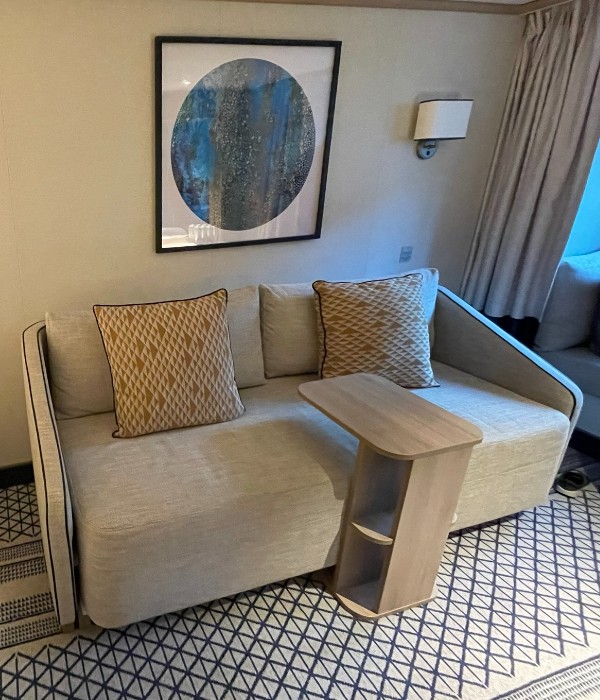 Families of five or more must be accommodated in two cabins on Iona. Connecting cabins are available. These have a door between them so that families of five to eight people or those who require a little more space can move easily between the cabins.
Children under the age of 16 years must share a cabin with an adult. You cannot put children in their own cabin unless it is interconnecting.
The best cabins for families on Iona are:
Larger inside cabins
Sea view cabins
Deluxe balcony cabins
Conservatory mini-suites
Family sea view suites
Single cabins on Iona
The single cabins on Iona can be found in various locations across the ship. Whilst some ships place all the single cabins together to make it easier for solo travellers to meet, on Iona this is not the case.
Suggested read: P&O Cruises with no single supplement
Accessible cabins on Iona
Iona has several adapted cabins which are suitable for wheelchair users. There's a choice of all cabin types and these are often located close to the lifts. These cabins are always in high demand so if you require a disabled cabin you should book your cruise as early as possible.
If you'd like to see what a wheelchair-accessible cabin on Iona looks like, then I recommend this video by Paul & Carole Love to Travel who were allocated an accessible cabin on Iona.
I also recommend that you check out this guest post from Lin who cruised on Iona with a mobility scooter.
How to choose the best cabin
I've created a handy checklist to help you know what to look out for when picking a cruise cabin. Just pop your email in the form below to get a copy delivered to your inbox straight away.
Iona Cabin Grades
Cabin grades are used to group similar cabins together for pricing purposes. Each P&O Cruises cabin is assigned a two-letter cabin grade code (e.g. GF). The cabin grades are shown in different colours on the deck plan.
Click to see Iona deck plan (opens in a new window)
The key to decoding the Iona cabin grades is to know that the first letter refers to the type of cabin (e.g. standard balcony) and the second letter refers to the location of that cabin on the ship (e.g. high deck, towards the front).
Note that decks may be high, mid or low. On each deck, cabins may be located forward, mid-forward, midship, mid-aft or aft (at the rear).
Table of P&O Iona cabin grades:
| Cabin Type | 1st Letter of Grade |
| --- | --- |
| Suite | B |
| Conservatory Mini-suite | C |
| Deluxe Balcony | E |
| Balcony / Smaller Balcony | G |
| Sea View | L |
| Larger Inside | O |
| Inside | P |
| Single Balcony | Q |
| Single Inside | S |
| Cabin Location | 2nd Digit of Grade |
| --- | --- |
| Mid decks. Midship location. | A |
| All decks. Mid-forward, mid or mid-aft location | B or V |
| High or low decks. Mid-forward or mid-aft location. | C or W |
| Mid decks. Aft location. | D or 4 |
| All decks. Forward or aft location | E, Y or 5 |
| High or low decks. Forward location. | F, Z or 6 |
| | |
Iona Cabin Sizes
Iona has a cabin for everyone, with sizes ranging from inside cabins that are a little over one hundred square feet to suites which are more than five times as large. For reference, it may help to know that a king size mattress is 42 square feet.
The approximate sizes of Iona cabins are:
Inside single – 101 sq. ft.
Inside standard – 135 sq. ft.
Inside larger – 190 sq. ft.
Sea view standard – 210 sq. ft.
Balcony single – 107 sq. ft.
Balcony smaller – 150 sq. ft.
Balcony standard – 170 sq. ft.
Balcony deluxe – 226 sq. ft.
Conservatory mini-suite – 274 sq. ft.
Family sea view suite – 330 sq. ft.
Suite – 434 to 530 sq. ft.
The Best Cabins on Iona
Everybody has different priorities when choosing a cabin. For some, the cheapest cabin is the best. Others want the biggest cabin or the cabin in the best location so that they don't have to walk too far. It's very much a personal choice.
The best balcony cabins on Iona
There are some balcony cabins on Iona which have much bigger balconies than others of the same grade (and therefore the same price). If you like a large balcony, these are definitely worth looking out for.
In the image below, the pink and purple cabins are standard balcony cabins. Some of these have much bigger balconies than others, for the same price. In fact, 17219 will be cheaper than 17305 because it is further forward, even though the balcony is five times as large!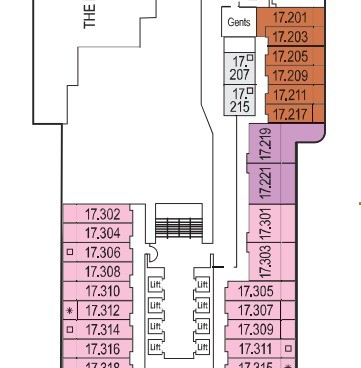 Click here to see the Iona Deck Plan (opens in a new window)
The image below shows how the curved design of the ship makes some balconies much bigger than others.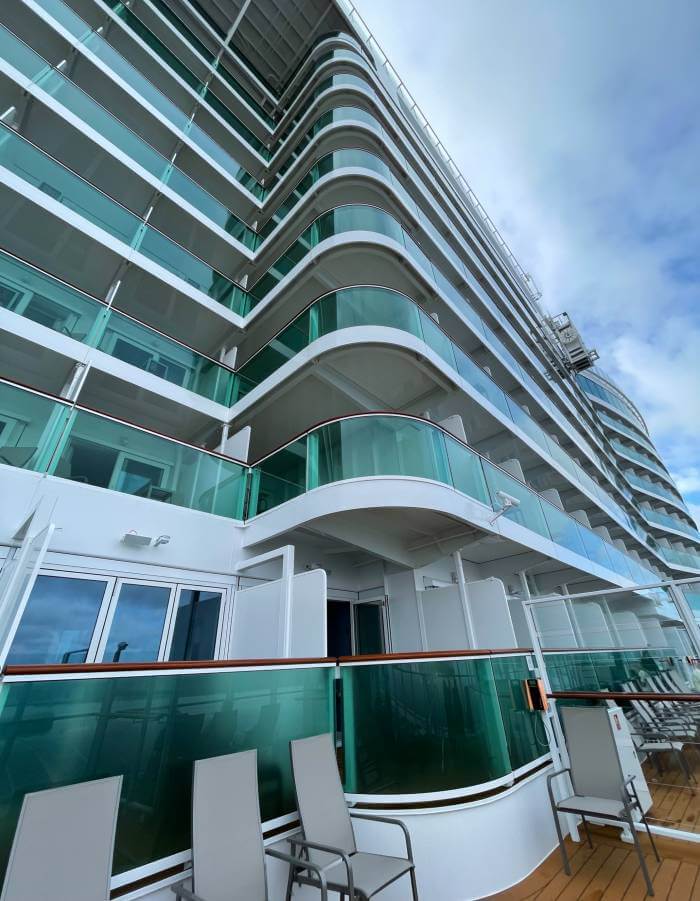 Here is a list of the cabins on Iona which have the largest balconies:
9236
9239
9320 (sleeps 3)
9321
10238
10245 (sleeps 3)
10320
10321
10509 (sleeps 3)
10514 (sleeps 4)
11242 (sleeps 4)
11243
11320
11321
11514 (accessible)
11515 (sleeps 3)
11711
11712
12242
12255
12320
12321
12514 (accessible)
12515 (sleeps 3)
12711
12712
14242
14255
14320
14321
14512
14515 (sleeps 3)
14711
14712
15242
15253
15316
15317 (sleeps 4)
15514
15515
15711
15712
16242
16253
16320
16321 (sleeps 4)
17317
17320
The best inside cabins on Iona
Inside cabins on Iona are either square or rectangular. The rectangular cabins sleep only two people whereas most of the square cabins sleep four.
If there are only two people in your cabin, it's a good idea to book a cabin that sleeps two so that you won't have the Pullman bed. This also leaves these cabins free for families who need them.
Similarly, if you don't need interconnecting cabins then try not to book one. The door between the two cabins is never quite as soundproof as a wall. Plus, having an interconnecting cabin could be a big deal for a larger family.
NEW DEALS JUST RELEASED!
Don't miss the latest P&O Cruises offers…
Are port or starboard cabins best on Iona?
Originally, Iona's captain, Wesley Dunlop, commented on Twitter that Iona will dock with the port side to the quay.
Port side to the quay will be our regular side alongside once we welcome our first guests onboard so we wanted to check all was 'ship shape' ready for the 7th August! 😁

— Wesley Dunlop (@captwesdunlop) May 18, 2021
However, one cruiser who has been to Norway on Iona said that the ship alternated port and starboard side for the four destinations.
Stavenger – Port
Olden – Starboard
Alesund – Port
Haugesund – Starboard.
So, it seems that it doesn't really matter whether you choose port or starboard for your balcony on Iona.
Suggested read: 7 easy ways to remember port and starboard
Iona Cabins to Avoid
There are some also cabins on Iona which you may want to avoid…
1. Balconies on Deck 8
Promenade Deck cabins on Iona are most unusual and you may wish to avoid them.
The Promenade Deck is located on Deck 8 and enables passengers to walk all the way around the outside of the ship. On the Promenade Deck, you'll find outside dining areas, bars, hot tubs… and cabin balconies!
The image below shows part of Deck 8. The light brown striped area is the deck where people can walk in between the balconies and the edge of the ship.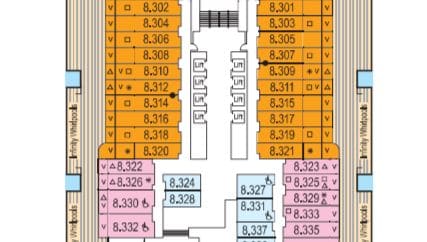 Now that Iona is cruising with guests, we've been able to take the first look at these cabin balconies in real life. I was shocked to see just how little privacy they have.
Take a look at this video from Cruising With Ben & David to see what these promenade deck balcony cabins look like…
The promenade deck balconies really do have no privacy with chairs right outside them. The ones with the slightly larger, curved balconies appear to be the worst, as they catch the attention of anyone walking past.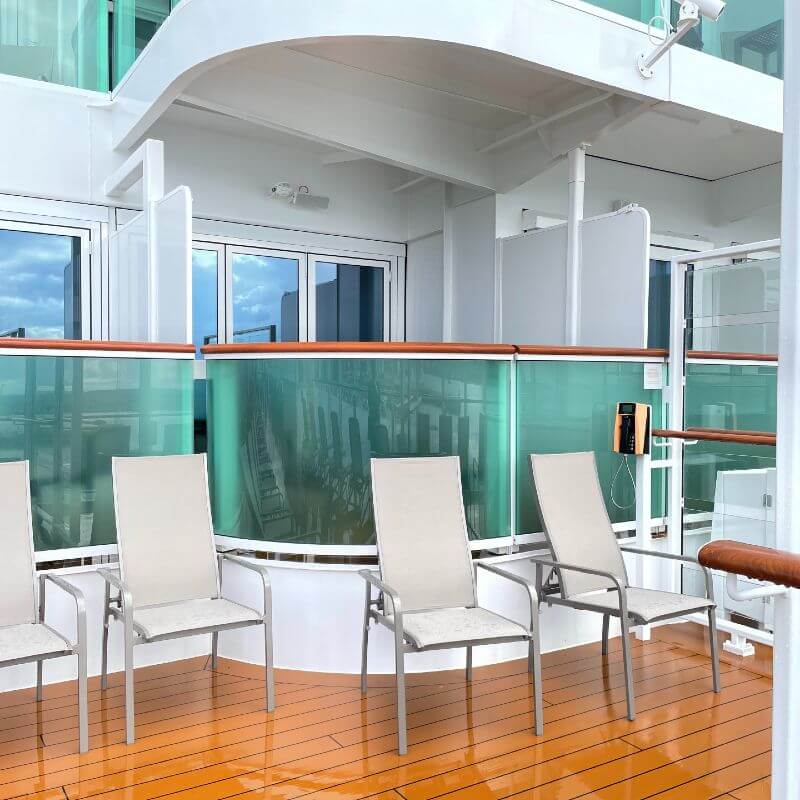 While the cabins at the front of the Promenade Deck have larger than average balconies, there really is no privacy at all with people walking right past. Take a look at this point of Ben & David's video to see…
If you want privacy on your balcony, you should definitely avoid Deck 8 on Iona. The privacy issue affects all of the balcony cabins on this deck, including forward-facing cabins and conservatory mini-suites.
If you're wondering what the view looks like from the balcony of a room on Iona's Promenade Deck, then take a look at this video by Cruise With Amber which shows the view from a conservatory mini suite on Deck 8 as well as one on Deck 9…
2. Cabins overlooked by neighbours
While the extra large balconies are some of the best cabins on Iona, the ones next door could be said to be the worst.
If you stay next to one of the 'corner' balconies, you'll not only have to deal with looking at your smug neighbours with their much larger space, but they'll also be blocking quite a lot of your view. This is made so much more annoying by the fact that both rooms cost the same!
The photo below shows the view from a balcony next to the larger one…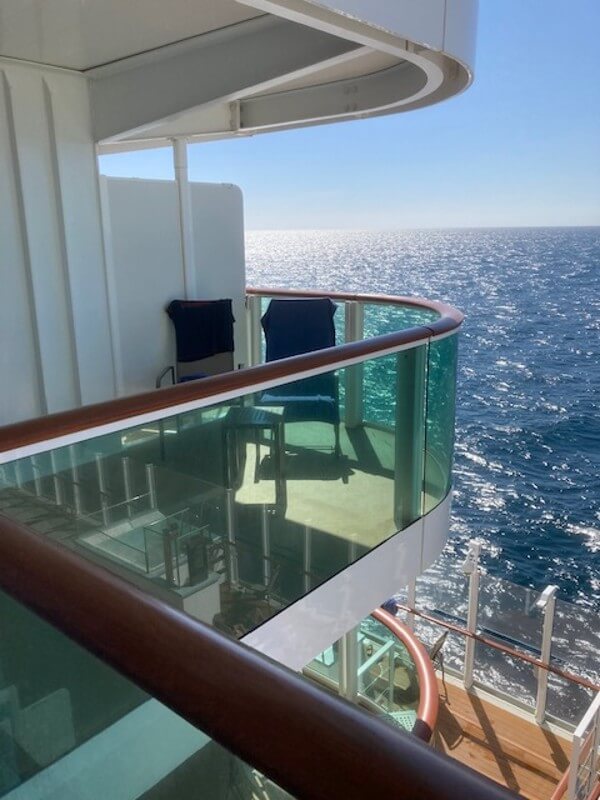 The cabins to avoid are: 9238, 9241, 9318, 9319, 10240, 10247, 10318, 10319, 10511, 10516, 11244, 11245, 11318, 11319, 11516, 11517, 12244, 12257, 12318, 12319, 12516, 12517, 14244, 14245, 14318, 14319, 14514, 14517, 15244, 15255, 15314, 15315, 15516, 15517, 16244, 16255, 16318, 16319, 17219, 17221, 17301, 17311, 17315, 17316, 17317, 17318, 17320.
But it's not just those directly next to the extended balconies either. Because they protrude so much, they have a few of the next 2-3 balconies on the deck below.
So you'll also want to avoid all of these:
9236, 9239, 9240, 9243, 9316, 9317, 9320, 9321, 9514 to 9714, 10238, 10242, 10245, 10249, 10316, 10317, 10320, 10321, 10509, 10514, 10515, 10518, 10709, 10710, 10711, 10712, 11242, 11243, 11246, 11247, 11316, 11317, 11320, 11321, 11514, 11515, 11518, 11519, 11709, 11710, 11711, 11712, 12242, 12246, 12255, 12259, 12316, 12317, 12320, 12321, 12514, 12515, 12518, 12519, 12709, 12710, 12711, 12712, 14242, 14246, 14255, 14257, 14259, 14316, 14317, 14320, 14321, 14512, 14515, 14516, 14519, 14709, 14710, 14711, 14712, 15311, 15312, 15314, 15315, 15316, 15317, 15514, 15515, 15518, 15519, 15709, 15710, 15711, 15712, 16242, 16246, 16253, 16257, 16316, 16317, 16320, 16321.
3. Cabins overlooked by the bridge
Another thing that you might want to consider is that all balconies on forward-facing cabins are overlooked by the bridge (where the officers see out of to manoeuvre the ship). That's cabins 15101-15108, 14101-14110, 12103-12110, 11101-11108, 10101-10108, 9102-9109 and 8181-8108.
I would imagine that the ship's officers are more concerned about navigating than looking down onto anyone's balcony, but if you'd rather not be overlooked, you might prefer to opt for an aft balcony cabin rather than a forward one.
4. Balconies overlooked at the aft
Aft balconies are always popular with cruise passengers – many believe it to be the best view. But on Iona, the ship is staggered, which means the guests in the aft balconies above are able to look down into your balcony.
How much they're going to, I can't tell you. But if you want privacy, you're best avoiding these cabins:
14735 to 14742, 12735, 12737 to 12472, 12744, 11739 to 11745, 10736, 10738 to 10743, 10745, 9739, 9741, 9743, 9744, 9745, 9746, 9748, 9750.
5. Rooms with a shaded balcony
It's debatable whether this should be in the list of the worst cabins, because it is definitely preference-based. A large number of the cabins on Iona are shaded by the cabins above, meaning you won't be able to use them for sunbathing for large parts of the day.
However, you will be able to relax with a book or on your phone without the glare making it hard to see what you're doing. So avoiding these rooms comes down to whether you like shade or not.
The cabins in question are:
15514 to 15537, 15601 to 15633, 15701 to 15731, 17219, 17221, 17301 to 17320
6. Forward-facing balcony cabins
Some of the cabins at the front of the ship are designated as 'restricted access'. This means that, during high wins, you won't be allowed to use the balcony – a storm door will be closed over them.
If you want to be able to use your balcony at all times during your cruise, I'd recommend avoiding:
8101 to 8108, 9102 to 9111, 10101 to 10110, 11101 to 11110, 12103 to 12112, 14101, 14103 to 14110, 14112, 15101 to 15110
7. Noisy cabins on Iona
The main thing which is likely to annoy cruisers on any ship is noise when they are trying to sleep. Unfortunately, like many ships, Iona can be very creaky when the weather is bad, so if you're used to sleeping in silence then you may find that your sleep suffers no matter which deck you choose.
However, if you like an early night, you'll want to avoid any cabins which are directly above the Headliners Theatre. These are numbered 8140 – 8235. The shows are on until around 11.30 pm so avoid booking one of these cabins if you like to go to sleep before this time.
The Club House is Iona's nightclub which is likely to be playing music until the early hours. Cabins directly above the nightclub are numbered 9701 – 9744 .
8. Balcony cabins with obstructed views
Another oddity of the Deck 8 balcony cabins on Iona is that some of them are located right across from the infinity whirlpools. These have obstructed views because the whirlpool is between your cabin and the ocean! These cabin numbers are 8309 – 8312 and 8322 – 8330.
This photo was taken from one of these promenade deck balcony cabins…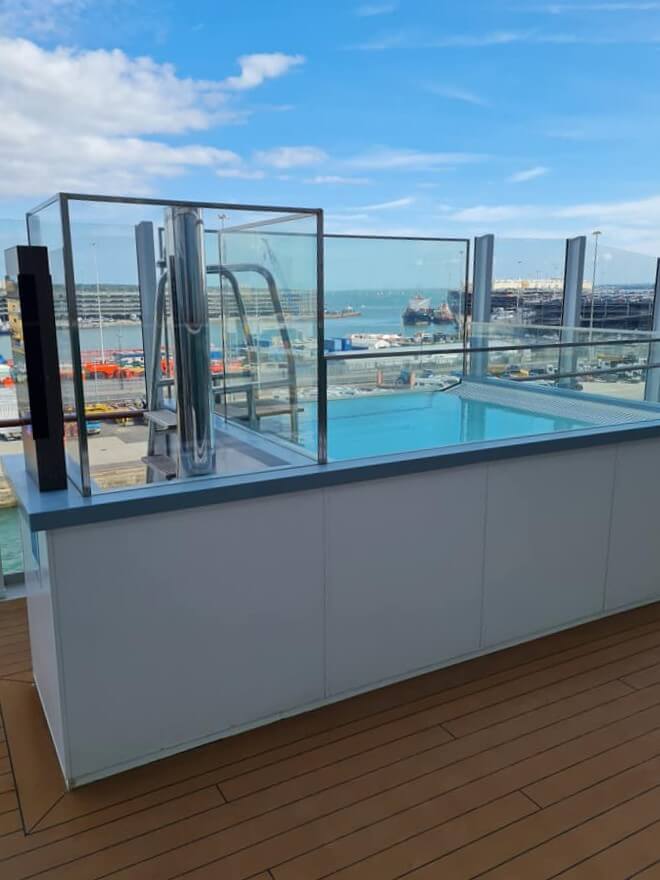 Imagine looking forward to sitting on your balcony looking out over the Norwegian Fjords, only to find that there's a hot tub full of people blocking your view!
Whilst it might be nice to be able to hop in the jacuzzi whenever you like, I'd probably avoid these cabins, unless you really enjoy people-watching.
9. The worst cabins for seasickness on Iona
If you're worried about feeling queasy on-board your cruise, you should aim to book a cabin that's on a low deck, in a mid-ship location as this is where you'll feel the movement the least.
That said, Iona is a very large and modern ship, so you're much less likely to suffer from seasickness on board than you might be on a smaller, older ship.
Read more: Do big ships rock less?
Cabins on high decks at the front of the ship are often the worst for seasickness as the movement can be felt the most here. That means you'll want to avoid cabins numbered 17201 – 17217 and 16201 – 16240.
10. Cabins that are a long walk from anything
Anyone with mobility issues or young children should aim to book a cabin close to places that they are likely to visit frequently, such as the pool, buffet or kids' club.
The Reef kids' club is located on Deck 17 towards the back of the ship. Therefore, the worst locations for families would be on a low deck at the front of the ship, as it would be a long walk to the kids' club. You may wish to avoid cabins numbered 4201 – 4250.
Suggested read: P&O Iona's family facilities: Kids' clubs, restaurants and excursions
11. Cabins near the smoking areas
If you're a smoker, booking a cabin near the smoking area can be really convenient. However, those that don't smoke may wish to avoid cabins near smoking areas. This is particularly true if you book a cabin with a balcony and don't want to be able to smell smoke while you sit out.
The smoking areas on Iona are located:
Deck 8 – Port Side, Between The Quays and The Sunset Bar
Deck 18 – Port Side, Aft
Deck 18 – Port side, Mid Forward
[Source]
If you want to avoid the smell of smoke on your balcony on Iona, you should avoid booking a balcony cabin or suite that's above the smoking area on Deck 8. Affected cabins may include those numbered 9630 – 9750 (even numbers only).
Of course, the direction of the wind can have an impact, so if you have one of these cabins it doesn't mean that it will necessarily be smoky, and certainly not all of the time.
Cabins on Deck 10 and above are set back a little and guests staying in these cabins above the smoking areas have reported that they cannot smell any smoke there.
12. Cabins with narrow doorways
On some of the corridors with cabins, you'll see support posts. Usually, these are well placed, but there are some that partially block the doors outside rooms 5540 and 5639.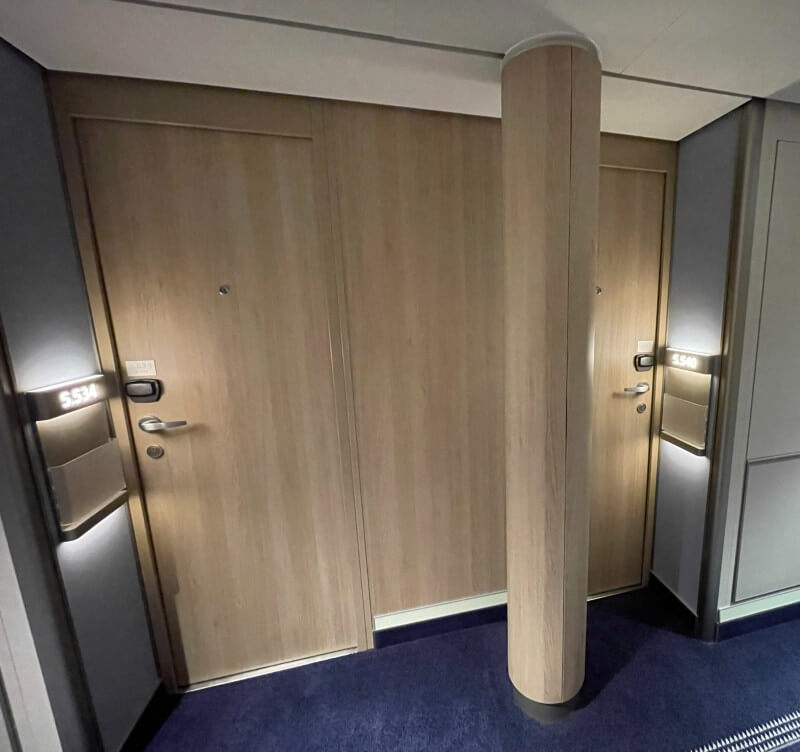 If you have a larger body shape then you may wish to avoid these rooms. As these cabins only sleep two, they won't be available for families with pushchairs, so that's not an issue.
13. Balconies that you cannot use
The balconies on deck 5 of Iona are a little different in design from regular balconies. Other cruise ships call these 'cove balconies' or 'sheltered balconies', although P&O Cruises doesn't have a specific name for them.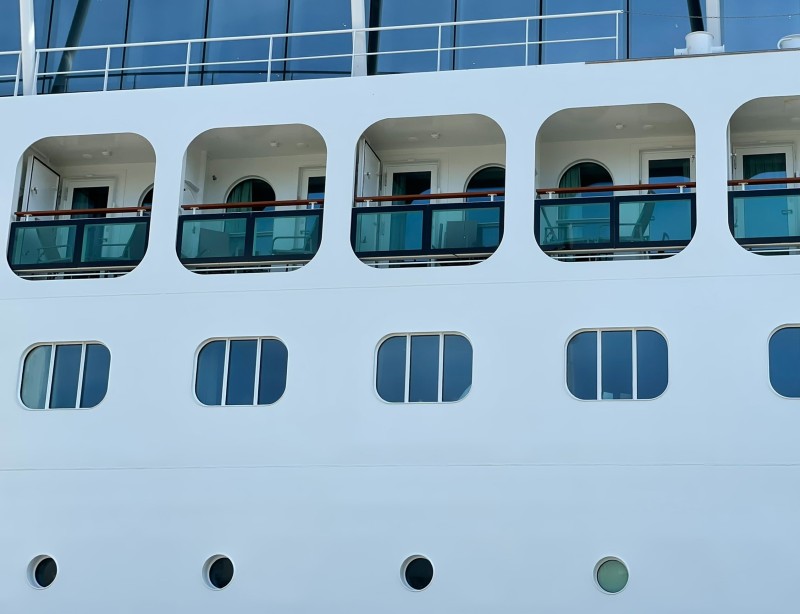 The problem with these balconies is that they're a little close to the waterline. So, if the sea is rough, you may not be allowed to use your balcony at all. In the event of bad weather, a metal storm door will be closed over your balcony door leaving you with just the window. It won't be opened until the next port of call.
Some cruisers have reported that this door has been closed for the majority of their cruise, essentially leaving them with a Sea View cabin, rather than the balcony that they paid for.
14. Balconies beneath the infinity pool
At the back of Iona there's a lovely infinity pool. But, you'd be wise not to book a cabin directly beneath it.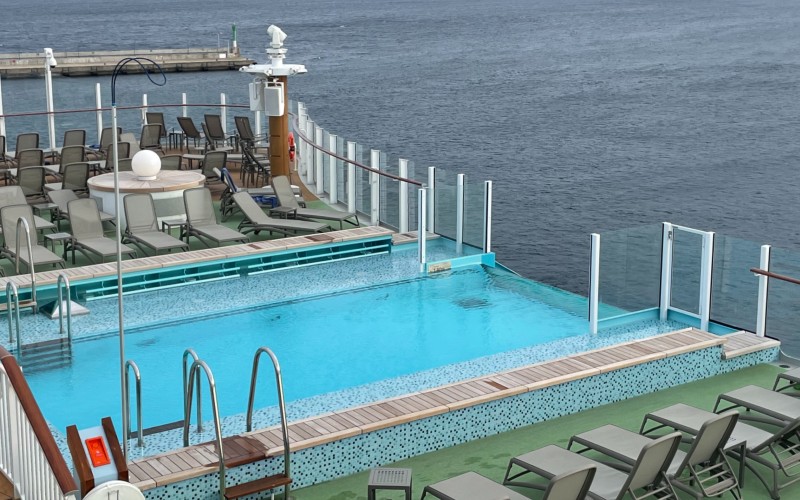 The problem is that children find great fun in splashing water over the edge of the infinity pool. And when they do that, it lands straight onto the balconies beneath.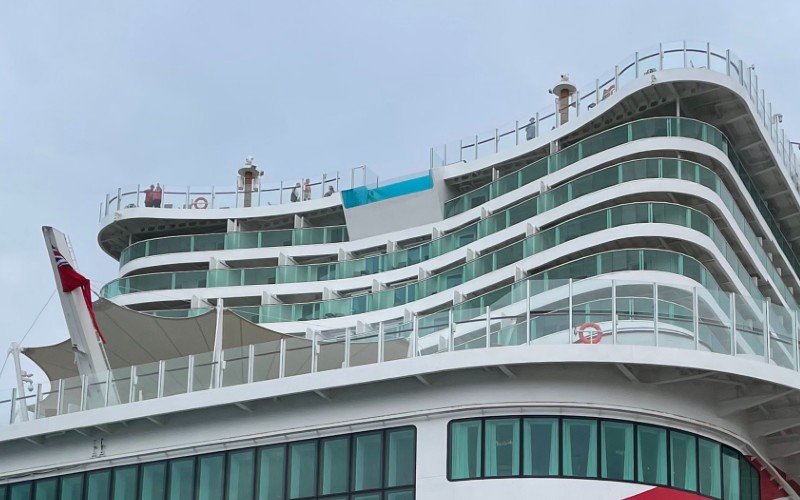 Now you may think that the tiered design would mean that it's only the balconies directly below the pool (Deck 15) that would get wet. But as you can see from the photo below, which shows 10742, the water can splash down several decks!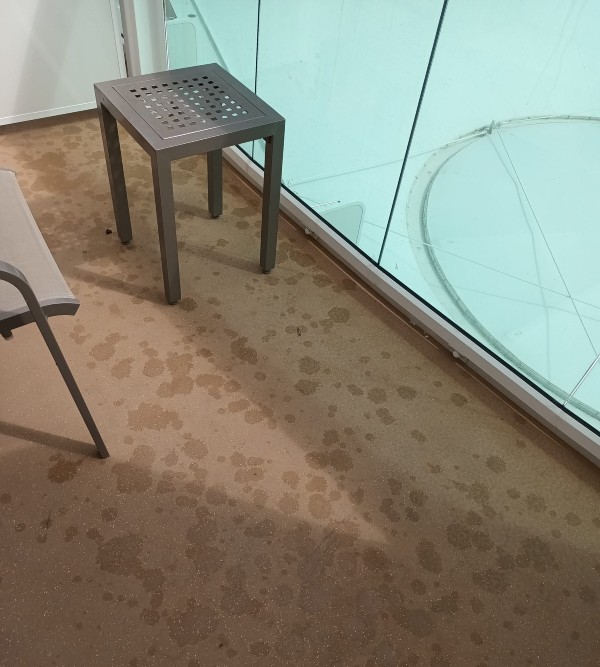 So, the cabins to avoid here are 9745, 9750, 10742, 10745, 11745, 11746, 12741, 12744, 14741, 14742. These are the middle ones at the aft. If you choose one that's next door, you'll not only stay drier, you'll also benefit from a larger balcony for the same price.
Choosing your Cabin on Iona
When choosing a cabin for your cruise, it's always a good idea to study the ship's deck plan carefully. You can view the Iona deck plans on the P&O Cruises website or by clicking here.
To be able to choose your own cabin number on your P&O cruise you'll need to book a Select Fare. If you book a Saver Fare or an Early Saver Fare your cabin number will be allocated for you at some point between booking and departure. This is also known as a 'guarantee cabin' as you are guaranteed a cabin of the type you select (or possibly better if you're lucky enough to be upgraded).
Booking a Select Fare does cost a little more, but you'll also get some extra benefits such as free shuttle buses in ports, the first choice of dining times and some money to spend on-board the ship.
Iona Cabin Amenities
In each cabin you'll find:
En-suite bathroom
Wardrobe space
Desk and chair
Air conditioning
Toiletries from The White Company
TV
Telephone
Hairdryer
British plug sockets
Safe
Mini-bar (chargeable)
Kettle with tea, coffee and biscuits
Mineral water on arrival
Daily steward service
If you book a suite you'll also enjoy:
Separate bedroom and lounge area
Bathroom with a bath, shower and dual sinks
Walk-in dressing area
Butler service
If you'd like to know what facilities Iona has on the ship for families, you'll find that info here: What facilities does Iona have for families?
Iona cabin layout
P&O Cruises hasn't released any floor plans showing the layout of cabins on Iona. It's therefore not possible to know where exactly the bed, sofa and desk will be located in the inside, outside and balcony cabins or the suites.
Iona has a near-identical design to two other ships which were also constructed by shipbuilding company Meyer Werft – AIDA Nova and Costa Smeralda. You can look at the AIDA Nova cabin floor plans to get an idea of what cabins on Iona might look like, although there are no guarantees that they will be identical.
Also, AIDA Nova and Costa Smeralda do not have conservatory mini-suites so we do not know what Iona's conservatory mini-suite floor plan is like. The nearest thing on these ships would be a junior suite.
NEW DEALS JUST RELEASED!
Don't miss the latest P&O Cruises offers…
Iona FAQs
What size is Iona?
Iona is the biggest ship in the P&O Cruises fleet, with a length of 344.5 metres and a beam (width) of 42 metres. Her capacity is 5,206 passengers, over 40% more than P&O Cruises' former flagship, Britannia.
How many decks has Iona got?
P&O Cruises' Iona has 19 decks. Of these, 16 decks are accessible to passengers and 11 decks have cabins.
What do cabin grades mean?
Cabin grades are two-letter codes given to cabins that denote the type and location of the cabin. With P&O Cruises' the first letter of a cabin grade refers to the type of cabin, while the second refers to the location on the ship.
Can I upgrade my P&O cabin?
Providing that there is availability, you can upgrade your cabin on a P&O Cruise. You can also choose an 'Automatic Upgrade' option which may automatically move your booking to the best available cabin at no extra cost, although you have no say on where it will be on the ship.
How many suites does Iona have?
P&O Cruises' Iona has 24 full-size suites on board. She also has 95 Conservatory Mini-suites, although these do not include the same benefits as a Suite, and as such are essentially upgraded Balcony cabins.
What do you get in a suite on Iona?
If you book a Suite on P&O Cruises' Iona you get a number of perks, including priority check-in and disembarkation, an exclusive welcome reception and butler service. In the room, you'll enjoy a superior bathroom with a whirlpool bath and complimentary chocolates and fresh fruit.
What is a conservatory mini suite on Iona?
Conservatory Mini-suites are a new type of cabin on Iona and her sister ship Arvia. They have a small conservatory area between the main bedroom and the balcony, with an L-shaped sofa. They have more space than a standard balcony cabin, but they don't have suite perks.
Related posts:
More P&O Cruises cabin guides:
Check if your Iona cabin is a good one
Unfortunately, I am no longer able to respond to individual requests to check if particular cabins are good or not. I loved doing this but it was just too time-consuming for me with so many requests.
If you'd like to check your cabin, I suggest looking up the number on the Iona deck plan. Use the key to look up the meaning of any symbols. Then, you can use my free checklist to make sure that there are no issues with your cabin's location.