When you book a Royal Caribbean cruise, it's not always obvious what the cruise fare included. What's included in a Royal Caribbean cruise is one of the most common questions that I get asked in the DMs on my Instagram page.
So, I've written this thorough guide which explains what a Royal Caribbean cruise includes, as well as exactly how much it costs for everything else. This should help you to budget for your trip.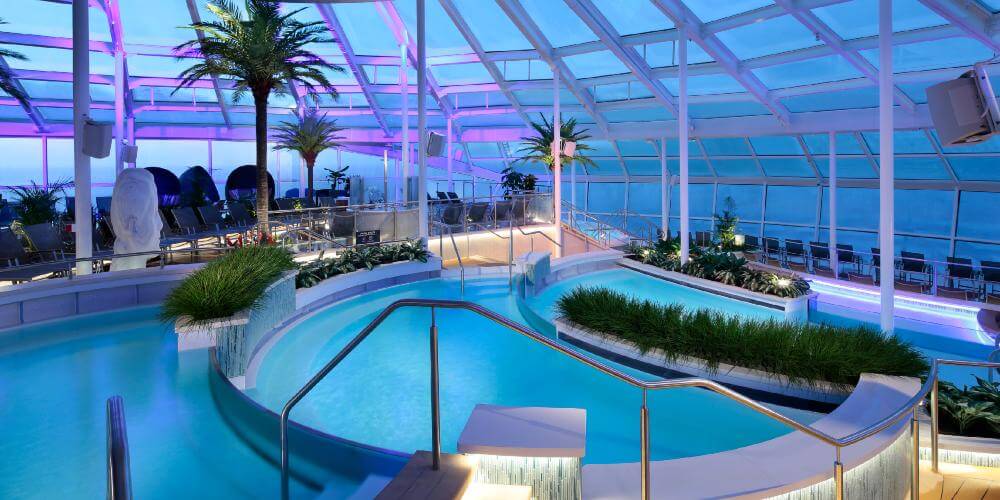 DRINKS
Firstly, let's talk about the thing that most people want to know about – the drinks!
What drinks are included on Royal Caribbean cruises?
The free drinks on Royal Caribbean cruise ships are:
Water (not bottled)
Flavoured water
Lemonade
Tea
Iced tea
Coffee
Hot chocolate
Fruit juice (only at breakfast)
All other drinks are chargeable. You can add each drink to your bar tab via your SeaPass card and pay for your drinks at the end of your cruise, or you can buy a drinks package for all-inclusive drinks throughout your trip.
How much are drinks on Royal Caribbean cruises?
The drink prices on Royal Caribbean ships are:
Beer – $7 – $8
Glass of wine – $9 – $20
Cocktail – $8 – $13
Soft drink – $3
Fancy coffee – $4
Bottle of water – $3
I took photos of all of the Royal Caribbean drinks menus on my cruise on Mariner of the Seas in December 2019. You can see them here: Royal Caribbean drinks menus with prices.
How much is the Royal Caribbean drinks package?
The price of the Royal Caribbean drinks package varies depending on your cruise ship, itinerary and when you purchase the package. Royal Caribbean's Deluxe Beverage Package usually costs somewhere between $49 and $89 per person, per day.
If you don't drink a lot of alcohol, the Deluxe Beverage Package is rarely worth it. Instead, you may wish to consider the Refreshment Package or the Classic Soda Package.
I have a full guide to Royal Caribbean drinks packages which answers all your questions about them here: Royal Caribbean drink packages.
Is the Royal Caribbean drinks package worth it?
Whether or not the Royal Caribbean drinks package is worth it can be tricky to work out. To make it easy for you, I've made a drinks package calculator.
Just enter the drinks that you like to have and it will estimate your bar bill with and without the package.
FOOD
The next most-asked questions relate to what food you get included with your cruise…
Is food included on Royal Caribbean cruises?
Royal Caribbean cruises include meals and snacks in a choice of dining venues. For something special, you can pay an extra fee to dine in one of the many speciality dining venues onboard.
On each ship, you can eat for free in the Main Dining Room, the Windjammer and at least two more free dining venues.
What food is included on Royal Caribbean Cruises?
You an eat for free in these Royal Caribbean complimentary dining venues:
Main Dining Room – Formal restaurant
Windjammer – Casual restaurant
Mini Bites – Poolside snacks
Dog House – Hot dog stand
Cafe Promenade – Cafe food
Sorrento's – Pizza slices
Noodle Bar – Fast food noodles
Vitality Cafe – Healthy breakfasts and lunches
Cafe @ Two70 – Cafe food
El Loco Fresh – Casual Mexican restaurant
Splashaway Cafe – Kids' poolside snacks
Coastal Kitchen – Only for suite guests and Pinnacle Club members
Room service – Only continental breakfast items are free
Not every dining venue is available on every ship, but there will always be a choice of options available and the menus change every day.
Room service is free for continental breakfast items, but everything else has a $7.95 cover charge per order.
There's really no need to pay anything extra for food as the free food is all excellent, but if you want to treat yourself then you might want to consider dining in one of Royal Caribbean's speciality restaurants.
Royal Caribbean speciality dining prices
The prices for speciality dining on Royal Caribbean cruises vary depending on your ship, itinerary and when you book it. To find the exact prices for each speciality restaurant on your particular cruise, you'll need to log into Royal Caribbean's cruise planner.
To give you a rough idea, here are the speciality dining prices for my next cruises. Remember, these are just examples from two particular cruises. They are not average prices and yours could cost more or less than this.
Anthem of the Seas
Chef's Table – £74.09 ($100)
Chops Grille (Dinner) – £38.99 ($53)
Chops Grille (Lunch) – £17.93 ($24)
Izumi – £31.19 ($42)
Jamie's Italian (Dinner) – £31.19 ($42)
Jamie's Italian (Lunch) – £19.49 ($26)
Sushi & Sake (Lunch) – £31.19 ($42)
Taste of Royal (Lunch) – £27.29 ($37)
Wonderland – £42.89 ($58)
Dining Packages
Chops +1 Dining Package – £58.50 ($79)
3 Night Dining Package – £77.22 ($104)
Unlimited Dining Package – £155.22 ($209)
Harmony of the Seas
150 Central Park – £42.30 ($57)
Chef's Table – £80.37 ($108)
Chops Grille (Dinner) – £42.30 ($57)
Chops Grille (Lunch) – £19.45 ($26)
Izumi – £33.84 ($46)
Izumi Hibachi Experience – £38.07($51)
Jamie's Italian (Dinner) – £38.91 ($52)
Jamie's Italian (Lunch) – £21.15 ($29)
Sabor – £18.61 ($25)
Sushi & Sake (Lunch) – £33.84 ($46)
Taste of Royal (Lunch) – £29.61 ($40)
Wonderland – £46.53 ($63)
Dining Packages
Chops +1 Dining Package – £71.07 ($96)
3 Night Dining Package – £97.31 ($131)
Unlimited Dining Package – £168.37 ($227)
Children aged 5 and under dine in speciality restaurants for free. For children aged 6 to 12 you only pay $10 for speciality dining when ordering from the kids' menu.
Are Royal Caribbean dining packages worth it?
For a first cruise, I wouldn't recommend booking speciality dining unless there's a particular restaurant that you really wish to try. The free food is so good and the speciality dining is more expensive on Royal Caribbean ships than with some other cruise lines.
The dining packages don't give a big discount compared to booking speciality dining restaurants individually. Dining packages don't include premium dining experiences like Chef's Table, Wine Pairing Dinners, Taste of Royal and Mystery Dinner Theatre. Izumi Hibachi has a $10 surcharge with a dining package.
WIFI
The only mobile phone reception at sea comes from maritime networks which should be avoided at all costs as they are crazily expensive. If you want to stay connected, you might wish to get a wifi package.
Is wifi included on Royal Caribbean cruises?
Wifi is not generally included on Royal Caribbean cruises, although wifi packages are sometimes given as a free perk when booking during a promotional period.
There are three ways that you may be able to get wifi for free during your cruise: How to get free wifi on Royal Caribbean cruises.
How much is wifi on Royal Caribbean cruises?
Royal Caribbean wifi costs from $9.99 per day for a single device. Different packages are available depending on how many devices you have and whether you want to stream music and movies or just surf the internet.
TIPS
On your cruise, rather than tipping cash to individual staff members, guests are charged a set fee per day which Royal Caribbean distributes evenly to its employees.
How much are gratuities on Royal Caribbean cruises?
Royal Caribbean gratuities (also known as tips) cost $14.50 per person, per day for guests staying in Junior Suites and below and $17.50 per person, per day for guests in Grand Suites and above. This applies to guests of all ages, including children and babies.
You can choose to pre-pay your gratuities before your cruise or have them added to your onboard account to pay at the end. No further tipping is required or expected on board, although some people (mostly US guests) do sometimes give cash tips as well to recognise exceptional service.
Suggested read: 56 amazing examples of Royal Caribbean customer service
If you have any questions about Royal Caribbean gratuities, you'll find those answered here: Royal Caribbean gratuities.
ON-BOARD ACTIVITIES & ENTERTAINMENT
Royal Caribbean ships have so much to do that it's impossible to be bored. The great news is that almost everything is included for free.
What activities cost extra on Royal Caribbean ships?
Most activities on most Royal Caribbean ships are included in your cruise fare. So you won't need to pay any extra for things like the FlowRider, climbing wall, zip line, ice skating, laser tag, mini-golf, water slides, shows or to use the gym.
However, on cruises departing from the UK, China and Singapore there may be a fee to use the iFly and the North Star observation pod. The price varies depending on your cruise. While these activities used to be free, the introduction of an extra charge means that each ride lasts longer and you can avoid any queues. For more info, see this video by Cruise With Ben & David.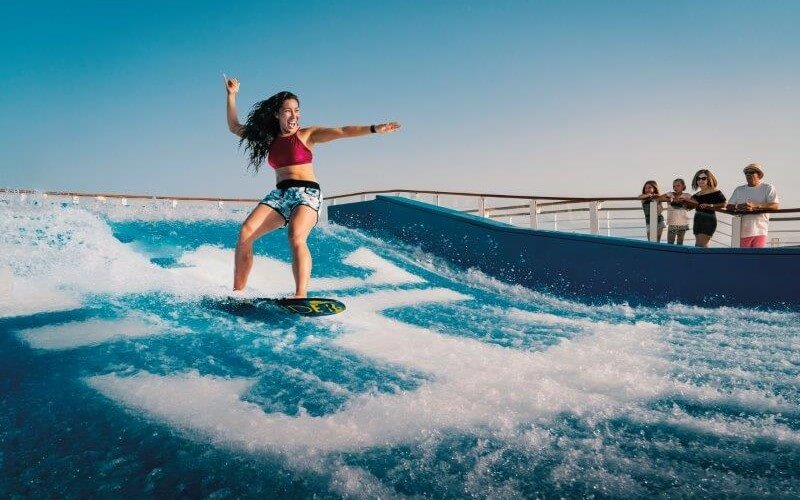 There are a few more things that cost extra on Royal Caribbean cruises. The prices vary depending on the ship and may go up and down according to demand, but here are some ballpark figures…
Prices of extra activities on Royal Caribbean ships:
All-access ship tour – $49 to $129
Escape room – $20
Private Flowrider lessons – $69 to $552
Private rock climbing lessons – Unknown
Fitness classes – $12
Cooking classes – $35 to $70
Spa and beauty services – From $32 for a wash and blow-dry to $2000+ for some treatments
Casino and bingo – Various
Art auctions – Each ship has several million dollars of art for sale
Photographs – From $20 per print
Video arcade – $1 to $3 per game
Laundry – $2 to $15 per item
Gift shop purchases – Various
Medical services – From $150
Visits to the adults-only Solarium (pictured at the very top of this post) are included on most Royal Caribbean cruises. However, on cruises from China, this area is only available for guests staying in Gold or Silver suites or Crown & Anchor Diamond members and above.
CHILDCARE & BABYSITTING
One of the biggest perks of cruising for parents is that the kids' clubs are the best in the world. Some parents barely see their kids all week because the kids want to spend all of their time having fun with their new friends in the kids' club.
Does Royal Caribbean offer babysitting?
Until 2018, Royal Caribbean used to offer babysitting in your stateroom but this service has been discontinued. However, for kids aged 3 to 11, the Adventure Ocean kids' club is open until 10pm for free, or 2am for an extra fee. Under 3s can attend the Royal Babies and Royal Tots clubs until midnight.
How much is babysitting on Royal Caribbean?
This table shows the charges for childcare on Royal Caribbean cruises:
| Age | Time | Price |
| --- | --- | --- |
| 0 to 3 | 9am to 6pm | $6 per hour |
| 0 to 3 | 6pm to 12am | $8 per hour |
| 3 to 11 | 9am to 5pm | FREE |
| 3 to 11 | 7pm to 10pm | FREE |
| 3 to 11 | 10pm to 2am | $7 per hour |
| 12 to 14 | 8pm to 1am | FREE |
| 15 to 17 | 9pm to 1am | FREE |
Under 3s are looked after in the Royal Babies & Tots Nursery. This isn't available on every ship. You can see a list of ships that have it here: The best Royal Caribbean ships for kids.
EXCURSIONS
Do Royal Caribbean cruises include excursions?
Royal Caribbean cruises don't include shore excursions. You can see a brochure of shore excursions customised to your cruise and book excursions on your Royal Caribbean Cruise Planner.
Official Royal Caribbean cruise excursions can be very pricey, so you may want to look for cheaper alternatives on reputable websites like Viator. Alternatively, you can just get off the ship and do your own thing.
Please note: When cruising resumes, guests may be required to take official Royal Caribbean shore excursions in certain ports, or stay on the ship. I will update on this when we have more information.
PRIVATE ISLAND ACTIVITIES
What's included for free at CocoCay?
If your cruise includes a visit to Royal Caribbean's private Bahamian island, Perfect Day at CocoCay, then many of the activities are free of charge, but some have an extra fee.
This table shows the prices of activities on Perfect Day at Cococay:
Experience
Price
Thrill Waterpark
Age 4+: $44-$99 per person
Age 0-3: Free
Zip Line
$79-$139 per person
Up, Up and Away helium balloon
Age 13+: $39-$99 per person
Age 4-12: $24-$64
Age 0-3: Free
Coco Beach Club
Age 13+: $54-$99 per person
Age 4-12: $34-$69
Age 0-3: Free
Kayaks, snorkels, beach mats etc
Various
You'll find a list of everything that you can do for free here: CocoCay free activities
ROYAL CARIBBEAN KEY PROGRAM
What is The Key on Royal Caribbean Ships?
Royal Caribbean offers 'The Key' – a program that gives premier access to exclusive experiences during your cruise.
The Key includes:
Priority check-in and boarding
Carry-on bag drop off
Welcome lunch on embarkation day
Private hours on the rock climbing wall and FlowRider
Priority departure at ports of call
VIP seating at shows
Wifi access
Exclusive breakfast on debarkation day
How much does the Royal Caribbean Key program cost?
The cost for The Key varies depending on your cruise, but it will be somewhere between $20 and $34 per person, per day. If one person wants The Key, then everyone in the cabin aged six and over must also buy it.
Is the Royal Caribbean Key worth it?
Personally, I don't think that the Royal Caribbean Key is worth it. However, if you plan to purchase wifi anyway, like to be first off the ship in each port and like the idea of having set times for the rock climbing and FlowRider when you don't have to queue, then it could be worth it for you.
---
The bottom line
If like me, you're cruising on a budget, then you don't really have to pay anything extra at all for your Royal Caribbean cruise!
The only extra that you must pay for is gratuities. However, if you book your cruise during a promotional period then you may be able to get free gratuities included, or maybe some free on-board credit that you can use to pay for your gratuities.
With so many extras available, it's easy to spend double your cruise fare or more on board the ship, particularly if you spend a lot of time in the spa or the casino!
When budget cruisers like myself book the cheapest inside cabins and don't spend anything extra on board, cruise lines don't make much of a profit at all and may even make a loss.
However, that's okay because they make the money back with the people who do spend a lot onboard. Those that spend a lot in the casino even get free cruises because Royal Caribbean loves to have them on board spending money!
Get the best price on your Royal Caribbean cruise booking
The price you pay for your cruise will be different depending on who you book it with, even though what you get will be exactly the same.
It's generally always cheaper to use a specialist cruise travel agent that can access discounted rates.
Click here to see who's offering discounted rates on Royal Caribbean cruises.
Of course, not all travel agents are equal in terms of the service that they provide. If you'd like to get a quote from a trusted travel agent that I've used to book multiple cruises myself, click here to get a quote.
Related posts: