Scarlet Lady is the first ship from Richard Branson's brand new cruise line Virgin Voyages.
I was lucky enough to be invited on-board the ship for one night in Liverpool. I was not paid for this review and all my opinions are 100% honest and my own.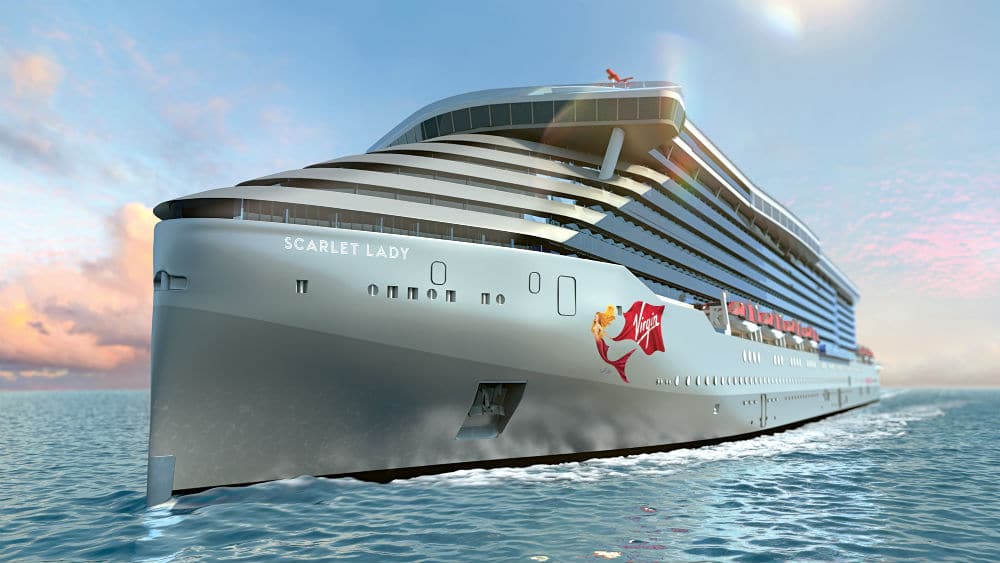 First impressions
Virgin Voyages has been billed as 'a cruise line like no other'. This brand new cruise line is aimed at people who would never normally take a cruise. You shouldn't really compare Scarlet Lady with other cruise ships – she's purposefully designed to be completely different!
As I stepped on-board Scarlet Lady for the first time I was certainly wowed!
I was greeted by cruise ship staff in space-age grey uniforms before stepping into the futuristic lift, which had walls made of TV screens with bubbles on and a robotic voice which welcomed me. It quickly became apparent that this ship was something special.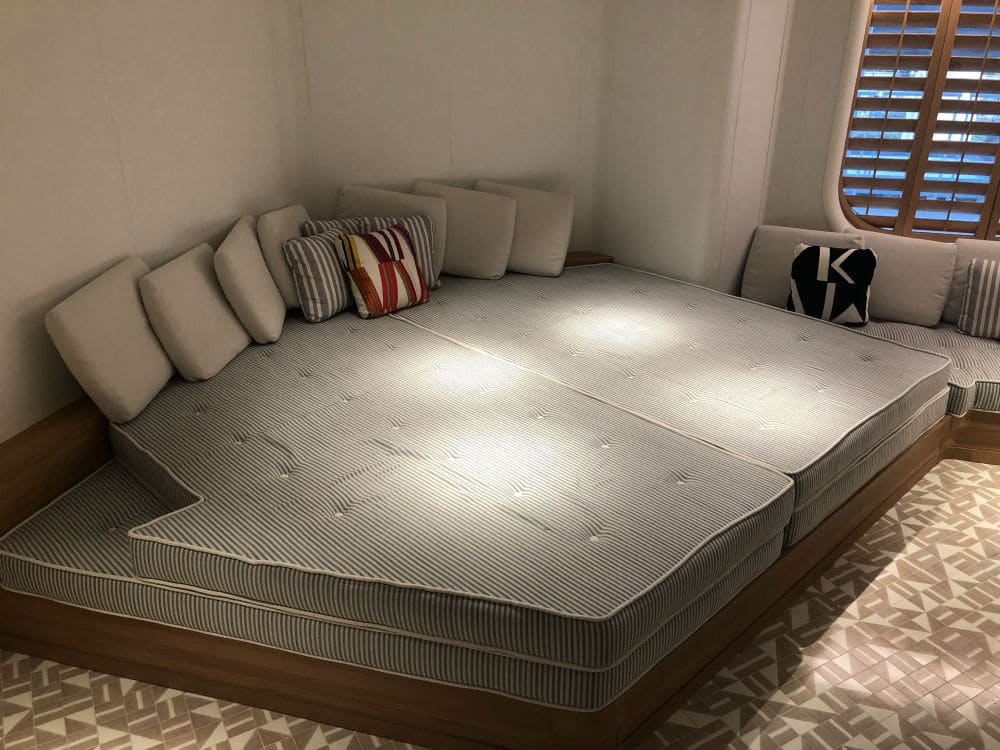 How does Scarlet Lady differ from other ships?
I just said, you shouldn't compare! But, that would be like not comparing your kids to each other. Of course, you're going to, aren't you…
Here are some of the main differences between Virgin Voyages and other cruise lines:
Kids are banned – All Virgin Voyages ships are child-free. Whilst some other cruise lines offer adults-only cruises, they're mostly aimed at retired people. Virgin Voyages cruises are made for young people who want to party.
No main dining room – You won't find a large dining room on Scarlet Lady. Instead, there are over 20 smaller dining venues, each serving different cuisine from around the world.
No set times – On Virgin Voyages cruises, you can arrive for dinner whenever you like. In fact, you don't really ever need to be anywhere at a set time. Even if you wanted to catch a show, you can walk in partway through and watch from the balcony.
No drinks packages – Whilst Scarlet Lady is a party ship, Virgin Voyages doesn't have an all-you-can-drink culture. Non-alcoholic 'basic bevvies' are free of charge. If you like a drink, you can pre-load your bar tab before you cruise to enjoy discounted drinks. You can read more on the drinks situation here.
There are no beds – Or at least, it appears that way at first! When you enter your cabin you'll likely just see a corner sofa, which your room attendant will convert into a bed for you while you're out for the evening.
The price – Virgin Voyages is quite a bit pricier than most other cruise lines. More on that, and whether it's worth the splurge, later in this review.
NEW DEALS JUST RELEASED!
Don't miss the latest Virgin Voyages offers…
Accommodation
A variety of cabins are available on Scarlet Lady, from windowless 'Social Insider' cabins which sleep four adults, to glamorous 'Rock Star Suites' complete with bottomless bars, electric guitars and private outdoor hot tubs.
The majority of cabins on the ship are 'Sea Terrace' cabins with balconies. My Central Sea Terrace cabin was really nice. Others have likened the decor to Ikea. Well… I like Ikea. I thought it was lovely, and more spacious than I'm used to.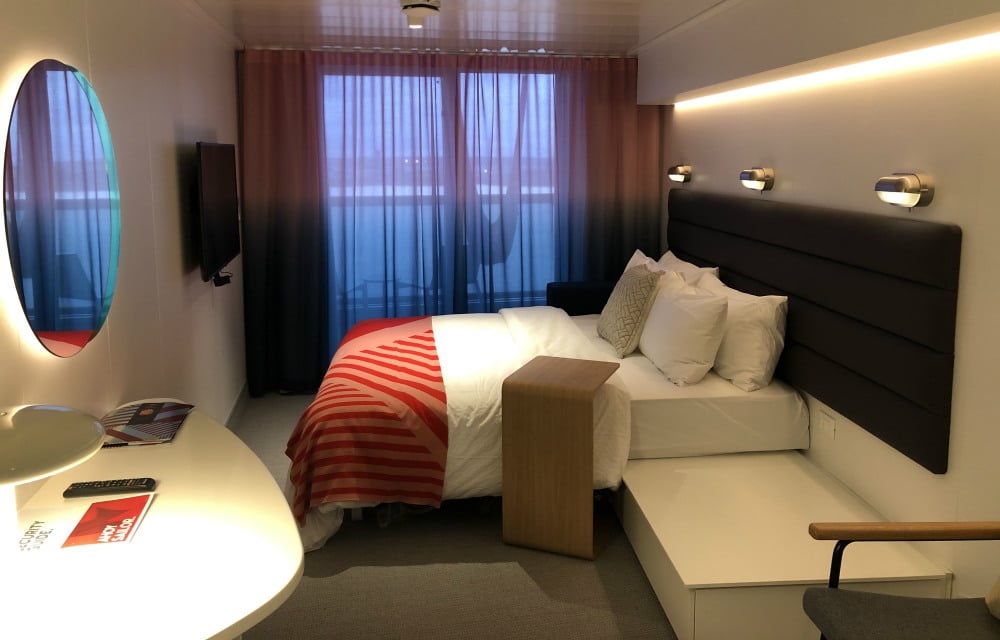 Each Sea Terrace cabin has a large balcony complete with a hammock which was super comfortable. Even on a winter's day in the UK, I could have lazed there for hours.
I don't suppose a balcony hammock could ever be viable on a ship that allowed kids on-board. Even having a chair on the balcony is enough to raise my blood pressure. But for an adults-only ship, it's a fantastic idea.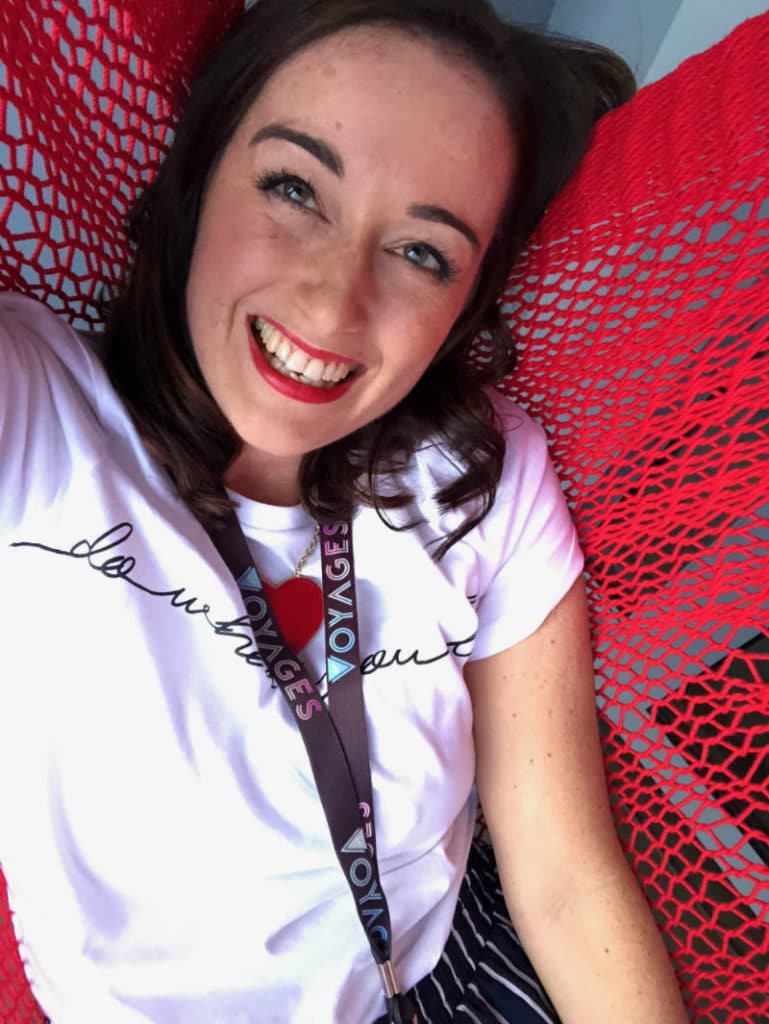 The bathroom is bijou, granted, but the shower cubicle is actually pretty big once you're inside and the free toiletries smelled lovely. There are lots of different soft fluffy towels, including small ones labelled as make-up towels, which is a great idea to lessen the guilt that comes from fearing you might have ruined the posh white bath towels with foundation.
Food
As someone who enjoys eating a plant-based diet, I was really excited to try the food on-board Scarlet Lady. Almost every dining venue has vegan options which are clearly labelled with (vv) for vegan and (v) for vegetarian, and the ship even its very own vegetarian restaurant – Razzle Dazzle. Fantastic.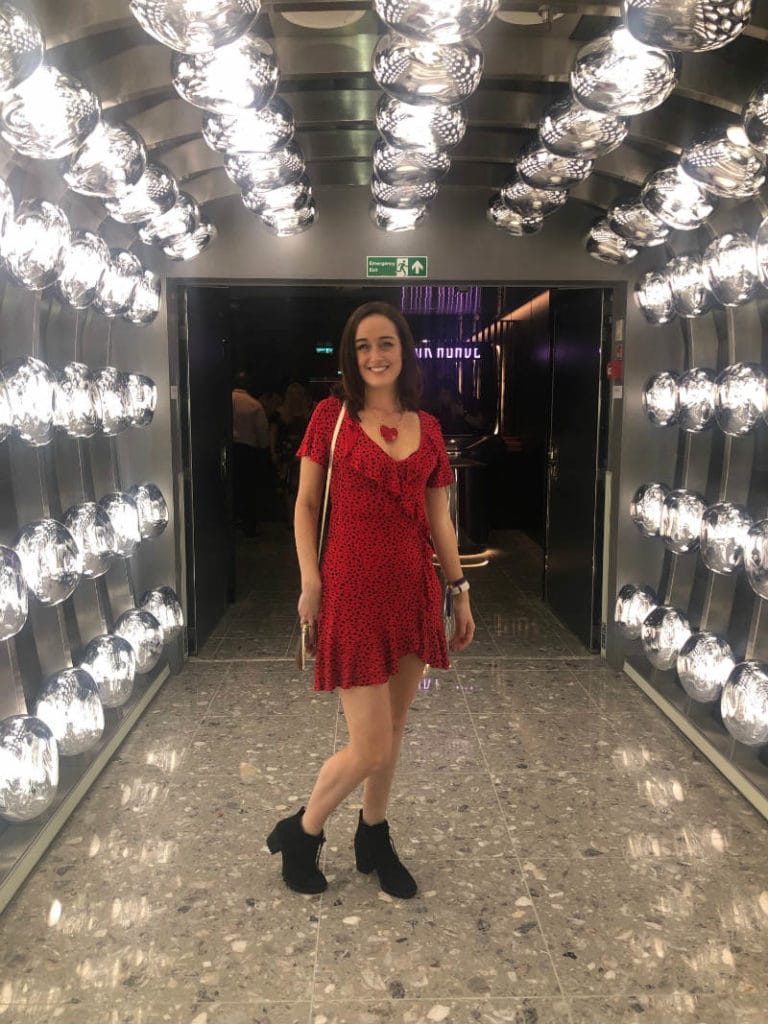 As I was only on the ship for less than 24 hours, I obviously didn't try all twenty of the on-board restaurants, but I managed to squeeze in dinner in the Mexican restaurant, Pink Agave, a midnight snack in the Food Hall and breakfast in Razzle Dazzle.
Here are my thoughts on the food on Scarlet Lady…
Pink Agave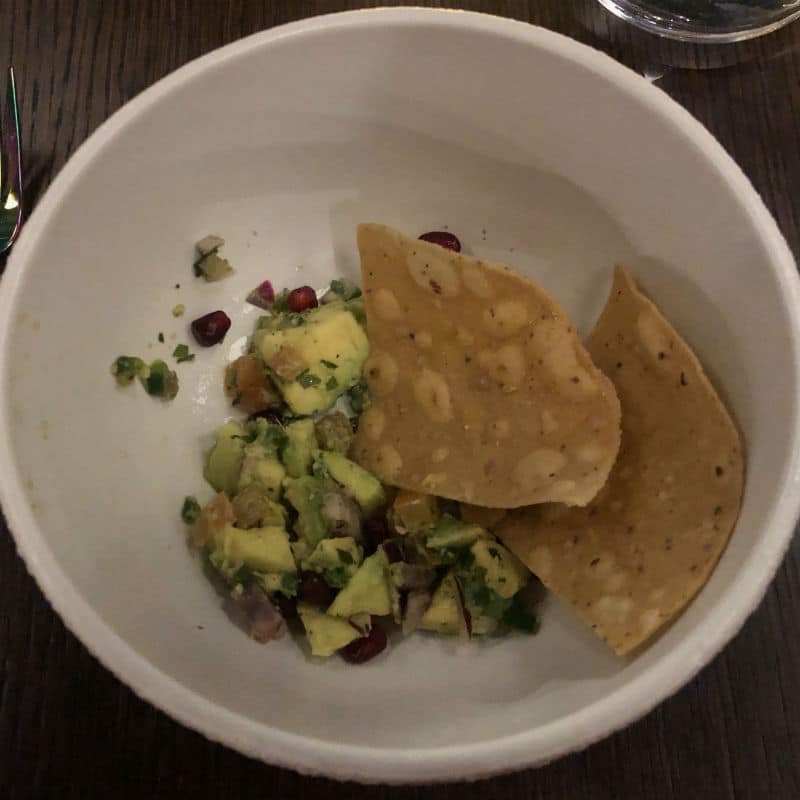 This Mexican restaurant had lovely classy décor and the cocktails were delicious. I also had the best cup of coffee I've ever had, made with almond milk.
The menu didn't have starters and mains, but rather small plates, medium plates and large plates. This confused me. Was I meant to order one of each? Or just one, depending on how hungry I was? I had no idea!
I asked our waiter who said to treat it like tapas, get a few of each and share. Now, this idea seems okay in theory. But in practice, how are you meant to share a burrito? Or a steak? It was all a bit odd. And nothing came with any vegetables or sides. My friend had just a steak with cheese on and nothing else.
As we ate at 7 pm, by midnight I was hungry again so I headed to the Food Hall…
The Food Hall
Scarlet Lady is unique for a cruise ship in that there's no buffet. Instead, there's the Food Hall, which is a lot like the type of food court you'd find in a shopping centre, with stalls serving burgers, noodles, cakes and so on.
I opted for an 'Impossible burger', which is a vegan fake meat burger and fries. The burger looked so meaty that I had to ask the guy twice to check it was vegan. He assured me it was. Now, I know that some vegans and vegetarians miss meat and like the taste of it, but for me, personally, it was just far too realistic!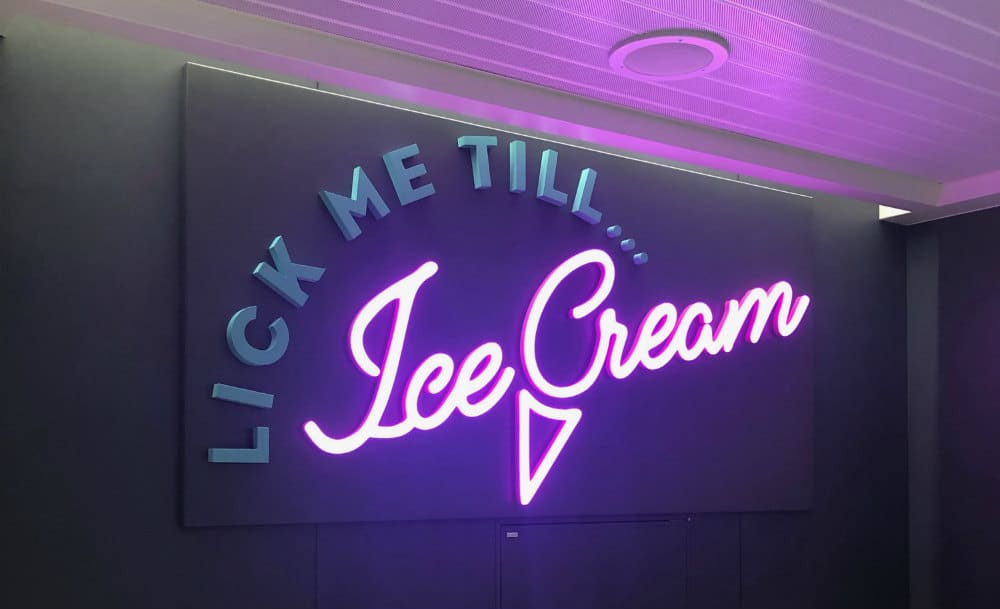 Razzle Dazzle
I was really excited to try Razzle Dazzle. The menu sounded interesting and I ordered the mushroom 'tartare' and the acai bowl.
Now, I'm someone who has toast for breakfast every day, so this breakfast really as a wake-up call as to how the other half lives.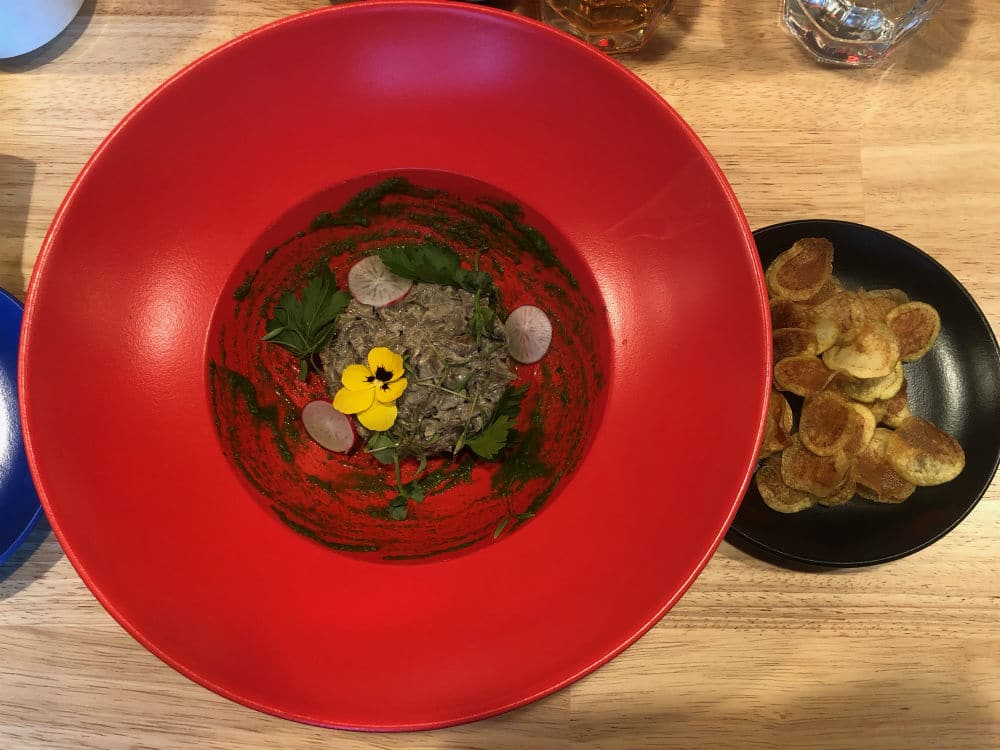 Cold, raw, mashed up mushrooms with edible flowers on top and crisps to dip in it was like nothing I've ever experienced. I just wasn't ready for it. I couldn't eat it. But I wasn't concerned, I had another course coming…
The acai bowl sounded healthy on the menu. But what arrived appeared to be a bowl of chocolate sauce with a bit of fruit floating in it. It was far too sickly for my taste.
Call me boring… Call me British… But I like toast! Maybe with baked beans on if it's the weekend. I don't need jalapeno croissants, unicorn churros or nutty gazpacho for breakfast.
Razzle Dazzle is a foodie's dream and if you like adventurous food, I'm sure you'll love it. But I just found it odd.
Entertainment
Scarlet Lady seems to have a lot of bars. Deck 6 and 7 are basically one huge bar crawl. There are live DJs dotted around and a really cool selection of music.
At the end of the ship, there's the theatre. The show we saw was a cross between gymnastics, dancing and fighting. And all the performers stripped down to their underwear at the end. It was weird, but I enjoyed it.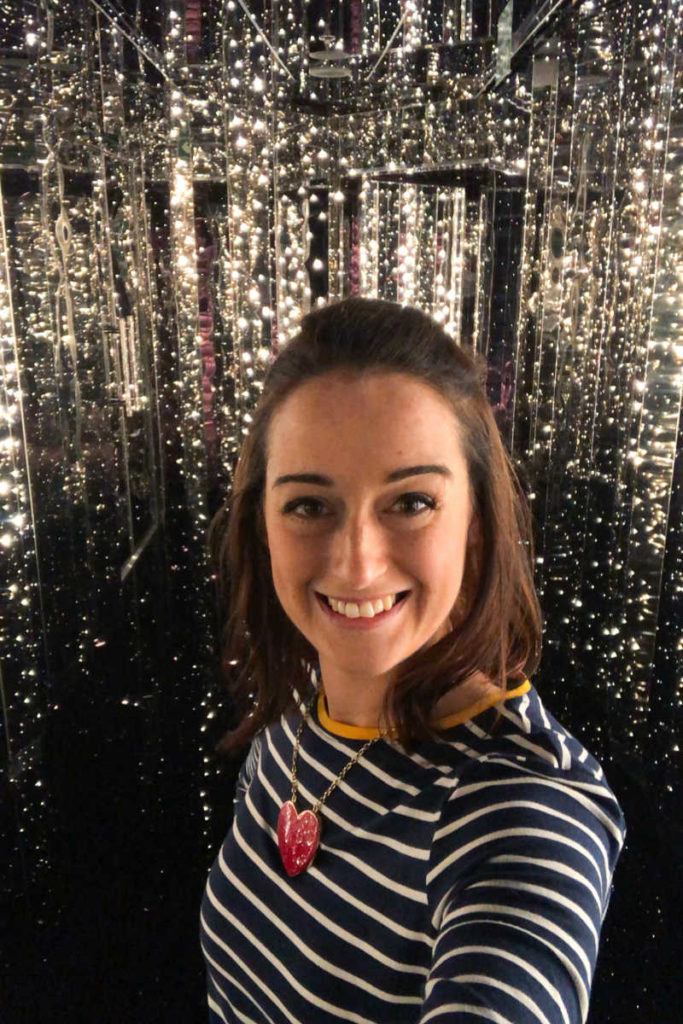 Scarlet Lady's nightclub is amazing! The glittery mirrored corridor entrance is an Instagrammers dream. The Manor nightclub is a glamorous venue with a big dance floor, huge chandeliers and an upstairs gallery made for people watching.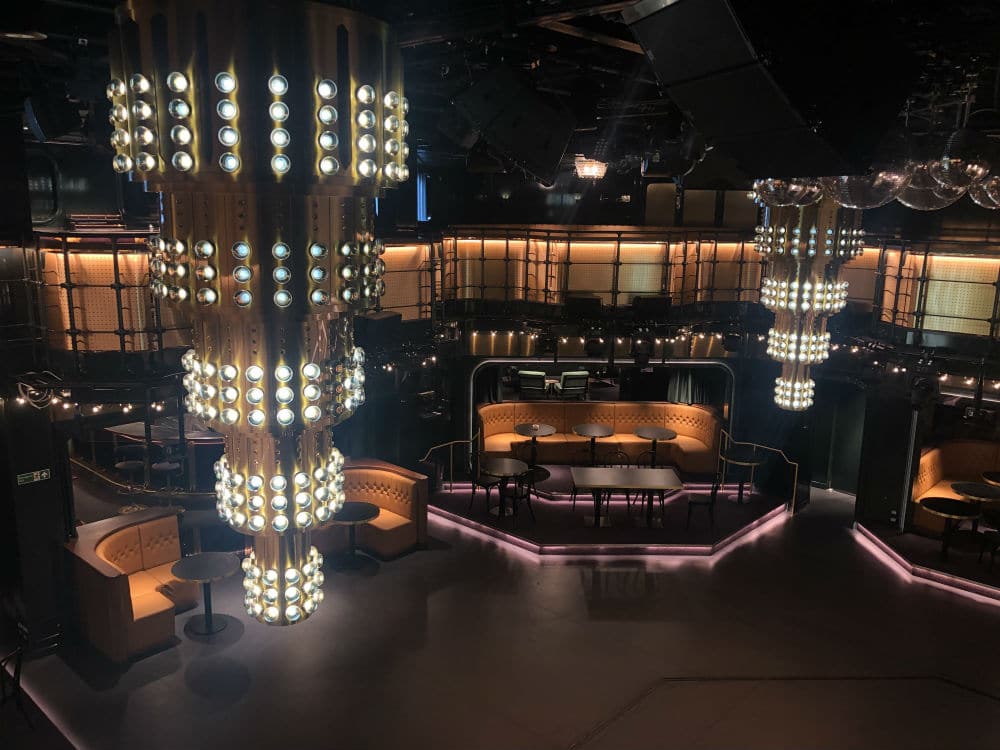 Outdoor areas
Scarlet Lady is made for the Caribbean, so visiting on a rainy February day in the UK, a lot of imagination was needed to envisage what the ship would be like in the sun!
If you'd like to know what a cruise on Scarlet Lady in the Bahamas is like, I recommend that you have a read of this Scarlet Lady review.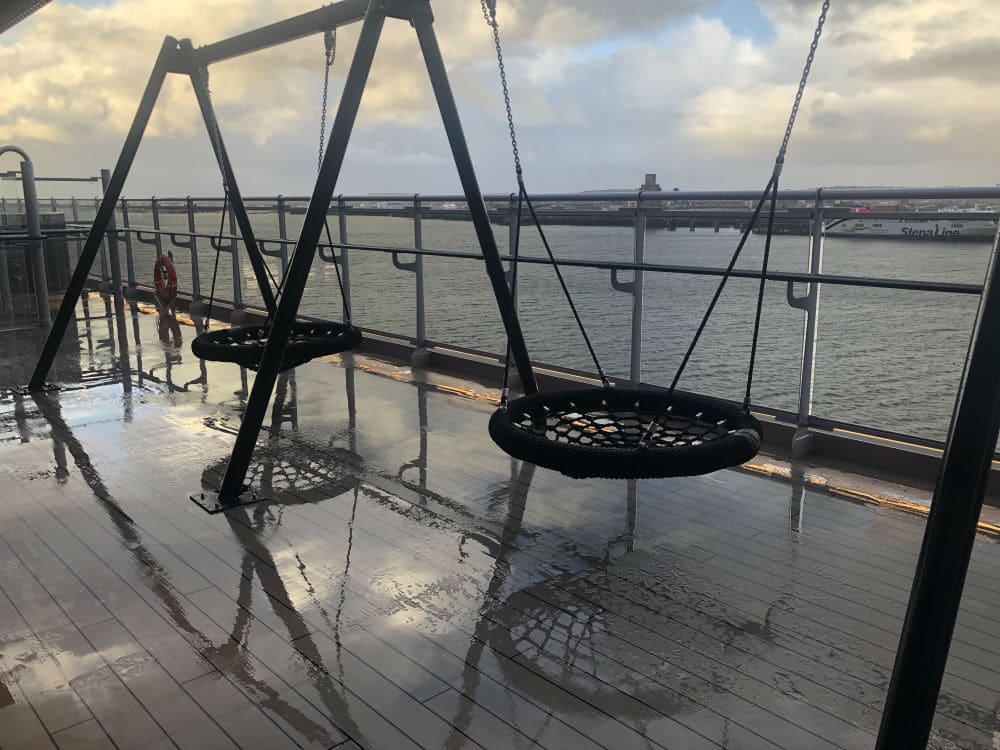 The outdoor areas of the ship seem really social. There are a few sun loungers, yes, but most of the seating is Love Island-style day beds, booths and sofas.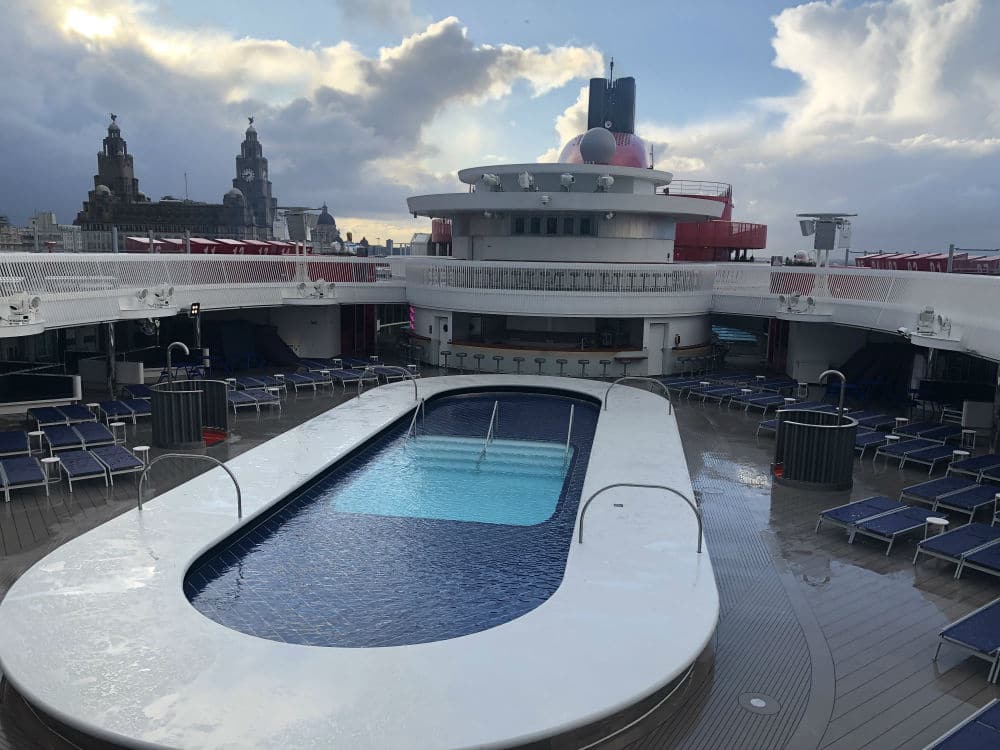 Much has been said in other Scarlet Lady reviews about the 'tiny' pool. Yes, I can confirm that it's definitely too small to swim lengths in. But, it does have plenty of space to sit around the edge with your feet in. The ship also has lots of hot tubs, including one which is probably the biggest I've ever seen which would be fab for a pool party.
Exercise equipment
Scarlet Lady doesn't have a gym – she has loads of gyms! There's one with bikes and treadmills, one with weights, one for classes… Then, there are lots of outdoor exercise areas too, like the running track, boxing ring and outdoor yoga space. If you're into fitness, you won't be short of opportunities to work out on this ship.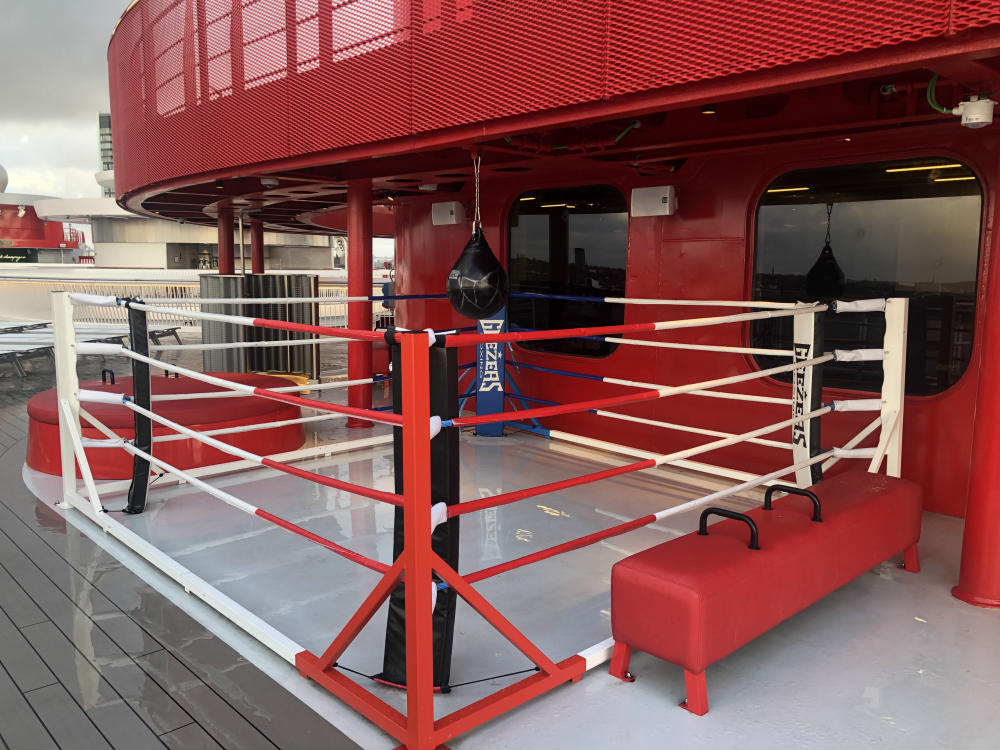 The tattoo shop
Scarlet Lady proudly sports the first tattoo parlour at sea, the appropriately-named Squid Ink.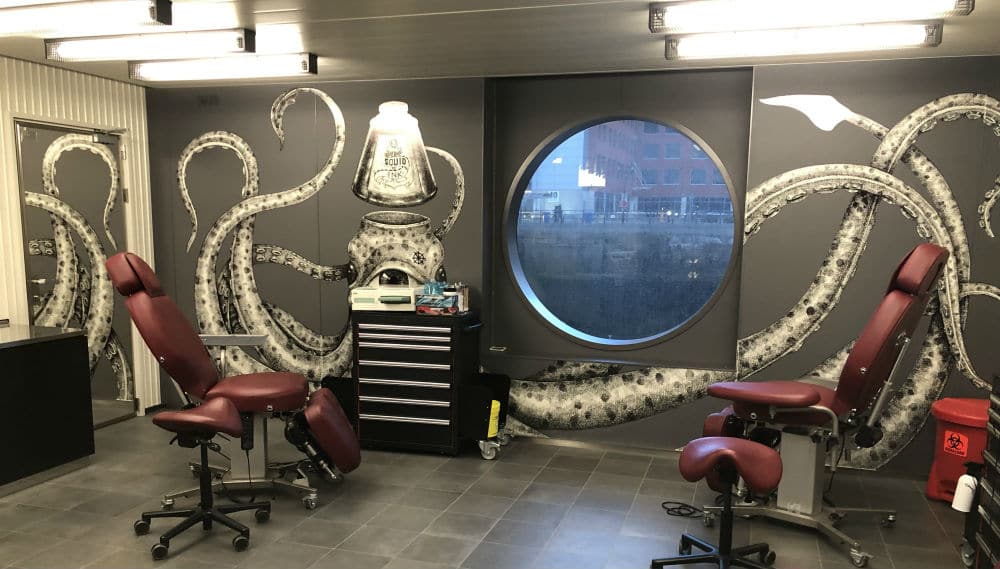 I was SO excited to get myself a little nautical wrist tattoo. However, my excitement soon faded when I saw the prices.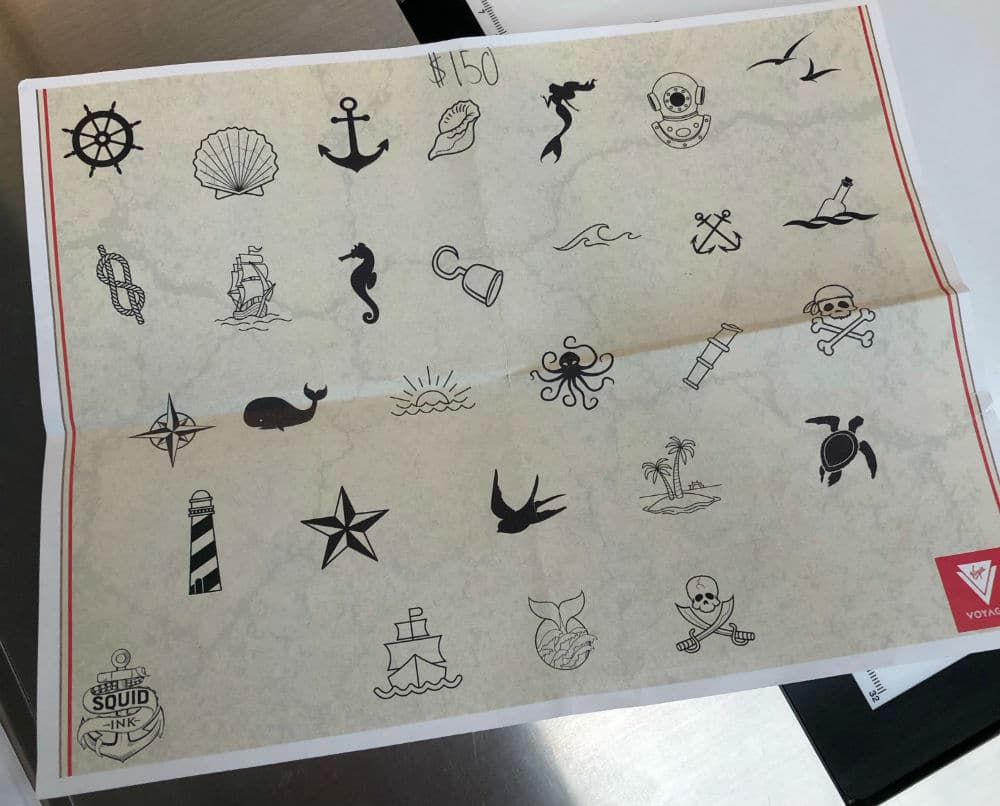 The smallest tattoos on-board Scarlet Lady, which have cost me around £20 for similarly-sized designs ashore, were $150! Larger tattoos which were around four inches in size were priced at $1500 plus. I left with a bare wrist.
The itineraries
Scarlet Lady offers four- and five-night sailings out of Miami to the Caribbean including Virgin Voyages' private resort, The Beach Club at Bimini. And for those destinations, I think she'll be perfect.
Scarlet Lady is not a cold-weather ship. As I disembarked the ship, she was about to head off on a transatlantic crossing to Miami. In all honesty, I felt a little sorry for the people on that sailing. I think I'd be bored out of my mind! With no sunshine there's be nothing to do but eat, drink and exercise. Except I'd be too hungover to exercise. Hangovers after age 30 are the worst!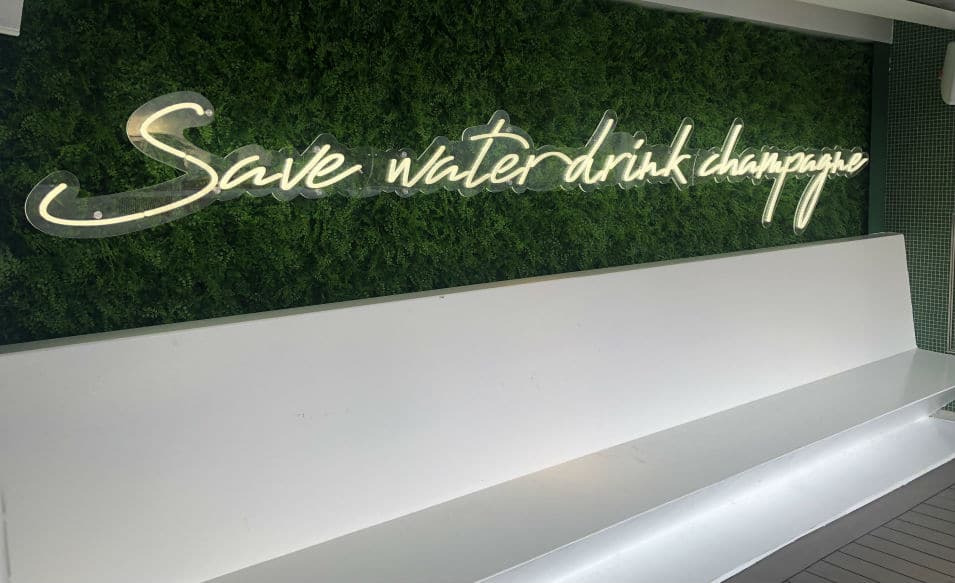 My verdict
If I had to describe Scarlet Lady in three words it would be 'a bit weird'.
Now, I'm sure that Richard and co wouldn't be offended by that. Of course, the whole masterplan was to create something completely different and Virgin Voyages has certainly succeeded in that respect.
Would I cruise on Virgin Voyages? Absolutely not. But then again, I'm in no way the cruise line's target market.
I like to cruise with my children, and I like my cruises to be as cheap as possible. I buy all my holiday clothes from Primark and Asda. I take food from the buffet ashore in a Tupperware box. My sunglasses cost £1. Scarlet Lady is just not for me!
For the same money as a Virgin Voyages cruise for two, I could have a P&O Cruise, an MSC Cruise AND a Costa Cruise for the whole family.
However, if you're not me… If you're young, fashionable, and can drink and day and all night and still hit the gym in the morning… then I'm positive that Scarlet Lady can offer you something really special.
NEW DEALS JUST RELEASED!
Don't miss the latest Virgin Voyages offers…
Related Posts: