When you're booking a cruise with MSC, you'll select your itinerary and your preferred cabin, and then – if you haven't chosen the MSC Yacht Club – you'll be presented with three cruise 'experience' options – Bella, Fantastica and Aurea (unless one or more have sold out).
These aren't optional extras, you have to choose one of them, and it'll directly impact your cruise booking and your onboard experience, including which cabin or suite you get, your dining time and more.
Aurea is the top-tier, and so will have the highest price of the three. But what do you get for it, and is it worth it? Let's take a look.
What is the Aurea experience on MSC Cruises?
The Aurea experience is one of several cruise packages guests can choose from when they book their MSC cruise. Of the three options (excluding Yacht Club, which is separate), it is the best option, giving guests the best choice of accommodation and various other perks.
There are a lot of reasons to choose Aurea as your cruise package, but you have to bear in mind that it does cost to upgrade – this isn't something you're getting for free.
So, you need to look at the various benefits you get with Aurea, and then decide whether it's worth it or if you'd rather save money and book Bella or Fantastica.
It's worth noting that Aurea is only available when you book a Balcony cabin, or a Suite. You can't book the Aurea experience with an Inside or Ocean View cabin.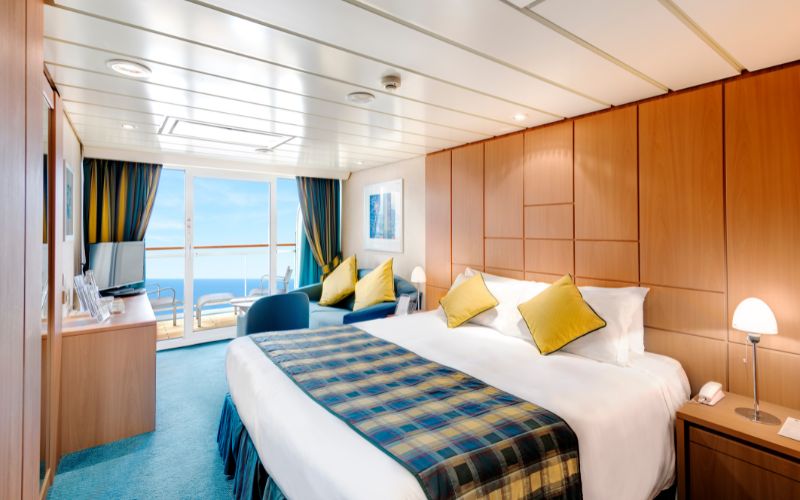 What does MSC's Aurea experience include?
The Aurea experience includes everything that the Bella and Fantastica packages include, but with better options for your cabin and dining times. It also has a host of extra perks too.
Here's everything you get with Bella and Fantastica, which you also get with Aurea:
Your accommodation, meals in the main dining room and buffet, and live entertainment
The option to book a discounted drinks package when you book your cruise
Access to the swimming pools, sports facilities and gym
Kids clubs
Earn loyalty points for the MSC Voyagers Club every time you cruise
The chance to choose your own cabin and location on the ship
One free change to your cruise (cabin or cruise date)
Breakfast served in your cabin with free delivery
20% discount on a speciality restaurant pre-paid package
And then here's everything that is exclusive to the Aurea experience:
Pick from the best Balcony cabins and Suites in the most desired locations on the ship
24-hour room service – items are charged for, but delivery is free
My Time Dining – enjoy your dinner whenever you want it
Free access to the exclusive Solarium deck area
Access to the Thermal Spa area (reservations needed)
Bathrobes, slippers and a pillow menu for your room
40% discount on a dedicated pre-paid spa package
10% discount on all spa treatments purchased on-board
Priority boarding and luggage drop off
A welcome package in your cabin or suite, including Prosecco and chocolates
What drink package is included with the Aurea experience on MSC?
The Aurea experience on MSC Cruises does not include a drinks package. It used to include the Easy drink package, which allowed guests to enjoy a selection of alcoholic and non-alcoholic drinks. This benefit was removed from the Aurea experience in 2022.
Now, the only free drinks that guests get with the Aurea experience is the welcome Prosecco in their cabin and suite on arrival. Guests will need to pay for their own MSC drinks package if they want one.
Does MSC Aurea include WiFi?
The Aurea experience on an MSC cruise does not include free WiFi. The only tier which includes free internet access is the MSC Yacht Club – all other guests will need to pay for their internet package if they want to get online.
What is the difference between MSC Fantastica and Aurea?
MSC Fantastica is the mid-range experience on MSC Cruises – it doesn't give you all the spa-related perks, and it doesn't let you dine whenever you want to. It gives you some choice of cabin and dining time – more so than the Bella experience – but nowhere near as much flexibility as Aurea.
| Experience Benefits | Bella | Fantastica | Aurea |
| --- | --- | --- | --- |
| Opportunity to choose your cabin and location | NO | YES | YES |
| The choice of the best Balcony cabins and Suites | NO | NO | YES |
| Change your cruise for a fee | YES | NO | NO |
| One Free Cruise Change | NO | YES | YES |
| Breakfast in cabin, including delivery | NO | YES | YES |
| Free 24-hour delivery for room service | NO | NO | YES |
| Discounted drinks package when you book | YES | YES | YES |
| Main Dining Room and Buffet restaurants included | YES | YES | YES |
| 20% discount on speciality dining package | NO | YES | YES |
| Request your preferred dinner seating | NO | YES | NO |
| Enjoy dinner whenever you want with My Choice Dining | NO | NO | YES |
| Use of the pools, sports facilities and gym | YES | YES | YES |
| Live theatre shows | YES | YES | YES |
| Kids clubs | YES | YES | YES |
| MSC Voyagers Club loyalty points | YES | YES | YES |
| Priority boarding & luggage drop off | NO | NO | YES |
| Welcome package (Prosecco and chocolates) | NO | NO | YES |
| Free access to the Solarium | NO | NO | YES |
| Free access to the Thermal Spa | NO | NO | YES |
| Bathrobe & slippers in your cabin/suite | NO | NO | YES |
| Pillow menu | NO | NO | YES |
| 40% discount on pre-paid spa packages | NO | NO | YES |
| 10% discount on spa treatments on-board | NO | NO | YES |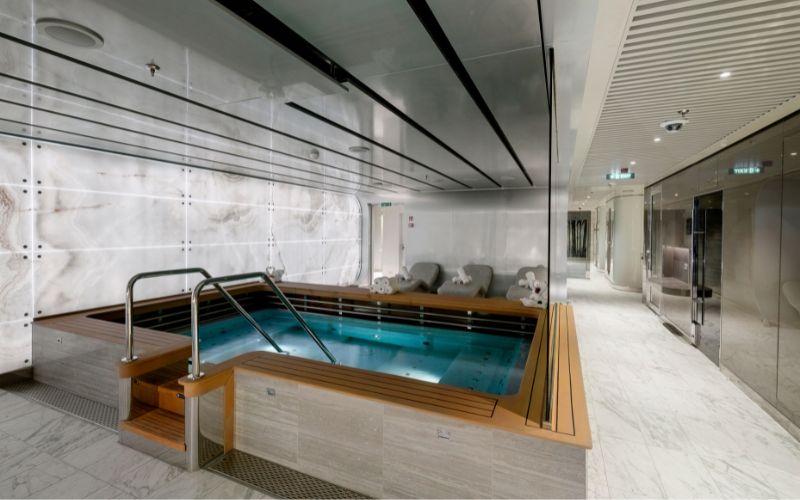 How much does the Aurea experience cost on an MSC cruise?
The cost of Aurea is not fixed – it depends on the cruise that you book, including the ship and the date. The price is flexible and what you pay on one cruise might be different from what you pay on another.
As a guideline, expect Aurea to cost somewhere in the region of £100 ($120) to £500 ($600) more than a Bella experience, and around £50 ($60) to £250 ($300) more than a Fantastica experience.
There may be some occasions where you try to book a cruise and Bella isn't available. In that case, you'll be told the Fantastica upgrade costs nothing, and the Aurea upgrade will only tell you the price difference between Fantastica and Aurea.
And on other times, you might find that Aurea is the only available option, and it costs nothing to choose it.
Don't be fooled into thinking these are free upgrades. They aren't. What this means is that the Bella and/or Fantastica experiences have sold out, and that Aurea is the only option left.
And the price you've been shown when booking your cruise already includes the upgrade fee for Aurea. You aren't getting it for free, but it's already been added into the fare you've been shown.
So just because it says "+£0" for Aurea, you are still paying for it.
Is Aurea worth it on MSC Cruises?
There's no simple answer when it comes to deciding whether Aurea is worth it for your MSC cruise. It depends on a number of factors:
How much the upgrade costs
Where you prefer to eat during your cruise
How much you care about your cabin
Whether you'll make use of all the perks
If you were looking for a cheap MSC cruise then it's not likely to be worth it. You'll probably want an Inside or Ocean View cabin instead, which you can't get with Aurea.
But if you want a Balcony cabin or a Suite, then definitely look at the Aurea prices. While you can book your own cabin of choice with Fantastica, you won't have access to all the best locations on the ship.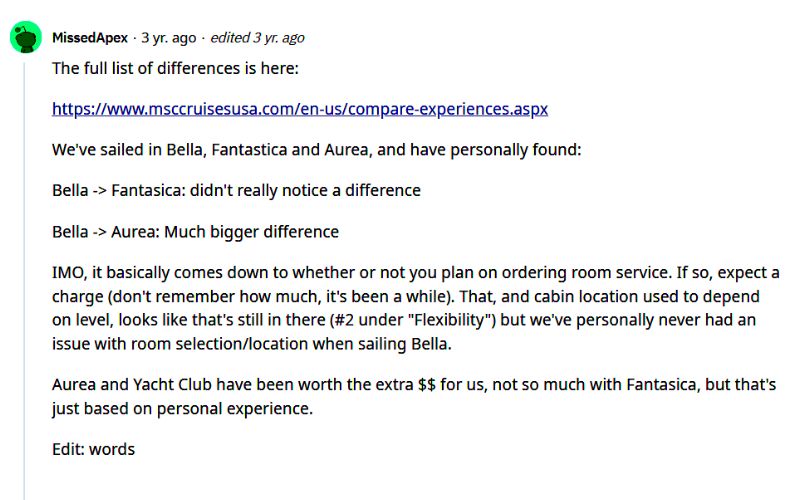 The free delivery for room service is a nice perk if you're planning on eating in your cabin or suite a lot, but it is only the delivery that's free – you still need to pay for what you're ordering. The spa access is probably a better benefit, but again only for those who plan to use it.
Really, the main perks to focus on are the My Choice Dining and the ability to select your cabin location from all of the best spots. Cabin location can make a real difference in terms of the views you enjoy, and your distance from facilities.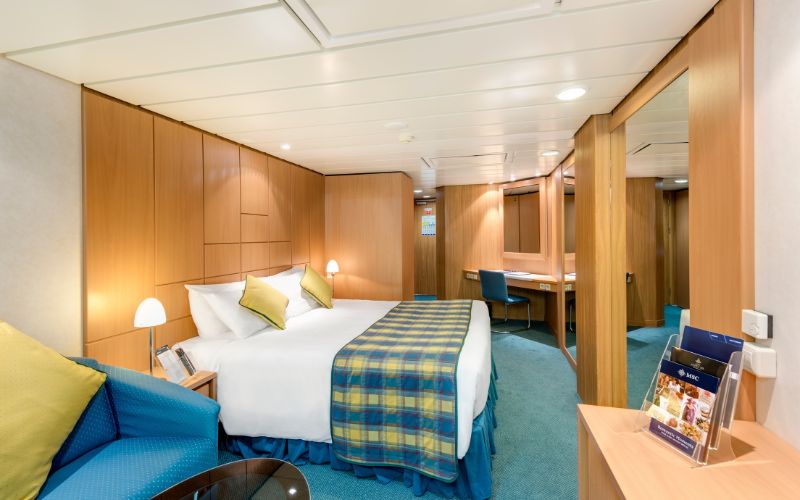 And having the flexibility to eat dinner in the main dining rooms at a time that suits you, rather than one which is dictated to you, is something a lot of passengers prefer. You can plan your evening to suit you, rather than planning around when you have to eat.
In summary – you need to think about how much the Aurea upgrade costs against how much you'd make use of what it gets you. If it sounds like it'll really improve your cruise, then go for it. Otherwise, maybe save money and choose Fantastica or even Bella.
Read more about the MSC Fantastica experience before you make your mind up.
Related Posts: