When you book an MSC cruise, it's not as simple as deciding which cabin you want to stay in and securing your place. There are different 'Experiences' that you have to choose from.
These will impact what cabin you get, your dining options, and the perks you get.
The Bella experience is the basic package, while Fantastica is one step up from that, while Aurea is the top level.
In this guide, I'll take you through the Fantastica experience, what to expect from it, and whether it's worth paying the extra to upgrade.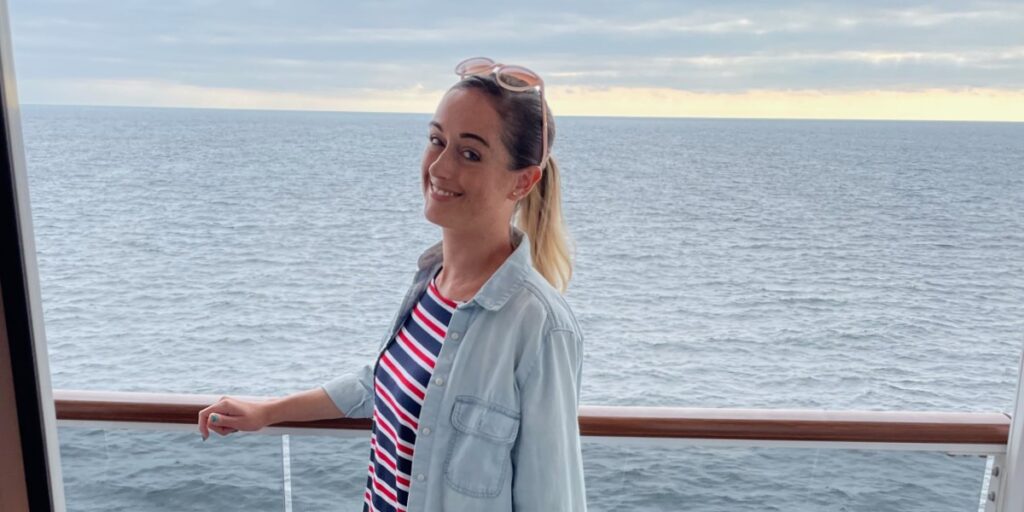 What is the Fantastica package on MSC Cruises?
The Fantastica experience is the mid-level cruise package available when you book an MSC cruise. It allows you to select your cabin and location, and request either early or late dining. It comes with a small selection of other perks.
When you book with MSC Cruises, you have to choose an experience – these aren't optional. The Bella experience is the most basic and also the cheapest, while Fantastica is the mid-range option.
The main reason for choosing Fantastics, for most people (me included) is the chance to choose your room and avoid any undesirable cabins.
The Aurea package is more of an upgrade for people who want a lot of additional benefits added in. You can read more about the differences between the packages here: MSC Bella Vs Fantastica Vs Aurea.
What's included in the MSC Fantastica package?
Firstly, remember that Fantastica is an upgrade on the Bella package, so you get everything that you would get with a Bella experience, plus some extras.
Here's everything you get with the Bella experience, which you also get with Fantastica:
Your accommodation, meals in the main dining room and buffet, and live entertainment
The option to book a discounted drinks package when you book your cruise
Access to the swimming pools, sports facilities and gym
Kids clubs
Earn loyalty points for the MSC Voyagers Club every time you cruise
The Bella experience is very much what you would consider to be the basic cruise experience.
So you get your room, and you don't have to pay extra for your dining if you stick to the main dining rooms or the buffet restaurant, that's all included.
As is your live entertainment, which are the nightly theatre shows taking place on most days of your cruise. This doesn't mean all of your entertainment is free though – some features may have an additional cost.
There are some things that are always free to use though, including the swimming pools and the sports facilities – including the walking/running track, basketball and so on. The gym's free too, so if you're in the mood to burn off that buffet meal you've just indulged on, you always can.
The kids' clubs are always free too, so during normal activity hours, you can drop them off and let them enjoy a wide range of activities with the other children on board. Services like babysitting late at night may have additional costs though.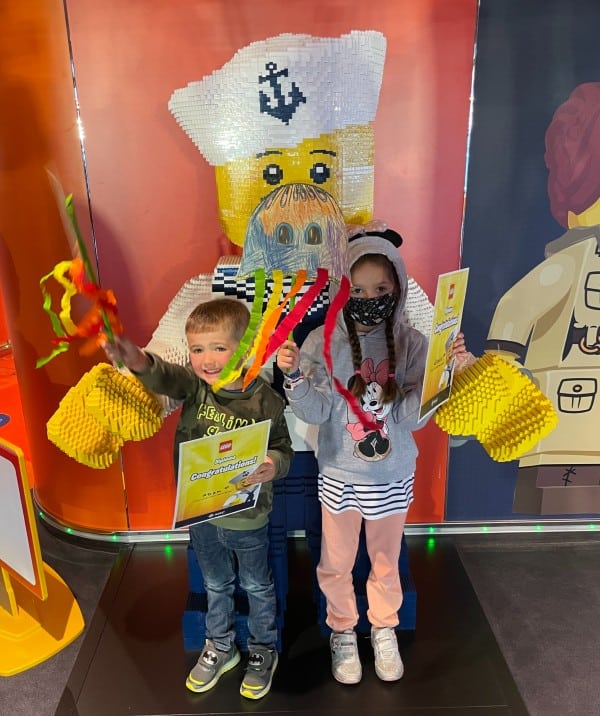 Finally, every time you cruise you'll earn points towards the MSC loyalty programme, which is called MSC Voyagers Club. These points will earn you rewards for future cruises with MSC.
So, what else do you get with Fantastics that you don't get with Bella? Here are the perks…
Here are the benefits of upgrading to a Fantastica experience:
The chance to choose your own cabin and location on the ship
One free change to your cruise (cabin or cruise date)
Breakfast served in your cabin with free delivery
20% discount on a speciality restaurant pre-paid package
Chance to request your preferred dinner sitting (subject to availability)
Now, let's take a closer look at each of the Fantastica perks to help you to decide if it's worth the extra cost…
Choose your own cabin number
The main reason people tend to choose Fantastica is the chance to choose your cabin number – since it means you've got more chance of getting one of the better rooms on the ship.
The Bella cabins are usually in undesirable locations such as right at the top front, where you will feel the movement more and so are more likely to suffer from seasickness. The Fantastica cabins, however, have the best mid-ship locations.
Suggested read: Will You Get Seasick On A Cruise? How To Know
This is the Fantastica balcony cabin that we stayed in onboard MSC Virtuosa: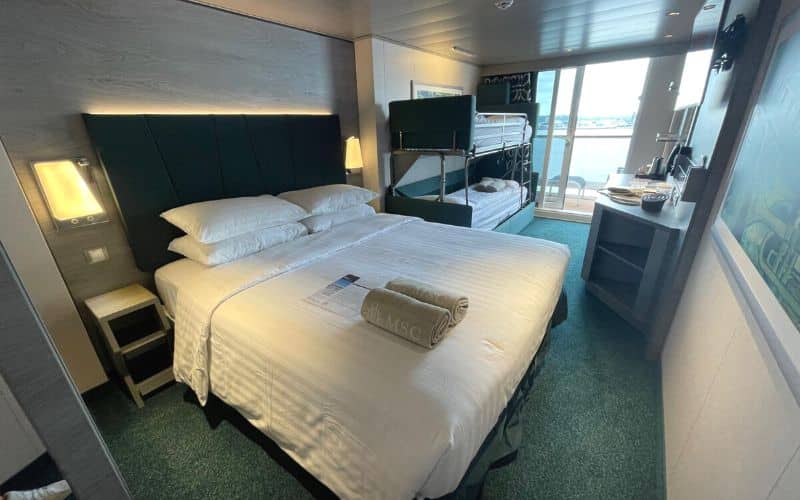 We had previously booked a Bella balcony, but it was right at the front and MSC Virtuosa is a very big ship so we didn't fancy all of that walking with two young kids.
Nipping back you your room for your sunglasses can be a 15-minute job if your cabin isn't in a convenient spot. And don't get me started on carrying sleeping children while wearing heels!
The Bella balcony room also had a metal balcony rather than glass, which meant that our children wouldn't have been able to see the view.
So, before the cruise, we paid an extra £80 to upgrade to a Fantastica balcony, which I think was worth it.
With the Fantastica package, you get one free change to your cruise. With Bella, if you need to change your cabin or your sailing date, you need to pay an additional fee, which we did.
Free breakfast room service
A nice touch with Fantastica is the free breakfast served in your room . Room service normally has a delivery charge, and outside of breakfast you have to pay for the items you order too. But at breakfast time, Fantastica guests get both the food and the delivery for free.
To order, you just hang this card on your door handle before you go to bed.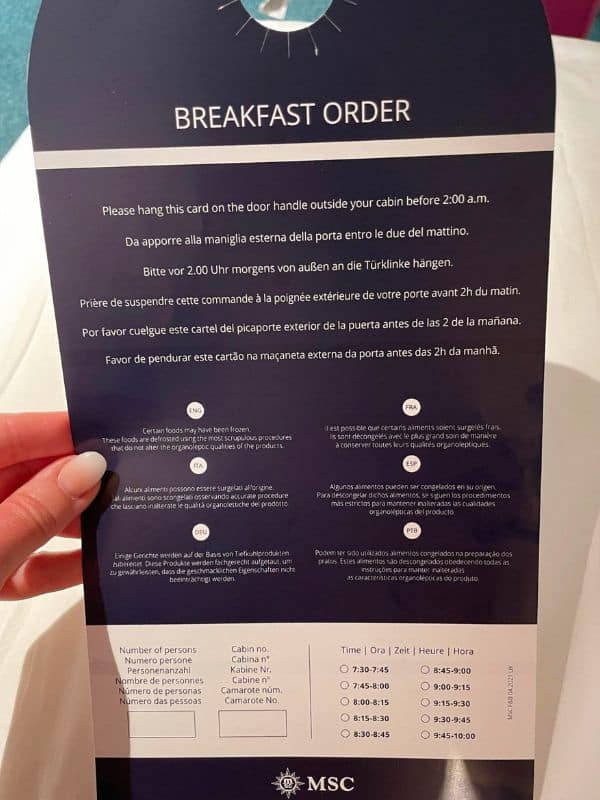 On the other side is the room service menu, so you just write how many you would like of each item.
Speciality dining discount
With MSC Cruises, you can also book a speciality dining package, paid up front, to allow you to experience some of the different restaurants on board. Do this with a Fantastica experience package and you'll save 20% compared to if you wait until you're on the ship.
If you like speciality dining, this could make the upgrade worth it for you. But really, I think it's just a way for MSC Cruises to encourage more people to book multiple dining experiences.
Choice of dining sitting
Finally, you'll also have the chance to request your preferred dinner sitting, either early or late. The actual times will vary, but you'll be assigned a time either in the early window (usually 5.30 pm to 7.30 pm) or the late one (usually 7.45 pm to 9.45 pm).
That doesn't mean you can pick a time, but if you request early, it means you'll be given a time between 5.30 pm and 7.30 pm, and that's when you're expected to turn up.
These are subject to availability, with guests assigned their seating in priority order from the Suites down, so there's a chance you won't get your requested time still if you book an Inside cabin.
Also, those times are just an example and the actual times for each sitting can vary depending on the ship and itinerary.
If you're given a time that you don't want, you can always try to change it. If you have a particular reason such as young kids who can't wait until 9 pm to eat dinner, then you have a very high chance of success, particularly if you booked Fantastica. #
But even if you booked Bella and you just don't fancy that time, then it's still definitely worth an ask if you want to switch.
What is the difference between MSC Bella and Fantastica?
The main difference between MSC Bella and MSC Fantastica is that Fantastica gives you more choice – choice of where your cabin will be, and when you'll eat dinner.
| Experience Benefits | Bella | Fantastica |
| --- | --- | --- |
| Opportunity to choose your cabin and location | NO | YES |
| Change your cruise for a fee | YES | NO |
| One Free Cruise Change | NO | YES |
| Breakfast in cabin, including delivery | NO | YES |
| Discounted drinks package when you book | YES | YES |
| Main Dining Room and Buffet restaurants included | YES | YES |
| 20% discount on speciality dining package | NO | YES |
| Request your preferred dinner seating | NO | YES |
| Use of the pools, sports facilities and gym | YES | YES |
| Live theatre shows | YES | YES |
| Kids clubs | YES | YES |
| MSC Voyagers Club loyalty points | YES | YES |
How much does the Fantastica experience cost on an MSC cruise?
What's clear is that the Fantastica experience is an upgrade – you wouldn't choose the Bella experience over the Fantastica if both cost exactly the same.
So, how much does Fantastica cost?
There isn't a fixed price, and it'll depend on your cruise date, and how sold out the ship is. Generally, the cost to upgrade from Bella to Fantastica will cost around £50-100 ($60-120) per person, but it may be more depending on your itinerary.
There may even be some cruises where Bella is not an option, and you have to book Fantastica – but if you do, then the cost will already be included in your fare. You might think that it's free, but it just means that you aren't seeing the lower Bella costs. The extra fee is incorporated into the fare you're paying.
This will happen when all of the cheapest cabins have sold out, those that are in less desirable locations on the ship. MSC doesn't want you to get the benefits of Fantastica without paying for them, so it puts a limit on how many people can book Bella instead.
Sorry if you saw a 'free' Fantastica upgrade and thought you were getting a great deal – it just means you're a little late, and Fantastica is the minimum option available!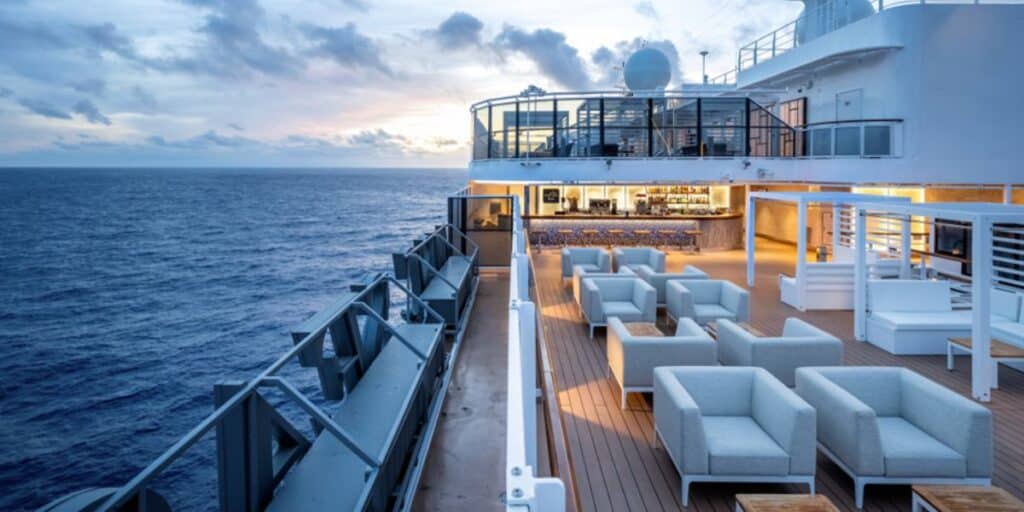 Is Fantastica worth it on MSC Cruises?
So the big question is whether Fantastica is worth paying the upgrade price, or if you're better off sticking to Bella.
With a lot of options for different cruise packages, you're able to pay extra for the benefits if you decide not to upgrade, which means you can pick and choose the things that matter most to you. But that doesn't work with MSC.
If you decide to book Bella, you can't then pay a fee to request a different dining sitting, or to change your cabin location.
So you have to look at the benefits that Fantastica offers, and decide whether they're something that matters to you.
The main reasons to upgrade would be if you cared about the location of your cabin, and if you want to have more of a choice when it comes to eating in the main dining rooms.
If you're not that bothered about where your cabin is, and you will spend more evenings eating in the buffet restaurant, Fantastica probably isn't worth it, and you might as well get the cheapest MSC cruise you can with Bella.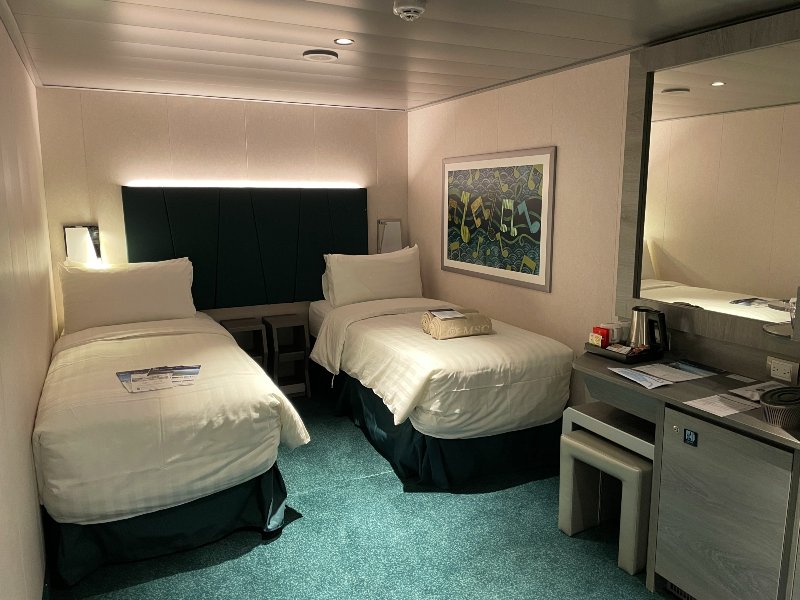 But if you want the best views, or to be closer to the elevators, and you do want to make sure you avoid a super-early or super-late dinner sitting time, then pay for the upgrade.
The other perks – the free breakfast in your room, the speciality restaurant package discount and the free cruise change – are nice to have. The cruise change is only useful if something happens to cause you to move your cruise, and your travel insurance may cover you for that anyway.
So check the prices for the upgrade when you're planning on sailing, and think about whether you want to control your cabin location and have a say on your dinner dining time. That'll tell you whether you should be booking Bella or Fantastica.
Or maybe you should be booking Aurea instead. Read more about the MSC Aurea experience to see whether it's worth paying for the top-tier package.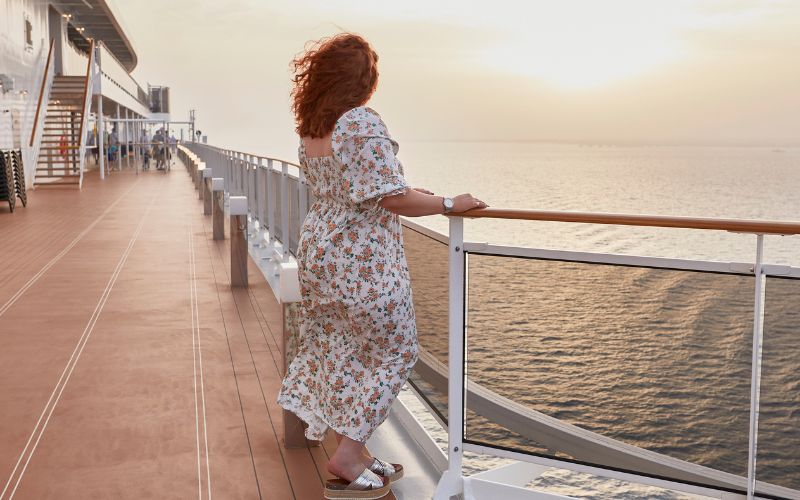 Related posts: