This is a guest post by first-time cruiser Lyndsy McGlade.
I never expected to be overwhelmed by a ship but after months of planning for this great adventure, I got a lump in my throat as we drove up the harbour toward the magnificent MSC World Europa!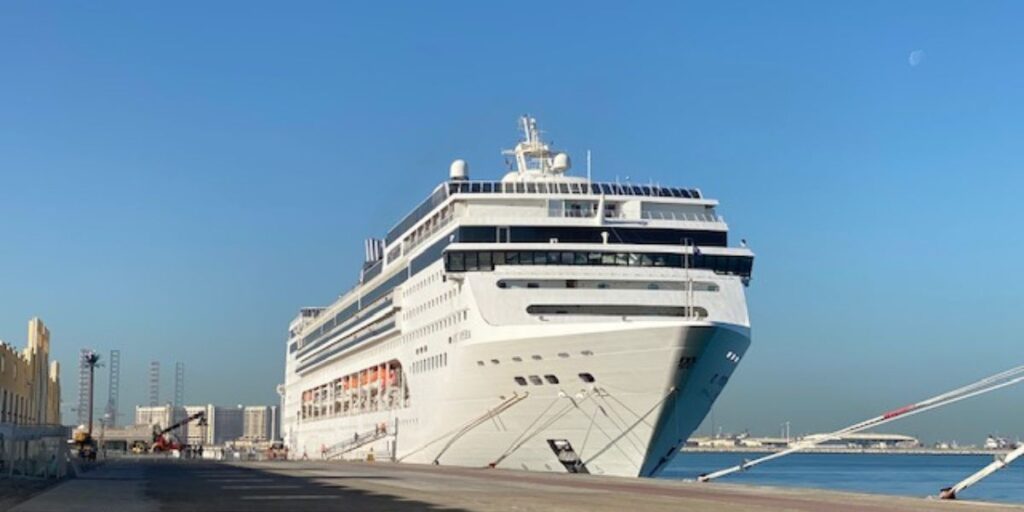 As a first-time cruiser, I think we picked a rather ambitious journey, travelling with my son of 17 and three other family members in their late 60s. We had a broad range of needs and expectations.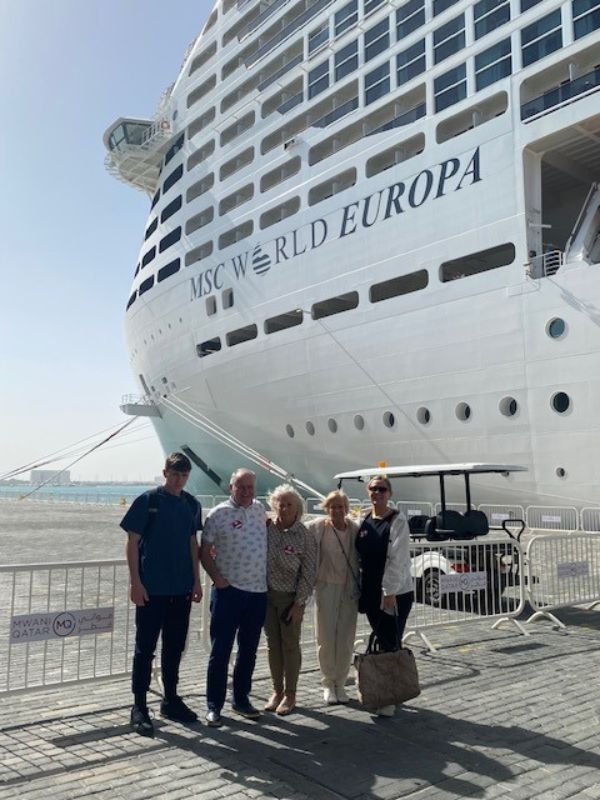 Departing on the 9 February we heading off with a sense of adventure, a few great tips from the Cruise Mummy website and a decent amount of anxiety!
My story is one of a few ups and downs, but in general, some very smooth sailing, rather like the beautiful Persian Gulf we were about to embark upon.
The journey to Qatar
We flew from Manchester to Qatar – approx 7 hours flying time. As we booked the cruise as a package with MSC, it meant that they block book the seats in relation to passengers booked on the cruise, in our case 44 people.
This would be fine but there was no consideration to the 'groups' that were travelling together which resulted in us all being split up despite arriving at the airport more than three hours before!
On arrival into Doha, the transfer time to the ship was less than half an hour and the views from the short transfer excite you to get stuck into the dazzling Middle Eastern cities.
How they keep the sidewalks and sky scrapers glistening every day is quite a feat and was quite consistent on our trip. It may be a dessert but it shines like a new penny!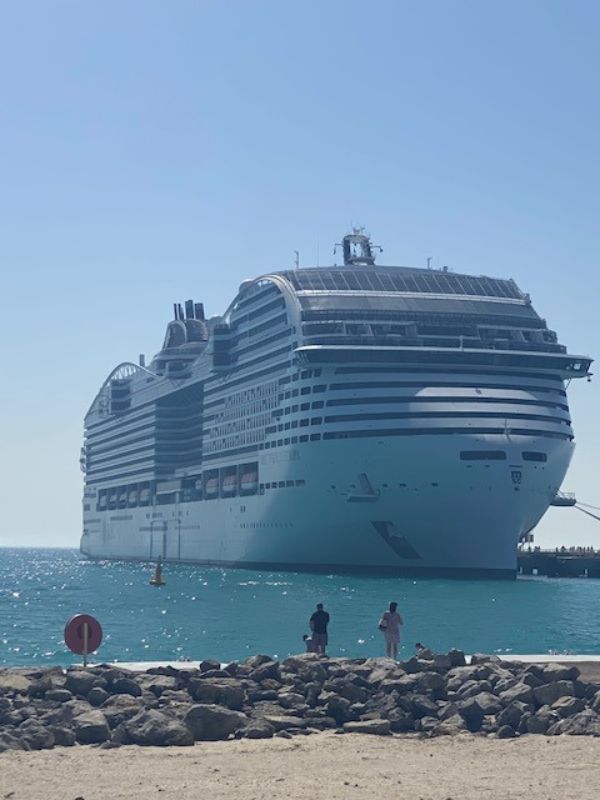 Embarkation
As we were all so green around the gills regards cruising I was curious as to how the ship gets so many passengers on and off, how they deal with this level of people is really impressive. At check-in, check-out and each port there were hardly any queues and they operate a really fluid system.
I have never stood beside a cruise ship before and each time we got on and off each time I was in awe as to how they craft these things, it just went on and on!
We met several seasoned cruisers and the word is that this is one of the biggest that most people have travelled on. I believe that they host 5,000 passengers as well as 2,000 staff.
On arrival, we were directed to one of the buffet restaurants located on deck 18. After a glass of wine and an overloaded plate (the first of many!) we were truly fed and watered and ready to head out to see what all the fuss was about.
I can honestly say that I felt like a kid in a sweet shop, we didn't know where to start so we set off exploring, eager to see what was around the next corner.
What was included
Our cabin was on deck 11. We took the Fantastica package which means that our cabins were linked together.
The other benefits of this are that we were able to pre-book our cabins (unlike the airline) our dinner sitting could be pre-selected and we were able to sit together.
Our cabins had a balcony with a sea view and we also had the Premium Drinks package. The room was plenty big enough for the three of us, the beds were comfortable and it was cleaned very well.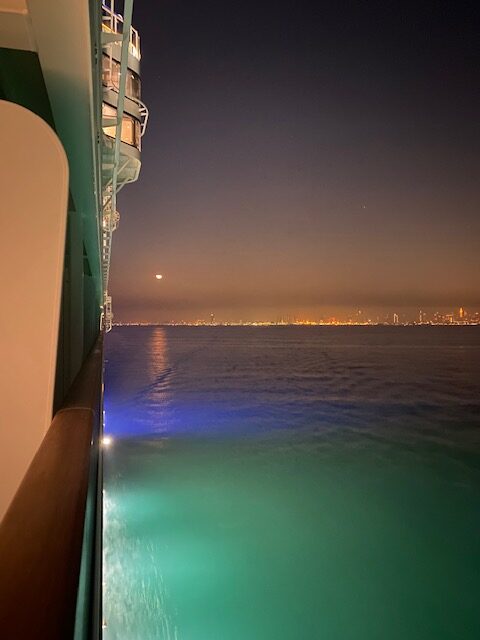 These may sound like small gripes but the TV was dreadful, you couldn't even get Sky News and you can get there everywhere! Plus, despite the multiple choices of places to get a drink, we missed having a kettle in the room.
My mum doesn't drink so it was initially it was a tad frustrating that we had to get her a drink package – if one upgraded then all had to.
Tea and coffee is complimentary but cappuccinos or soft drinks aren't. As a guideline, a gin and tonic would cost 10 euros and a bottle of wine at dinner approx 40 euros.
There was no limit to the number of drinks we had in a day so technically you can drink as soon as the bar opens until the last one closes. We never tried this of course but it felt good to know we weren't on a quota!
On that package, you can drink in any of the bars including the Champagne bar. Any drink 13 euros and under is included, if the drinks are over then you pay the difference.
Suggested read: MSC Cruises Drinks Menus with Prices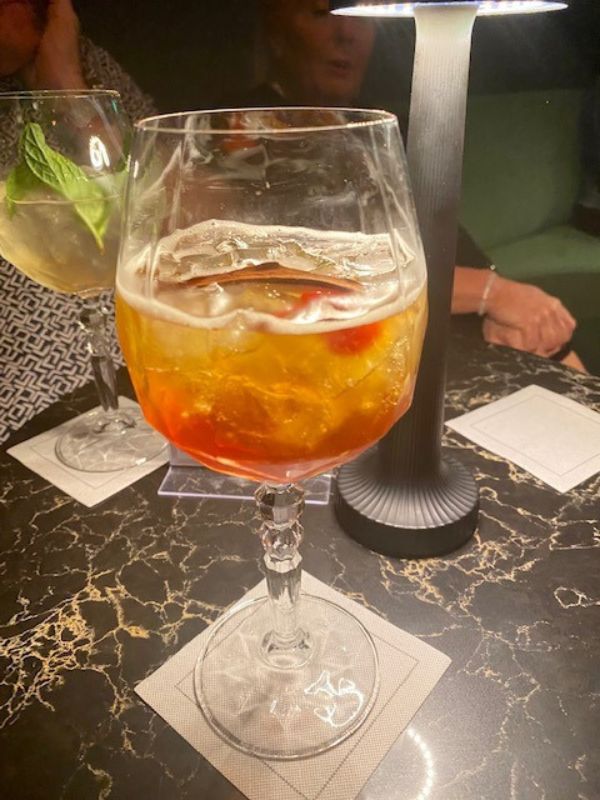 The bars are stunning, think high-end Manchester lounge bars, many of the bars have entertainment each night. They even brew their own beer on board and showcase this as 'Masters of the Sea'.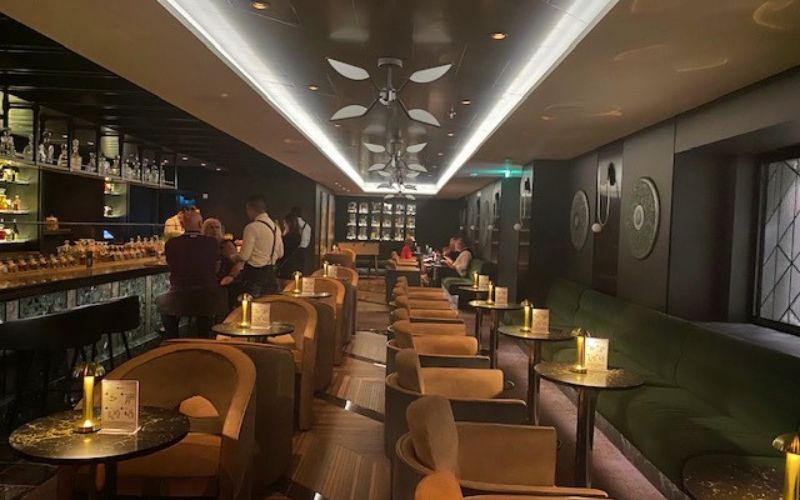 For non-drinkers, there is a stunning 'Tea Saloon' as well as the 'Coffee Emporium'.
The food
You can not possibly go hungry on board. The buffet restaurants open at 6 am and other than a very short turn around they open until 2 am in some instances.
We took breakfast at Hexagon restaurant which is one of the complimentary restaurants. This is the only one that opens for breakfast and you can have a sit-down four-course breakfast, avoiding the hustle and bustle of the buffet before your first brew!
For our evening meal, we were allocated to La Foglia, another of the complimentary restaurants. You are allocated to your restaurant and will be on that table for the week. Our waiters were fab and looked after us very much.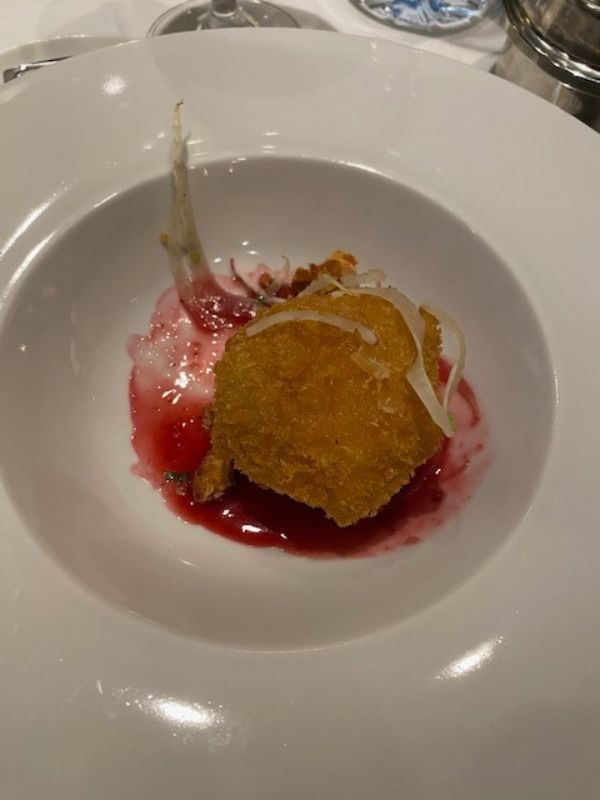 Throughout the day there is an abundance of pizza, burgers, hot dogs, cookies and on and on! There are a number of places that you can get these from. The Deck 18 pool bar serves food from midday until late.
The pool decks
Around the ship are plenty of pools and hot tubs, dotted around so the whole upper decks are available for sunbathing.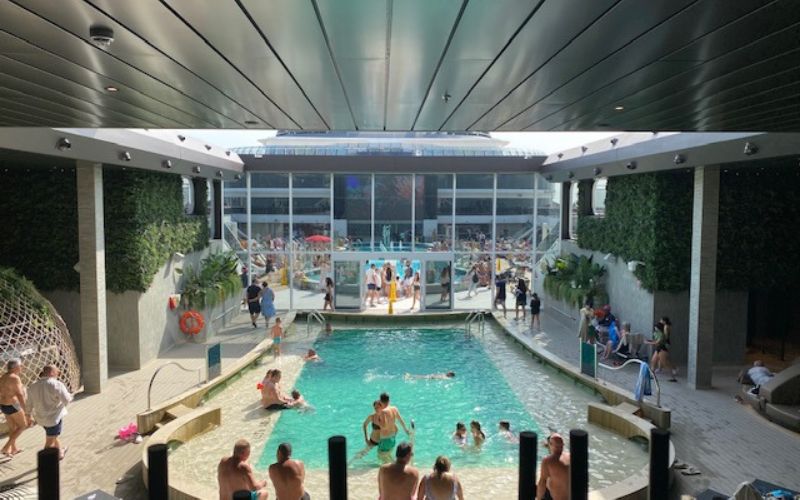 On sea days you need to get up and find a spot early doors as the sun beds go quite quickly. If it's too hot then there is a fantastic indoor area pool area that also has entertainment like ping pong and fuss ball.
The water park is great and the highlight for kids on the sea day. There are four slides and they are not too adventurous and not too boring!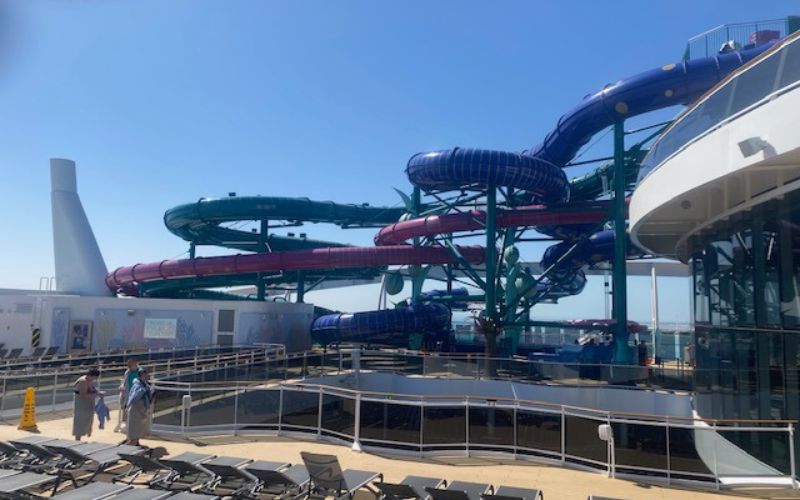 The facilities on board
Around the ship, there are large interactive screens where you check daily activities and you can book your shows or excursions. These are basically large versions of the MSC 4 ME app.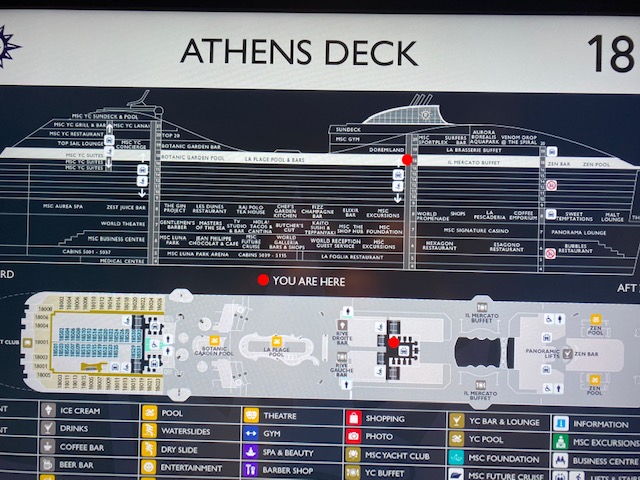 This app works best onboard, I couldn't get it to work before I travelled but as soon as we checked in it worked fabulously. It was really clear and up to date with any additional charges, such as excisions or arcade games that you bought. You were able to check out using this app also which made disembarking really straightforward and we had no unexpected charges.
The lift system is awesome, this may sound like an odd comment but there were 10 lifts and when you call a lift it guides you to the quickest arriving cab so there were not many queues and you got up and down really efficiently. I don't think we realised how awesome this system in until you speak to other passengers – it was slick!
On board things are expensive like the F1 simulator and games at the arcade. The bridge and control room tour was 87 euros each! The internet is probably not worth the price.
Excursions
There are a good choice of excursions and they know the hot spots so to make sure you maximise your time these are good options.
We took the hop on hop off bus tours and we loved them, they did the trick and we feel like we saw a lot.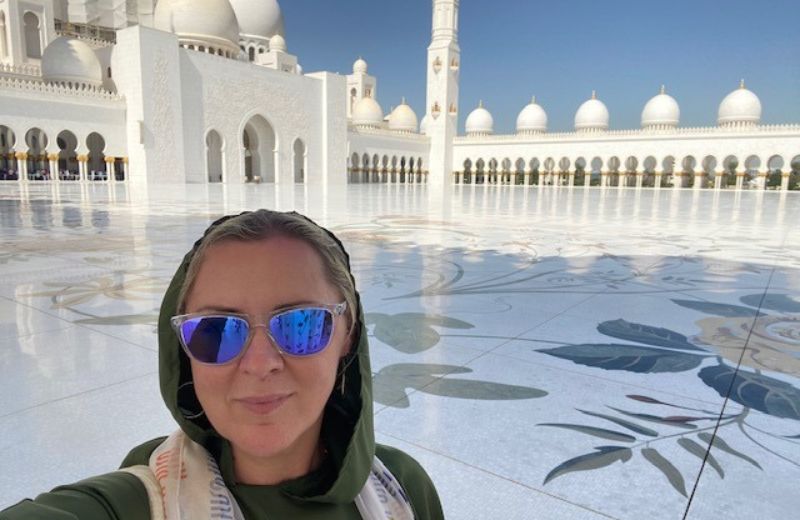 The Verdict
Our first cruise was marvellous. The food, drink, engineering, attention to detail and the decor all score top points!
The ship sails to the Med in the summer as it's too hot to cruise in the Middle East then.
Would I go on a cruise again? Yes, when I have managed to de-cruise my body from this one!
A week on the ship, a lifetime on the hips 🙂
Lyndsy x
Related Posts:
NEW DEALS JUST RELEASED!
Don't miss the latest MSC Cruises offers…