Private islands are seen as the 'next big thing' in the cruise industry. These cruise line-owned islands are becoming extensions of the ships themselves, featuring larger versions of on-board splash parks, the same great food you'll find on the ship, and you may even find that cruise ship drinks and wi-fi packages are able to be used on land, at no extra cost.
Just as some people book a cruise solely to experience the ship, cruise line private islands are becoming so good that people are booking short two- or three-night cruises just to visit a private island. But, which islands should you put at the top of your wish list? I've rounded up five of the best.
---
Perfect Day at CocoCay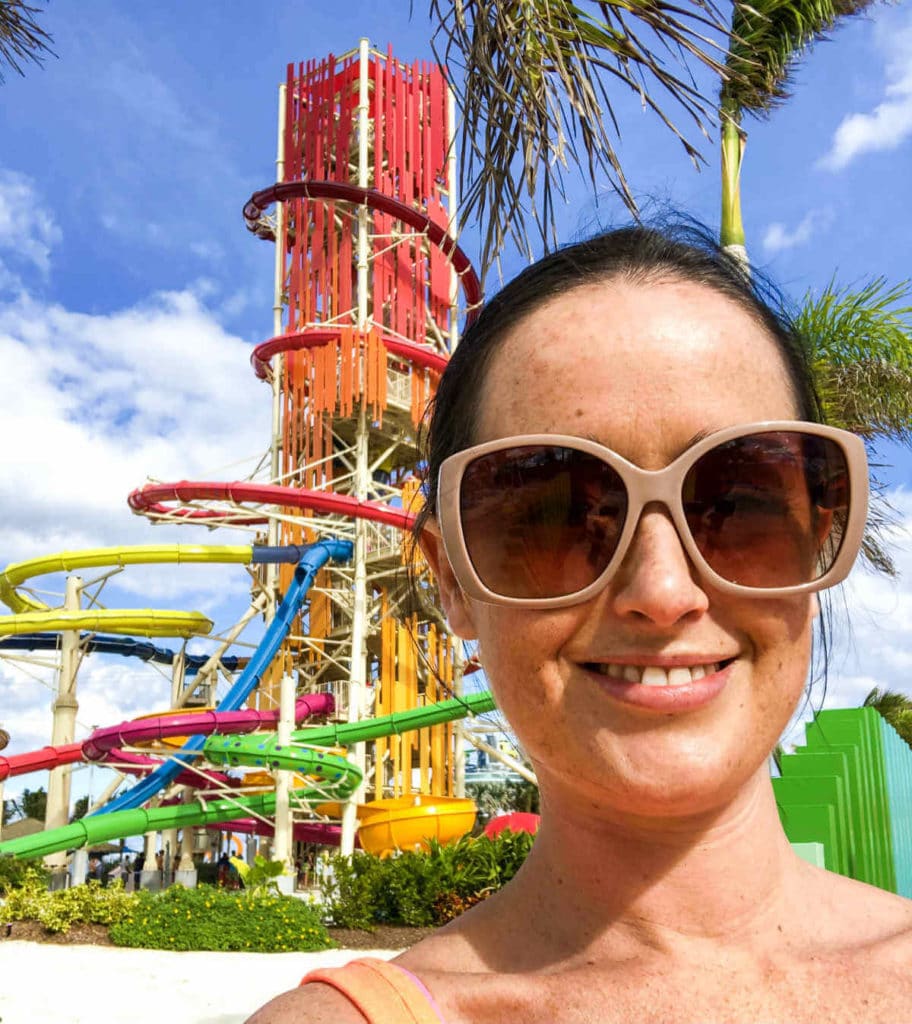 Cruise line: Royal Caribbean
Location: Bahamas
Size: 140 acres
Tender or dock: Dock
Royal Caribbean's private island underwent a huge $200 million revamp in 2019. This project saw the addition of many Instagram-worthy features including the tallest water slide in North America, the largest freshwater swimming pool in the Caribbean and a 1600-foot-long zip line. To take in the views of this incredible island, cruisers can head up in a helium balloon to snap photos from 300 feet in the air.
Work isn't yet finished on the island. The Coco Beach Club area will be finalised in January 2020 and will include the addition of Maldives-style private overwater villas and an exclusive infinity pool overlooking the private beach.
Perfect for children of all ages, on CocoCay children can enjoy a huge Splashaway Bay water park with slides and tipping buckets, as well as Captain Jill's Galleon, which is a large pirate ship with cannons which spray water. Unlike the main Thrill Waterpark on the island, these children's facilities are all available to enjoy without an extra charge.
---
Ocean Cay Marine Reserve
Cruise line: MSC Cruises
Location: Bahamas
Size: 95 acres
Tender or dock: Dock
Just opened in December 2019 is MSC Cruises' brand new private island resort, Ocean Cay Marine Reserve. Part of the Bimini chain of islands, this paradise island has a focus on connecting with nature and sustainability. Motorised water-sports are forbidden here, in order to protect the delicate coral reef. Instead, activities to enjoy include kayaking, paddle-boarding or, if that sound too strenuous, you can rent an electric pedalo. Scuba diving and snorkelling are also popular.
Ocean Cay is a place not just to appreciate nature, but also to enhance your own personal wellbeing, and a range of yoga and fitness classes are available, alongside relaxing spa treatments and massages. Late-night stays on the island are possible, giving guests the option to gaze at stars in an area that's relatively free of light pollution.
Children will love the Family Lagoon Beach with shallow water for little ones to splash around. There's also a 100-foot lighthouse which you can climb for some amazing views.
---
Castaway Cay
Cruise line: Disney
Location: Bahamas
Size: 1,000 acres
Tender or dock: Dock
Disney's private island, Castaway Cay is, as expected, a fantastic place for children of all ages. But did you know that there's lots for adults to enjoy too?
The island has distinct beach areas for various ages – the Family Beach, the Sports Beach and the adults-only Serenity Bay. The Family Beach is the closest to the ship and here you'll find loads of child-friendly activities such as a 2,400-square-foot floating platform with two water slides, spray cannons and a giant tipping bucket. There's also a Snorkelling Lagoon with a path to follow to see not only tropical fish but special buried treasure!
The Sports Beach is popular with teens and is the place to enjoy a wide variety of sporting activities such as volleyball and tetherball. Serenity Bay is a lovely quiet spot for adults to relax, enjoy the views or enjoy a massage in one of the open-air cabanas.
If you visit Castaway Cay, keep an eye out for Goofy, Olaf and other characters who are known to enjoy a visit to the island too.
---
Great Stirrup Cay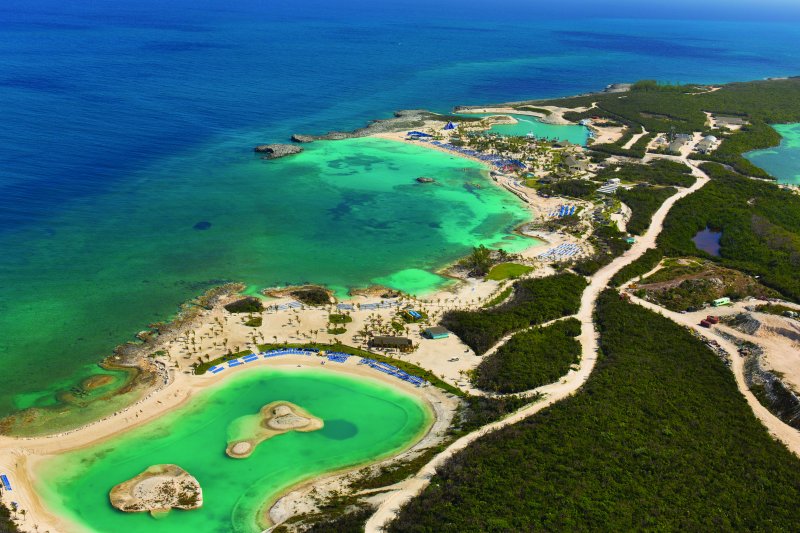 Cruise line: Norwegian Cruise Line
Location: Bahamas
Size: 268 acres
Tender or dock: Tender boat
Locates in the Berry Islands, Great Stirrup Cay offers the ultimate in blissful relaxation. It's a snorkellers paradise with crystal-clear waters where you can see turtles and tropical fish – there's even an underwater sculpture garden. Should you wish to swim with the famous Bahamian swimming pigs, they can be found on Treasure Island which is just a ten-minute boat ride away. You could also take an excursion to nearby Stingray City to swim with the friendly stingrays.
Great Stirrup Cay has three beaches: Bertrams Beach, Cabana's Beach and Fiesta Beach. Bertram's beach is named after the British naval commander who settled on the island in the 18th century (and who could blame him!) It has lots of beach loungers, hammocks and shady palm trees. A little further along is Cabana's Beach where you'll find cabanas to hire. Furthest from the pier is Fiesta Beach which is a quieter spot away from the hustle and bustle of the other beaches,
Norwegian Cruise Line also offers private villas in the exclusive Silver Cove area of the island. These come with air conditioning, a TV and on-demand movies. Personally, if I wanted to watch TV in a cold room, I'd turn off the heating and do that at home. There's no way I'd be wasting the day in a villa on a private island!
---
Half Moon Cay
Cruise line: Holland America Line and Carnival
Location: Bahamas
Size: 2400 acres
Tender or dock: Tender boat
The largest of all of the cruise line private islands, Half Moon Cay has been voted 'Best Private Island' by Porthole Cruise Magazine every year for the past 17 years. Unlike some other private islands, development has been kept to a minimum, meaning guests can enjoy unspoilt nature trails and a relaxing time exploring the ten miles of white sandy beaches either on foot, on a bicycle or on horseback. You can even go swimming with horses should you wish.
Although 95% of this island hasn't been developed, there's still lots for kids to enjoy. The Half Moon Lagoon Aqua Park has slides and a pirate ship that shoots water from its cannons. There's also a dry playground with slides, swings, see-saws and more pirate ships.
Continuing with the pirate these, Half Moon Cay also has a huge three-storey pirate ship with fantastic views from the top level; the other two levels are a bar.
---
Other private islands
These are just a selection of some of the best cruise ship private island resorts which you can visit. Others include Norwegian Cruise Line's Harvest Caye in Belize, Royal Caribbean's Labadee in Haiti and Princess Cruises' Princess Cays on the island of Eleuthera in the Bahamas.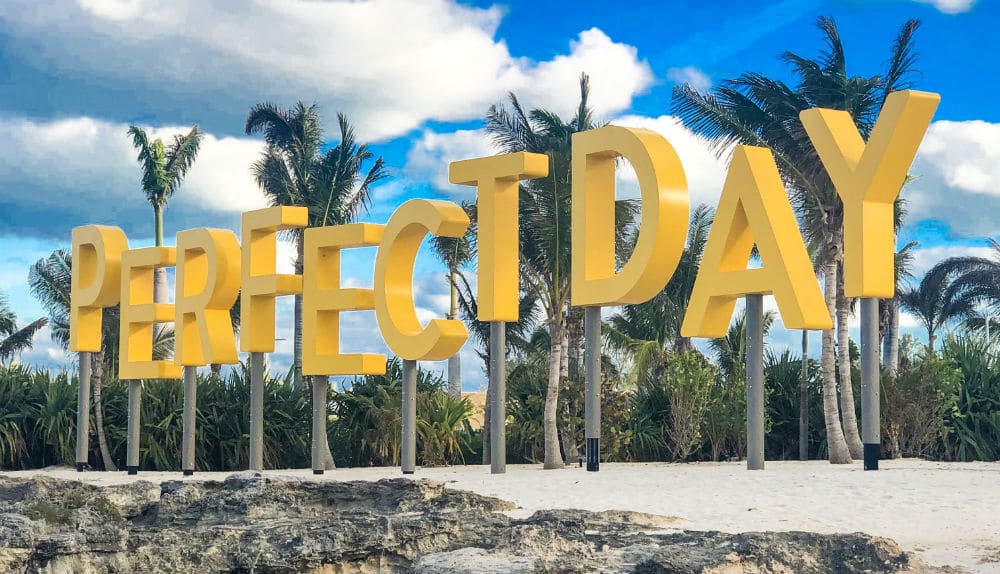 More private islands are planned for the future too, with Royal Caribbean alone having plans to develop another private island, Perfect Day at Lelepa in Vanuatu, followed by three more Perfect Day islands across the world by 2024.
Have you ever cruised to a private island? What did you think? Please let me know in the comment below, I'd love to hear your opinions.
Related Posts: