Thinking of booking a Carnival or Princess cruise in the Bahamas, and wondering what to expect from your visit to Princess Cays?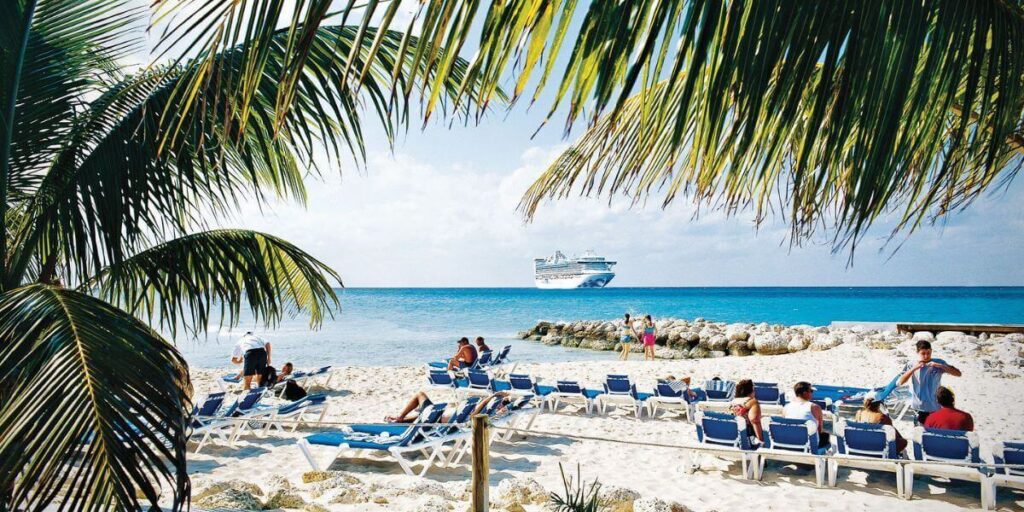 Princess Cays is one of a number of private destinations owned or leased by cruise lines, and these are becoming more and more popular.
Guests tend to love that feeling of exclusivity in a tropical destination, away from the bigger crowds. Cruise lines can make the most of this through exclusive excursions and activities that attract more guests and can bring in more cash, too.
So, to help you plan your trip, let's take a look at what Princess Cays has to offer on your cruise.
Is Princess Cays Carnival's Private Island?
Princess Cays island is not actually a private island, but it is owned by Carnival. It's a private resort situated at the south end of the Bahamian island of Eleuthera. The resort area of the island is only open to cruise guests of the Carnival Corporation cruise lines – Carnival and Princess Cruises.
Cruise passengers are able to leave Princess Cays and explore the rest of Eleuthera if you want to – it's not fenced off. Just be aware that most of the best attractions will be found at Princess Cays. You also won't eat for free elsewhere – it's only the resort where free food is served to guests.
If you do want to explore Eleuthera you also have to make sure you're back in time for the last tender boat back to the ship.
Is Princess Cays the Same as Half Moon Cay?
Princess Cays and Half Moon Cay are two different destinations – they are not the same. Half Moon Cay is a small private island, whereas Princess Cays is a resort on the island of Eleuthera. They are, however, both owned by the Carnival Corporation.
Most cruises in the region go to either Half Moon Cay or Princess Cays but not both.
The two destinations are quite similar in how they operate and the kinds of activities you can get up to, but they have some key differences. Princess Cays is a lot smaller than Half Moon Cay, and doesn't have quite the range of excursions. Guests tend to prefer the softer sands of Half Moon Cay as well.
Read more about Half Moon Cay.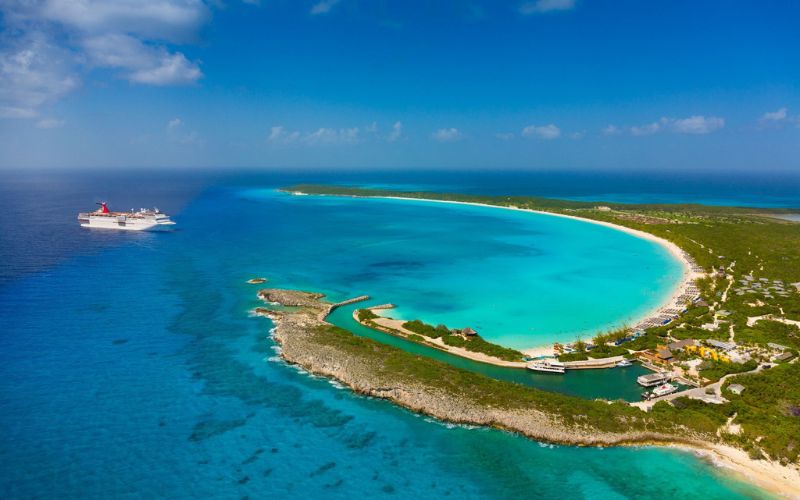 Do You Have to Tender to Princess Cays?
Princess Cays doesn't have a pier and so guests will need to use a tender boat to get to shore from their ship. The downsides of this are that you may have to queue to get off the ship, and it's not quite as easy to make a quick return to the ship if you've forgotten something, or you'd prefer to dine on board.
Otherwise, the tender journey is short and you'll be at the resort in no time at all, so you'll still have a long day to explore and relax. Just be mindful that the return tenders to the ship towards the end of the day can get busy. You won't be left behind if you're queuing but you might have to stand around until it's your turn to board a tender.
The only other downside to the resort being a tender port is that it means it can sometimes be cancelled if the weather isn't suitable. Tender boats can't deal with stormy waters in the same way that larger ships can, and it could be unsafe.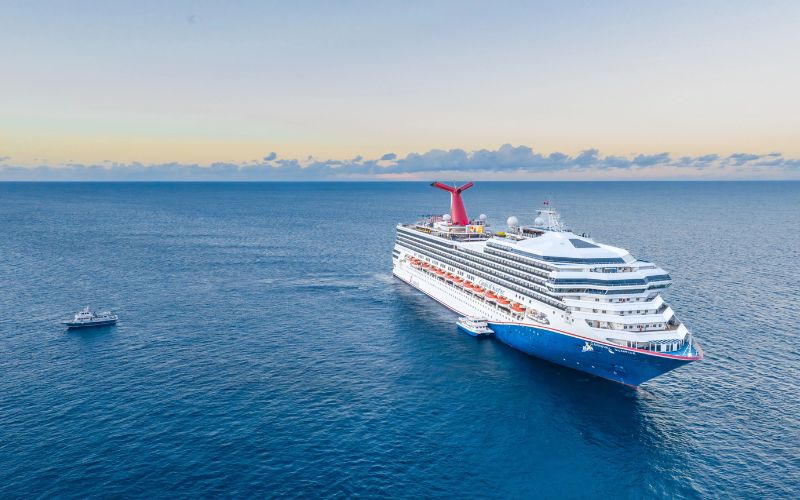 Where Is Princess Cays Located in the Bahamas?
Princess Cays is a resort on the southern tip of Eleuthera, which lies to the east of Nassau. Most cruises to the resort are short trips that will call at Nassau and Princess Cays before returning to the US coast.
The location does mean that you get a similar climate to other major destinations in the Bahamas, which means it's warm throughout the year. Cruises are most popular during the winter months to escape the colder weather at home.
Is Food Included on Princess Cays?
Your food is included when you visit Princess Cays. A buffet is provided for all guests to enjoy close to the tender pier, which includes a selection of barbecue favourites, salads and some tasty sweet treats.
This food is provided by the cruise line, with staff bringing it ashore and preparing it on the island during the morning. It's similar to what you would get at the buffet restaurant on the ship but with more of a focus on burgers, chicken and other BBQ favourites.
If you're used to the huge buffets that you get at Disney's Castaway Cay or Royal Caribbean's Perfect Day at CocoCay, then you may be disappointed by the smaller choice of the Princess Cays buffet.
If you want more variety, you can return to the ship to dine there instead where it will be much quieter than usual.
Does the Drink Package Work on Princess Cays?
The Carnival Cheers drinks package doesn't apply when you're on Princess Cays, or on the other private island Half Moon Cay. You can still use your Sail & Sign card to pay for drinks, so you don't need to carry a credit card or cash.
However, if you're visiting Princess Cays on a Princess Cruises ship, you'll be pleased to learn that the Princess drink packages do work on the island!
This is a little disappointing for Carnival guests because, where the resorts are fully owned by cruise lines, you can usually use your drinks package when ashore. I suppose Carnival guests have a bit of a reputation for drinking a lot and maybe the cruise line doesn't want to facilitate all-day drinking on the island.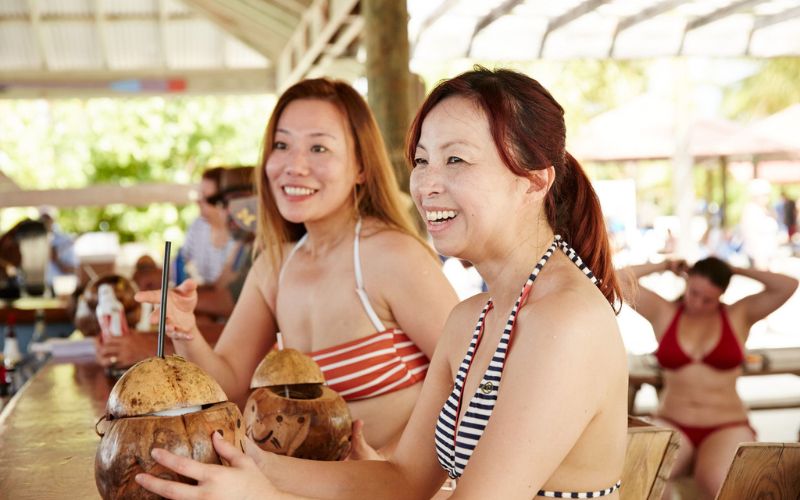 How Old Do You Have To Be To Drink in Princess Cays?
While the legal drinking age across the Bahamas is 18, that doesn't apply on Princess Cays. As it is a privately-owned resort, the minimum drinking age of the cruise line applies, and that is 21. Guests aged 18, 19 and 20 won't be able to buy any alcoholic drinks while at the resort.
What Is There To Do at Princess Cays?
There is a lot of choice when it comes to activities on Princess Cays, but don't feel like you have to sign up for everything. One of the best things to do in Princess Cays is to head to one of the beaches and sunbathe with a refreshing drink. The views are gorgeous out over the ocean, after all.
But if you do want to get active, there's a lot of water sports equipment you can hire, including kayaks, snorkeling gear, paddleboards and aqua bikes. You can also hire floating beds and water noodles if you just want a more lazy swim.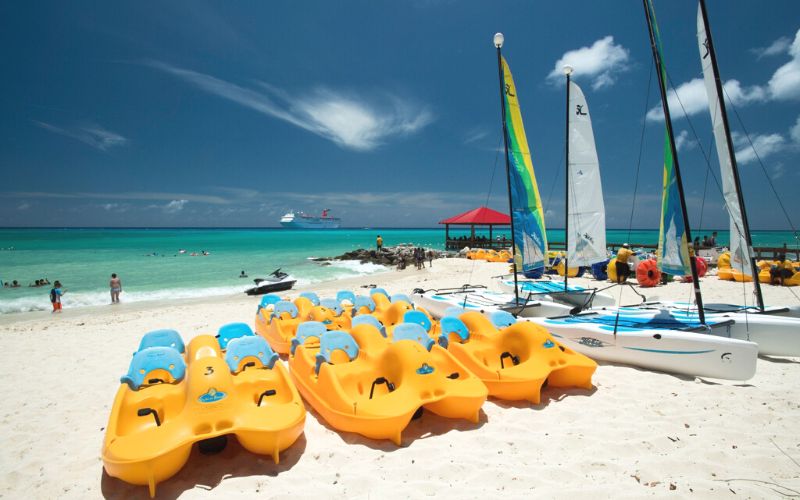 There's a kid's play area too, and the whole family will want to join in at the Junkanoo beach party.
In terms of organised Princess Cays excursions, you can take part in:
Dune buggy tours
Walking trails of the Leon Levy Native Plant Reserve
Boat trips around the island
Fishing trips
Stingray encounters
Bike tours
Is There a Pool at Princess Cays?
There isn't a large swimming pool at Princess Cays, although there is a small paddle pool at the kids' play area Pelican's Perch. Guests are instead able to swim and enjoy water sports on the ocean, which has crystal-clear warm waters.
Are There Sharks in Princess Cays?
There have been some sightings of smaller nurse sharks on snorkeling excursions from Princess Cays but even these are rare. It is generally very safe to snorkel off the island, and the expert guides are on hand to reassure you and explain what wildlife you will see.
If there ever was a shark in the waters, the guides are trained to act quickly and ensure everyone clears the area – you wouldn't be left at risk. There is one shark at Princess Cays that you definitely will spot – a fake one on the beach. Guests love to take photos of it claiming they've spotted a shark during their excursion.
Is There Shopping in Princess Cays Bahamas?
There is a craft market on Princess Cays where local vendors will sell a variety of items including clothing, shells and handmade gifts. You can't pay for these using your Sail & Sign card – the vendors aren't employed by the cruise line. You'll need US dollars, or a credit card.
The sellers here shouldn't ever scam you, since they operate under the permission of the cruise line, but that doesn't mean they won't be very enthusiastic and may haggle rather than have set prices, so you may pay more than something is worth if you aren't prepared to barter.
Don't ever be afraid of just saying "no" and walking away. While in some cruise ports, you might still get hassled, but that shouldn't happen at Princess Cays.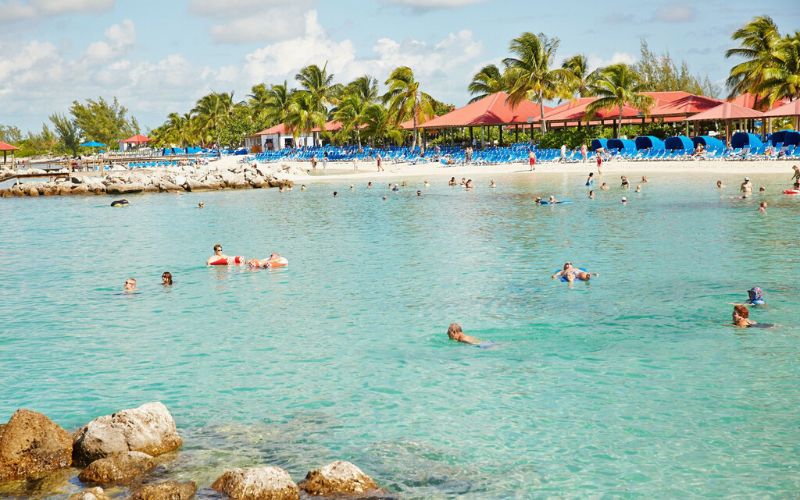 Can You Snorkel at Princess Cays?
Princess Cays is an excellent snorkeling spot, with clear waters and a wide array of natural sea life, including plants and animals that you can spot. Guests can bring their own snorkeling gear or it can be hired at the island.
The waters are great for snorkeling from the beach itself, although if you want to see more unique and exciting flora and fauna, then it's worth paying for an excursion on a snorkeling boat, which will take you further out to sea.
The guides are friendly and helpful so even if you're a beginner, you'll be able to get some great underwater views as you build up your confidence.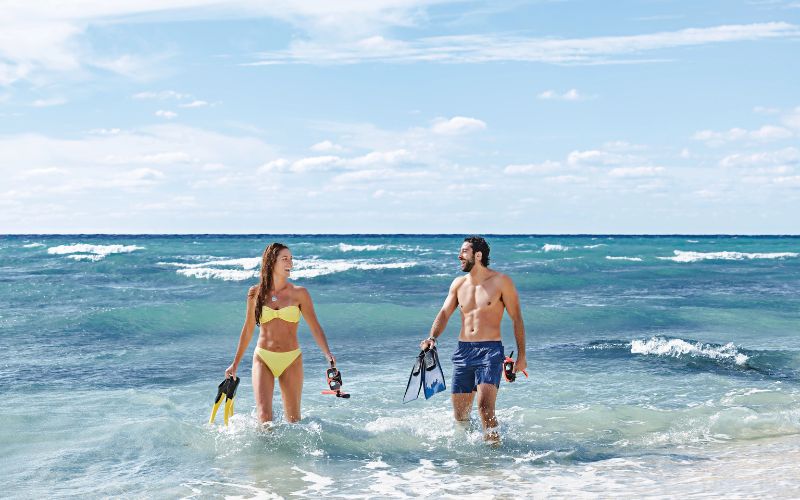 Do You Have to Book Excursions in Princess Cays?
There are some activities on Princess Cays that are free and don't require any charges, but there are some excursions that you'll need to book in advance. These include dune buggy and sand bike tours, fishing excursions, snorkel boating and other guided tours.
Whether you need to book excursions is a personal choice. A lot of people will be happy just wandering the island, relaxing on the beaches and grabbing a bite to eat, or joining in the casual volleyball tournaments.
But there are plenty of exciting excursions that you could try, so it's definitely worth looking at the options available before you arrive for the day, and see whether there are any you want to sign up to.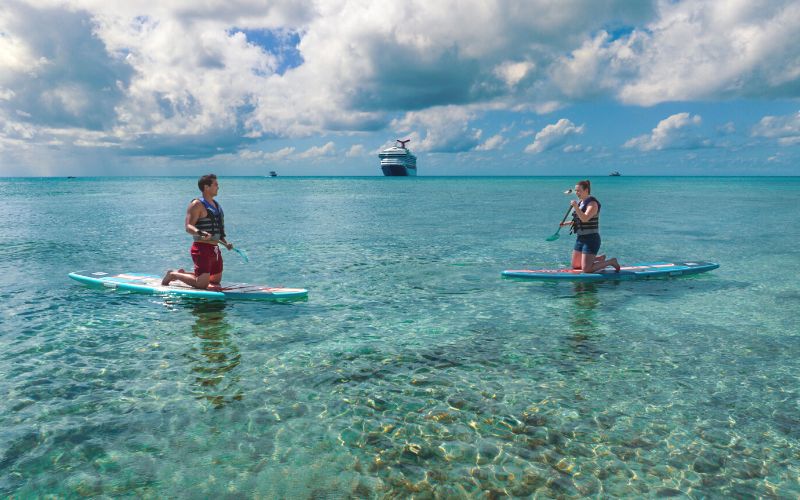 Do People Live on Princess Cays?
There are no permanent residents of Princess Cays due to it being a small tourist resort. Some locals do come from the rest of the Eleuthera island to work, especially the vendors selling at the market. Other jobs are managed by the crew from the ship.
As the resort is private, island residents can't wander in whenever they want to, so the resort is safe. It's only those with permission to work that come to the resort.
Do You Need a Passport To Go to Princess Cays?
As the Princess Cays cruise port is in the Bahamas, US residents don't need a passport to sail to the destination. Cruises within the Bahamas can be boarded with other forms of ID – a photo ID and a birth certificate.
Anyone who isn't a US citizen will, of course, need their passport to get into America when they're first boarding their cruise. And generally, cruise lines recommend that you take a passport if you have one – it makes it easier to rebook travel if your cruise suffers from any cancellations or delays.
Is There WiFi on Princess Cays?
The MedallionNet WiFi internet service is available to guests on Princess Cays. Most private islands owned by cruise lines don't have WiFi, making this a significant advantage if you want to get online to share photos and stories of your time on the island with friends and family.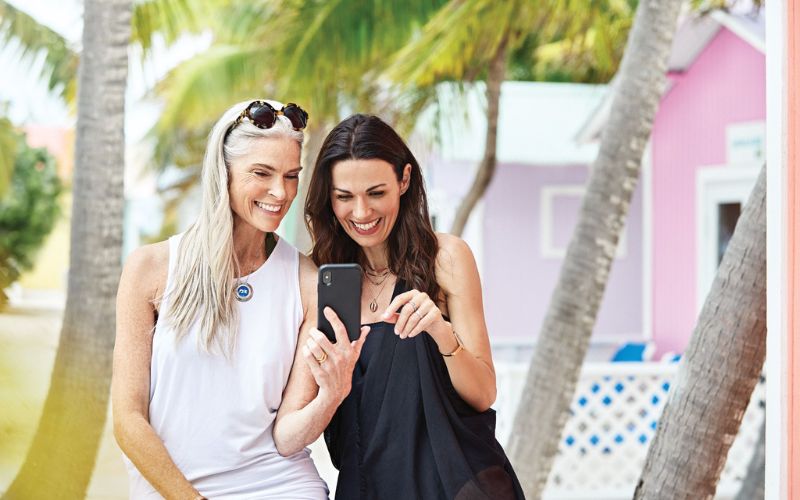 Which Is Better: Princess Cays or Half Moon Cay?
Princess Cays and Half Moon Cay are both very similar destinations, but they're not identical. They offer similar water sports activities, but Half Moon Cay has the more unique experience of horse riding through the sea.
However, snorkeling fans tend to give the edge to Princess Cays – the waters are a little clearer, the wildlife more diverse, and it's easier to explore directly from the shore as well.
You'll have a great time no matter which private destination you sail to on your Carnival or Princess cruise, but most cruisers give the slight edge to Half Moon Cay for its softer sands and its more expansive area.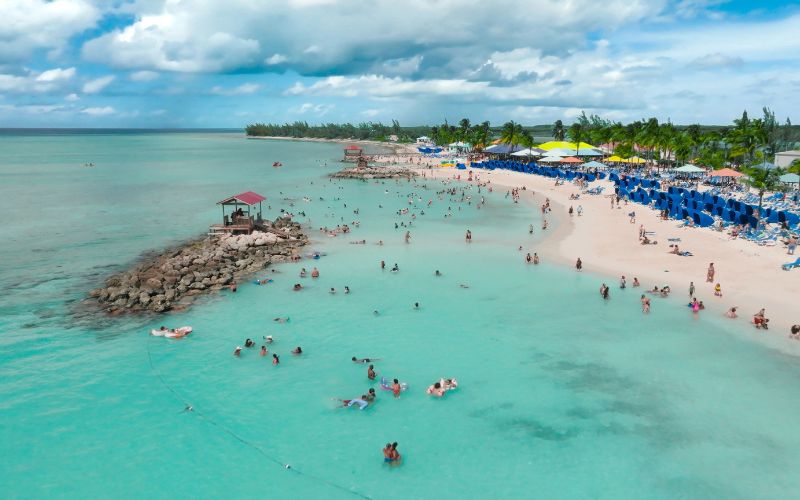 Final Word
Princess Cays may be a relatively small resort but it still packs a lot of activities into that space, without ever feeling too crowded either.
This isn't a day you want to skip if you're on your cruise. Whether you sign up for action-packed excursions or just sunbathe on the beach, there's a lot of fun to be had at this private resort destination.
Related Posts: