Royal Caribbean's private island, Perfect Day at CocoCay underwent a huge refurbishment in 2019, which saw the addition of jaw-dropping facilities such as the tallest waterslide in North America, a 1600-foot zipline, and a huge wave pool.
The Bahamian island of CocoCay, which is only accessible by a cruise ship, offers a fantastic day ashore for families with children, including babies and toddlers.
We visited CocoCay in December 2019, and I can honestly say it's the best port I've ever visited for children. This post explains everything you need to know about visiting Perfect Day at CocoCay with a baby, toddler or young child.
Things To Do At CocoCay With Small Children
Royal Caribbean's CocoCay island offers so much to keep young kids happy. Whilst many of the activities that older kids will love, such as the waterpark and zip-line are chargeable, most of the tot-friendly activities are complimentary.
Read more: What can you do for free at CocoCay?
Here's what you and your little ones can look forward to on the island:
Captain Jill's Galleon
Price: FREE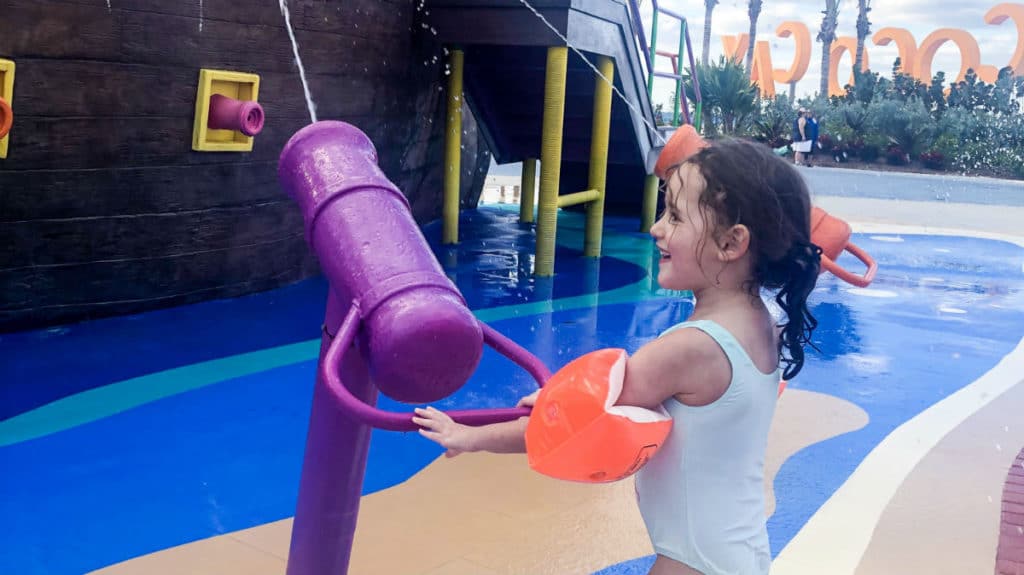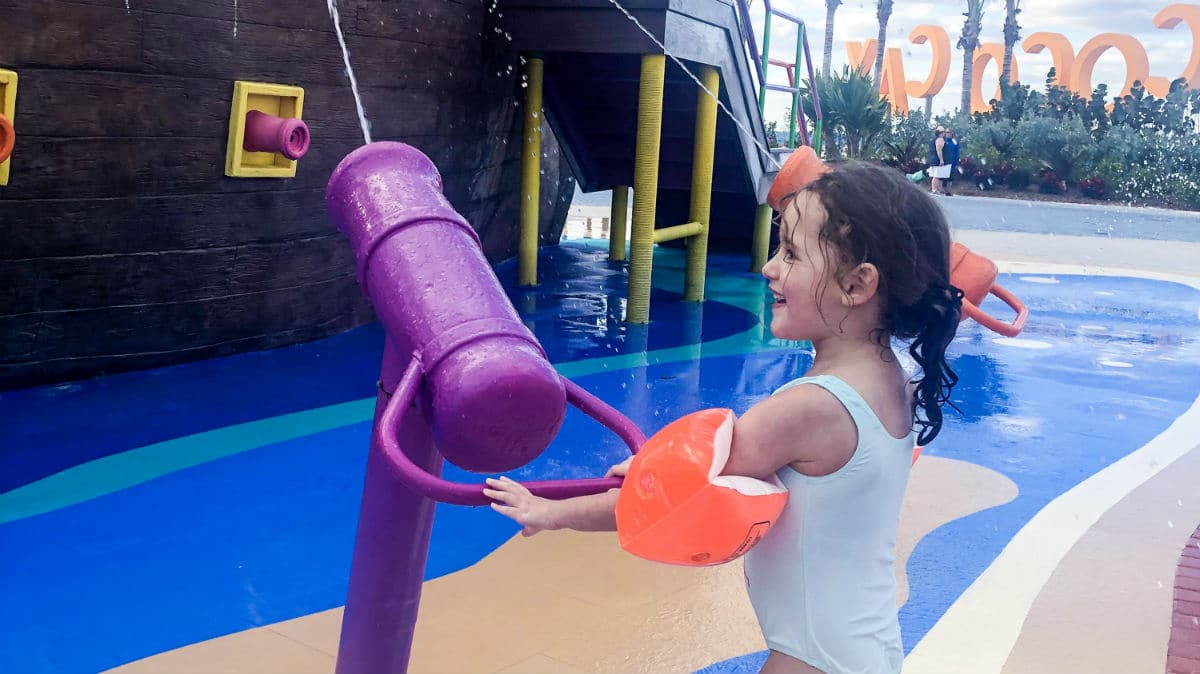 As you step onto CocoCay from the pier, the first attraction you'll see is the huge pirate ship – Captain Jill's Galleon.
Small kids will love to climb aboard this big pirate ship and shoot water out of the spray cannons. They can whoosh down the slides, climb the netting or run through the water, which squirts up out of the floor. It's the perfect way to cool off!
Splashaway Bay
Price: FREE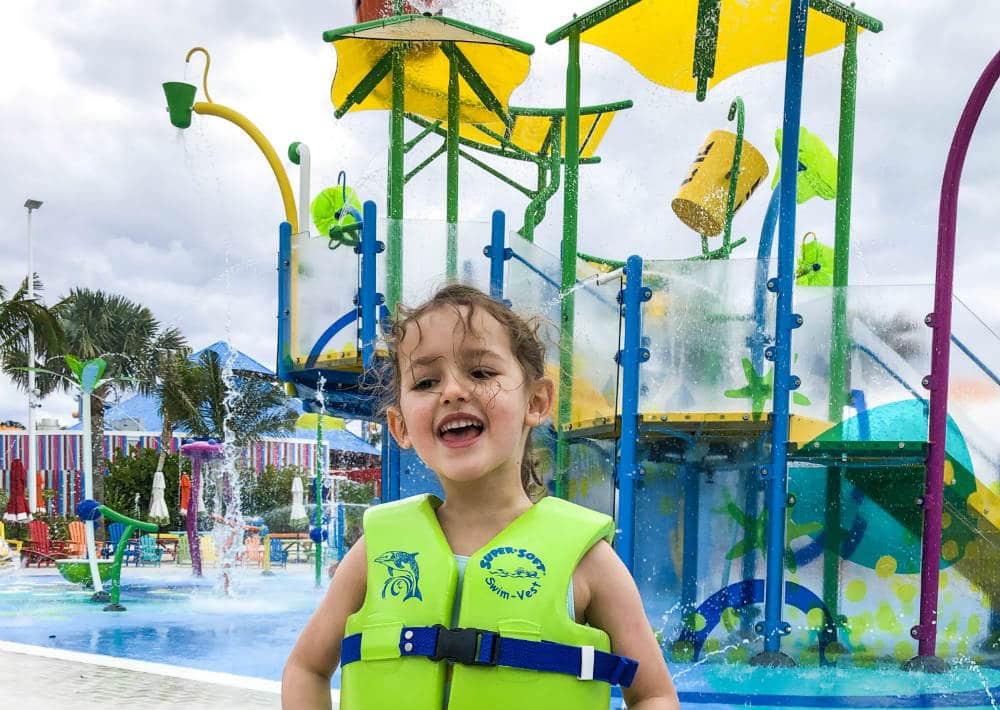 Splashaway Bay is a water play zone that is found on many of Royal Caribbean's ships and features small slides, tipping buckets, fountains and water jets.
CocoCay has its very own Splashaway Bay, which is bigger and better than the ones on the ships. Plus, a huge bonus for parents of toddlers is that whilst swimming nappies are banned from Splashaway Bay on the ship, they are allowed at Splashaway Bay on CocoCay.
Oasis Lagoon
Price: FREE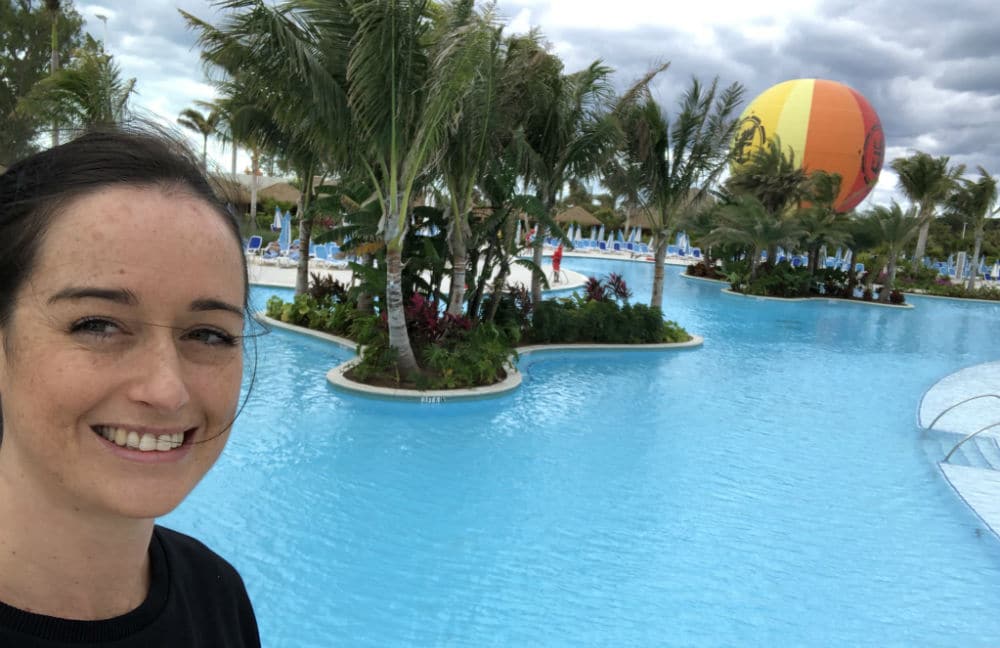 The largest freshwater pool in the Caribbean, Oasis Lagoon, has a party atmosphere with a swim-up bar at one end and a more chilled, family vibe at the other.
Entry to the water is gradual, just like a beach, which makes it perfect for splashing around, and there are fun water fountains for kids to play in. When the pool is quiet, it's often frequented by seagulls which kids love to chase through the knee-deep water.
Just like everywhere else on CocoCay, swimming nappies are allowed in the Oasis Lagoon.
Chill Island
Price: FREE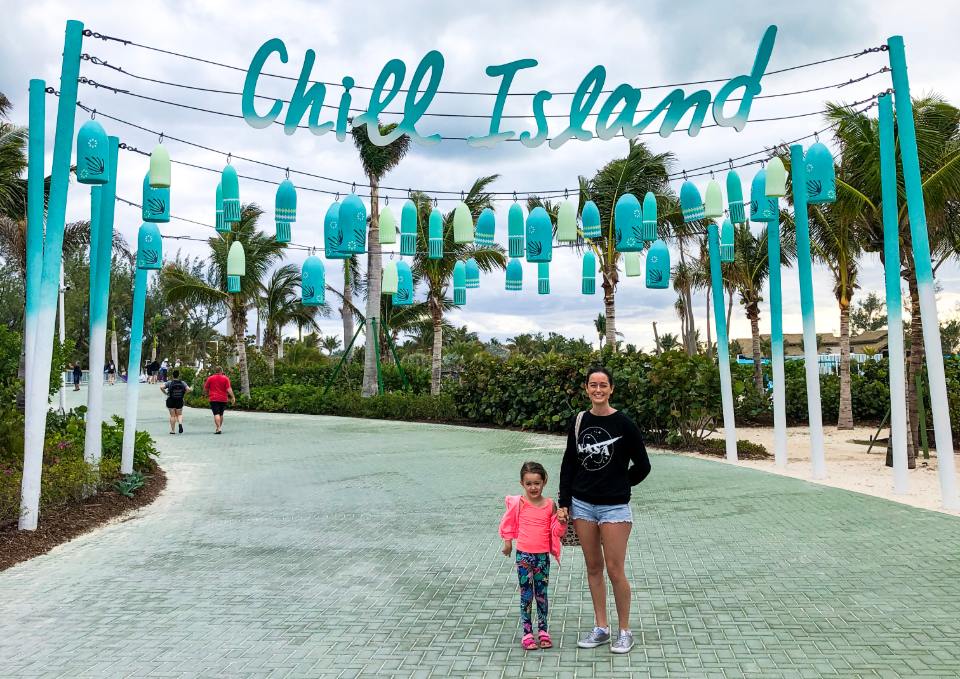 If your little one likes playing in the sand, head to the beach area, Chill Island, where parents can relax while kids build sandcastles or toddle in the sea. You can rent your own private cabana for a luxury experience.
Here you'll also find sand games like skittles and giant pool, and comfy bean bags. There's also a swim-up bar, which is for adults only. Don't try to swim to it with kids because the staff will send you back to shore.
Up, Up and Away Balloon Ride
Price: (varies depending on the sailing)
Age 13+: $39-$99 per person
Age 4-12: $24-$64 per person
Age 0-3: FREE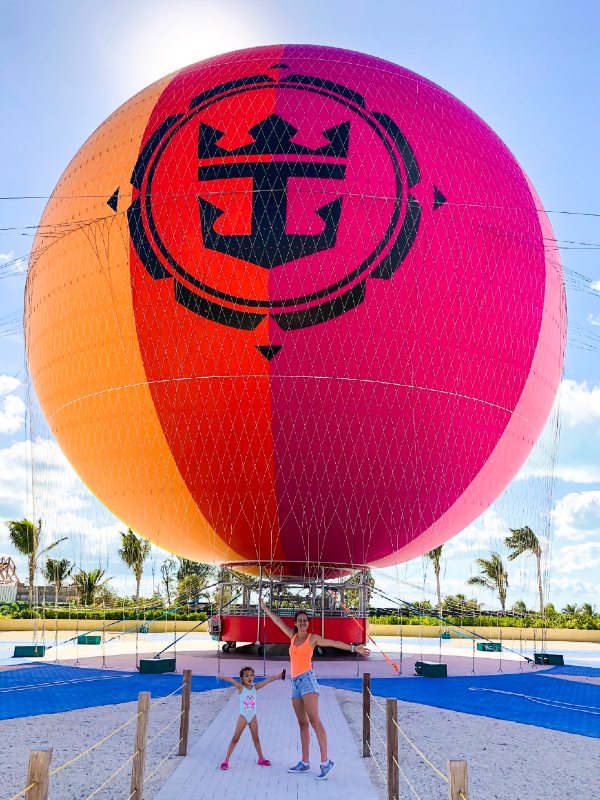 This helium balloon rises 450 feet in the air, making it the highest vantage point in The Bahamas. Whilst toddlers probably won't appreciate the view, under-fours ride for free so you might as well bring them along for the ride.
The balloon ride is very much weather dependent, and there has to be virtually no wind for it to take off. If it is too windy, you'll be refunded your fee.
Airbrush Tattoos
Price: FREE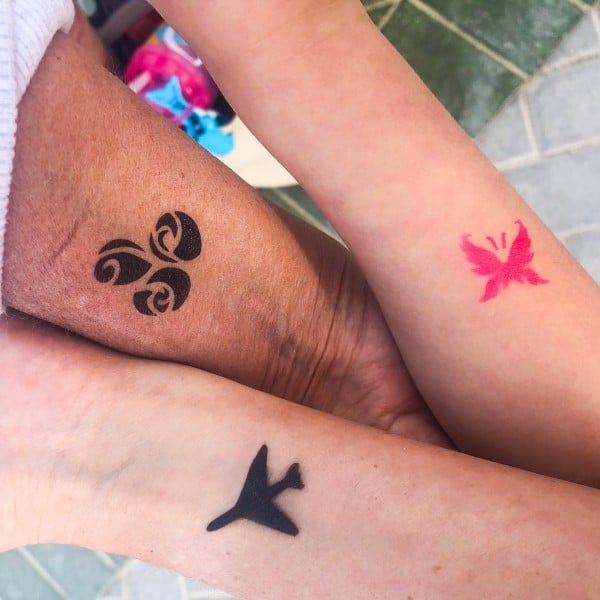 As you're heading back to the ship at the end of your Perfect Day you'll find a stall with souvenir tattoos. There are hundreds of designs to choose from and different colours of ink. Your tattoo will last for a couple of days before washing off easily.
Family Facilities At CocoCay
Whilst it's good to know that there's lots of fun to be had for small children on CocoCay, it's all very reassuring to know that Royal Caribbean has taken care of all the practical stuff too.
Trams
Many parents bring pushchairs to CocoCay, but if you choose not to, there are regular trams that transport passengers from the ship to the island and all around it. Walking from the ship to the furthest point of CocoCay takes around 15 minutes.
Sand pushchairs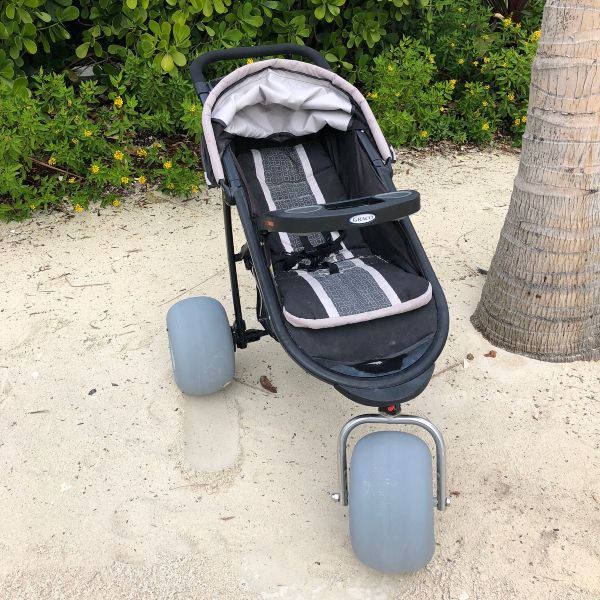 Most of CocoCay has paved paths, so it is possible to bring your pushchair off the ship, but you may find it easier not to. If you decide to carry your baby or toddler instead, you'll find sand pushchairs available to hire free of charge from collection points around the island.
Baby Changing Facilities
There are several baby changing stations around CocoCay, making it easy for parents to change nappies and dispose of them.
Swim Vests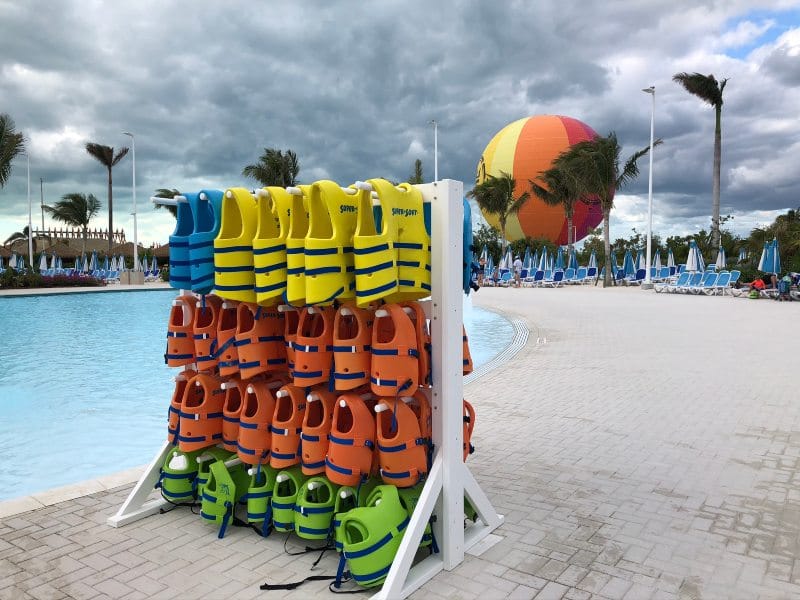 Kids swim jackets are available to hire free of charge from many locations including Oasis Lagoon and Splashaway Bay. There are different sizes, with the smallest ones being suitable for kids weighing 15kg and up.
Food
Whilst there are no children's menus on CocoCay, there are plenty of kid-friendly options like French fries, sandwiches, fresh fruit and ice cream. Should you have a fussy eater, you could also bring some food from the ship to be safe.
Drinks
If you have a Royal Caribbean drinks package, it will work on CocoCay just as it does on the ship. If you don't have one, you'll find lots of drinks available free of charge, including water, lemon and lime juice, tropical mango juice and strawberry and kiwi juice.
Shade
CocoCay has plenty of sun loungers and umbrellas, so it's easy to find somewhere to sit in the shade. Some people opt to hire a cabana, but there's lots of shade without one.
Lockers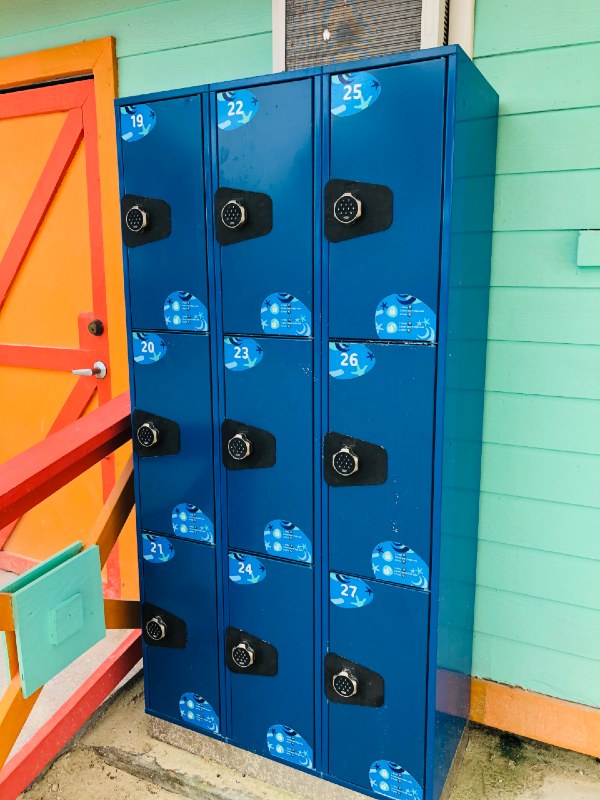 We all know that babies don't travel lightly. Luckily, there are ample lockers available should you need to store anything.
Towels
Beach towels are provided on the ship, and guests are advised to take these with them when they head to CocoCay. Should you need fresh towels whilst on the island, just head to one of the dedicated towel-changing stations.
Showers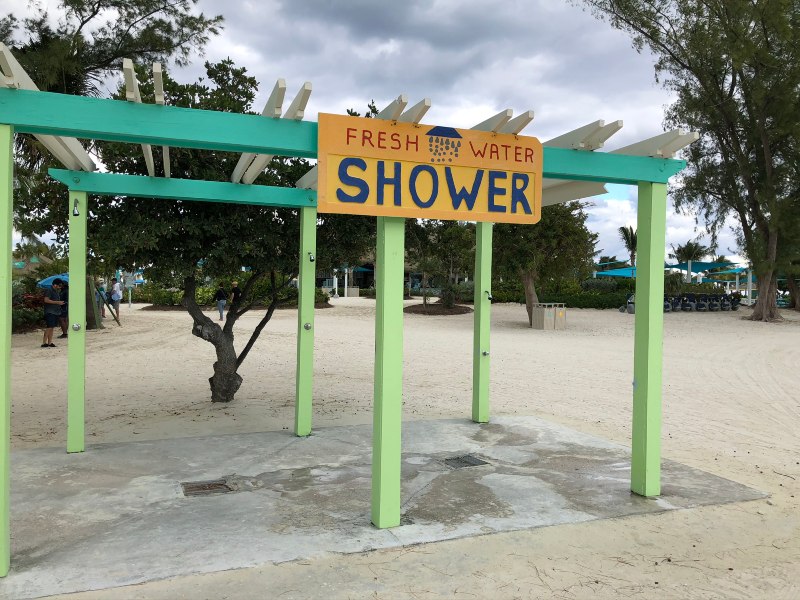 Need to rinse all that sand and saltwater off before heading back to the ship? CocoCay has some basic but handy outdoor showers.
Cruises To CocoCay
Perfect Day at CocoCay is a port of call on many Bahamas and Caribbean itineraries with Royal Caribbean. If you're planning a cruise to the Caribbean, it's probably one of the best places there is to visit with young kids and will offer a day you'll never forget.
Have a question about visiting CocoCay with children? Let me know in the comments below, and I'll tell you the answer!
Related posts: