There are a number of smaller islands in the Caribbean and Bahamas that are now either owned or leased by cruise lines. One of these is Great Stirrup Cay.
These islands have a number of benefits to both cruise lines and to guests. Cruise lines are able to make more money by having an on-land destination, while guests get to enjoy a tropical island without crowds being too crazy – only cruise line passengers will be competing for a lounger on the beach or a spot at the bar.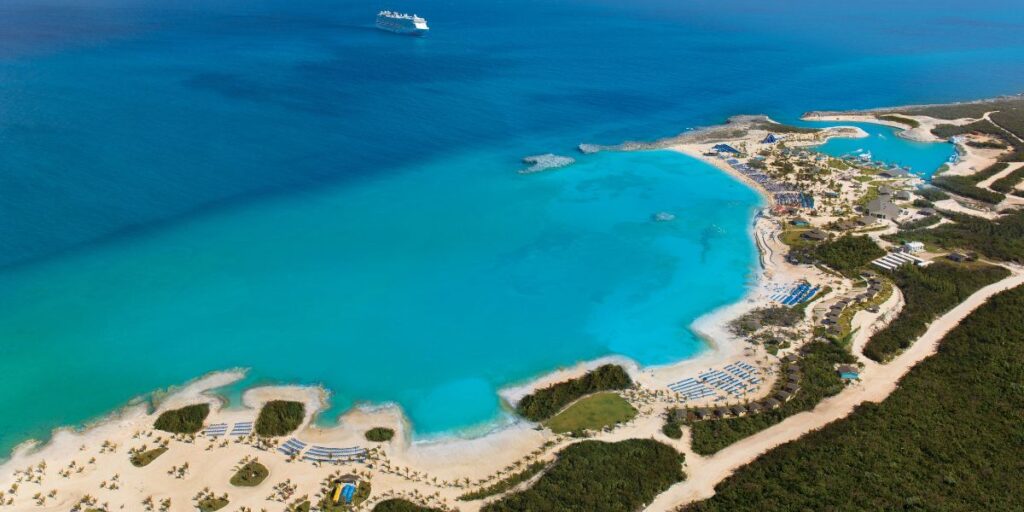 Great Stirrup Cay is situated in the Bahamas and is included in a number of itineraries for Norwegian Cruise Line. If you're planning a sailing here and want to know more, then here are 16 useful things to know about the island.
Does NCL Own Great Stirrup Cay?
Norwegian Cruise Line does own Great Stirrup Cay Bahamas, unlike some other private cruise line destinations that are leased from the local government. The cruise line bought the island in 1977 from the Belcher Oil Company and then began work on converting it into a private island for passengers.
NCL spent around $1 million upgrading the island in the early 1990s, during which time it even marketed the island as Pleasure Island. But it has since been renamed back to its proper name Great Stirrup Cay, with further significant renovation in 2017 as private island destinations became more popular for cruising.
It's worth noting that, next to Great Stirrup Cay is Little Stirrup Cay, which has been renamed to CocoCay and is owned by Royal Caribbean.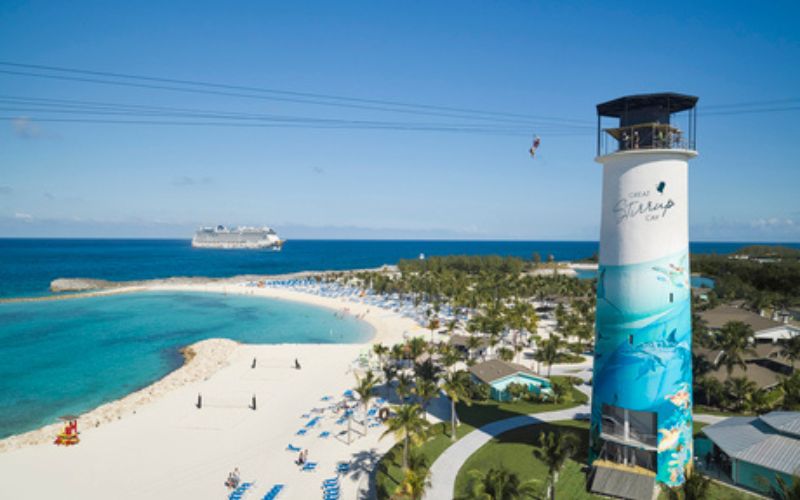 Does Great Stirrup Cay Have a Dock?
Great Stirrup Cay does not have a pier or dock, which means that it is a tender port. If you want to go ashore to the island, you will need to take a tender boat from the ship which will be anchored out to sea. The journey by tender only takes a few minutes.
However, because you can't just step on or off the ship, you'll need to plan ahead, especially if you want to return to the ship at a specific time (say if you have a spa or entertainment booking). The tender lines can get a little busy at peak times, so make sure you don't turn up last minute.
You can go back and forth during the day if you wish.
Can You Fly to Great Stirrup Cay?
You can't fly to Great Stirrup Cay, despite it appearing on some flight booking websites. It does have an 'international airport' but this isn't in use – the only way to visit the island is on a cruise – it's the NCL private island, after all.
The airport on the island is actually a helicopter airfield that is no longer in use, but was likely used as part of previous military installations on the island. So don't expect to see any exciting helicopter landings during your visit.
Do You Need a Passport To Go to Great Stirrup Cay?
If you're a US citizen, you don't need a passport to sail to Great Stirrup Cay or indeed many of the destinations in the Bahamas, provided your sailing departs from and ends at a US port. You still need some form of ID, such as a US state-certified birth certificate.
Guests from all other countries will need a passport, but since sailings to Great Stirrup Cay are all from the US anyway, you would've needed one to even reach the embarkation port.
NCL still recommends that all guests travel with a passport if you can, even if you don't need one. That way if your cruise has any delays or issues and you need to book flights or alternative transport to get home, you should find the process is much easier with a passport in hand.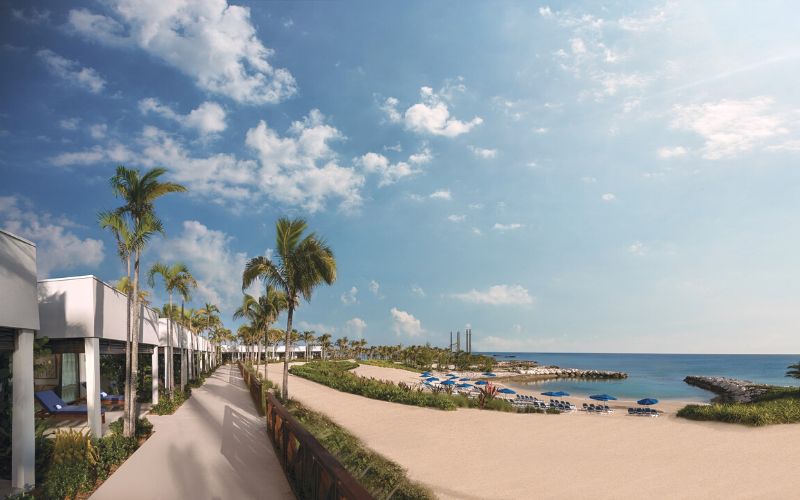 Is the Food Free on Great Stirrup Cay?
The food is free on Great Stirrup Cay, with multiple venues to choose from. The main food venue is the Jumbey Beach Grill, where you can enjoy a buffet selection of BBQ favourites including burgers, salads, chicken and a selection of desserts.
There's also a taco bar serving Mexican food, and a food truck that serves a range of sandwiches and other lighter lunch items. The food truck is close to the cabanas and villas. Guests in a Silver Cove villa have an exclusive buffet that has more upmarket food choices.
Food choices for those with special diets aren't amazing, and you may prefer to head back to the ship to eat if you have a specific requirement.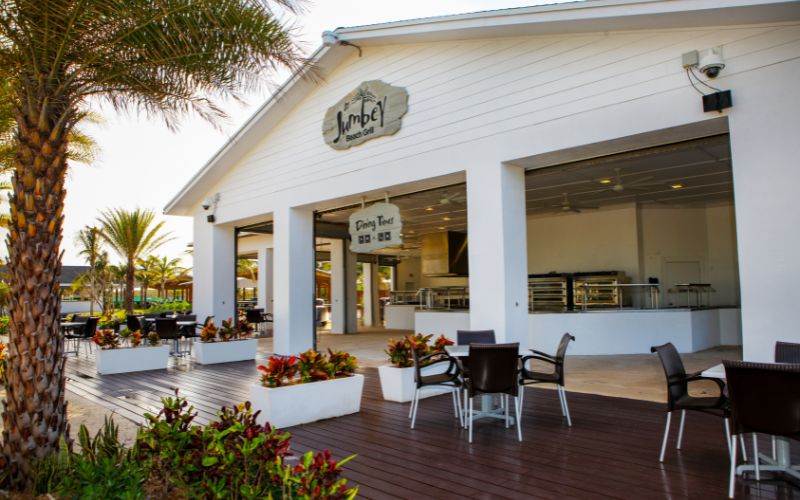 Are Drinks Free at Great Stirrup Cay?
By default, drinks are not free on Great Stirrup Cay. There are several bars on the island where you can buy drinks, which you'll do using your cruise card – the cost of the drinks will just be added to your account, the same as buying drinks onboard.
The main bar is situated close to the beach, and is called the Bacardi bar (although it serves a wide selection of drinks, not just Bacardi). There are other bars located near the Mexican restaurant, the cabanas and the Silver Cove villas too, including those that deliver to the villas.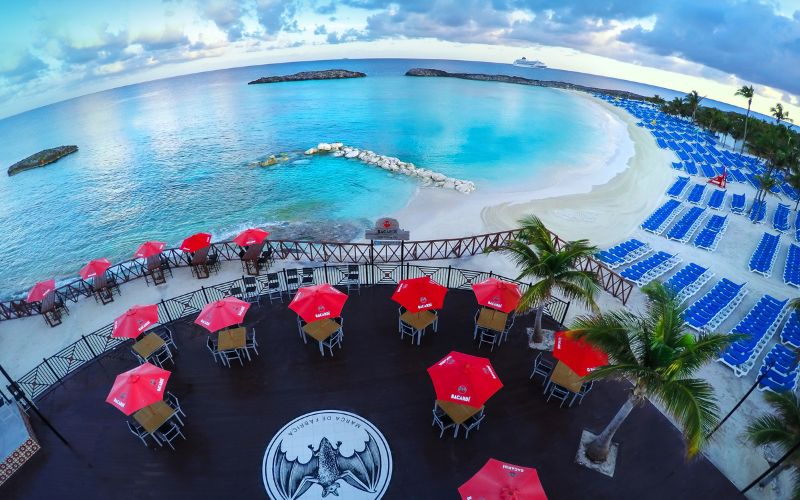 Does the Drink Package Work on Great Stirrup Cay?
If you have an NCL drinks package, it does work on Great Stirrup Cay, so you can enjoy a selection of alcoholic and non-alcoholic drinks for no additional charge. Just hand over your cruise card as normal and the drink will be registered on your account with no charge added.
It's worth remembering that there are different NCL drinks packages, and some have a value limit per drink. You may still need to pay if you order a drink that exceeds the value allowed on your particular drink package.
What Is Free on Great Stirrup Cay?
While visiting Great Stirrup Cay, you can enjoy free food at the various dining locations, and explore the beaches. Any excursions or activities on the island will incur a cost, as will any drinks unless you already have a drinks package.
There are some exciting excursions you can try, including snorkeling and kayaking in the crystal clear waters, or grabbing a WaveRunner jet ski and touring the nearby Berry Islands. But you'll need to book these in advance and they do all have a cost.
Can You Swim With Pigs at Great Stirrup Cay?
One of the most popular Great Stirrup Cay excursions is swimming with pigs. This excursion actually takes place on a small island off the shore of Great Stirrup Cay, around a 10-minute journey away by speedboat.
Once you're at the island, you'll go through safety talks before being able to join the pigs in a cove. Here you can swim with them and feed them – apples and sticks are provided. The swimming takes place in a safe, secured area and the total duration of the excursion is around 90 minutes. It is suitable for families.
The excursion costs around $130 for adults and $95 for children.
How Much Is a Cabana at Great Stirrup Cay?
There are both large and small cabanas available to hire on Great Stirrup Cay, Bahamas. Large cabanas can host up to 8 people and cost from $449, while small cabanas are suitable for up to 6 people and cost from $425.
The cabanas are open-air and have a ceiling fan to help keep you cool. You'll get fresh fruit, chips (crisps) and salsa along with some bottled water for free, and you can order extra food and drink from your cabana attendant.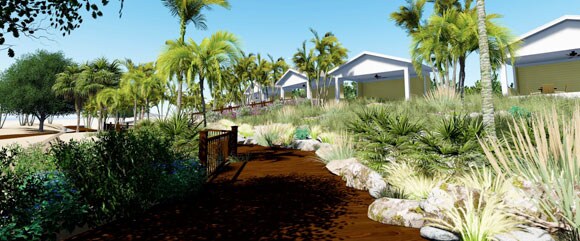 Is There a Pool on Great Stirrup Cay?
There are no swimming pools on Great Stirrup Cay, although there are some quiet coves that are good for swimming. The ocean waters around Great Stirrup Cay are clear and warm, and provide good swimming conditions.
If you aren't comfortable with ocean swimming, remember that you can always head back to the ship if you'd prefer to swim in a pool – they'll be very quiet on days in Great Stirrup Cay after all!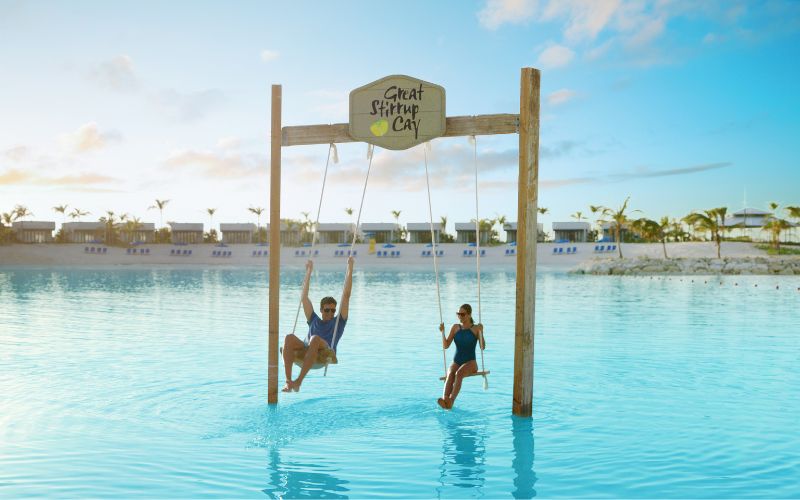 Is There a Haven Area on Great Stirrup Cay?
There is no Haven area on Great Stirrup Cay. Instead, there is a more exclusive part of the island called Silver Cove, but this is open to any guest who wishes to book one of the villas in this area, not just to Haven guests on the ship.
The Silver Cove villas are split between Ocean Villas, starting from $699 for the day, and Lagoon Villas which are, unsurprisingly, located on the lagoon. These start from $799 per day for one-bedroom villas, and $1,100 for two-bedroom villas that can accommodate up to 16 guests.
The villas come with a number of features including air conditioning, a TV with on-demand movies, and full bathrooms including a shower. You'll also get reserved seating at the private beach nearby, away from the busier beaches used by other guests.
Guests at the Silver Cove villas have their own exclusive buffet, and an exclusive Moet & Chandon bar where you can enjoy a Moet Ice Imperial – the first Champagne that has been created to be served over ice.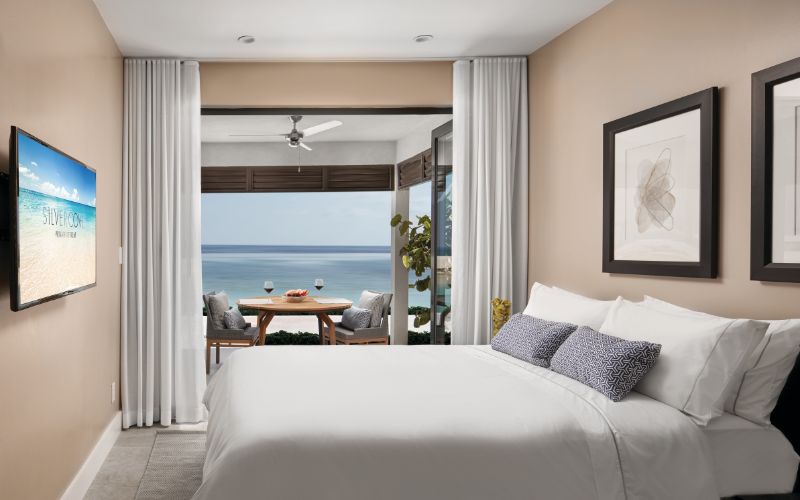 Is There WiFi on Great Stirrup Cay?
There is no WiFi on Great Stirrup Cay, but the island does have a cellphone tower, so if you have a data plan with your phone provider that includes international data, then you will be able to get online.
Most guests tend to use the day to switch off, so WiFi isn't a concern for most people. But if you need to get online and don't have an international data plan, you can return to the ship to use any WiFi plan you have there.
Suggested read: How to Avoid Roaming Charges on a Cruise
Are There Lockers on Great Stirrup Cay?
There are no lockers to store your valuables on Great Stirrup Cay. It's recommended that you only take ashore anything that you can carry around with you. If you book an excursion that involves being on the water, the attendants will look after it for you but aren't liable if anything happens to it.
Try to leave anything that you don't need on the ship for the day – that way you can swim, snorkel or just lounge on the beach without worrying about keeping possessions safe.
Does Anyone Live on Great Stirrup Cay?
There are a small number of NCL staff who will temporarily live on the island to provide services to guests, but contracts here are seasonal. The island does not have any permanent residents.
Many of the people serving you on the island work on the cruise ship, and the buffet food is prepared by the ship's kitchen staff, who also bring the food ashore from the ship on a tender boat early in the morning.
The sellers at the straw market on the island travel there by ferry from Great Harbour Cay, a nearby island.
Is Great Stirrup Cay the Same as CocoCay?
Great Stirrup Cay is not the same as CocoCay. CocoCay is another name for Little Stirrup Cay, an island adjacent to Great Stirrup Cay and owned by Royal Caribbean. The islands are similar in what they offer, although Royal Caribbean's island does have more features aimed at children.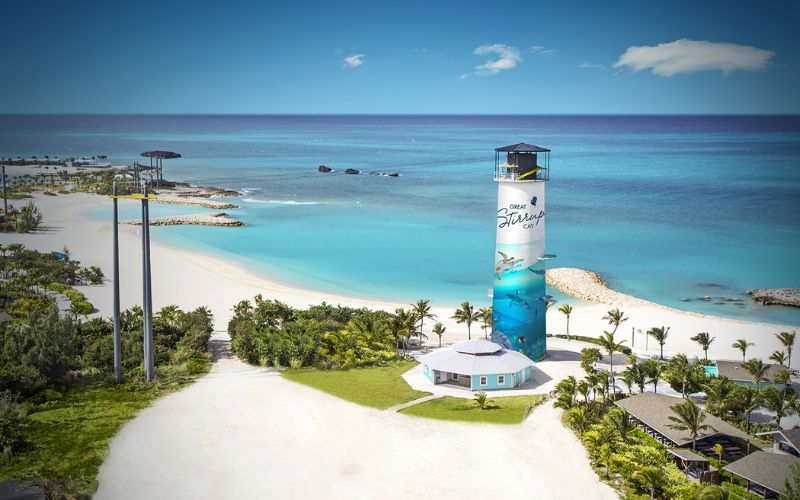 Final Word
There is a lot that you can see and do on Great Stirrup Cay, so make sure you're awake early that day if you want to make the most of it. Tenders back to the ship tend to finish around 3 pm, so you don't get a huge amount of time on the island, and you ideally don't want to be caught up in the rush of the last people returning to the ship.
Just be prepared to pay for your drinks and most of the fun activities while you're there too – unless you're on a drinks package, anyway. You can still have a great time on the island without spending extra cash if you're happy enjoying the beach and the free food.
NEW DEALS JUST RELEASED!
Don't miss the latest NCL offers…
Related Posts: