Harvest Caye is a destination that crops up on a number of itineraries for Norwegian Cruise Line, and occasionally other cruise lines too. It's located in southern Belize, meaning it's typically included on cruises that travel more to ports around the Central America region.
If you're considering a cruise to Harvest Caye, or you've just found a cruise that you like and this port is included on the itinerary, you probably want to know more about what to expect.
So here are 11 things you should know about Harvest Caye, to help you get the most out of the time you'll have in this beautiful location.
Is Harvest Caye a private island?
Harvest Caye is a private island, owned by Norwegian Cruise Line. This means that the only way to visit the island is if you book a cruise on an NCL ship, or one of the two luxury cruise lines owned by the same company – Oceania Cruises and Regent Seven Seas Cruises.
Because it's a private island, this means you won't be sharing the space with other tourists – the only people on the island will be your other cruise ship guests, and the staff employed by Norwegian Cruise Line, either from the ship or those who work on the island itself.
This means you'll be able to enjoy a little more of a tranquil space, with only your fellow ship guests taking up loungers on the beach. It's a fun-packed location too though, so you'll still want to book any excursions early to avoid disappointment.
How do you pronounce Harvest Caye?
The word 'Caye' is used throughout Central America, and it is pronounced "key". Harvest is pronounced normally, as you'd expect. A lot of guests still refer to the island as "Harvest Kay" without realising the correct pronunciation.
That's likely because it can be pronounced as "kay" in parts of the Bahamas, so you end up with the same word being said differently in regions which are relatively close to each other. Don't worry about it too much though, because no locals are going to be offended if you say it wrong.
Where does NCL dock in Harvest Caye, Belize?
There is a pier terminal at Harvest Caye where your ship will dock – you don't have to worry about taking a tender boat from the ship to shore. The pier is quite long, but it is covered to provide shade during the hotter, sunnier days – of which there are many.
Because the ship docks at the pier, you don't need to worry about queuing to get back onto the ship. You can return and go back and forth between ship and the island as many times as you want before the final departure time, which is usually around 3 pm.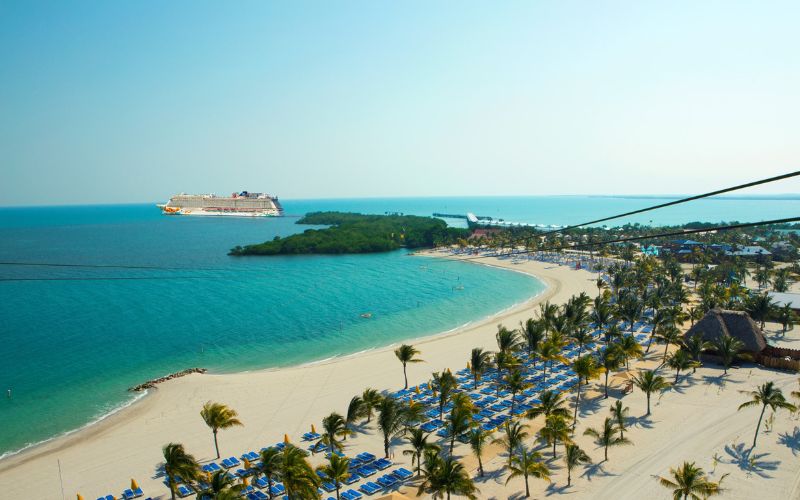 Is Harvest Caye Belize safe?
While Belize itself has had some issues with high crime rates, the island of Harvest Caye is comparatively very safe, since it is a private destination where there is always a presence of staff employed by the cruise line.
There are some locals from Belize who work on the island. They aren't employed by the cruise line, but they are given permission to work there in partnership with the government. They are generally friendly and shouldn't try to scam you – the people who work here understand that their repeat business depends on offering good service.
Can Belizeans go to Harvest Caye?
Permanent residents of Belize are not permitted to visit Harvest Caye of their own volition. They would have to book a cruise just like any other guests. There will be some Belizeans on the island, who are employed by the cruise line.
There are around 400 people who work on the island that are not part of the ship's crew, but some members of the crew will also likely have work to do on the island during port days as well.
Is food free on Harvest Caye?
Unlike most other private islands owned by cruise lines, food is not included on Harvest Caye – you will need to either buy your own from one of the local businesses or return to the ship where you can enjoy the restaurants as normal.
Usually, with a private island, the cruise line will bring food ashore and set up a buffet restaurant, but that's not the case on Harvest Caye.
Part of the agreement that NCL has with Belize is to run the island in a way that benefits local businesses, and so guests will need to pay to eat at one of the restaurants on the island.
There are various restaurants to choose from to suit different budgets, and you can pay with a credit card or using US dollars. Bear in mind that a lot of people may return to the ship to eat in order to save money, so the restaurants might not be as busy as you would expect them to be on a regular port day.
Are drinks free on Harvest Caye?
Drinks are not included when you travel to Harvest Caye – you'll need to pay for them. Unlike some other private islands, the bars aren't owned by the cruise line, so you'll need to pay by cash or credit card, instead of being able to use your cruise card.
The drinks prices are similar to those on the ship, so if you're paying for your drinks anyway then you may as well enjoy them on the island.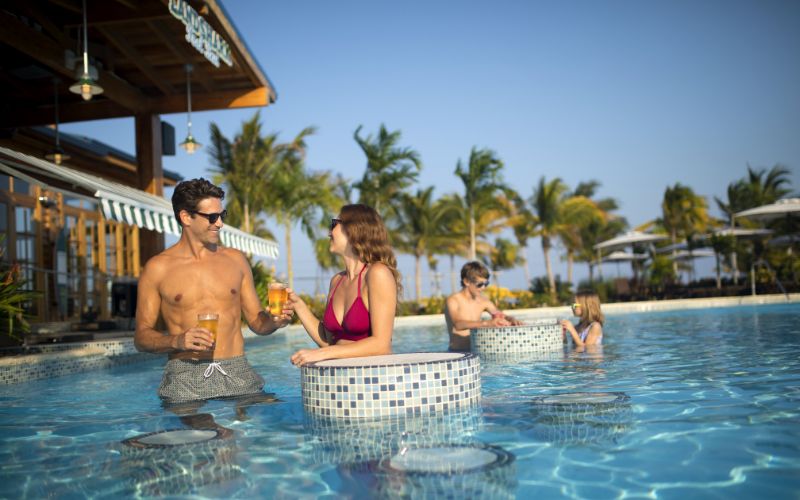 Does your drink package work on Harvest Caye?
The NCL drinks package won't work on Harvest Caye, because the bars are not owned by the cruise line. If you have a drinks package then you can save money by returning to the ship to grab a drink, but it's quite a walk if you're just feeling thirsty.
You won't be able to bring drinks ashore with you, so you'll either need to decide whether to take some cash or your credit card with you for drinks, or if you'll cut short your visit to come back aboard in order to make use of your drinks package.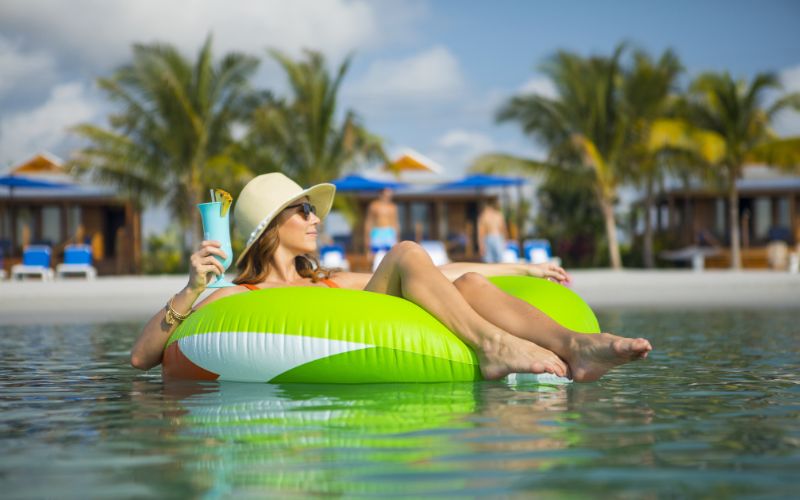 What is there to do in Harvest Caye Belize?
There is a huge amount that you can see and do during your trip to Harvest Caye – including a selection of things that are free. Many of the most exciting activities are paid excursions, but you don't need to spend extra if you don't want to.
You might just want to head straight to the beach – there are some really nice ones on the island after all, overlooking the beautiful azure waters. There's no cost for a lounger, but the beaches can get a little busier so you might want to get there early if you want to nab a shaded spot.
Otherwise, you may want to head to the swimming pool. Not many private islands have a pool, since guests are comfortable swimming in the ocean, but there's a huge pool with loungers and cabanas for hire if you want a fresh-water dip instead.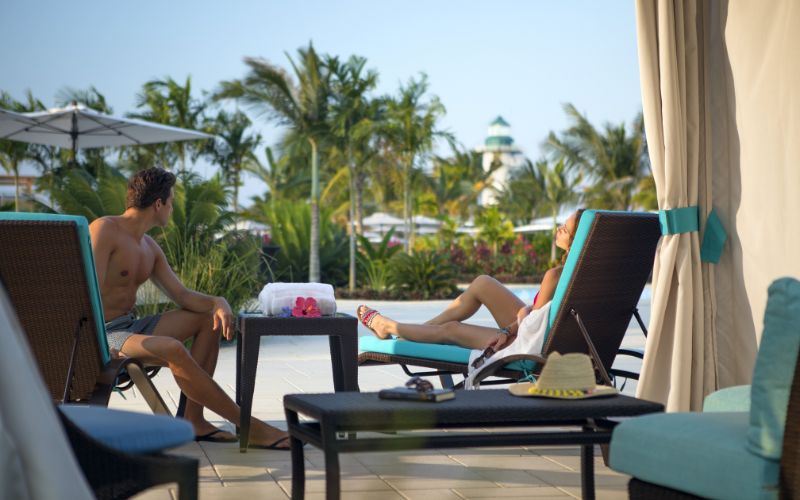 And just a little further away from the pier there's a splash pad that is great for kids. If you have younger children with you, they'll have a great time splashing each other, tipping out water buckets and more.
One of the famous attractions of Harvest Caye is the Blue Morpho Butterfly Sanctuary. You can explore this area for free, along with the wider wildlife sanctuary which is home to toucans, macaws, snakes and other animals too, with lots of educational material to support your tour. The butterfly sanctuary has large glass spaces where you can get very close to the creatures flying around.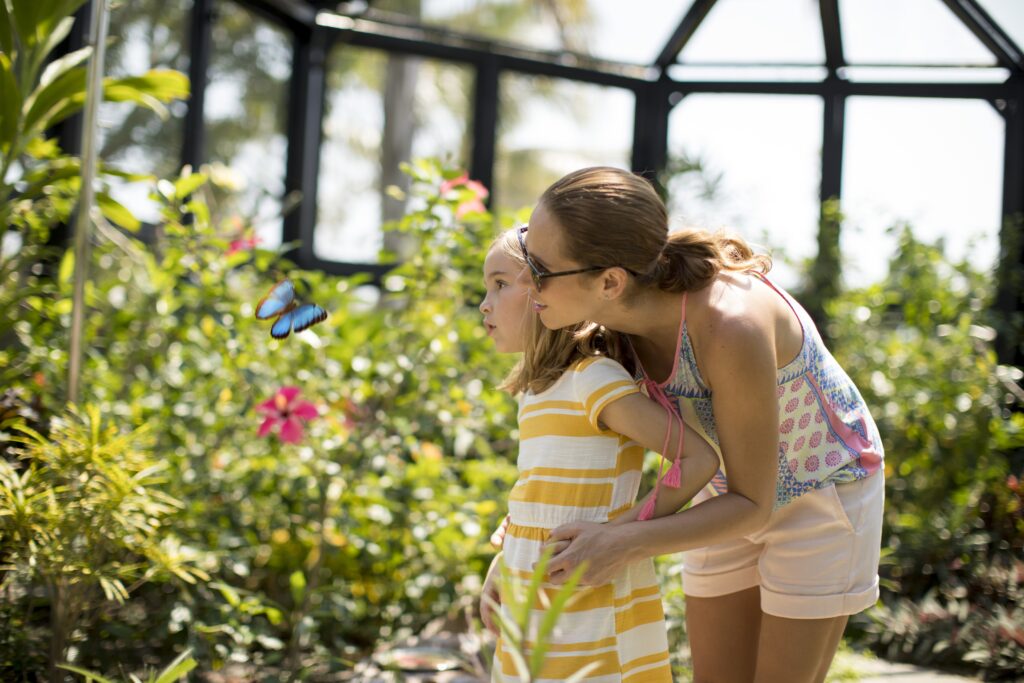 Shopping is another option as well – there's a market area populated with stalls and stores owned by local business owners and selling a wide selection of gifts, handmade crafts, perfumes, rum and more. Just be wary of what you buy and what you take back onto the ship – rum bottles will be taken from you and returned at the end of your cruise.
If you want to try a paid-for excursion, why not explore the Mayan ruins of Nim Li Punit? A guided tour will get you close to these fascinating ruins, with your expert guide explaining more of the history during your ride.
Looking for something a little more action-oriented? The island has a zip line running across the bay, or you can try one of the many water sports offered on the island, including paddle boarding and snorkeling. You don't have to be an expert – there are plenty of excursions aimed at novices or children too.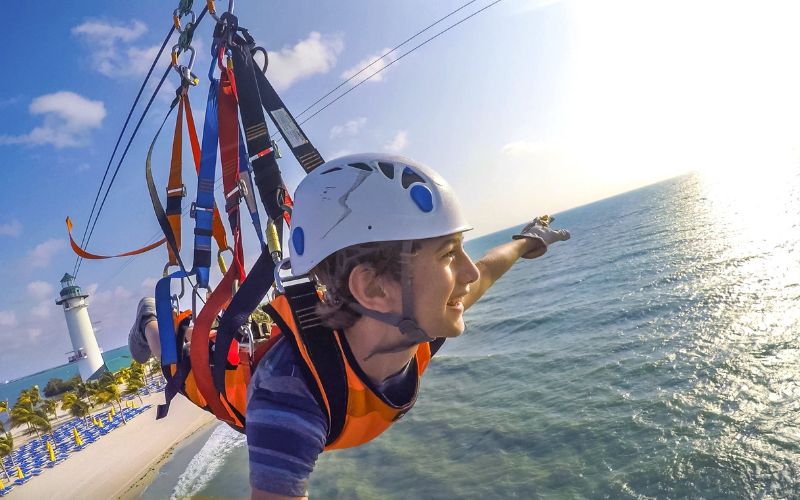 There are also WaveRunner tours – essentially jetskis where a tour guide will train you on riding one before leading you around the island to some unique sights of interest.
And because the island is not far from the coast of Belize, there are a selection of excursions that take you off the island to explore some of the nearby sights. Journeys are short so you can still explore the island itself too when you return.
Staying on the island you'll be able to try river rafting, or take things a little easier with a fishing excursion – master fishermen will help you learn how to bait for the local fish on a catch-and-release trip.
And if you really want to enjoy a quieter day, book a cabana either on the beach or by the pool. These private spaces are the ideal place to unwind with a cold drink and some shade.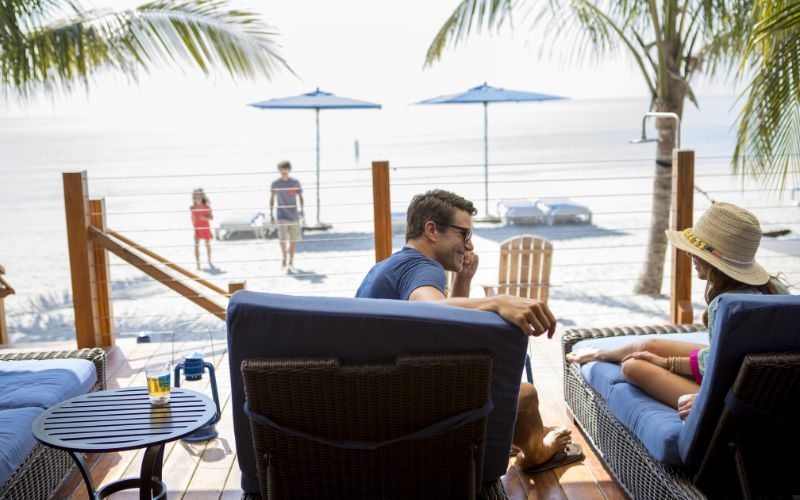 The cost of these paid-for excursions varies, but expect to pay in the region of $80-100 for most of them, per person, with some minor discounts for children. If you don't want to pay this extra amount, then stick to the wildlife sanctuary, the swimming pool, the beach or the splash pad as these are all free.
Cabana rental costs a little more – expect to pay $450 to 500 for a cabana for the day for up to 6 people. The cabanas do have a lot of extras to make your island visit more comfortable, including air conditioning, a TV, a mini fridge, a private bathroom and a golf cart that you can use for the day to get around the island.
Can you snorkel at Harvest Caye Belize?
Snorkeling is an excursion option at Harvest Caye. Belize is home to the world's largest living barrier reef, so snorkeling excursions offer plenty of incredible sights to enjoy. The excursions last for around 2.5 hours in total, so you'll still have time to explore the rest of the island.
The water entry is shallow, which means these snorkeling excursions are suitable for beginners and veterans alike. Some of the common creatures you'll encounter include larger fish schools, eagle rays, large starfish and queen conchs.
How long is the ferry from Harvest Caye to Placencia?
The boats that take you from Harvest Caye to Placencia take around 15-20 minutes. Excursions to the lagoon give guests the chance to see the mangroves and the wildlife that inhabits them, including manatees.
These tours are fully guided, meaning guests will be able to learn about the wildlife from an expert. A complimentary drink is also served during excursions to Placencia – either a rum punch or a water.
NEW DEALS JUST RELEASED!
Don't miss the latest NCL offers…
Final word
There's so much you can see and do on Harvest Caye that you'll want to head to the island as early as possible – and because you don't need to tender, you should be able to walk straight off the ship.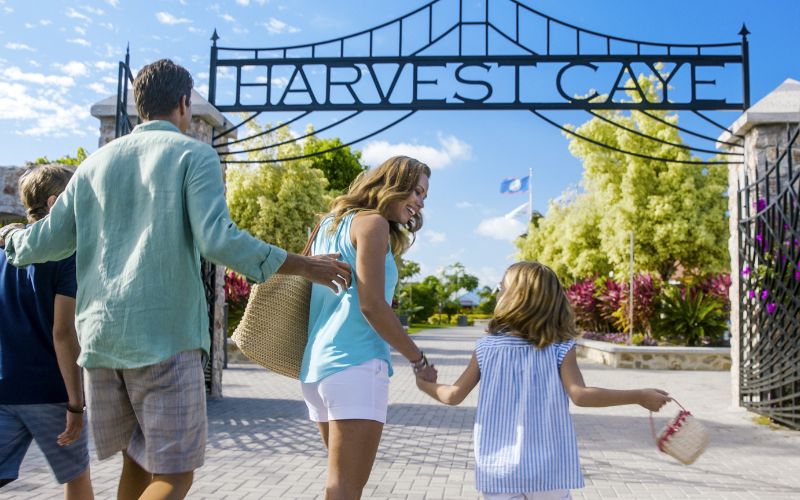 Just be prepared for the day, and how you'll need to pay for your food and drink – it might save you money if you plan to return to the ship for lunch and then head back ashore for a couple of hours, if it doesn't cost you too much time out of your day.
Related Posts: