Admission to CocoCay is free of charge and most of the attractions on the island are free, as is most of the food. Drinks are free if you have a cruise ship drinks package. Some of the thrill rides and the VIP chill areas have a charge.
When I visited Perfect Day at CocoCay I was pleasantly surprised at how much there is to do for free on the island. We didn't spend one penny during our day on Royal Caribbean's private island and still had a fantastic time.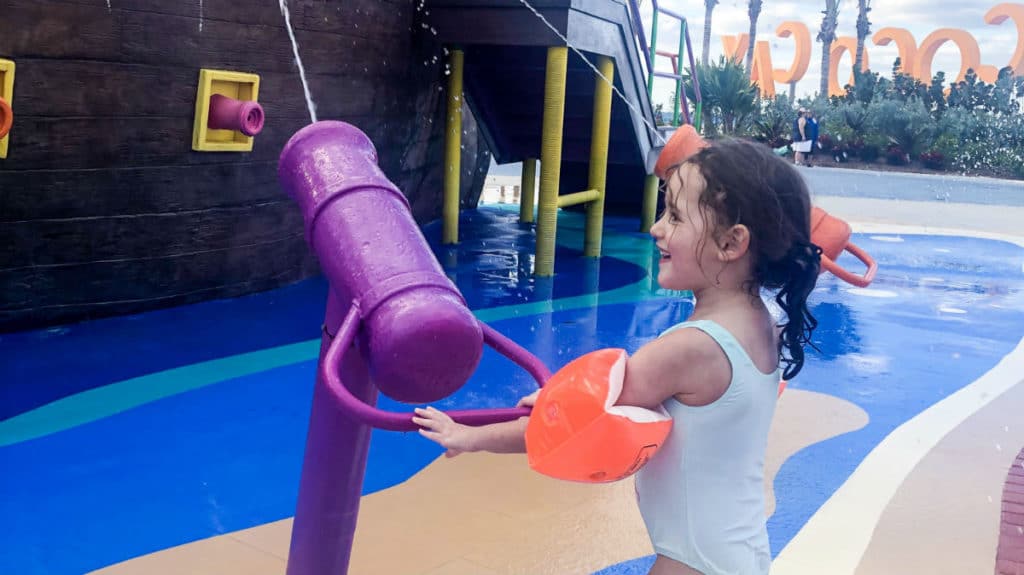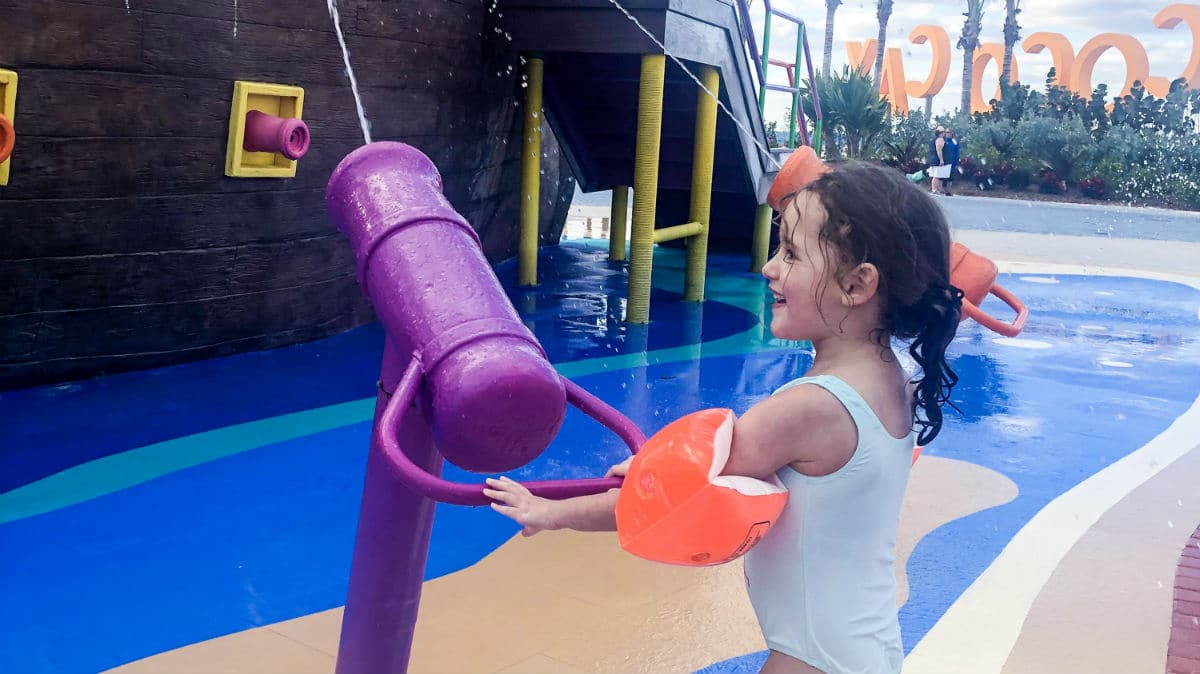 What's included at CocoCay?
All of the following things are free at CocoCay:
Captain Jill's Galleon water play area
Oasis Lagoon pool
Splashaway Bay kids' water park
Chill Island, South Beach and Harbor Bay beaches
Sports such as volleyball, basketball, table tennis and skittles
Sun loungers, hammocks, bean bags and umbrellas
Swim jacket hire
Beach access wheelchair and pushchair hire
Island tram
Airbrush tattoos
Food and ice cream in most dining venues
Water and juices
When planning a Royal Caribbean Bahamas cruise to Perfect Day at CocoCay, many people want to know what's included. Of course, you're a captive audience on the island, so you'll want to know how much things cost and what to budget for before your cruise.
The great news is that there are enough free activities on CocoCay to keep the whole family happy, without having to spend anything at all. However, if you want to experience everything that CocoCay has to offer, you can book activities such as the Thrill Waterpark, Up, Up & Away helium balloon ride and the zip line for an extra charge.
Video Tour of the Free Activities at CocoCay
When I visited CocoCay with my five-year-old daughter, Leonie, we made this video of what we did there…
Free Activities on CocoCay
There are lots of free things to do at CocoCay for people of all ages. I visited the island with my five-year-old daughter and my mum, and was pleased to discover that the island has lots for people of all ages to enjoy.
1. Captain Jill's Galleon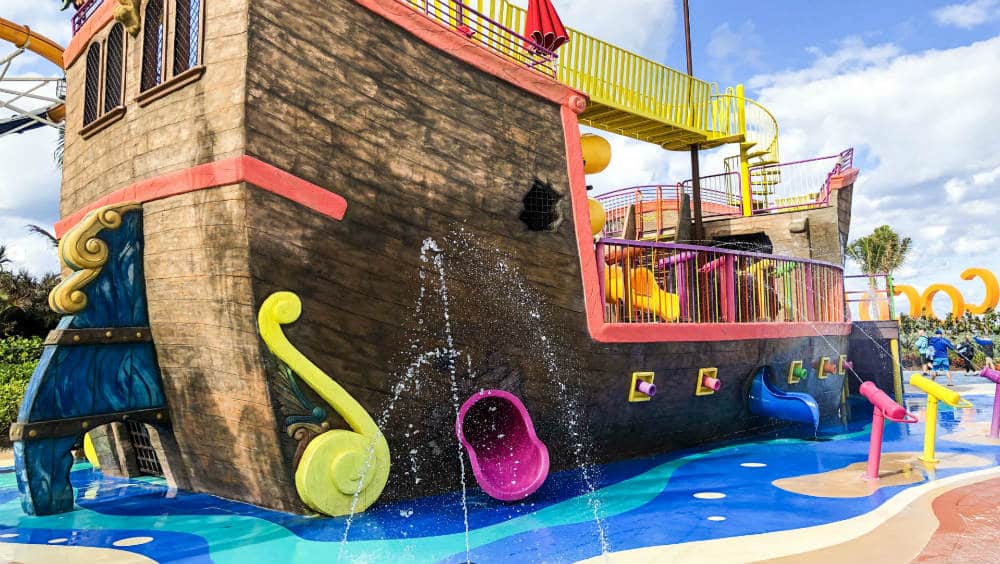 As you arrive from the ship, one of the first things you'll see is Captain Jill's Galleon. This huge pirate ship has slides, climbing nets and spray cannons. It's a great way to cool down on a hot day. Even at the start of the day before the weather heats up, kids can spray the cannons and climb aboard the entrance to the ship without getting wet.
2. Oasis Lagoon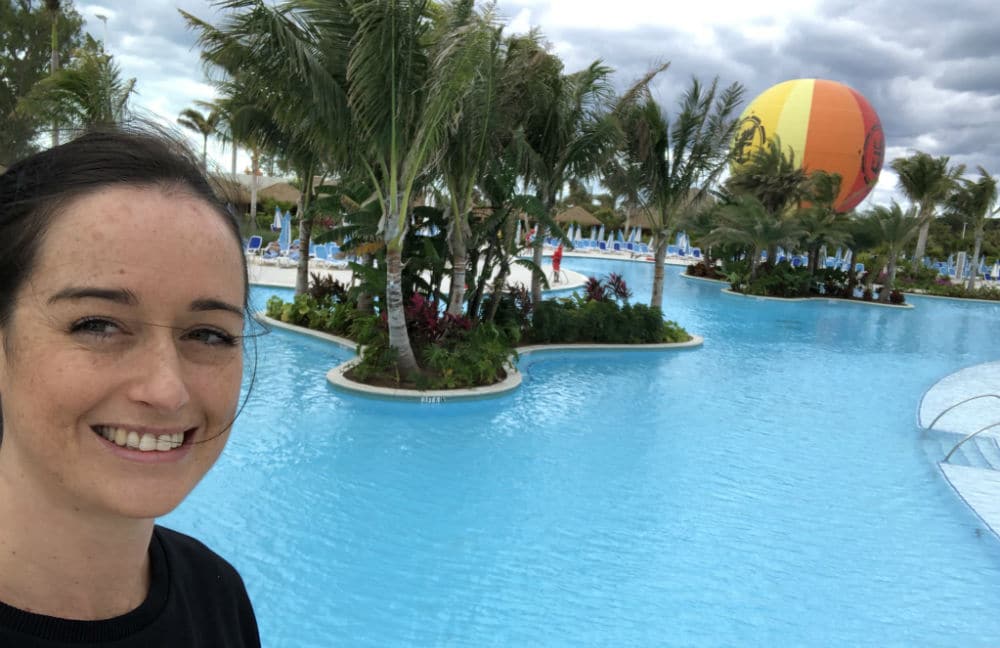 CocoCay's Oasis Lagoon is the largest freshwater pool in the Bahamas with the capacity to hold up to 2,210 people! It's so big that you can't see the whole pool at once.
One end of the pool has a sloping entry like a beach, so it's perfect for toddlers to splash about. Here there are little water fountains which are great fun to run through. Seagulls like to land in the pool and my daughter enjoyed trying to catch them.
At the other end of Oasis Lagoon is a huge swim-up bar with 23 seats. In the afternoon there's a real party vibe here with pumping music and people dancing in the water. Oasis Lagoon even has an underwater sound system. Lie back with your ears in the water to hear the underwater music.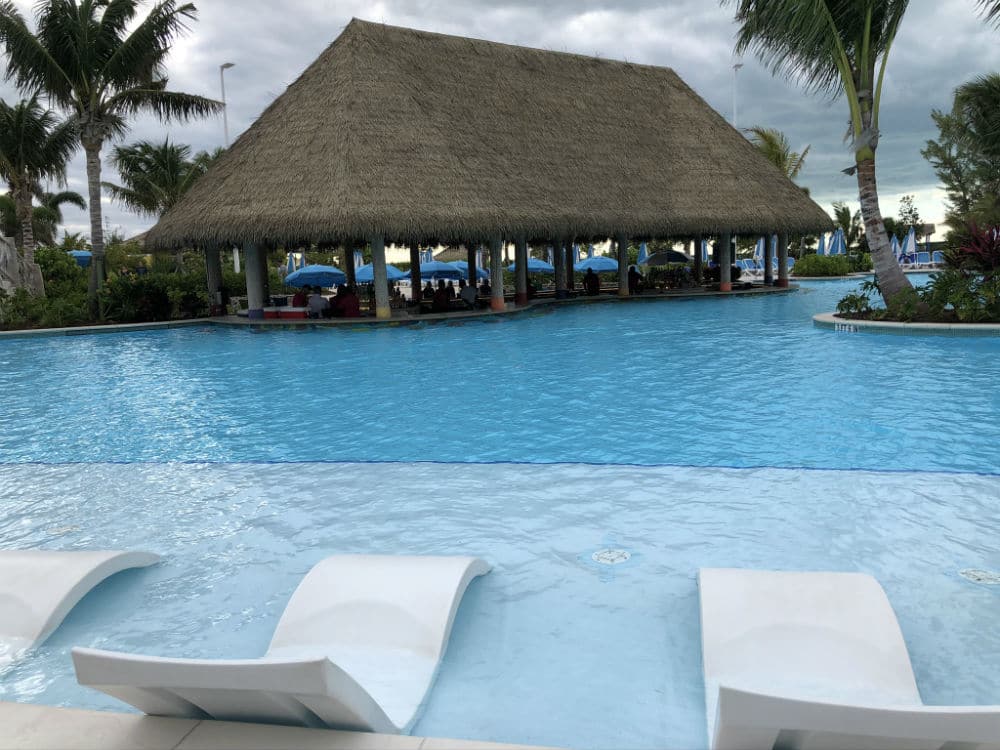 All around the Oasis Lagoon are lots of free sun loungers and umbrellas and there are also free swim jackets which you can pick up. The maximum depth of the pool is 5 feet. Swimming nappies/diapers are allowed in the pool but inflatables and floating mats are not.
3. Splashaway Bay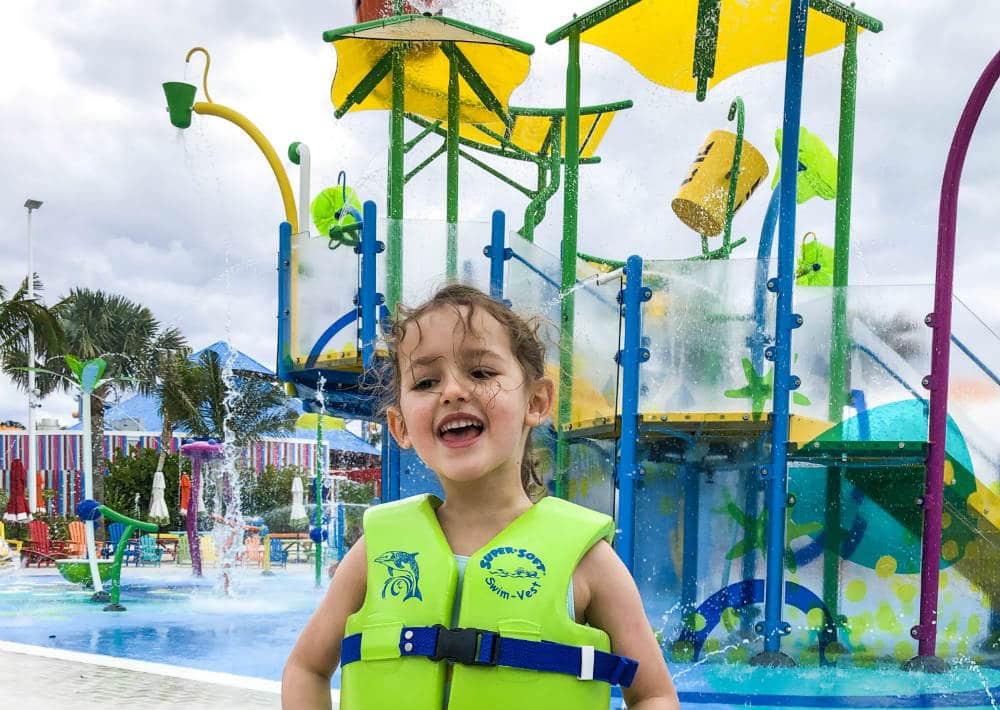 Splashway Bay is a kids' water park which can be found on several of Royal Caribbean's ships including Harmony, Ovation and Symphony of the Seas. The Splashaway Bay at CocoCay has a similar style but is much bigger than the ones you'll see on the ships.
This water park has enough to keep kids entertained for hours with climbing areas, five water slides, spray fountains and tipping buckets. It's great for kids of all ages from babies and toddlers right up to teenagers.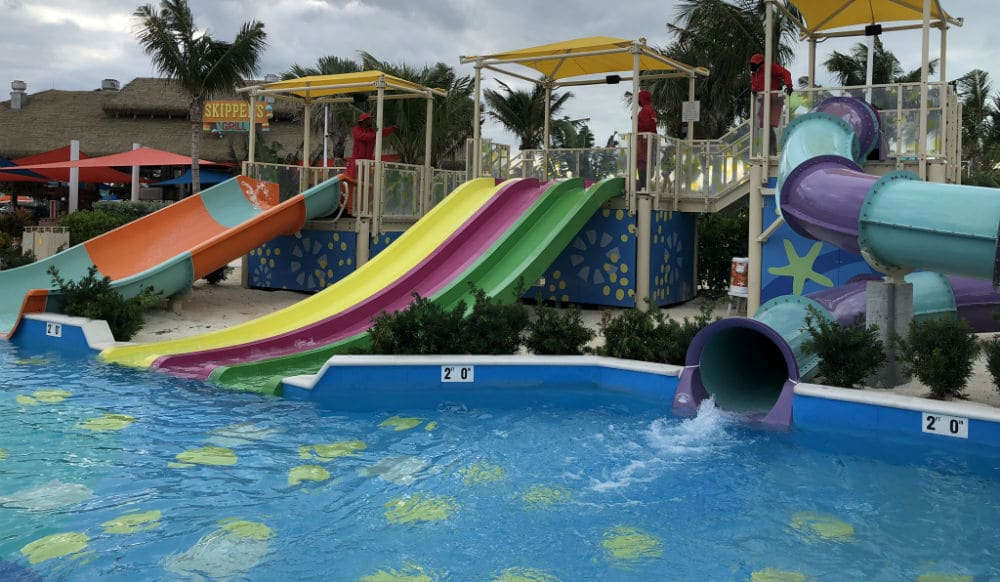 There is no age limit to use Splashaway Bay and swimming nappies/diapers are allowed.
4. CocoCay Beaches
There are three main beaches on CocoCay and all are free to enjoy. Every beach has lots of free sun loungers and umbrellas.
Chill Island beach
Head left when you arrive, over the bridge and past the Straw Market and you'll find yourself at the Chill Island beach. This is a great place to snorkel in the sea. It's a great spot for snorkelling and you can see stingrays, tropical fish and maybe even a friendly shark. There's also a sunken shipwreck to explore.
Snorkel gear is available to hire. But, if you have space in your luggage, it's cheaper to buy a full face snorkel mask on Amazon than to hire one on the island.
South Beach
South Beach is located on the far side of the island, which is around ten minutes' walk from the Arrivals Plaza. This is a relaxing beach with no wifi access. There are hammocks in the shade and beach bean bags as well as sun loungers. South Beach has a floating bar in the sea which is for adults only.
Harbor Beach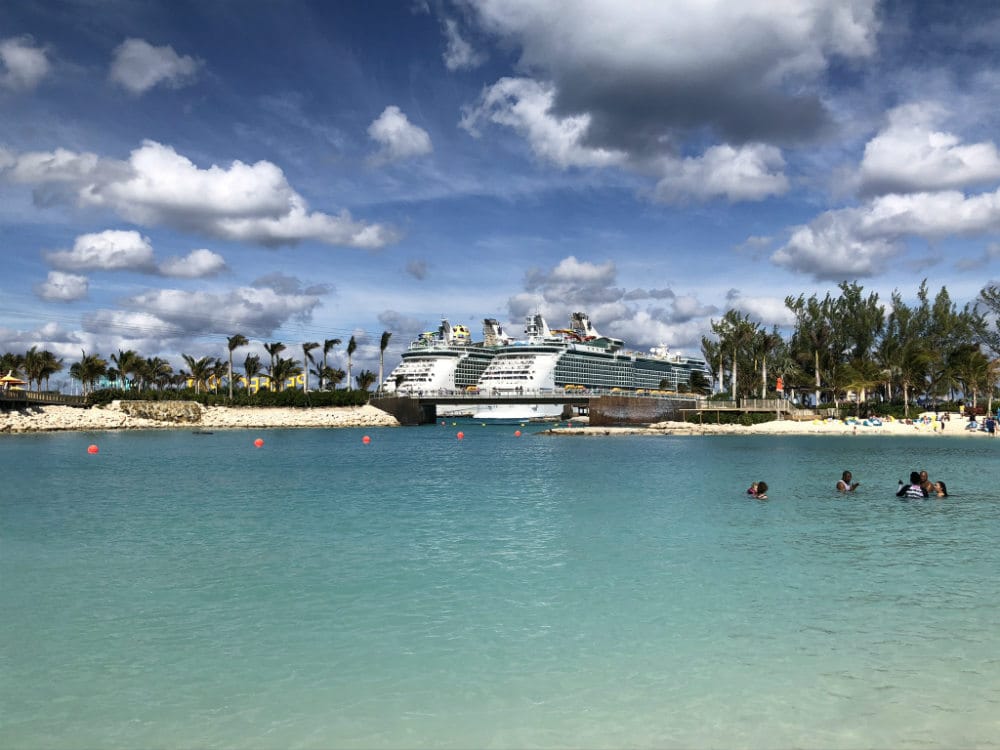 Harbor Beach is the area by the Harbor Lagoon. This sandy beach is a lovely spot to relax with views of the ships.
5. CocoCay sports and games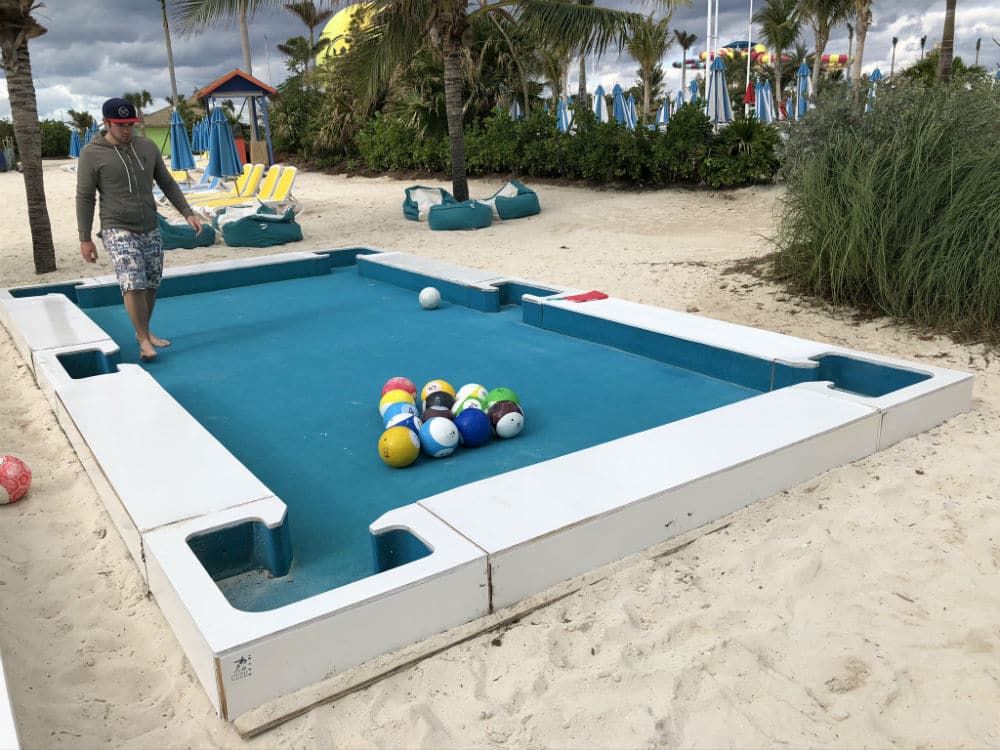 If you prefer to be active rather than sunbathing, there are lots of free sports and activities to enjoy on CocoCay. There's a basketball court, table tennis, beach volleyball, skittles, a lawn game called cornhole and a giant snooker table with footballs instead of snooker balls. You can also play chess in Captain Jack's bar. There may also be free yoga or fitness classes on the beach at certain times.
6. Places to relax
There's an abundance of free sun loungers and umbrellas on CocoCay. When we visited there were two ships in port, and we never had to look for somewhere to sit, there were always loads of free loungers and umbrellas. The island didn't feel crowded at all. With only one ship, it would be even less busy.
Sometimes people worry about finding shade and consider booking a private cabana for this reason. But honestly, there is plenty of shade should you need it and paying for a cabana isn't necessary at all.
7. Airbrush tattoos
Before you head back to the ship, don't miss the opportunity to get your free airbrush tattoo from the stand by Captain Jill's Galleon. There's a whole book of designs to choose from and a choice of black or pink ink.
Free Facilities on CocoCay
Free swim jackets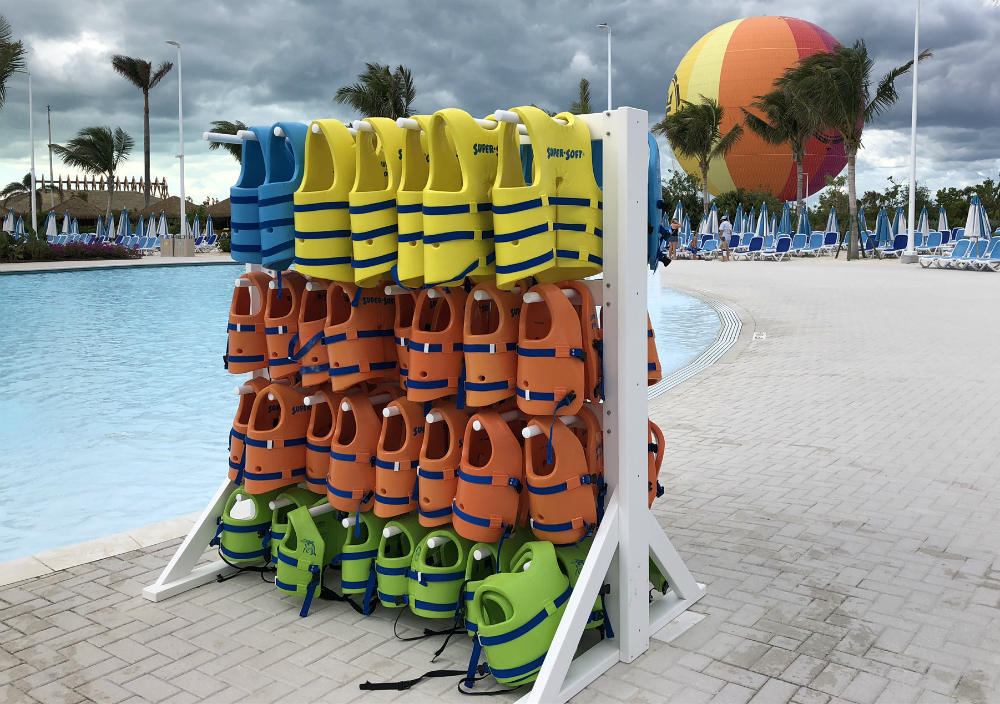 Swimming jackets are recommended for all children who can't swim. We brought inflatable armbands for Leonie but didn't use them as she preferred the swimming jacket.
Just like a life jacket, the free swim jackets are available in all sizes, you can just pick one up from stand on the beach or by the pools and return it when you're done. There were always lots available.
Beach wheelchairs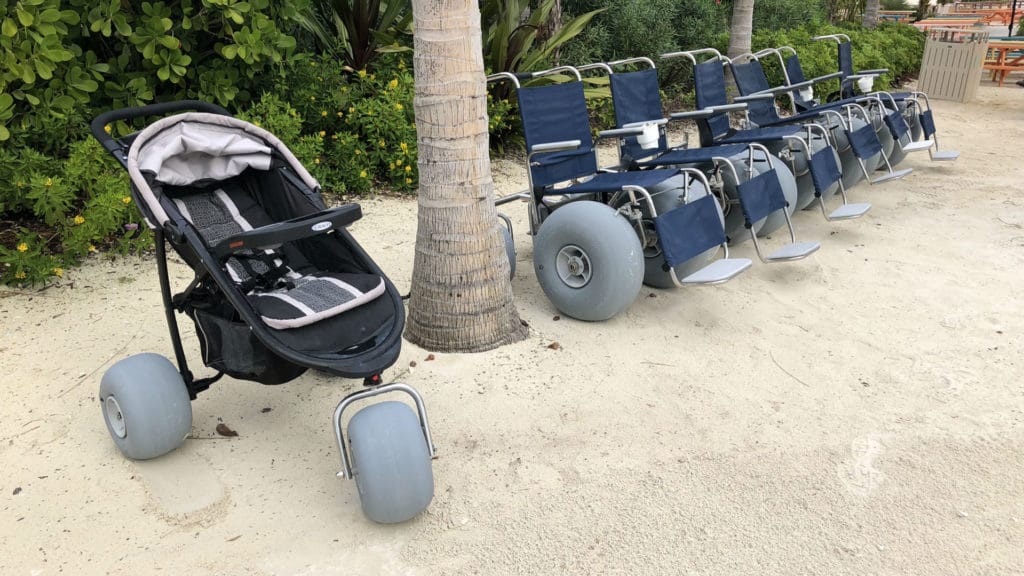 CocoCay also has lots of beach wheelchairs and pushchairs which you can hire for free. You'll find them by the tram spots and you can just collect one and return it later. These have big wide wheels which are suitable for pushing on the sand.
Lockers
Should you need somewhere to store your belongings, lockers are free of charge.
CocoCay tram
CocoCay has three trams which run all day long. Able-bodied people won't need to use a tram, as nowhere is more than a ten-minute walk. The tram routes on CocoCay are:
Island Tram – This tram circles the island every 15 minutes, calling at the Arrivals Plaza, the Oasis Lagoon, Chill Island and South Beach
Pier Tram – This tram runs a continuous service between the ship and the Arrivals Plaza
Coco Beach Tram – This VIP tram is dedicated to guests of the exclusive Coco Beach Club and runs every 10 minutes right from the ship
Free Food on CocoCay
Is food free on CocoCay?
CocoCay has lots of free options for lunch and snacks. Skipper's Grill and the Chill Grill are the main dining venues which are open from 11.30 am until 3 pm. Here you can enjoy a huge buffet of burgers, tacos, french fries, salads and more. For dessert, there's fresh fruit, cookies, funnel cake and ice cream.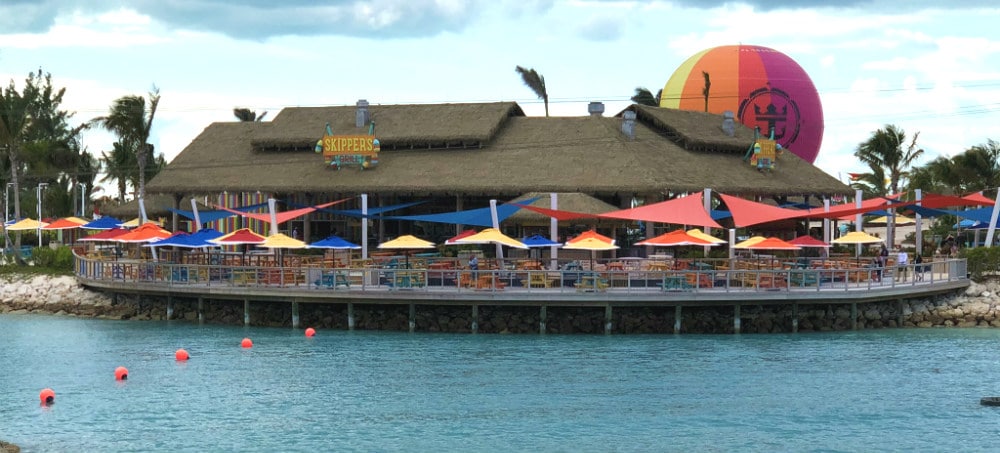 For snacks, there are two Snack Shacks which are open from 11 am until 45 minutes before departure. Here you can get complimentary burgers, hot dogs, salads and more.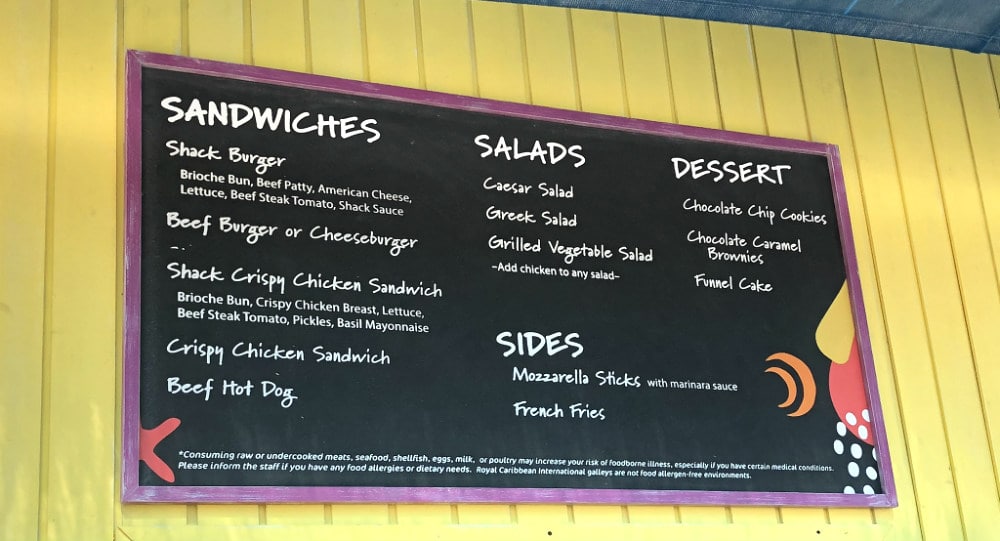 Free self-service soft ice cream is available in vanilla, chocolate or a mix of the two.
If you have admission to Coco Beach club, you can enjoy a special menu as well as morning pastries and snacks included in your admission cost.
For an extra charge, you could choose to dine a la carte at Captain Jack's. Honestly, the food in Skippers Grill is so amazingly delicious that I don't see how any other food could be worth paying extra for.
What drinks are free on CocoCay?
The free drinks on CocoCay are cold water and three kinds of juices – lemon and lime, tropical mango or strawberry and kiwi.
Suggested read: These 8 Drinks Are Free on Royal Caribbean Cruise Ships
Cruise Ship Drinks and Wifi Packages
If you have a drinks package or a wifi package to use on your cruise ship, you'll be pleased to know that they also work on the island. Staff come round with trays of the signature cocktail – Coco Loco which is a mix of rum, coconut cream, papaya juice, orange juice, pineapple juice and grenadine.
Suggested read: Royal Caribbean drinks package: Is it worth it?
Perfect Day at CocoCay Prices
Should you wish to pay for any of the extra activities on CocoCay, you can book these before you cruise on your Royal Caribbean cruise planner, or onboard the ship.
Prices vary depending on the sailing and can go up and down before departure. When more people are due on the island, the prices will tend to be higher than on days where there are fewer people visiting.
The CocoCay price list is as follows:
EXPERIENCE / AMENITY
PRICE
Thrill Waterpark
Age 4+: $49-$220 per person
Age 0-3: Free
Zip Line
$79-$139 per person
Up, Up and Away helium balloon
Age 13+: $39-$99 per person
Age 4-12: $24-$64
Age 0-3: Free
Coco Beach Club
Age 13+: $54-$199 per person
Age 4-12: $34-$99
Age 0-3: Free
Kayaks, snorkels, beach mats etc
various
The price of the activities varies depending on your sailing. When two big ships are on the island is when it will cost the most.
In the winter, when only one smaller ship is there, you may be lucky to only pay $49 to visit the Thrill Waterpark. But if you're cruising on Icon of the Seas in the summer, you could be expected to pay over $200 for your ticket.
The only way to get exact prices for your cruise is to check the Royal Caribbean cruise planner for your sailing.
NEW DEALS JUST RELEASED!
Don't miss the latest Royal Caribbean offers…
Conclusion
To summarise, there's so much to enjoy at Perfect Day at CocoCay, that you really don't need to spend any money at all if you don't want to.
Whilst the water park looks like a lot of fun, younger children will probably be better off using Splashaway Bay, as the slides are a better size for them. With queues of up to two hours reported for the tallest slide, you might want to think about whether that's worth doing.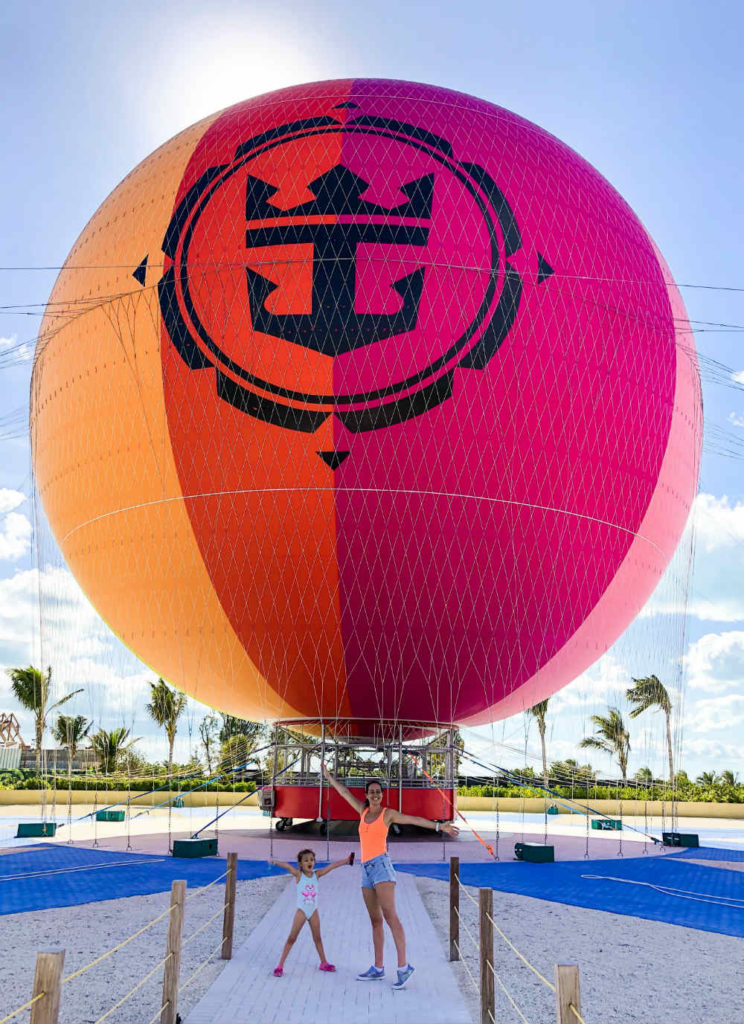 We had booked the Up, Up & Away balloon ride but the balloon wasn't running because it was too windy. Whilst it would have been nice to see the views, it certainly didn't spoil our day that this was cancelled and we still had a great time.
Related Posts: