Ever fancied spending time on a private tropical island? It's normally a dream that's out of reach, but book a cruise to Ocean Cay and you'll get pretty close to the experience. Technically it is a private island, even though you'll be sharing the experience with a couple of thousand others at the same time.
Still, it's a fantastic destination that's proving to be really popular with cruise passengers despite only being open for a couple of years, so let's take a look at some of the key facts and secrets about Ocean Cay so that you make the most of your time at the island.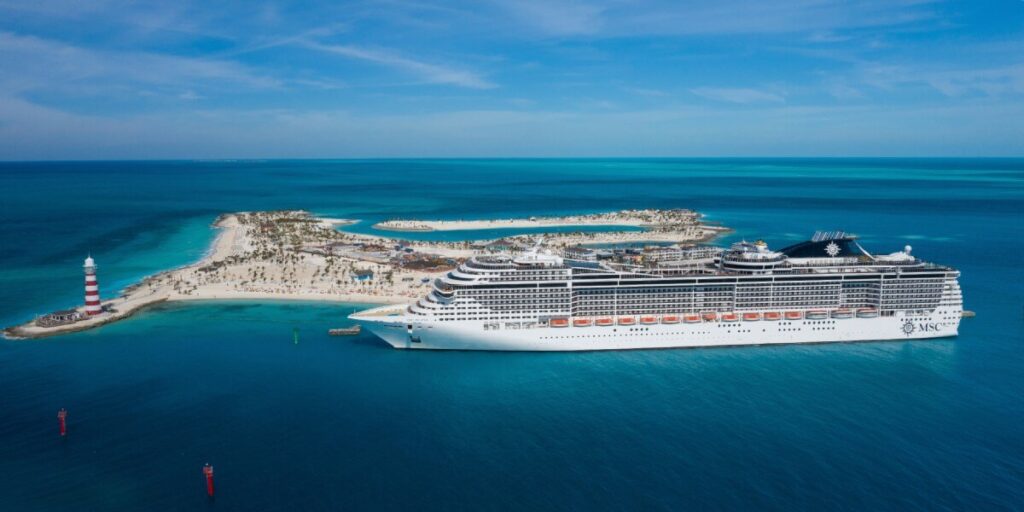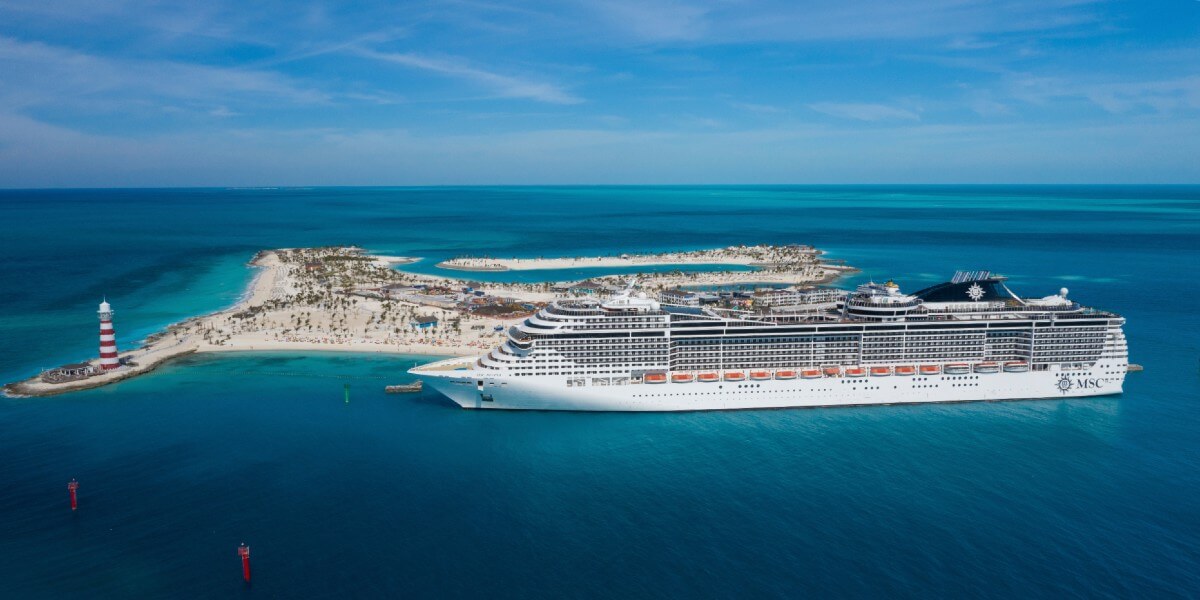 1. Ocean Cay is Exclusive to MSC Cruises
The only cruise line that visits Ocean Cay is MSC Cruises, as they own the island. There are seven different MSC Cruises ships that include Ocean Cay as a port of call. These are MSC Divina, MSC Magnifica, MSC Meraviglia, MSC Poesia, MSC Seascape, MSC Seashore and MSC Seaside.
MSC Cruises bought the island and renovated it specifically to be their own private cruise destination, so no other cruise lines can visit, nor can any other holidaymakers. It's only by booking one of the cruise breaks sailing from either Port Canaveral or Miami that you can visit the island.
Suggested read: Who Owns MSC Cruises?
NEW DEALS JUST RELEASED!
Don't miss the latest MSC Cruises offers…
2. You Can't Stay On Ocean Cay, But You Can Visit
Despite some cruise itineraries including a two-day visit to Ocean Cay, you aren't allowed to stay on the island overnight. You must return to the ship for the evening. There are no hotels on the island so you are not legally able to stay ashore at night.
Some people might be tempted by the idea of hiding away to enjoy a slice of private island life even just for a night, but you'll get in a lot of trouble if you do. Just enjoy the late-night show and then get back to the comfort of your cabin.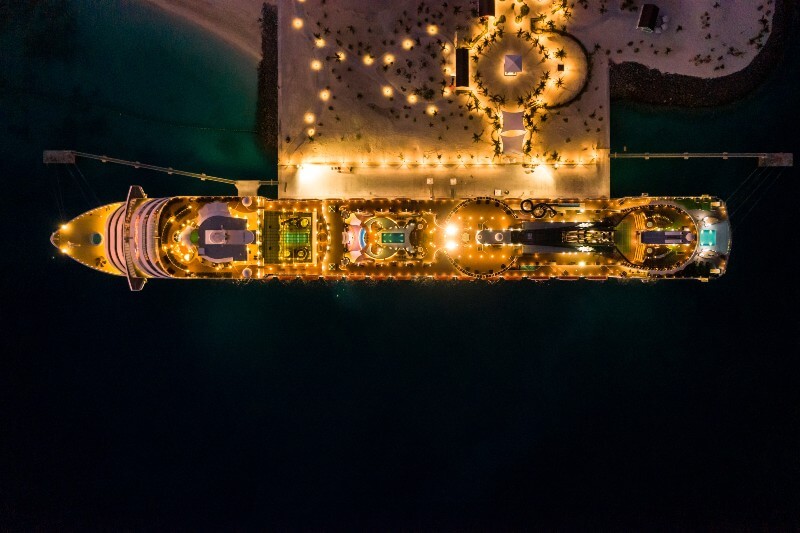 3. It Cost Around $200 Million to Renovate the Island
When MSC Cruises bought the island of Ocean Cay, they spent $200 million to renovate it and make it fit for purpose as a cruise destination. This included building the cruise pier and adding facilities for guests to eat, drink and relax on the island.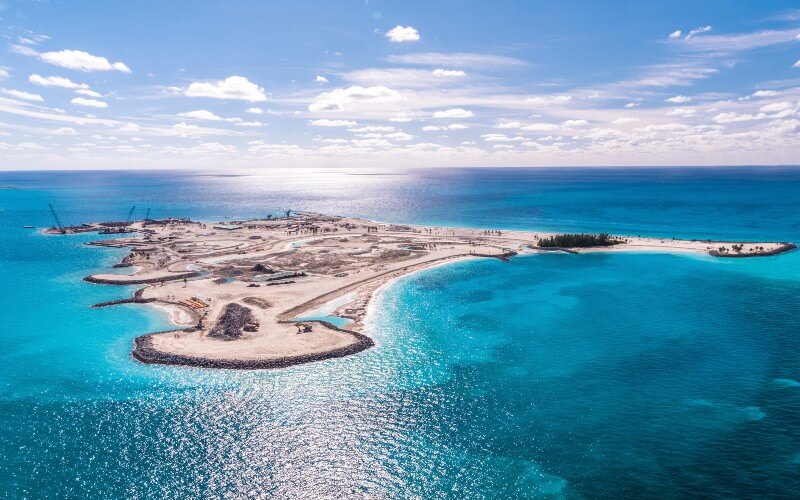 The work on restoring the island began back in 2016 and was held up by Hurrican Dorian just as it was getting close to completion in September of 2019. It was able to open in December 2019 despite the setback.
Suggested read: How Hurricanes Can Affect Cruises
And in August 2023, the next phase of development was announced, with another $100 million investment. The island will be closed for six weeks between April and May as a result, but it should help take the island to the next level.
4. There Are No Swimming Pools on Ocean Cay
There are no swimming pools on Ocean Cay, although if you want to swim then there are secluded lagoons that are safe. They don't have a strong current and they have gentle slopes including shallow waters that are suitable for young children.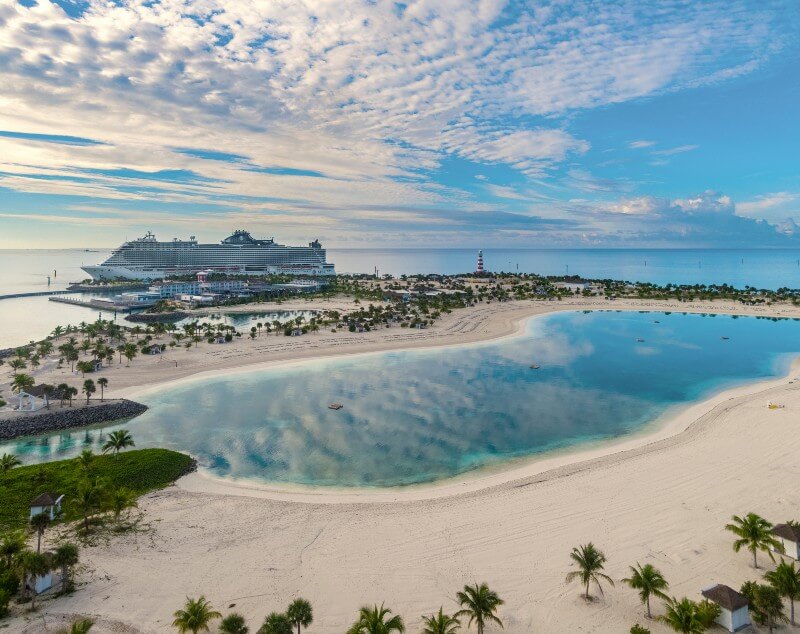 The waters around Ocean Cay are really clear and clean too, which makes them really pleasant for swimming. You'll see some marvellous wildlife too. There's no need for a pool when the lagoons are this pristine.
5. You Don't Need Your Passport To Visit the Island
You won't need to take your passport with you when you disembark at Ocean Cay. The island is privately owned and so isn't classified as a foreign territory despite it being in the Bahamas. You will need to take your cruise card to sign out of the ship and to sign back in.
This is handy since there's no risk of losing your important ID documents, but you will need to keep the keycard safe.
There are some cruise lines that own private islands that offer itineraries only sailing to that destination – for those, you don't need your passport at all for the entire cruise. A birth certificate will suffice.
That's not the case with MSC Cruises though – their itineraries will always visit at least one other destination, so you will at least need your passport to board the ship.
6. Ocean Cay is a Man-Made Island
Ocean Cay is an artificial island that was built in the late 1960s by dredging, with the purpose of mining Aragonite sand. It's now considered a Marine Reserve with conservation status, and as part of the renovation, MSC Cruises has preserved the ecosystem.
Ocean Cay MSC Marine Reserve is located in the district of Bimini in the Bahamas, around 20 miles south of the Bimini islands. Although it is part of the Bahamas, Ocean Cay is actually much closer to Miami than it is to Grand Bahamas, Nassau and the other Bahamas islands.
The cruise line has plans to build a Conservation Center in future too, which will serve as a research base for scientists studying local coral and other wildlife, and will welcome guests to learn about the island and the surrounding waters (Source).
7. Ocean Cay Has Decent WiFi
There is WiFi access available across parts of Ocean Cay, although if you wander to more remote areas you will struggle to get service. Access to the wifi on the island is included if you've bought an internet package on the ship.
A lot of people prefer to use a private island as a technology detox, but if you can't resist sharing the photographs of your time on Ocean Cay as soon as you've snapped them then you'll be able to.
8. Drinks Packages Carry Over Onto The Island
If you've bought a drinks package on your MSC cruise, it will carry over to any visit to Ocean Cay, meaning you can enjoy the same drinks that you would on board at the venues on the island.
Some cruise lines treat their private island as a separate entity, meaning you have to pay for your drinks even if you've got a drinks package. So it's good that MSC allows you to enjoy the same drinks at Ocean Cay as you would if you'd stayed on your ship (Source).
Suggested read: MSC Drink Packages Guide
9. You Can Rent a Cabana For The Day
For a little extra privacy, you can rent a private cabana on Ocean Cay from $249 for the full day, although some cabanas cost more. Each cabana includes beach chairs and a shaded area where you can escape the sun, and they can accommodate 6 guests.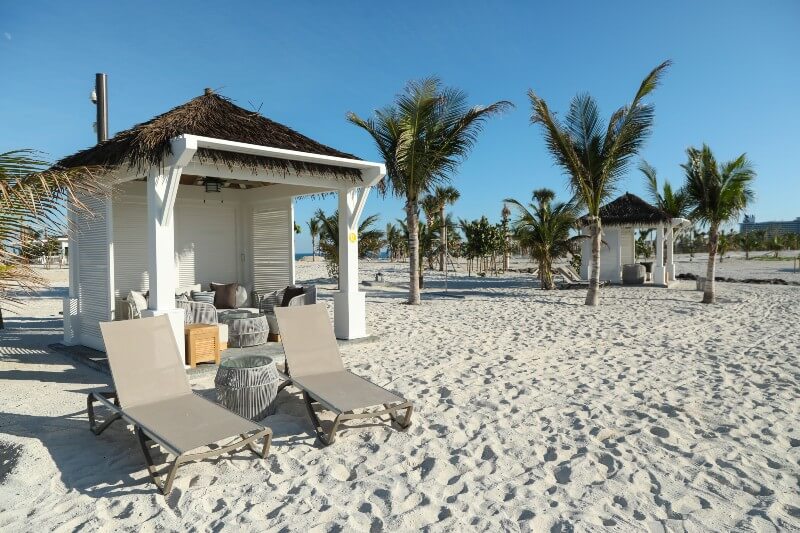 You'll also be given fresh water to help you cool down, and there are towels provided so that you don't need to take your own ashore if you plan on doing some swimming or snorkelling. More expensive Ocean Cay beach cabana packages include lunch and snorkelling equipment too.
10. Food Is Included During Your Visit to Ocean Cay
Most food on Ocean Cay is included in your cruise fare, including the buffet and food trucks. There are some excursions which may include food, such as picnics, and these incur the extra charge that you pay for the excursion.
The buffet at the food court includes traditional Bahamian dishes alongside classic favourites, and there's also an ice-cream parlour for guests to enjoy. Plus, some of the dining venues on the ship remain open while docked at Ocean Cay, so if you prefer to eat on board you still can.
11. There Are Eight Different Beaches You Can Enjoy
There are eight different beaches open to guests on Ocean Cay. North and South beaches have calm waters and are suitable for families, as is the Seakers Family Cove and the Family Lagoon Beach. Watersports are available at South Beach, while Ocean House Beach is only available to MSC Yacht Club Guests.
Not every beach is monitored by a lifeguard, so you'll need to be careful if you choose to swim at one of the unprotected ones. However, finding a quiet spot to relax should be easier with so many beaches to choose from.
12. You Can Rent Various Watersport Equipment
There are a lot of watersports you can enjoy on Ocean Cay, including snorkelling, kayaking and paddle boarding. These activities come with an additional cost either to rent the equipment or as part of a guided excursion.
One of the more interesting excursions is a glow-in-the-dark experience available in the evening. You'll be given a paddleboard with LED lights on the underside which cast a gentle glow into the waters, attracting some interesting wildlife. Definitely one to try if you have the chance (Source).
13. Ocean Cay Isn't Very Big
Ocean Cay isn't a large island. It covers 95 acres and has around 1.5 miles of beachfront. You can walk from one end to the other in around 20 minutes. The size of Ocean Cay MSC Marine Reserve is very similar to that of Royal Caribbean's private island, Coco Cay.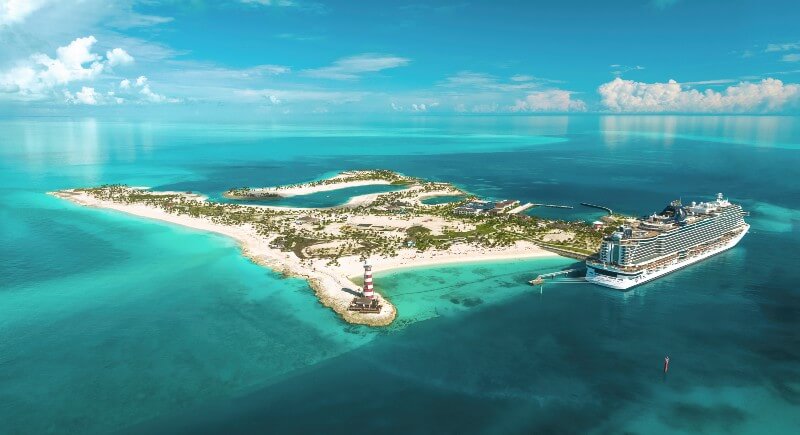 14. There Are Bikes and Golf Carts For Hire
If you want to travel faster around Ocean Cay you can hire a bicycle. Anyone with mobility issues is able to hire a golf cart to get around without having to walk too far.
You don't have to be excluded if you find walking long distances difficult, and there's a lot to see on the island. So consider hiring a golf cart if you want to experience all that Ocean Cay has to offer without pushing your walking limits too far.
15. The Ship Can Dock Directly At The Island
Most private islands require cruise guests to take a water shuttle boat to shore, but Ocean Cay has its own cruise pier where the ship can dock directly. As soon as you walk off the ship you are on the island.
The pier was built as part of the $200 million renovation, and it makes it much more convenient to travel back and forth to the ship if you want a break from the island or have forgotten something essential in your cabin.
16. The Casino Remains Open on the Ship During a Visit
When a cruise ship docks in port, it normally has to close the casino due to national gambling regulations. Because Ocean Cay is privately owned, it is considered to be international waters and so the casino can remain open.
So don't worry if you've been itching to enjoy a few casino games – you can wander back and forth between the island and the casino as you like. Plus it's likely to be a quieter time since most people will be ashore, which is good if you don't like crowds.
17. You Can Book a Special Picnic
One of the evening excursions available on Ocean Cay is the Sunset Evening Beach Picnic. This isn't so much an excursion as the chance to enjoy your own picnic under the stars, and it includes a basket with a blanket, a bottle of sparkling wine and various foods and desserts.
It's a lovely way to end your day on the private island and if you can find a quiet spot (which shouldn't be difficult) then it can be a really romantic, memorable moment.
18. There's a Lighthouse You Can Climb
Ocean Cay has its own lighthouse and you can pay to climb it. There are three levels with a total of 165 steps if you want to go all the way to the top, where there is a 360-degree viewing platform. The tour is guided and you'll learn about the island as you climb.
It's one of the more popular excursions on the island so book early if you can. You'll get amazing views across the whole of Ocean Cay, and the whole thing only takes 30 minutes, so you'll still have plenty of time to enjoy the rest of the day (Source).
19. The Lighthouse Plays a Part in Special Evening Shows
With ships staying late at Ocean Cay, there are often evening shows including the popular Evening Lighthouse Show, where the lighthouse is lit up in an impressive demonstration. Live DJs will provide an atmosphere and fire pits add to the tropical escape feel.
There are other evening events you can enjoy too, including a Luna Libre Party or a romantic Sunset Champagne cruise. The fun isn't just limited to the daytime on Ocean Cay.
20. Parts Of The Island Have a Dark Sky
While parts of Ocean Cay will be lit up for the evening shows and as part of the lively atmosphere, there are plenty of secluded spots with a dark sky if you want to go stargazing. You'll get an amazing view of the night sky from a peaceful beach location, away from the crowds.
There are also dedicated stargazing excursions if you'd prefer to be shown everything by an expert. You'll be able to use state-of-the-art telescopes as part of the excursions, some of which are tailored specifically to children with a passion for space.
21. You Can Get Married On The Island
Guests can choose an all-inclusive wedding package if they want to get married on Ocean Cay. Staff will arrange all the paperwork so you just need to book it and turn up. There's a special Wedding Cabana overlooking the ocean where ceremonies take place.
If you're already married and feel like you're missing out, then don't worry – you can also renew your vows at the cabana in a private ceremony (Source).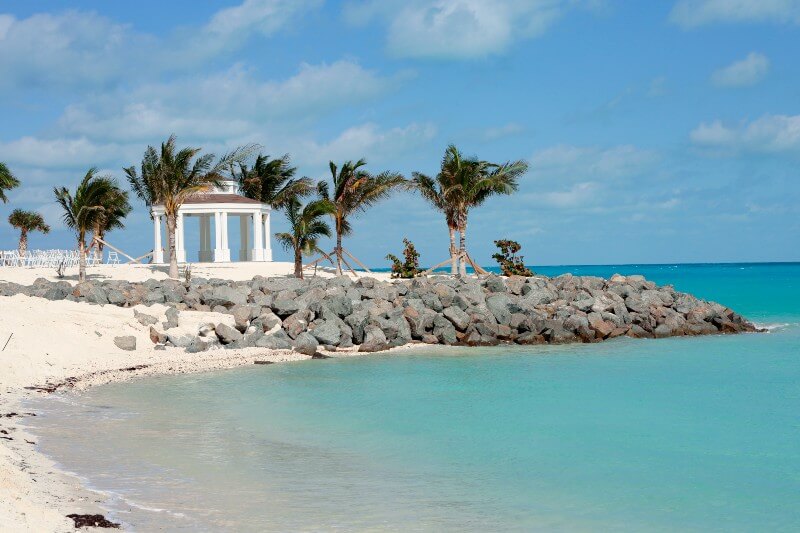 22. Spa Treatments Are Available On The Island
At The Spa Ocean Cay, you can enjoy massages and gentle yoga classes while surrounded by the pristine marine reserve scenery. All skincare products used at the spa are eco-certified so you can relax and enjoy a soothing treatment that befits the conservation theme.
You can even combine yoga and paddleboarding for a unique experience – don't worry, it isn't as difficult as it sounds (Source).
23. The Snorkelling Is Excellent
Many cruisers say that snorkelling is one of the best activities to enjoy at Ocean Cay Marine Reserve. The water is crystal clear and you can see lots of colourful fish as well as turtles and other marine animals.
You can snorkel right off the beach with your own equipment or hired snorkels and masks. For the very best experience, book a guided Ocean Cay snorkelling safari excursion.
24. You Don't Have To Spend a Penny If You Don't Want To
A visit to Ocean Cay includes food and some non-alcoholic drinks. There's live music and entertainment for free and sun loungers and beach chairs are all free of charge. You can bring your own snorkel or just enjoy swimming in the ocean or the lagoons.
You really don't need to pay for anything, but if you want to rent a floating water mat, inflatable ring, kayak, bicycle, pedalo, paddleboard, snorkel or even a cabana then you can do so by charging it to your cruise card.
Otherwise, the Ocean Cay excursions prices can vary and you're best checking for your specific sailing.
Ocean Cay Rental Price List:
Cabanas – $249
Deluxe Cabanas – $349
Inflatable family raft – $25
Floating beach mat – $15
Paddleboard – £29
Kayak – £29
Umbrella – $12
25. Ocean Cay Has a Schedule of Organised Fun
Think you'll get bored with sunbathing all day? Don't like to swim? Fear not. Ocean Cay offers lots of organised activities that will keep the whole family entertained.
You can sign up for all kinds of fun things such as scavenger hunts, sandcastle building competitions and even the Ocean Cay Olympic Games.
26. There Are Excursions From Ocean Cay
To really make the most of your time at Ocean Cay, you can book an excursion. Popular options include:
Ocean Cay WaveRunner tour
Nighttime stand-up paddleboarding
A boat ride to a shipwreck for snorkelling
Guided kayak tour
Catamaran ride with rum
Sunset Champagne boat cruise
Beachside stargazing
Deep-sea fishing
Scuba diving
Sunset picnic
Stingray adventure
Family catamaran tour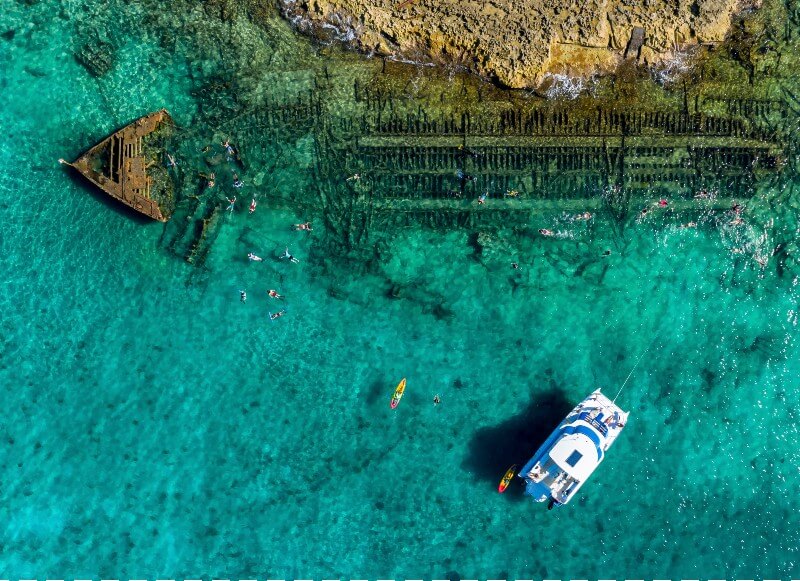 To Conclude
There is an extraordinary number of things you can see and do on the custom-designed island of Ocean Cay, including some wonderful excursions and secrets to uncover.
You'll no doubt discover your own special surprises and moments during your cruise to the island, so feel free to get in touch via the comments below and help me build out this list with even more ideas when you do!
NEW DEALS JUST RELEASED!
Don't miss the latest MSC Cruises offers…
Related Posts