Royal Caribbean is developing a private destination in Nassau called Royal Beach Club at Paradise Island.
The new destination experience, set to open in 2025, will combine the island's stunning beaches with the cruise line's signature experiences to create the ultimate beach day.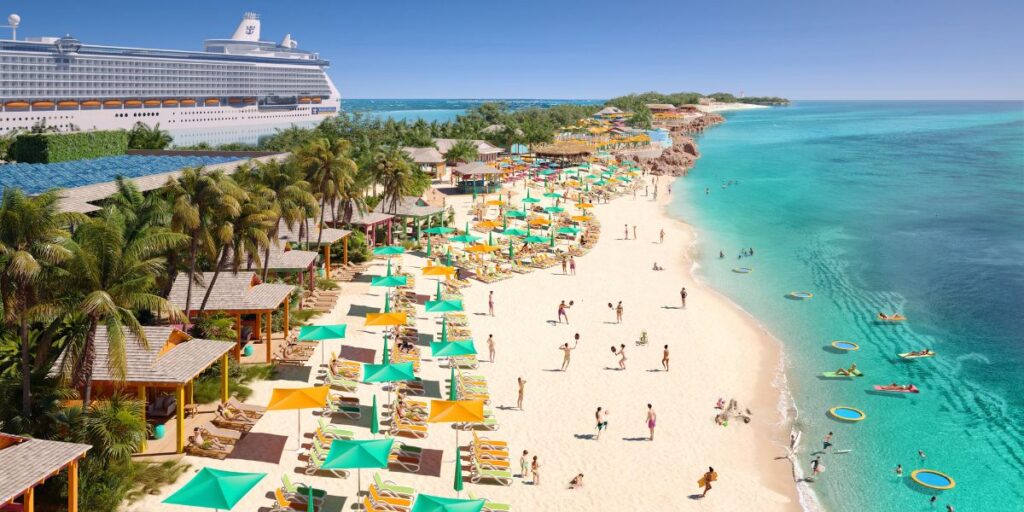 If, like me, you've been to Nassau several times all ready, you'll know that it can get a bit samey after a while. It can also get super busy, which means that many seasoned cruisers choose to simply stay on the ship when the port of Nassau is on the agenda.
So a new private resort in Nassau that's owned by Royal Caribbean sounds great, right? Here are 11 things you need to know…
1. What will the Royal Beach Club entail?
The Royal Beach Club is a new 17-acre destination experience with multiple beaches, swimming pools, private cabanas, Bahamian barbecues, and live music.
Located on Paradise Island – a narrow strip of land near the cruise port in Nassau – it will have a local architectural style that complements the stunning views of the turquoise-blue waters and white sand beaches.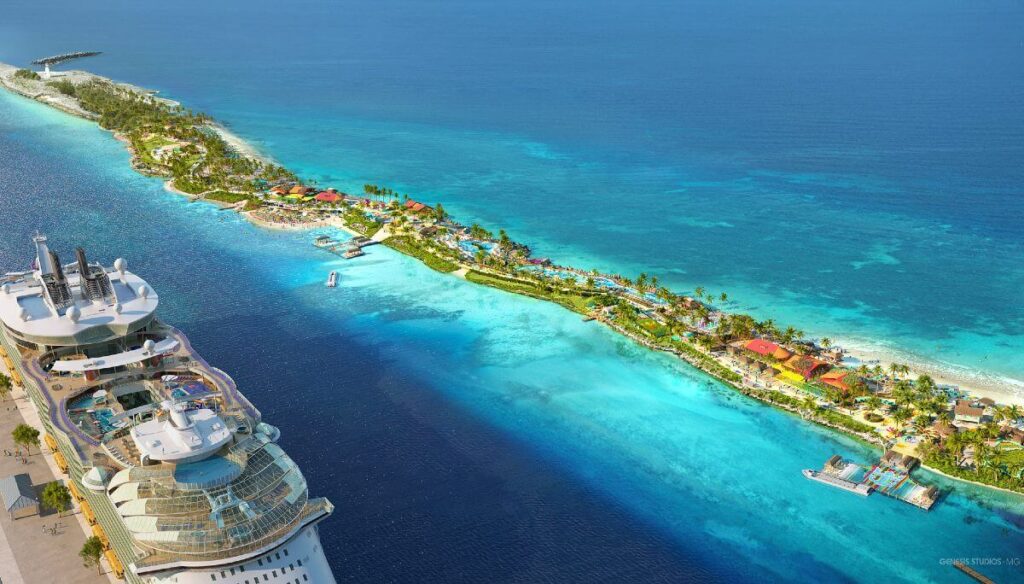 To be clear, it's not an actual island, so it's not the same as the private island destinations that Royal Caribbean has leased such as Perfect Day at CocoCay. But it will be a private resort that guests sailing to Nassau can enjoy.
2. When will the Royal Beach Club open?
As it stands, we don't have an exact opening date for the Royal Beach Club at Nassau yet, but the latest update is that it will open in 2025. It could be any point in that year that the new destination opens, since a lot of Royal Caribbean ships now exclusively cruise to the Caribbean – it's not something that needs to be timed for a particular season.
There is a new cruise ship due to launch for Royal Caribbean in 2025 – she'll be the second Icon-class ship, and so it wouldn't be surprising if the Royal Beach Club opened to coincide with her debut season. However, we also don't know the exact date that the ship will launch – she doesn't even have a name yet.
It's worth noting that Royal Caribbean had originally announced the Royal Beach Club way back in March 2020, but then, of course, the entire cruise industry went into shutdown due to the global events of that year, and it's only in 2023 that the go-ahead has been given by the Bahamian government for the project to get back up and running again.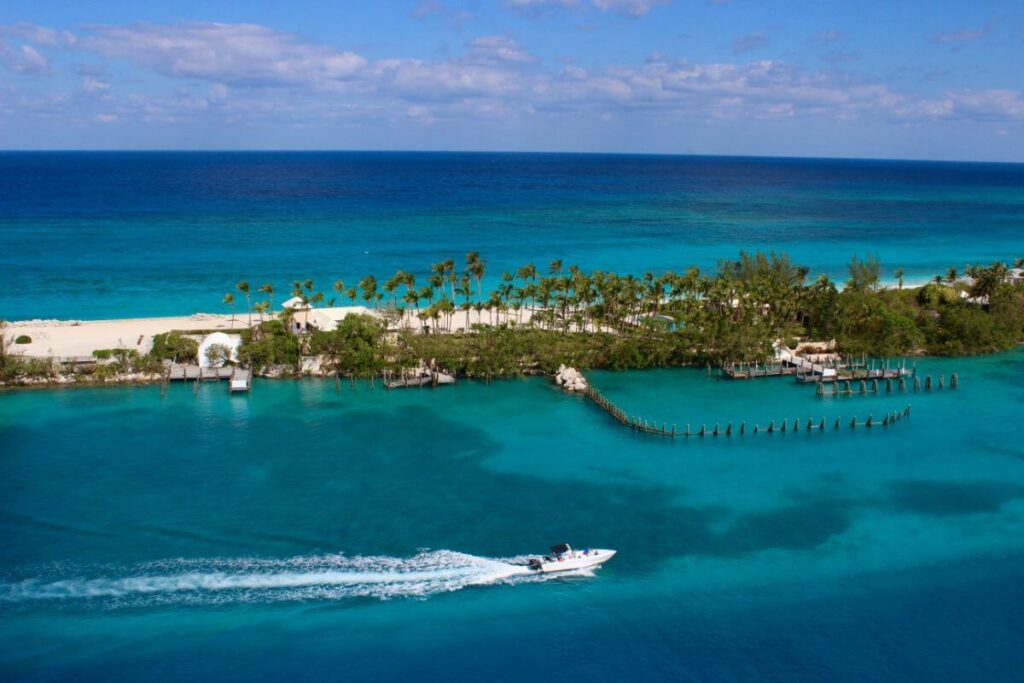 3. Who will own the Royal Beach Club?
So far, I've explained that Royal Beach Club will belong to Royal Caribbean, and that's true. The resort will be for the exclusive use of the cruise line's guests, potentially along with sister cruise line Celebrity Cruises too, but it's more likely to be just for Royal Caribbean International.
But what's unique about this new resort is that it won't be wholly owned by the cruise company. Instead, as much as 49% of the equity in the Royal Beach Club will be owned by Bahamians. This will help to ensure that the local people are well looked after, and that the cruise line isn't just taking up land only for its own gain.
Also, the land will be split – 13 acres will be owned by the cruise line, and the remaining 4 acres will be Crown Land, split as equity amongst the government and the people of the Bahamas.
And if that wasn't enough giving back, the cruise line is also welcoming local businesses and entrepreneurs to manage the experience. Instead of Royal Caribbean providing the staff, it's allowing locals to generate their own work and income from the project.
It's new, and it's a cool way of doing things, making sure the cruise line gives back to the local area and local people.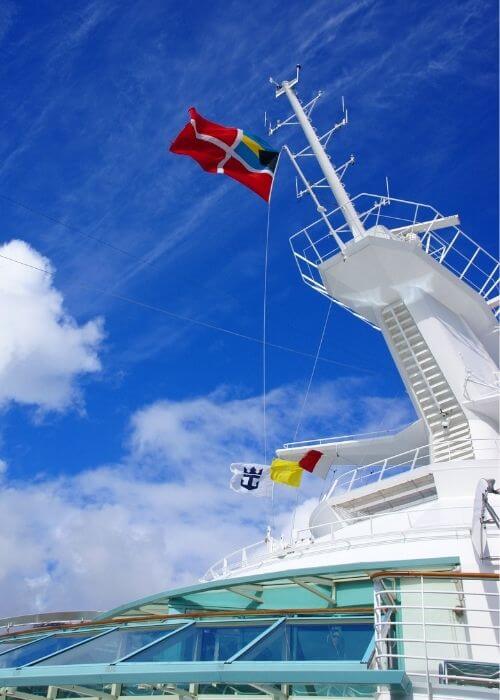 4. How will guests get to the Royal Beach Club?
The Royal Beach Club doesn't have a private dock. Instead, ships will sail to Nassau as normal, docking at the usual pier where Royal Caribbean ships always dock. From there it's a short walk to the water taxi area, where guests will be able to hop on for a short ride across the bay to get to Paradise Island.
According to the plans, it looks like the water taxi will make two stops at the resort, so you've got a couple of options for where to get off and where to catch the water taxi back to the main port area once it's time to return to the pier.
You'll only be able to ride the water taxi if you've booked the Royal Beach Club as an excursion for the day at Nassau. You may be able to pay when you get to port, but it's unlikely, and you won't be able to ride to Royal Beach Club without paying for it.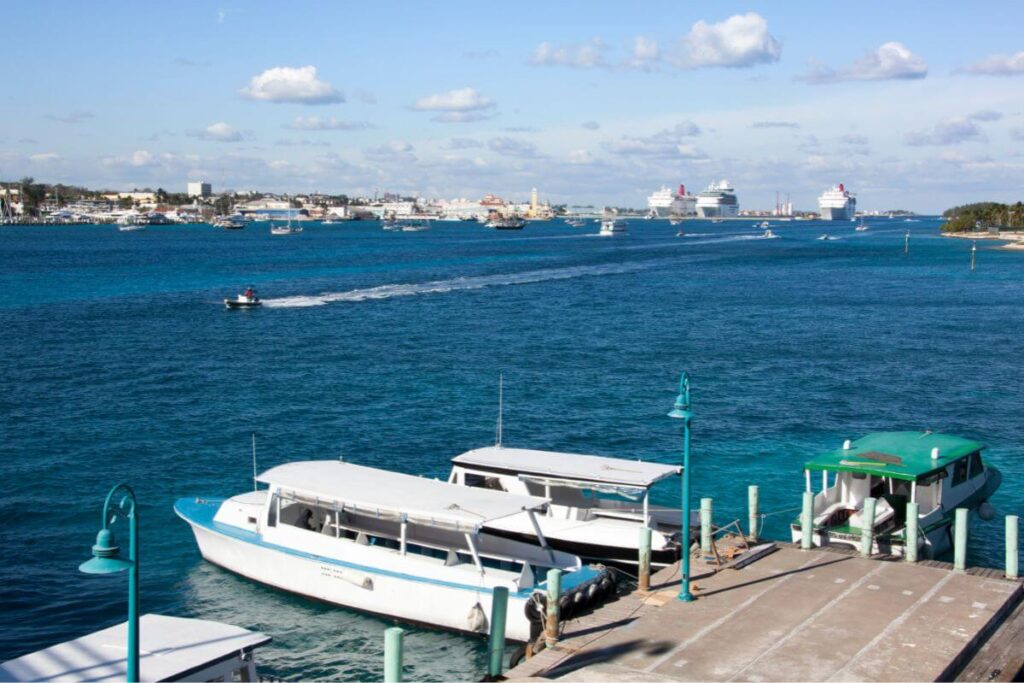 5. What activities will be available at the Royal Beach Club?
Royal Beach Club is very much oriented toward family guests, and so there'll be a lot of activities that everyone can enjoy. Some of these activities will require an extra fee though, so don't expect everything to be included in the upfront price you pay.
From the plans, we know that some of the activities planned for Royal Beach Club include:
Scuba diving
Snorkeling
Jet ski hire
Kayaking
Parasailing
Floating mat hire
Nature hikes
Beach volleyball
Inflatable water slides
We also know that there are plans for there to be an adults-only swimming pool if you do want somewhere quiet to relax, and a kids' splash pool and a wading tide pool for the family. There's an artisan village planned, where locals will sell gifts and trinkets, and there will be bards for adults who want to just grab a drink and relax.
It's important to note that these plans could change between now and 2025 – this is all based on the documents Royal Caribbean has provided to the Bahamian government.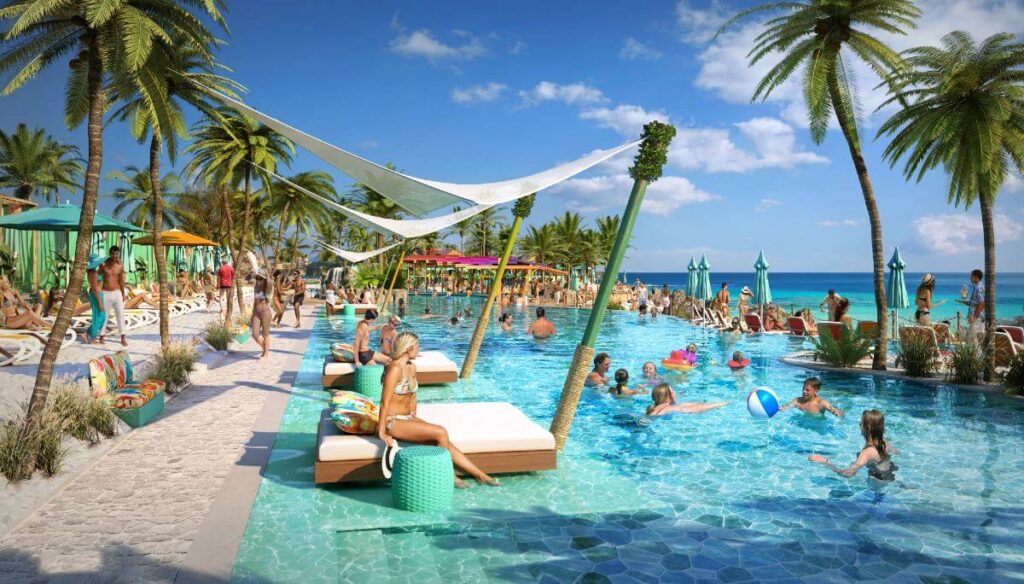 6. Will guests be able to eat at the Royal Beach Club?
Guests will be able to eat lunch at the Royal Beach Club and it will be included in the price you've paid. There are plans for a food hall that will serve traditional Bahamian barbeque food, along with a snack shack if you just want to grab a lighter bite.
Because you can only get to the Royal Beach Club via the water taxi, it's not quite as convenient as when you call at a private island and can walk back to the ship for lunch. So Royal Caribbean is making sure there are enough options to keep everyone at the resort happy.
7. Will the Royal Beach Club have private beaches?
There are three planned beaches for the Royal Beach Club. These are Tranquility Beach, Hideaway Beach, and Sapphire Beach.
We don't have confirmed details for these beaches yet but we do know there will be cabanas that you can rent, along with bungalows. There will be bars at the beach too, so you can grab a drink without leaving the sands.
I wouldn't be surprised if one of the beaches were designated as an adults-only beach, just for couples and groups who don't have children and want a more peaceful experience. Perhaps that's the plan with Tranquility Beach. More details are expected soon on exactly what the beaches will offer.
Regardless, it'll be good for guests to be able to enjoy quieter beaches than those around the main Nassau port, where there may be as many as six cruise ships docked at any one time.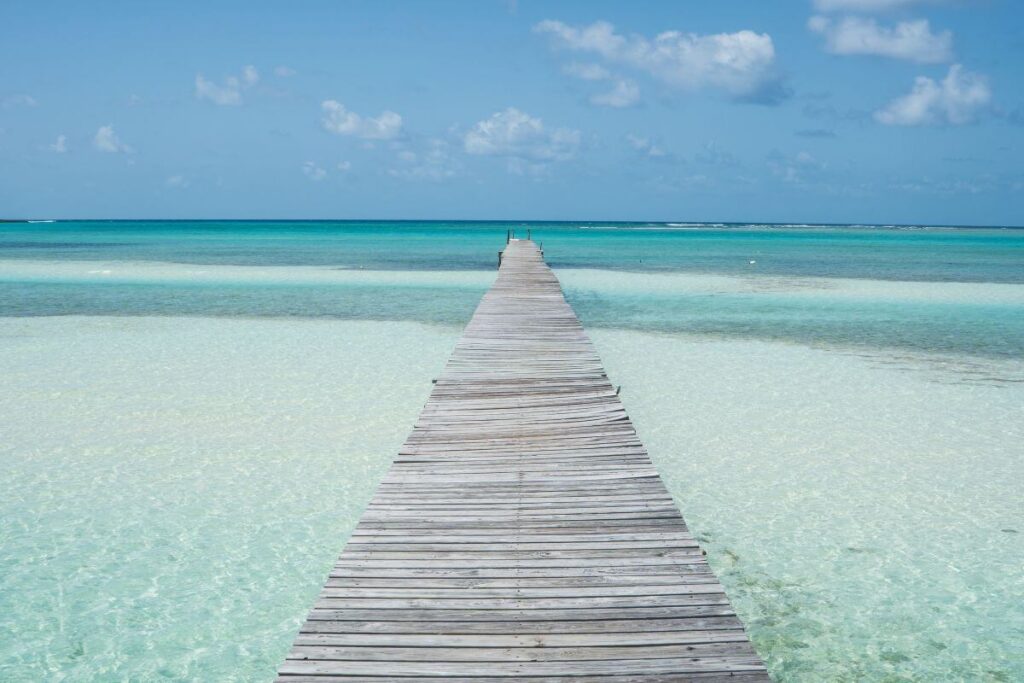 8. How long will visits to the Royal Beach Club last?
It's currently expected that a visit to Royal Beach Club will last for around 5 hours. Typically cruise ships will spend around 9 hours in Nassau in total, and the excursions are planned to include time for guests to explore the Nassau port area alongside having a good amount of time at the resort. Plus you don't want to be rushing back to the ship at the very last minute.
Depending on how much it costs, five hours may not seem like a long time, but all the more reason to make sure that you get off the ship as early as possible that day, so that you can make the most of your time at this exciting resort location.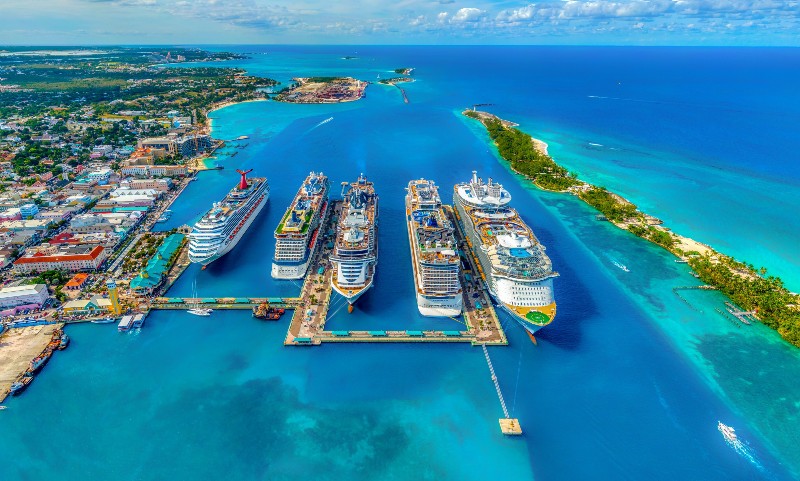 9. How much will it cost to go to Royal Beach Club?
At the moment, we don't know how much it will cost for guests to access the Royal Beach Club, but we do know that a charge will be involved. So this isn't like a private island that acts as a port of call, but instead, it's more like an excursion to enjoy whilst visiting Nassau.
The Environmental Impact Assessment (EIA) submitted by Royal Caribbean mentions that there'll be an entrance fee, and that the cost will cover "access to the Royal Beach Club, lunch, and the rental of a beach chair."
It's also important to note that the EIA states that drinks purchases, cabana rentals and watersports will have an additional charge. So, it doesn't seem likely that a Royal Caribbean drinks package will cover the cost of your drinks at the resort.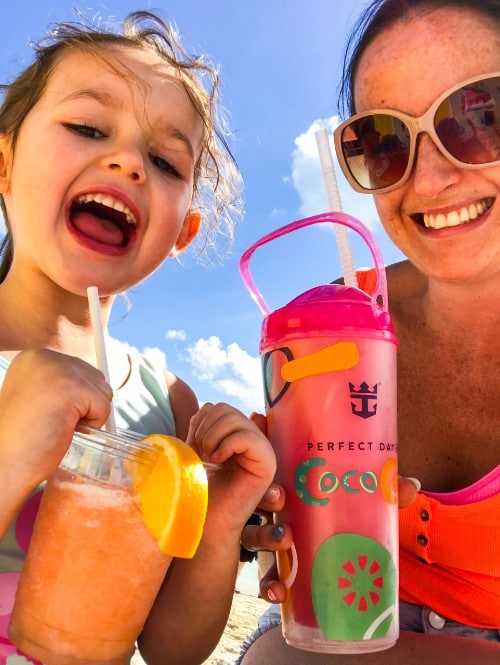 10. Will the Royal Beach Club be similar to the Coco Beach Club?
The Royal Beach Club will share some similarities with the Coco Beach Club at CocoCay, but it's not quite the same. It's sort of a middle ground.
Coco Beach Club is a smaller, exclusive area that forms part of Perfect Day at CocoCay, the Royal Caribbean private island. While access to the rest of CocoCay is free, you need to pay for access to the Coco Beach Club, just like you will have to pay for access to the Royal Beach Club.
However, Coco Beach Club only has a few amenities, including one beach, an infinity pool, and more luxurious cabanas, as well as an exclusive restaurant. Most of the fun activities happen on the rest of CocoCay, which you access for free.
That's why the Royal Beach Club is more a middle ground – it's a paid-for resort, but once you've paid, it's more like you're accessing a destination closer to the whole of CocoCay.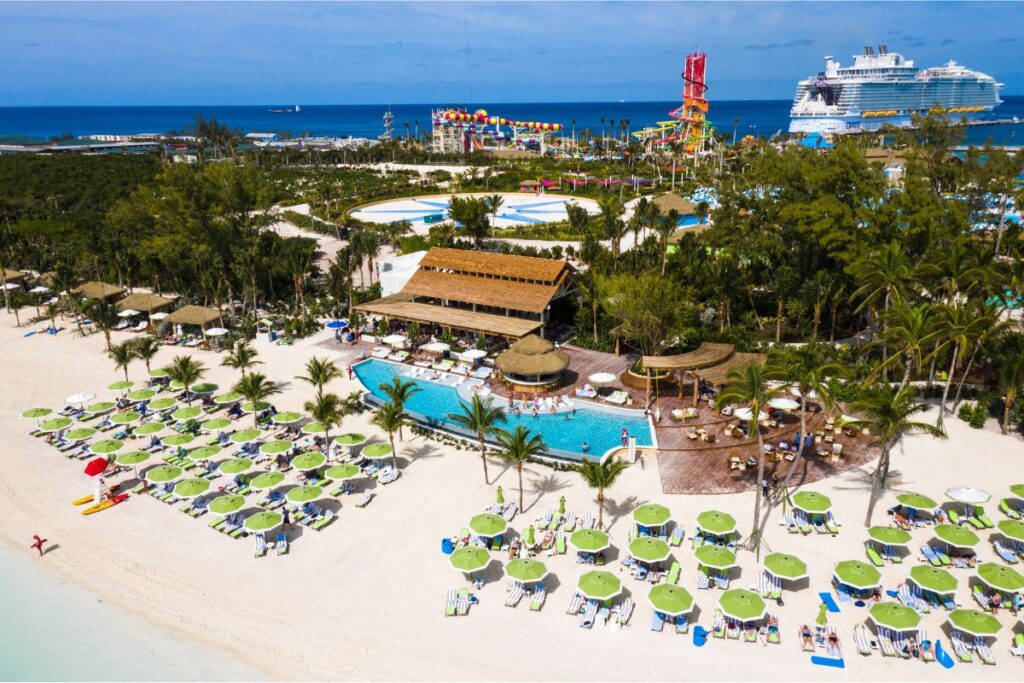 11. Is this the only Royal Beach Club?
At the moment, the Royal Beach Club at Nassau will be the first and only of its kind, but there has been talk previously of the cruise line also opening a similar venue in Antigua.
Whether those plans will also be confirmed remains to be seen, but it's likely that Royal Caribbean will look to expand its private resorts if the first one is a success, so we've got a couple of years to wait yet until we see just how popular it is.
Final word
We're expecting a lot more to be announced in the coming months about the full confirmed plans for the Royal Beach Club at Nassau, but it's an exciting new development.
It'll definitely be a great choice for guests returning to Nassau who've seen the main sights already, but it'll also appeal to guests who just want a quieter place to relax and have fun.
I'll let you know as soon as more information is released.
Related Posts: