If you book a cruise in the Bahamas, you'll often find that your itinerary includes a trip to a private island – a destination where only guests from the ship are permitted.
Royal Caribbean has CocoCay and Labadee, Carnival has Half Moon Cay and Princess Cays and so on. But Virgin Voyages' Beach Club at Bimini is a little different – it's private, but it's not a secluded resort that's closed off.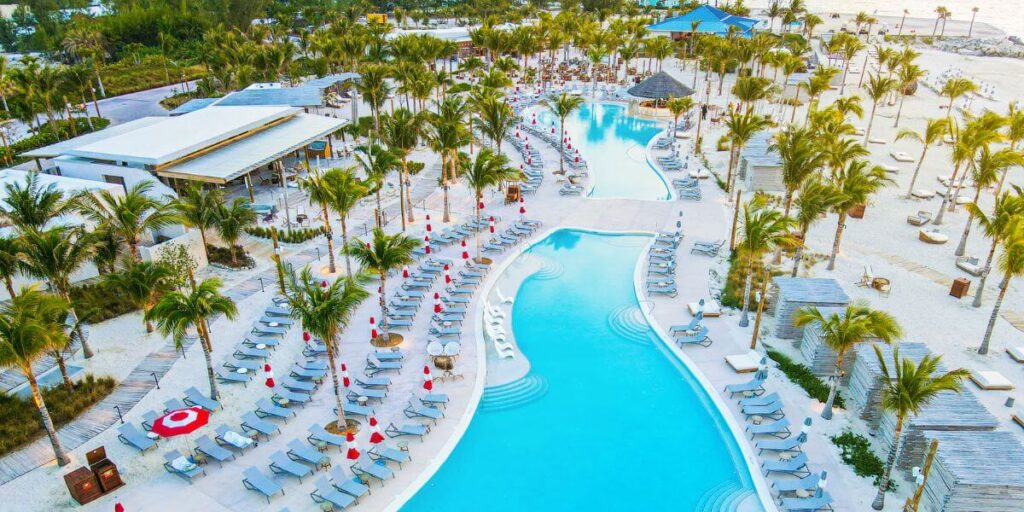 Let's take you through what the Beach Club is, and how to make sure you get the most out of your cruise to this unique destination.
What is the Beach Club at Bimini?
The Beach Club is a private resort at Bimini that covers 4.5 acres of land. Rather than being a private island, or a private resort that is separated from the rest of the island, it's just a resort that is open only to select guests – but those guests are free to explore the rest of Bimini if they wish.
The facilities at the Beach Club are shared – whenever a Virgin Voyages ship is docked in Bimini, the resort is exclusively available for guests of that ship. If there is not a ship in port, then the resort is open to other guests of Resorts World.
With the proximity of the Bimini Islands to the coast of Florida, there are often short-haul ferries that bring guests to the resort on days when a Virgin ship is not docked. So it's possible to enjoy the Beach Club without being on an ocean cruise.
What can you do at the Beach Club at Bimini?
Virgin Voyages' guests (called sailors) will find that there is a lot they can enjoy while at the Beach Club. It's essentially an upmarket beach resort, so the obvious attractions include the option to relax on a private beach and to grab a drink at one of the bars.
There are six bars at the resort in total, each of which has ample comfy seating nearby where you can unwind with your drink. Whether you want to sit in a deep-cushioned booth, or swing in a wicker chair over the pool, or just lay back in a hammock, you'll find plenty of cosy spots to pass the day.
And yes, there is a pool if you would prefer to sit there rather than down on the sand – you have the choice of both.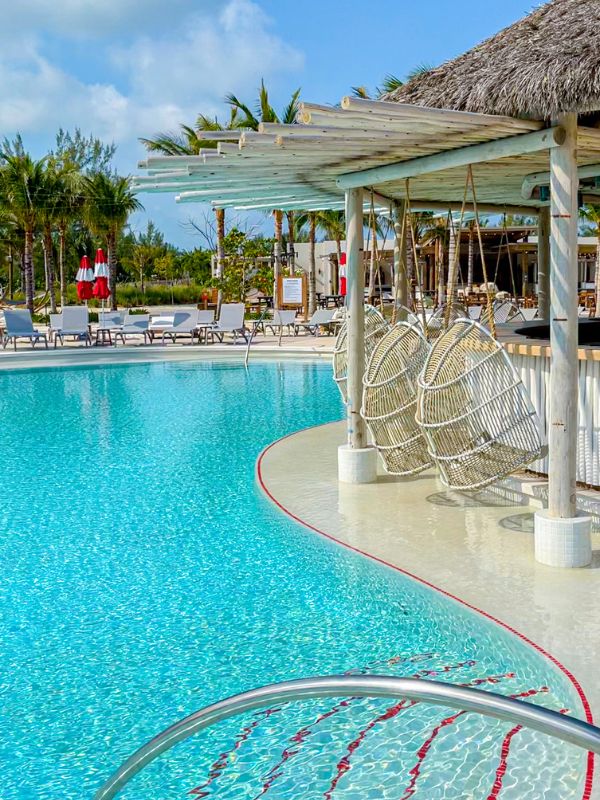 There's a shack that rents out water sports equipment too, for any guests you want to head to the beach to try their hand at snorkeling or paddle boarding.
You can also go shipwreck diving – there's an old World War 1 ship called SS Sapona that ran aground in the 1920s during a hurricane and has remained stuck since. It's now filled with wildlife so it makes for an excellent excursion from the shore.
Virgin Voyages is a cruise line that's only for adults. The Beach Club reflects that atmosphere, with a vibe that feels similar to an upmarket resort you'd find in Ibiza.
During the day expect a place of tranquility and relaxation, which includes optional yoga and meditation sessions on the beach, and a quiet space where you can enjoy self-reflection away from the bustle of the bars.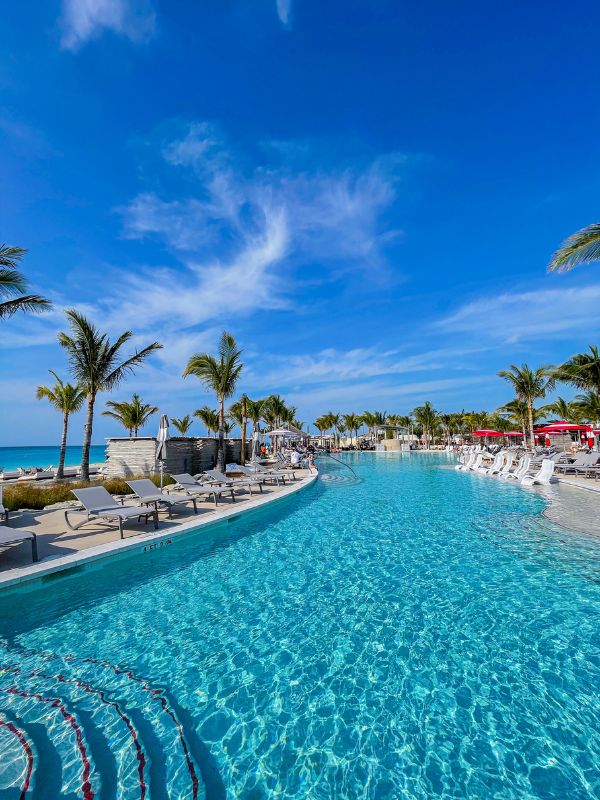 But at night, the party starts both at the beach and around the pool, with renowned live DJs performing for guests, beach bonfires and more. There's a lively atmosphere long into the evening with these events.
And you'll have time to enjoy them, because on a Virgin cruise your ship will stay in dock for longer. Rather than having to get back on board between 3 pm and 5 pm like you would at most destinations, you'll be able to stay at the resort until the evening to see the sunset and experience the party atmosphere.
Is the food free at the Beach Club at Bimini?
Virgin sailors who head to the Beach Club will be able to enjoy complimentary food, including barbecue options and some tropical salads and fruits. Drinks are not included and will need to be paid for. You can use your credit card or pay in US dollars.
Suggested read: Virgin Voyages Drinks Packages
Unlike with some private resorts, it's not really convenient to head back to the ship from the Beach Club if you want to return back again after lunch. You can do so – and you will have enough time, with the longer stay in port, but it's a 20-minute journey in each direction on foot. Bus transfers are available but you may have to wait.
So it's best to make the most of your time and enjoy the free food at the resort if you can.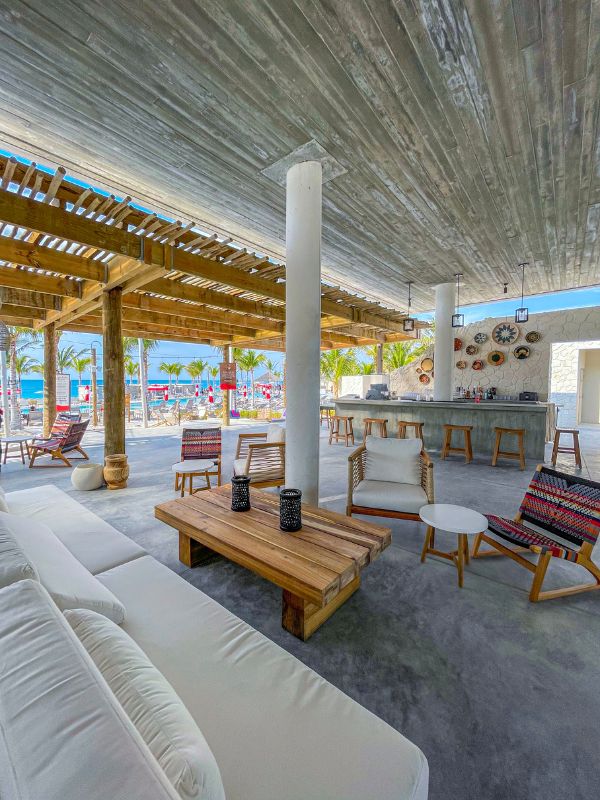 Can you rent a cabana at the Beach Club at Bimini?
There are cabanas that you can rent at Bimini Beach Club. There are three options – Bimini Beach, Bimini Grove and Bimini Lagoon. All cabanas cost $350 per day and include a round of drinks as part of the price you pay.
The only difference between the three types of cabana is their location. Bimini Beach cabanas are situated at the beach, Bimini Grove cabanas overlook the hammock groves that are part of the Beach Club, and the Bimini Lagoon cabanas are close to the swimming pool.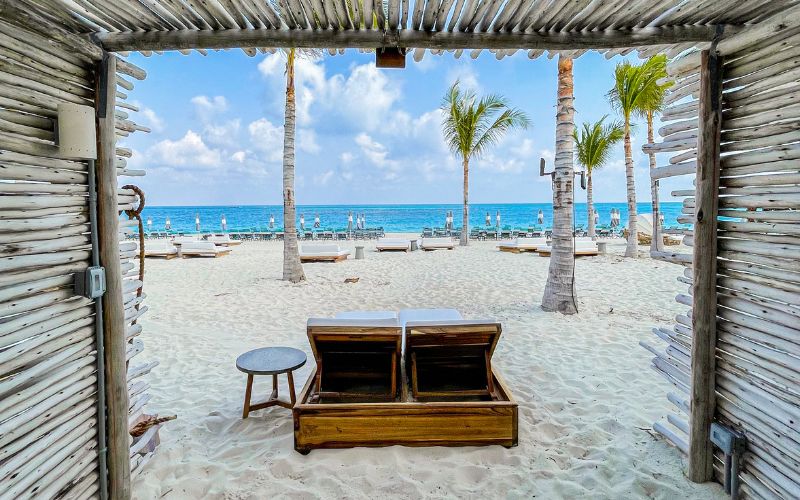 What is Richard's Retreat at the Beach Club at Bimini?
Richard's Retreat is an area of the Bimini Beach Club that is reserved for guests staying in the RockStar Suites on the ship. These sailors are able to relax in an exclusive terrace area which has loungers, its own bar and private cabanas.
There's also a dedicated DJ for this retreat within a retreat, while guests don't even have to leave if they want a bite to eat – they can order food for delivery to their cabana.
While this area is reserved for RockStar Suite guests only, there may be an occasion when they are not all used. When this happens, the cabanas are released to other guests to book on a first-come-first-served basis, so you might be able to snap one up if you're lucky.
Take a look at this video to learn more about Richard's Retreat on Bimini.
Who owns the Beach Club at Bimini?
The Beach Club at Bimini is owned by Resorts World, which in turn is owned by the Genting Group. Virgin Voyages worked with Resorts World to build the Beach Club but they are not owners. Instead, they are contractually given exclusive use whenever a ship is in port.
The Genting Group parent company is a huge organisation based in Malaysia that owns a large number of resorts and casinos around the world, including casinos throughout the UK, Malaysia and the US.
What country is the Beach Club at Bimini in?
The Bimini Islands are in the Bahamas. The islands are close to the US coast – lying just around 50 miles from Florida – and are around 110 miles to the west of Nassau, the capital of the country.
Do other cruise ships go to Bimini?
Virgin Voyages is not the only cruise line to travel to Bimini, but it is the only cruise line with access to the Beach Club. Other cruise lines that visit Bimini include Carnival, Celebrity, Holland America and Royal Caribbean.
The pier is capable of hosting more than one cruise ship at a time, but it's rare that you'll have two ships docked on the same day. There may be ferries bringing casual guests to the island though, so you may not be the only group present on the island at once.
That's why having access to a resort like the Beach Club is great – you're guaranteed a slice of tranquillity away from bigger crowds.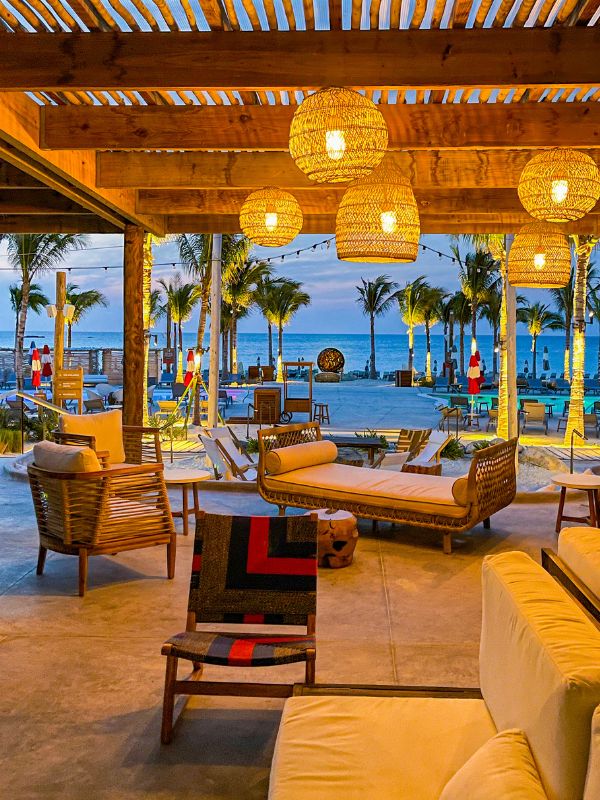 What is there to do in Bimini on a cruise?
While Virgin Voyages guests will usually head to the Beach Club on Bimini, there is plenty to see and do on the island for all cruise guests.
There are other resorts that cruise passengers can buy a day pass for. These resorts are similar to the Beach Club, offering comfortable seating areas, private beach access and luxurious pools where you can unwind.
While these resorts often host parties in the evening, it's unlikely that your ship will be in port long enough for you to enjoy them. That's what makes a Virgin Voyages cruise to Bimini that extra bit special – the longer hours in port are ideal if you want to see the island at night, and not feel like you're rushed.
The SS Sapona shipwreck can be visited on excursions led by other cruise lines too, while there are companies hiring out water sports equipment as well. The waters around Bimini are exceptionally clear and so it is a popular spot for snorkeling and scuba diving.
Can you walk to the beach from the Bimini cruise port?
You can easily walk to the beach from Bimini cruise port – there are some excellent beaches as soon as you reach the beginning of the pier. The Beach Club for Virgin Voyages' cruise guests is also within walking distance although there are bus shuttles to make it easier.
North Bimini island, where the ships dock, is not extremely big and you can see most of the beaches and resorts on foot if you're comfortable walking. Cruise line excursions that include a resort day pass will often provide transfers too, so you can get to your private beach quickly and set up for the day.
Do you need a passport for a Bimini cruise?
US citizens travelling on a cruise to the Bahamas, including Bimini, don't need a passport but they do need other forms of ID including a photo ID and usually a birth certificate. It's often easier to take a passport anyway since this is the only ID you would need.
Cruise lines generally recommend that you sail with a passport as it's easier to rebook any travel if there are delays or cancellations as part of your itinerary due to the weather or other factors.
Of course, any guests travelling from outside the US will need a passport to get into America before they sail, so a passport to sail to Bimini would again be required.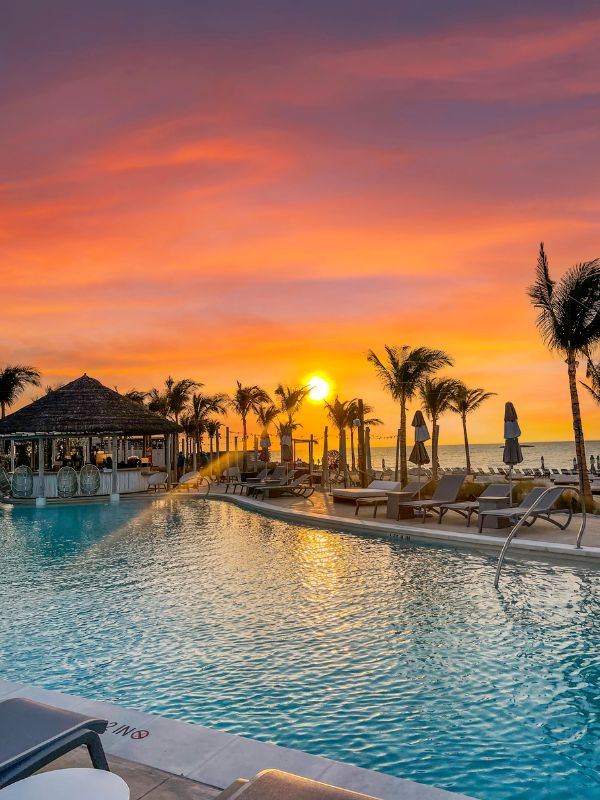 Final word
Guests sailing to Bimini's Beach Club with Virgin Voyages will love the exclusive luxury that the resort has to offer, but you do also have the freedom to wander the rest of Bimini as well if you wish – unlike other private resorts which are often fenced off.
If you're sailing to Bimini with another cruise line, you won't be able to attend the Beach Club but you may get a day pass to another resort where you can enjoy similar experiences. It's not quite the same, especially with the late-night parties that Beach Club offers to Virgin sailors, but it's still a great destination to explore.
NEW DEALS JUST RELEASED!
Don't miss the latest Virgin Voyages offers…
Related Posts: