The idea of exploring a private island is definitely quite luxurious, but it's not completely out of reach – just book a cruise to Half Moon Cay, Bahamas. True, you have to share the island with the rest of the passengers on your ship (and sometimes another ship too) but it's still a really pleasant destination.
Imagine all of the quality hospitality you're used to on your ship, but extended to a tropical resort. There are no pushy salespeople walking up and down the beach to pester you, the food is free, and the beaches are pristine.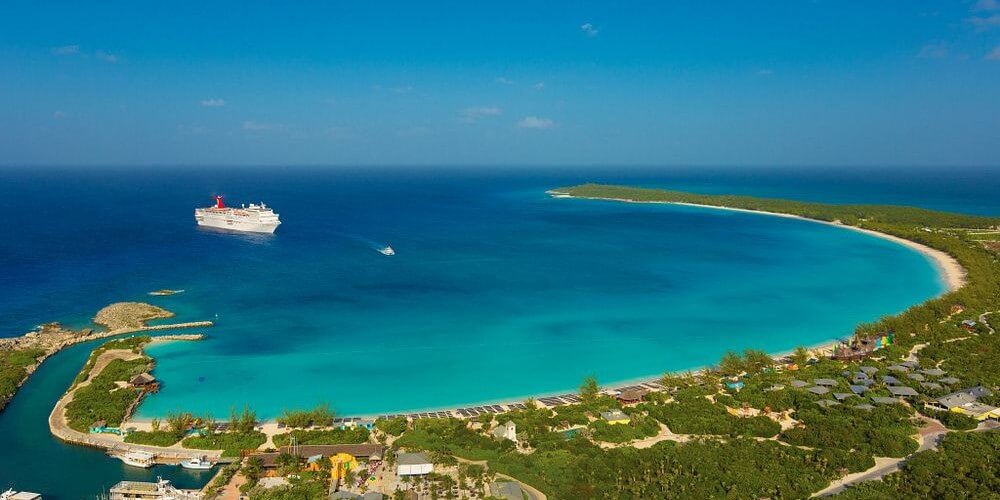 Here are some of the best secrets and tips to help you make the most of your time on Half Moon Cay. You won't have long, so make the most of it!
1. Half Moon Cay is Owned by Carnival Corporation
There are a handful of islands in the Caribbean owned by cruise lines, and Half Moon Cay is one of the highest-rated. It's owned by the Carnival Corporation, although it was previously owned by Norwegian Cruise Line, when it was known as Little San Salvador Island.
As the Carnival Corporation now owns it, Half Moon Cay is visited by two of the company's cruise lines – Carnival Cruises Line and Holland America Line.
None of the other major cruise lines owned by the company like P&O Cruises, Princess Cruises or Seabourn have cruises scheduled to visit the island in the next few years.
2. The Food is Free at Half Moon Cay
When you cruise to Half Moon Cay, the food is completely free. Because the island is owned by the cruise line, food on the island is considered part of your cruise fare. The exception is ice cream, while sodas and alcoholic drinks are also chargeable.
Guests can enjoy a full barbecue lunch buffet on the island, but only from 11.30 am until 1.30 pm. After that, guests can pick up a small snack from the bar.
The barbecue is pretty extensive and includes hot dogs, hamburgers, ribs, jerk chicken, chips and salsa, potato salad and more, along with sweets such as banana rum cake, tort, brownies and fresh fruit [Source].
3. You Don't Need a Passport To Go to Half Moon Cay
If you're a US citizen then you don't need a passport to sail to Half Moon Cay, providing you're sailing from the US and you aren't travelling to any other country. You'll need a birth certificate and guests over 16 will also need a state-issued ID. A birth certificate alone is enough for guests under 16.
When leaving the ship, if you've sailed with your passport you can leave it on the ship and just take your Sign and Sail card with you, as this is needed to track who has left the ship and who has returned. You can also charge drinks to your cruise account using the card. [Source]
4. You've Probably Been Pronouncing Half Moon Cay Wrong
The correct pronunciation of 'Cay' is 'Key'. The world is translated from the original Spanish and so locals will pronounce it as 'key'. You can use either, and the cruise line announcements themselves may use 'cay'. But 'key' is the official pronunciation.
The word 'Cay' comes from the Spanish 'Cayo' which means key, and it's been used to describe islands since 1707 [Source].
5. There Are Sharks at Half Moon Cay
There have been some sightings of sharks at Half Moon Cay, although more commonly they are smaller sharks such as lemon sharks. There aren't any reports of any Great White Sharks or other dangerous species swimming around the island.
Having said that, if you do want to go for a swim, it's always best to stay alert since there will be aquatic wildlife around you. Follow any safety advice you are given. The waters at Half Moon Cay are crystal clear, so it will be easy to keep watch without having to be ultra vigilant. You'll still be able to enjoy a swim! [Source]
Suggested read: Do Sharks Swim Around Cruise Ships?
6. There Are Plans To Build a Pier at Half Moon Cay
Currently, cruise ships visiting Half Moon Cay anchor at sea and use tenders to transfer guests to the island. But there are plans to add a proper pier to the island. The addition of a full-size pier will make it much easier and faster to load and unload guests on the ship.
The plans were originally announced in 2019 but then things got held up due to the global shutdown. A confirmed date is still yet to be announced but the plans haven't been shelved, as far as we know.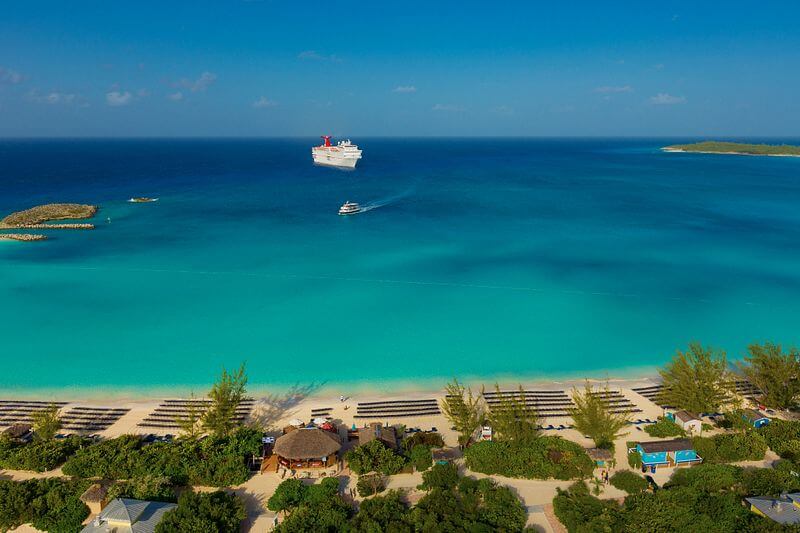 7. Your Drink Package Won't Work on Half Moon Cay
If you have a drinks package already on your ship, this won't extend to your time on Half Moon Cay. Holland America Line passengers can buy an island drinks package for $25, but this offer isn't available to Carnival guests, who have to buy drinks individually.
The Half Moon Cay drink package for Holland America includes up to 15 drinks but can only be used for a single person. It does include soda and water as well, so even if you're not planning on drinking a lot of alcohol it can be good value at that price.
8. There is No Cellphone Service on Half Moon Cay
There is no regular cellphone service on Half Moon Cay, although there is a mast which some cruisers say they have been able to connect to if they're on an international plan. There is also no WiFi, so don't plan to spend the day browsing social media.
Half Moon Cay is designed as a tropical resort where you can enjoy the beauty of nature (and the great food and drink). So try to embrace the lack of technology for the day! If you need to make any kind of emergency call then you'll be able to get support from any of the bars or stores on the island.
9. You Should Take Water Shoes for Your Visit to Half Moon Cay
Some of the areas where you access the beach on Half Moon Cay are quite rocky, and in the water there are some rocky surfaces on the seafloor as well. So it's recommended that you take water shoes with you when visiting the island.
Water shoes aren't super thick but they will protect the soles of your feet from jagged edges. The last thing you want to do is be one of the first to get to the beach to reserve a hammock, only to need a trip to the medical services to treat a cut.
These water shoes from Amazon are good quality and come in lots of different colours and sizes.
10. Half Moon Cay is Pretty Big
Half Moon Cay is small compared to some other islands in the area, but at 2400 acres, it's still pretty big. The main Half Moon Cay beach is 2.5 miles long, while there are activities such as water sports and horse riding further afield from the tender dock too.
So bear that in mind when you're enjoying yourself – don't leave too long a walk to get back to the tenders in time for departure!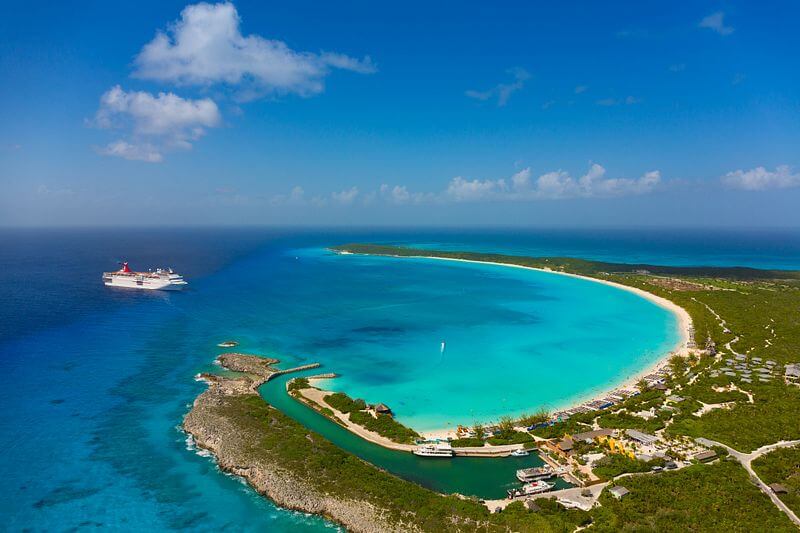 11. Some Souvenir Vendors Only Accept Cash
When buying drinks on Half Moon Cay, you can use your Sign and Sail card to have them charged to your cruise account. But souvenir sellers on the island often only accept cash, so if you want to pick up a gift then you'll need to take cash with you.
While the official currency is the Bahamian dollar, you should be fine paying with US dollars. The straw market on the island definitely accepts them.
12. There Are 9 miles of Beach on the Island
As well as the main Half Moon Beach close to the tender dock, which runs for 2.5 miles, there are another 6.5 miles of beach that guests can access on Half Moon Cay. Some of these beaches are a couple of miles from the tender dock, and tend to be quieter.
Of course, because they're further away it also means you can't just sip on a drink from the nearby bar. And you have to remember to make it back for the return tenders to the ship. But if you like the idea of peace and quiet, consider exploring further beyond the first beach you come across.
13. There's a Pirate Ship on the Island
It's not a floating ship, but Captain Morgan's is a three-storey pirate ship bar situated on Half Moon Cay. The first two storeys are the bar, where you can enjoy drinks and some snacks. The top deck is more of a popular photo-op, giving great views of the surrounding island too.
You'll also find a shipwreck-themed splash zone for kids complete with squirting water cannons.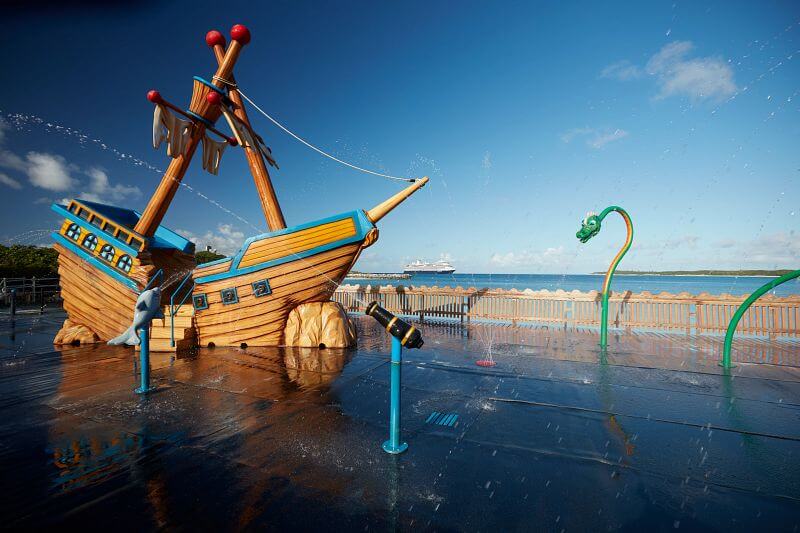 14. You Can Hire a Private Cabana
You can hire a private beach villa on Half Moon Cay. These are designed for up to eight people and cost around $600 per day. For that, you get access to a private hot tub (with space for five people), your own refrigerator, air conditioning (which can be valuable) and a misting shower.
You also get free snacks including fruit and soft drinks along with bottled water. Snorkel gear is also provided for the guests if you want to enjoy a swim in the ocean – which your hut is just yards from.
15. 95% of the Island Hasn't Been Developed
While Half Moon Cay is a lively destination, most of the island hasn't been touched. 95% is still natural forest and beach, along with the lagoon near the centre. Carnival Corporation has announced plans for further development of the island, but details are yet to be announced.
For now, guests can enjoy some beautiful nature walks through the undeveloped areas of the island.
16. You Can Ride a Horse Through the Sea
There are some fantastic Half Moon Cay excursions available, but one of the most popular is with Holland America where you can ride a horse on a trail through land and into the ocean. The horses are safe as the trail is never too deep, and special saddles keep guests safe.
It's a very popular excursion just for how unique it is, and it's open to anyone – even if you've never ridden before. It's a moderate activity lasting for around 75 minutes (with 45 minutes of riding) and costs around $100 per person.
Other excursion options include various water sports, glass-bottom boat tours, bike trails (with bicycle and eco-bike hire) and more.
17. You Can Swim With Stingrays
Half Moon Cay has a special facility called Stingray Cove where guests can snorkel amongst stingrays. It's surrounded by netting to keep other marine life away, meaning you can just focus on enjoying the stingrays themselves.
18. The Island Has a Tram Service
While Half Moon Cay is pretty big, you don't have to walk everywhere. You can hop on the free tram service if you want to get to some of the further afield excursions, such as the stingray swimming experience or horse riding trails.
Everything on the island is within walking distance – no more than 30-40 minutes really – but if you've got tired kids with you at the end of a long day of fun, hopping on the tram back towards the tender dock can be a bit of a lifesaver.
To Conclude
There's a lot that you can enjoy on a visit to Half Moon Cay, some of which may surprise you. Because of that, it is a popular port for guests to disembark, so you may want to make sure you're up early if you want to reserve a deck chair or hammock. The island will get busy with cruise guests, especially on days when there are multiple ships visiting.
Have you been to Half Moon Cay? I'd love to add your own top tips to this list as well, so leave a comment and let me know what you'd recommend.
Related Posts: