Castaway Cay is one of the most incredible cruise line-owned private islands in the world. With gorgeous white sand, warm turquoise water and Disney characters wandering around here and there, it's a true paradise destination.
A visit to Castaway Cay is sure to be a highlight of your vacation. But before you go, be sure that you read up on these insider tips that you'll need to make the most of your day on the island…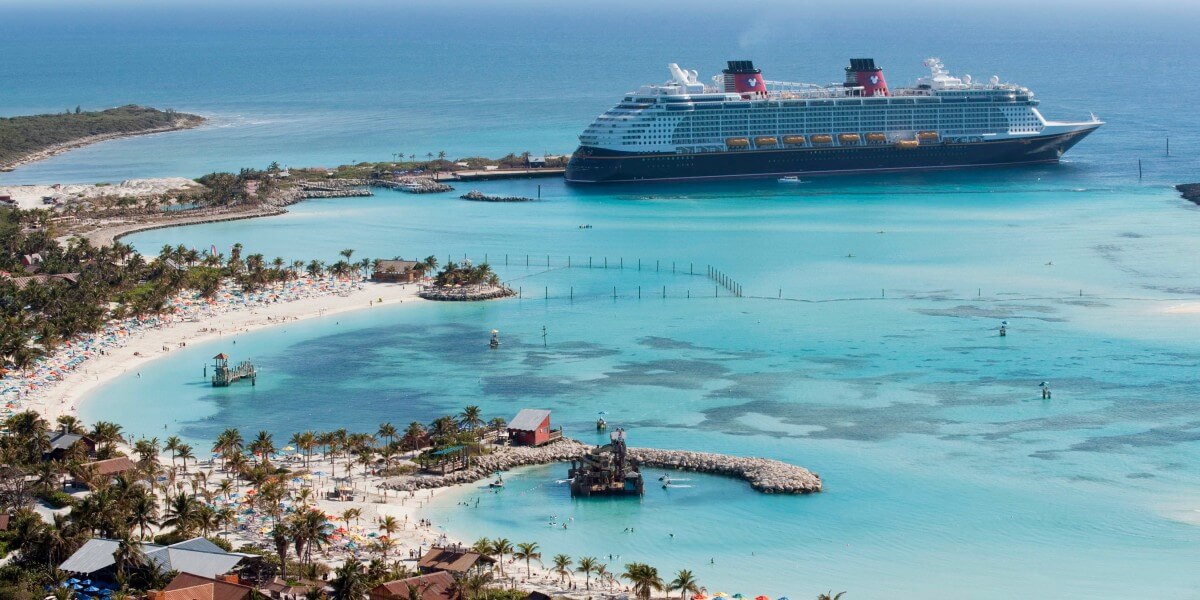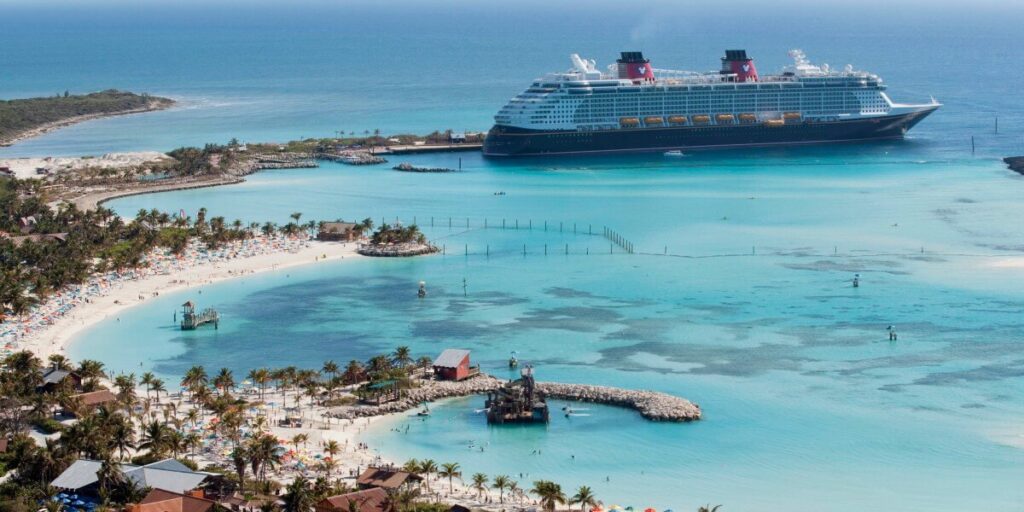 1. The only way to get to Castaway Cay is by cruise ship
Castaway Cay is a private island that's owned by Disney Cruise Line. The only way to visit Castaway Cay is to take a Disney cruise. Not all Disney cruise itineraries call at Castaway Cay, so look out for one that does if you have your heart set on visiting this paradise island.
Castaway Cay is located in the Bahamas, near Great Abaco Island. It's 73 miles north of Nassau and 248 miles east of Port Canaveral, Florida.
2. Entrance to Castaway Cay is included in your cruise fare
Many people wonder how much it costs to visit Castaway Cay. The truth is that admission to the island is free of charge. Once you've paid for your cruise, you can visit Castaway Cay at no extra cost and there are lots of free attractions to enjoy on the island.
However, if you want to take part in an excursion on the island such as a snorkelling trip, a glass bottom boat ride or a walking tour, then you can do those for an extra cost.
3. The food is free, but don't miss it
Meals and ice cream are free on Castaway Cay. A buffet-style lunch is served between 11.30 am and 2 pm so you can help yourself to barbecue food like burgers, hot dogs, ribs, salad, fruit and cookies.
Places you can grab food include Cookie's BBQ, Cookies Too BBQ and Serenity Bay BBQ. They all serve pretty much the same dishes but be sure to arrive before 2 pm. After that, your only option to eat on Castaway Cay will be to grab snacks from the bar.
4. There once was a pirate ship at Castaway Cay
The Flying Dutchman ghost ship from the movie Pirate of the Caribbean: Dead Man's Chest was displayed at Castaway Cay between June 2006 and November 2010. This movie prop was a spectacular sight to behold until it was removed due to its deterioration.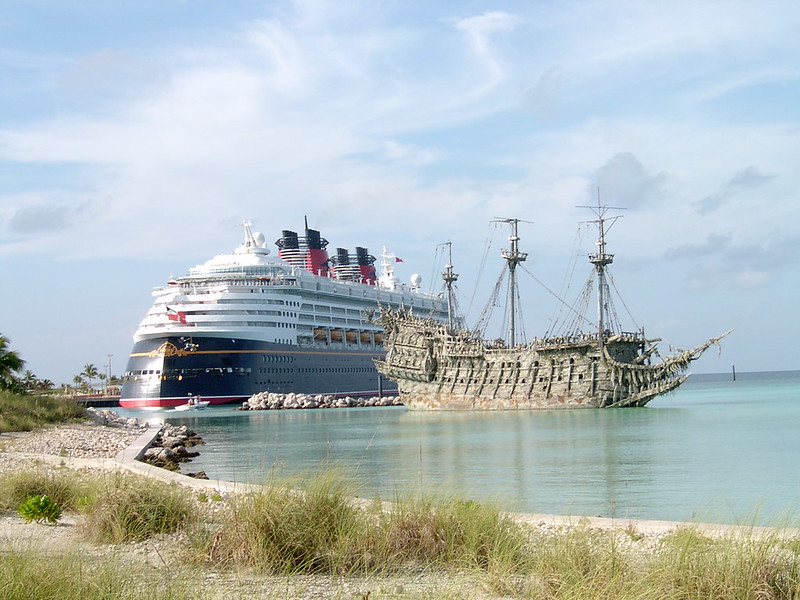 While the pirate ship was certainly impressive, with its intricate details, it was only meant to be a movie prop and not to withstand the weather for years on end. So, in 2012, the Flying Dutchman was taken to another location on Castaway Cay where it was dismantled.
5. Some Disney Cast Members live on Castaway Cay
Around 100 Disney Cast Members live on Castaway Cay all year round, while more commute by boat from the nearby island of Abaco. Cast Members who live on the island include landscapers and maintenance workers.
The people who live on Castaway Cay live in prefabricated dormitory-style houses. They have their own crew beach, a football pitch, gym and indoor recreation area.
6. The water at Castaway Cay is warm all year round
The sea temperature at Castaway Cay ranges from 70°F (21°C) in January to 88°F (31°C) in July and August. Even in the winter, the sea is warm enough to swim and in the height of summer, the shallow waters will feel very warm indeed.
I visited in July and the sea was a little too warm to provide much respite from the sweltering heat. In this situation, the best option is to get wet and then relax in the shade!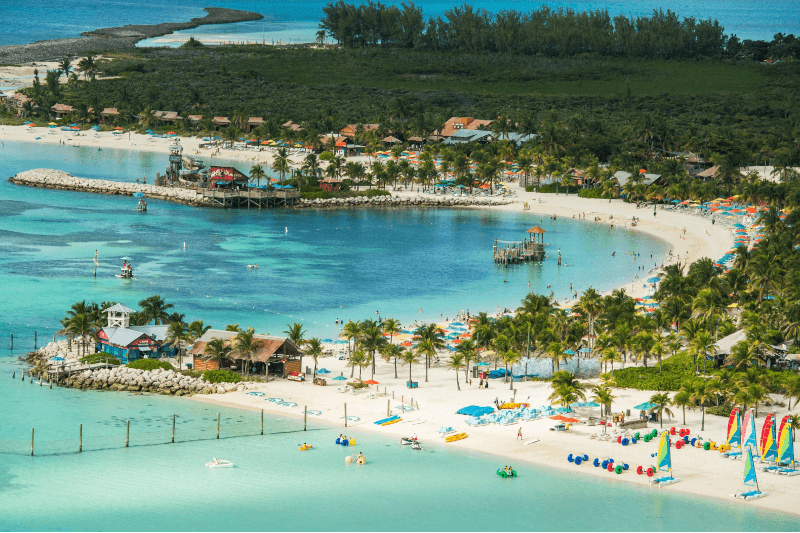 7. You can't stay overnight on the island
It's not possible to stay overnight on Castaway Cay. Your ship will dock at the island at around 9 am and leave at around 4 pm. So the longest you can stay on the island is around seven hours.
Listen out for the ship's horn in the afternoon. That will signal the last tram back to the dock. If you miss that, you'd better run back to the ship quickly to avoid being stranded on the island!
If one day just isn't enough for you, there are some cruises that call at Castaway Cay twice. So look out for those activities for maximum island time.
8. You don't need to take towels with you
As you get off the ship at Castaway Cay, you'll be handed towels to use on the island. The towels are large beach towels, so they're big enough to lay on. You're welcome to take two per person so you have one to sit on and one to dry off with.
If you forget to grab towels as you leave the ship, don't worry. There are towel stations across the island where you can collect some, or exchange your wet ones for dry ones.
When you head back to the ship, there will be a bin to throw your used towels in. Nobody checks to make sure that you returned your towels, but it's polite to do so and not leave them on the island.
9. 95% of Castaway Cay is wild
Castaway Cay is 1,000 acres in size, but only 55 acres of the island are developed. Although the island is 3.1 miles long and 2.2 miles wide, 95% of the island is untouched. It's mostly made up of lush, natural forests.
10. You can run a 5K race on Castaway Cay
Each morning there's a 5K race on Castaway Cay. It's free to enter and all participants receive a medal. You don't need to run to enter, you can walk if you prefer. As well as seeing some interesting parts of the island that most people miss, if you take part in the Castaway Cay 5K you're guaranteed to be one of the first people off the ship in the morning.
You can register for the Castaway Cay 5K by signing up on the Disney Cruise Line Navigator app or at guest services once on board. It is weather permitting though, so there's a chance that it may be cancelled if the weather is bad.
11. You can snorkel for free at Castaway Cay
When looking at Castaway Cay excursions, you'll see several options for snorkelling for an additional fee. However, you can snorkel for free at Castaway Cay if you bring your own snorkelling gear.
The Snorkelling Lagoon has two snorkelling trails – one for beginners and one for more experienced snorkelers. You can rent snorkels, masks and flippers if you don't have your own. But life vests are complimentary for everyone and really help you to float so I'd recommend that you grab one.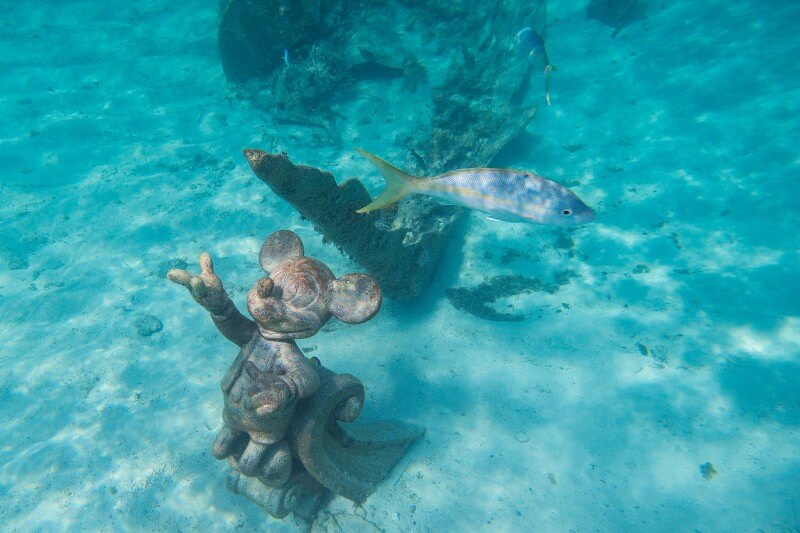 12. There are sharks at Castaway Cay
Castaway Cay has shark nets around the family beach and snorkelling area, but none at the adults' beach, Serenity Bay. If you swim at Serenity Bay you may sometimes see sharks up to six feet in length. You don't need to worry though because the sharks at Castaway Cay are nurse sharks that are harmless to humans.
You can swim with nurse sharks without any problems. They will only bite if you step on them or otherwise provoke them. While they do have thousands of teeth, nobody has ever died from a bite from a nurse shark and any injuries have been minor and very rare. There are no reports of shark attacks at Castaway Cay.
Other dangerous creatures to be on the lookout for include jellyfish, barracuda, sea lice, stingrays, sea urchins, anemones and fire coral. There are also lots of harmless and pretty sea creatures like starfish and all kinds of pretty tropical fish.
13. It's almost impossible to get a cabana
Castaway Cay cabanas cost between $399 and $949 to rent for the day. But despite the large price tag, they are always in demand and so it can be virtually impossible to reserve one, unless you're a Concierge or Platinum guest. This is because there are only 24 cabanas on Castaway Cay and thousands of guests on the ship.
During my visit, I was lucky enough to snag a Castaway Cay cabana in the Serenity Bay area. I'll be writing a full review of it soon, so be sure to check back for that.
To reserve a Castaway Cay cabana, you'll want to book it on the Port Adventures section of the Disney Cruise Line website as soon as bookings open. Guests staying in Concierge-level staterooms and suites can book 125 days ahead and guests with Platinum Castaway Club Member status can book 120 days ahead.
After that, guests with Gold or Silver Castaway Club Member status can book cabanas 90 days before the cruise sets sail. If you've never cruised with Disney before, you're very unlikely to be able to book a cabana. But, people do cancel sometimes, so if you keep checking online every day then you might get lucky.
Failing that, you can check with guest services as soon as you board the ship, in case anyone with a cabana has cancelled their cruise at the very last minute. This is rare, but it does happen sometimes.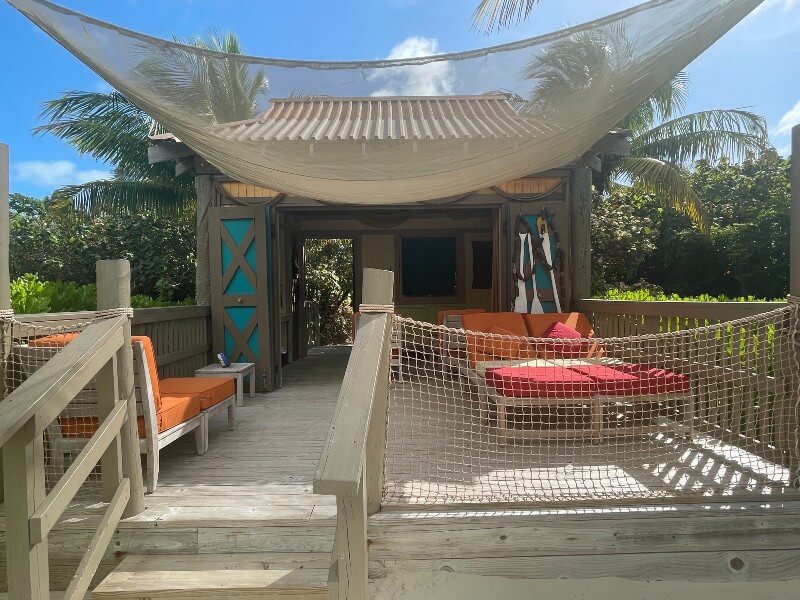 14. You've probably been pronouncing Castaway Cay wrong
Castaway Cay is actually pronounced as 'key'. The word 'cay' comes from the Spanish word 'cayo', which means 'key' – a small, low island. Although the correct way to pronounce Cay is 'key', many people do pronounce it as 'kay' and it's okay to do so if you wish.
15. You can get married on the beach
Wedding ceremonies at Castaway Cay are available with up to 100 guests. The price starts at $4,500 for 16 guests, with extra guests costing $20 each. As well as a morning ceremony on the beach with live music, you'll enjoy an intimate celebration back on the ship afterwards.
16. There are no rides on Castaway Cay
Despite being owned by Disney, there are no rides on Disney's private island in the Bahamas. Popular activities in this idyllic location include snorkelling, cycling, relaxing on the beach, basketball, ping pong and dance parties. There are waterslides for kids at the Pelican Plunge area, but no rides as such.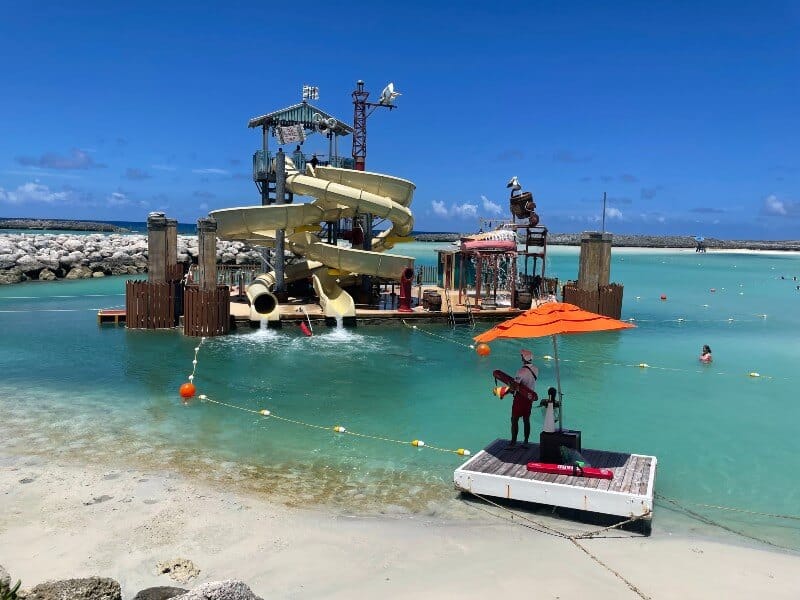 The waterslides are great though. The one on the left is really fast, but I preferred the slide on the right which is much more relaxing. The landing area is too deep to stand, but don't worry if you're not a strong swimmer, life jackets are available for you to use.
17. There's limited wifi, but plenty of phone signal
Many areas of Castaway Cay don't have wifi, but you can access it in some of the bars, particularly the ones closest to the ship. However, the island does have a cell tower so you can use your mobile phone data. Roaming charges are the same as anywhere else in the Bahamas.
Suggested read: How to Avoid Roaming Charges on a Cruise
18. Castaway Cay has a secret observation tower
It's something of a hidden gem, but Castaway Cay has a 40-foot-high observation tower where you can enjoy stunning views over the island. To get there, take the tram to Serenity Bay then follow the cycle path to it. You'll also pass it if you do the Castaway Cay 5k, so be sure to take a few minutes to stop to climb it.
19. Book a room on the starboard side for the best views
Disney cruise ships typically back into the port when they dock at Castaway Cay, so if you choose a room with a balcony on the starboard side of the ship, you'll have great views of the island from your stateroom.
We watched the early-morning arrival into Castaway Cay from our balcony on the starboard side of the Disney Wish.
20. Eat breakfast in the buffet for morning island views
While Disney Cruise Line's Dining Room breakfasts are incredible, I would advise eating in the buffet on the morning of your day ashore at Castaway Cay. Not only is this much quicker, so you'll have more time to explore the island, but you'll also enjoy the best views of the island.
Most ships have an outdoor area at the back of the buffet. Head here and you can enjoy spectacular views of Castaway Cay while you eat.
21. Those with special diets should pre-order their food
If you're vegetarian, vegan, gluten-free or have another dietary requirement, then pre-ordering your food is a must. You can do this with your waiter in the main dining room on the evening before your visit.
There are a choice of vegan options including the Impossible burger and plant-based chicken tenders. You can also get fries, which aren't available to everyone else.
Pre-ordered food will be delivered to Cookies BBQ, so you'll need to head there to collect it, rather than to Cookies Too or the Serenity Bay BBQ. When you arrive, there's a special counter to the left of the buffet. Let them know when you. arrive and they'll cook the food especially for you.
If you haven't pre-ordered, then the special options may still be available, but you might have a long wait if the crew need to head back to the ship to collect the ingredients!
Suggested read: How to Order Vegan Food on a Disney Cruise
22. There's a kids' club on Castaway Cay
Parents who want to enjoy some relaxing time in the adults-only area can drop their kids off at Scuttle's Cove, Castaway Cay's kids' club. Here, youngsters will enjoy all kinds of activities such as scavenger hunts, volleyball and sandcastle competitions.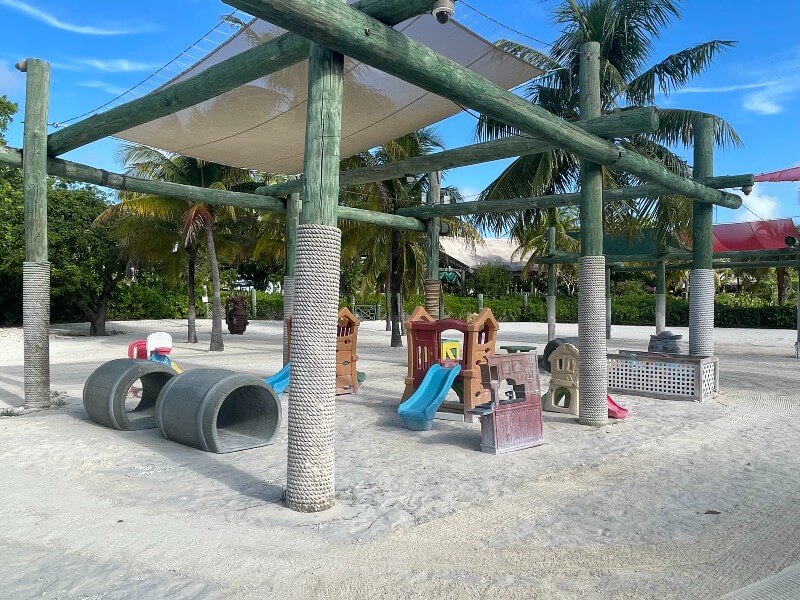 At Monstro Point, kids can become palaeontologists for the day and dig for fossils and dinosaur bones in the sand. If you prefer to stay with your children you can do, and enjoy the dinosaur dig as a family.
23. There are plenty of loungers for everyone
You never need to worry about getting a sun bed on Castaway Cay as there are thousands of them across the various beaches. Sun loungers and umbrellas are all available free of charge and there's no shortage, no matter how busy the ship is.
24. You can enjoy all kinds of games
It's truly impossible to be bored on Castaway Cay. When you've head enough of the beach, head to the shaded games area where you can play all kinds of games including ping pong, table football, basketball shooting, pool, and giant versions of Connect Four, chess and checkers.
25. There's a pier where you can jump into the sea
Located off the shore of the family beach, there's a structure that older kids and teenagers will love. It has ropes to swing from and platforms where you can throw yourself into the sea. It's closed at low tide though, so you'll want to time your visit well to take advantage of the fun that this platform offers.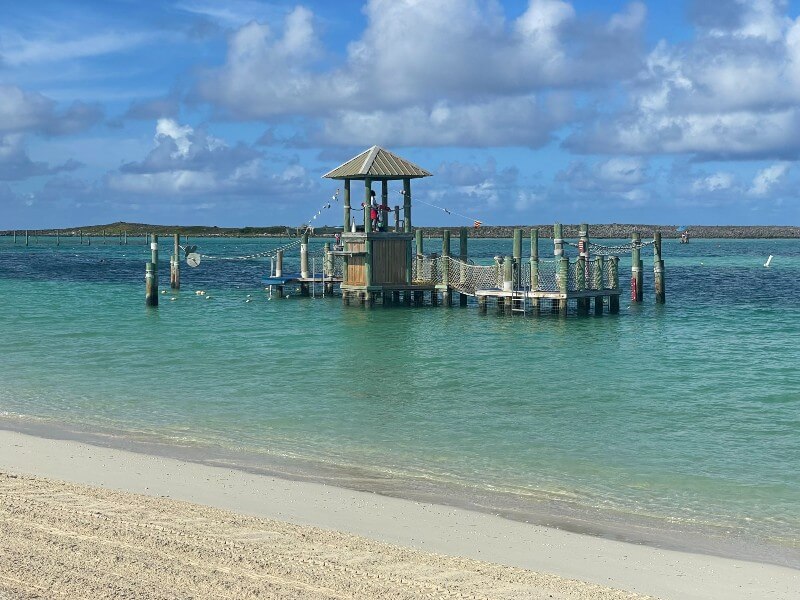 26. Castaway Cay has lots of lifeguards
Disney Cruise Line always puts safety as its number one priority, so on Castaway Cay, there are so many lifeguards that you'd never be able to count them all. Many of the lifeguard stations are located very far out to sea, so you can be sure that you're safe, even if you go for a swim in the ocean.
27. You can hire bikes on the island
Castaway Cay is pretty big, and so one of the best ways to explore is on a bicycle. You can follow the 5k race route, or just use your bike to get from A to B instead of the tram. Bike hire is free for cabana guests, but for everyone else, it costs $13 per hour.
There are lots of different sizes of bikes and helmets to choose from. There are adult bikes with child seats on the back, and small kids bikes for those as young as five. So the whole family can cycle together, no matter the age of your kids.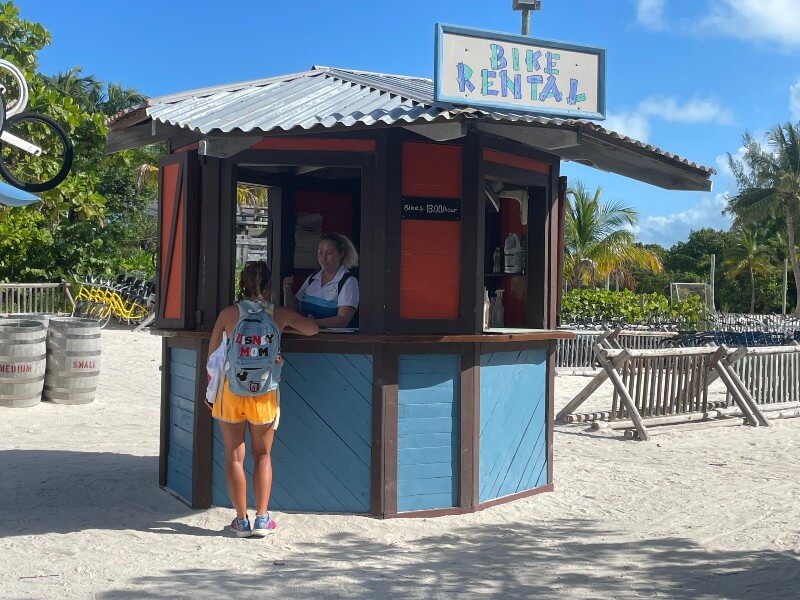 28. Spring-A-Leak is a great place to cool off
Kids too hot? Then don't miss the Spring-A-Leak water play area. It has jets of water that shoot up from the ground – the perfect place for kids of all ages to run around whilst cooling down. Tots in swim diapers are allowed, so even the youngest of babies can cool down in the shade in this fun, family area.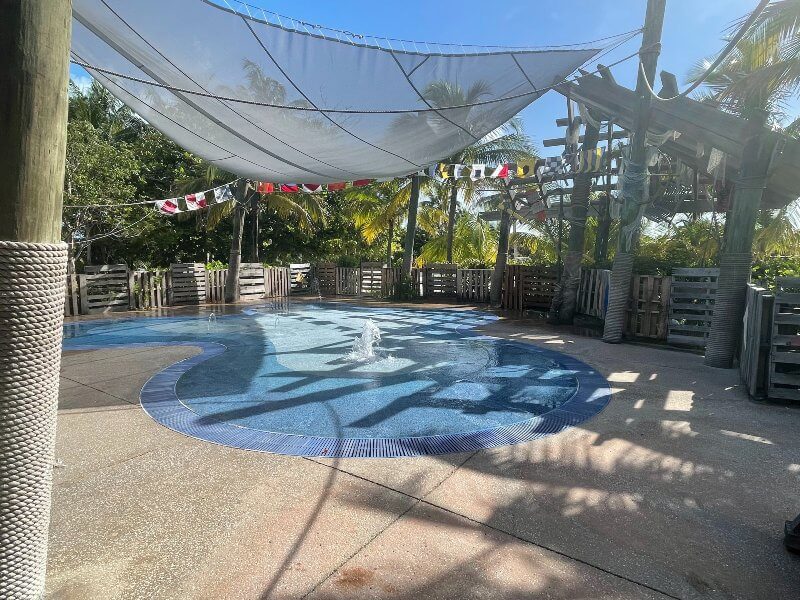 29. Soft drinks are free on Castaway Cay
If you order a drink from any of the bars on Castaway Cay you'll be charged. However, you can enjoy soft drinks and iced water for free at any of the three barbecue areas, even when the food service is closed.
The free drinks include water, Coca-Cola, Diet Coke, Coke Zero, Sprite, Minute Maid Lemonade, Blue Powerade, Ginger Ale and Vitamin Water. Paper cups are provided, but I recommend bringing your own refillable drinks bottle so you can stay hydrated on the move.
You can also refill your water bottle at water fountains that are located outside of most of the restrooms. There are also stations where you can help yourself to lemon-infused ice water at most of the bars, so you really don't need to waste money by ordering bottled water.
30. You can get your hair braided
Hair braiding is very popular on Castaway Cay and this is something that the Bahamian Disney cast members are very skilled in. Braids are priced per braid at $1.50 to $2.50 depending on the length of your hair, while corn rows cost $2 per row. You can also get colourful hair wraps for $2 per inch.
31. You can snorkel with stingrays
For the best snorkelling experience on Castaway Cay, head over to Castaway Ray's stingray adventure. This activity costs $56 for adults and $45 for kids, but you'll get to see stingrays up close and even touch these friendly creatures.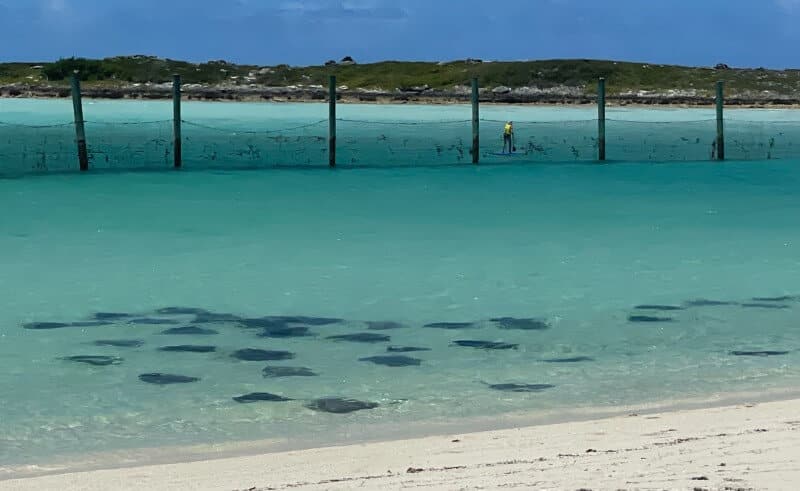 Snorkels, masks and lifejackets are provided and you're given a training session on how to interact with these friendly creatures without upsetting them.
32. Ice cream is free on Castaway Cay
On Castaway Cay, you can enjoy free ice cream from self-service machines that are located at the three barbecue buffet areas. It's available all day long and comes with a choice of different flavours.
33. Mickey and Minnie love to visit Castaway Cay
If you're lucky, you may spot Disney characters Mickey and Minnie during your visit to Castaway Cay. The delightful duo wear special beachwear when they step off of the ship and visit the island.
To Conclude
Castaway Cay is such as wonderful private island that's loved by everyone, whether you want to relax on the adults-only beach with a cocktail, snorkel in the sea or do something more energetic like go cycling or running.
I hope that this guide has helped you to plan your trip, but if you have anything else to add, please do so in the comments below.
Related Posts: