The FlowRider is not a Royal Caribbean invention – it was created as a land-based attraction originally, but then partnered with the cruise line and there's been no looking back. The FlowRider is always one of the most popular attractions on a Royal ship.
But if you've never tried it before, you've probably got questions. Don't worry though, because I've looked through all the most-asked questions about FlowRider and gathered the answered for you below.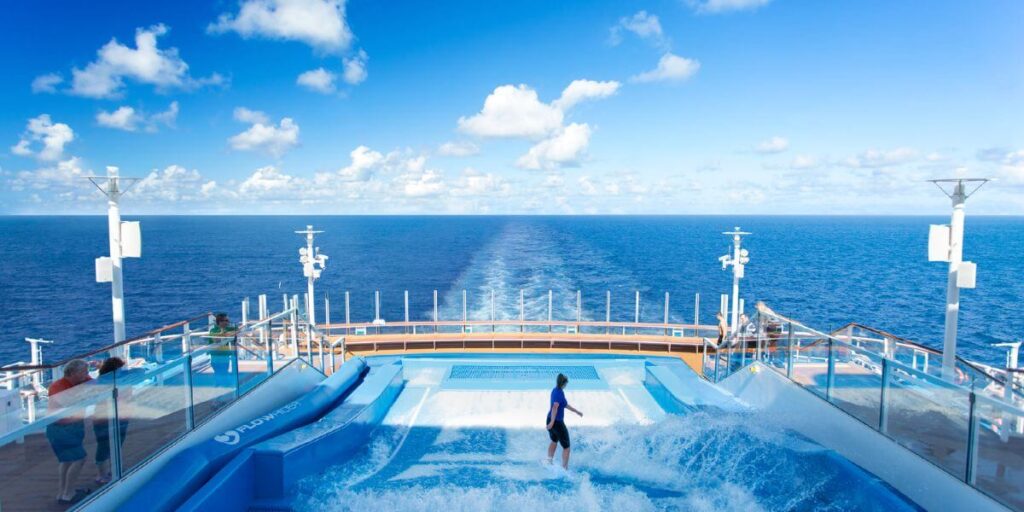 Which Royal Caribbean ships have a FlowRider?
The FlowRider debuted on Freedom of the Seas in 2006 and has been added to every Royal Caribbean ship since. It's also been added to some older ships. Now, 19 of the 27 ships in the fleet have at least one FlowRider on board.
I say at least, because four of the ships actually have two on board to help minimise queue times.
The Royal Caribbean ships that have FlowRider are:
Adventure of the Seas
Allure of the Seas (2 FlowRiders)
Anthem of the Seas
Explorer of the Seas
Freedom of the Seas
Harmony of the Seas (2 FlowRiders)
Icon of the Seas
Independence of the Seas
Liberty of the Seas
Mariner of the Seas
Navigator of the Seas
Oasis of the Seas (2 FlowRiders)
Odyssey Of the Seas
Ovation of the Seas
Quantum of the Seas
Spectrum Of the Seas
Symphony of the Seas (2 FlowRiders)
Voyager of the Seas
Wonder Of the Seas
How does a FlowRider work?
The FlowRider is a surfing simulator. It consists of a 12-metre-long soft sheet that is constantly covered by a fast-moving sheet of water that's around 2.5 inches deep. This is created using high-volume pumps to recreate the waves of the ocean.
This constant wave lets you try surfing or bodyboarding. It's not the same as real surfing, as ocean waves rise and eventually fall. The FlowRider is consistent, so if you've got the skills you can stay surfing constantly.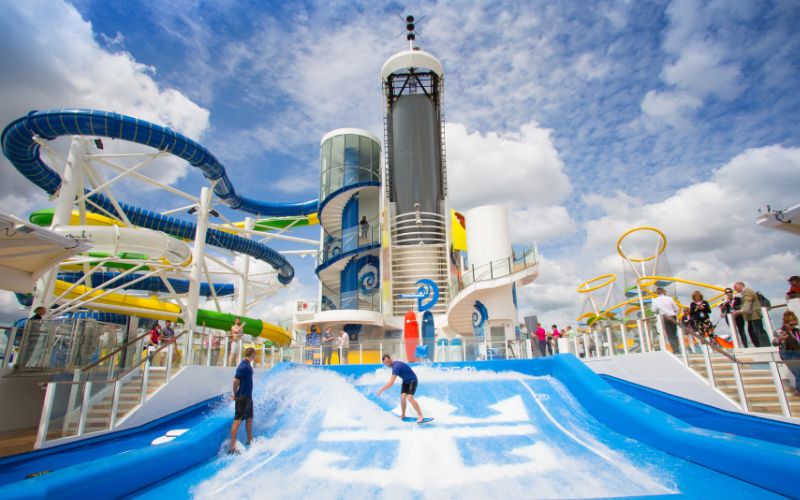 How fast does FlowRider go?
The FlowRider uses large pumps to move 30,000 gallons of water across the surface at a speed of around 20 miles per hour (mph). This is pretty fast, and if you fall off you should expect to slide at quite the speed until you hit the back wall.
Don't worry though, it's padded for your protection and the water isn't very deep at all. Anyone that meets the minimum height and age requirements (detailed further in this article) will be big enough to withstand the crash into the back wall with no discomfort or risk.
Is there a charge for the FlowRider?
The FlowRider is a free activity on Royal Caribbean ships. You just need to turn up and join the queue. However, you can also book a private lesson. These cost $69 per person for one hour.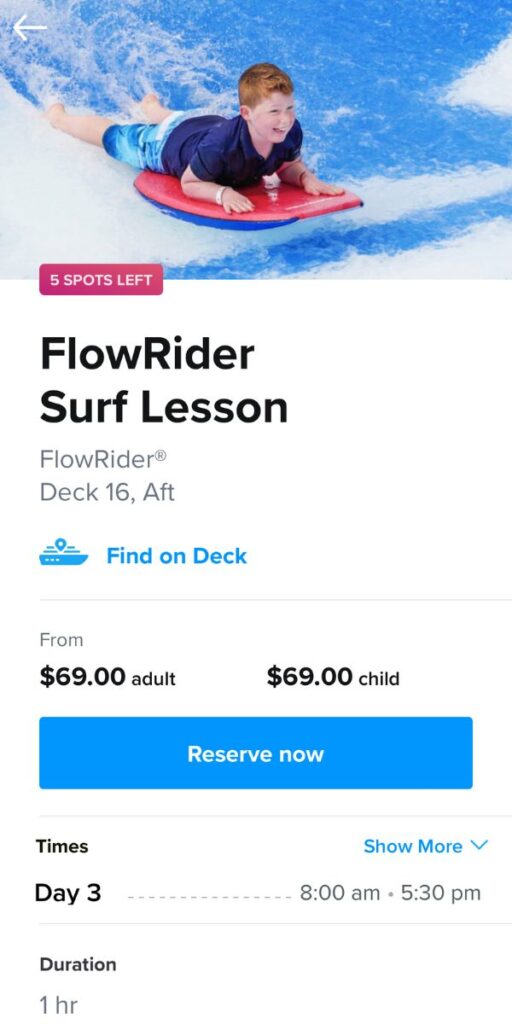 The private FlowRider lessons aren't really 'private' – they're shared with up to seven other guests. But, you'll get some tuition and a lot more time on the FlowRider than if you turn up to a free session.
How do you book the FlowRider?
You don't need to book the FlowRider if you just want to ride it – you can turn up and queue when it's open. Check the Cruise Planner for opening times. To book a private lesson check the Cruise Planner app. Alternatively, you can book at Guest Services.
The private FlowRider lessons don't tend to sell out completely but they do get quite popular, so if your priority on your cruise is getting the most out of your FlowRider time, I'd recommend booking a private lesson as soon as you can. This makes it easier to then plan the rest of your cruise as well.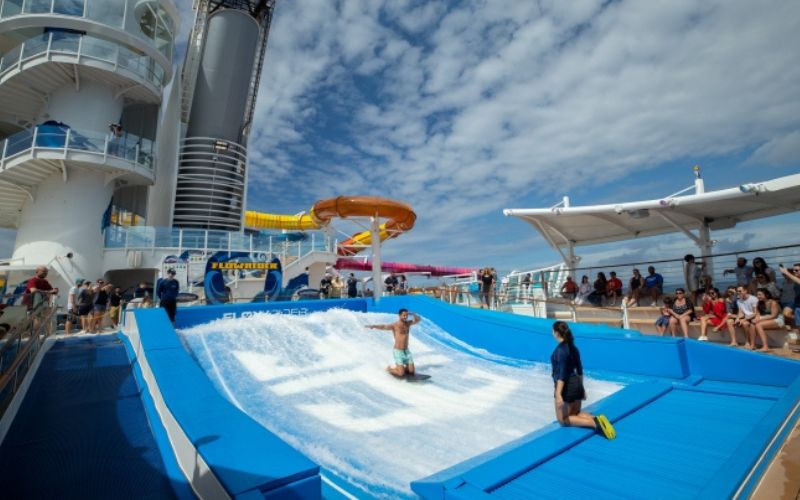 How long are the lines for the FlowRider?
As Royal Caribbean's FlowRider is quite popular, particularly on warm-weather cruises and on sea days, you will need to queue and wait your turn. A turn only lasts as long as you stay on the board, but if you deck it straight away, you will be allowed to get back on.
If you want to stay on for a long time, it's best to turn up as soon as it opens, or later in the evening when it's less busy.
There are sometimes two different sessions – one for bodyboarding and one for stand-up surfing – so be sure to check the Royal Caribbean app to see if this is the case on your cruise and choose the right one if needed.
On certain ships, there are also some sessions for guests staying in Star Class Suites, and guests who have purchased 'The Key', so that they can ride without having to join a line.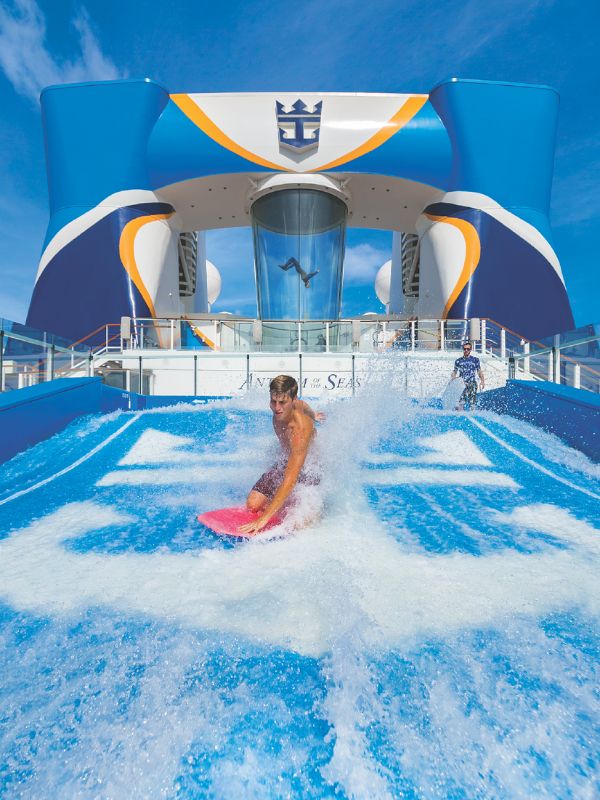 The FlowRider is generally open for around four hours a day for non-booked use, so you should get plenty of opportunities to try it.
Most people on forums report an average wait of 15 minutes, although that really depends on how long the line is and how long people can stay on for.
And don't assume if you're a talented surfer that this means you'll get really long turns – the staff will soon spot you and start throwing challenges your way to increase your likelihood of falling off so that others get a turn as well.
Royal Caribbean FlowRider Height Restrictions
There are two different height restrictions for the FlowRider. If you want to use a boogie board lying down, you must be at least 52" tall (4 ft 3", or 132 cm). Anyone who wants to stand up and surf must be at least 58" tall (4 ft 10", or 147cm).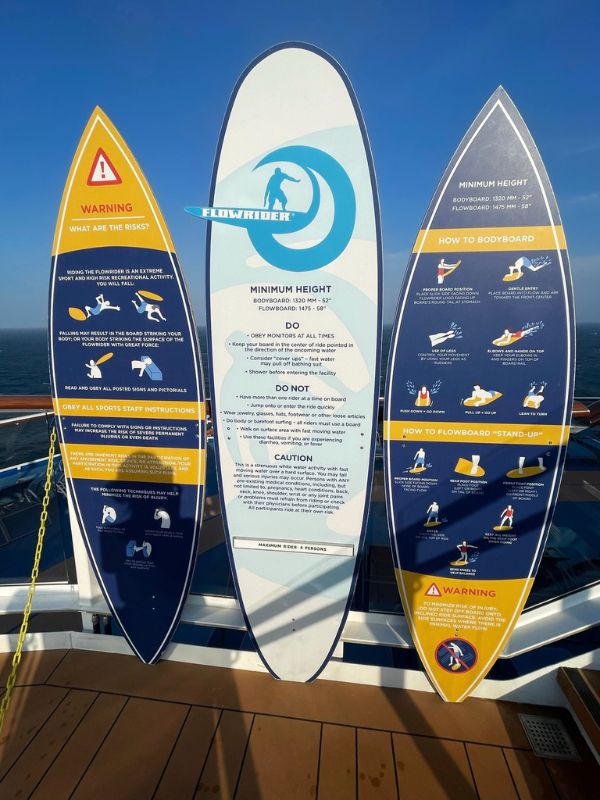 Royal Caribbean FlowRider Age Limit
The FlowRider has an age limit – guests must be at least six years old to ride it, and must meet the minimum height requirements too. Any guests aged 6 to 12 must also be supervised by an adult while using the FlowRider.
To be clear, that's an adult travelling with them – the guard overseeing the FlowRider doesn't count!
Most six-year-olds aren't tall enough to use the FlowRider anyway, although some may be. The minimum height is 52 inches, which is the height of the average eight-year-old.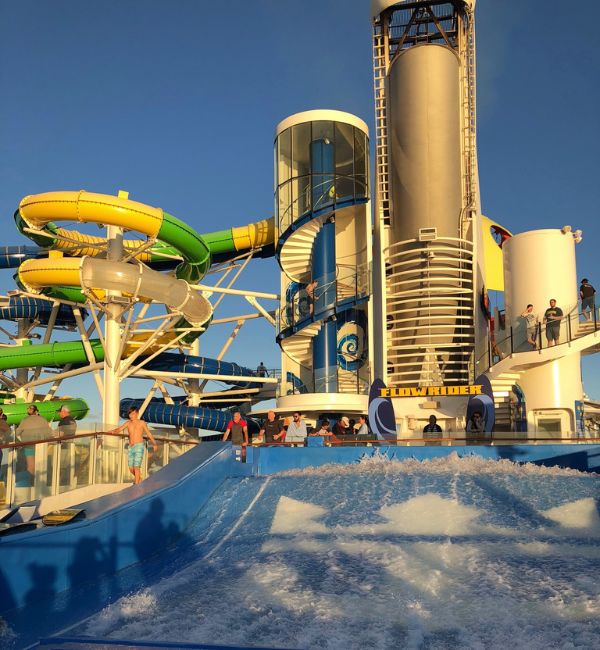 Royal Caribbean FlowRider Weight Limit
There are no advertised weight limits for the FlowRider. Royal Caribbean does publish weight limits for some of its other attractions, including water slides and the zipline, so you can assume that as long as you meet the age and height requirements, you're permitted to use the FlowRider.
Can you learn to surf on FlowRider?
It is possible to learn to surf on the FlowRider, but experienced surfers say that it isn't the same as riding ocean waves. You may learn some basic surfing skills on the FlowRider, but don't then expect to be able to surf naturally when you get onto the ocean.
If you want to try surfing for the first time, ask the lifeguides on duty for advice – they're really friendly and helpful and will gladly offer tips, as long as you don't prevent them from keeping an eye on other surfers by asking too many questions.
The best advice I've found is to try to put your weight on your back foot and avoid lifting your feet off the board at any time.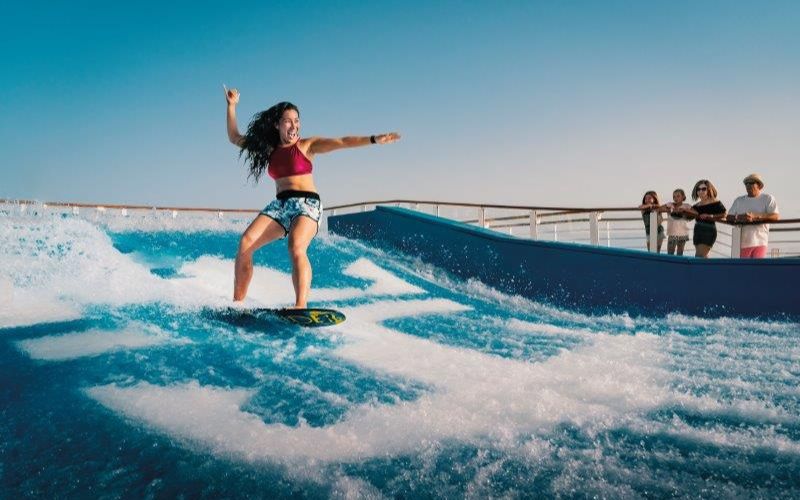 Is FlowRider hard?
The FlowRider is pretty tricky when you first start using it, especially if you want to try surfing standing up. Expect it to take a few turns before you get used to the moving water, and stick to boogie boarding if you don't feel confident surfing.
Like anything, it gets easier the more you try it. If you expect to wander up, have one turn and be satisfied, you'll probably end up really disappointed! Set aside a good hour or so if you want to get the most out of it.
Is FlowRider dangerous?
The FlowRider is generally a safe attraction and most people who use it and follow the instructions will have a great time. As with any extreme sporting attraction, there is a small element of risk, so you do need to sign a waiver before you can ride it.
If that concerns you, there are plenty of other attractions that you could try on the ship. But provided you follow the instructions of the team looking after the FlowRider and don't push yourself beyond sensible limits, you should be absolutely fine.
What do you wear on the FlowRider?
It's recommended that you wear a tight-fitting high-neck t-shirt and a swimming costume or swimming shorts to ride FlowRider. No footwear of any kind is allowed, nor are you allowed to wear goggles.
Just a heads up for anyone wanting to wear a bikini or a loose-fitting t-shirt – the force of the water is likely to either pull it off you, or with a t-shirt at least soak it and make it very baggy. It's best to wear a one-piece and have a high-neck t-shirt covering you up.
If you're wearing board shorts, make sure they're tied nice and tight for the same reasons. Nobody wants to see your bare behind, or anything else, when you come flying off the board!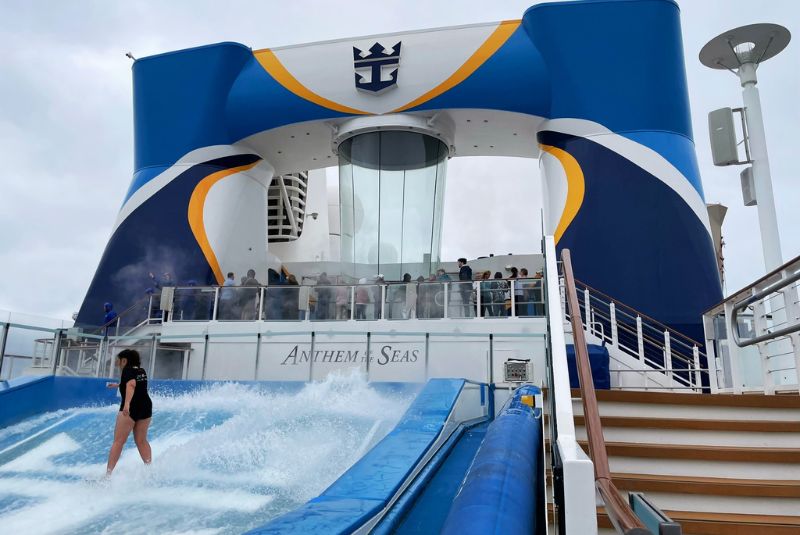 What should you bring to the FlowRider?
The only thing you need to bring with you to the FlowRider is suitable clothing and a towel to dry off afterwards. You'll be given a wristband that you'll need to wear once you've signed a waiver – this shows that you're allowed to ride.
You shouldn't bring any goggles, since you aren't allowed to wear them, and you're not allowed to take any GoPros or other action cameras onto the FlowRider with you either. It's dangerous and likely to break them, even if they are designed to be robust.
You'll also need to remove any jewellery, and you definitely don't want to leave your phone in the pocket of your shorts.
FlowRider Tips
1. The FlowRider tends to get busier further into the cruise – people see others using it and get more confident, so they decide to have a turn. The quietest days to use the FlowRider are embarkation day and port days. On other days, try to attend early morning sessions.
2. There may be special times reserved for adults or for teenagers – make sure you check the Cruise Planner before you get all of your surfing gear on in case it's not a time you're allowed to use it.
3. When boogie boarding, try to keep your arms narrow – it's normally your arms that catch enough water to pull you off the board. Keep your legs in the water as much as possible as well, to reduce drag.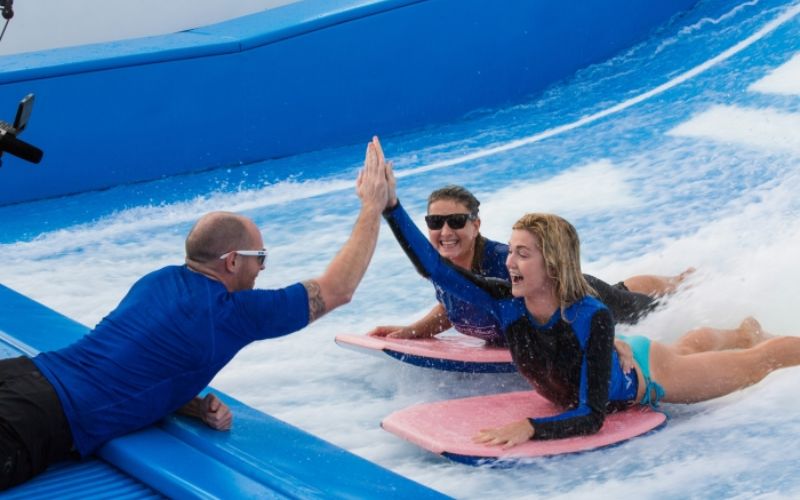 The FlowRider is a lot of fun, so don't be afraid to give it a go! If you have any more FlorWider tips, please add them in the comments section below…
NEW DEALS JUST RELEASED!
Don't miss the latest Royal Caribbean offers…
Related Posts: