Royal Caribbean's Grand Suites are often considered to be the first true suite that you can book on board. There are Junior Suites, considered the entry point into the suite classes, but they don't come with anywhere near the same perks as the Grand Suites.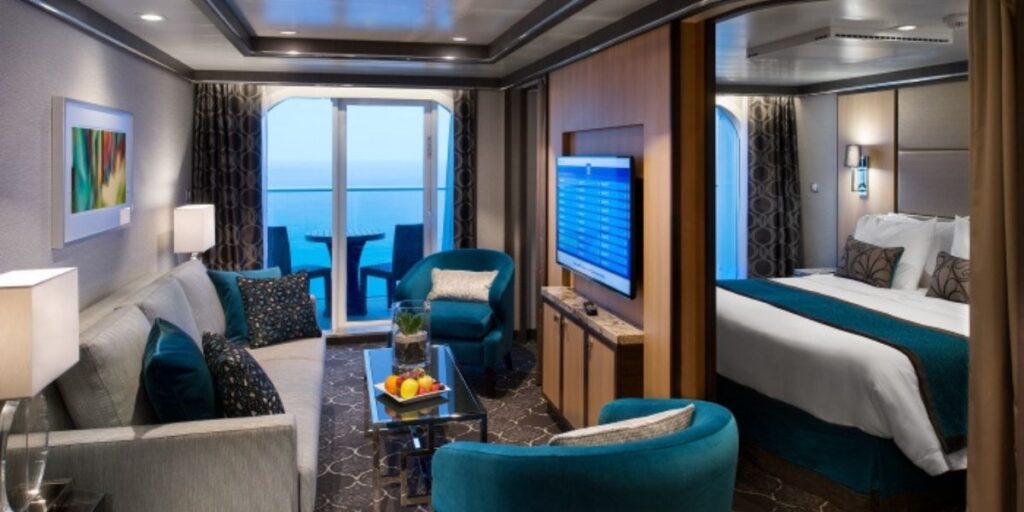 Grand Suites are where you'll really enjoy the benefits of being a suite guest, but what exactly do you get?
It's a little confusing since there are two different packages, depending on which ship you're booked onto, but I'm here to make it really clear.
What Is a Grand Suite on a Royal Caribbean Cruise Ship?
A Grand Suite is considered to be the true entry-level to the full suite class on Royal Caribbean. Grand Suites are upgraded veranda staterooms, offering more space in both the room and on the balcony, as well as coming with a number of extra benefits.
They are not the cheapest suite on board, since Junior Suites are considered to be part of the suite class of accommodations, but Junior Suites only come with a small selection of perks.
Grand Suites offer the full suite experience, so if you want to feel like a full suite guest with Royal then these are the lowest level of suite you should book.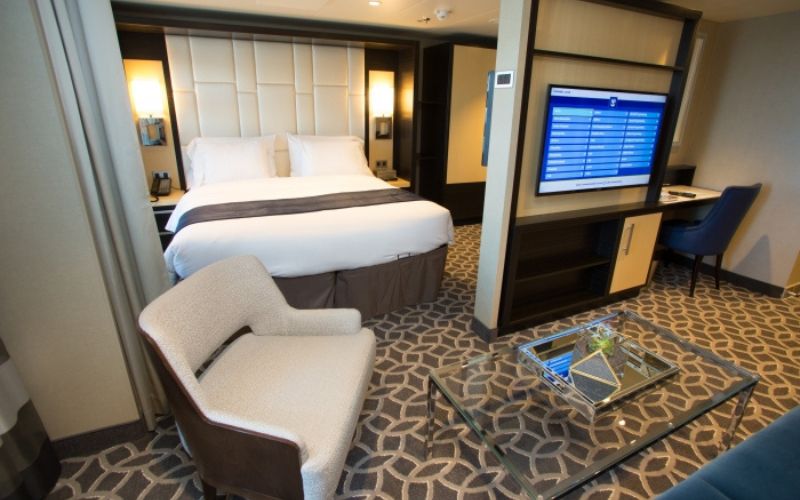 What Do You Get With a Grand Suite on Royal Caribbean?
The perks you get with a Grand Suite vary depending on which ship you book, but you will always get priority boarding and departure at the start and end of your cruise, a Concierge service, access to the Suite Lounge on-board and priority dining reservations.
There are two different suite packages depending on which ship you sail with, and that impacts the Royal Caribbean suite benefits you'll enjoy. Older ships are part of the Royal Caribbean Suites Program, while newer ships – specifically the Oasis Class and Quantum Class ships – offer the Royal Suite Class.
Read more: Royal Caribbean Suite Perks
Grand Suites are one of the few accommodation types available fleet-wide, so there are different Grand Suite perks depending on your ship.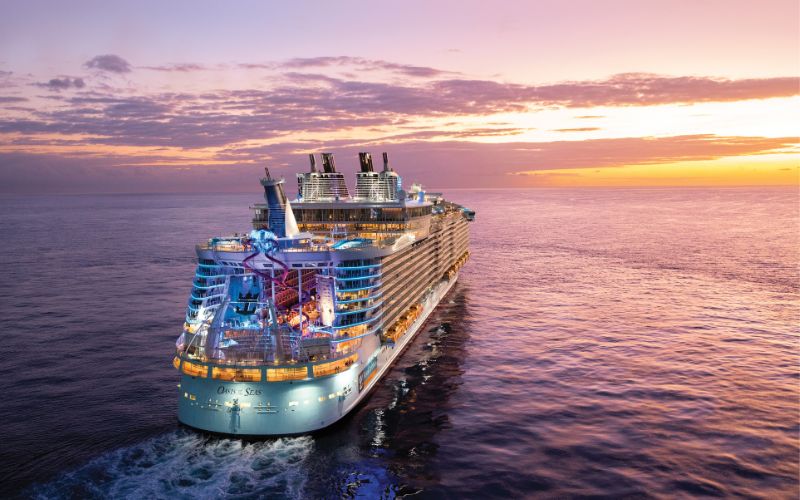 Here's a Look at the Grand Suite Perks You Get Regardless of the Ship You're Sailing On:
Priority Boarding
One of the best perks of booking a Grand Suite is priority boarding. On the day of your cruise, you won't have to wait in line with potentially thousands of other guests, waiting your turn to be allowed onto the ship.
Instead, you'll be one of the first to be allowed to board, which means you'll not only queue less port-side, but you'll also beat the rush for lunch on board as well. You may not get access to your suite any earlier, but you'll be able to explore the ship at your leisure before everyone else.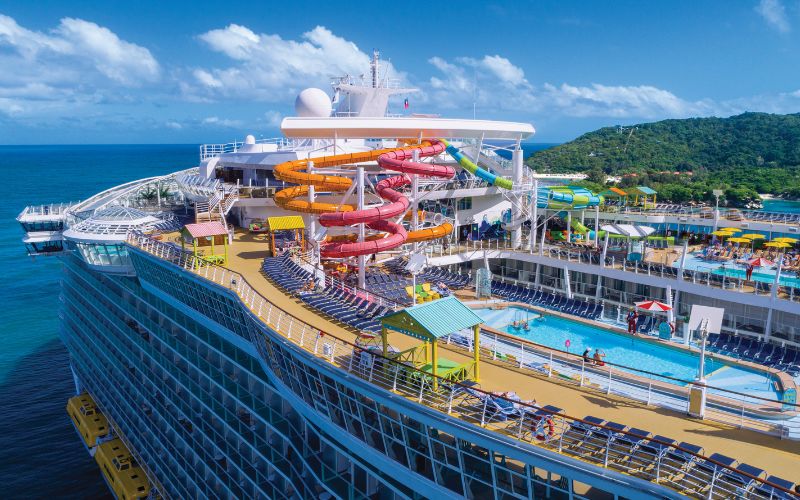 Concierge Service
The Concierge service really helps to make your suite experience feel special. Think of your concierge as your own personal guest services, as they do very similar jobs except that the concierge is available whenever you need them.
They can reserve your shore excursions, or book you a table at a speciality restaurant. They can help you with spa reservations, or pre-order your wine for dinner. If there's something you need, the concierge will likely be able to do it for you, or at least make it as easy as possible for you.
Access to the Suite Lounge or Concierge Club
Depending on your ship, you'll either have access to a Concierge Club or a Suite Lounge. Both are very similar, being private lounges that only suite guests are permitted to access. Here, you can enjoy complimentary hors d'oeuvres every evening, as well as a selection of cocktails.
The lounges are open during the day as well, giving you a quiet space to unwind away from the rest of the ship, and there are normally a selection of movies that you can borrow from the lounge to use in your suite too.
Priority Dining Reservations
Speciality dining restaurants are very popular on Royal Caribbean ships, and so the option to book a table before they're available to the masses is a definite plus. Grand Suite guests, along with other suite guests, can make reservations for all of the speciality dining venues early, ensuring you get first dibs on your preferred dining venue every night.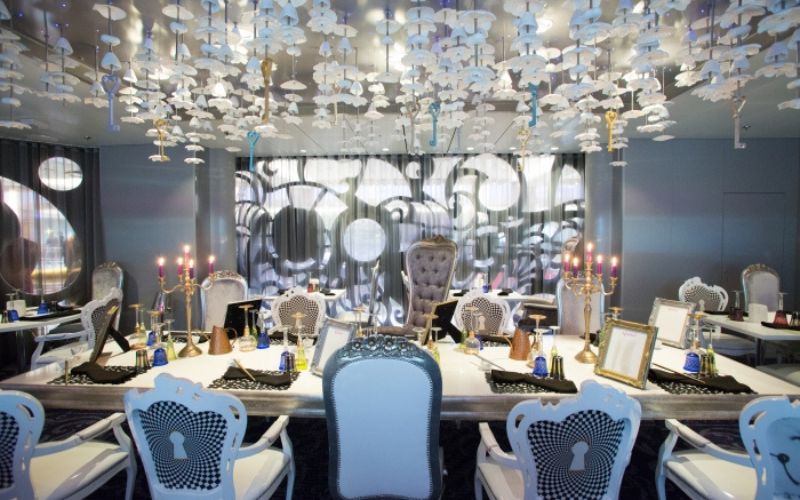 Priority Theatre Seating
Booking a Grand Suite means that you're able to enjoy priority theatre seating for a lot of the live shows on-board. This varies slightly depending on whether you're on the Royal Suite Program or Royal Suite Class.
With the older ships, you have a reserved section of seating just for suite guests. Newer ships don't have this reserved area but instead allow you to book seats in advance, so you can get first dibs on the best seats in the house for the shows that you want to see.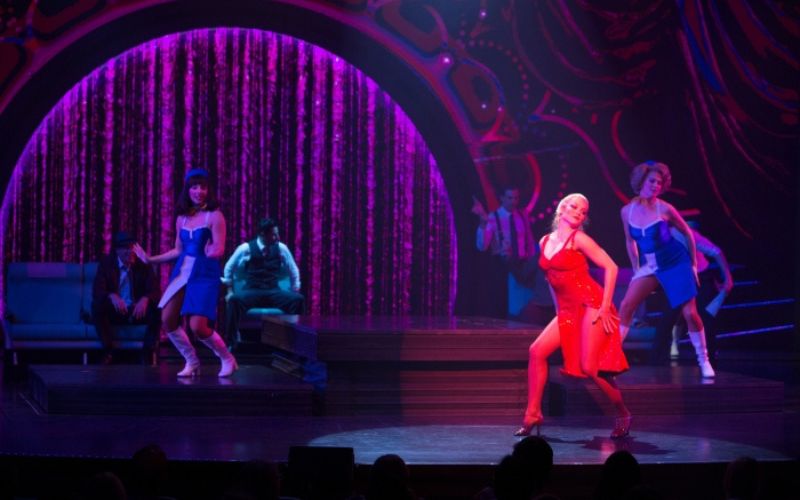 There Are a Handful of Other, Smaller Perks That You'll Always Get With a Grand Suite:
A Royal Caribbean bathrobe (not to be kept, but to be used onboard)
A luxury pillowtop mattress
Luxury bathroom toiletries
A Lavazza espresso coffee machine to use in your suite
And Here's a Full List of Other Perks You Get as Part of the Suites Program on Older Ships:
Tours of the Bridge, Galley and Backstage
Priority spa bookings and shore excursion tickets
A Suite Party invitation (on cruises of 5 nights or more)
VIP pool deck seating (on Voyager Class ships and above)
Priority tendering for shore excursions, where available
The option to enjoy the Main Dining Room menu in your suite
Complimentary 24-hour room service
Private lunch and breakfast seating
A departure breakfast
Complementary outfit pressing on the first formal night
No sign-up fee for luggage valet service
And Here's the List of Perks You Get With a Grand Suite on Oasis and Quantum Class Ships:
Breakfast, Lunch and Dinner at Coastal Kitchen (reservations are needed for dinner, and drinks aren't included)
Complimentary VOOM internet access (one device per guest)
Access to the exclusive Suite Sun Deck
A Royal Caribbean bathrobe (not to be kept, but to be used onboard)
Luxury bathroom toiletries
Dinner at Coastal Kitchen (reservations are needed and drinks aren't included)
How Much Is a Grand Suite on a Royal Caribbean Cruise?
The price of a Grand Suite on a Royal Caribbean ship varies depending on the ship, the duration of the cruise and the time of year. As a rough guide, expect to pay in the region of £3,000 / $3,500 per person for a typical week-long cruise.
That isn't cheap – but then, suites on a cruise ship never are. I've checked some itineraries and the Grand Suites can be as much as 10 times the cost of an Inside Stateroom on the same sailing, which is a huge difference!
You need to weigh up whether you'd rather pay $350 per person for an Inside, or $3,500 for a Grand Suite and all the perks that you get. Obviously, these aren't your only options, but it shows you just how stark the difference is!
NEW DEALS JUST RELEASED!
Don't miss the latest Royal Caribbean offers…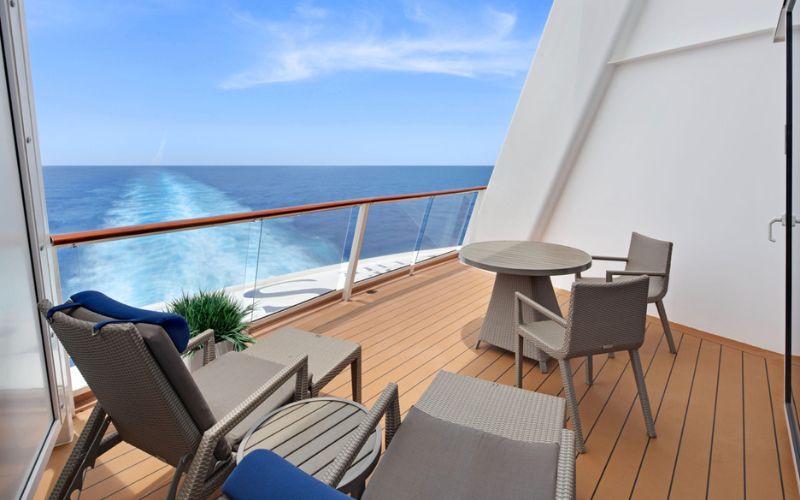 What Is the Difference Between a Junior Suite and a Grand Suite?
Junior Suites are the lowest class of suites you can book on a Royal Caribbean ship. They are not as big as Grand Suites and they only offer a fraction of the benefits, the best of which is priority boarding – but only on older ships.
The full list of perks you get in a Junior Suite are:
A Royal Caribbean bathrobe (not to be kept, but to be used onboard)
A luxury pillowtop mattress
Luxury bathroom toiletries
A Lavazza espresso coffee machine to use in your suite
Dinner at Coastal Kitchen (Royal Suite Class only)
Priority boarding (Royal Caribbean Suites Program only)
Compare that to the full list of benefits offered in a Grand Suite, and you'll see how different they are. When it comes to a Royal Caribbean Grand Suite vs Junior Suite, there's only one winner.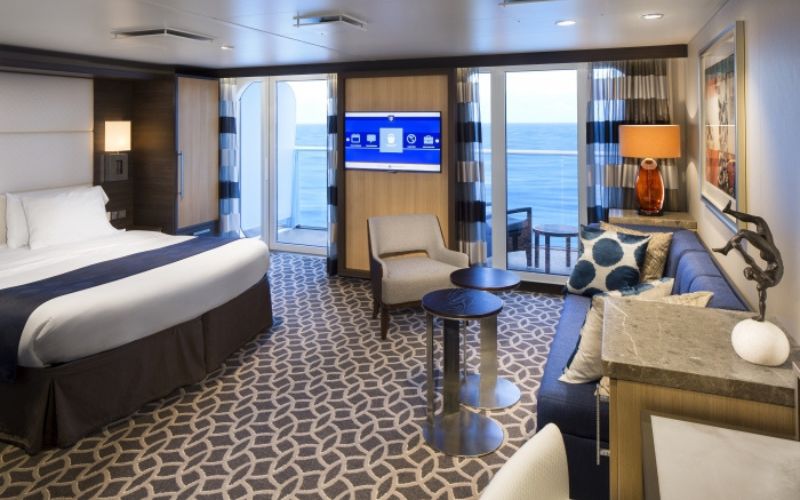 Read more: Royal Caribbean Junior Suite Perks
Is a Grand Suite Worth It?
Whether a Grand Suite is worth it entirely depends on your budget and circumstances. If you are stretching to afford it, you might be better served to opt for a lower class of room and then pay separately for the perks you will use. But Grand Suites are spacious and offer a lot of extra benefits in their package.
Ultimately, you just need to weigh up how much you're happy to spend on your cruise and how much you would make sure of the extra benefits. If you don't think you'd use them too much, then maybe consider a lower accommodation class, saving the additional funds for another cruise instead.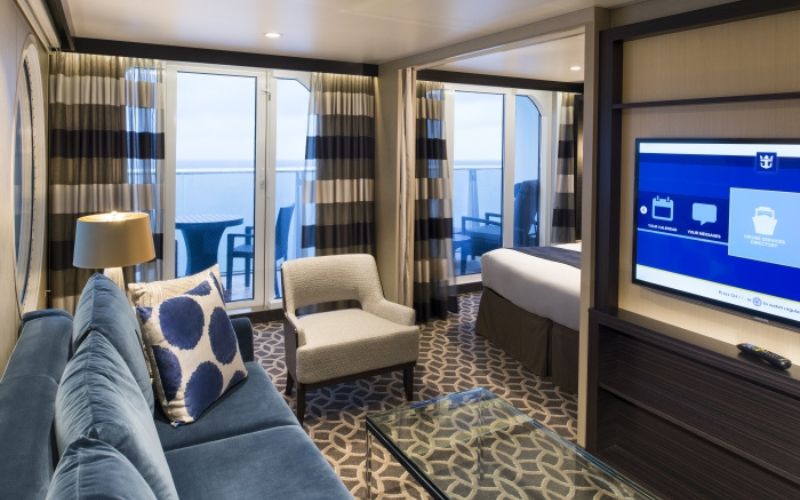 To help you avoid these worst cabins on Royal Caribbean Grand Suite, I've created a cabin checklist that you can get for free. Just enter your email address below, and you'll receive it in your inbox straight away.
Royal Caribbean Grand Suite FAQs
Do you get Internet with a Grand Suite on Royal Caribbean?
If you book a Grand Suite on an Oasis Class or Quantum Class ship, you get a complimentary VOOM internet package with one device per person. This perk is not offered if you book a Grand Suite on an older ship in the fleet.
Is alcohol included with a Grand Suite on Royal Caribbean?
You don't get a drinks package if you book a Grand Suite with Royal Caribbean, so you will need to pay for your drinks normally. You do get complimentary cocktails every evening if you visit the Suite Lounge on board, but all other alcoholic drinks must be paid for.
How big is a Grand Suite on Royal Caribbean?
Grand Suites vary in size – there are both one-bedroom and two-bedroom options. One-bedroom options are typically between 500 and 750 square feet, including the balcony. Two-bedroom suites are around 800-850 square feet in total.
NEW DEALS JUST RELEASED!
Don't miss the latest Royal Caribbean offers…
Related Posts: