If you want the very best experience that Royal Caribbean has to offer, then you need to book yourself into a Star Class suite. The Star Class is part of the Royal Suite Class – a category of accommodation that offers some amazing perks.
It's not available on every ship in the fleet, and it isn't cheap either – but few other mainstream cruise lines can offer an experience that rivals it.
So, let's take a look at everything you need to know about Star Class with Royal Caribbean so that you can decide if it's for you.
What is Star Class on Royal Caribbean?
Star Class is a category of suites that are only found on the most recent Royal Caribbean ships. It is the top tier within the Royal Suite Class of accommodation and comes with a number of special perks including the services of a Royal Genie.
Only select suite categories are a part of the Star Class – these are biggest and most luxurious accommodation options in the entire fleet.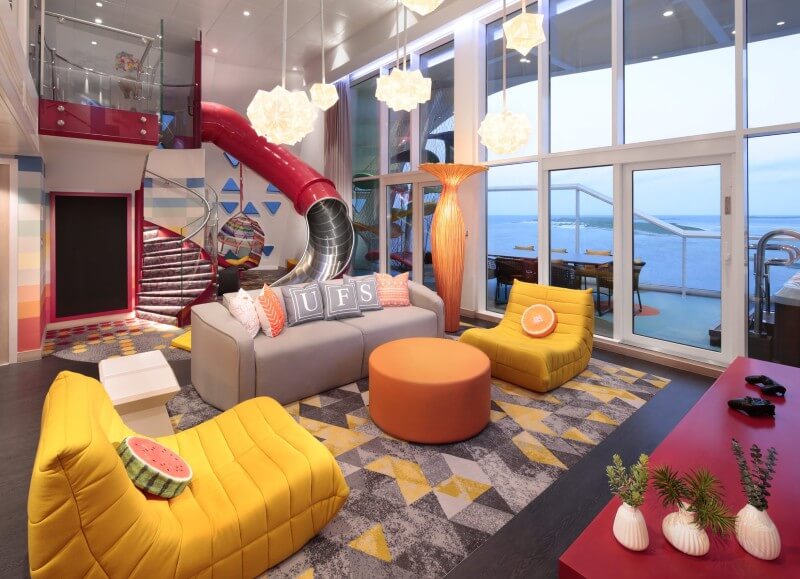 What Royal Caribbean ships have Star Class?
Star Class is available on ships with Royal Suite Class options – including Icon Class, Oasis Class and Quantum Class ships.
These ships have Star Class suites:
Allure of the Seas
Anthem of the Seas
Harmony of the Seas
Icon of the Seas
Oasis of the Seas
Odyssey of the Seas
Ovation of the Seas
Quantum of the Seas
Spectrum of the Seas
Symphony of the Seas
Wonder of the Seas
If you want to sail on one of the older ships in the Royal Caribbean fleet then you will still enjoy a selection of perks, but they're different from the Royal Suite Class.
Read more: Royal Caribbean Suite Perks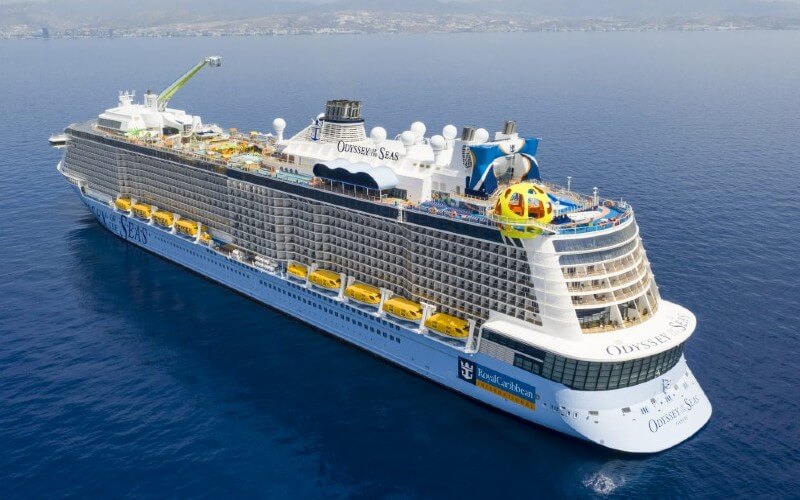 Which Suites are Star Class?
The Star Class Suites on Royal Caribbean are the largest (and most expensive) in the fleet. They range from 2-bedroom AquaTheater Suites that overlook the epic AquaTheater from their balcony, to the incredible two-storey Ultimate Family Suites and Royal Loft Suites.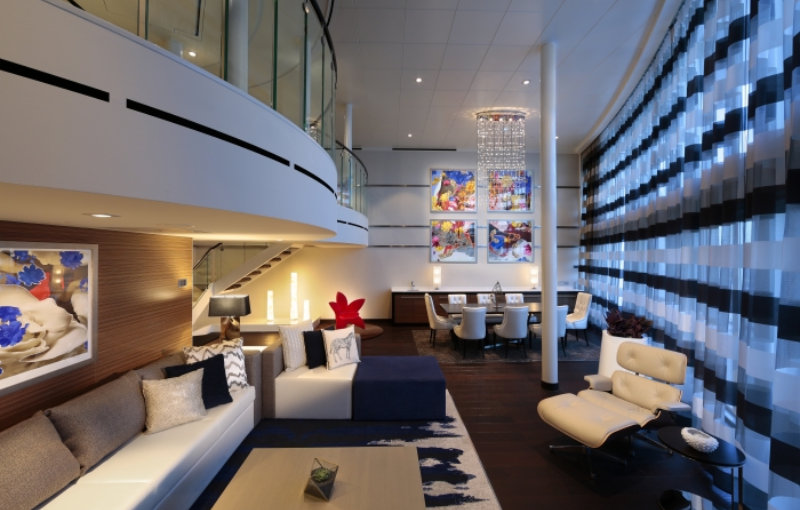 The full list of suites that are in the Star Class tier are:
Ultimate Family Suite
Ultimate Family Townhouse
Royal Loft Suite
Villa Suite – 4 Bedrooms
Owner's Loft Suite
Grand Loft Suite
Owner's Panoramic Suite
Grand Panoramic Suite
Ultimate Panoramic Suite
Star Loft Suite
Spacious AquaTheater Suite with Large Balcony – 2 Bedrooms
AquaTheater Suite with Large Balcony – 2 Bedrooms
It's important to note that the 1-bedroom AquaTheater Suites that are available on some ships are not a part of the Star Class. They are in the next tier down, which is the Sky Class.
The Ultimate Family Townhouse is a new suite that's only available on Icon of the Seas.
NEW DEALS JUST RELEASED!
Don't miss the latest Royal Caribbean offers…
What do you get with Star Class?
Here's a summary of all the perks you get as part of the Star Class:
1. Royal Genie Service
The Royal Genie is essentially your own butler – but with a much less formal name. They're available to help make your cruise go as smoothly as possible, so their name is quite apt – your wish is their command.
They can escort you on board as a VIP, book your dining reservations on your behalf, arrange tickets to the live shows you want to see and more.
They'll make suggestions too, based on what they learn about you – and they will get in touch before you sail so that they can start to understand your preferences sooner. That way, from the second your cruise starts, you get a special personalised experience.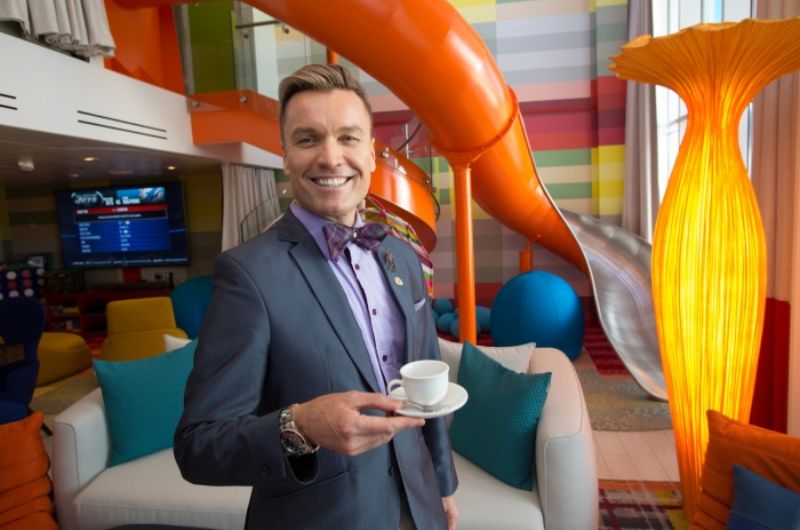 2. Complimentary Gratuities
As a guest in a Star Class suite, your standard gratuities are included – this means you don't have to pay the regular tips that you would that are then split between the housekeeping staff, dining staff and other servers around the ship.
However, it's important to note that your Royal Genie is not included in the standard gratuities package, so if you want to reward them for their service (and you probably will) then you'll need to do so separately.
Read more: How Much To Tip A Royal Genie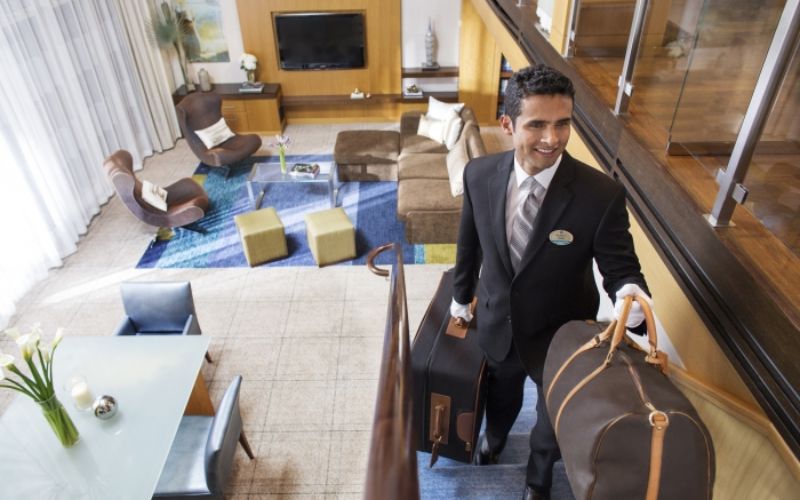 3. Complimentary Speciality Dining
This perk is pretty awesome – anyone in a Star Class Suite eats for free at any of the specialty dining restaurants on board, as often as you want to. It's not a single meal, it's for the duration of your cruise! So you really can dine anywhere on the ship without paying a penny extra.
You can also, if you prefer, have the food delivered to your suite instead. Just speak to your Royal Genie and they can arrange to have it delivered to you at a time that's best.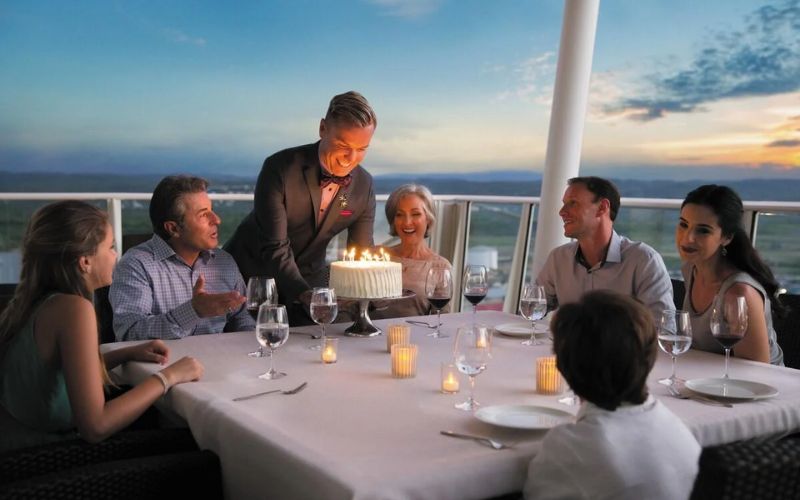 4. Complimentary Deluxe Beverage Package
All guests in a Star Class suite get a complimentary Deluxe Beverage Package, which would normally cost you between $63 and $89 per person, per day if purchased on board. It's worth between $49 and $79 (excluding gratuity) for pre-purchased pricing.
This gets you most drinks on board without paying any extra, including beers, wines, cocktails, spirits, premium teas and coffees, sodas and more.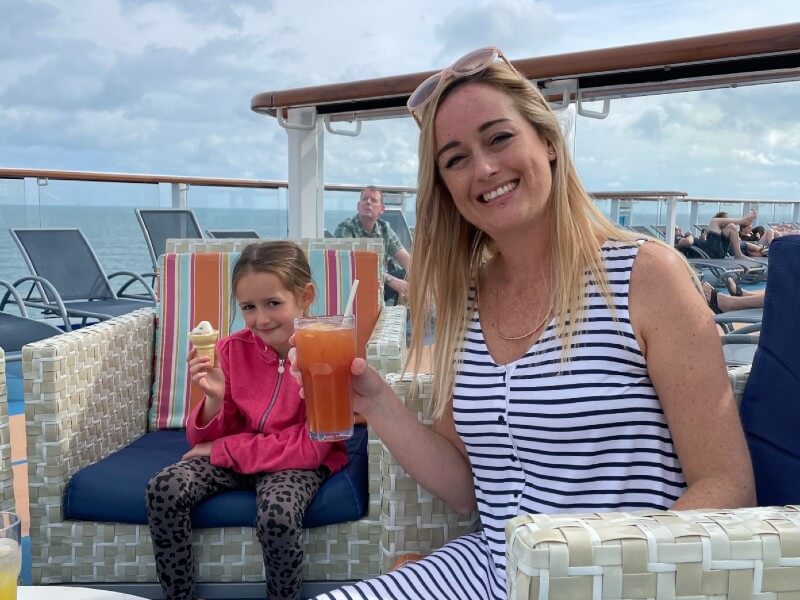 Any guests in your party who are under the legal drinking age will instead get a Refreshment Package, which includes fountain sodas (including the Coca-Cola Freestyle machines), mocktails, milkshakes at Johnny Rockets, bottled water, juices and premium teas and coffees.
5. Complimentary VOOM Internet Access
Every guest in a Star Class suite will be given a VOOM Surf + Stream internet package, with one device per person. This is the top-tier internet package offered on a Royal Caribbean cruise and it allows you to keep connected with each other or check in with family back home.
It's also fast enough to support streaming, so if you want to watch a movie in bed using your existing Netflix or Prime Video subscription then you're able to.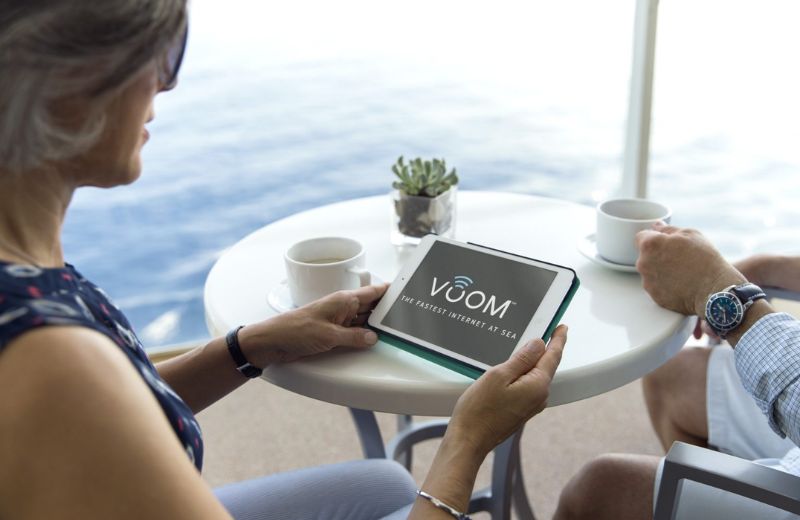 6. Priority Boarding and Departure
Nobody likes to wait in queues, but if you book a Star Class suite then you don't have to. You'll enjoy priority boarding on the day you embark, and you'll be escorted onto the ship personally by your Royal Genie too for that extra VIP touch.
And on the last day of the cruise, you'll also be able to debark before other guests, meaning you can beat the crowds of people trying to order a taxi to the airport or just get to their car at the port. Priority boarding is offered to Sea and Sky Class guests too, but priority departure is only for Sky and Star Class guests.
7. Access to the Suite Lounge
The Suite Lounge is a private area of the ship that only guests in suites can visit. Here you'll be able to enjoy a quieter moment away from the crowds, while every evening there are complimentary hors d'oeuvres served alongside cocktails.
It's not the most exciting venue but it is an exclusive spot that is a good choice for a pre-dinner drink with other suite guests, if you want to get to know those that you're sharing the Star Class with.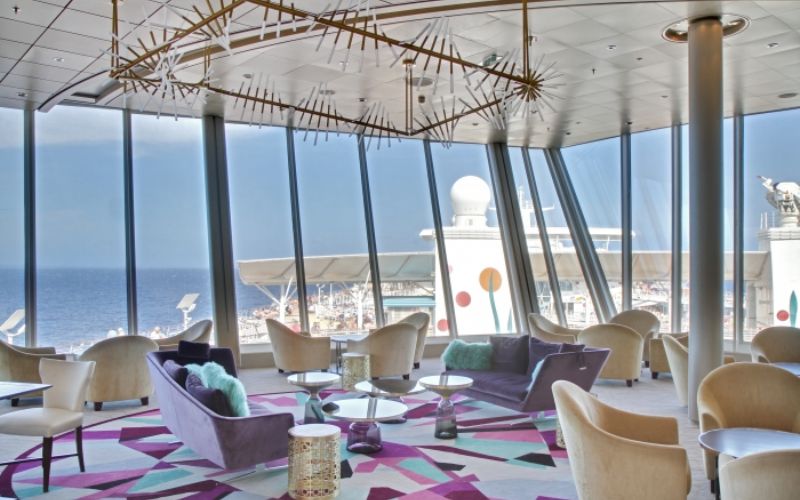 8. Exclusive Signature Activities
There is a selection of activities that are only available on your ship to guests in a Sky Class or Star Class suite. These activities vary depending on the ship and itinerary but expect things like behind-the-scenes tours that let you peek behind the curtain of how the cruise ship is run.
You can also arrange to have exclusive early access to some of the onboard activities, like Ripcord by iFLY or the FlowRider surf simulator. These attractions are always super-popular so being able to beat the queue with your own private access is a great perk to have. It's not available during peak times during the day though.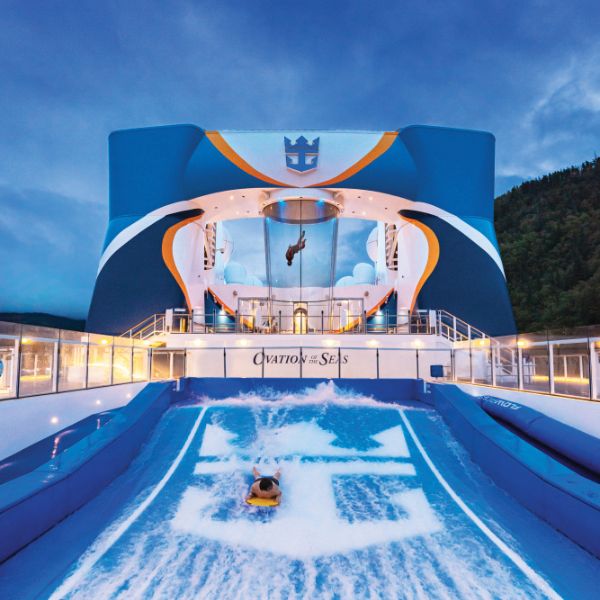 9. Extra In-Suite Amenities
There are loads of little extra touches that you'll enjoy in your suite as a Star Class guest. These include plush bathrobes that you can use during your cruise (but you can't keep them, sorry), a minibar that's stocked with Coca-Cola branded drinks, a Lavazza Espresso coffee machine, and luxury bathroom amenities.
You also get upgraded bedding, and there will be fresh bottles of still and sparkling water placed in your suite every day.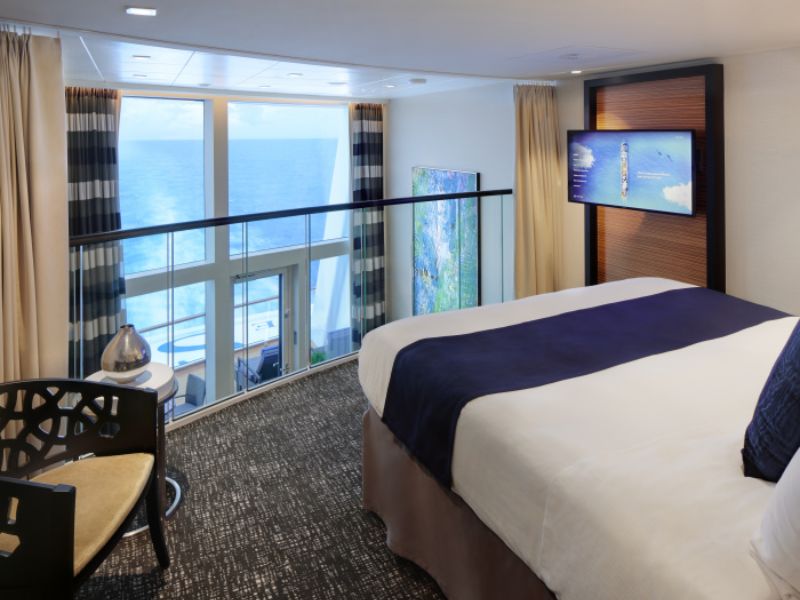 Is Star Class Worth it?
It's hard to give a definitive answer on whether the Star Class is worth it because the fare to book one of these suites is often exceptionally high – the Ultimate Family Suite can cost in the region of $20,000 for a cruise.
So it depends on your outlook. If you have a budget of $20,000 for your holiday, is it better to book one of the incredible Star Class suites and enjoy a week of being utterly pampered? Or is it better to instead pay for two $10,000 cruises instead?
If you're lucky enough to not be working with a budget at all, then Star Class accommodation is definitely amazing, and the perks really will make you feel like a VIP for the entire duration of your cruise.
NEW DEALS JUST RELEASED!
Don't miss the latest Royal Caribbean offers…
Related Posts: