When you book a Royal Caribbean cruise, an important decision that you'll need to make is whether to buy a drink package or pay for your drinks individually.
On a Royal Caribbean cruise, the drinks can be pretty expensive. You can take a look at the menus to see exactly how much they cost.
But, savvy cruisers will know that there are lots of drinks that are completely free of charge on Royal Caribbean cruises.
If you stick to these drinks, then you won't need to spend a penny on drinks for your cruise, unless you want to.
Wondering if the Royal Caribbean drinks package is worth it? Thousands of cruisers use my free drink package calculator to work it out…
List of Free Drinks on Royal Caribbean Cruises
1. Water
Is water free on Royal Caribbean? Yes! Well, tap water is. And there are lots of places you can get it on the ship. You can ask for a jug of iced water in any restaurant or get iced water by the glass for free at any bar.
Most people say that the tap water on cruise ships tastes better than the water on land. It's filtered well and doesn't have to travel through as many pipes as it does in your home.
You'll also be able to help yourself to water in the Windjammer buffet as well as from drink dispensers around the ship.
It's not sanitary to use a water dispenser to fill your personal after bottle that you've been drinking out of, so it's recommended that you use one of the clean glasses provided and then pour it into your bottle.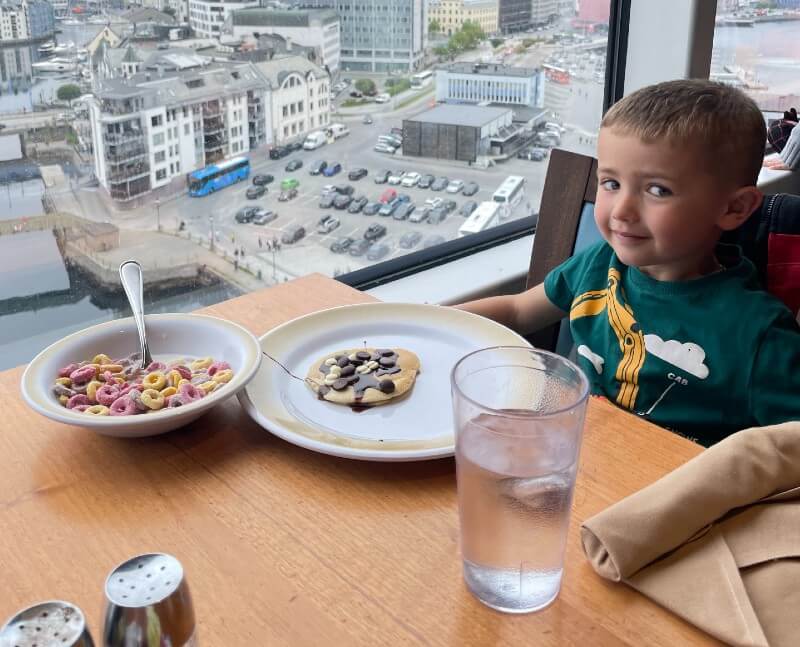 The tap water in your stateroom is also perfectly safe to drink and tastes just fine. On hot days, the water isn't always very cold, but you can always ask your stateroom attendant to bring you some ice for in your room.
If you prefer to drink bottled water, you won't be able to get this for free on the ship, unless you bring it on board with you.
Suggested read: Can You Bring Your Own Drinks on a Cruise Ship?
2. Flavoured Water
It's not just plain old tap water that you can enjoy for free on a Royal Caribbean cruise. You'll also find a choice of flavoured waters available for free in the Windjammer buffet restaurant.
The flavoured water on Royal Caribbean ships is really nice. I think it's a bit more like fruit cordial than water. And there are always at least two flavours to choose from.
3. Lemonade
In the Windjammer Marketplace buffet, the machines that dispense flavoured water also dispense lemonade. Royal Caribbean's lemonade tastes absolutely delicious – it's cloudy, with a little pulp and just the right amount of sweetness.
If you prefer fizzy lemonade like Sprite or Minute Maid, you can get this on board too, but you'll have to pay for it.
4. Coffee
On Royal Caribbean cruise ships you can get complimentary coffee in the main dining room, Windjammer buffet, Cafe Promenade, Lafe Latte-tudes, the Park Cafe and also through room service.
There's a choice of regular or decaf coffee and when it comes to milk you can choose from whole, semi-skimmed (half and half) skimmed, (fat free), soy or almond.
There's a difference between the free coffee and speciality coffees like Cappuccino and Espresso as these have an extra charge. Some ships have Starbucks on board and the coffee from there isn't free either.
Royal Caribbean's free brewed coffee tastes fine. It's not amazing, but it's pretty good. Always ask for a 'brewed' coffee to make sure that you get the free version. But, if you're something of a coffee aficionado then you might want to pay to upgrade to the fancy coffees.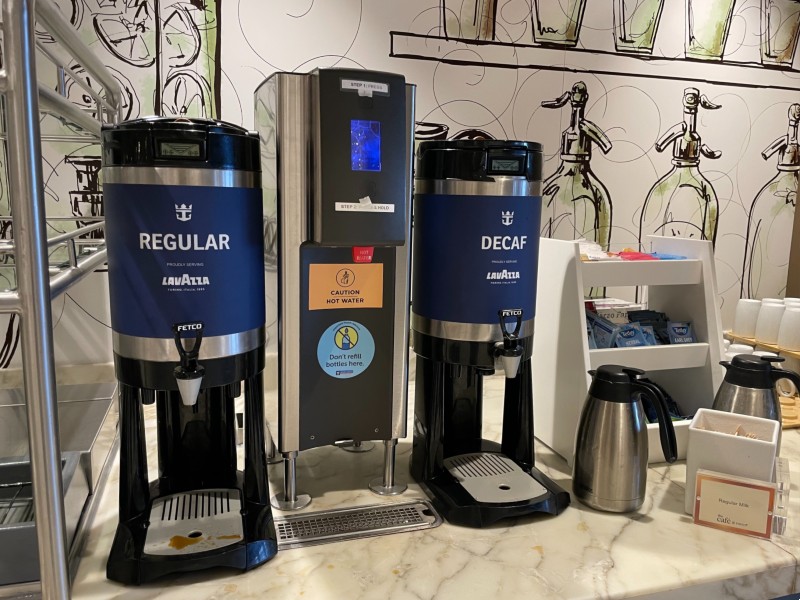 5. Tea
You'll find a selection of complimentary hot teas to choose from in Royal Caribbean's main dining rooms and Windjammer buffet. There's quite a big choice, with Earl Grey, English Breakfast tea, black tea, green tea, orange tea, peppermint tea, chamomile tea, and other herbal teas on offer.
You can also get unsweetened iced tea for free in the main dining room and buffet. If you prefer sweet tea, one tip is to add a little lemonade.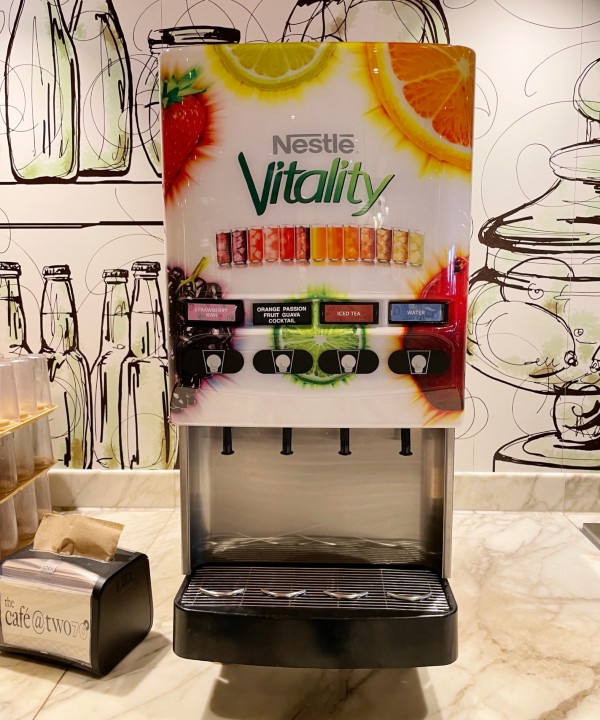 If you cruise from the UK, you'll also find a kettle in your room with tea bags. Isn't it great that Royal Caribbean realises how much Brits love a cup of tea first thing in the morning?
6. Hot chocolate
On Royal Caribbean ships you'll find packets of hot chocolate mix in the Windjammer buffet. You can also order hot chocolate or hot cocoa in the dining rooms, Cafe Promenade and through room service for free.
The hot chocolate is very chocolatey, so you may wish to add a little milk to it.
7. Milk
In the Windjammer buffet, you can help yourself to milk. There's half and half and skimmed milk next to the coffee and also next to the cereal, but you can also ask for almond or soya milk if you prefer that.
If your room has a kettle (cruises from the UK do) then you'll get small pots of milk. But if you need dairy-free milk for your morning cuppa or want some whole milk to feed your baby or toddler, then just call room service and they will bring some to you. You can keep it in your fridge until you need it.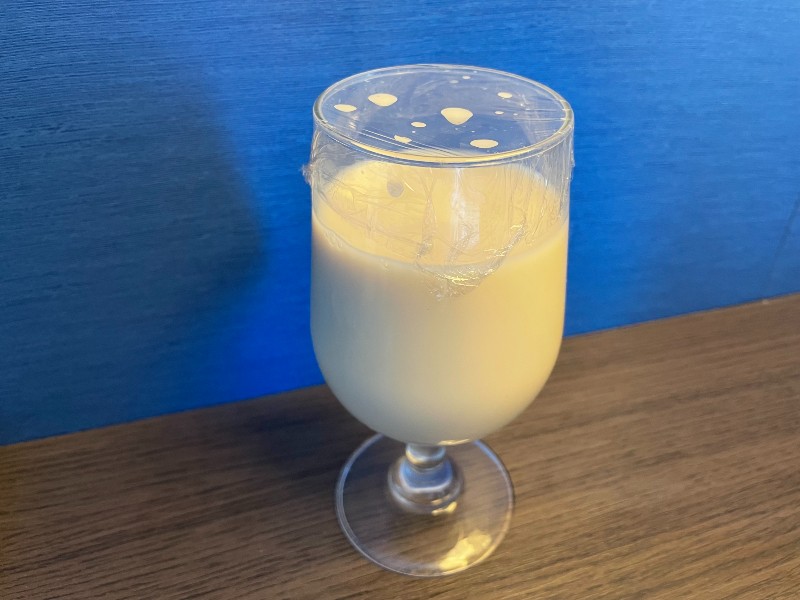 8. Chocolate Milk
In the Windjammer buffet, you'll often see single-serve cartons of chocolate milk. If they're not there, just ask and the staff will bring one out for you. You can also request chocolate milk in the main dining room – the staff will make it up for you using chocolate milk powder. Chocolate milk is also available for free via room service.
9. Fruit Juice
On Royal Caribbean cruise ships, fruit juices are available free of charge. In the main dining rooms and buffet, you'll find a choice of fruit juices that usually include apple juice, orange juice and one or two other types such as grapefruit juice or tropical breakfast juice.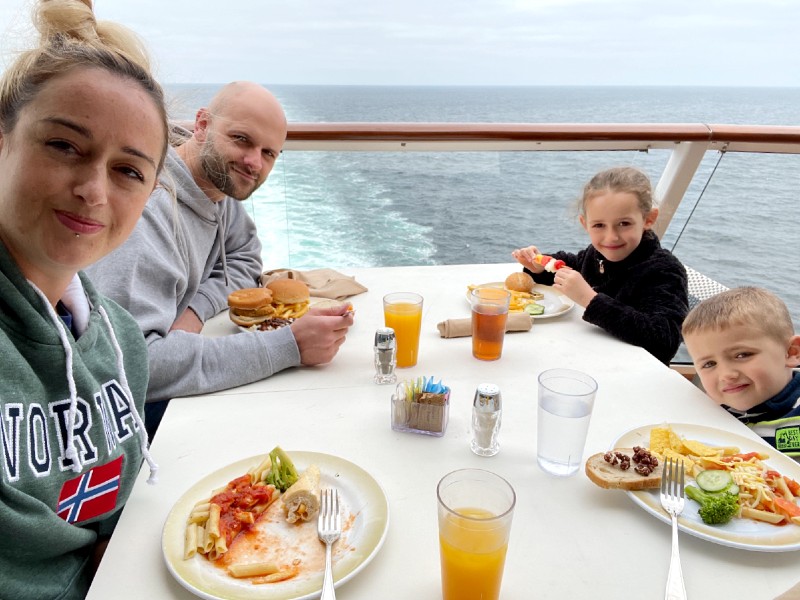 Most other cruise lines only offer free fruit juice at breakfast time, so I love that on a Royal Caribbean ship, you can help yourself to free fruit juice in the buffet at any time of day. The photo above shows us enjoying fruit juice at lunchtime.
If you prefer freshly-squeezed juice, you can request this for an extra charge.
Other Free Drinks
So now you know which drinks you can get for free. If those aren't enough for you, then it's worth looking into the various Royal Caribbean drink packages as those can make all of your drinks free, once you've bought the package of course.
NEW DEALS JUST RELEASED!
Don't miss the latest Royal Caribbean offers…
There are also some other times when you can get alcoholic and non-alcoholic drinks for free on Royal Caribbean cruises. These are:
Free Fizz At Art Auctions
If you attend one of the art auctions on board your cruise, you'll be handed a glass of free Champagne. It's probably not real Champagne, but it tastes good, and it's free. Just be careful that you don't drink too much and end up bidding on some art that you don't really want!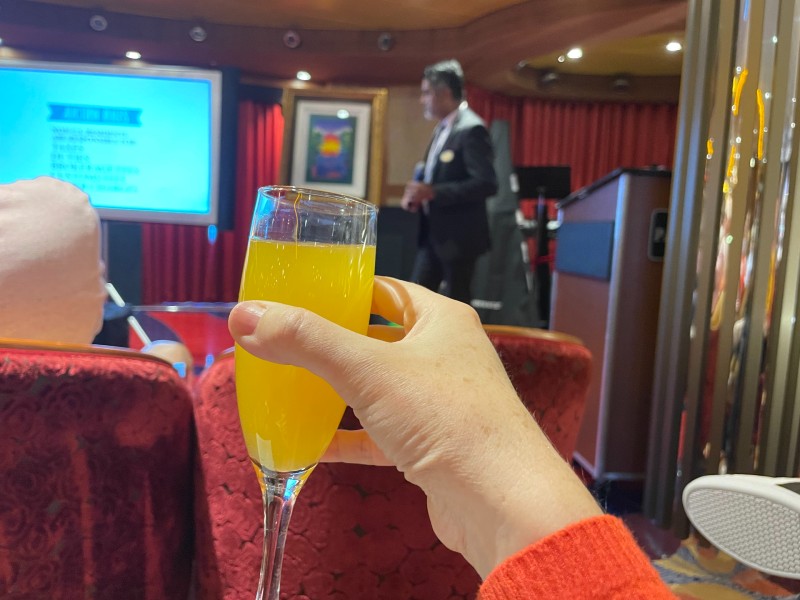 After I drank this free mimosa I bid on and bought some art! It was only $60 though and it hangs in pride of place in my living room, so I feel like I got a good deal.
Concierge Club & Suite Guests
If you're staying in a suite or are a Diamond, Diamond Plus or Pinnacle Crown & Anchor member, then you'll have access to the Concierge Lounge, Diamond Lounge or Suite Lounge. Which one there is depends on the ship.
In your VIP lounge, you'll get complimentary alcoholic drinks during happy hours between 5 pm and 8 pm.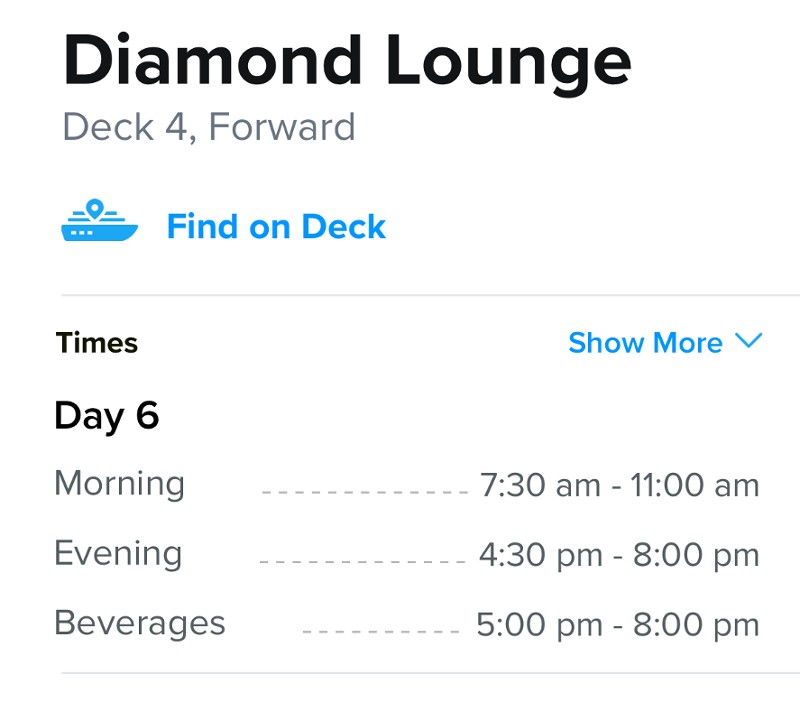 Guests staying in suites on Oasis-class ships used to be able to get free wine, beer and soft drinks between 11 am and 11 pm, but it appears from a discussion in a forum that this has now been halted.
Crown & Anchor Parties
Guests who are at least a Gold member of Royal Caribbean's Crown & Anchor Society will receive an invite to a Welcome Back party where complimentary wine and cocktails are served.
There's usually a second party for Platinum members and above called the Top Tier event. Look out for the cards placed in your stateroom with the invitations.
Bring Your Own Drinks
When you board your Royal Caribbean cruise ship, each stateroom may bring up to two 750ml bottles of wine or Champagne. You can drink these in your stateroom free of charge, but if you want to drink your drinks in a public area then a corkage fee will be applied.
Can You Bring Soda On Royal Caribbean?
You can bring up to 12 cans, bottles or cartons of non-alcoholic drinks per stateroom on board with you on boarding day. So sodas are fine – just make sure you pack them in your carry-on luggage.
Read more: Can You Bring Bottled Water On A Cruise?
To Conclude
There are lots of free drinks available on Royal Caribbean cruise ships, especially in the Windjammer Marketplace Cafe and the main dining rooms. In most bars and lounges you may be limited to tap water for the free drink selection, but the Windjammer is open almost all of the time, you can always head there and get your free drinks to take away.
Remember that with the Royal Caribbean soda policy you're allowed to bring 12 cans or bottles with you, so that's another way you can save. Or bring bottled water if you prefer to drink that – while the tap water is clean and refreshing, you don't want to have to leave your cabin to get it (and I wouldn't recommend drinking the warm tap water in your stateroom bathroom).
NEW DEALS JUST RELEASED!
Don't miss the latest Royal Caribbean offers…
Related Posts: