Have you found yourself with some Royal Caribbean onboard credit and want to know how you can spend it?
In this guide, I'll show you exactly what Royal Caribbean onboard credit can and can't be used for, as well as which are the best ways to make the most of your free onboard credit.
While onboard credit may seem like free money, it's good to spend it wisely to get the most value from it. So read, on to find out how…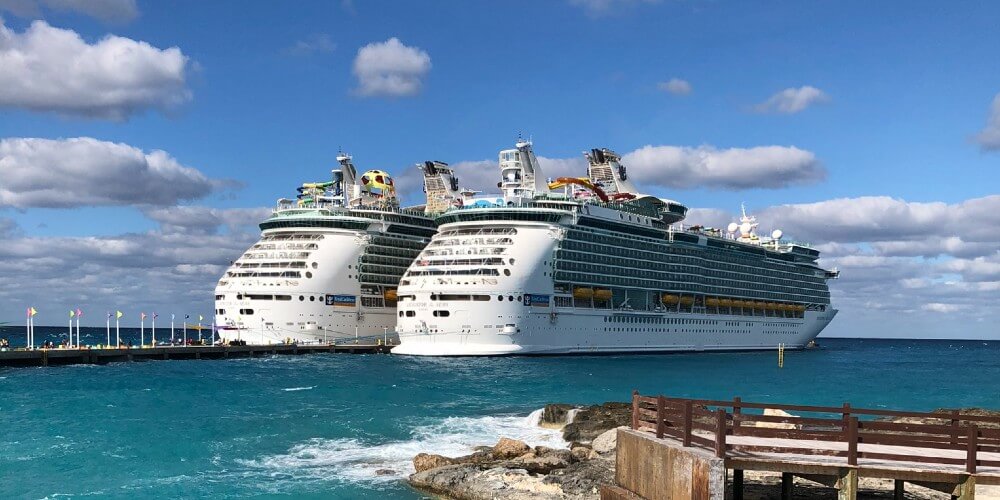 How does onboard credit work?
On a Royal Caribbean cruise, your cashless onboard expenses account is also known as your SeaPass account. When you make purchases on the ship, these will be charged to your account. At the end of your cruise, you can settle your account with cash, by credit or debit card or with onboard credit.
When you receive onboard credit, this is credited to your SeaPass account. It will offset any purchases that you make on the ship.
How to get Royal Caribbean Onboard Credit (OBC)
There are many ways that you can get Royal Caribbean onboard credit. These include:
Promotions – If you book your cruise during a promotional period, you can get anywhere up to $400 of OBC per stateroom
Booking Onboard – If you book your next cruise while you're already on a cruise, you can get up to $500 of OBC to spend on either your current sailing or the next one
Booking With A Travel Agent – Many travel agents offer onboard credit as a bonus for booking with them
The Royal Caribbean Visa Card – Each time you use Royal Caribbean's branded Visa credit card you earn points. If you collect 10,000 points you'll get $100 in OBC
Compensation – If something goes wrong on your cruise, such as if the ship has a technical problem or the service is poor, you may be given OBC by way of apology
Price Drops – If the price of your cruise drops after booking, you may receive the difference in OBC
Cancelled Cruises – If your sailing is suspended and you rebook for a later date, anything that was pre-purchased turns into OBC for your next cruise, with a 25% bonus.
Shareholders – If you own at least 100 RCL shares, you will receive $50 OBC on cruises of 5 nights or less, $100 on cruises of 6-13 nights and $250 on longer cruises
Military – Members and veterans of the US and Canadian armed forces may get $50 OBC per stateroom when booking certain cruise
Future Cruise Credit Vs Onboard Credit
If your Royal Caribbean cruise is cancelled, you may receive a Future Cruise Credit (FCC) that you can use to pay for another cruise ticket. This is different from Onboard Credit (OBC) which can only be used for onboard purchases.
You cannot convert Future Cruise Credit into Onboard Credit. So if the value of your FCC is higher than the cost of your next cruise, a new voucher will be issued for the remaining FCC.
What can Royal Caribbean onboard credit be used for?
Royal Caribbean onboard credit can be used to purchase most things onboard the ship. It can't be used for medical expenses, taxes and port fees.
It used to be the case that you could only spend Royal Caribbean onboard credit once you boarded your ship. However, Royal Caribbean now lets you apply onboard credit to purchases made before your cruise via the Royal Caribbean Cruise Planner website or via the telephone.
However, this only applies to certain types of onboard credit. If you purchase the onboard credit as a gift card, for example, you'll probably have to wait until you board the ship to use it.
What happens to unused onboard credit?
If you don't use your onboard credit during your cruise you will lose it. So you must spend it all before the end of the last night of your cruise to avoid wasting it.
The Best Ways To Use Royal Caribbean Onboard Credit
When it comes to deciding what to spend your Royal Caribbean onboard credit on, some purchases are much smarter than others.
It's a good idea to prioritise the things that you would purchase regardless of whether you have onboard credit or not. For example, everyone must pay gratuities, so budget to use your OBC on those first.
Some things you can buy on Royal Caribbean cruise ships are almost always a waste of money, even if you consider that money to be free!
So, here's a list of everything you can spend your Royal Caribbean onboard credit on, in order from the best to the worst.
1. Gratuities
The best way to spend any onboard credit that you have is on gratuities. On a Royal Caribbean cruise, gratuities cost $16.00 per person, per day for most guests and $18.50 per person, per day for those staying in suites.
Gratuities are mandatory and they go towards paying the crew members who work so hard to look after us. As this is something that we all need to pay anyway, it makes sense to spend your onboard credit on gratuities first, then see how much you have left for the fun stuff.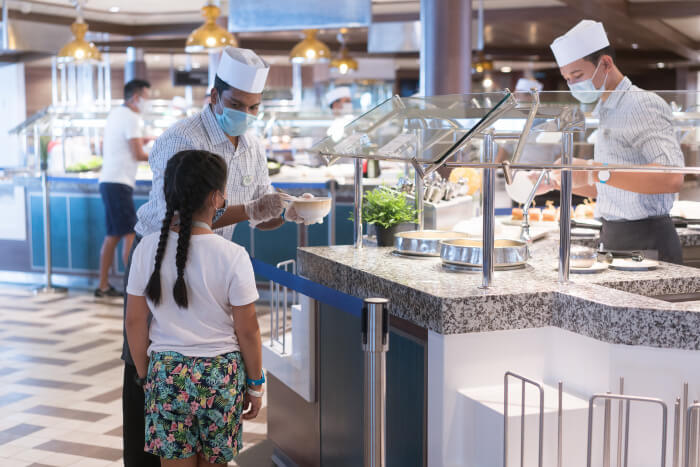 Here's how much gratuities cost per day on a Royal Caribbean cruise, for each person including kids and babies.
| Cruise Duration | Standard Staterooms | Suites |
| --- | --- | --- |
| 2 | $32.00 | $37.00 |
| 3 | $48.00 | $55.50 |
| 4 | $64.00 | $74.00 |
| 5 | $80.00 | $92.50 |
| 6 | $96.00 | $111.00 |
| 7 | $112.00 | $129.50 |
| 8 | $128.00 | $148.00 |
| 9 | $144.00 | $166.50 |
| 10 | $160.00 | $185.00 |
| 11 | $176.00 | $203.50 |
| 12 | $192.00 | $222.00 |
| 13 | $208.00 | $240.50 |
| 14 | $224.00 | $259.00 |
At the end of your cruise, any leftover onboard credit will be automatically offset against any gratuities owed on your final bill. So you don't need to do anything, just check the bill at the end of the cruise and if you've calculated correctly they should cancel each other out and you'll be left with a zero balance.
You can get more info about Royal Caribbean gratuities here.
NEW DEALS JUST RELEASED!
Don't miss the latest Royal Caribbean offers…
2. Onboard Activities
Most activities on board Royal Caribbean ships are included in your cruise fare, but there are some things that you have to pay extra for. Royal Caribbean are including less and less for free these days, as some activities like the North Star observation pod and the iFly skydiving simulator on Quantum-class ships are now chargeable.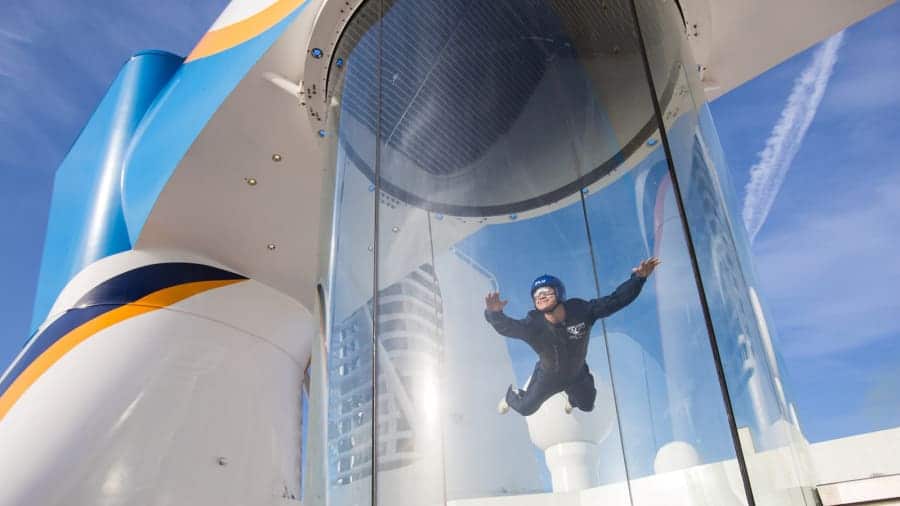 Here are the approximate prices of extra activities on Royal Caribbean ships.
North Star – $25
iFly Skydiving Simulator – $55
All-access ship tour – $49 to $129
Escape room – $20
Private Flowrider lessons – $69 to $552
Fitness classes – $12
Cooking classes – $35 to $70
Video arcade – $1 to $3 per game
Note that these may vary by sailing and are subject to change.
You probably won't want to do all of these extra activities as there are so many things that you can do on board for free, but if there are any that you definitely want to tick off, then these would be a great way to spend any onboard credit that you have left over after paying for gratuities.
3. Drinks
Royal Caribbean cruises do include some free drinks like water, tea, coffee, flavoured water and milk. For all other drinks, you can either add them to your onboard account individually or buy a drink package before your cruise.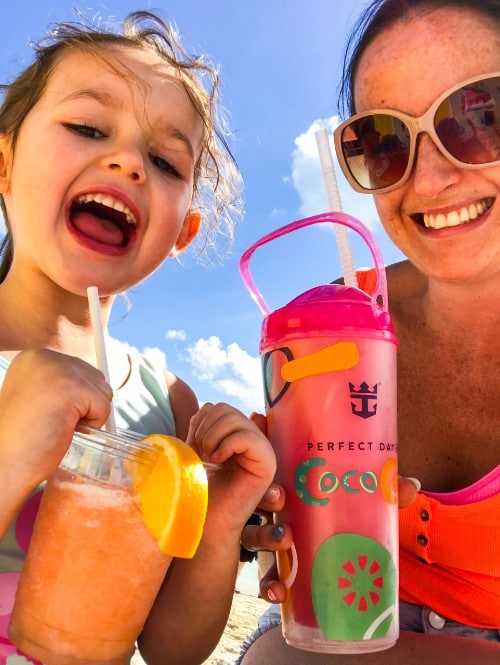 There are several drinks packages to choose from and the prices vary depending on your cruise and when you buy it.
To work out whether you should buy a drink package or pay for your drinks individually, read my guide to Royal Caribbean drink packages. Or, if you're short on time, you can use my Royal Caribbean drink package calculator that will work it out for you based on what you usually drink.
Whether you add your drinks to your onboard account or get a drink package, you can use your onboard credit to cover some or all of the cost.
Suggested read: When Is The Best Time to Buy A Royal Caribbean Drink Package?
4. Speciality Dining
Treating yourself to a special meal in one of Royal Caribbean's upscale restaurants could be a great way to spend any onboard credit you've accumulated.
Like most things with Royal Caribbean, the cost varies depending on the ship and the sailing, but you can expect to pay anywhere from $25 per head for lunch at Chop's Grille or Jamie's Italian to $100 for dinner at the Chef's table.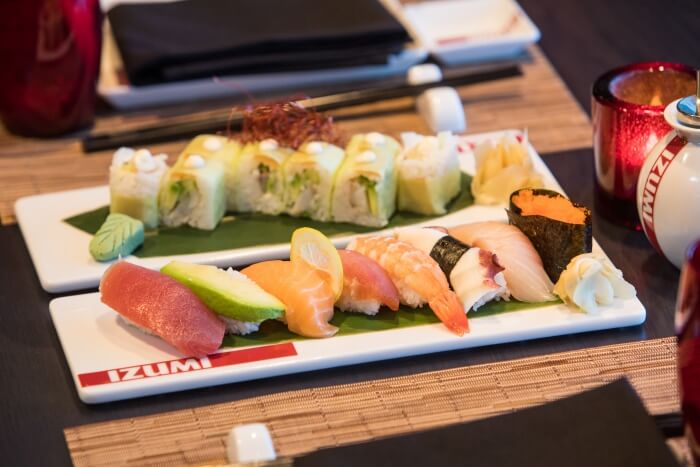 If you really enjoy speciality dining you can buy dining packages that let you eat in a certain number of restaurants, or upgrade to enjoy unlimited speciality dining throughout your cruise.
5. Spa Services
Spa services can be pricy on a cruise. But, if you rarely ever visit the spa then perhaps now's the time to treat yourself using your onboard credit. After all, if you think of it as free money then surely you can justify the price?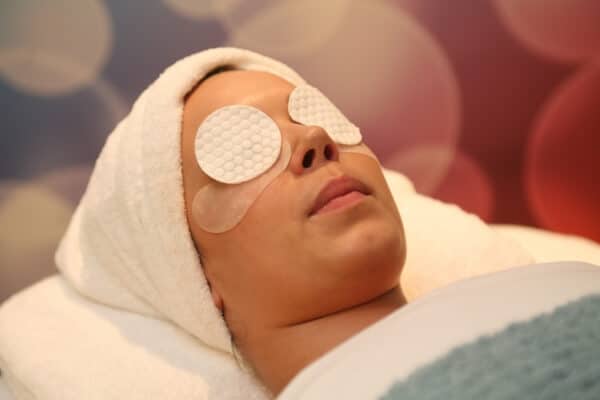 While some of Royal Caribbean spa treatments can cost upwards of $2000, you can just buy a day pass to use the spa facilities like the sauna and steam room for as little as $30, depending on your ship.
Or for a similar price you could treat yourself to a wash and blow-dry in the hair salon so that you're looking your best for the formal night.
6. Babysitting
Childcare in Royal Caribbean's Adventure Ocean kid clubs is generally free of charge. But, there is a fee if your child is under three or if you want them to stay past 10 pm.
At between $6 and $8 per hour, the group babysitting option is cheaper than getting a sitter at home would be, so why not make the most of your time away and treat yourself to some adults-only time in the theatre, casino or nightclub?
This table shows the charges for childcare on Royal Caribbean cruises:
| Age | Time | Price |
| --- | --- | --- |
| 0 to 3 | 9am to 6pm | $6 per hour |
| 0 to 3 | 6pm to 12am | $8 per hour |
| 3 to 11 | 9am to 5pm | FREE |
| 3 to 11 | 7pm to 10pm | FREE |
| 3 to 11 | 10pm to 2am | $7 per hour |
| 12 to 14 | 8pm to 1am | FREE |
| 15 to 17 | 9pm to 1am | FREE |
7. Souvenirs
You might think that the souvenirs on Royal Caribbean's cruise ships would be ridiculously expensive. But there are some great deals to be had, particularly if you're shopping with your free onboard credit!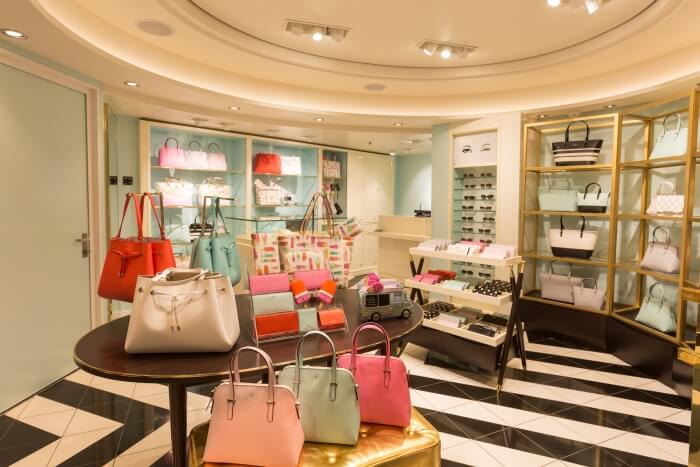 While you'll find plenty of designer bags, watches and jewellery costing thousands of dollars a piece, there are some affordable souvenirs too.
On my last cruise, I treated myself to some Royal Caribbean t-shirts which were two for $20. Bargain!
8. Shore Excursions
Your Royal Caribbean onboard credit doesn't just have to be spent on the ship – you can also use it to purchase official shore excursions.
Shore excursions can be pricey, so it's good to think about how much it would cost to organise a DIY version. But if you don't have the time or want to avoid the hassle, then taking Royal Caribbean's official excursions is the easiest way to explore ashore.
You can also use your onboard credit to pay for activities on Royal Caribbean's island, Perfect Day at CocoCay. While there are lots of things to do on CocoCay for free, activities like the Thrill Waterpark and the Up, Up & Away balloon ride are chargeable.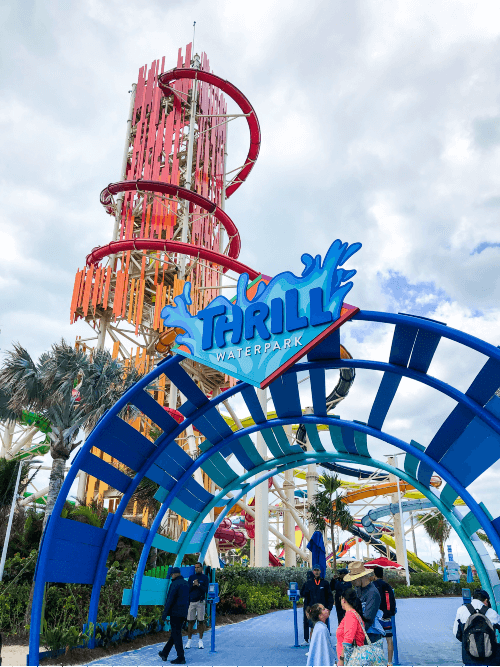 9. Wifi
If you need to stay connected at sea, Royal Caribbean offers several wifi packages, starting from $9.99 per device, per day.
While you may be able to get wifi for free on a Royal Caribbean cruise, this isn't always reliable. So if you need to use your phone to keep in touch with work or family members that need you, then it makes sense to buy a wifi package and cover the costs with your onboard credit.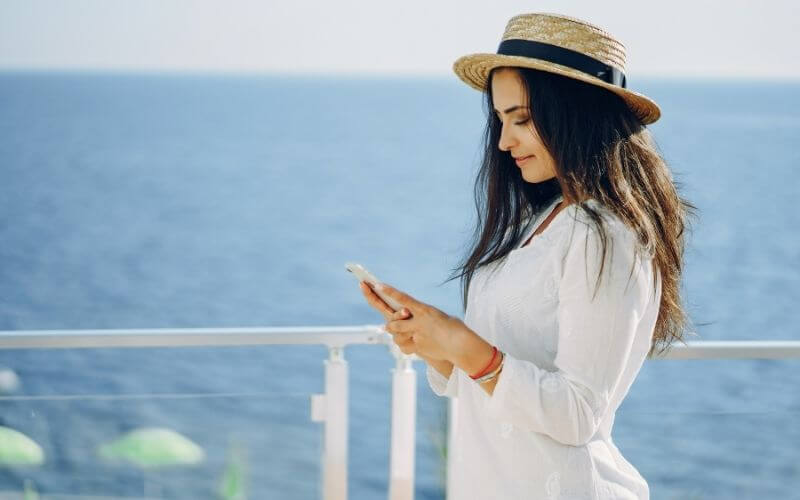 10. Photos
Cruise ship photographers take some excellent photos, so why not take this opportunity to purchase some images that will give you everlasting memories of your Royal Caribbean cruise?
You usually don't have to pay anything for the photoshoot, and then you can choose as few or as many photos as you like and take them home either digitally or in print.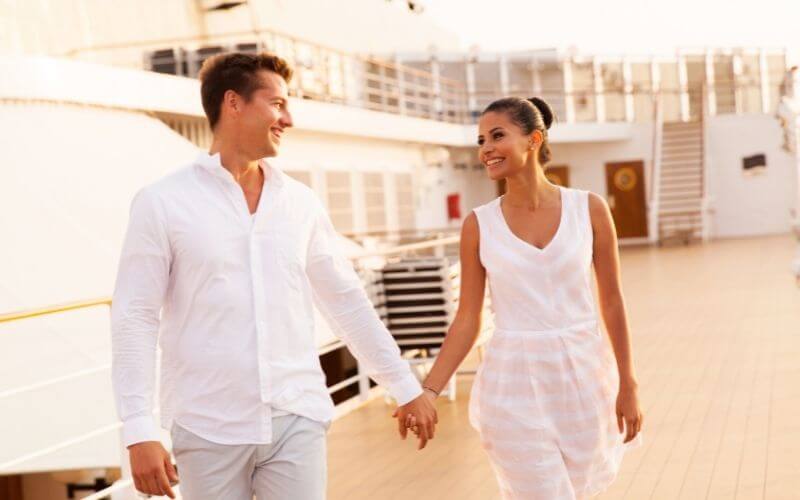 When you visit the photo shop, just charge everything to your onboard account and it will be offset with any onboard credit you have left at the end of your cruise.
11. The Key Program
If you still can't decide what to spend your onboard credit on, then Royal Caribbean's Key Program gives you a little bit of everything…
The Key includes:
Priority check-in and boarding
Carry-on bag drop off
Welcome lunch on embarkation day
Private hours on the rock climbing wall and FlowRider
Priority departure at ports of call
VIP seating at shows
Wifi access
Exclusive breakfast on debarkation day
The cost for The Key varies depending on your cruise, but it will be somewhere between $20 and $34 per person, per day. If one person wants The Key, then everyone in the cabin aged six and over must also buy it.
Personally, I don't think that the Royal Caribbean Key is worth it. However, if you plan to purchase wifi, like to be first off the ship in each port and like the idea of having set times for the rock climbing and FlowRider when you don't have to queue, then it could be a good way to use up your onboard credit.
To buy the key, you'll need to access Royal Caribbean's cruise planner online before you set sail.
Read more: Royal Caribbean Key Program – Worth It Or Not?
12. Laundry
Royal Caribbean cruise ships don't have any self-service launderettes, so if you run out of clean clothes then you can either clean them yourself in the sink or pay for them to be washed or dry cleaned and pressed.
Personally, I like to use a Scrubba wash bag to wash my clothes for free on a cruise ship. But if you don't have one, you can pay $2 to $15 per item for professional cleaning.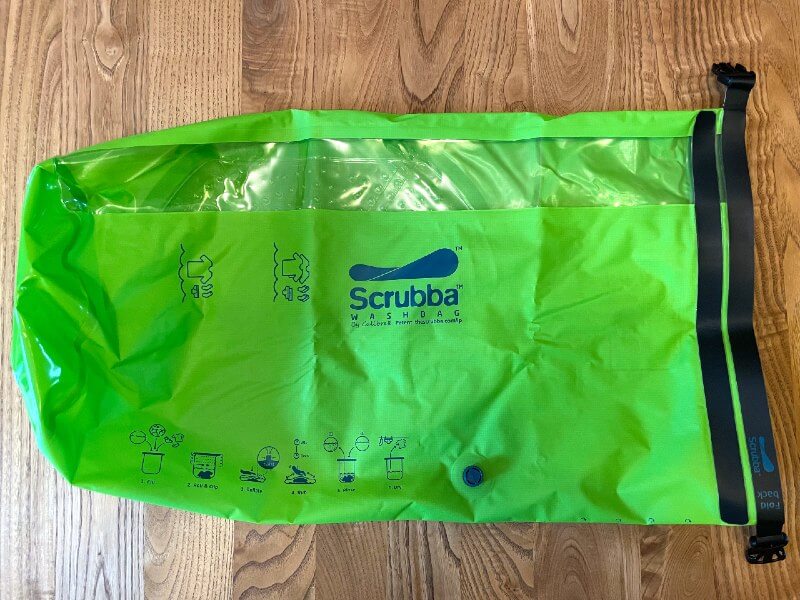 13. Casino
It may be possible to cash out your Royal Caribbean onboard credit in the casino, but this isn't something that Royal Caribbean really want you to do.
Some cruisers have reported in forums that they've had some success with putting their Seapass cruise card into a slot machine and transferring money from their onboard account to the machine.
After spinning the wheels a couple of times, they press cash out and receive a ticket. You can take that ticket to the cashier's window and receive real cash.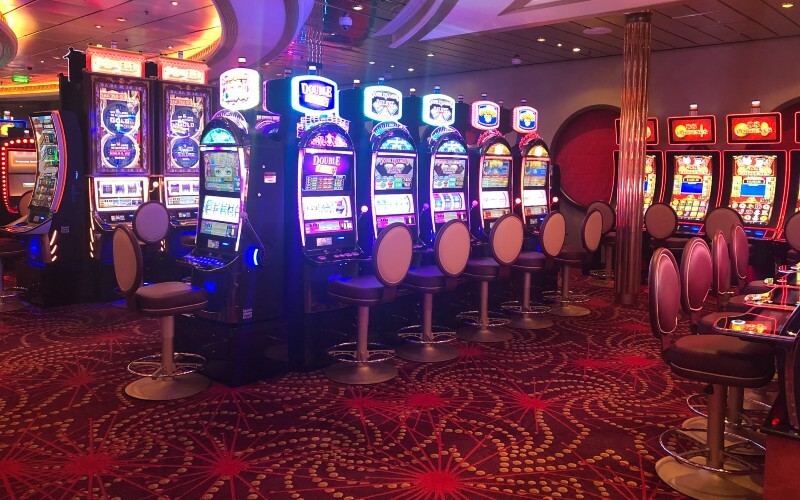 To use this method, it's best to use a slot machine as if you do it at a table you will be charged an extra 5% to convert your onboard credit into chips.
Plus, there are reports of an unwritten rule that you gamble with some of the money before cashing out. According to one cashier, at least 10% seems to be an acceptable amount.
14. Bingo
Buying bingo tickets is one possible way to spend Royal Caribbean onboard credit. There are some big prizes to be won and you could even win a free cruise. However, there are some pretty small prizes too, so even if you win it might cost you more to enter than the value of the prize!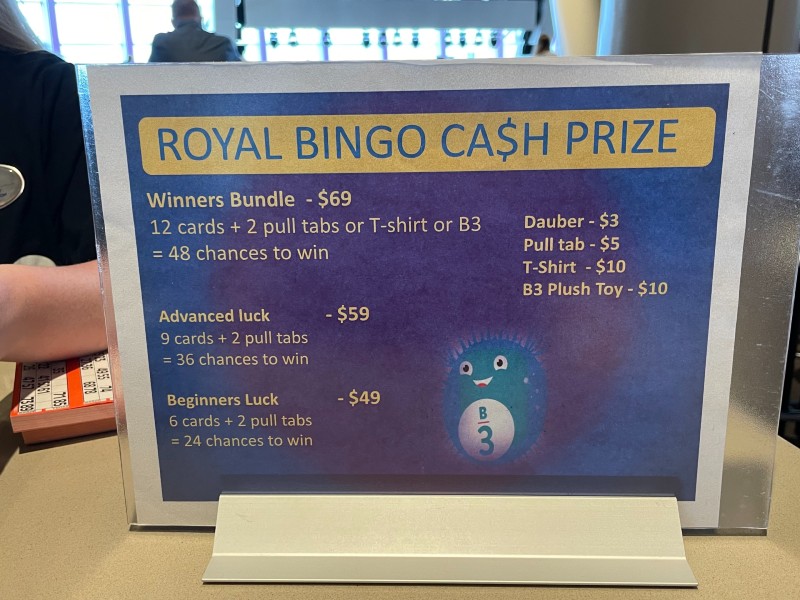 Royal Caribbean bingo tickets start from $49 for 24 chances to win, although if you spend $69 you get 48 chances, so it doesn't make much sense to go for the cheaper ticket packages.
On the whole, the returns aren't great. So if you love bingo, this might be for you. But for most people, you'll do better in the casino.
15. Art
Cruise ship art auctions can be fun to watch and you'll usually get a free glass of fizz. But that's probably where you should leave it.
These art auctions use all kinds of tricks to get you to buy. One of which is putting very small paintings inside huge frames, you can see!
Serious art investors would never buy art on a cruise ship as the paintings are known to be ridiculously overpriced. If you do some research, you'll be able to find the exact same prints for a fraction of the price elsewhere.
And that's exactly what you'll be getting anyway, as the art that gets delivered to your home doesn't come from the ship, it comes from a warehouse on land.
That said, I did buy some art at a Royal Caribbean art auction with my onboard credit. The picture was only $60 and I really liked it. I did turn down the offer of a $450 frame though and opted to get my print framed in a local shop for £49.
So, yes, you can use your onboard credit to pay for art from the art auction. But honestly, you'd do better to enjoy the free drinks, take note of the prices and buy elsewhere (unless its a painting that you really do love).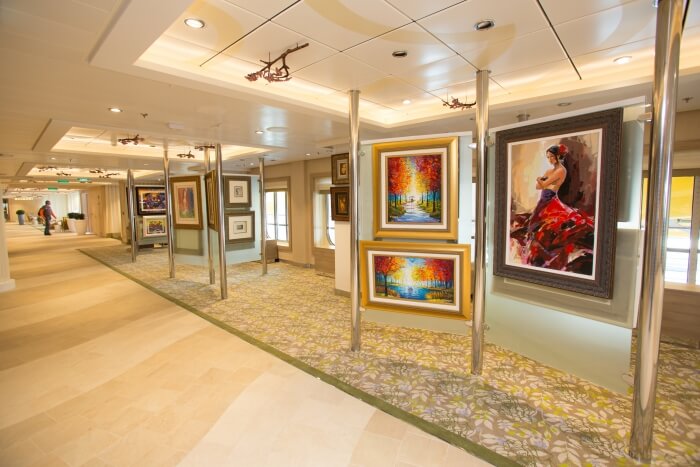 Does the Carnival gift card trick work on Royal Caribbean?
If you've taken a Carnival cruise recently, you may know that people have been using their Carnival cruise onboard credit to purchase a Carnival gift card from the store on board as a way of extending their credit so that they can carry it over to their next cruise.
This trick won't work on Royal Caribbean because, unlike Carnival gift cards, Royal Caribbean gift cards can only be used towards cruise fare, not onboard purchases and shipboard charges.
Royal Caribbean onboard credit expires at the end of your cruise, so be sure to use it before you lose it.
My recommendation
If you have some Royal Caribbean onboard credit to spend, then the smartest thing to do would be to first put it towards gratuities, provided that you haven't already pre-paid those.
Work out how much you expect to pay in gratuities based on the number of guests in your room, your stateroom type and the duration of your cruise. Then, subtract this amount from the amount of onboard credit you have.
This will leave you with an amount of onboard credit to spend on treating yourself. The best uses for any leftover onboard credit are drinks, speciality dining, spa treatments and souvenirs.
NEW DEALS JUST RELEASED!
Don't miss the latest Royal Caribbean offers…
Related Posts: