If you're considering whether to choose a balcony stateroom, a Junior Suite or a Grand Suite, you'll want to know about Royal Caribbean's Junior Suite benefits.
Many cruisers are shocked to learn that there aren't really many Junior Suite perks, especially when compared to a Grand Suite. But, Junior Suites are larger than balcony staterooms and they do offer a few nice extra touches.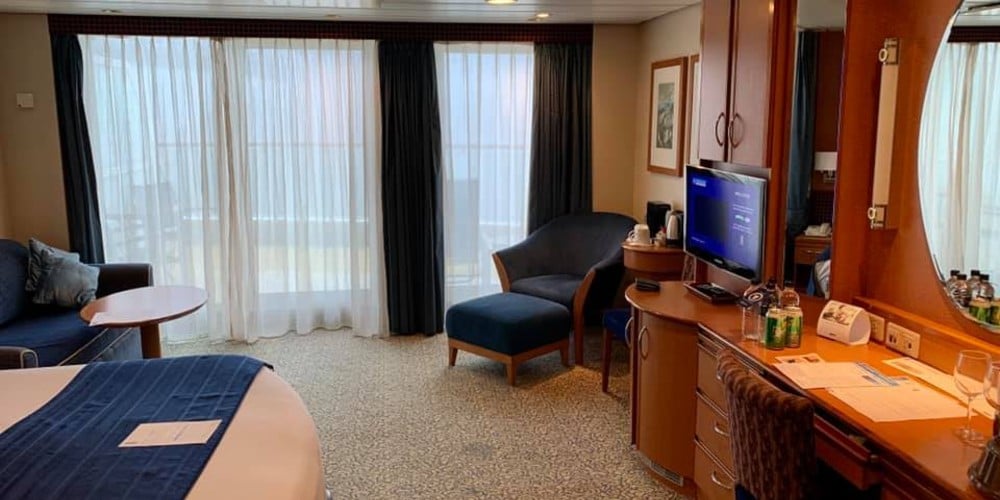 Read on to learn all about Royal Caribbean's Junior Suites and decide if it's worth booking one for your next cruise.
What is a Junior Suite on a Royal Caribbean cruise?
Royal Caribbean cruise ships have four categories of accommodation:
Inside Stateroom
Ocean View Stateroom
Balcony Stateroom
Suite
A Junior Suite is the smallest and cheapest of all of Royal Caribbean's suites. It's best thought of as a type of accommodation that's in between a Deluxe Balcony Stateroom and a Grand Suite.
How big is a Junior Suite on Royal Caribbean?
Royal Caribbean's Junior Suites vary in size depending on the ship, with the average Junior Suite being 290 square feet. The smallest Junior Suites are on Vision Class ships (245 square feet) and the largest are on Odyssey of the Seas (301 square feet).
As a rule, the newer ships have larger Junior Suites. However, there is also some variation in the size of Junior Suites within each ship, so be sure to examine the deck plan carefully when choosing your suite number.
The size of the balconies on Junior Suites varies hugely. On the older ships, the balconies are just about enough for a table and two chairs. On the newer ships, many Junior Suite balconies are over 160 square feet in size and come with sun loungers.
Suggested read: Royal Caribbean ships by age
What does a Royal Caribbean Junior Suite look like?
A Junior Suite usually sleeps up to four guests with a king-size bed (that converts to twins) and a double sofa bed. On some ships, Junior Suites also have a Pullman bed and can sleep up to five guests.
Suggested read: The best cruises for a family of 5
Junior Suites are spacious and usually (but not always) feature a bathtub and a walk-in closet. There is sometimes a curtain between the bed and the sofa bed.
The layout and decor of Royal Caribbean's Junior Suites varies. On the newer ships, you can expect more modern decor than on ships which are up to 20 years old.
The pictures below show Junior Suite 11638 on Anthem of the Seas. They were taken by Jason Morris in March 2020.
The photo below shows a Junior Suite on Radiance of the Seas in Mach 2019. This ship was built in 2001. As you can see, the woodwork is in a more traditional style than on the newer ships and the TV is smaller.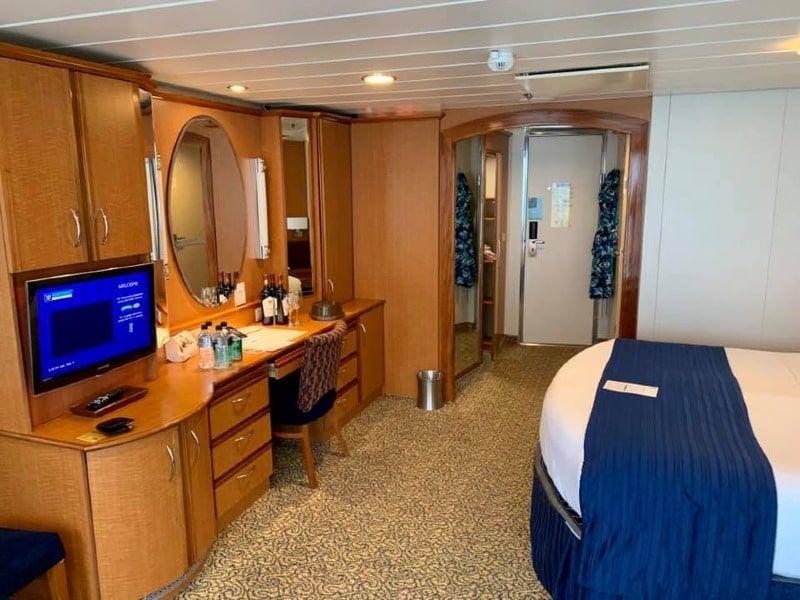 For a more detailed look at a Royal Caribbean Junior Suite, take a look at this video which showcases one of the Junior Suites on Symphony of the Seas…
Royal Caribbean Junior Suite perks
Royal Caribbean's Suites can come with a huge selection of perks. However, you need to know that most of these do not apply to Junior Suites, only to Grand Suites and above. So if you were hoping to skip lines and access VIP areas, having a Junior Suite won't help you with that.
A Royal Caribbean Junior Suite includes these perks:
More space than a balcony cabin
Use of a Royal Caribbean classic bathrobe
Luxury bathroom toiletries
Luxury pillow-top mattress
Tea and coffee making facilities
Dinner at Coastal Kitchen (on Oasis- and Spectrum-class ships)
Priority boarding (depending on the embarkation port)
Double Crown & Anchor points
Most Junior Suites have a bath, which makes them very popular with families with young children. Sometimes there is a separate bath and walk-in shower, but often the shower will be over the bath.
On Quantum Class ships (Quantum of the Seas, Anthem of the Seas and Ovation of the Seas), look out for the Spa Junior Suites which have a spa-inspired bath and separate rainfall shower.
TIP: If you wish to dine in the Coastal Kitchen then make your dining reservation as soon as you can as it gets booked up
Want more space? Some Junior Suites are connected to each other with internal doors, or they are connected with balcony staterooms. This is a great way to accommodate larger groups.
How much are gratuities in a Junior Suite?
Royal Caribbean gratuities are $14.50 per person, per day for Junior Suite guests. This is the standard gratuity charge for most guests. Those staying in a Grand Suite or above will pay $17.50 per person, per day.
Read more about Royal Caribbean gratuities.
What's the difference between a Junior Suite and a Balcony Stateroom?
On Royal Caribbean cruise ships, Junior Suites are larger than balcony staterooms, both in terms of the cabin itself and the balcony space. You'll often find bathtubs and walk-in closets.
Junior Suites come with a few extra perks that you won't find in a balcony stateroom, including bathrobes, luxury toiletries and the chance to enjoy dinner at the Coastal Kitchen restaurant on ships that have one.
Royal Caribbean's Coastal Kitchen is available on the following ships:
Allure of the Seas
Anthem of the Seas
Harmony of the Seas
Oasis of the Seas
Odyssey of the Seas
Ovation of the Seas
Quantum of the Seas
Spectrum of the Seas
Symphony of the Seas
Wonder of the Seas
What's the difference between a Junior Suite and a Grand Suite?
Royal Caribbean's Grand Suites are not just larger than Junior Suites, they also come with a lot more perks. Grand Suite guests can enjoy concierge service, access to VIP areas, invitations to special events and priority reservations for dining, spa services and excursions.
You can see a full list of Grand Suite perks here.
Is a Junior Suite worth it?
A Junior Suite usually costs a couple of hundred dollars more than a balcony stateroom, although the price will vary depending on the itinerary.
For some people, the extra space is worth that. Families with babies love Junior Suites as they have plenty of room to add a cot (Pack n Play) and a bathtub is much easier than a shower. Cruisers who are of larger than average size also report that they value the extra space in the bathroom.
If you're a frequent cruiser aiming to work your way up the Crown & Anchor Society tiers to get extra benefits, then the double points that come with a Junior Suite can make it worthwhile.
TIP: Double Crown & Anchor points are on offer if you book a Junior Suite, but not if you upgrade after booking via the Royal Up bidding program.
However, you don't really get any of the usual Suite perks with a Junior Suite. If that's something that really appeals to you, then you'd do better to consider a Grand Suite if you have the budget for it.
Get the best price on your Royal Caribbean cruise booking
The price you pay for your cruise will be different depending on who you book it with, even though what you get will be exactly the same.
It's generally always cheaper to use a specialist cruise travel agent that can access discounted rates.
Click here to see who's offering discounted rates on Royal Caribbean cruises.
Of course, not all travel agents are equal in terms of the service that they provide. If you'd like to get a quote from a trusted travel agent that I've used to book multiple cruises myself, click here to get a quote.
Related posts: